Buying Guide
Best Fire Pits for Your Yard
Whether you're making s'mores for the family or relaxing with friends under the stars, the best outdoor fire pit is a great addition to your backyard. Fire pits can be the cozy focal point of your outdoor living space, no matter the season. This guide will teach you about the different types of fire pits and the features to consider when shopping for the best fire pits.
Things to Consider When Buying Fire Pits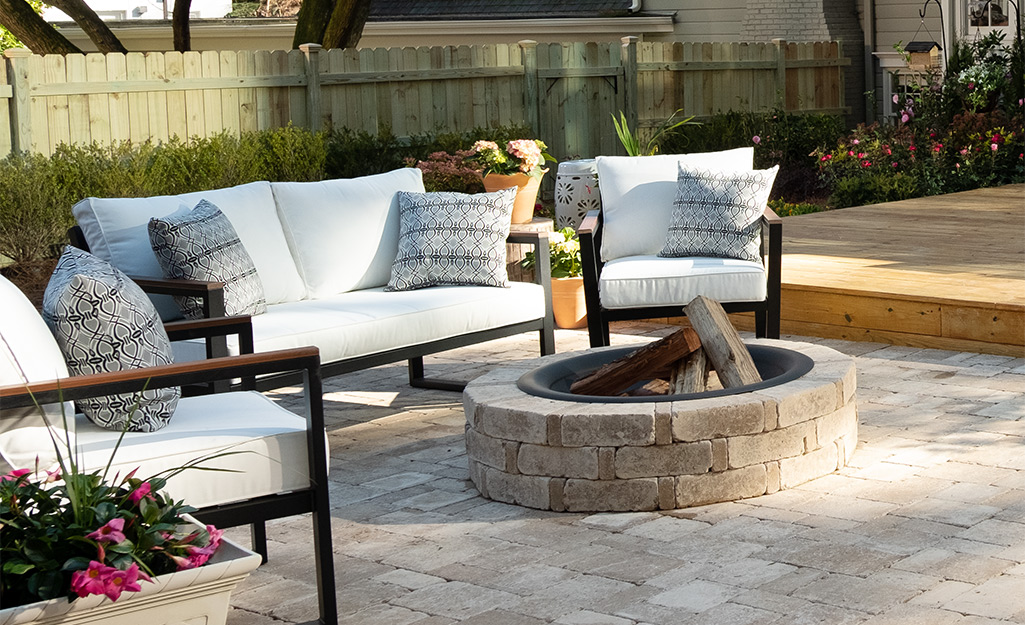 There are many important factors to consider when looking at best fire pits for your yard. In addition to deciding between a gas vs. wood fire pit, be sure to select one that fits within your space and also matches your style.
You don't need a lot of extra room to set up a fire pit and create ambience and fun in your backyard. Sizes vary and the dimensions of fire pits are usually smaller than outdoor dining tables. Think about the area needed for the chairs that you plan to place around your new gathering spot and not just the footprint of the fire pit itself.
Also keep in mind that fire pits can be a long-lasting addition to your backyard, so choose carefully. If you want a less-permanent option, there are plenty of portable models available for smaller spaces or occasional use.
The best fire pit for the backyard can be a prominent part of your decor. Look for those that complement your outdoor space or furniture. For a fresh start with a cohesive and stylish look, consider a fire pit patio sets that includes chairs and other accessories.
Dancing flames help set a cozy atmosphere for entertaining but that's not the only function of the best fire pits. They have a decorative element and might pull double-duty as a table. Some fire pits can be used for minimal grilling and also for outdoor heating.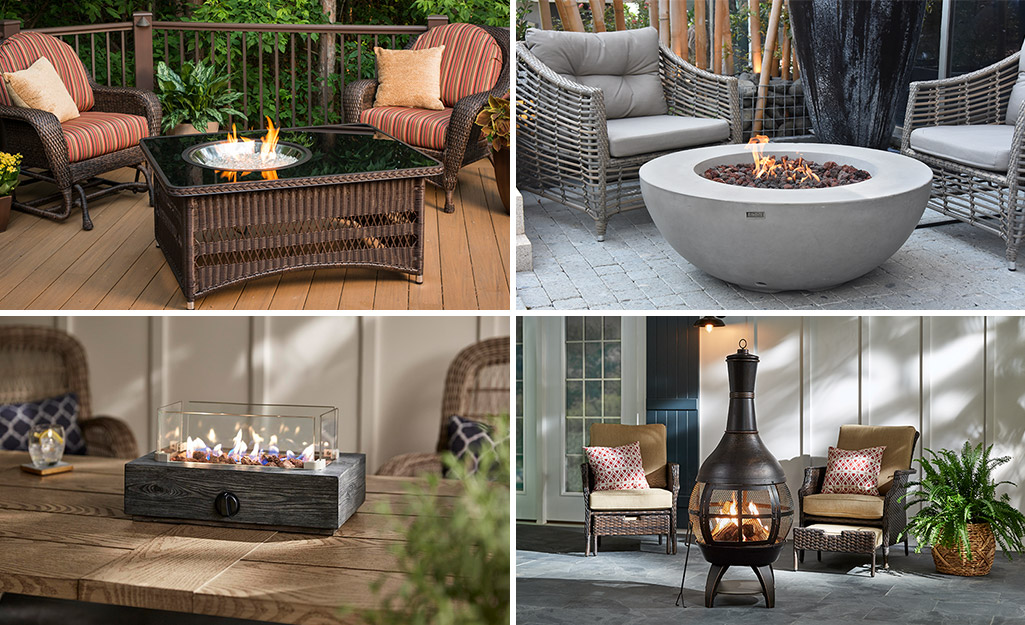 Stacked stones or blocks arranged in a circle often come to mind when thinking about best fire pits. Those kits or DIY projects using pavers are just a part of the many types of fire pits that are available. Other categories include fire pit tables, fire bowls, tabletop fire pits and chimineas.
Fire tables
Fire pit tables add a beautiful and functional element to your outdoor space. These models feature a ledge that is suitable for resting glasses or plates around the perimeter of the flames. Look for fire pit tables have an insert to conceal the fire box. This creates a full table to use when the gas burner is off.
Fire pit bowls
Add warmth and elegance to your outdoor entertaining with a round metal fire pit. A deep pit bowl will generate heat on a chilly evening. Fire pit bowls are typically lightweight units, making it easy to move out of the way in smaller spaces.
Tabletop fire pits and fire bowls
Create a unique centerpiece with a tabletop fire pit, fire bowl or fire pot. The dancing flames produce ambient light and warm the area. Some models use liquid propane and are better suited for outdoor heating. Fire bowls often use gel fuel and help you make a dramatic statement on your patio, deck or by the pool
Chiminea
A chiminea can have a rustic look, modern design or classic clean lines for a striking addition to your patio or outdoor cooking area. Depending on the model, chimineas can be fueled by wood, propane or natural gas.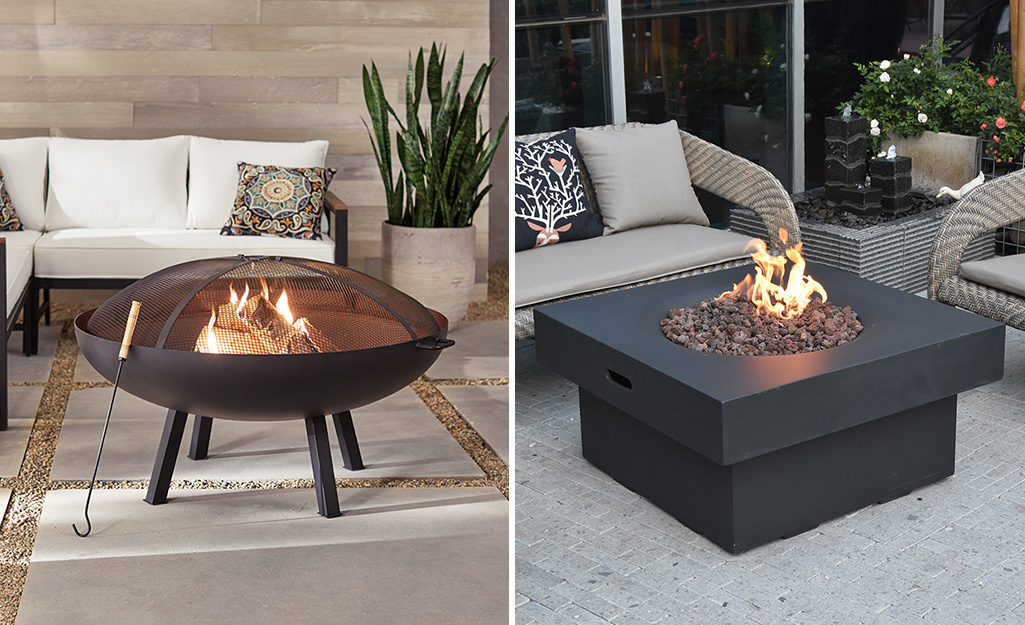 benefits and disadvantages and some fire pits are able to use more than one kind of fuel.
Burning wood in a fire pit will give you the closest match to a traditional campfire. But even the best wood-burning fire pits generate ash. Many people say the enjoyment of a crackling fire is worth having to clean up ashes afterward. For some, the smell of the fire adds to the experience, while others can be put off by the smoke from a wood fire.
The wood vs. gas debate is mostly a matter of personal preference. A gas fire pit burns cleaner and turns on and off with the flip of a switch. Some models have controls to adjust flame height. Gas fire pits commonly use liquid propane, which is available in refillable tanks. Natural gas is an option for some fire pits and they must be connected to the home's gas line.
Gel fuel creates the flames on many smaller tabletop fire pits and fire bowls. This type is used primarily for ambient lighting or an decoration accent and not as an outdoor heating source.
Bio-ethanol fuel is a clean-burning option for some types of fire pits and outdoor fireplaces.
Charcoal can be used for cooking food in wood-burning fire pits.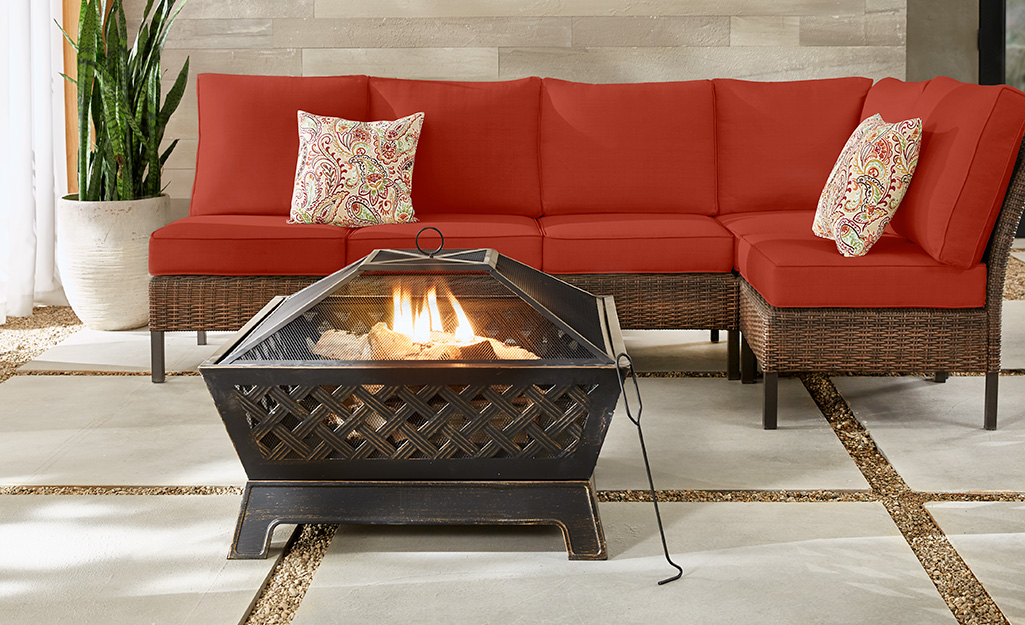 Fire pits can be made from a variety of materials that are hardy enough to withstand the heat. Stone fire pits are a popular choice. For DIY fire pits, pavers and blocks made from clay brick or concrete are common.
Different metals are used in a range of fire pit styles. Metal fire pits made from steel are most common but other metals such as aluminum, cast iron and copper are available.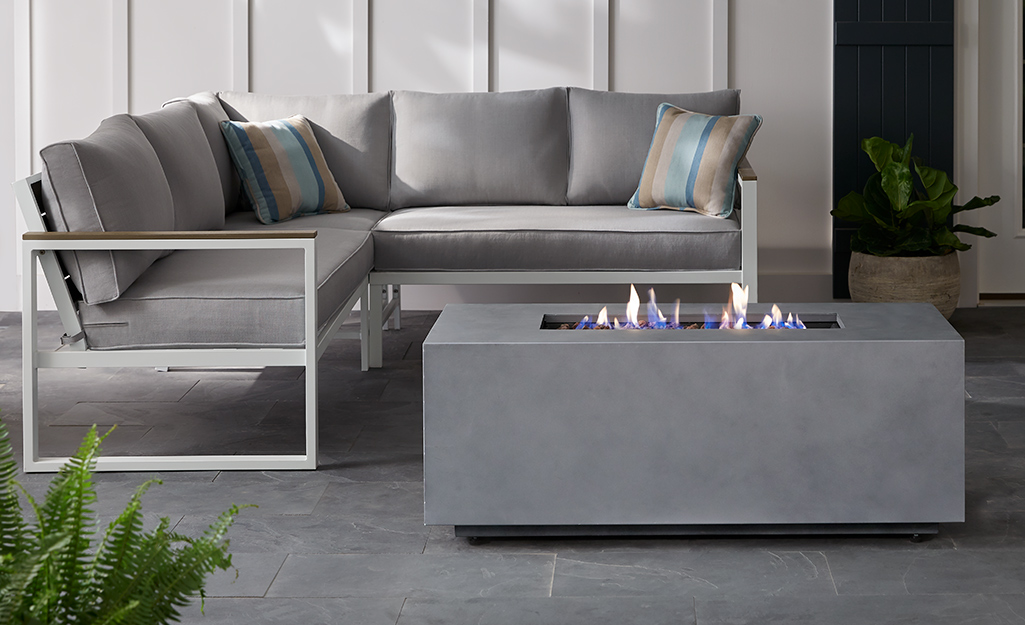 Fire pits are available in a wide variety of shapes and styles to fit your space and match your decor.
A round fire pit is the most common shape, especially for wood-burning models. Like a campfire, this shape emits heat evenly around the perimeter to help ensure a warm seat for every guest.
Choose a rectangular fire pit for narrower patios and create some design interest in your outdoor space. This fire pit shape works well with sofa seating as well as individual chairs.
The edges of a square fire pit can provide additional space for placing your refreshments, whether it's a fire pit table or a campfire style that's made from stone or concrete blocks.
Finding the best fire pit for your yard mostly depends on your personal preferences. You can find a one that completes the look you're trying to achieve or fit in with you your existing outdoor decor.
Fire pit styles come in all types of design. For a contemporary feel, select a fire pit with a modern design with sharp lines. Rustic fire pit fits in well with traditional decoration.
Other Fire Pit Features and Accessories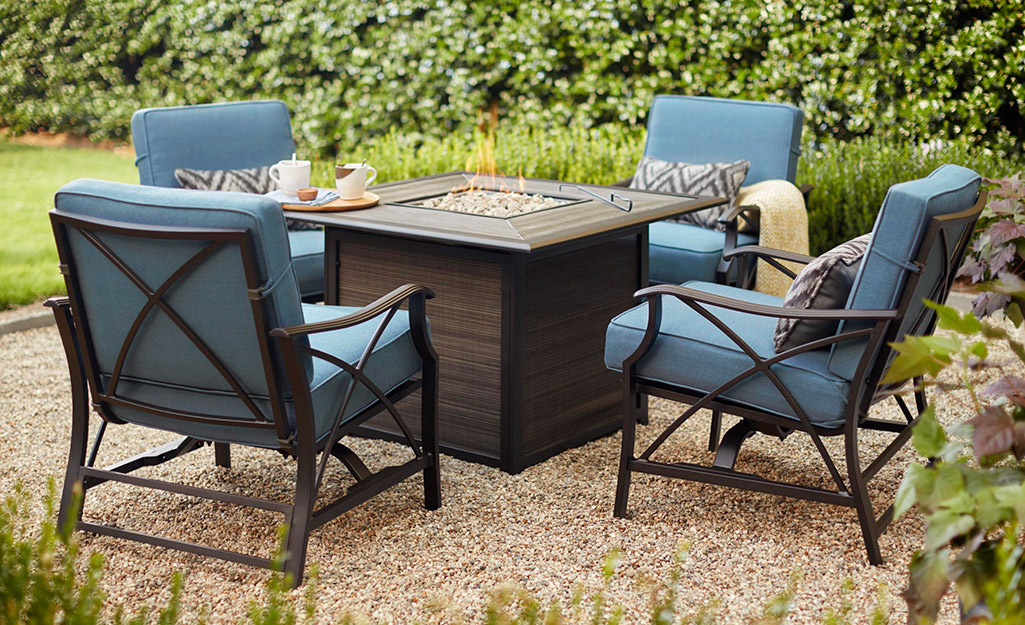 Look at the features available in different models when searching from the best outdoor fire pit for your yard.
A 360-degree fire view lets everyone see the flames when they're in the patio area.
While some fire pits are permanent additions to an outdoor living space, portability can be an important factor. Most freestanding, cauldron-style fire pits can be easily transported or stored.
Gas fire pits offer convenience and many feature adjustable flame controls for ambience and heating, as well as automatic shut-off for safety.
Use colored fire glass in a gas fire pit to add some splash under the flames. The rich color brings another element of charm to your decor.
Fire screens are necessary to help contain sparks and flames.
A basic fireplace tool set, along with a broom and shovel, can handle most cleaning and maintenance tasks for most wood-burning fire pits.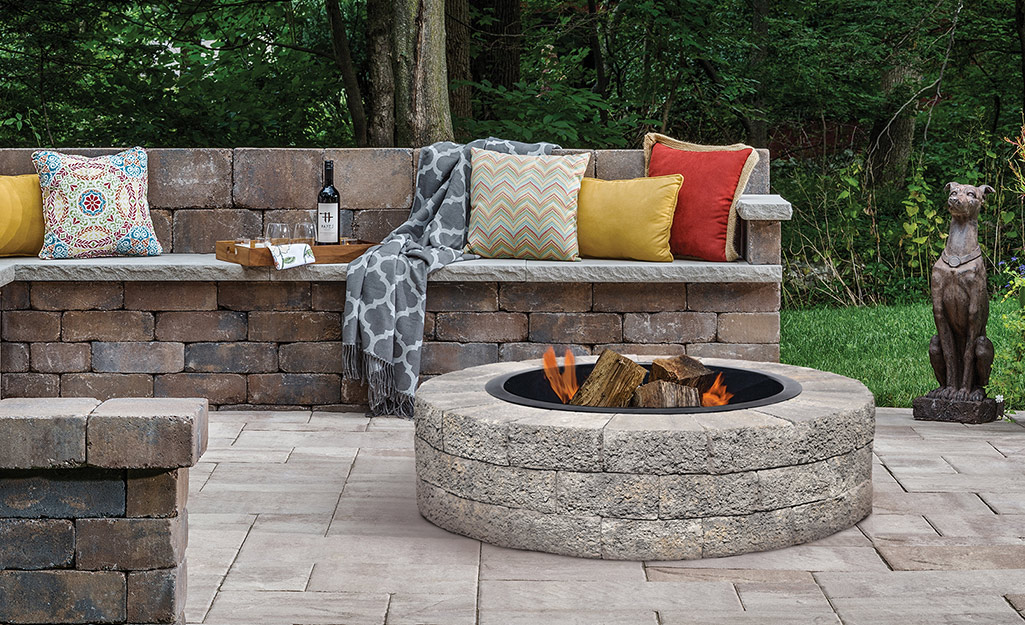 No matter what type of fire pit you choose, always keep a fire extinguisher nearby.
To keep your fire pit in good condition, make sure you clean out the ashes regularly and protect it from the elements with a fire pit cover when not in use.
Choose a hard level surface, such as concrete or paver stones to place under the fire pit.
Whether you are building a fire pit out of stone or concrete pavers or using a fire pit kit, you must select a location that is a safe distance from any structures and low hanging trees.
Consult local building code and homeowner association for any restrictions.
Disclosing your backyard fire pit could be a requirement of your homeowners insurance policy. Check with your agent to learn if having one affects your coverage.
Outdoor fire pits should never be used indoors, on a balcony or near anything flammable. Make sure to keep any vegetation at least 15 feet away to help prevent brush fires.
Perform regular maintenance checks on all of your fire pit parts to ensure they are working correctly.
See something that catches you eye when looking for the best fire pit for your yard? Find products fast with image search in The Home Depot Mobile App. Snap a picture of an item you like and we'll show you similar products.