Give your home a fresh appearance by cleaning the brick inside and out. Removing the dirt, algae and stains that accumulate over time boosts your home's curb appeal and property value. A thorough cleaning also gives indoor brick walls and mantels a new look. 
Read this guide to learn how to clean brick. It will outline how to effectively use a pressure washer on exterior brick. You'll learn several methods to clean indoor and outdoor brick. Always test your cleaning method first on a hidden area.  
1
How to Clean Interior Brick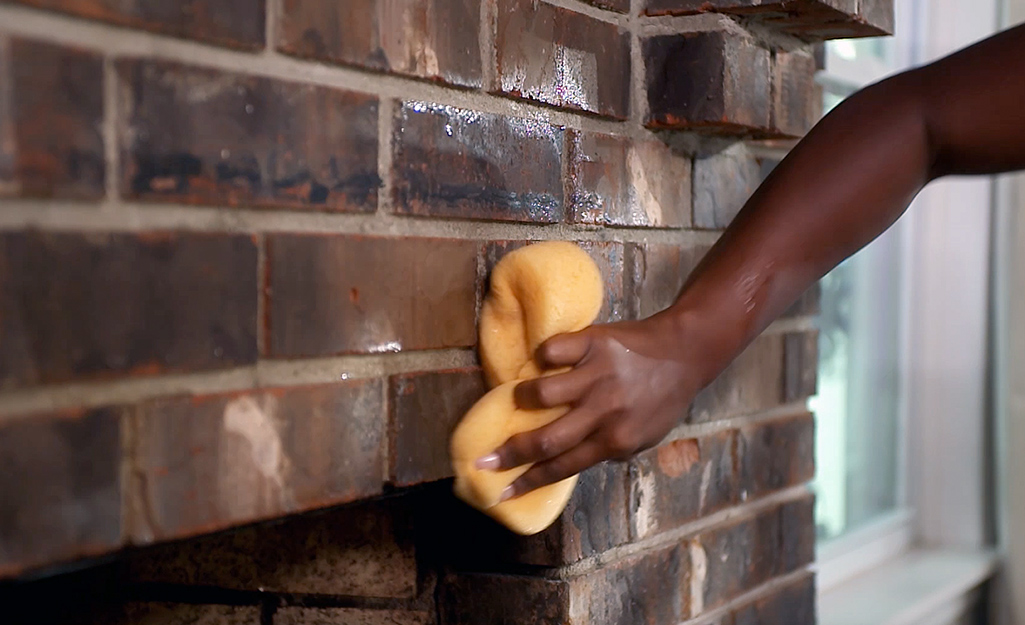 Interior brick is a beautiful addition to any home. Exposed interior brick is seen in old houses or added to newer ones with veneers. It commonly appears on fireplace mantels because it's fireproof. 
However, like any other surface, brick can get dingy or stained. Soot can discolor fireplace brick and cooking grease may dirty a kitchen brick veneer. Luckily, you can clean indoor brick with household products or store-bought cleaners. 
The basics of cleaning brick are as follows:  
Remove the surface dust and dirt. 
Wet the brick with water. 
Apply your DIY or store-bought cleaner of choice. 
Rinse with warm water.  
A sponge is gentler than a brush, so start by using a masonry sponge. If you must use a scrub brush, choose one with soft nylon bristles.  
A wire brush works, but it damages the brick by removing a thin top layer of stone and mortar. It also can leave behind tiny pieces of wire that may rust. Avoid using a wire brush if possible. 
While you're learning how to clean a brick fireplace or other brickwork, cover the surrounding area with a tarp or drop cloth. This keeps any dirt or soot that's been kicked up from settling on your floor and furniture. 
2
Remove Surface Dirt from Brick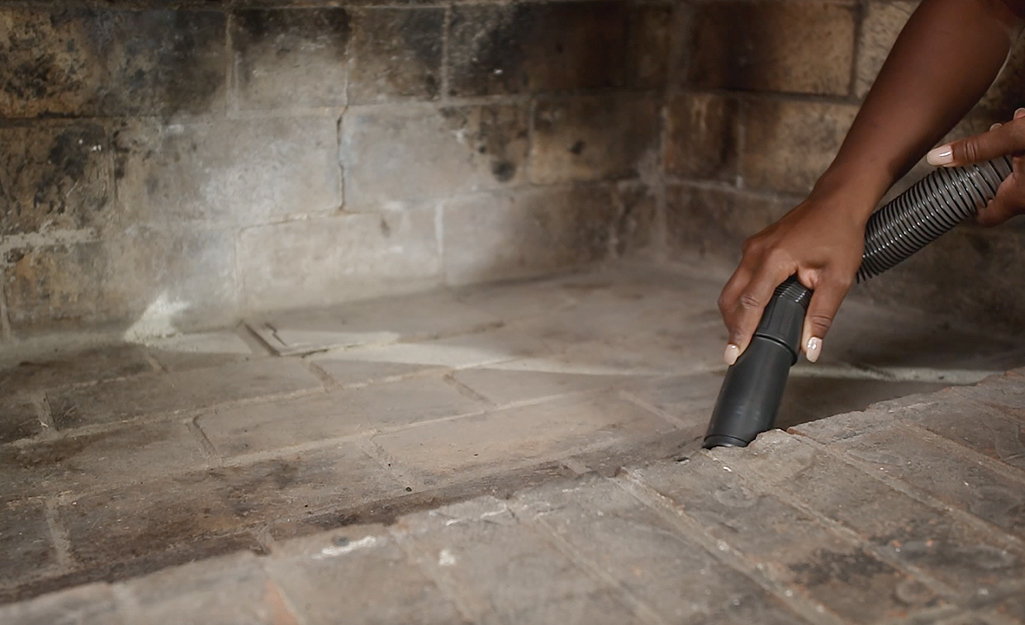 To start, clean off any surface dirt and dust from your bricks so it won't turn into sludge when liquid is applied during cleaning.  
The best way to do this is with a vacuum. You can also use a broom to gently knock off any dust. Sweeping works too, but it'll send the dusty debris into the grout and cracks of the bricks. You can also use a dry mop.  
Vacuuming is your best bet, though. A shop vacuum is great for removing dirt from indoor and outdoor brick.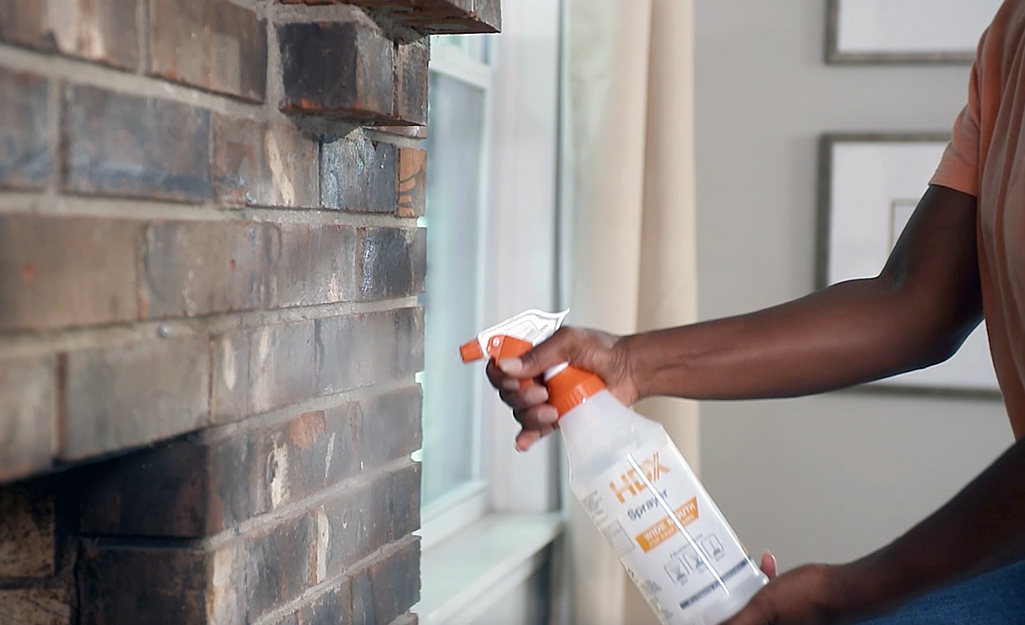 Don't apply cleaner of any kind directly to dry brick. It's very porous and will absorb it immediately, which can discolor the brick. You'll want the cleaner to stay on the surface of the stone to remove the dirt. The answer to this is to apply water. A layer of water will keep the cleaner from absorbing. 
Start by spraying a water mist onto the brick, using a spray bottle. Saturate the brick before applying your cleaner of choice. 
Warm water and a masonry sponge can remove a lot of grime. Adding dish soap or vinegar also work well. Less is more when cleaning brick. 
Stick with gentle DIY cleaning methods if possible when learning how to clean bricks. This is especially true for older brick, which may require special care due to its age. An old toothbrush or tiny scrub brush is perfect for cleaning delicate mortar.  
Wear gloves and goggles when cleaning. Even if you're using natural products such as vinegar, you still want to protect your eyes from splashes. 
4
Interior Brick Cleaning Tips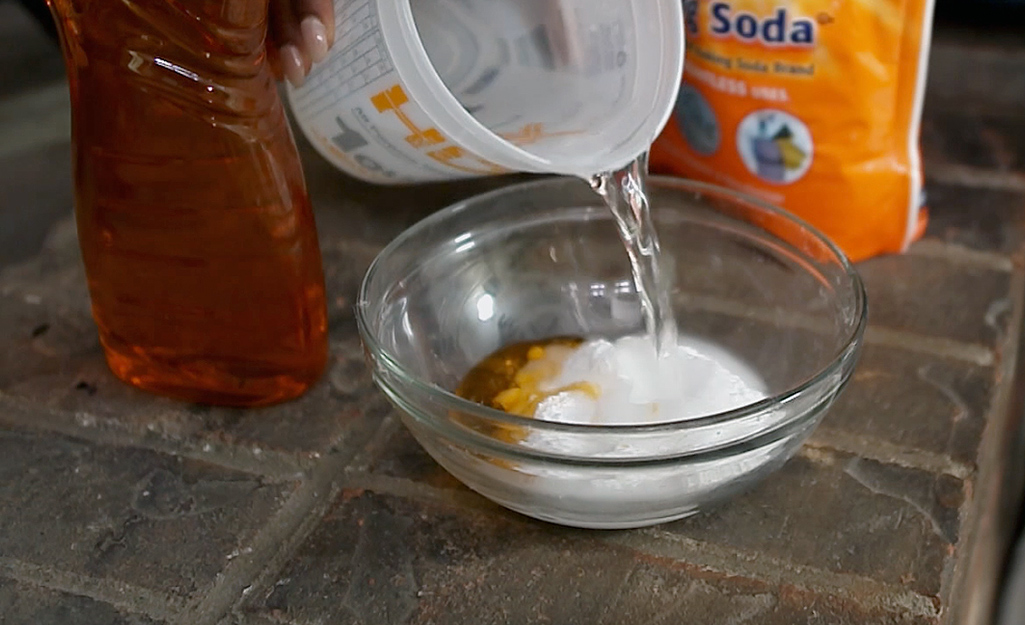 These cleaning methods are arranged from the gentlest to the strongest method. Start small before going to stronger cleaners. Make sure your previous cleanser is completely rinsed from the brick every time. This prevents chemical reactions. 
Tip: Spray the bricks with water before cleaning. Finish with a warm water rinse when you're done, no matter which cleaner you use. 
How to Clean Brick with Warm Water 
Try this method first. You can add a few drops of dish soap to the water for more cleaning power.
Wet a masonry sponge with warm water. 
Carefully clean the brick, rinsing the sponge as you go.  
Use a nylon-bristled brush to gently scrub as needed.  
Follow with a final warm water rinse with a clean sponge. 
How to Clean Brick with Cream of Tartar 
This is great for spot cleaning or cleaning a fireplace. Cream of tartar is sold in most grocery stores. Buy it in bulk if you're cleaning a lot of brick. 
Wet the brick. 
In a bowl, mix the cream of tartar with water to make a paste. It should be watery and easily spread. 
Smooth the paste on the brick. 
Let it sit for 10 minutes. 
Rinse with warm water. 
Repeat to get stains out of trouble spots. 
How to Clean Brick with Vinegar 
This is a gentle way to clean newer indoor brick. If your home was built before 2000, you may want to use a different method. Vinegar is still acidic, even though it's mild. When learning how to clean bricks with vinegar, don't let it sit too long on the brickwork. 
Moisten the brick with plain water. 
In a spray bottle, combine equal amounts of vinegar and water. 
Shake the bottle to mix it up. 
Spray your DIY cleaner onto the brick. 
Let it sit for a few minutes to penetrate the dirt. 
Spray the brick again. 
Gently scrub the brick with a masonry sponge.  
Use a soft-bristle brush or old toothbrush for more cleaning power.  
Dissolve some baking soda in a bowl of warm water.  
Rinse the brick with the baking soda water. This neutralizes the vinegar. 
Rinse again with warm water. 
How to Clean Brick with Dish Soap and Baking Soda 
This cleaning solution should do the trick on brick that needs oil and soot removed.
Apply warm water to the bricks. 
In a bowl, mix 3 tablespoons of dish soap and 1/2 cup of baking soda. 
Stir together to make a paste. Add more soap if needed. 
Spread the paste over the brick. 
Let it sit on the brick for 10 minutes. 
Use a sponge or soft brush to scrub away the dirt. 
Rinse with warm water. 
How to Clean Brick with Dish Soap and Salt 
Using a spray bottle or clean brush, wet the bricks with water. 
Mix dish soap with table salt to form a soapy paste with some grit. 
Apply a thin coat to the brick. 
Allow the soap to sit for 10 minutes. 
Scrub gently with a sponge or brush. 
Rinse with warm water.  
Rinse again if needed to get all the dish detergent washed away. 
After the bricks are dry, swipe them down with a dry cloth or sponge. This will knock off any salt crystals that got left behind. 
How to Clean Brick with Boric Acid and Water 
Use this cleaner on indoor or outdoor brick that's not old or fragile. Gloves and goggles are especially important for this method.
Wet the brick with warm water. 
In a bucket, combine 1 tablespoon of boric acid with 1 gallon of warm water. 
Mix it all together, being careful to prevent splashes. 
Use a sponge or brush to apply it to the brick.  
Only add as much DIY cleaner as you can quickly scrub away. It's best not to let it sit long on the bricks. 
Gently scrub the brick, using tiny circles. Avoid scrubbing hard. 
Rinse with warm water.  
How to Clean Brick with Foaming Bathroom Cleaner 
Bathroom cleaners are made for countertops, but they may also remove grime from brick. Before using on a larger scale, test the cleaner first. Apply to a small area of brick, hidden in a shadow or corner. If the brick looks normal after 20 minutes of cleaner and a rinse, go ahead.
Wet your brickwork with water. 
Apply cleaner to a small area of the brick.  
Let the cleaner sit for 10-20 minutes to penetrate the dirt. 
Scrub the brick with a nylon-bristled brush. 
Rinse well with warm water. 
How to Clean Brick with Ammonia and Dish Soap 
This is a cleaning option for a well-ventilated area indoors. It's a great cleaner for an outdoor kitchen island or fire pit made of brick. Safety gear like goggles and gloves is a must. 
Make sure the bricks are wet with water. 
Combine 4 cups of water with 1/2 cup of ammonia and 1/4 cup of dish soap in a cleaning bucket or large spray bottle. 
Apply the cleaner to the bricks. 
Scrub with a natural bristle brush. If you're using this cleaner, you're not doing a mild sponge clean. 
Rinse well with warm water. 
How to Clean Brick with TSP 
If your brick is badly stained, discolored or covered in soot that won't budge, try this cleaner. Trisodium phosphate (TSP) is the strongest option you should use on indoor brick. It also works on exterior brick. 
Don't use on old brick work as this cleaner packs a punch. Avoid splashing this anywhere but the brick you're cleaning. Safety gear, including gloves and goggles, plus excellent ventilation is key when working with TSP. Cover surrounding areas with a tarp or drop cloth. 
Wet the brick with water before applying this cleanser. 
In a bucket, mix 1 gallon of water with 1/8 cup of trisodium phosphate (TSP). 
Carefully apply this cleaner to the brick and only the brick. 
Using a brush, scrub the bricks clean. 
Rinse with warm water. Make sure you don't splash the rinse water anywhere else. 
Rinse again to assure all of the TSP is removed from the brick. 
Safety Tip: Never mix TSP with an acid, including vinegar. It can create poisonous fumes. 
5
How to Clean Exterior Brick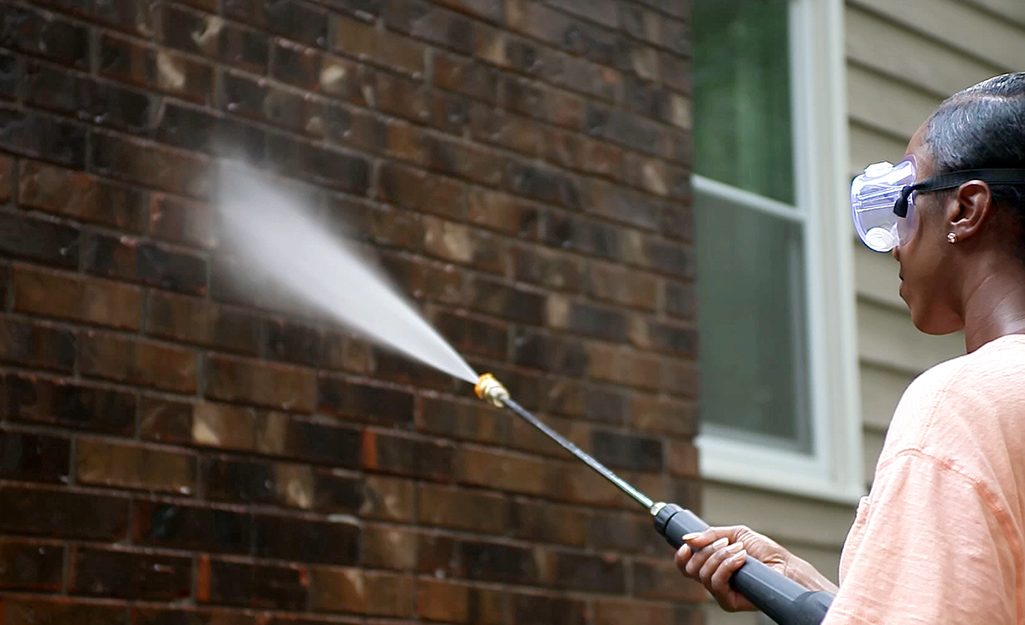 Exterior brick needs periodic cleaning to look its best. It's a common material, so there could be a lot to clean. A sturdy brick home may be surrounded by a brick wall. A sidewalk made of brick could wind through the yard. These days, you'll also find exterior brick on outdoor kitchens and firepits as well.  
All of this outdoor brick can get stained and weathered by smoke, time and the elements. However, cleaning brick is a task you can do yourself. 
Depending on the age of the brick, there are a few methods to clean it. Pressure washing is great for new or particularly strong brick. Scrubbing with bleach, trisodium phosphate or buffered construction cleaner are other options.  
As with interior brick, it's best to avoid using a wire brush if possible. The wire can damage the brick. Using an orbital sander or any other power tool also isn't recommended. Brick is far more fragile than it looks. 
Tip: Some old bricks can't stand up to pressure washing. If you live in a home that's 80 years or older, consider getting a professional opinion. Owners of historical homes should consult with their local historical society to learn the preferred method of care. Old brick that can be pressure washed will need a very low pressure: 100 to 800 PSI only. 
Don't use a pressure washer on painted brick unless you're looking to repaint. It'll likely blast the paint off, even if it's just whitewashing. You'd need to completely redo the whitewashing after pressure washing. 
6
Prepare Exterior for Pressure Washing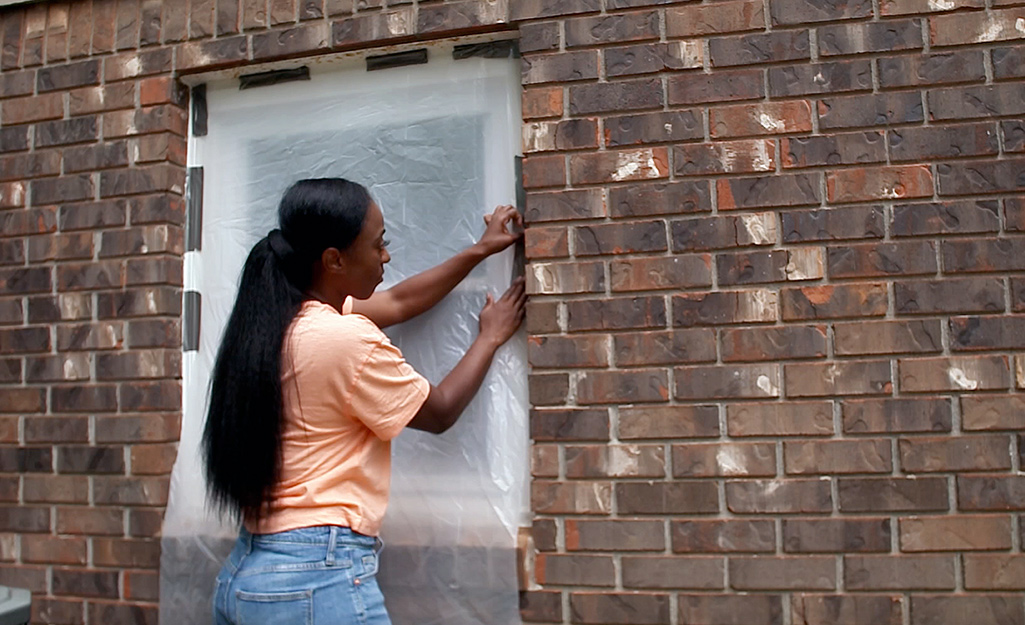 A pressure washer is an outdoor power tool that uses a pressurized stream of water to blast away dirt. Sometimes it's called a power washer, but that's a slightly different tool. Power washers heat the water. 
Use a pressure washer to make light work of exterior brick cleaning. You'll get long-lasting results too. If you have the time, you can clean not only your brick but also your driveway and sidewalk.  
Look for any cracks in the brick or mortar. Apply mortar or caulk to repair them before pressure washing. Otherwise, they may get damaged or blasted apart. Wait five to seven for the mortar to cure before power washing.  
Cover and protect any electrical items with waterproof material. This includes light fixtures, electrical outlets and jacks. Covering these items ensures water won't be forced into them during cleaning.   
Cover nearby shrubs, bushes and flower beds with a tarp.  
Seal windows with puncture-proof plastic sheeting and tape.  
7
Add Detergent and Pressure Wash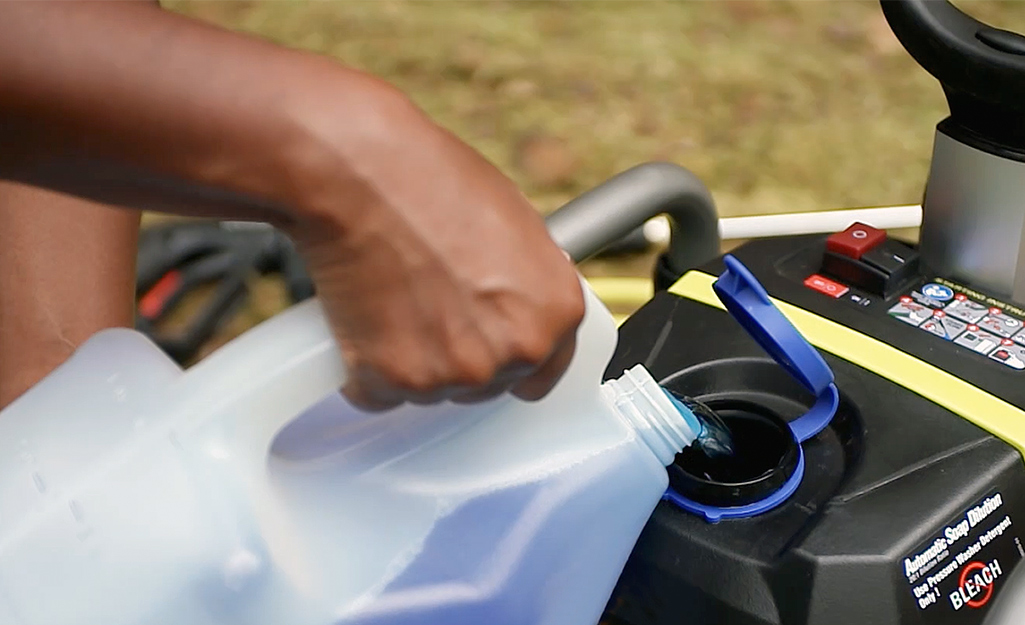 Once you've determined that your home or exterior brick can withstand pressure washing, apply the detergent. Pressure washer soap is recommended to ensure that the machine works properly. Regular household liquid soap may not work well with the washer. 
Tip: When using a pressure washer, wear safety glasses and shoes that won't slip on wet surfaces. Use an extension attachment to spray up high. Never stand on a ladder when pressure washing. 
Use a low-pressure nozzle, set to the lowest setting, on the pressure washer.  
Spray the detergent from the top to bottom of a wall.  
If you're cleaning brick paving stones, spray from one end of the sidewalk to the other.  
Let the detergent sit for a few minutes so it can break up surface dirt and stains. Follow the manufacturer's instructions for specifics. 
After the detergent has done its job, rinse it off: 
Use a surface-cleaner attachment or low-pressure nozzle to clean the brickwork.  
Rinse walls thoroughly using 50 PSI or less for best results. 
Work from the top down.  
Spray in horizontal strokes that are about 3 or 4 feet wide.  
Follow the manufacturer's instructions for the ideal nozzle distance from the cleaning surface.  
After the brick is clean, you'll need to rinse off the detergent residue. Use a garden hose to thoroughly clean nearby surfaces. This includes the driveway, walkway, patio and soil.  
Tip: Only use low pressure when washing the exterior brick on your house. Pressure washing using 500 to 1000 PSI is recommended for cleaning masonry. Many professionals use 100 to 1500 PSI to avoid damage. 2,000 PSI is the absolute maximum, and that's for experienced pressure washers only. 
8
Spot Treat Stains, Mildew and Moss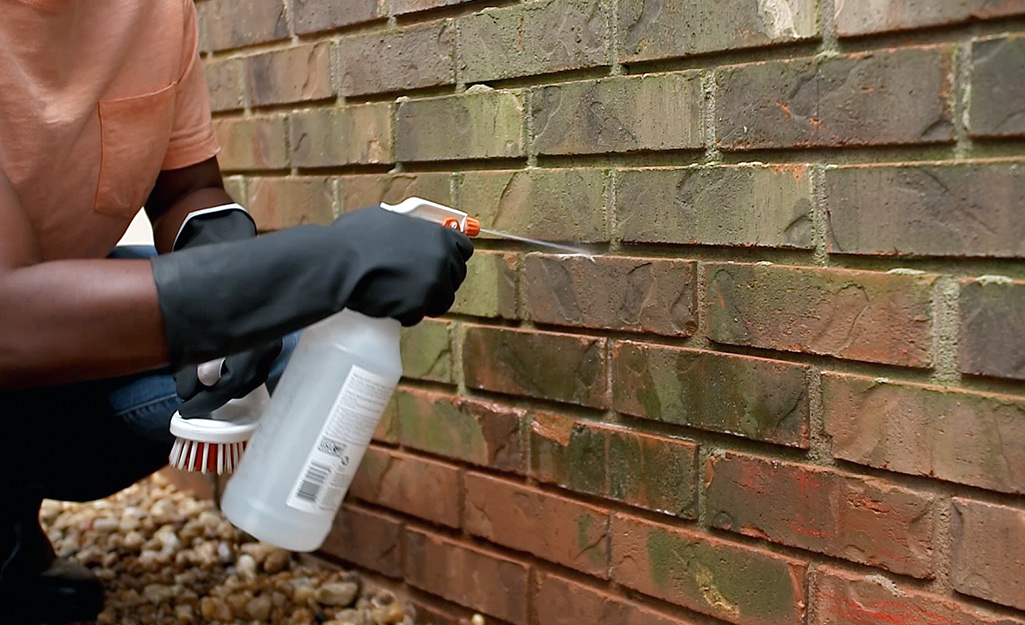 Once you've cleaned your outdoor brick, let it rest. Wait a day or two to let it dry thoroughly. Then, spot treat any leftover stains. This includes stubborn mildew, algae, rust or masonry bloom. 
When you're ready to tackle stains on outdoor brick, start by removing surface dirt: 
First, use a sponge to remove the surface debris.  
Wet the stained areas with clean water and cleaner with a spray bottle. 
Scrub with a nylon or natural bristle scrub brush.  
Sometimes you'll find green or black growth on outdoor brick. It's common in shady and damp areas where the brick doesn't get much sunshine. A mixture of bleach and water should clear it right up. 
Use Bleach on Exterior Brick Stains 
To treat mildew and mold stains, follow these steps: 
Gear up with goggles and rubber gloves. A respirator is also a good idea. 
Mix 1 tablespoon of chlorine bleach per gallon of warm water.  
Wet the brick with just water. 
Using a sponge, apply the DIY cleaner to the wall. Only put the cleaner on a small section of the wall so it doesn't dry on there. 
Gently scrub with a brush, letting the bristles do the work. 
Apply a little more force if needed, but don't overdo it. You need a light touch for brick. 
Rinse the brick with clean warm water. 
Take your garden hose, stand back and spray the wall to rinse again. 
Use TSP to Remove White Deposits 
Sometimes you get white deposits or buildup on brick. That's called efflorescence. 
You can use the same TSP solution for exterior brick as you did for indoor brick. Follow the same mixing instructions shown in Section 3. For tougher stains, try using a natural bristle scrub brush. 
Use Buffered Construction Cleaner 
If you can find it, use buffered construction cleaner before muriatic acid. It's much gentler on the brick. However, it should still be able to remove stubborn stains. 
Follow the manufacturer's instructions when using buffered construction cleaner. 
Use Muriatic Acid 
Muriatic acid is diluted and less pure hydrochloric acid. This is the cleaner of last resort. It removes efflorescence, rust and mortar stains. Try other methods, including using bleach or calling professionals, if possible. Pro cleaners can use sand blasting or soda blasting as stronger cleaning methods too.  
If you tried trisodium phosphate and it didn't work, don't go straight into cleaning with muriatic acid. First, wash the surface thoroughly with water. Then, let it rest for a few days. The wall must be clean of TSP to prevent chemical reactions. 
Muriatic acid can dissolve the thin top layer of the brick. Over time, you may see damage to both the mortar and brick. The water gets in and starts to crumble it away.  
If you do use muriatic acid, you'll need to seal the brick afterward to protect it. Used or extra muriatic acid must be recycled or neutralized before disposal. You'll also need a respirator with an acid-grade filter and full safety gear whenever you handle it.  
Now that you know the basics of how to clean brick, it's time to refresh the brickwork. Whether it's learning how to clean a brick fireplace or the brick outside your house, we've got you covered.  
Get everything from scrub brushes to spray bottles delivered right to your door. Download The Home Depot Mobile App to find the supplies you need. If you'd rather not buy a pressure washer for outdoor brick, let The Home Depot help with tool rental. Use it once and bring it back — no maintenance required. 
Explore More on homedepot.com