Patio heaters are essential if you want to enjoy your outdoor space during the cooler months. They make sitting in the backyard with family and friends a more comfortable and enjoyable experience. Most patio heaters are designed to warm the immediate area and some even have wheels for easy mobility. This guide will detail the different types of patio heaters available so you can choose the right one for your home.
Select the Right Patio Heater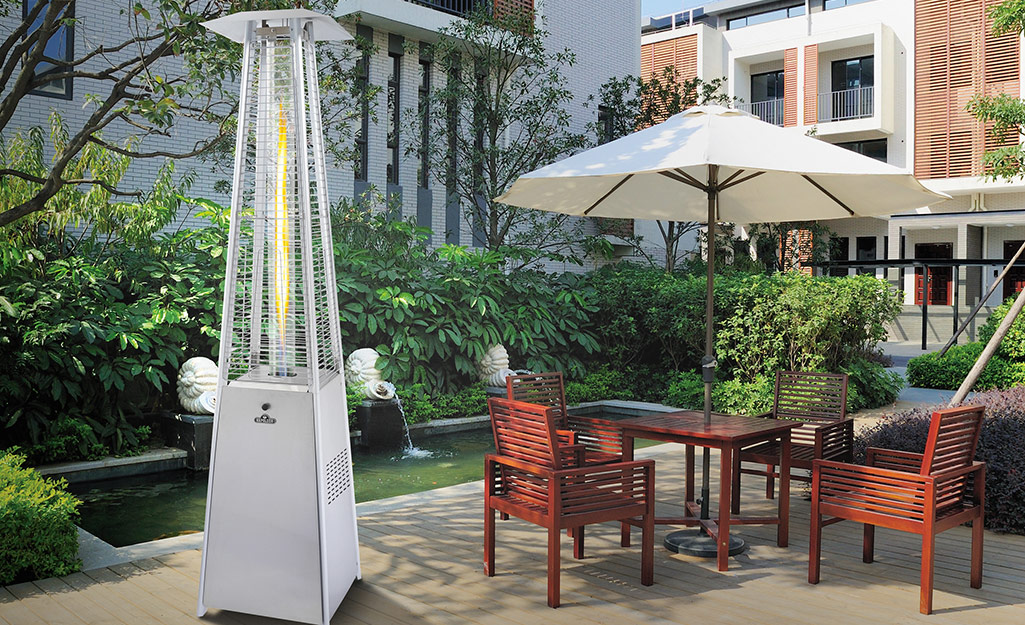 As you begin to shop for patio heaters, there are two primary questions. What is the area that you are looking to heat? And, what type of fuel will you use?
Know the size of your patio in order to determine the BTUs needed to heat the space. (Heat is measured in British Thermal Units, or BTUs). You can shop by BTU using the options in the left rail of the patio heaters page. Keep in mind that electric heat is measured in watts.
As a guideline, most homeowners will need just one or two patio heaters for their outdoor space. One patio heater is probably enough to heat 1,500 to 2,000 square feet of covered space. In an uncovered space, expect a freestanding patio heater to warm a 20-foot diameter space.
Tabletop heaters offer portability and compact size. They put out between 10,000 and 11,000 BTUs. 
In addition to knowing your space, know the fuel types for patio heaters: natural gas, propane and electric. Read on for more about the different types of patio heaters.
Natural Gas Patio Heaters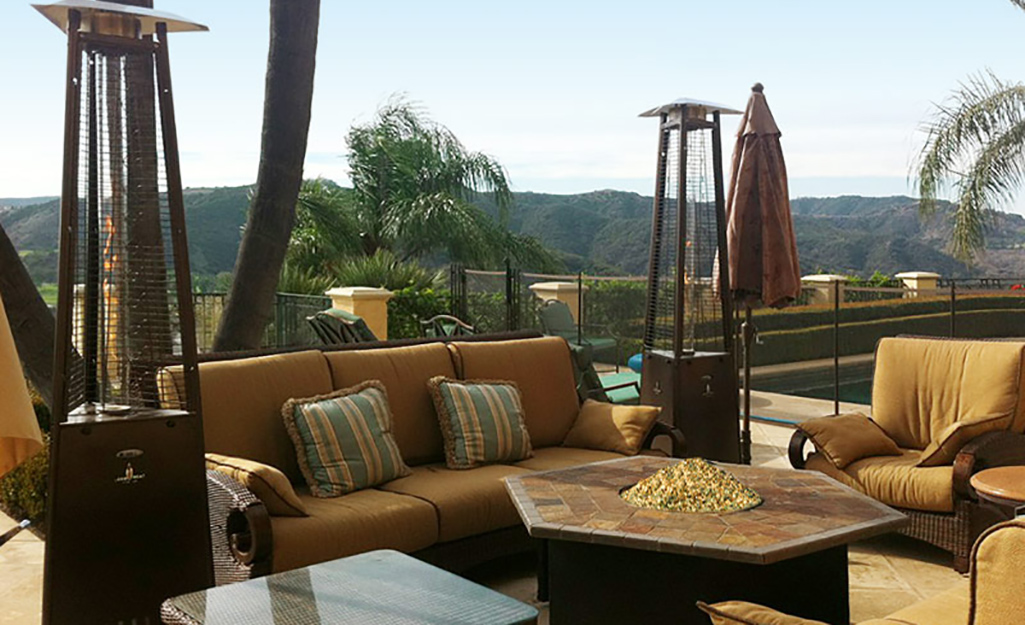 Patio heaters fueled by natural gas are often pricier than electric versions, but the long-term ownership costs are considerably less, and they're easier to maintain. These are connected directly to your gas line and offer continuous heat for as long as needed.
Natural gas patio heaters are most widely available as standing units. They are not as portable as other versions, as they need to remain connected at all times for operation. Use these for larger and more open outdoor areas so the fumes have space to safely dissipate.
Propane Patio Heaters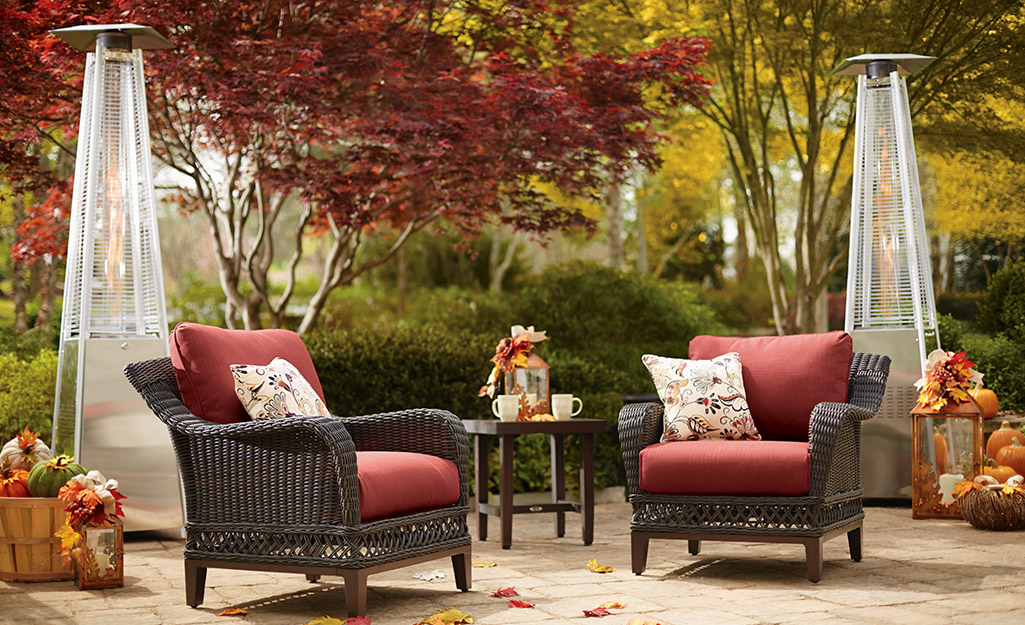 Since operation is not dependent on a gas line, propane heaters are a convenient and portable option for many patios.
These heaters usually feature a basic shape and a larger base that houses the LPG (liquefied petroleum gas) tank. The LPG tank connects to removable propane tanks which must be purchased separately as needed. 
There are two common types of propane patio heaters to choose from: 
Electric Patio Heaters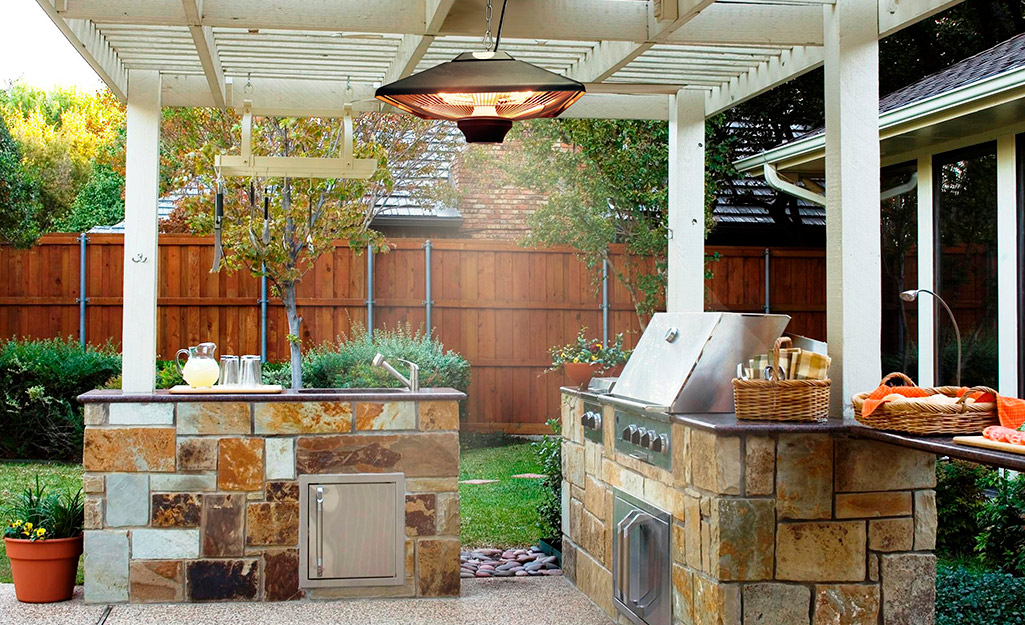 Electric patio heaters offer efficiency, portability and safety. Electric patio heater energy output is measured by wattage. 
Infrared heaters release energy using infrared rays. The energy is absorbed by people and objects nearby and then dispersed to keep temperatures warm and comfortable. This quickly and efficiently warms your outdoor space without using excess electricity.

Halogen heaters use halogen bulbs warmed by an electrical current to release shorter heat waves. They can operate at higher temperatures, but the exterior remains cool to the touch. This makes them a safe option for pets and young children.

There are various styles of electric patio heaters to choose from: 
Hanging: Great for overhead heating on smaller patios or gazebos.
Umbrella-mounted: Perfect addition to patio seating, attaches to standard umbrella center poles.
Wall-mounted: Can be installed using a bracket mount on your deck or against the siding of your home.
Standing: Great for outdoor spaces of all sizes, can be moved as needed to accommodate your needs.
Whether you're relaxing or entertaining, a patio heater can make your outdoor space more inviting when it's cold out. The right patio heater for you should be powerful enough to warm your space. The type of fuel it uses is another factor to consider during the buying process. Your budget may also affect your pick.
Ready to get a patio heater and start enjoying your outdoor space year round? The Home Depot delivers online orders when and where you need them.
Explore More on homedepot.com