Buying Guide
Best Generators for Your Home

There are 3 main types of generators available, with each kind serving various functions:
This guide will explain how to choose a generator and highlight the types available, including the power output requirements, fuel needs and wattages necessary to run specific appliances and power tools.
Tip: When transportation is a challenge, The Home Depot truck rental can help. From pickups and vans to moving trucks, we've got you covered.
Generator Power Requirements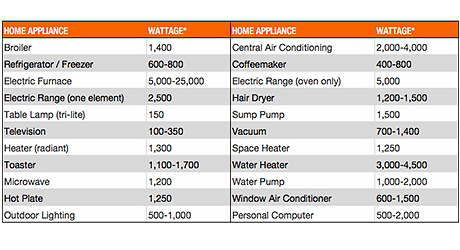 Before choosing which type of generator will work best in case of a home power outage, you must first determine the wattage necessary to power all of your appliances.
Tip: Remember that starting wattage requirements may be as high as three or four times the required continuous wattage. Portable generators offer a higher surge wattage to help accommodate start-up requirements.
How to find your desired generator wattage:
Find the wattages of all the equipment you'd like to power with a generator using the chart provided.
For equipment with motors, double the wattage requirements - more power is necessary to start up these items. For these, you'll need a higher starting wattage but won't need the power to be that high.
Add up the wattage for everything to get your total required wattage.
Tip: This is approximate wattage only. Please refer to your appliances' owner's manuals for exact wattage.
Standby generators provide 24/7 blackout protection to power vital home appliances.
Automatically supplies emergency backup power within seconds of a power outage.
Permanently installed and operates on existing fuel supply, usually natural or liquid propane gas.
Can produce power for entire house or only a few designated circuits.
Some models have advanced technology that runs the unit at reduced noise levels and conducts weekly self-diagnostic tests.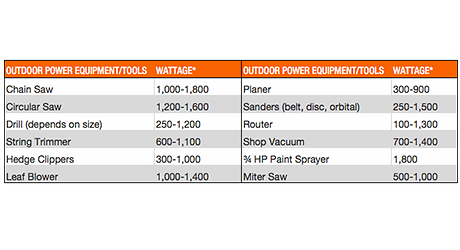 Most portable generators run on unleaded gas for limited power at home, job site or recreational activities.
Tip: 12-volt outlets enable portable charging for smart phones and other wireless devices.
Optional Features:
Generators will auto-idle control idle the engine down when not in use for greater efficiency and extended run times.
Some models feature an electric motor, powering up with the touch of a button with a fully charged battery.
Tip: This is approximate wattage only. Please refer to your appliance's owner's manual for exact wattage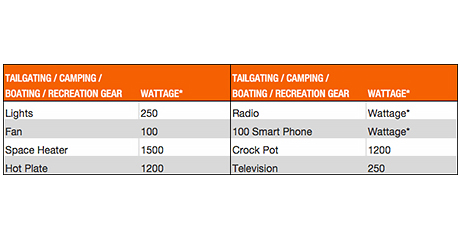 Inverter generators are perfect for tailgating, camping, boating or traveling in an RV.
An inverter generator is also good for small businesses and job sites because of its clean power, low noise levels, fuel efficiency and lightweight design.
If more power is needed, consider units that are parallel kit compatible, allowing a connection between two inverter generators for twice the power.
Tip: This is approximate wattage only. Please refer to your appliance's owner's manual for exact wattage.
Need help identifying a tool or material? Find products fast with image search in The Home Depot app. Snap a picture of an item you like and we'll show you similar products.