Halloween is the most frightfully fun time of the year. Dress up your yard and make your home a festive spot with the coolest and creepiest Halloween decorations. Let the best Halloween decorations transform your home into a haunting, fun-filled space. When you're decorating your yard for Halloween, light up an eerie cemetery scene or build a frightful monster-filled space. From the Graves and Bones characters to the Dead Water collection, you'll find all the spooky and cutting-edge themes for a Halloween display that's the best on the block.
This guide will highlight some of the best Halloween decorations available.
Start with a Frightfully Big Skeleton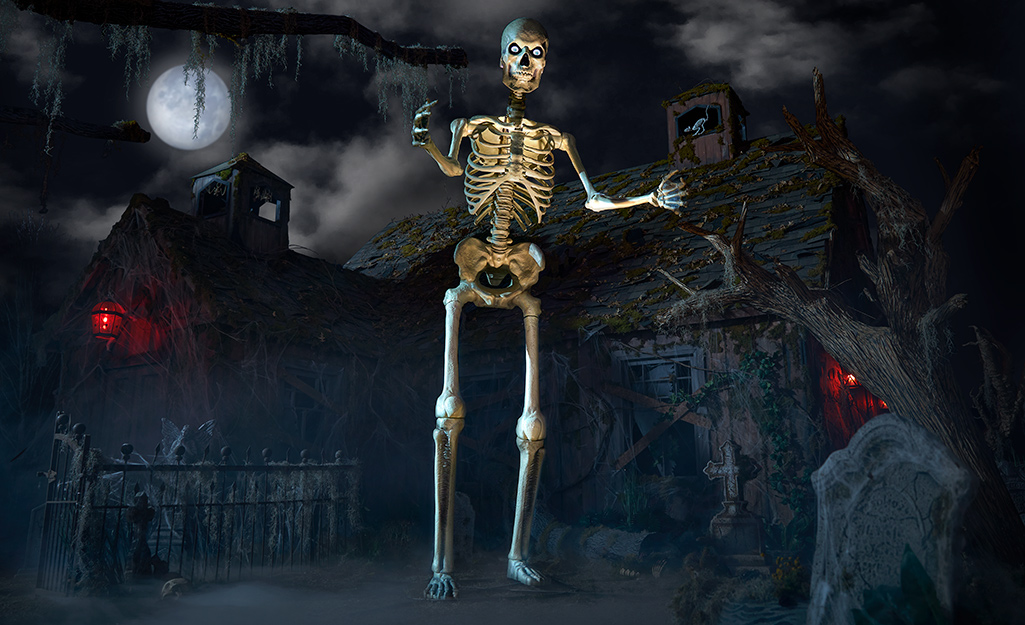 Spook the neighbors with a spine-tingling cemetery in your front yard. The Grave and Bones collection features creepy characters and dreadful decor for a truly spooky underworld scene.
A towering, 12-foot giant skeleton with blazing eyes leads the way to the netherworld. It's posable, so you can position it in your yard and dress it up too. Give it a ghastly glow with a skeleton lighting kit that makes its chest cavity change colors. 
As you're decorating your yard for Halloween, keep the frights going. Throughout the cemetery, you can use animated LED skeleton Halloween pathway markers, tombstones and remnants of the dead.
Learn how to assemble your Giant Skeleton. Here are thePDF instructions that'll make it easy to put this decoration together.
Add Spooky Friends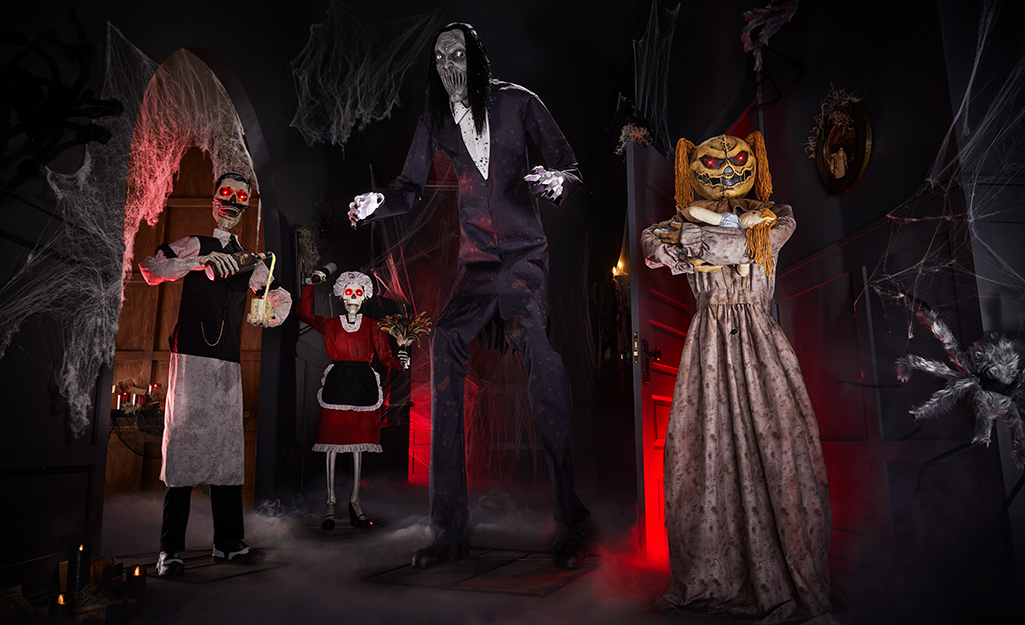 Fill your yard with fearsome friends and the scariest Halloween props. Transform your yard into a foreboding final resting placed with the Grave and Bones collection. In addition to all-too realistic coffins and gravestones, it includes nightmarish characters like the butler Dean the Deathologist and Marie the Meddling Maid. They move and make sounds that may cause your guests great anxiety.
To get the most out of your Halloween decorations, you can set them up several weeks before October 31. You could even start setting the scene for Halloween at the beginning of October. Before you decorate, review any local laws and neighborhood guidelines that might restrict when holiday decorations can be displayed.
Surprise with a Giant Jack Skellington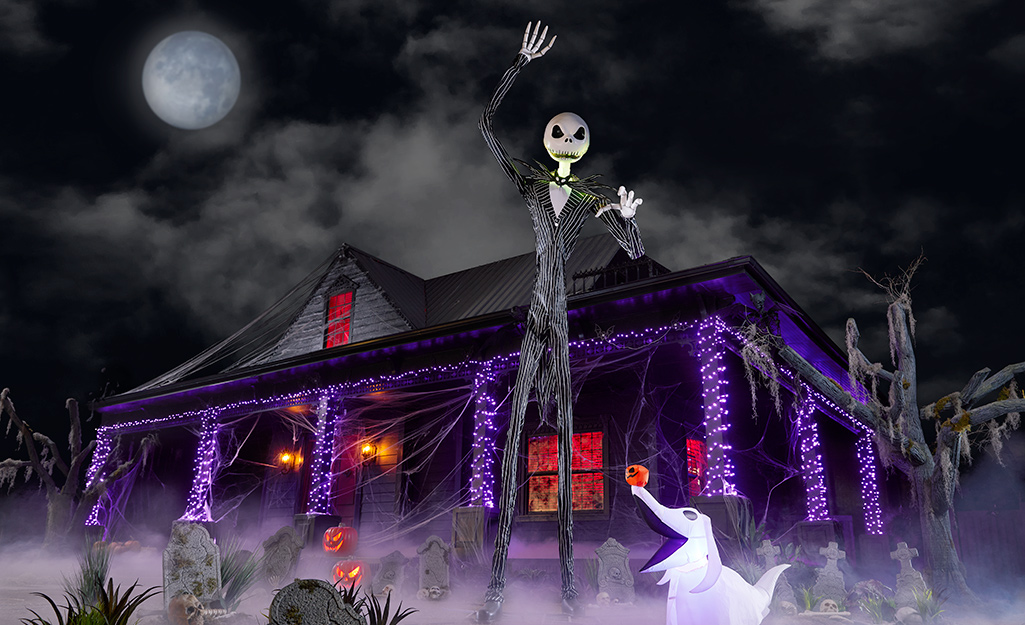 Straight from "The Nightmare Before Christmas," Jack Skellington stands 13 feet tall. His head and mouth move and his arms can be arranged into different positions. Jack also lights up and sings. 
For a playful scene, this well-loved character can be accented with his loyal pup Zero the ghost dog. For a scarier setup, pair Jack with a 12-foot skeleton and other frightening friends. His eyebrow piece can be switched to make his expression go from welcoming to warning. Either way, your trick or treaters won't forget seeing this looming figure.
Scare the Whole Neighborhood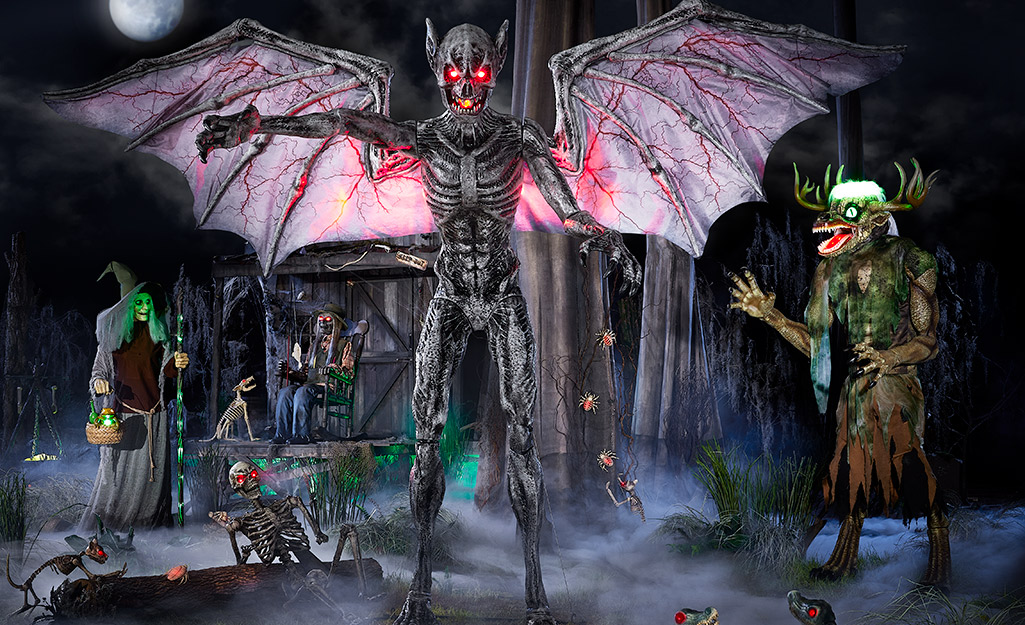 Terrify guests with Dead Water creatures rising from swampy shadows. Allow the Predator of the Night to spread his terrifying wings across your yard. They're a nearly unbelievable 12 1/2 feet wide. His angry red eyes and menacing stance will deliver scares galore. 
Surround him with witches, skeletons, spiders and monsters, complete with movement, sounds and LED lights, from the creepiest marsh around. Add some misty vapor via a fog machine to truly fill your guests with fear. Nobody will ever have to guess that the creepiest, best Halloween decorations will always be at your house.
Haunt with High Tech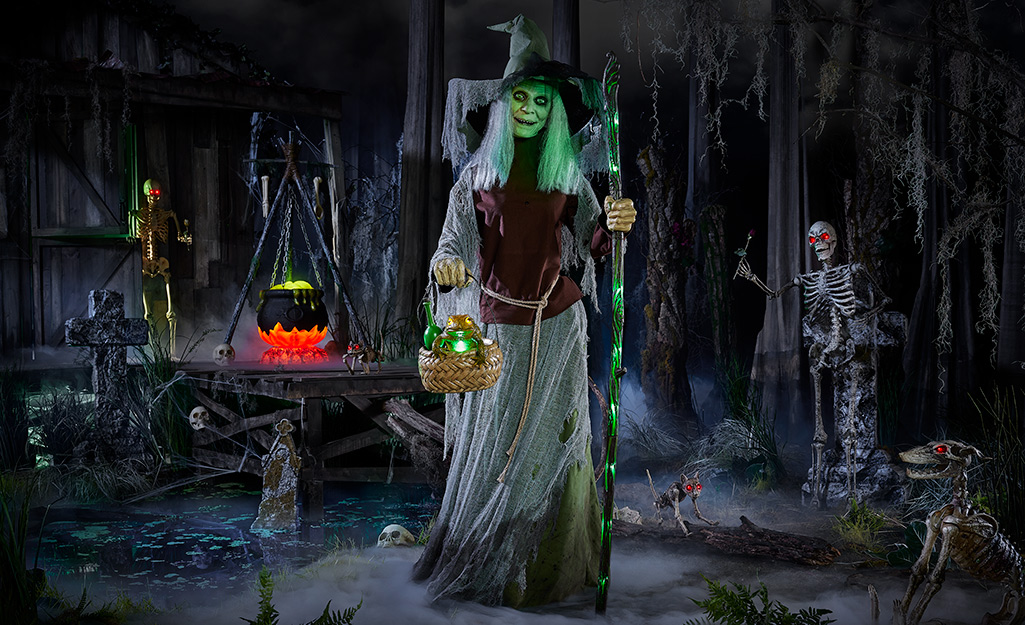 Some of the best Halloween decorations use innovative tech to deliver unforgettable scares. This year, add spine-chilling and impressive animatronics to your display. Be the first on the block to invite these monsters that move into your yard.
Lit-up eyes will haunt your guests, while sinister sounds might cause them to add their own screams to the mix. Be especially wary of Lethal Lily's lifelike movement. Seeing this swamp witch's eyes move might give you a start every time you look at her.
Heighten the Frights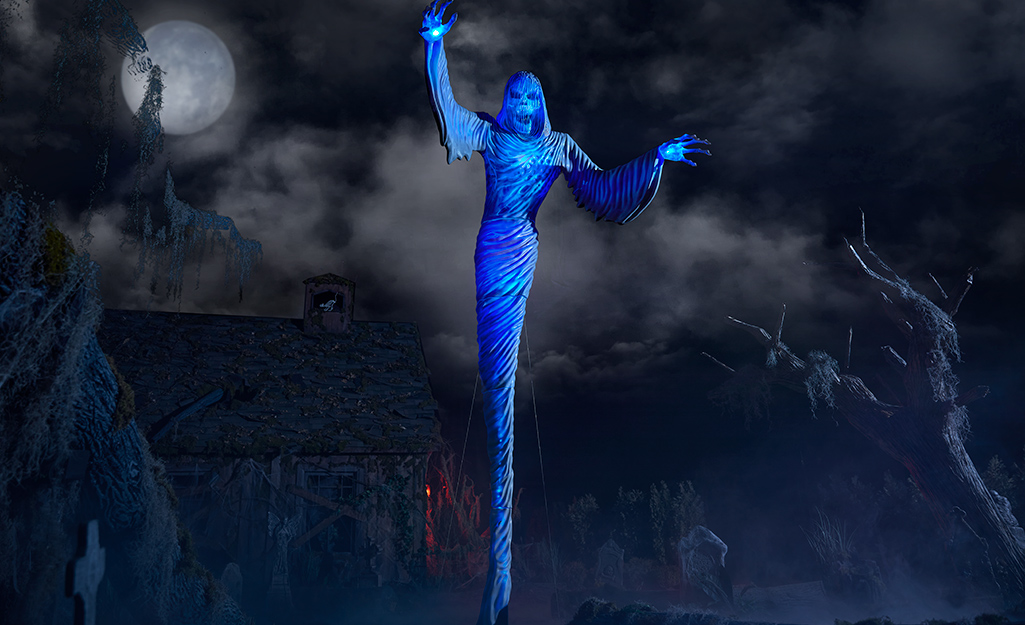 Some of the best Halloween decorations for your home include giant eye-catching figures.
Take your Halloween decor to the next level with giant characters that will tower over everything around them. They include a 12-foot ghost, an 8-foot winged demon with glowing eyes and the 12-foot skeleton known as "Skelly." Bring scares from the screen to your yard with the 13-foot Jack Skellington from "The Nightmare Before Christmas."
Decorating on a slightly smaller scale? Try a 5-foot clown that looks like it might be more at home underground than at a circus. 
Hang Around with Your Favorite Characters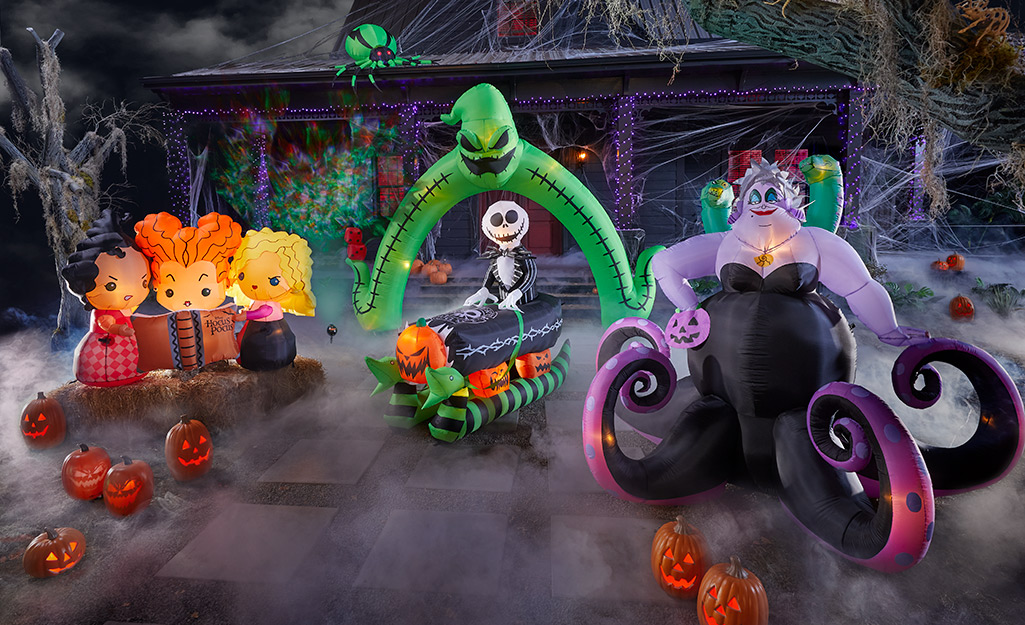 Highlight some of your favorite Halloween characters and movie villains with inflatables. Display everyone from Ursula from "The Little Mermaid" to the Sanderson sisters from "Hocus Pocus". Your guests will see well-loved icons in your yard. Behind the scenes, you can appreciate the energy efficient motors that can keep these inflatables going all day and all night.
Stick Up Some Skeletons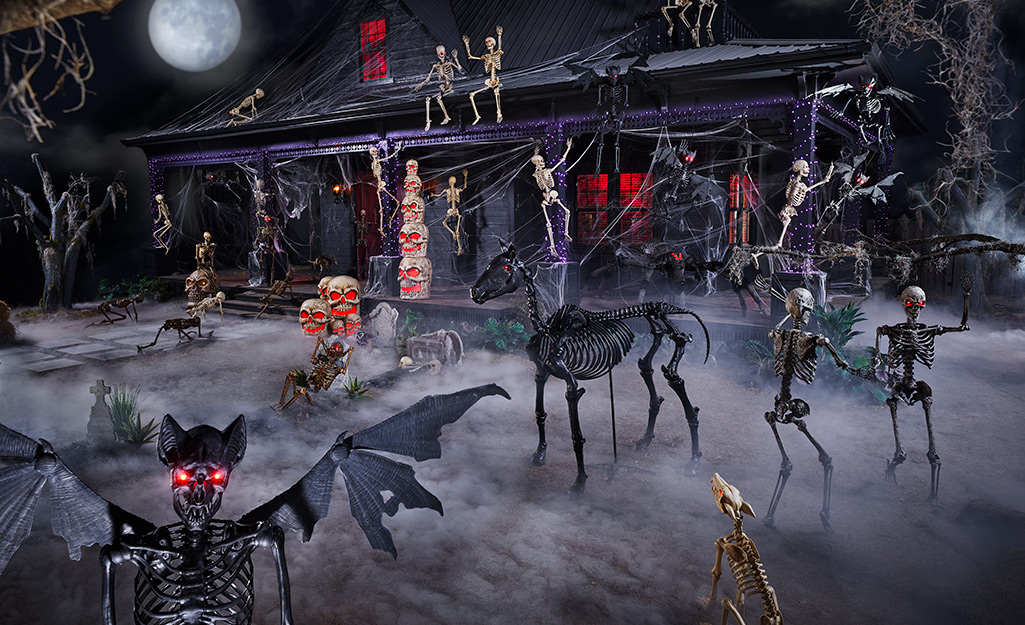 For a Halloween landscape that looks like a bad dream, put skeletons with glowing eyes everywhere. Pose them so they look like they're crawling all over your house and lurking on the roofline. Add more skeletal beings to your front or back yard, along with stacks of skulls with blazing red eyes. The final touch? Mist from a fog machine to really set the scene.
Don't Forget Jack-O'-Lanterns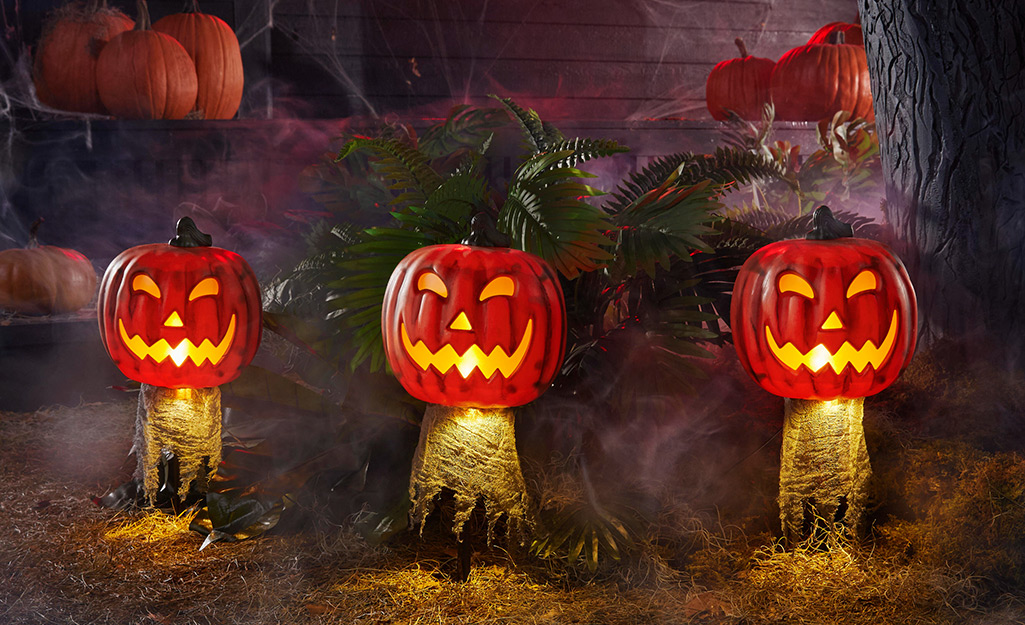 The glowing eyes and mouth of a traditional Jack-o'-lantern are found in many forms of Halloween decorations. You can decorate the entrance to your Halloween landscape with a stack of grinning pumpkins. Or choose molded plastic pumpkins to entice your trick-or-treaters.
Of course, Halloween celebrations wouldn't be complete without traditional Jack-o'-lanterns. Make your own, or choose molded, pre-carved ones to use year after year, minus any mess.
Extend the Dread with Lights and Fog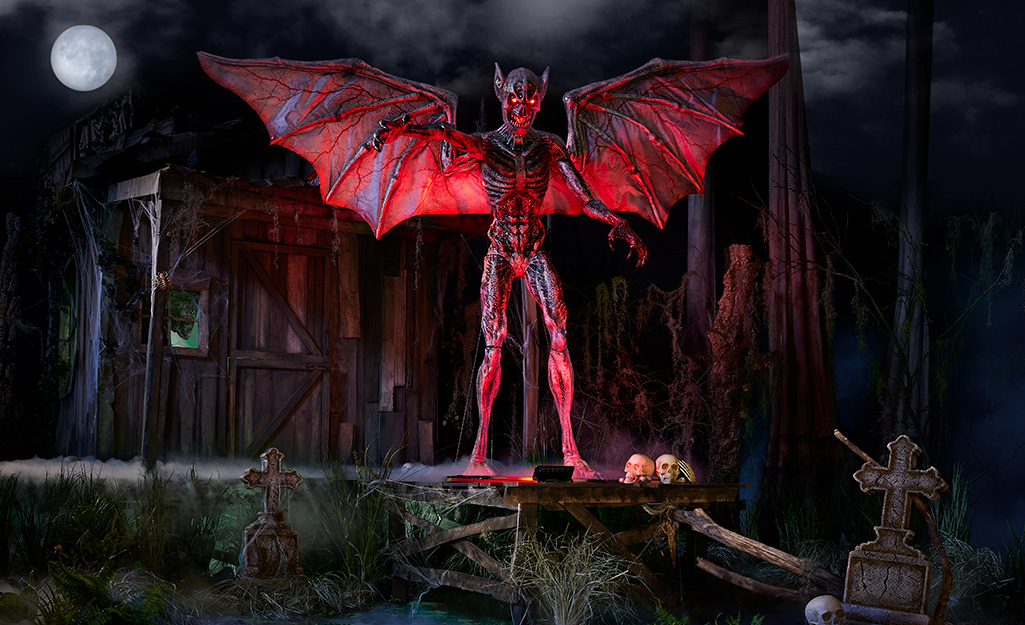 Strike terror in unsuspecting guests by illuminating your Halloween decorations with color-changing floodlights. For example, a demon with shadowy wings looks even more sinister with a red spotlight. Mist from a fog machine adds atmosphere, taking a display from merely scary to completely terrifying. 
Fill Your Yard with Inflatables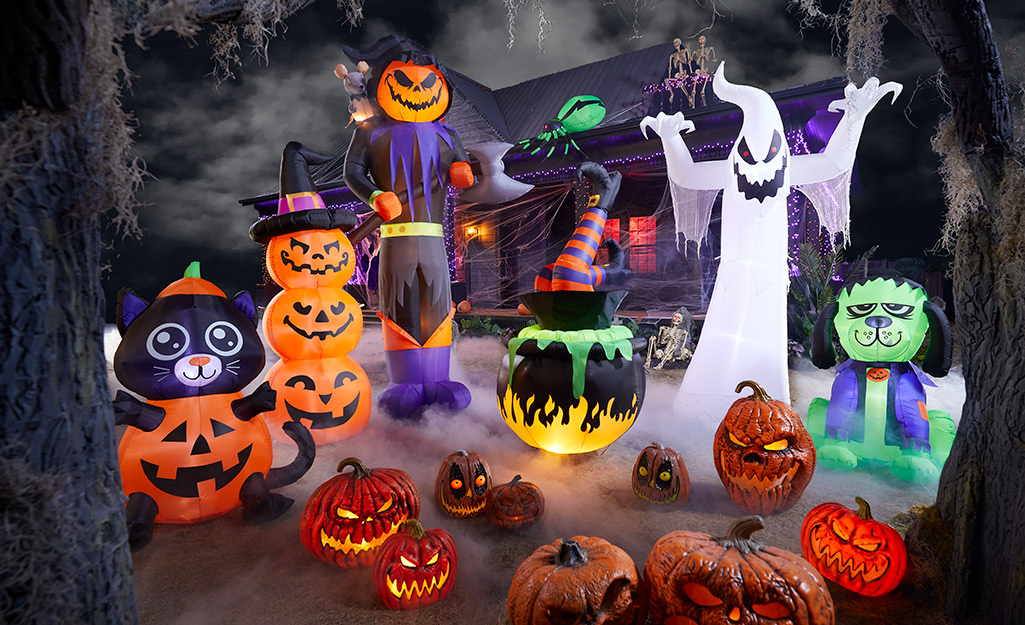 Large outdoor Halloween inflatables are a simple and impressive way to decorate your yard. Simply plug it in and stake it down and you're ready to go.
Here are some tips for decorating with inflatables for Halloween:
Determine where each inflatable Halloween decoration will go and measure your available space. Pick inflatables that will fit comfortably in the area without rubbing up against one another or altogether blocking the view. This will keep your landscape from looking overcrowded.
Choose placement carefully. Low-hanging branches can snag and potentially tear the fabric shell of an inflatable. A stiff wind can sometimes cause an inflatable to totter. Double-check that there is enough clearance around the decoration. Make sure there are no breakables or sharp objects nearby.
To ensure smooth inflation, position the base of the inflatable where you want it to stand in your landscape. Spread the fabric flat on the ground before inflating to keep it from kinking or snagging while it fills with air. Tightly close any zippers, fasteners or vents to keep air from escaping while in use.
Clear potential obstructions at the base. Most inflatables are equipped with an air intake at the bottom. This is a fan that forces air into the fabric shell, so it's important to keep that intake clear of obstructions. Be careful to keep the decoration's own fabric away from the intake side of the fan while inflating.
Guard against the wind. Once your piece is inflated, use any included tethers to stake it into position. Anchoring your decorations will help keep them in place in the event of strong winds or storms.
Go for Smiles Instead of Screams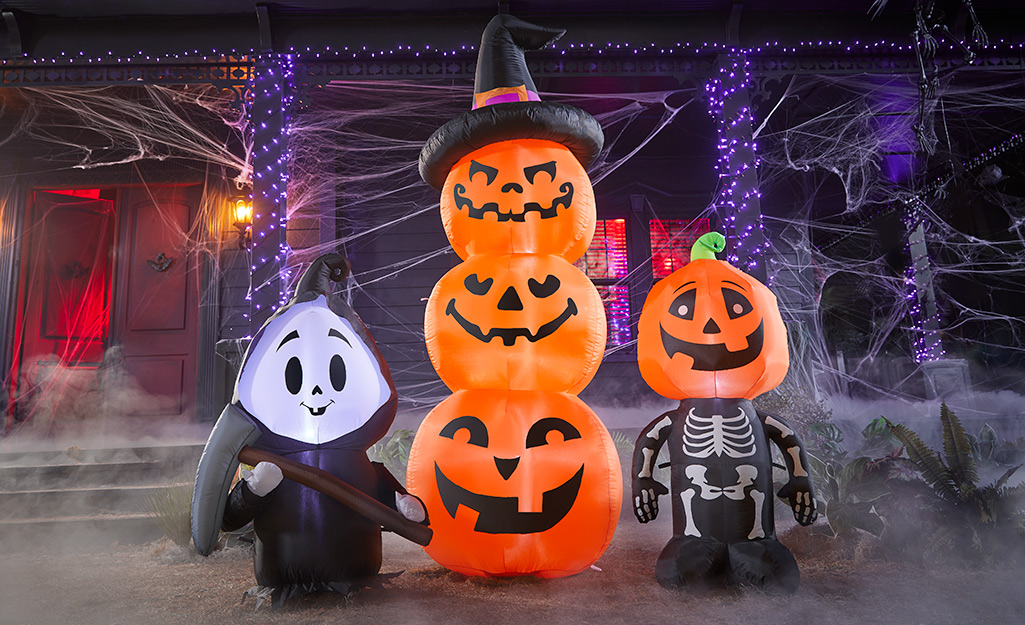 For a more family friendly display, focus on decorations that will make people say "Aww" instead of screaming with fear. Stick with lighthearted versions of Halloween icons like pumpkins, skeletons, witches and ghosts. Even the Grim Reaper can be cute with the right expression. 
Use Halloween Projectors Inside & Out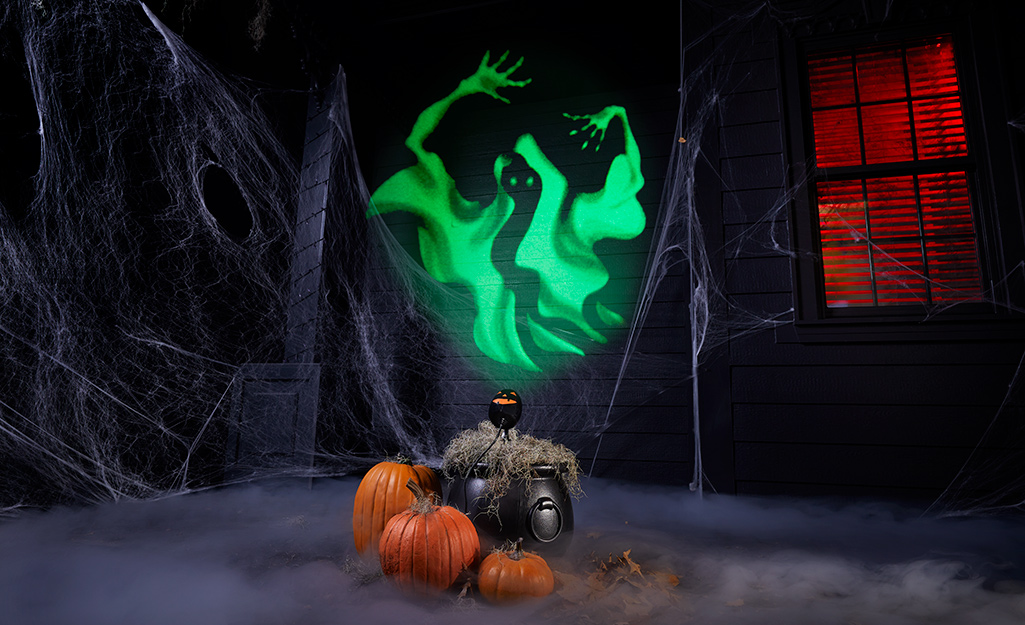 Halloween projectors create a supernatural visual effect by projecting moving images on windows, walls, doors and more. Inside, a projector can give the appearance of ghosts, zombies or even waltzing skeletons having the time of their undead lives inside your living room.
Or cast spooky scenery on the outside of your home. Easily display flying ghosts, bats and even witches. Simply place a projector on your lawn and point it towards a smooth surface on your home's exterior. The moving images work well on their own or as part of a larger scene.
Go Over the Top with Animatronics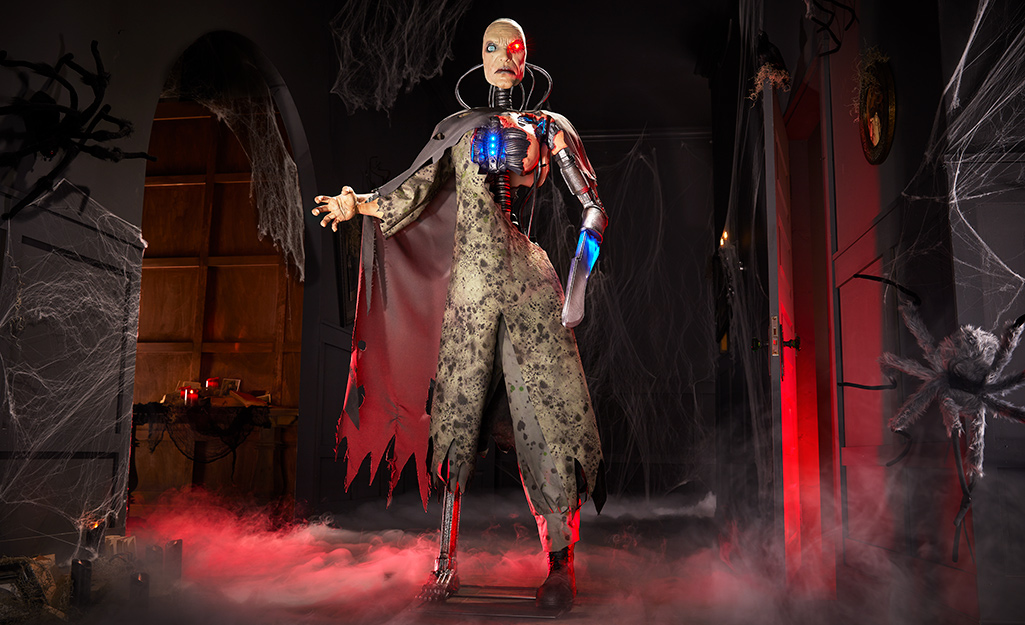 Bring the magic of a haunted house attraction to your front yard with realistic Halloween figures that move, light up and make sounds. 
Animatronics are some of the best Halloween decorations available. Lure your guests into a haunted swamp complete with skeletal alligators and a doglike creature with crimson eyes. 
Stack Up the Skulls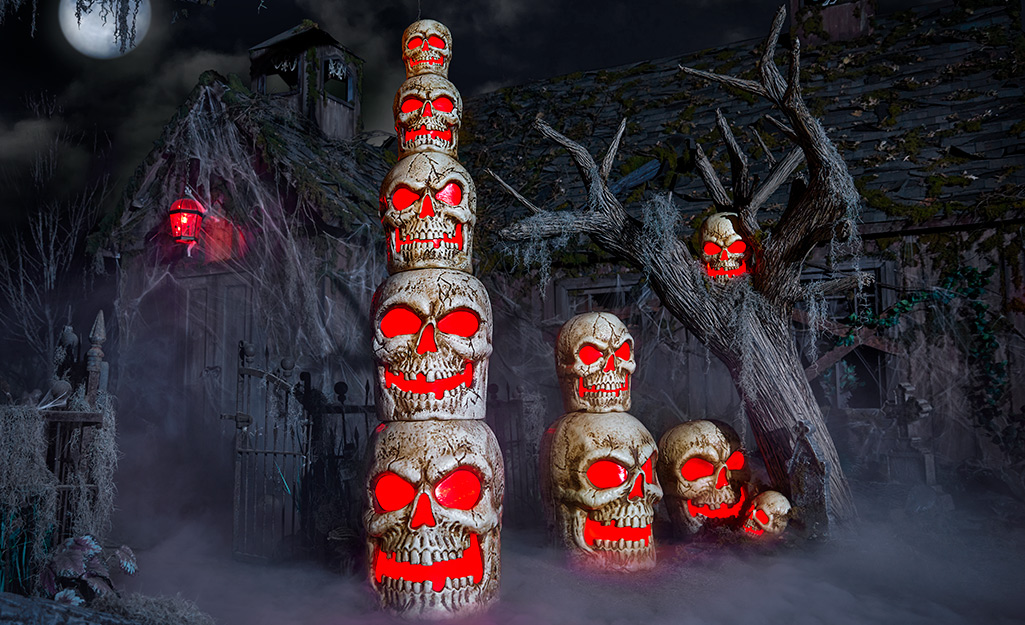 Build terrifying towers of skulls with ghastly red eyes and mouths on your yard, porch or balcony. The skulls, which come in several sizes, can be stacked together or piled in pairs. Use them as a centerpiece or wherever you need an extra touch of impending doom.
Create a Creepy Cemetery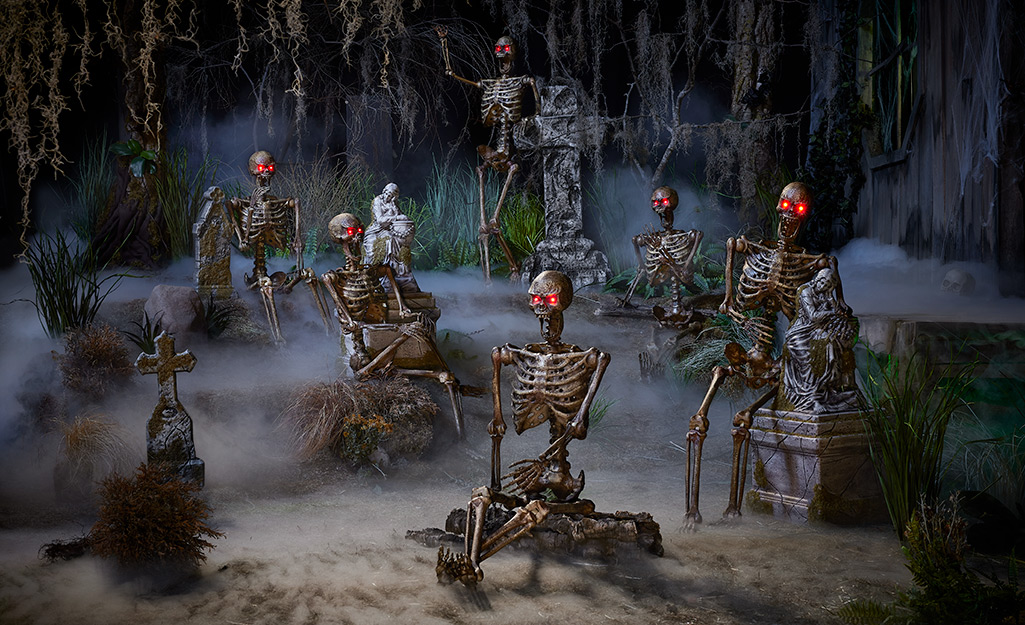 Turn your front yard into a creepy graveyard, full of the ghosts of trick-or-treaters past. Skeletons with glowing red eyes can stand and sit among tombstones scattered around your front or back yard.
You can get headstones as a set or find individual grave markers to group together. Some have LED lights illuminating the carvings or skeletons decorating the top. Others feature animated characters jumping up behind the headstone. 
Give Halloween Night a Glow Up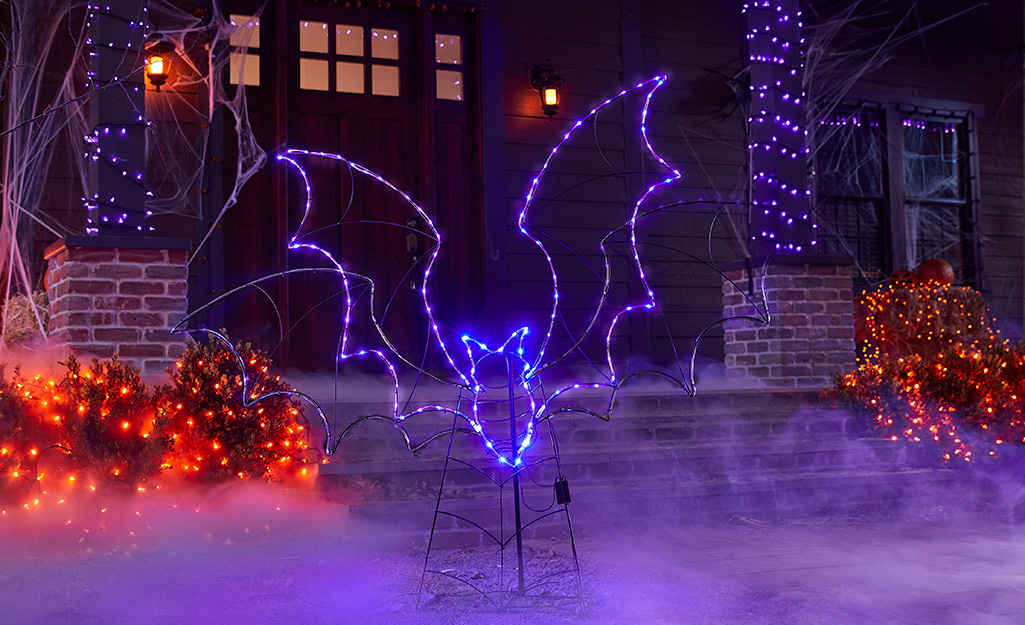 As you're decorating your yard for Halloween, don't forget the lights. Illuminated displays and strings of lights are among some of the best Halloween house decorations.
Festive Halloween lights can accent your house and highlight your displays.
Light up your yard in purples and oranges.
String lights along your porch that flicker with a skull design.
Mix in Halloween projector effects to make a glorious light show.
Extend your Halloween lighting beyond the porch with glowing bats and other frightful path markers.
Light the Way to Your Haunted House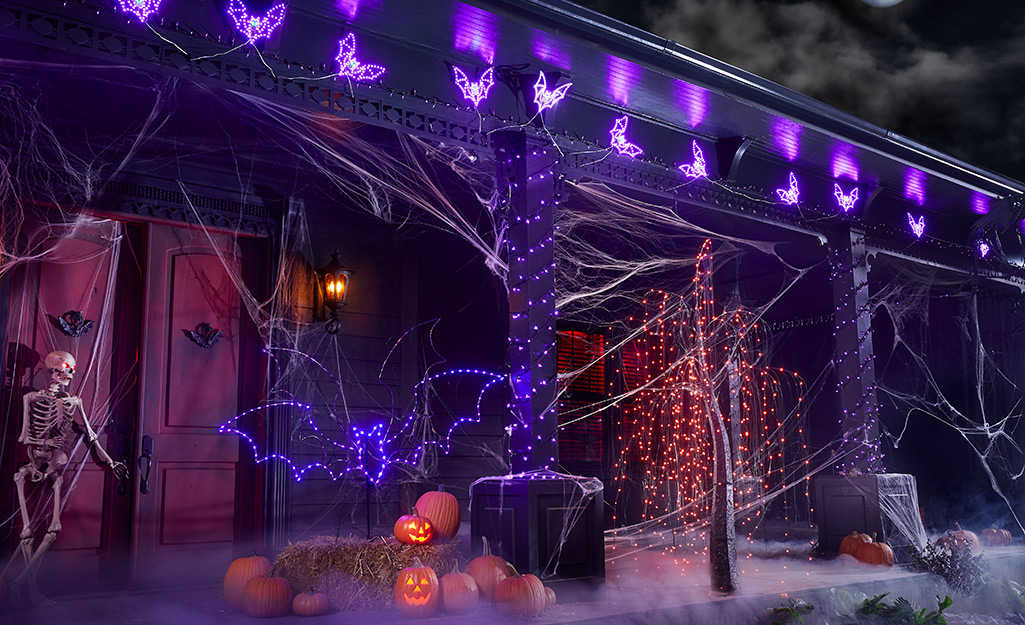 From gentle glimmers to a sinister shine, lights reveal the true colors of your Halloween display once the sun goes down. They can illuminate the path to your front door for trick or treaters or spotlight the scariest sights on your lawn. Add features like a color-changing willow tree that can be set to light up purple or orange to complement the rest of your decor.
Whether you need witches or Halloween lights, cauldrons or skeletons, we have them all. Shopping for the best Halloween decorations? The Home Depot delivers online orders when and where you need them. Plus, if you need to rent a ladder to install your decor, we can help with that, too.