Complete your outdoor living space with a soothing hot tub or spa. Hot tubs and spas are available in a variety of styles, shapes and sizes. A hot tub is ideal for much-needed personal hydrotherapy or perfect for outdoor gatherings. Read on to find the perfect one for you and your space. Learn about styles, features and hot tub accessories before you buy.
Hot Tub vs. Spa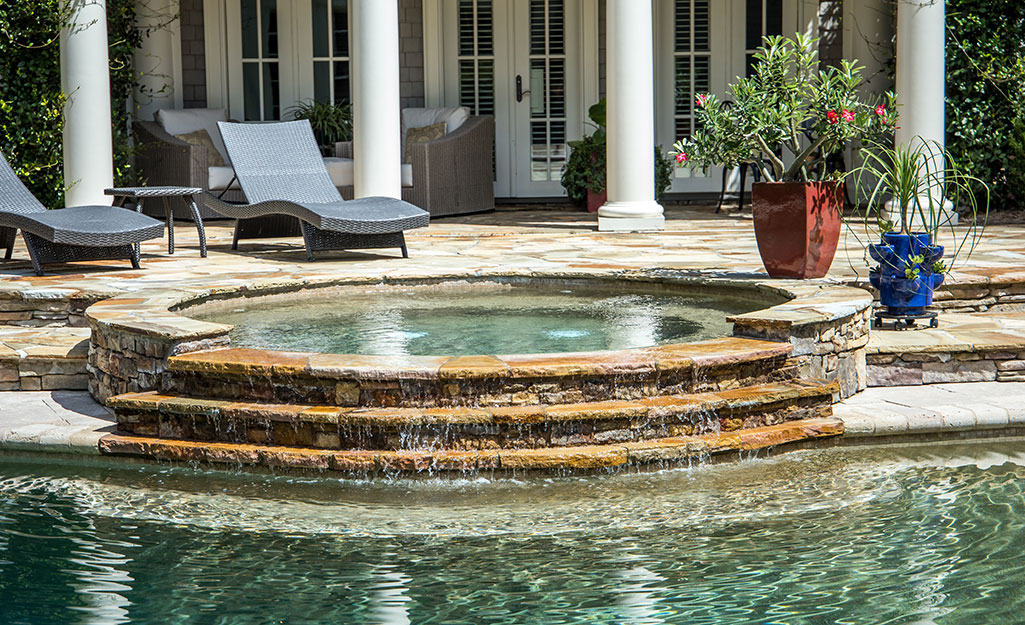 If you've ever asked "What is a hot tub?," you're not alone. The terms "hot tub" and "spa" are used interchangeably. Both are basically tubs or pools of warm, relaxing water. The difference between a hot tub and a spa comes down to it being in ground vs. above ground. 
Hot tubs are above ground and portable. These types of hot tubs can be budget-friendly and moved easily. Spas are in-ground and are often custom made. Spas can be part of a larger pool and can require a higher upfront investment. Both spas and hot tubs can be a paired with a home sauna for the ultimate in relaxation.
For the purposes of this guide, "hot tub" and "spa" will be used interchangeably.
Preparing for a Hot Tub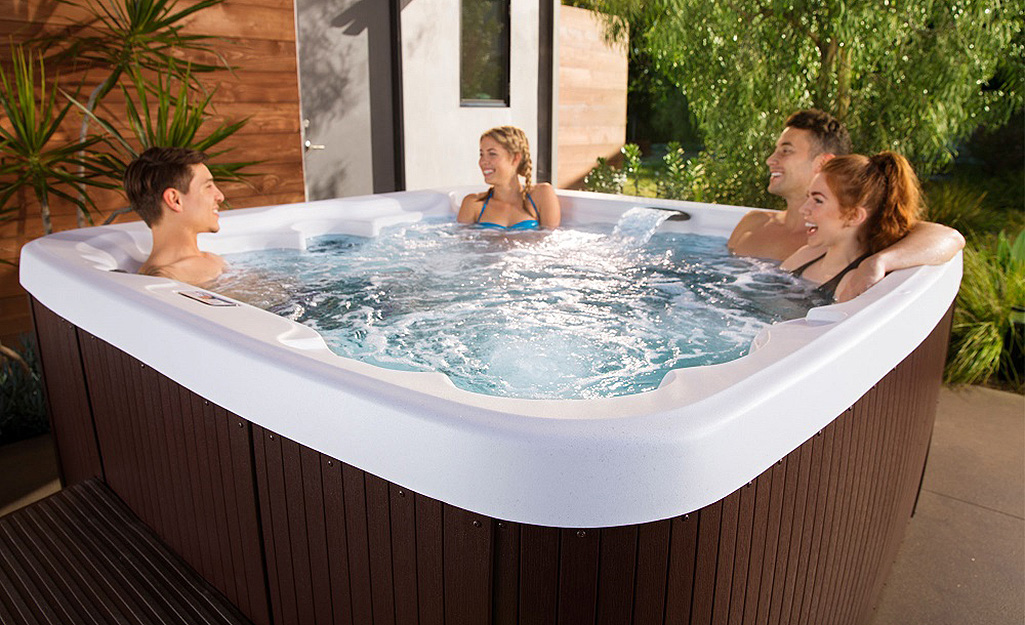 Selecting the best hot tubs starts with location. Before buying a new hot tub, take some measurements of a level outdoor surface. Pick a spot with a great view. Decks and patios are ideal. 
Certain size hot tubs can be heavy when filled. Make sure the outdoor foundation can support the weight. If you decide to place the hot tub on the grass, install a layer of bricks or pavers first. Or you can build a raised deck and add hot tub steps. 
Tip: Remember to place the hot tub where it has access to electricity. If no outlet is available, plan to have one professionally installed. 
Types of Hot Tubs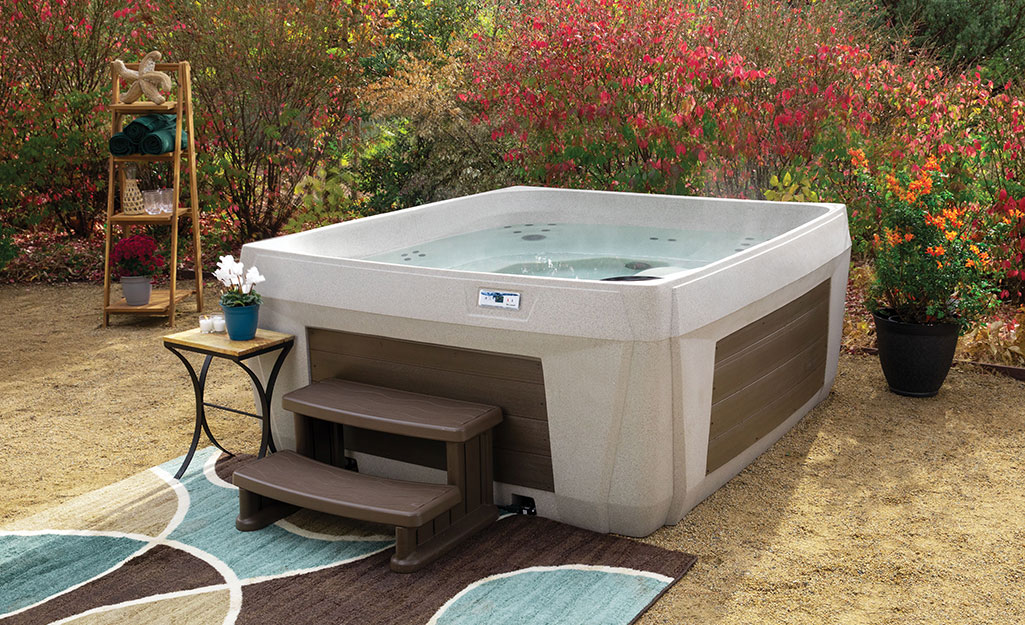 Buying a hot tub starts with deciding which type works best for your needs and space. A standard hot tub can be placed most anywhere. Popular models such as many rectangular hot tubs need to be hardwired. Options like inflatable hot tubs don't. If you're looking for unmatched ease, go with a Plug & Play style. 
One of the best hot tubs for both relaxation and excercise are swim spas. Also known as enclosed pools, they allow you to swim in place or just lounge. Swim spas can be portable or in ground. 
Tip: Experts recommend that the optimum water temperature for any hot tub is between 100°F and 102°F. Follow manufactuer's recommendation for maximum safe temperature.
Plug and Play Hot Tubs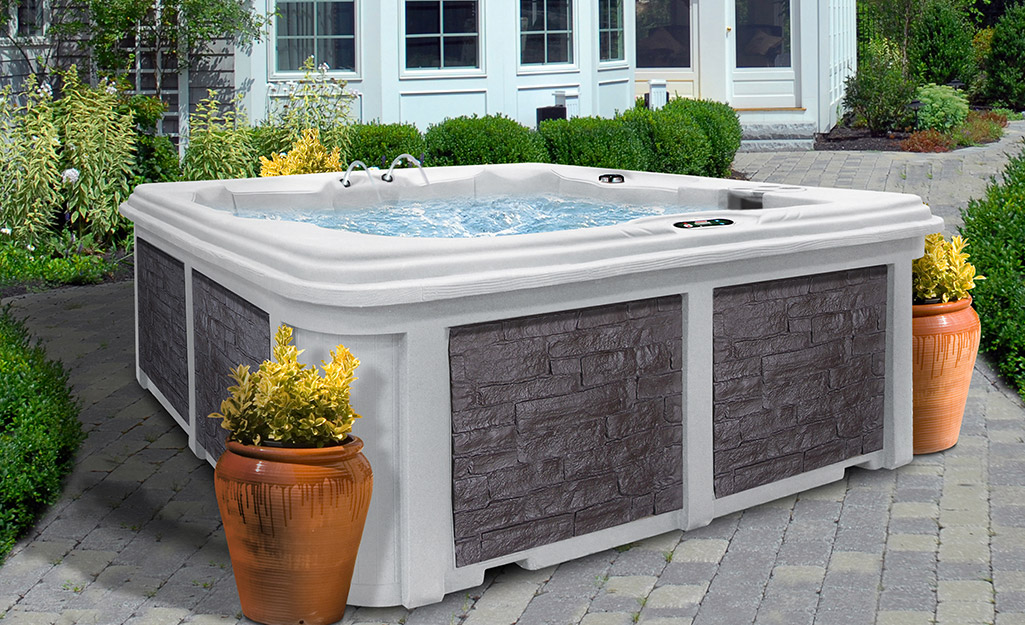 Plug & Play hot tubs are hot tubs with a power cord included. They are usually made with an acrylic interior and a wood, metal or plastic exterior. These portable spas are self-contained and have everything they need to operate. They use about 110 volts, making them quick and easy to use. Simply plug them directly into an electrical outlet. 
Inflatable Hot Tubs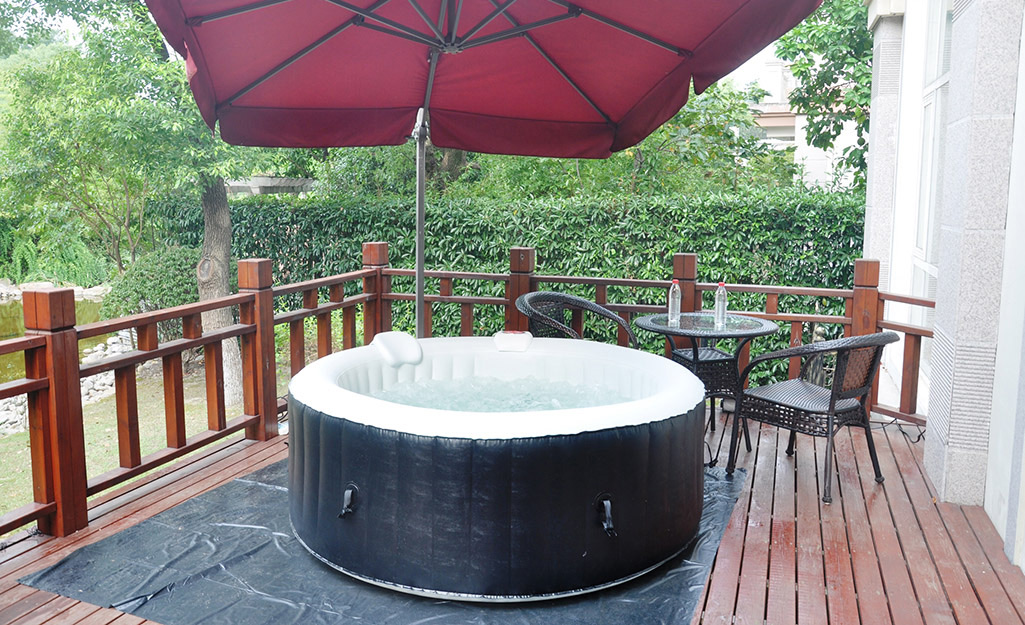 Few spas are more versatile than inflatable hot tubs. Made from latex or vinyl, they are easy to install and budget-friendly. Inflatable styles have a built-in filter and pump system. They have fewer, less powerful jets, but can last up to five years with proper care.
Hot Tub Sizes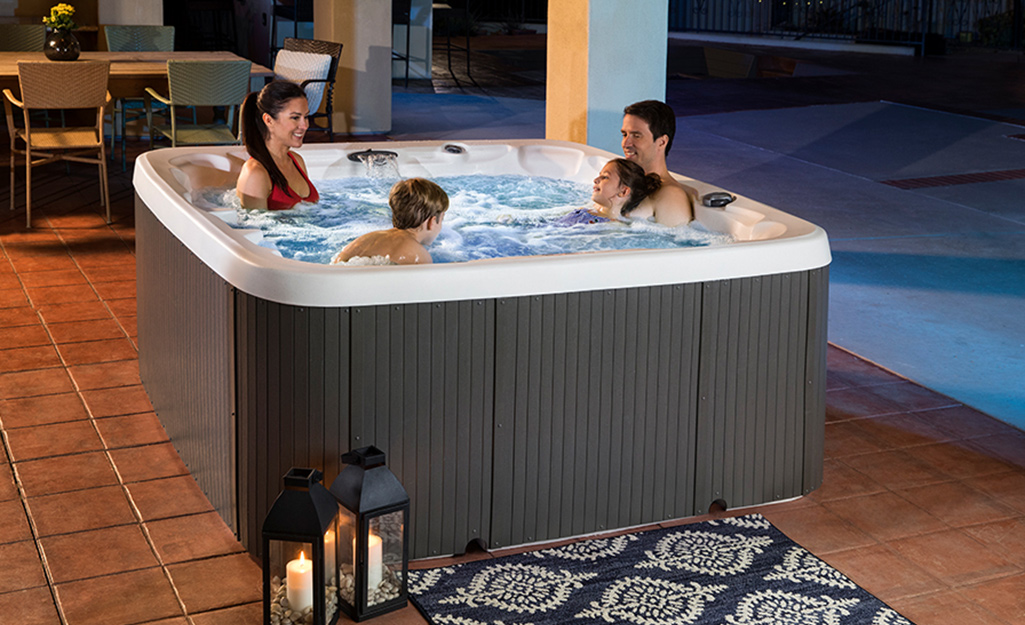 Whether you're adding a hot tub to a small patio or a backyard corner, selecting the right size is important. A hot tub is measured by how many people it can comfortably accommodate. A 2- to 3-person hot tub is ideal for couples and families. They usually measure 3 to 4 feet high and 5 feet across. Most hold about 500 gallons of water.
Having a comfortable hot tub involves determining the width and number of seats you'll need.  If you're tall, opt for a deeper model or a 4- to 5-person hot tub. 
Large Hot Tub Sizes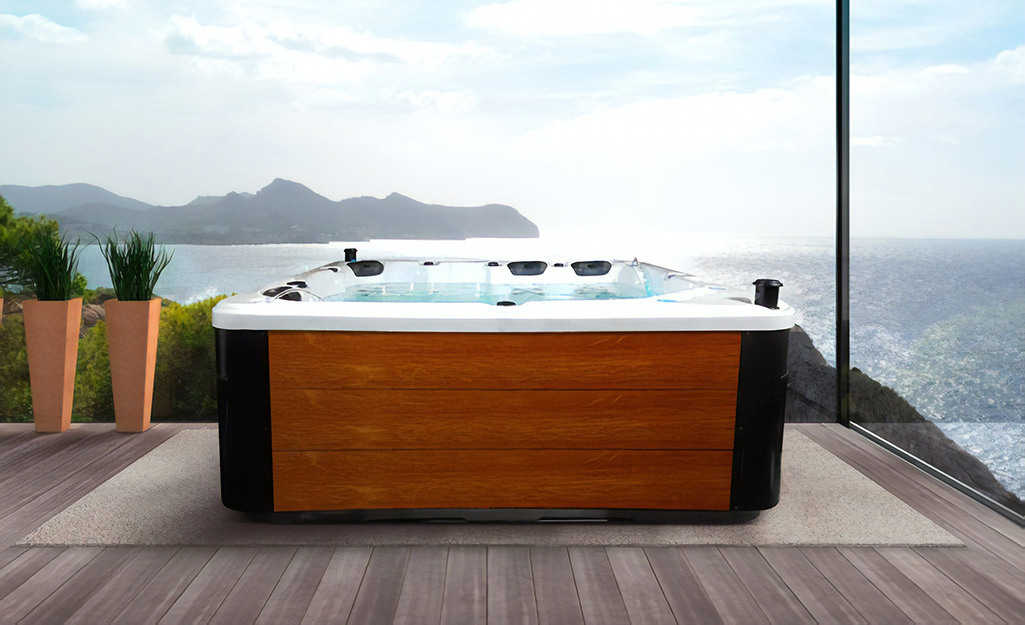 If you like to entertain family and friends, a large hot tub is a great choice. A 6-to 7-person hot tub is ideal for a big backyard. Large hot tubs are usually 4 to 5 feet high and over 6 feet wide. They hold about 850 gallons of water. 
Keep in mind that the space inside a hot tub can differ between models. Consider the width and depth of the seats as well as the number. You can have several seats or opt for a few lounge seats. Oversized hot tubs can be even more spacious. An 8-person hot tub or larger size can be a comfortable choice for a crowd.
Hot Tub Shapes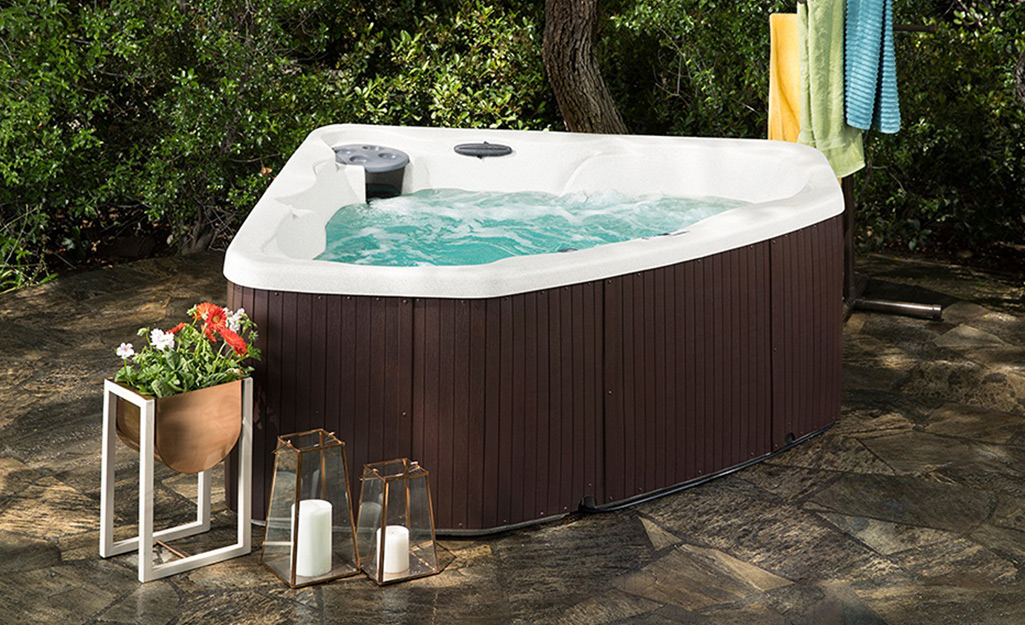 Hot tubs come in almost every shape. Rectangular or square hot tubs offer roomy seating and fit into many outdoor living spaces. Choose a shape based on your outdoor space limitations and the number of people you need to accommodate. 
For a more space-saving option, select a spa that can be placed in a corner of a deck or patio. A triangular or corner hot tub is perfect for one or cozy for two. Other popular hot tub shapes are circular or oblong.  Round hot tubs work well for smaller spaces. Many two-person hot tubs are oval-shaped for intimate seating.
Hot Tub Features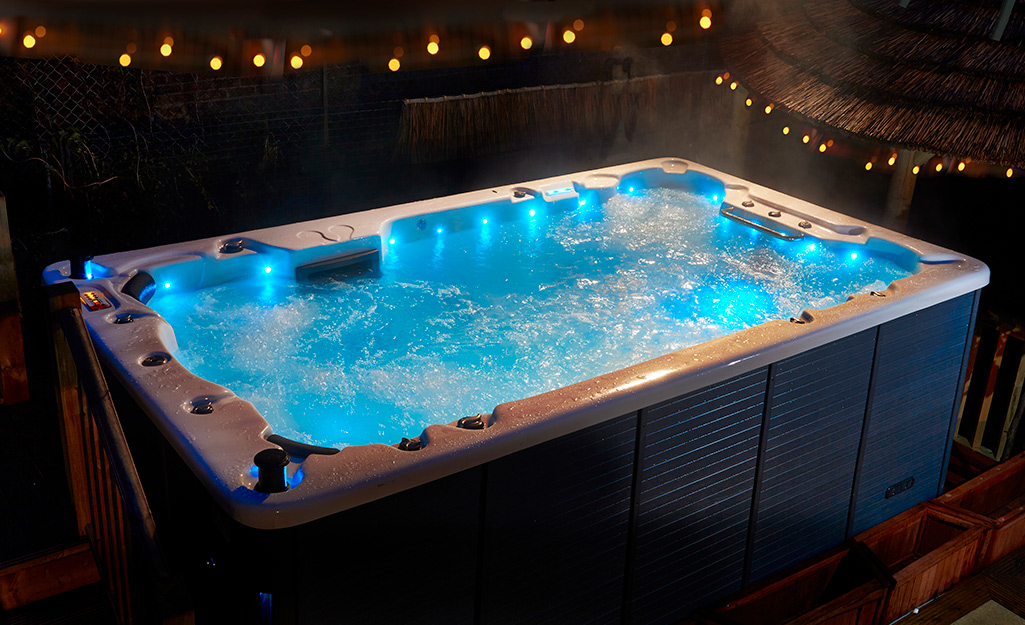 Most hot tubs and spas are equipped with standard features such as a pump, filter, a cover and adequate insulation. You can also find hot tubs with control panels, luxurious jets or designer colors.
The right color for hot tubs interior or exterior can increase its calming affect. Classic white, platinum or silver feels clean and tranquil. Beiges and tans bring a beach vibe. A marbled interior gives a touch of luxury. Blacks and blues are peaceful. 
Jets offer targeted hydrotherapy that can help soothe sore muscles. The number of jets make a real difference. A hot tub can have a few jets or over a hundred. The higher the number of jets the more the upfront investment. 
Built-in LED lights add to the atmosphere, especially at night. Many hot tubs with LED displays allow you to adjust the brightness and color of the lights. 
Built-in audio speakers make entertaining  easier.
Control panels let you adjust the temperature, jets and lights in or out of the tub. 
Smart technology options let you control everything from your device. Play music, stream videos and more. 
Cooling systems and heating systems make a hot tub ready for every season.
Hot Tub Accessories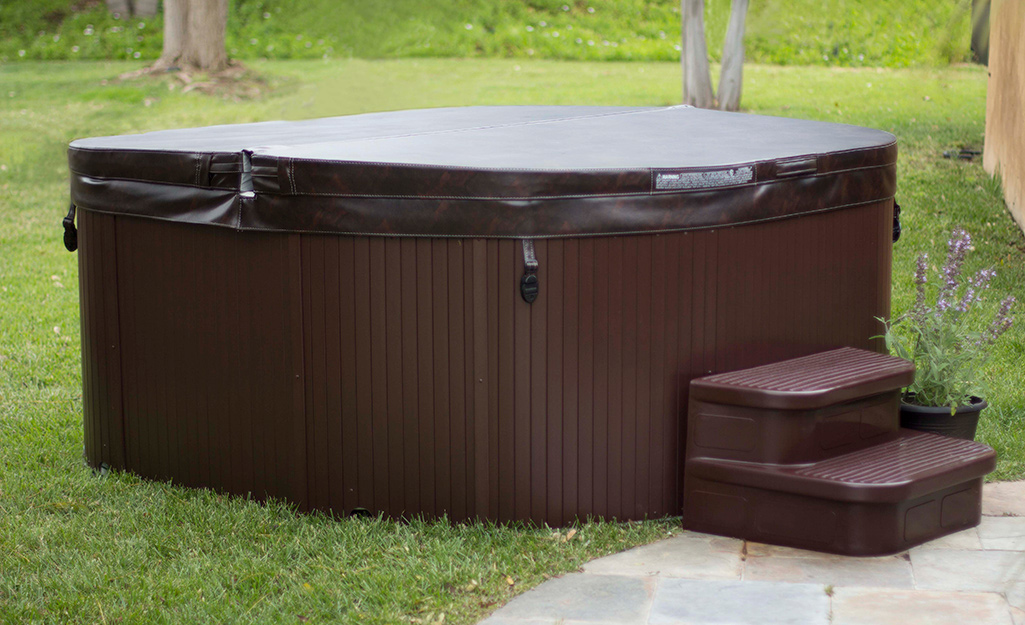 Both practical and attractive, hot tub accessories are a must. They will keep your oasis clean and make it more comfortable. 
A hot tub cover keeps leaves and other debris out of the hot tub. A cover minimizes heat loss and saves energy between uses.  Choose a durable and complementary one that is UV- and mildew-resistant. 
A spa cover can be heavy and difficult to remove. A hot tub cover lifter lets you easily remove and store the cover. 
Hot tub furniture such as stools or benches can make it more enjoyable. 
Add accessiblity with handrails and hot tub steps.
Cushions and headrests increase the comfort. 
Tables, bars and other surrounding outdoor furniture are perfect for entertaining.
Maintenance Tips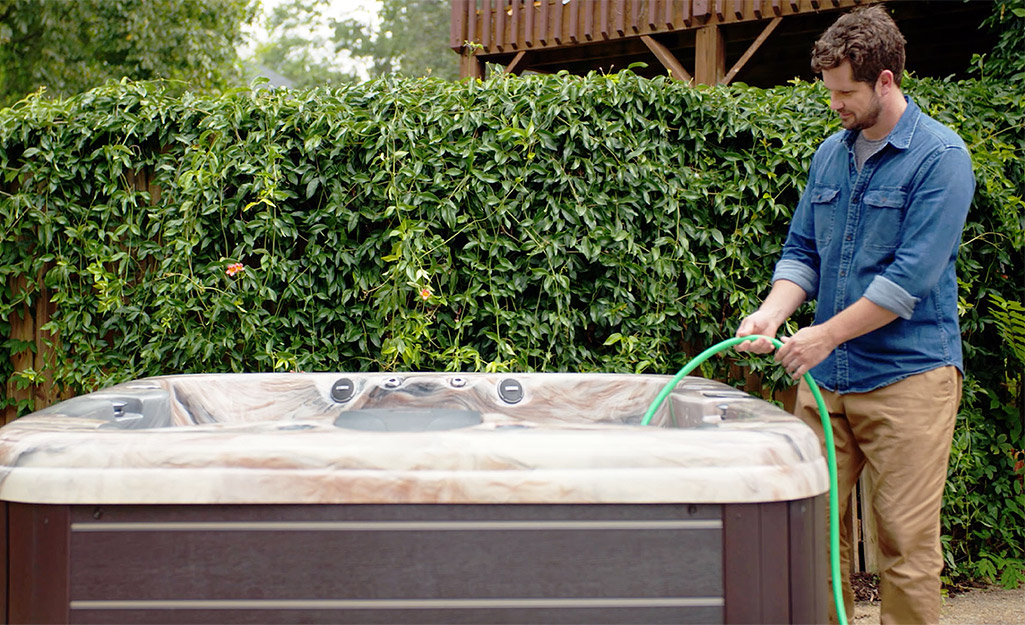 Test the water for pH and alkaline levels weekly. Keep replacement filters and hot tub chemicals on hand and use as directed.
Run the hot tub twice a day for about 20 minutes. Circulating the water ensures that all of it gets filtered. Some hot tubs do this automatically.
Wash the exterior and above the water line once a week. Scrub with vinegar and water to remove any scum that appears.
Drain, clean and refill the hot tub every few months, or as needed.
Choosing the best hot tubs for an outdoor space depends on your location and needs. Spas come in a wide variety of types, shapes and sizes. You can choose from portable or inflatable styles. With so many feature and style options, you can customize your hot tub. Create an ideal relaxing experience anywhere. Ready to get your new hot tub? We offer professional hot tub installation services. Or you can rent a truck to take your new spa home.
Explore More on homedepot.com