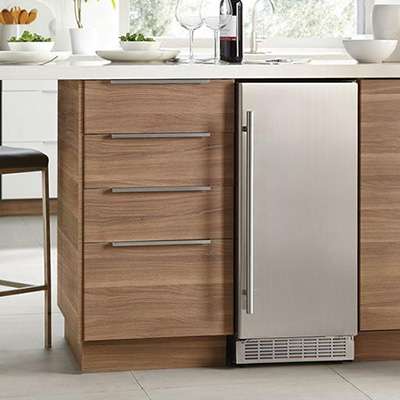 There several options of where you can install an automatic ice maker, but installing it in the refrigerator/freezer is usually the most convenient option for many people.
Freezer Ice Makers
Many new refrigerators come equipped with an automatic ice maker as a standard feature, but some of them don't have one.
Can be installed into most top-mounted and side-by-side refrigerators
Most ice makers produce around 5 – 8 trays of ice per day
A simple trip-lever mechanism activates the ice maker and spurs production
Crushed ice cools beverages more quickly
Check with dealer or manufacturer to make sure that you're getting the right model for your refrigerator
Freestanding
Ideal solution for larger families where a standard refrigerator ice maker cannot keep up with the demand.
Under-counter units are capable of producing and storing up to 25 pounds of ice per day
Look for under-counter units that don't require a drain for greater convenience
Larger home units can produce up to 50 pounds of ice per day
Some units let you choose between installing as built-in or freestanding
Commercial ice makers are usually air-cooled, water-cooled or remote air-cooled
Commercial units may be noisy
Portable
A portable ice maker may be a better option than a cooler if you need ice for an outdoor activity. It can generate ice on the spot in a short period of time.
Some units can generate up to 29 pounds of ice per day
Some models can create different sizes of ice cubes
An insulated storage compartment will help keep ice cold

Look for an easy-to-remove basket to make getting ice out easier
Installation Considerations
Automatic ice makers can be installed into a refrigerator in a few hours without too much hassle or expense.
Supply tubing, compression fittings and wrenches will be needed for installation
Ice maker kits may or may not include supply tubing and compression fittings
Plastic supply lines are easier to install than copper lines
Use a standard T-fitting and shutoff valve if you're not able to use a saddle valve

Freestanding ice makers may take up a lot of room and can be noisy
Features
Filter. Ensures that pure, clean water is used to make ice cubes.

Self-Cleaning. Automatically empties the ice bin and cycles a cleaning solution through the unit.

Stainless-Steel Construction. Freestanding units made from stainless steel provide long-lasting dependability.
Explore More on homedepot.com