Buying Guide
Best Outdoor Cushions for Your Patio Furniture
Between backyard barbecues, frequent social gatherings, and withstanding harsh weather conditions, your outdoor furniture cushions can experience quite a bit of wear and tear. Replacement cushions are a great way to breathe new life into your outdoor furniture without the extra cost of buying a whole new set. Whether you want to replace your old cushions, or add a cushion to a piece you already own, this guide will teach you how to properly measure chaise lounges, patio chairs and more in a matter of minutes.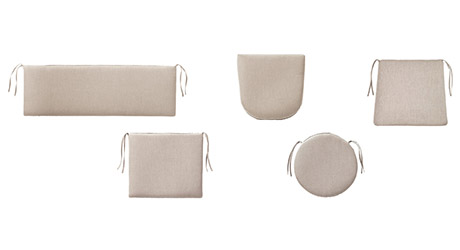 The five most common cushion shapes for furniture are rectangle, contoured, trapezoid, square and round. We recommend going with the shape of your original cushion, or choosing the shape that best fits the shape of your outdoor furniture piece.
Tip: Keep in mind that overall furniture shapes like deep seating, benches and chaise lounges may not easily fit within the five common shapes outlined above.
HOW TO MEASURE YOUR CURRENT CUSHION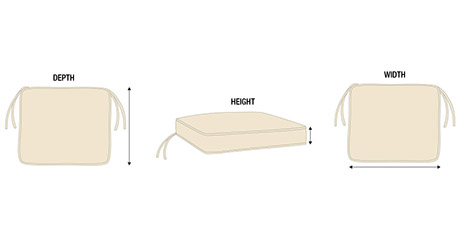 Depending upon whether you're replacing your cushions or buying new cushions to complement an existing outdoor furniture piece, you should use one of two measuring methods: measure your current cushion or measure your actual furniture.
Measuring your current cushion is one of the best ways to ensure you get the most accurate measurements possible. Our cushion measurements include height, width and depth dimensions.
DEPTH: The depth, or length, dimensions are found by measuring the top-to-bottom or back-to-front of the cushion.
Tip: Cushions look best when flush with seating, so going a bit shorter is OK.
HEIGHT: This refers to the thickness of the seat cushion. The height can also affect how the seat functions, but is ultimately a matter of personal preference. Think in terms of style and comfort when taking this measurement.
Tip: If your current cushion is very worn, take this into consideration as you measure its height.
WIDTH: To find the proper width, measure from the left side of the cushion to the right in three different areas. The easiest way to do this is to measure across the middle of the cushion, then measure across the front, and similarly across the back. Typically you'll use the widest of these measurements for the official width, however, if your current cushion is quite worn, you'll use the smallest measurement.
Tip: When measuring your chaise lounge, also measure for the break to prevent gaps. Simply measure from the bottom seam of the cushion to where the cushion is designed to bend. Don't forget to measure the back rest, chair seat and leg rests for steamer styles.
HOW TO MEASURE YOUR OUTDOOR FURNITURE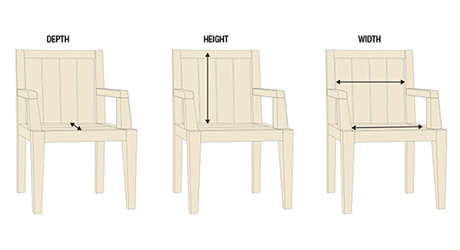 Measuring your outdoor furniture allows you to better customize the cushion to fit a particular piece. This method is great for pieces that didn't originally come with outdoor cushions, or if you're looking to switch styles.
DEPTH: To find the depth of the back rest, measure from the top of the chair back to where it meets the seat of the chair. For the seating area, measure from the back of the seat to the front.
Tip: For chaise lounges with breaks, be sure to measure the back rest, seat area and foot rest. The top-to-bottom, back-to-front method helps to ensure you get the full depth of each break.
HEIGHT: How thick you prefer your cushion to be is what ultimately will determine your height measurement. Here is where style may come into play a bit, as you may opt for a thinner cushion for a more sleek, contemporary look. If you want to achieve a more plush, comfortable feel, you may choose to go with a thicker cushion.
Tip: Look for the dimensions of our cushions listed in the product details online or in our catalog. Lock your measuring tape at the height listed and place it against your seat to see how far up the prospect cushion would go.
WIDTH: Find your width measurements by measuring a few different areas. Start by measuring the seating area between barriers such as between the armrests, across the back of the chair, as well as between leg rests, and any raised edges.
Tip: Avoid using manufacturer's measurements; they may take the entire product into account rather than just the seating area needed for replacement cushions. Also, if your furniture includes raised edges, be sure to take this into account as you take your measurements.
EXPLORE CUSHION STYLES, FABRICS & PATTERNS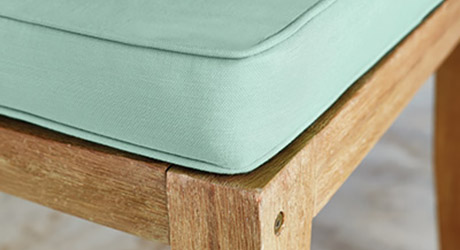 CUSHION STYLES

Bullnose style cushions have rounded edges, offer a more casual look and are the most cost-effective option.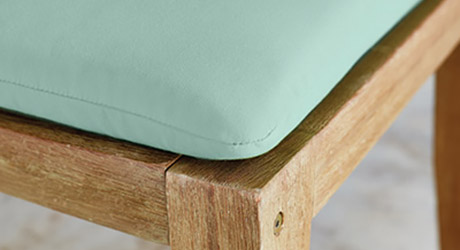 Contemporary box-edge style cushions allow for piping around the edges.

These cushions are perfect for creating a more elegant look and feel to your outdoor seating.
| | | | |
| --- | --- | --- | --- |
| | Polyester - Outdoor Cushions | Sunbrella - Outdoor Cushions | Sunbrella - Home Decorators Collection - Outdoor Cushions |
| Description | Polyester | Sunbrella® | Premium Jacquard Sunbrella® |
| Feature/Benefits | Sun hours: 500 | Sun hours: 4,000 | Sun hours: 4,000 |
| Recommended For | Very light and airy Very cost-effective, with varied selection of styles Available in prints, florals, stripes and more Resistant to UV rays, stains and mildew | Light fabric with extra longevity Comfortable, plush feel with quick-dry polyester fill Resistant to UV rays, stains and mildew | Heavier, stretchy, textured indoor upholstery feel Rich, woven fabric with a luxurious feel Resistant to UV rays, stains and mildew |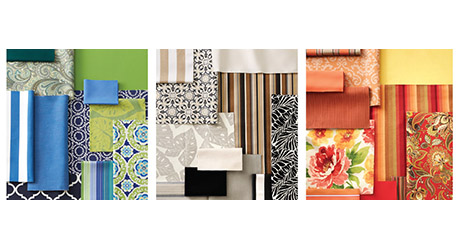 Choose from a range of solids, stripes, trellis, florals and more.
After you've successfully taken your measurements and know which size cushions to purchase, the design possibilities are limitless. Experiment with combining different cushion colors and pattern choices with our outdoor umbrellas, outdoor curtains and outdoor pillow coordinates for a pulled-together look.