Removing paint from a surface is the first step to giving it a whole new look. You might want to take paint off a vintage piece of furniture or off pieces of wood trim that are part of your home. Whatever you're working on, you must thoroughly remove old paint and stain to properly refinish a surface. 
This guide will teach you about the best paint strippers to get the job done. 
Make safety a priority when using all types of solvents and strippers. Always read the manufacturer's warnings and carefully follow the safety precautions on the label. These products have varying degrees of flammability and toxicity, so take extra care. Prolonged exposure to paint strippers has been linked a range of health problems.
Types of Removers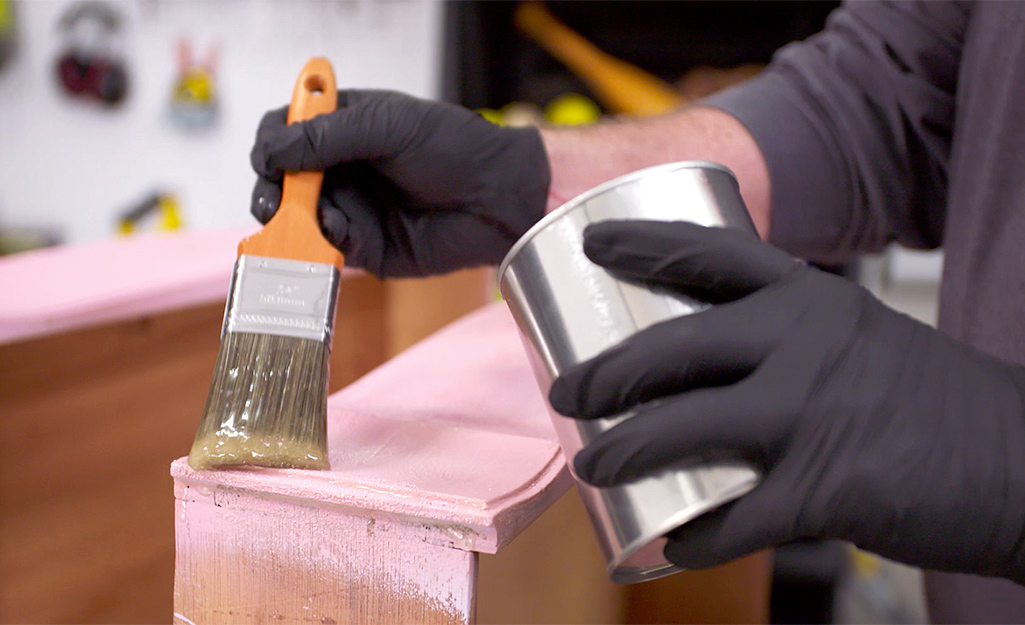 Paint strippers and removers eliminate all types of paint and finishes to reveal an object's original surface. Solvent and caustic strippers can work in as little as 15 to 30 minutes. They can remove as many as 15 layers of paint. They may be the best paint strippers to use on items that have been painted multiple times over the years. 
Biochemical and non-toxic strippers are not as harsh. They can take as long as four to 24 hours to fully penetrate the surface, depending on the size of the project, and can strip as many as seven layers of paint.
Solvent
These removers work well on metal and masonry and can take off epoxy and polyurethane. They are among the best paint strippers for wood.
The active ingredients in solvent removers are typically toxic chemicals, which means increased health risks when you use them. These removers generally have strong fumes because they contain volatile organic compounds (VOCs). 
They can make you feel dizzy or give you a headache. These removers can also cause cancer, as well as lasting damage to your liver and kidneys. 
Caustic 
The active ingredient in these water-based strippers is lye. It reacts with the paint to form a soap, which can then be more easily worked loose from the surface of the item. 
Use these removers on concrete floors, brick fireplaces and other masonry that has been painted with oil-based paint. 
Caustic removers can sometimes work to take paint off items made of metal or wood. However, they can leave stains on wood and break down metals such as aluminum.  
These removers can injure your lungs or skin. 
Biochemical
Made with solvents that come from plants, these removers are safer substitute for solvent and caustic products.
When used on masonry, metal and wood, these kinds of removers can take off water-based and oil-based paint. They can be considered one of the best paint strippers for wood.
They will not work for epoxy or polyurethane. 
Still, they can harm your skin and respiratory system, as well as your reproductive system.  
Non-Toxic
These removers work best for getting oil- or water-based paint off metal and masonry. They can also be used on some types of wood. 
Don't expect them to perform well on epoxy or polyurethane. 
While non-toxic removers are among the safest products, you will still need to use protective equipment to keep them from irritating your lungs and skin. 
Once you've successfully stripped paint or finish, wait until the stripped paint or epoxy dries before disposing of it. 
Tip: Removers are available in consistencies ranging from thin liquids to thick semi-pastes. Semi-paste removers cling to surfaces, making them ideal for vertical or overhead applications.
Types of Solvents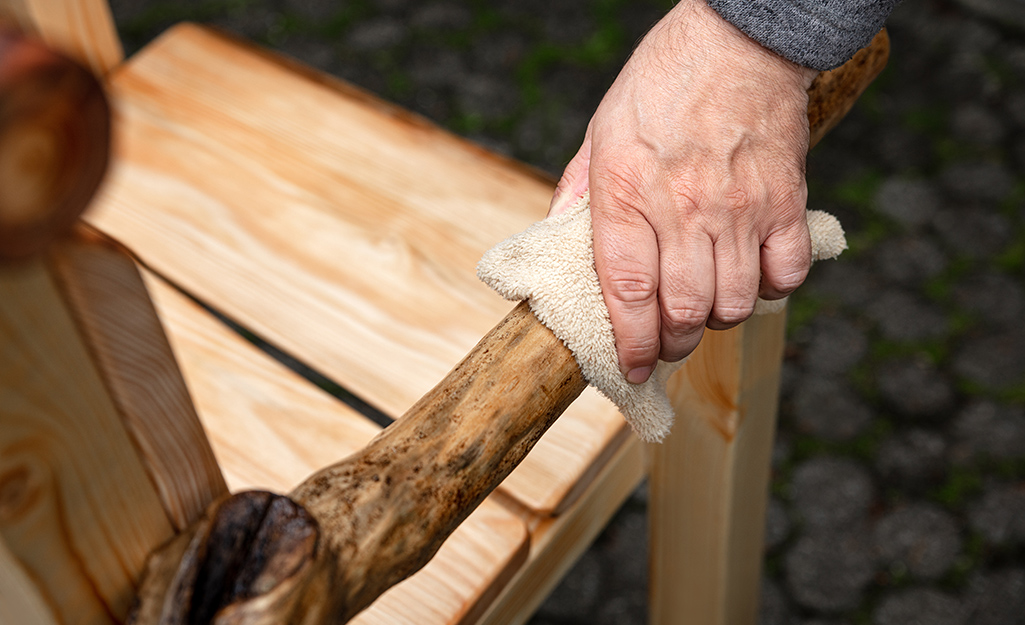 Solvents are used to dissolve or thin paint, and as part of paint preparation or cleanup. After a remover has been used, solvents are often needed to clean and prep the surface to receive a new finish. 
Here are some of the most common types of solvents: 
Mineral spirits: This petroleum product is as a less costly and less toxic substitute for turpentine. You can use mineral spirits to remove paint, clean paint brushes and thin varnish and oil-based paints. Its liquid and vapor are flammable. 
Turpentine: Derived from tree resin, this organic solvent is often used by artists to thin and remove paint. It can be used to remove oil-based paint, acrylics, varnishes, tar and tree sap. It can be used as a thinner for oil-based paint, but shouldn't be used to thin water-based paint, latex paint, lacquer or shellac. Its liquid and vapors are flammable. Breathing in turpentine can hurt the respiratory and central nervous system. 
Denatured alcohol: This solvent is made of drinking alcohol (ethanol) that has been altered with other chemicals that cause it to be extremely unappealing or even poisonous to drink. It works well for thinning shellac, lacquer, resin and ink. Denatured alcohol is also good for cleaning paint brushes and removing glue. Consuming denatured alcohol can be fatal. 
Linseed oil: Also known as flaxseed oil, this oil comes from the seeds of flax plants. It can improve the flow of oil-based paints. It can also be used to clean paint brushes and as a finish for wood furniture. With rags that have been used with linseed oil, there is a risk of spontaneous combustion. To prevent fire, handle rags properly. In temperatures above 40 degrees F, they can be spread out flat to dry outside for at least 24 hours. Rags can also be washed with water and detergent repeatedly until all oil has been removed. 
Acetone: Often the main component in nail polish remover, acetone can be used to thin paint and lacquer and to remove adhesive, epoxy and ink. Acetone can also be used as a paint stripper and to clean up after projects. In both liquid and gas forms, acetone is highly flammable. It can also cause eye and lung irritation, as well as dizziness and drowsiness. 
Methyl Ethyl Keytone (MEK): Also known as butanone, MEK is often used to wipe down surfaces before new paint or stain is added. It can be used to remove paint, adhesive, epoxy, grease and dirt. 
Xylene: This solvent can be used to thin oil-based paint, enamel, varnish and adhesive. Its liquid and vapor are flammable.  
Lacquer thinner: In addition to thinning lacquer, this solvent can be used to clean brushes, paint sprayers and other equipment after working with lacquer. In liquid and vapor forms, it is highly flammable.
Wondering about paint thinner vs. acetone? Acetone can be used to take old paint off a surface. However, if you combine acetone with new paint, the paint will no longer be usable. 
Paint Stripper Tools and Application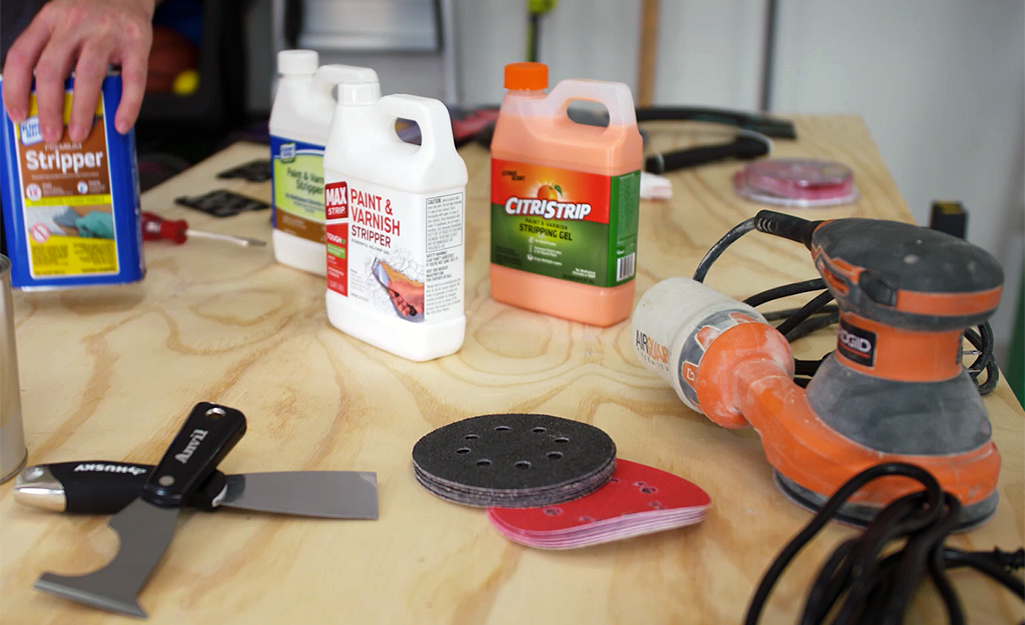 You can use paint brushes, putty knives and other tools to apply paint solvent. Be very safety conscious when working with the harsh chemicals.
Use paint brushes to apply removers. Once they've taken effect, use dull putty knives, synthetic scrub pads and scrapers to take off finishes.
To remove finish from hard-to-reach nooks and crannies, place some wood shavings in your gloved hand. Wrap your hand around table or chair legs and rub them down.
Rope can be useful for getting into cracks and turnings.
If the remover creates a waxy buildup, make sure it's thoroughly removed before refinishing.
For a chemical-free option, heat guns can be used to remove paint. Once heated, simply use a scraper or putty knife to remove the finish.
Tip: To apply removers, use inexpensive, disposable brushes so you can throw them away after use.
Paint Stripper Safety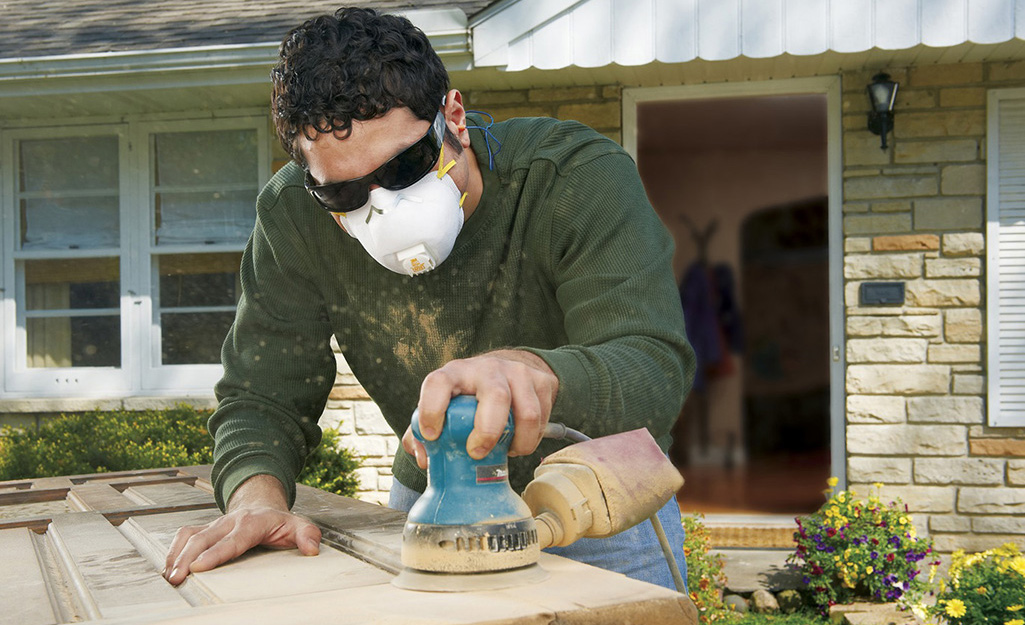 When stripping paint, always use safety gear to protect yourself against the toxic chemicals and fumes. Use brushes, scrub pads and scrapers to remove the paint once it's been stripped or dissolved. 
Safety is of the utmost concern when working with solvents and removers, particularly when working with flammable materials or substances that emit toxic fumes. Read the labels on any product that you use and take the recommended precautions. 
Protect your body by wearing pants, a long-sleeve shirt, gloves and an apron. 
Safety glasses or splash-proof goggles will keep your eyes safe while a respirator will help protect your respiratory system. 
Even if you're wearing a respirator, make sure you're working in a well-ventilated area. When you're stripping paint, work outside whenever it's feasible.  
Wear a face shield when working with caustic removers, such as lye, and chemical-resistant gloves rolled over your sleeves to prevent drips from running down your arm.
If you're uncomfortable with the potential negative health effects that paint strippers can cause, consider hiring someone to do the work. 
You may notice that some paint removers are labeled "non-methylene." Methylene chloride is a hazardous chemical that has been connected to cancer, heart attacks and other serious health issues. 
In 2019, the FDA enacted a ban on products for consumers that contain methylene chloride. If you have older products that contain methylene chloride, dispose of them properly. Do not use them for your projects. 
The best paint strippers can help you refurbish indoor or outdoor furniture or architectural elements of your home. As you determine which product to use, consider what material you're working with and the safety risks of each kind of remover.
Need supplies for your paint removal project? Save time shopping with the Home Depot Mobile App.