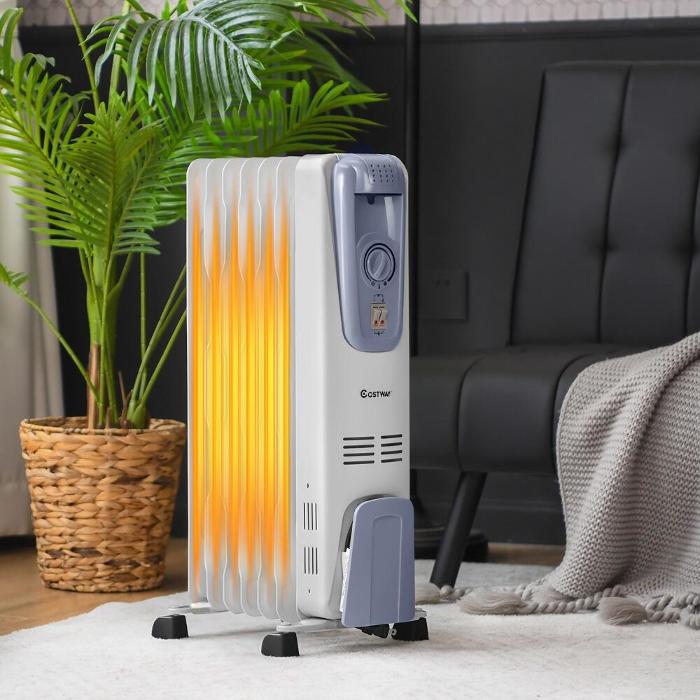 Space heaters are portable heaters that provide supplemental warmth. The best space heaters help save energy. Heat only the space you need and keep the overall heat in the rest of your home at a lower temperature. This guide helps you identify the best space heater for your home.
Electric vs. Gas Space Heaters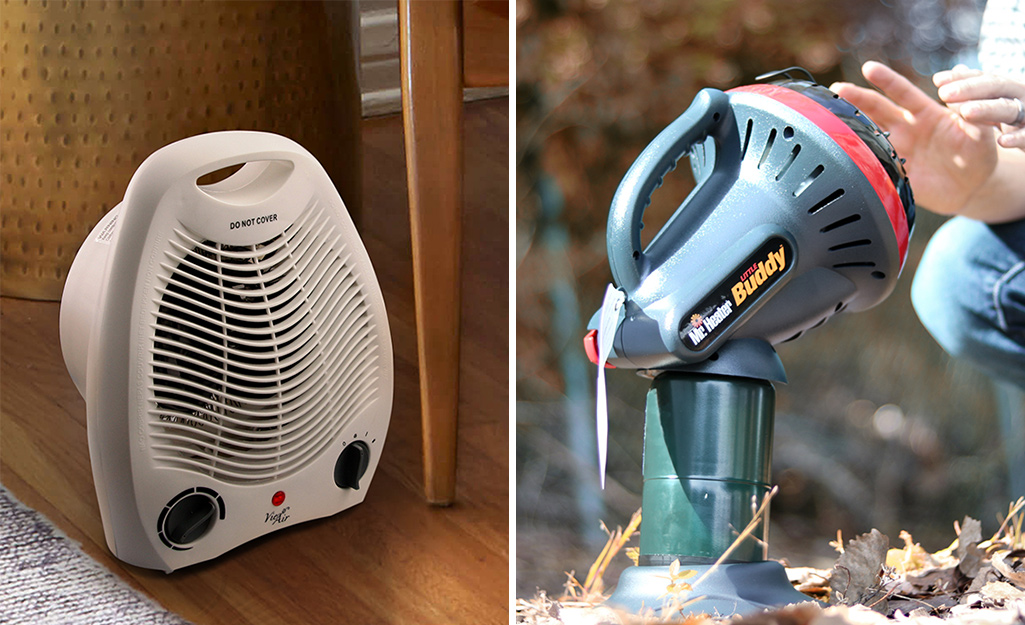 There are several types of space heaters. The two most common are electric space heaters and gas space heaters. Electric heaters convert electrical energy into heat. Gas heaters burn fuel such as propane, natural gas or kerosene. One big difference and benefit of gas space heaters is that they won't be affected during a power outage, since they don't use electricity. But gas heaters also usually have more safety considerations. 
When choosing a heater for your home, there are many things to consider. Some heaters are more cost efficient and are just better choices for your particular space. Check out some of the benefits and drawbacks for various types of heaters.  
Fan Heaters
Offers high energy efficiency.
Use in enclosed areas.
Requires no venting.
Safest option for portable heating.
Other Considerations:
Costs more to operate than gas units.
Requires an electrical outlet.
Takes longer to warm up.
Doesn't provide heat during power outages.
Propane Heaters: 
Costs up to 50 percent less to operate than electric.
Offers greater portability.
Functions during power outages.
Heats up quickly.
Other Considerations:
Requires higher initial investment.
Requires adequate ventilation.
Use only in open areas.
Creates noise when fuel flows and ignites.
Electric Wall Heaters:
Requires no venting.
Heats up quickly.
Use in enclosed areas.
Accessible price point.
Other Considerations:
Requires an electrical outlet.
Does not require adequate ventilation.
Not portable.
Radiant Heaters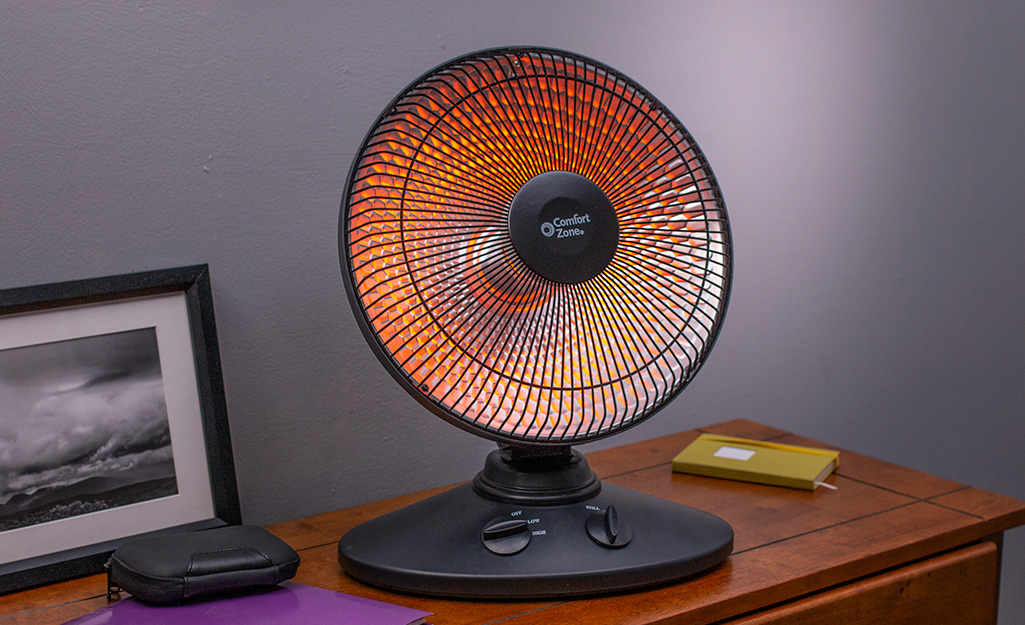 Radiant heaters make a perfect personal heater. They deliver heat directly to you and don't need to raise the air temperature throughout a space before you start to feel warm.
Perfect for delivering heat safely with a heat-conserving oil that doesn't need refilling.
Safe, effective and inexpensive.
Ideal for the living room, bedroom or den.
Fan Heaters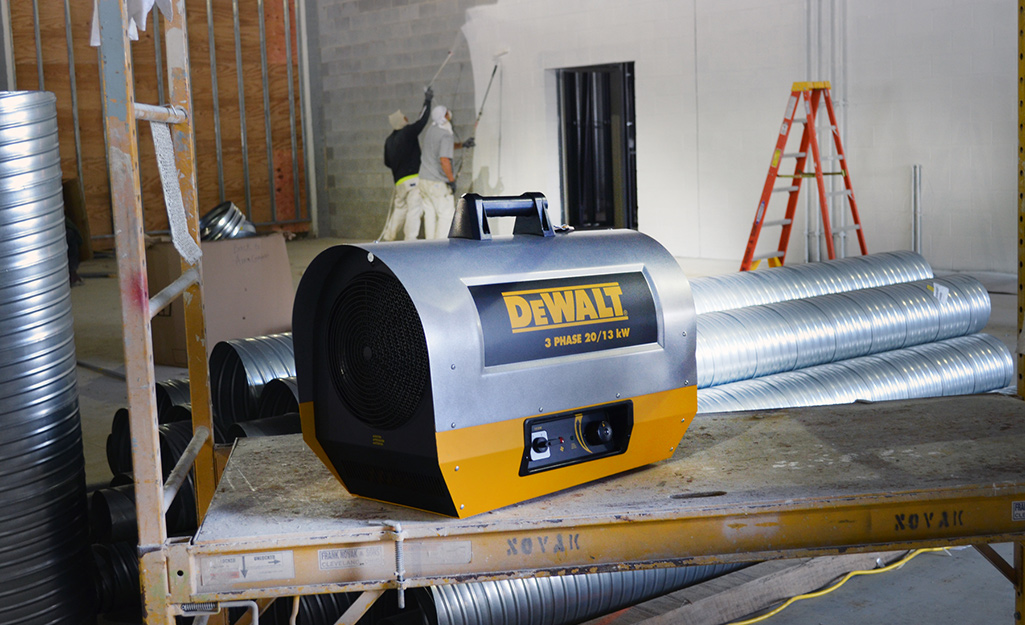 Fan heaters are also called blow heaters. They work by utilizing a fan to pass over a heat element. These fans can heat up an enclosed space quicker than a heater without a fan. However, there is a noise factor, since it is a fan.
Warms air over coil elements and is fanned into a room.
Features plastic housing that remains cool to the touch.
Provides quick and even heat.
Ideal for an office or workshop.
Infrared/Reflective Heaters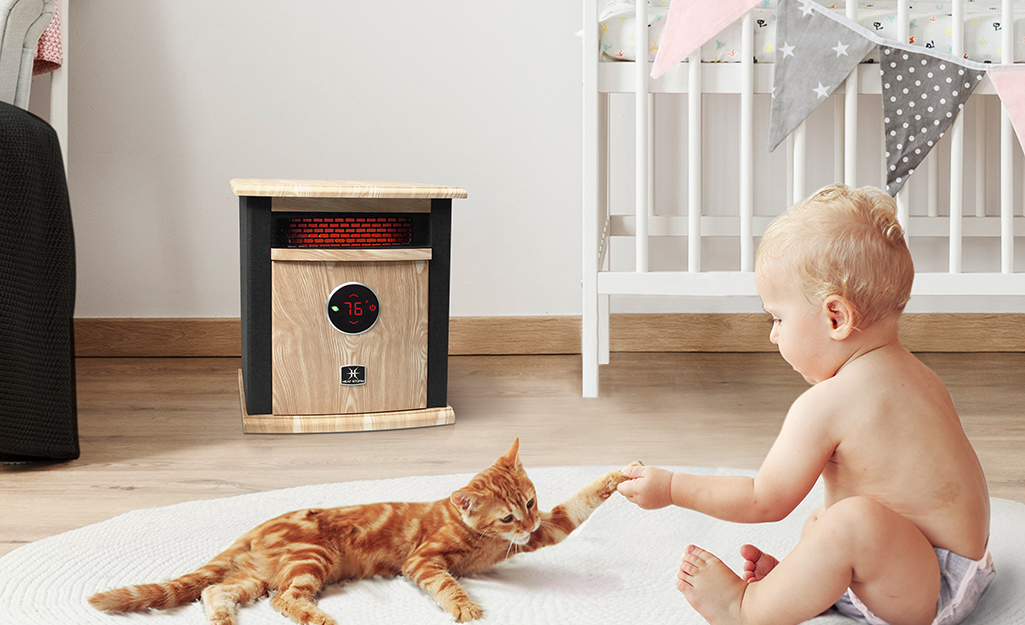 Infrared heaters (aka reflective heaters) can be powered by electricity, natural gas or propane. The heat from an infrared heater is a product of light that is not visible. We're able to get warm because our skin and clothes absorb the light.
Direct heat at specific locations or people.
Are ideal for bedroom or living room.
Ceramic Heaters
Ceramic heaters utilize a ceramic heating element that heats up fast and requires minimal energy to come to the temperature you want. Since it runs off electricity and is portable, it's a great choice for heating in a home or office environment.
Warm air over coil with ceramic and aluminum elements.
Provide quick, powerful heat while fan housing stays cool.
Works well in a small office, sunroom, kitchen or bedroom.
Gas Heaters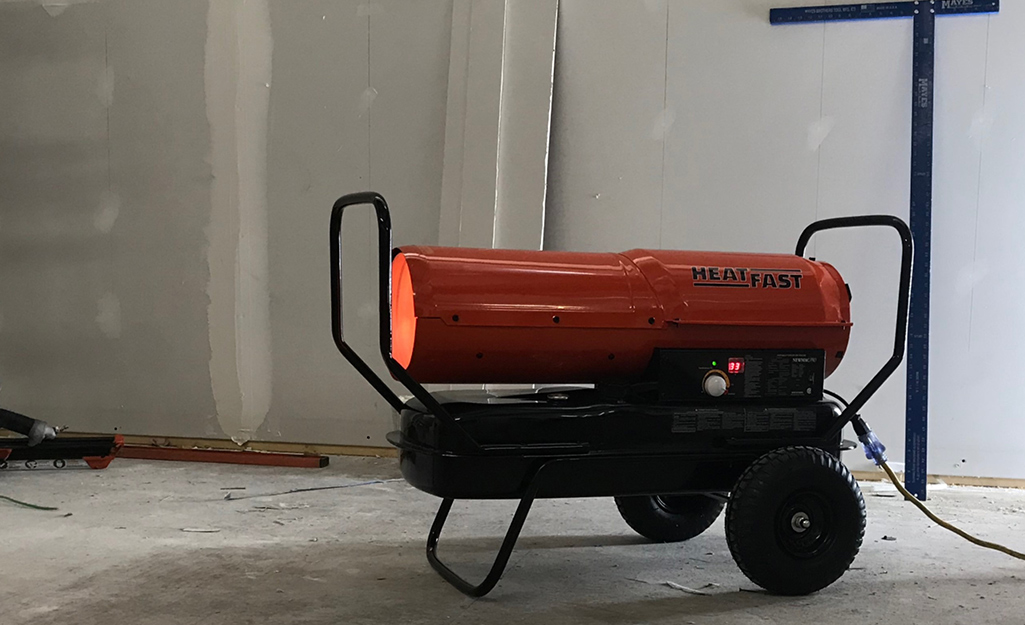 Gas heaters are best for heating large, well-ventilated areas. This includes a garage or areas outside the house. The two basic types of gas heaters are vented and unvented. 
Unvented gas heaters are often not for indoor use. They can introduce harmful gases like carbon monoxide into the air. They also reduce the amount of oxygen in the area. For this reason, some states have banned the use of unvented gas heaters indoors.
Vented gas heaters should be located next to a wall where a vent is installed. They can also be used with a ceiling vent that directs exhaust gases outside. The safest vented heaters are labeled as "100 percent outdoor air" units.
Propane Heaters
Propane heaters utilize propane gas to heat your space. In comparison to electricity, it takes less energy to run an appliance. The main concern surrounding using propane heaters indoors is the risk of fire and carbon monoxide poisoning. Using propane heaters outdoors is most ideal for safety.
Use electricity for ignition or light with a match.
Provides heat for hours with 20, 40 or 100 pounds of fuel.
Are available in a variety of sizes.
Kerosene Heaters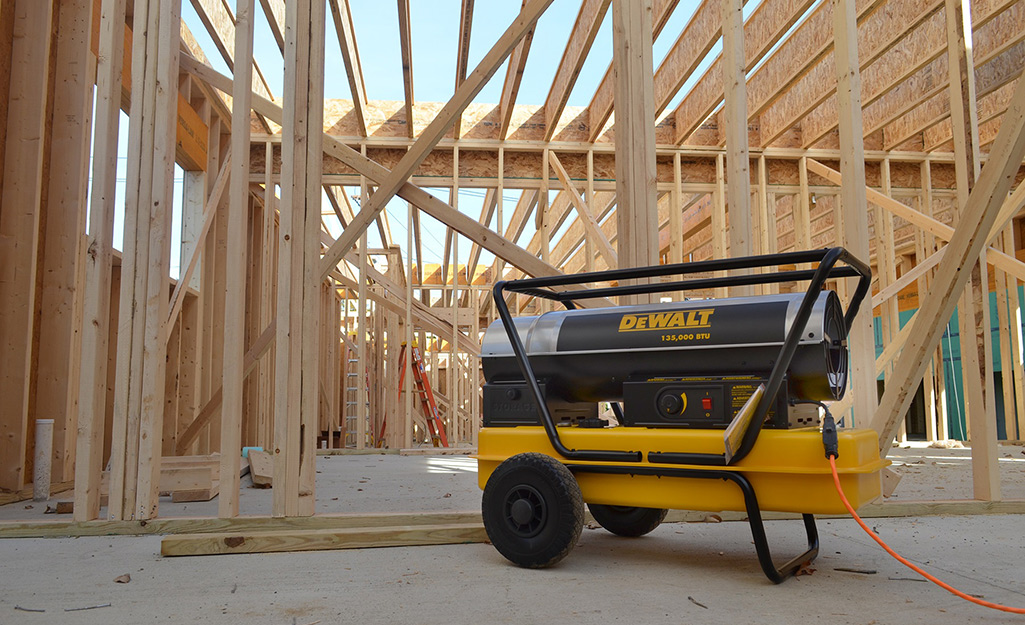 Kerosene heaters are also known as parraffin heaters. Kerosene heaters are good for temporary usage during power outages. There are many safety hazards associated with using these heaters because of the fumes emitted. Always operate these heaters in a well ventilated room.
Use a wick to soak up and burn kerosene.
Are forced-air heaters that use electricity and provide tens of thousands of BTUs of heat.
Use for construction or large outdoor events.
Operate for up to 12 hours on a single full tank.
Heater Styles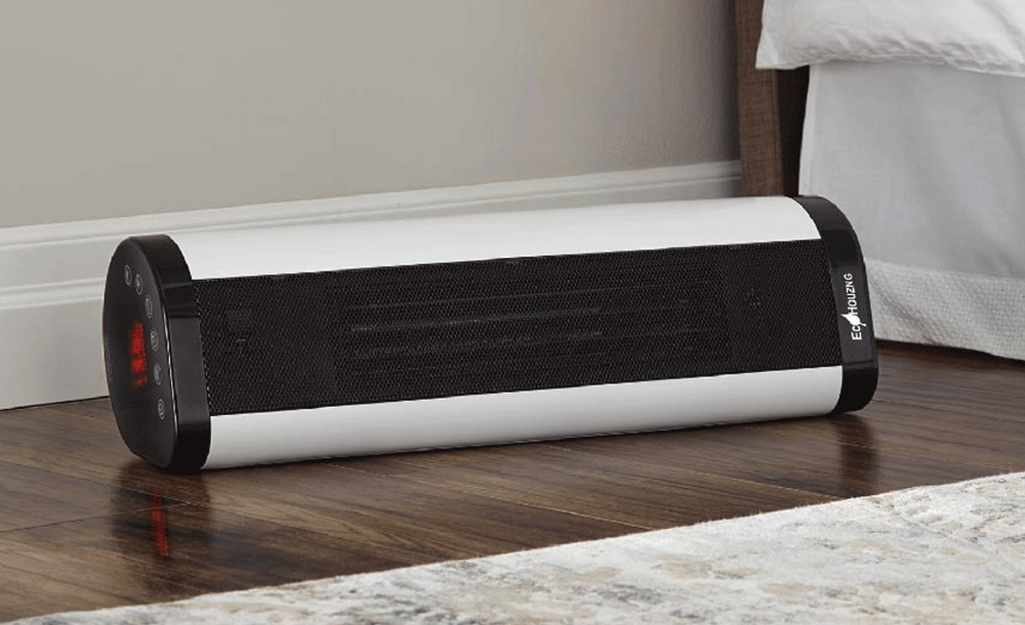 Available in a variety of styles, electric and gas heaters suit almost any indoor or outdoor environment.
Indoor:
Outdoor:   
Patio heaters can be electric or gas. Electric models are heat lamps that provide directional warmth. Gas models produce heat for a 20-foot diameter area using kerosene, propane or natural gas.
Tabletop heaters look like table lamps. Use indoors or outside. Available as gas or electric units, they're a good choice for decks and patios.
Space Heater Safety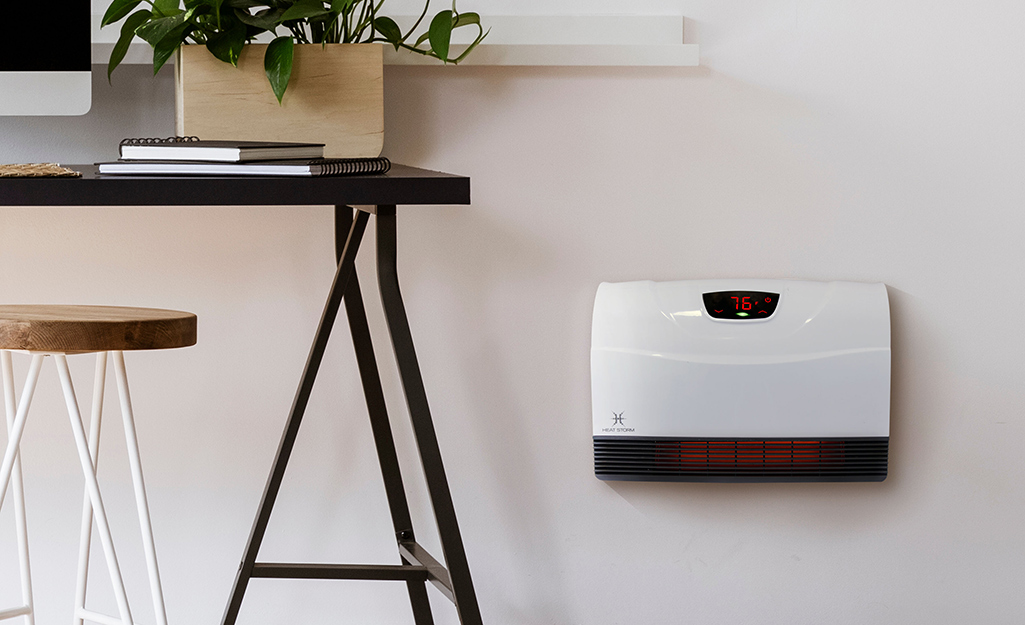 Portable heaters should be certified to meet safety standards designated by a Nationally Recognized Testing Laboratory. Home insurance companies often require this.    
Look for these safety features:  
Tip-over switches that automatically shut off the unit if it's knocked over by accident.
Overheat protection which shuts off the heater when a sensor detects a pre-determined temperature.
Flame-resistant cases and thermally protected motors that provide fire protection.
Among the safety tips to consider when using a portable heater:  
Liquid-filled heaters are safer than those with exposed heating elements.
Turn heaters off when not in use.
Do not use in bathrooms or other moist areas unless approved.
Keep heaters 3 feet away from combustible surfaces.
Use gas, propane and kerosene units only in properly vented areas.
Choose units with outer grill openings small enough to keep hands and pet paws out.
Ensure that smoke and carbon monoxide detectors work properly before using space heaters inside.
Plug heaters directly into a 120-volt wall outlet. Never use an extension cord, power strip, surge protector, multiple outlet adapter or any type of connecting power source.
It is not recommended to leave a space heater unattended while it's operating, or go to sleep with a space heater still running. If wanting to heat a bedroom for sleep, heat the room first and then shut off before going to bed.
Space Heater Features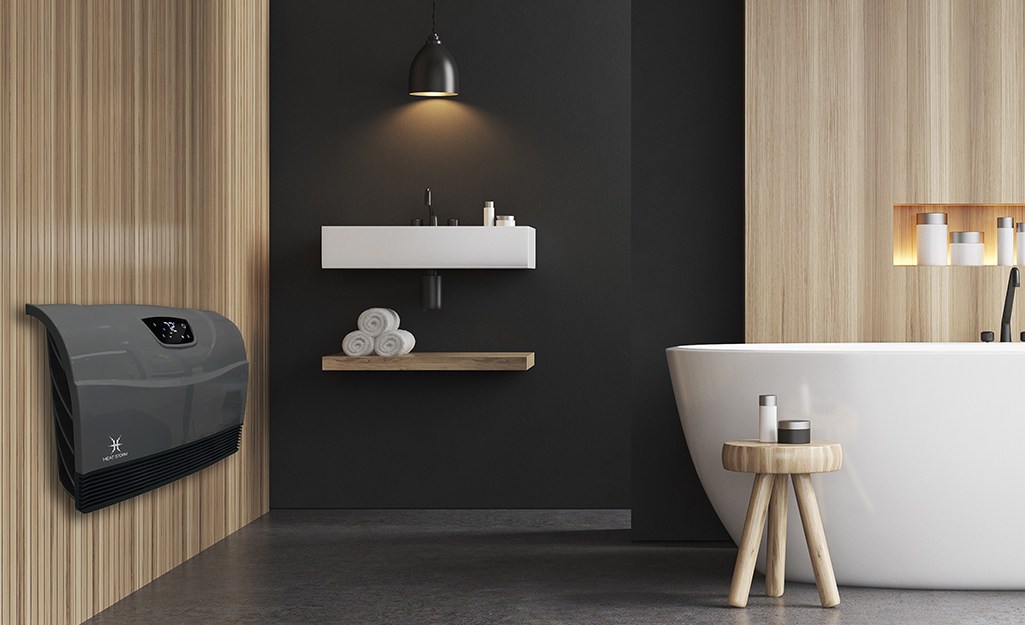 There have been many developments in the heater space that allow you to get warm at the push of a button. Smart technology enables some space heaters to be controlled remotely from a smartphone to adjust temperature and power on and off. Some heaters have the additional feature to act as fans during the summer, or even air purifiers. Check out The Home Depot's selection of wifi enabled space heaters to get your home ready for winter.
When it's time to choose a portable heater to warm any room, check out space heaters using The Home Depot Mobile App to find what you need.
Explore More on homedepot.com