Buying Guide
Types of Air Conditioners
Window, Freestanding and Built-In Air Conditioning Units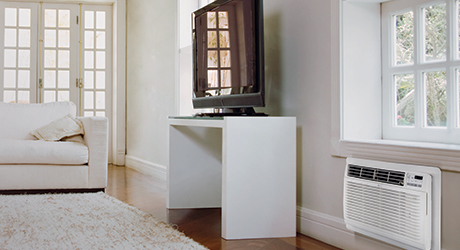 All types of air conditioners perform three basic functions: lowering the air temperature, removing air moisture, and filtering the air.
If you're considering a home remodeling project or room addition, mini-split heating and cooling systems can save you the expense of installing ducts, which are necessary for most traditional HVAC systems. Mini-splits are becoming increasingly popular and are a great solution for homes without ductwork.
| | | | | |
| --- | --- | --- | --- | --- |
| | window air conditioners | portable air conditioners | through the wall air conditioners | ductless mini splits |
| Description | Most popular because they are affordable and easy to install. Some models can also double as a heater. | Can be moved between rooms. | Can be installed in your wall for permanent placement and can provide both cold and hot air. | Sleek, compact design, with an air-handling unit inside and condenser outside. |
| Feature/Benefits | Most can be installed in either a single- or double-hung window and typically come with accordion panels to ensure a secure fit. | Include a standard window venting kit for the exhaust, much like a clothes dryer is vented. | Ideal for areas of your house that may not be connected to the central heating and air system, such as a garage. | Allows for flexible placement of the indoor unit. |
| Other Considerations | Models designed for sliding windows require a support that can be attached to the exterior of your home. | Most stand-up air conditioners have reservoirs that need to be emptied periodically, although some come with optional hookups for a drainage hose. Other models evaporate much of the moisture as exhaust, greatly reducing the number of times you need to empty the container. Portable units can be heavy and are less efficient than newer window units. | More expensive than window units and require opening a hole in an exterior wall, but don't take up window space and allow for a more airtight and secure fit. Larger units may require professional installation. | Uses less energy than a traditional wall unit. Ductless systems offer multi-stage air filtration; improves home air quality. Many systems can be controlled from a smart device. |
Choosing the right BTU, or British thermal unit, for your room size will ensure that you get the most energy-efficient cooling system for your home. Consult our BTU calculator to help you estimate the cooling capacity you'll need from a room air conditioner.
The BTU rating is a number that essentially tells you how quickly and effectively a unit can cool a room. Ratings generally range from 5,000 BTUs to more than 20,000.
A single room air conditioner with too few BTUs may not be able to cool a large space efficiently, while an oversized room air conditioner in a small space will cycle on and off, wasting energy and decreasing the unit's ability to adequately dehumidify the room.
Consider factors such as ceiling height, room insulation, sun exposure, location and your area's climate when choosing a unit with the right BTU rating.
For rooms with excessive sunlight, select room air conditioners with 10% more BTUs than what is required by the size of the room.
If placing a unit in the kitchen, select a unit with an additional 4,000 BTUs than what is required by the room size.
For rooms that regularly contain more than two people, add an additional 600 BTUs per person.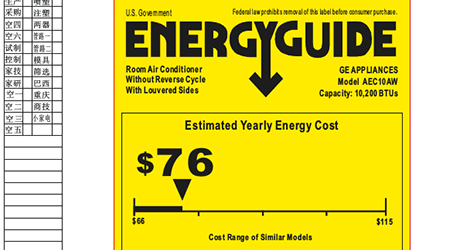 All types of air conditioners are labeled with their EER (Energy Efficiency Rating). Units with higher ratings offer lower greenhouse emissions and monthly electric bills.
EERs range from 8 to 11.5. The Home Depot carries several models that are Energy Star rated. Check the yellow Energy Guide label on new air conditioners for more information.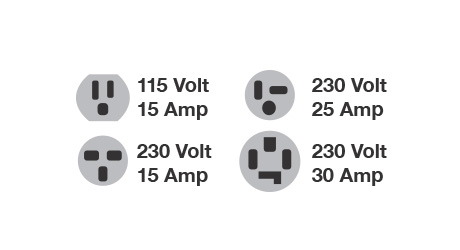 Calculate your room size - Multiply the room length by the room width in feet to get the square footage of the area to be cooled.
Check your connections - Check out your power source (nearby outlet) and make sure to match the unit to that outlet.
Measure to fit - Measure the height and width of the opening and check the dimensions of the AC unit you select to be sure it will fit.
Once you've selected your ideal air conditioner model, check that the air conditioner supplies you need are available in the correct sizes for your unit.
Need help identifying a tool or material? Find products fast with image search in The Home Depot app. Snap a picture of an item you like and we'll show you similar products.