A table saw is an essential tool that helps you make more precise cuts. Whether cutting plywood, hardwood or man-made materials like MDF, you need a good blade on your side. The choice of table saw blades for a project should be about more than sharpness. This guide will teach you how to choose the best table saw blades for every job you work on. 
Table Saw Uses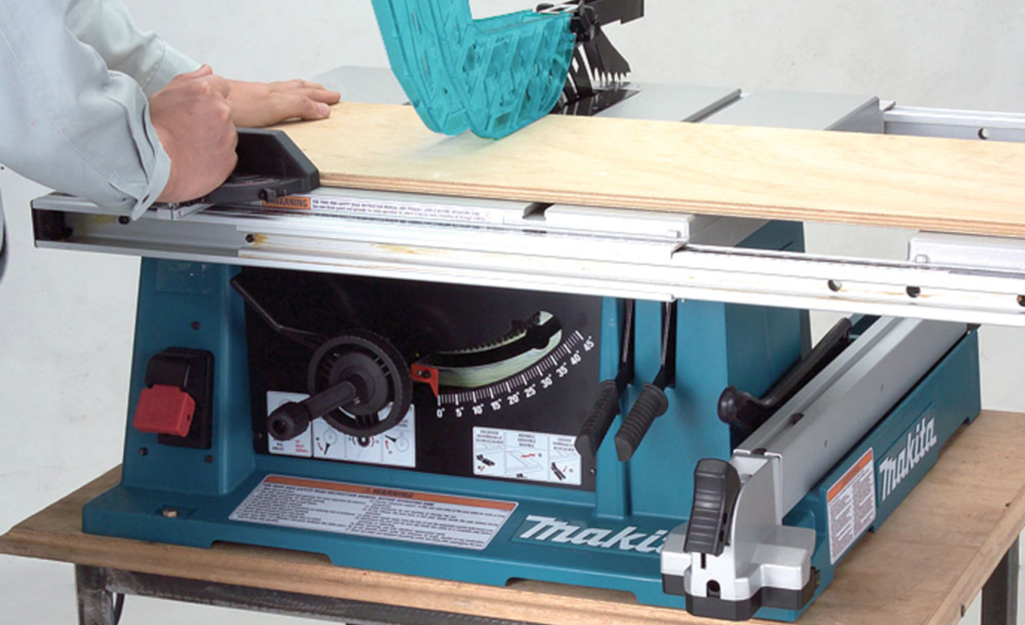 A table saw is vital for pros and hobbyists alike. Consider the job at hand when choosing the right saw blade. Before you can choose the correct table saw blade, you need to familiarize yourself with the material you're cutting.
Here are a few materials that may have you reaching for your table saw:
Plywood: Ideal for light construction and framing, plywood is easy to cut cleanly with a well-maintained plywood cutting table saw.  
MDF and man-made materials: Medium-density fiberboard is a specific type of plywood often used for furniture. A table saw fitted with the correct blade can help you cut it cleanly. Man-made materials like layered plywood, plastic laminate and even melamine can often be cut with the right table saw blade. 
Hardwood: You can easily make precise cuts in hardwood with the right table saw blade at your disposal. 
Table Saw Blade Types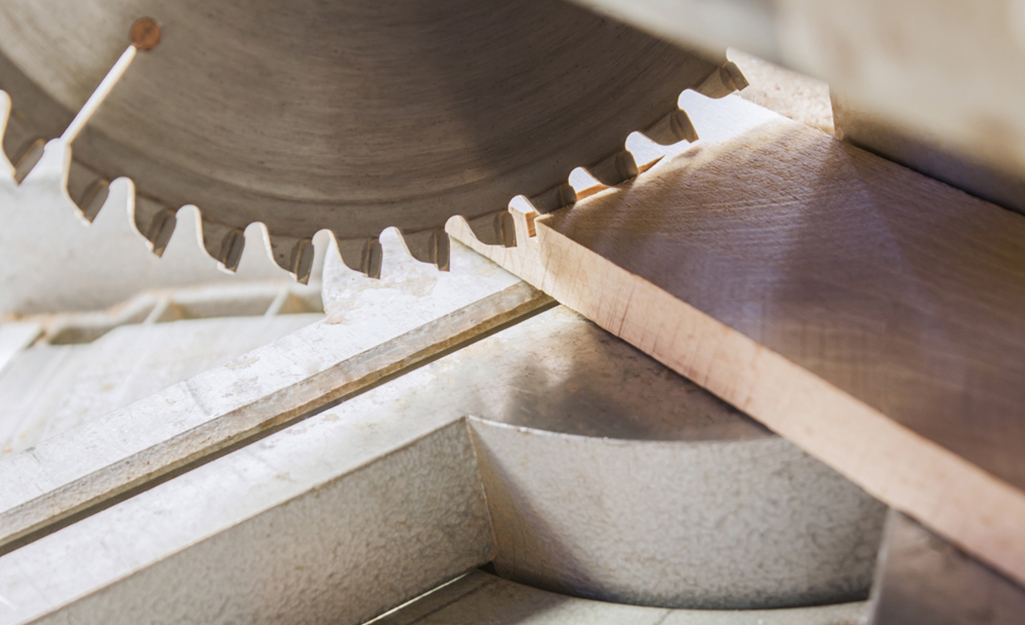 If you use a table saw regularly, you'll likely need a few table saw blades in your arsenal. There are several different types of table saw blades available. Each is designed for a specific purpose.
Ripping blades: Ripping blades are the best blades for a table saw to use in cutting natural woods. When using a ripping blade, cut with the grain of the wood, as this is how they're intended to be used. Typically made with 24 to 30 wide teeth, ripping blades are designed to help you quick tear through natural wood materials. 
Here are a few ways you might use a ripping blade: 
To cut a single piece of lumber in half or in separate portion 
To cut many pieces of natural wood to size before making more precise cuts 
To cut through thick pieces of hardwood 
To make a quick cut with the grain in plywood  
To make fast cuts for wood framing projects  
Crosscut blades: Commonly designed with 80 to 90 teeth -- considerably more than a ripping blade – crosscut blades are made to cut across the grain of your material. As you do this, you'll notice more sawdust, since the teeth of a crosscut blade are making a very fine, precise cut through your wood. 
A crosscut blade can be used for: 
Natural wood like oak 
Making cross-grain cuts in plywood 
Cutting composite materials like MDF, veneer and plastic laminate  
A metal cutting table saw blade (non-ferrous metal) 
Combination blades: Perhaps the most common of table saw blade types is the 10-inch general purpose saw blade, often referred to as a combination blade. Combination blades are the best blades for a table saw used in a wide range of tasks. Available in a 32-tooth to 50-tooth design, combination saw blades perform the job of a ripping blade and a cross cut blade all at once. 
These blades are less refined than ripping and cross cut blades. If you're new to woodworking or using a table saw, a combination blade may be an ideal choice. Used for cutting plywood, natural wood like oak and pine, pressure-treated lumber like MDF and wood beams, combination blades can be used for a few different tasks: 
Cutting lumber or MDF and lightweight veneer  
Making fast, precise cuts on many pieces of lumber  
Making cross cuts in natural wood or composite materials 
Composite blades: Composite blades, sometimes referred to as multi-purpose blades, are available in a 60-tooth design. Best reserved for man-made materials, these table saw blade types do the work of both a ripping blade and a cross cut blade but with a higher tooth count than your standard combination blade. They excel at cutting materials like MDF but are fully functional for plywood and softer wood.  
Here are a few tasks where you might reach for a composite or combination blade: 
Making many small cuts in MDF for furniture building or repair 
Cutting long lengths of materials like layered plywood 
Making more precise cross cuts in man-made materials like MDF  
Choosing the Best Table Saw Blade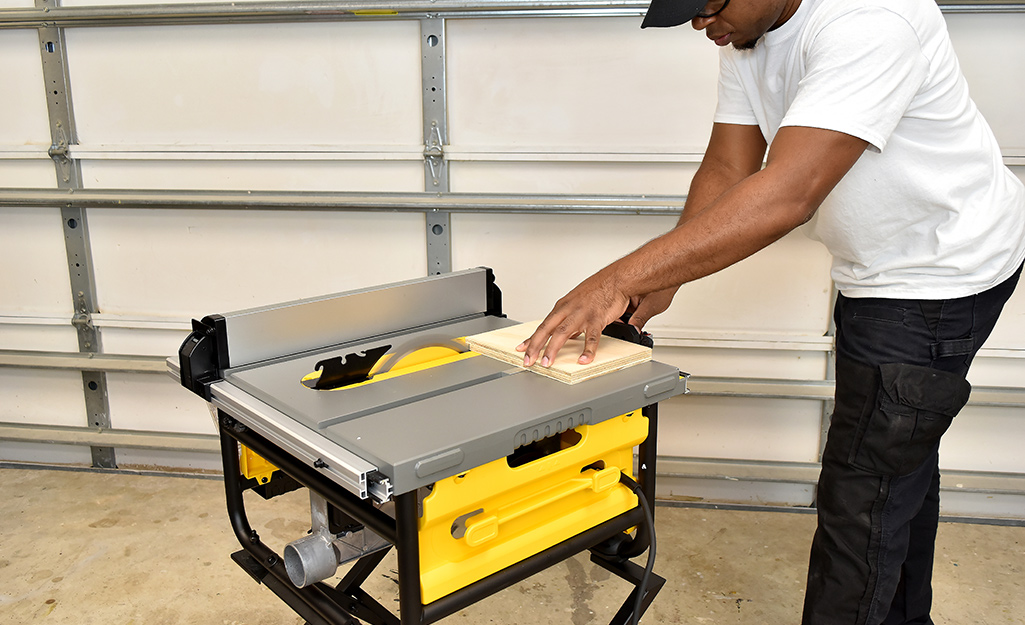 Consider these features when choosing the best table saw blades for your woodworking task.
Blade kerf: It's important to consider the kerf of table saw blades. The kerf is the width of the saw's carbide teeth. A full kerf blade that's 1/8-inch wide has more carbide, which means that it will stay sharper longer. However, it can also be rougher on your saw motor and for new woodworkers it can be more difficult to use. A thin kerf blade that's 3/32-inch wide has less carbide, which means the blade won't stay sharp for as long. They're easier on the saw motor and for new users they're often easier to handle. These tend to be a bit less precise.  
Blade teeth: Check the spacing of the teeth when choosing a table saw blade. Look for blades with closely spaced teeth for making fine, smooth cuts.  
Blade teeth configuration: Table saw blade types that work in a circular motion are designed to rotate clockwise, so the teeth should point down. The specific cutting action depends upon the number of teeth. Crosscutting of material requires more blade teeth than ripping or cutting across the wood grain. 
Saw Blade Sets and Packs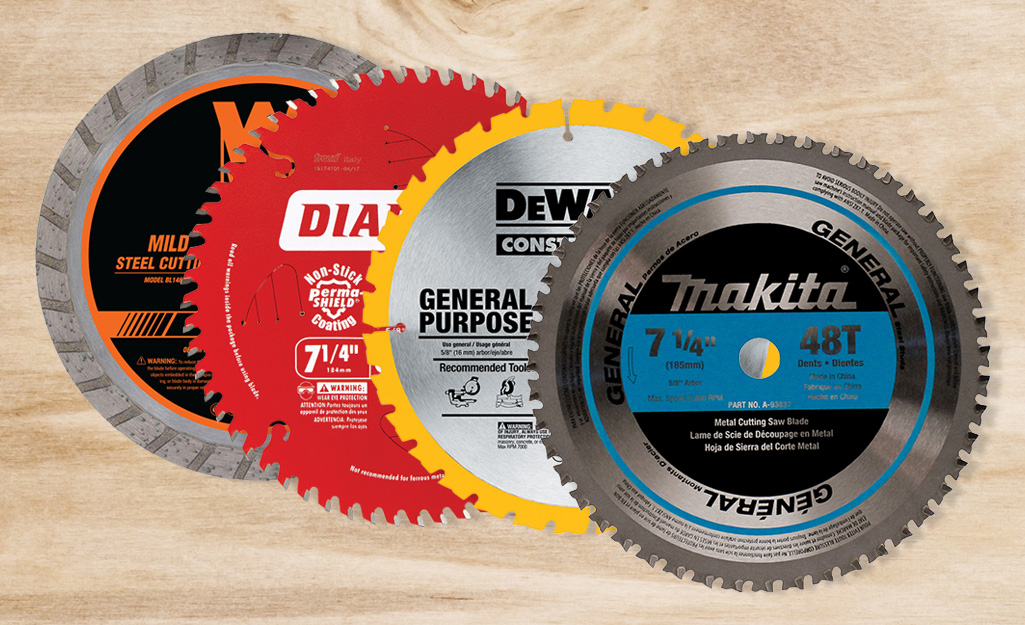 As you shop for the best table saw blades, you will see packages designed to give you more options for usage. These packages typically include standard 10-inch table saw blades designed to perform a variety of different tasks. 
Circular saw blade sets often feature any combination of a ripping blade, crosscut blade and a combination blade. For beginners, these multi-pack blade sets can be a valuable option, especially if you want to replace the worn or dull blade that came with your table saw. 
More experienced woodworkers and individuals who know what blades they need can often benefit from buying saw blade sets as well. Multi-packs are traditionally more cost-effective, and if you do lots of woodworking, you'll always have a sharp blade on hand and ready to go so you don't have any unwanted downtime. 
Table Saw Blade Guide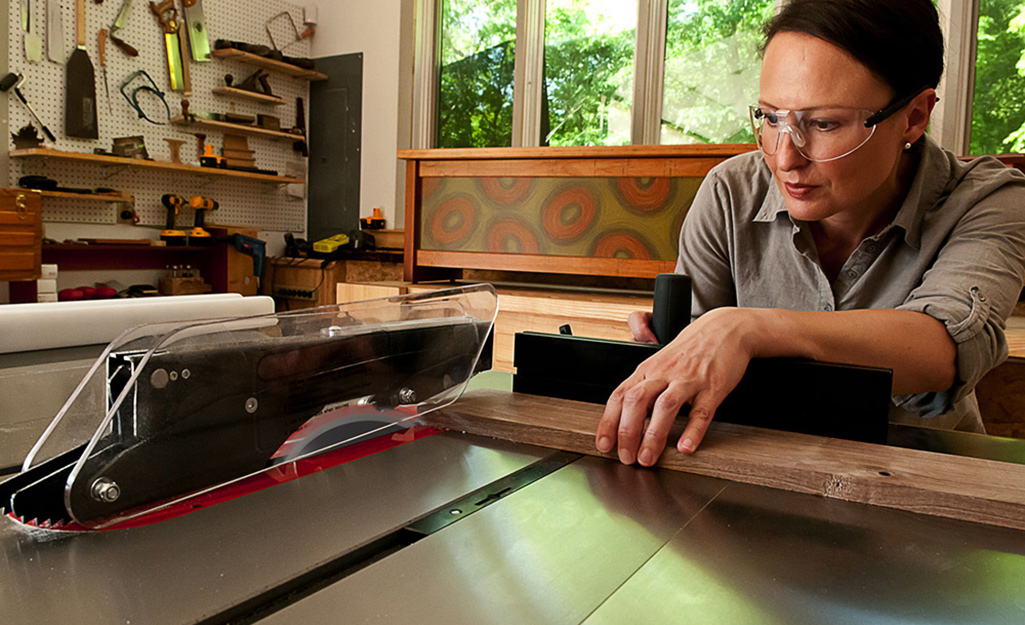 Choosing the best blades for a table saw can be confusing, even with multiple options on-hand. Here's a quick reference guide to help you select the right table saw blade for most jobs: 
Ripping solid wood: Use a 24-tooth to 30-tooth blade. You can use 40-tooth to 50-tooth multipurpose blade as well, but it will take longer. 
Cross-cutting wood or sawing plywood: Use a 40-tooth to 80-tooth blade. You can use a 40-tooth to 50-tooth general purpose blade as well. 
Joinery work: Use a 40-tooth to 50-tooth all-purpose combination blade. 
Cutting MDF and man-made materials: Use a 50-tooth to 80-tooth blade. 60-tooth and up blades often make better cuts in dense materials. 
Plastic laminate: Use an 80-tooth cross-cut blade. You may be able to use a 60-tooth composite blade for thinner materials.  
Full Kerf Blades vs. Thin Kerf Blades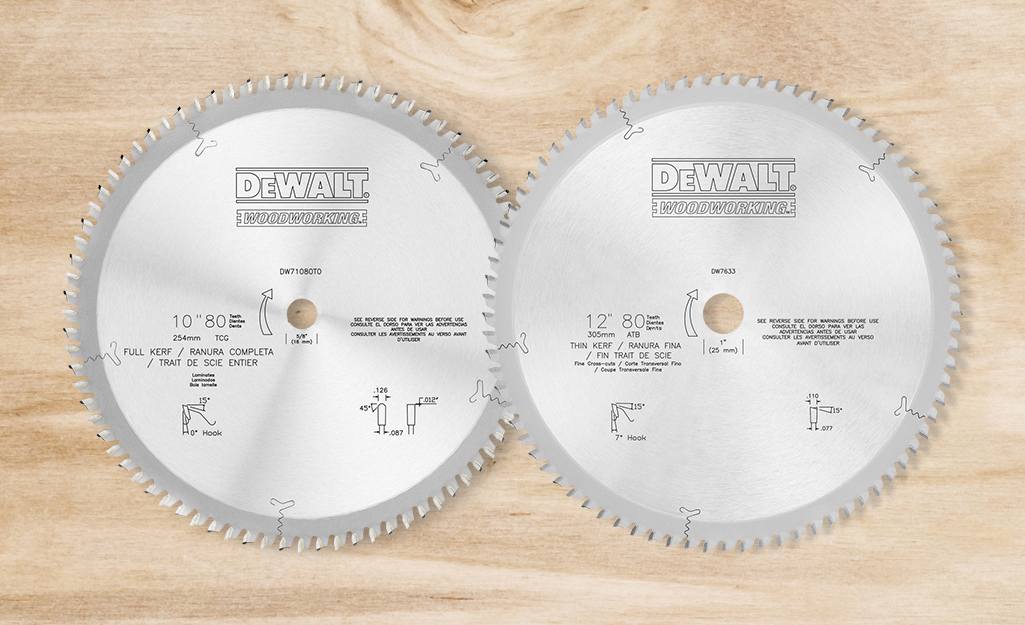 In general, your table saw will indicate which kerf style is best. For high-power machines like a 220-volt 3-horsepower saw, a full kerf blade is ideal. You'll have ample power to make quick, relatively easy cuts with a more powerful blade that will stay sharp longer. 
If you have a less powerful table saw like a 110-volt model, a thin kerf blade will make cutting much easier while reducing wear and tear on your saw's motor. 
Choosing High-Quality Table Saw Blades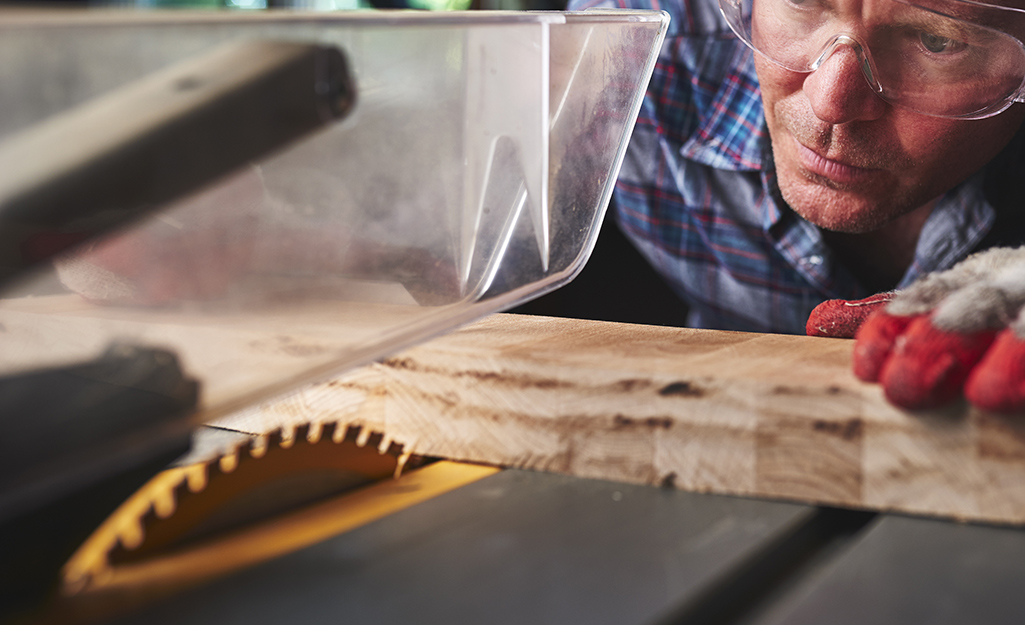 For many, a quality, all-purpose or combination blade is sufficient for most jobs. As you branch out and begin to work on different materials, you will find that adding new blades can make each task easier and more enjoyable. 
Here are a few features to look for in table saw blade types when you're shopping for a new table saw blade: 
Titanium carbide teeth: Strong and durable, titanium carbide teeth provide excellent performance and can help you make many clean, fast cuts.  
Coated blades: A layer of a protective coating substance is applied to the blade to create less friction and resistance and prevent corrosion, gumming and burns. This is particularly important for a combination or all-purpose blade where you may need to work slower to get through certain materials and make clean cuts. 
Shock-resistant brazing: Shock-resistant braze can help your blade stay sharper longer by resisting the impact of more extreme work. This is particularly beneficially if you're working with materials like laminate. 
Filled stabilizer vents: These help prevent sideways movement, allowing you to make cleaner cuts. Look for these on heavy-duty blades designed for materials like plastic laminate and non-ferrous metal. 
Whether you're tackling top-tier woodworking with fine materials or you just need to make a few cuts for framing purposes, the right table saw blade is a must to get the job done right. 
Download The Home Depot Mobile App to check out a wide range of table saw blades and specialty saw blades designed for cutting materials like aluminum and stainless steel. Need it today? The Home Depot will deliver on your schedule. Order before noon for conveniently scheduled same-day delivery. 
Explore More on homedepot.com