Today's garages house more than the family car. Your garage might double as a gym, a storage place for seasonal items and sports equipment or a space to build and create. Make the most out of your garage with bright, efficient, easily accessible and safe lighting. This guide shows you various garage lighting ideas so you can select the best lighting for your garage workshop. 
Select Garage Lighting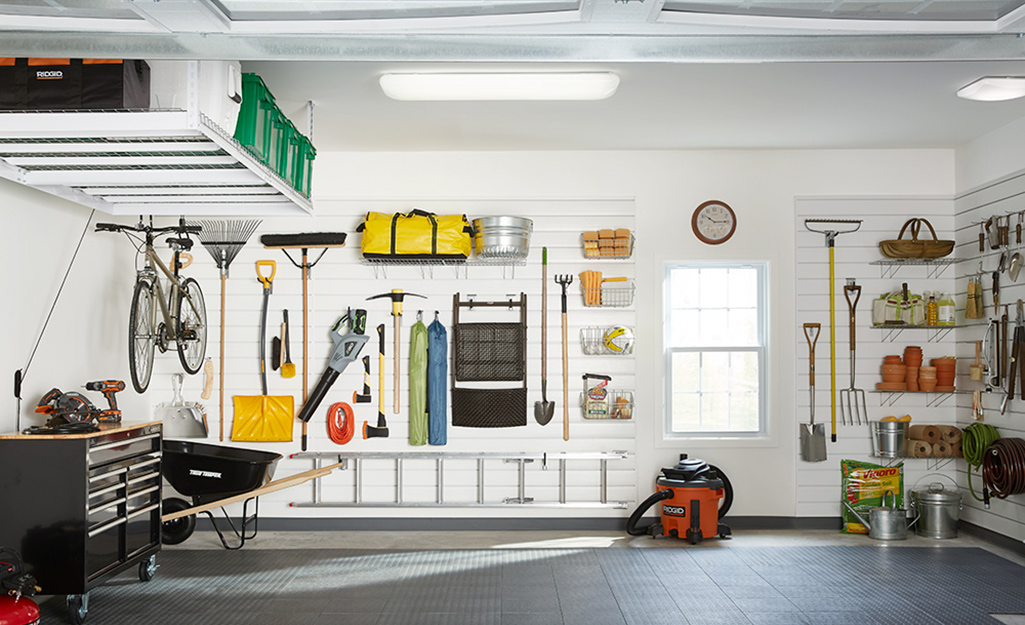 The best type of lighting for your garage workshop depends on what you use it for and when you use it. 
Cold weather can affect how well some lights operate. If your craft requires great attention to detail or colors, you'll want to choose bright lights. Lighting your workshop for use at night may require different lights than you would install for daytime use. Here are some general guidelines for selecting the best garage lighting for your workshop needs. 
Install at least one 8-foot fluorescent fixture per vehicle space. Use multiple 4-foot tubes, which are readily available and easy to work with.
Calculate the square footage of your space by multiplying the length times the width. In general, you'll need around 300 lumens per square foot for a garage workshop area that requires task lighting. For ambient or accent lighting, aim for 50 to 75 lumens per square foot.
Fluorescent lights are the traditional choice for garage spaces, but if you live in a cold climate, choose a fluorescent fixture based on the lowest temperature in your garage.
Many fluorescent lights don't work below 50 degrees. Fixtures with electronic ballasts are more reliable in the cold than those with electromagnetic ballasts.
Check the color temperature of your lighting. Color temperature is measured in Kelvins (K). Light bulbs over 5000K, known as daylight, are best suited for workshops and areas where detailed visibility is needed.
Use the same color temperatures for all lighting in an area for uniformity.
Choose damp-rated, water or moisture certified fixtures for lighting areas in damp environments.
If your garage work requires that you see colors truly such as when using wood or auto paints, check the color rendering index (CRI) rating of a bulb. A rating of 85 or above is best for rendering true color.
Tip: CRI numbers are not usually displayed on the packaging and may require additional research to determine. 
LED Garage Lighting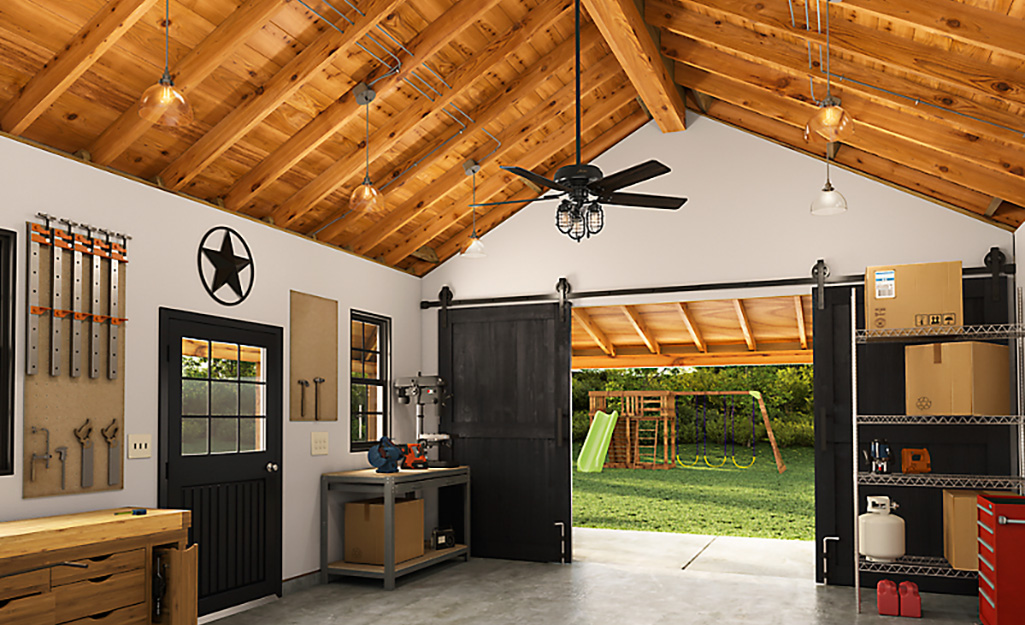 While fluorescent bulbs have long been the standard for shop lights, LED lights have begun to overtake the field. Use LED tube bulbs in standard fluorescent fixtures instead of replacing the fixture. While LED tube bulbs require a larger investment than their fluorescent counterparts, the longer life and reduced energy usage of the bulbs saves you money in the long run. LED tube bulbs also provide instant-on, evenly spread lighting that's brighter than traditional fluorescent bulbs. Some LED fixtures with smart technology allow you to adjust the color temperature remotely. 
Shop Lights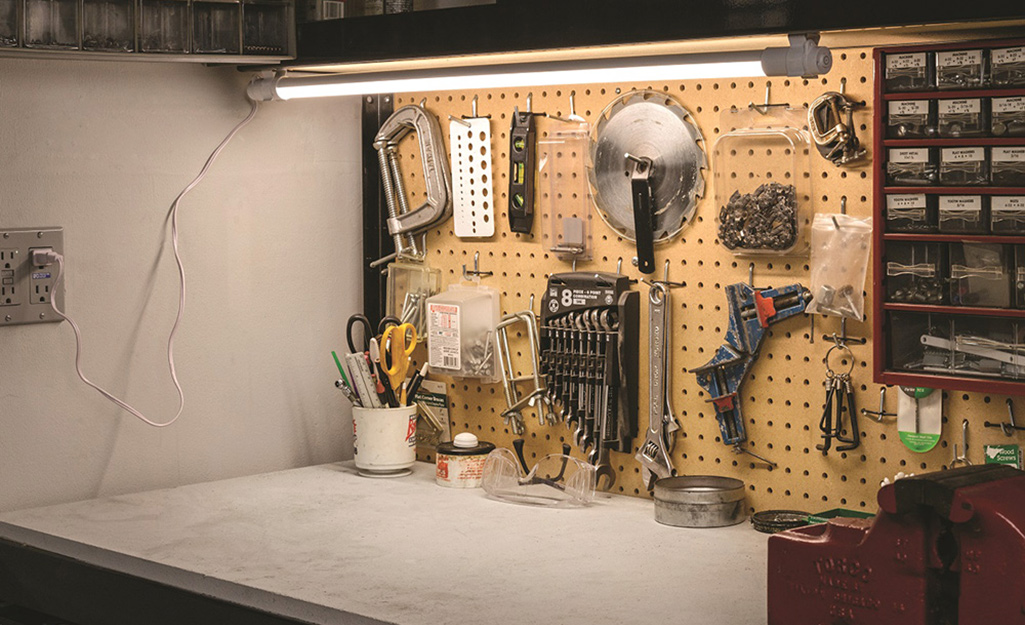 Shop lights embody the traditional look of a garage. These fixtures are typically a single-bar light fixture that usually hangs by a chain assembly (although they can be ceiling-mounted). Most of these easy-to-install fixtures just plug into an outlet. Whether you choose LED shop lights or the traditional fluorescent type, these are a quick, inexpensive way to light up a garage workshop.  
Some LED shop lights are designed to be hard-wired, and while these are more expensive, the integrated lighting allows you to add accessories like a motion sensor. 
Tip: Choose shop lights that can plug into each other in a "daisy-chain" to free up electrical wall outlets. 
Strip Light Fixtures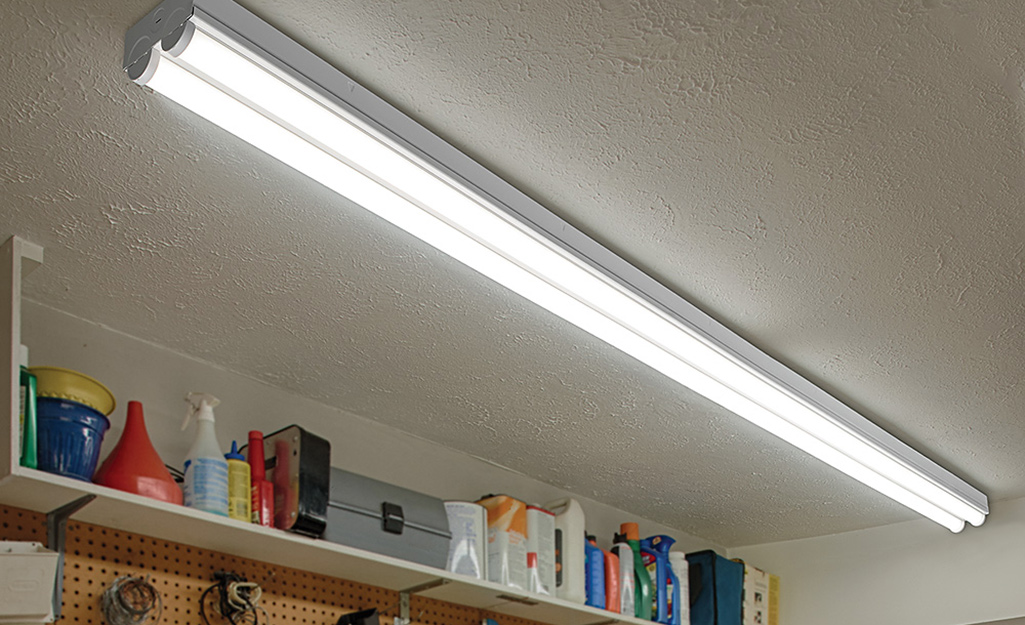 Strip light fixtures are easy to install and come in several sizes to fully customize your overhead garage lighting. Strip lighting works well to light up high-ceiling garages. LED strip light fixtures are an energy-efficient lighting choice, and they supply instant light with no warm-up period. If you currently have fluorescent fixtures of this type, you can upgrade to LED with a retrofit conversion kit. 
High Bay Garage Lights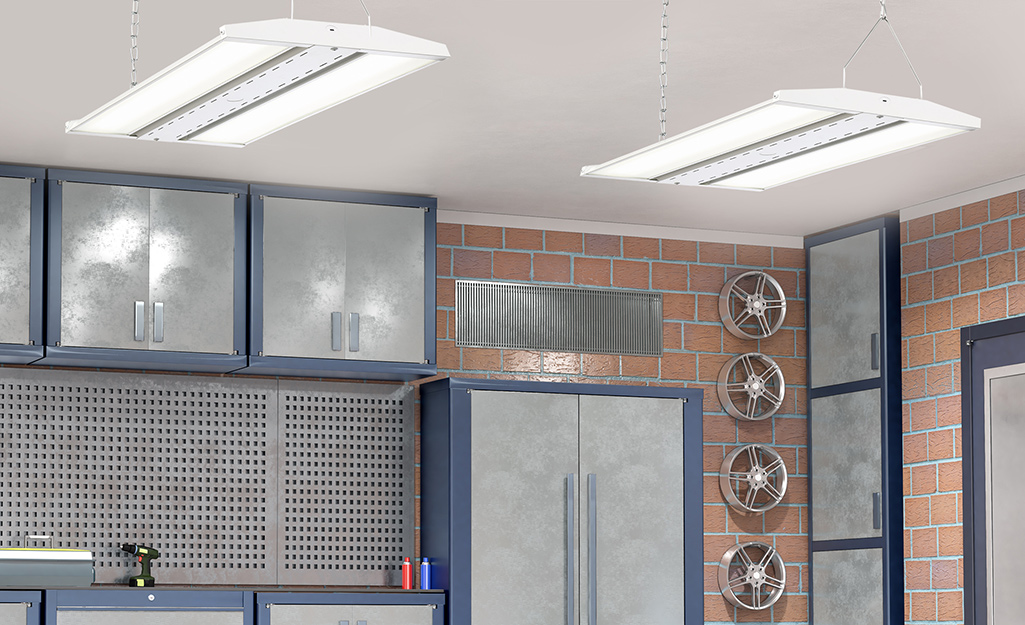 High bay light fixtures are best for lighting large spaces with very high ceilings. The most common high bay light fixtures are round, linear and sealed vapor tight fixtures. They are ideal for a commercial garage or multi-storage garage with ceiling heights that exceed 15 feet. LED high bay lights with a wide distribution pattern reduce the number of overall fixtures you need.  
Wraparound Lights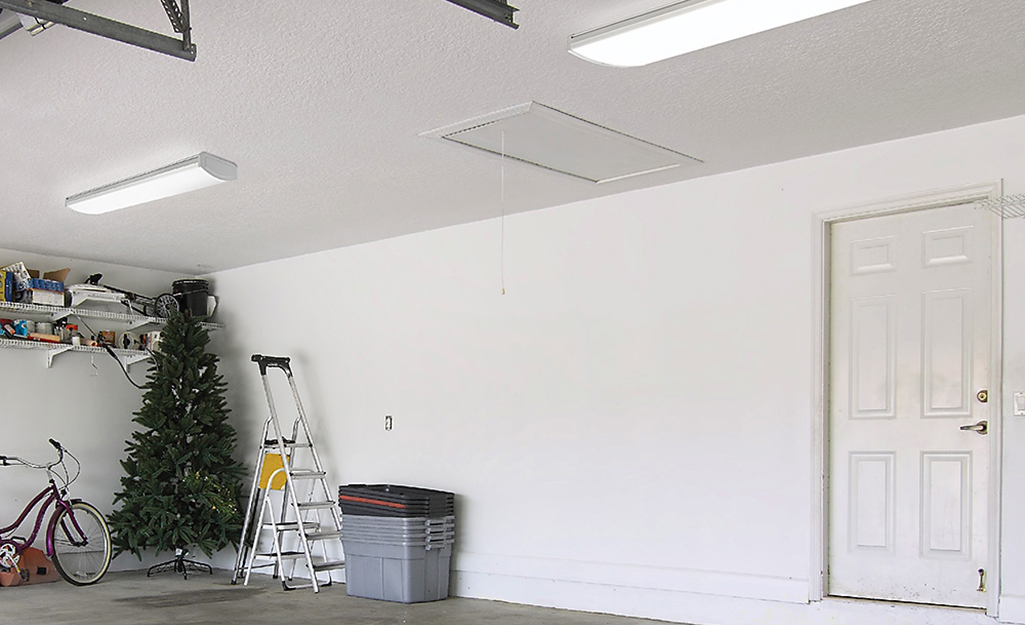 LED wraparound lights do a great job of illuminating garages with lower ceilings. Since they're installed level with the ceiling surface, they don't hang as low as an ordinary shop light, keeping them out of the way of ladders, boards and other items you might move around the space. Unlike lighting options that produce light in one direction, wraparound lights produce multidirectional light from both sides and the bottom, resulting in a larger light spread overall. 
Supplemental Lighting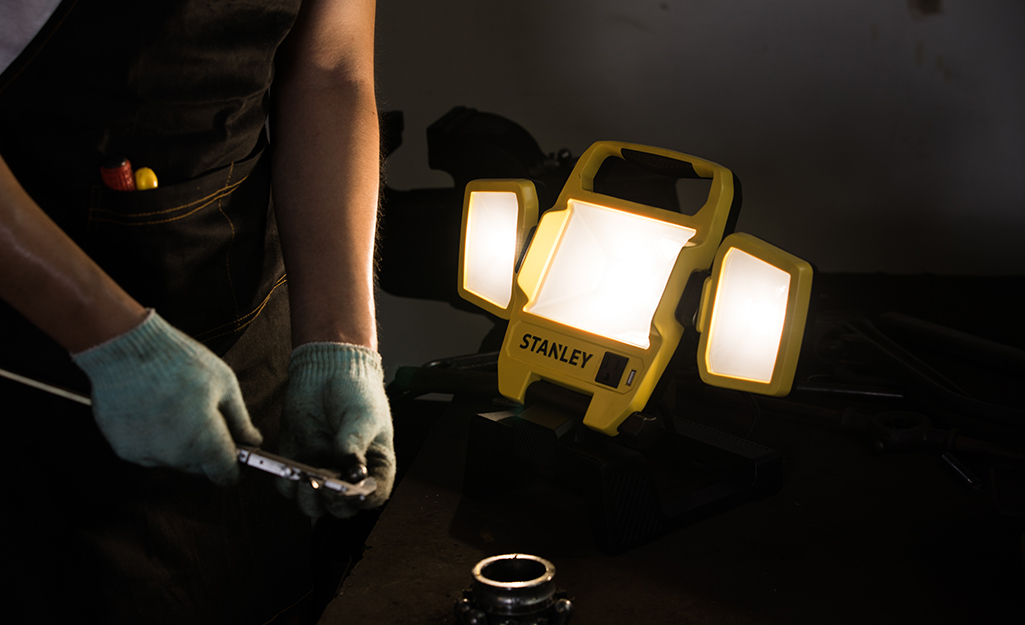 Plan your garage lighting with your workshop layout in mind, and remember that just as with indoor lighting, you'll need supplemental lighting in addition to what's overhead. 
Clamp lights are inexpensive and portable, so you can easily move them to where you need light. These are very useful for small projects and very detailed work.
Task lights allow you to focus directly on work areas. Place them so the light won't shine directly in your eyes. You don't want shadows to block your view or interfere with other work areas.
Under-cabinet light fixtures allow you to let your work dictate whether you are better off with tube lights or individual bulbs. In either case, LED bulbs will save energy, and they come in a variety of color temperatures.
Some areas where additional light sources may be needed include: 
The space above the garage door
Wall space where items hang
Spaces occupied by appliances like the deep freezer or washer-dryer combo
The workbench area
The seasonal storage area
Exterior access doors
Tip: Consider adding a motion sensor in storage areas and near appliances to keep your hands free. 
Energy-Efficient Garage Lighting Tips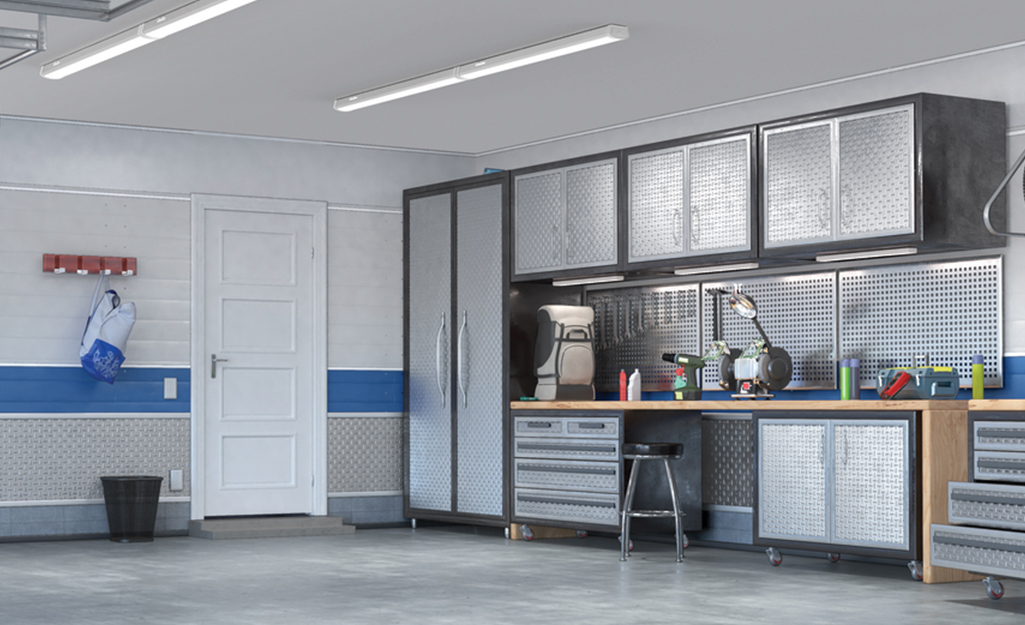 Here are some tips to help you lower your energy bill and your carbon footprint when you're lighting up your garage workshop: 
If you spend mostly daylight hours working in your garage workshop, take advantage of natural light as much as possible, and opt for fewer lights or lower-wattage bulbs.
Only turn on the lights you need for the task at hand. But don't turn LED lights on and off too frequently, since that can shorten their lifespan.
Arrange your garage to optimize lighting. Move large items that are blocking light from windows or hanging lights. Place your main work area close to natural light.
If possible, open your garage door on warm, sunny days, and keep the lights off.
If you keep your garage exterior well-lit, put your outdoor lights on a timer so they turn on and off at sundown and sun-up.
Adequate lighting for your garage workshop makes tasks easier and helps protect you from injuries. LED lighting is a versatile, energy-efficient choice that comes in tubes, bulbs, strips and wraparound lights. Think about where you need task lighting and where you need overhead illumination. Consider different fixture styles for different areas and choose a bulb color temperature that suits your needs. 
When you're ready to put your lighting plan into action and brighten up your garage workshop, use The Home Depot Mobile App to locate products and check inventory. We'll take you to the exact aisle and bay. 
Explore More on homedepot.com