The garage door is a frequently used entrance to the house. It's a highly visible part of your home's appearance. Replacing an old or damaged garage door is a smart strategy. It can add to your home's curb appeal and help increase its value. 
You've got many choices for a prefabricated or custom-made garage door. Read this guide for garage door styles that are well built, secure and stylish. You'll also learn about the different types, materials and features of residential garage doors. 
Home Garage Door Styles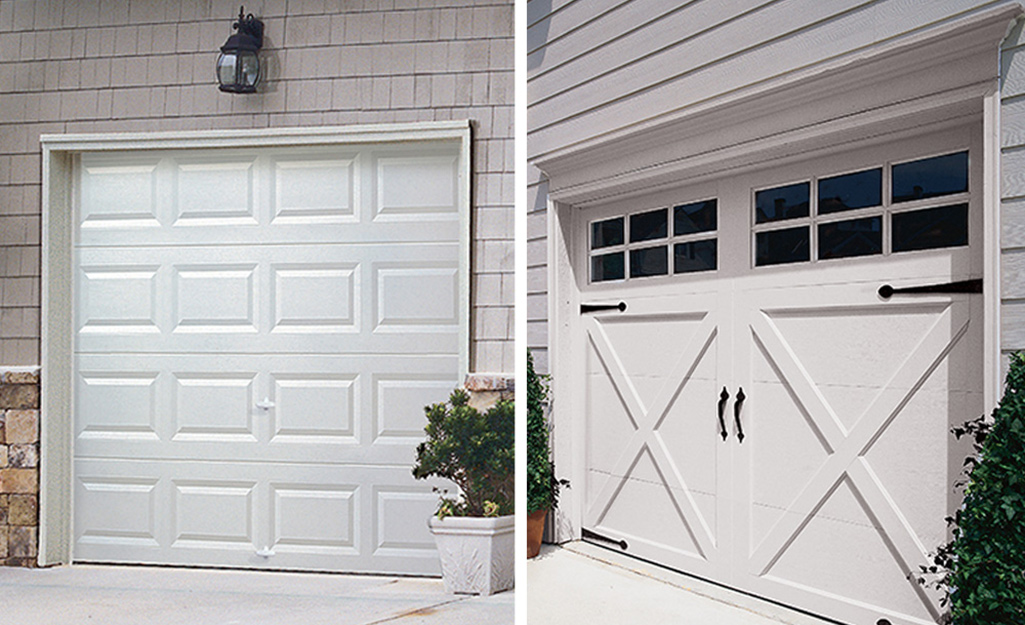 Garage doors come in a wide variety of styles that add character to any home. When shopping garage door styles, make accurate measurements. Take care to note the structural opening, head room, adjacent spaces and the inside face. Choose a garage door style for your home that's attractive and functional.
Classic Style Doors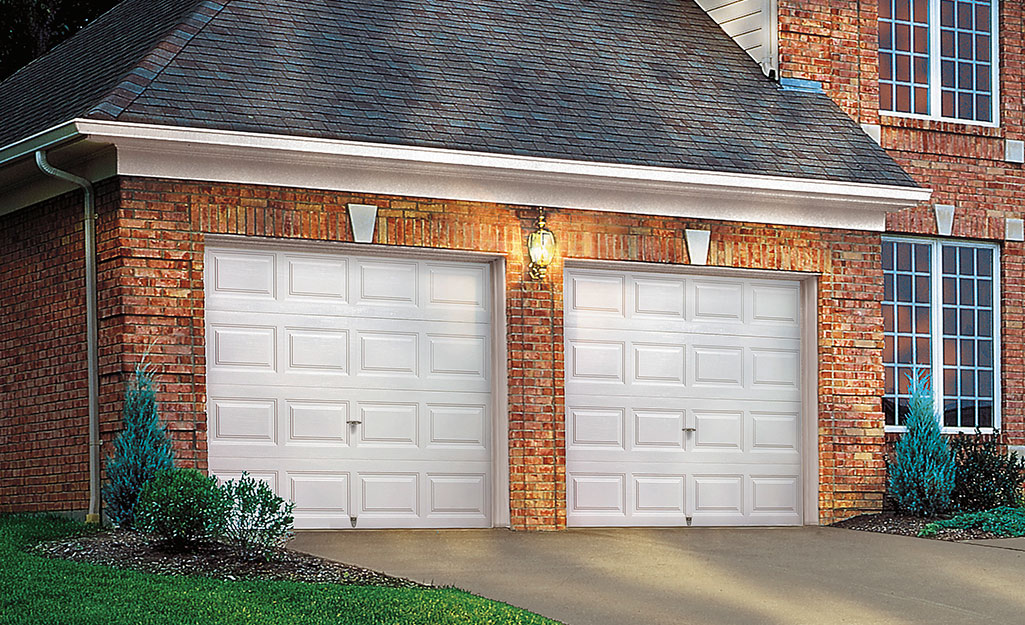 Classic garage doors are an economical option. These garage door types display a clean and traditional look. The doors feature raised rectangular panels. You can customize the panels with windows or garage door hardware to match the home's look. Raise classic style doors manually or with a remote opener. 
Carriage House Doors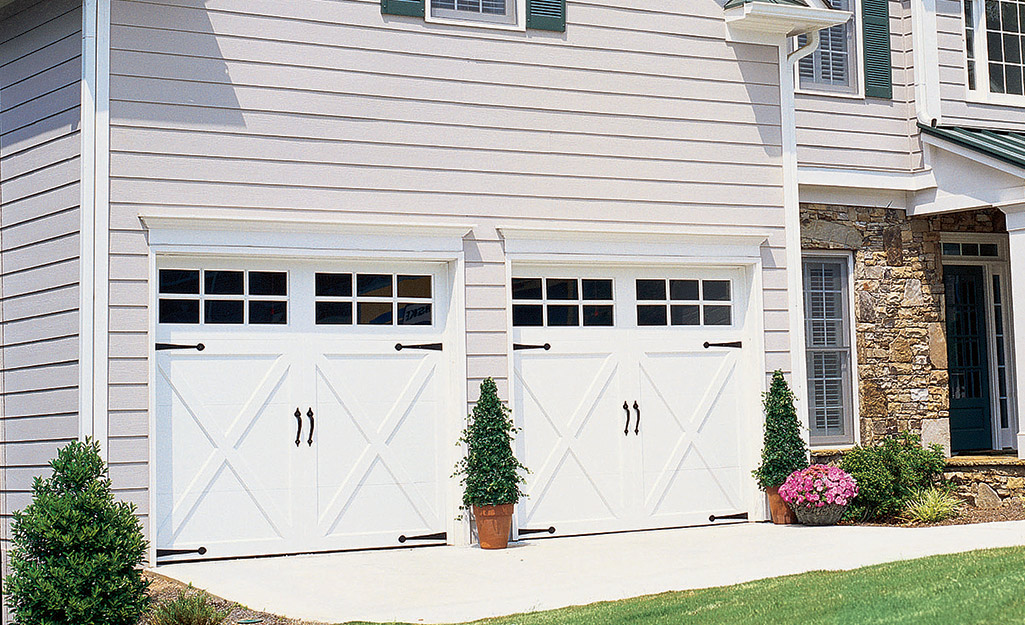 These doors are inspired by the buildings that once enclosed horse-drawn carriages. Carriage house garage doors add a high-class look to your home. They're available in a range of materials, as well. Carriage house-style doors open upward or swing out. These garage door types can also be found in farmhouse-style homes.  
Contemporary Style Doors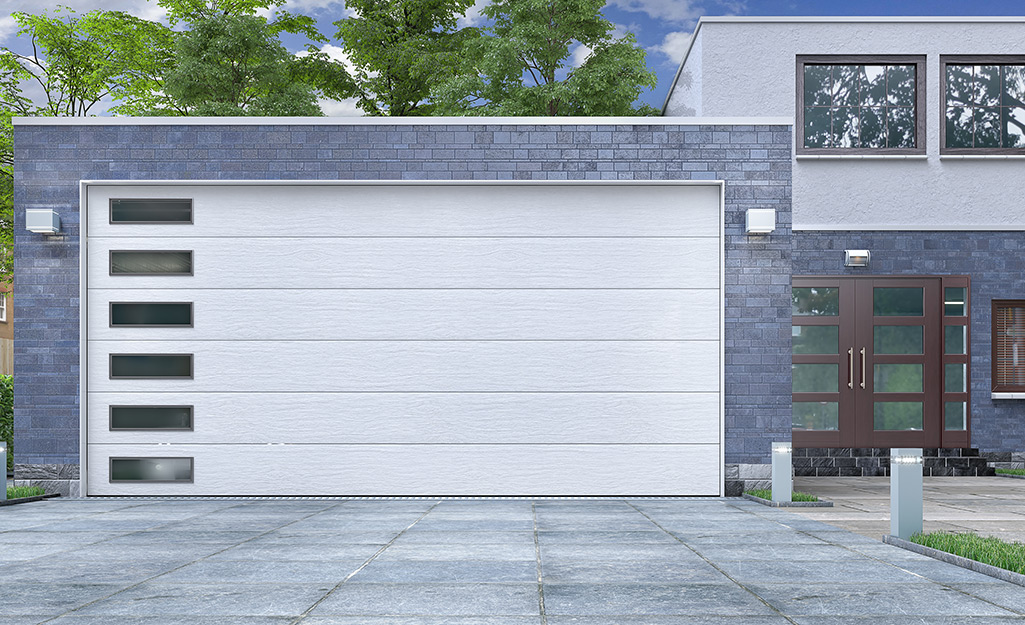 Contemporary garage doors feature materials used in modern home design. They're often made of steel and aluminum. You can find contemporary doors in gray, black and tan. Look for single-door garage doors with vertical window panes in the design. For more flair, consider double- and triple-panel doors featuring unique architectural accents. 
Ranch Style Doors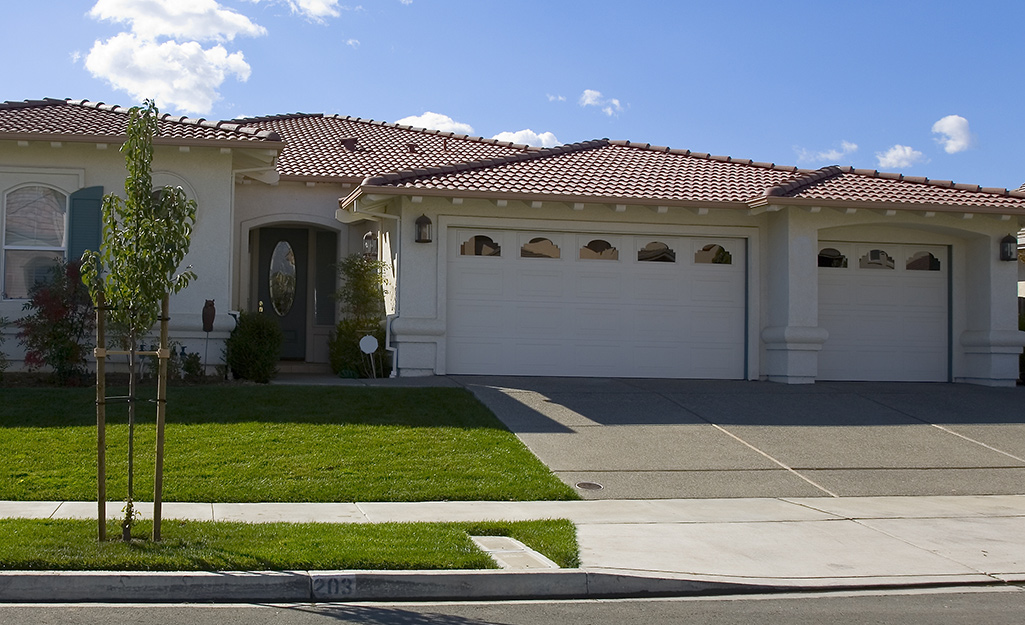 Ranch houses are distinctive for their single-level designs and open-concept floor plans. Most garage doors on ranches are subtle. They're classic and designed to complement the horizontal home design. Custom ranch garage doors with windows enhance the home's overall visual appeal.  
Tudor Style Doors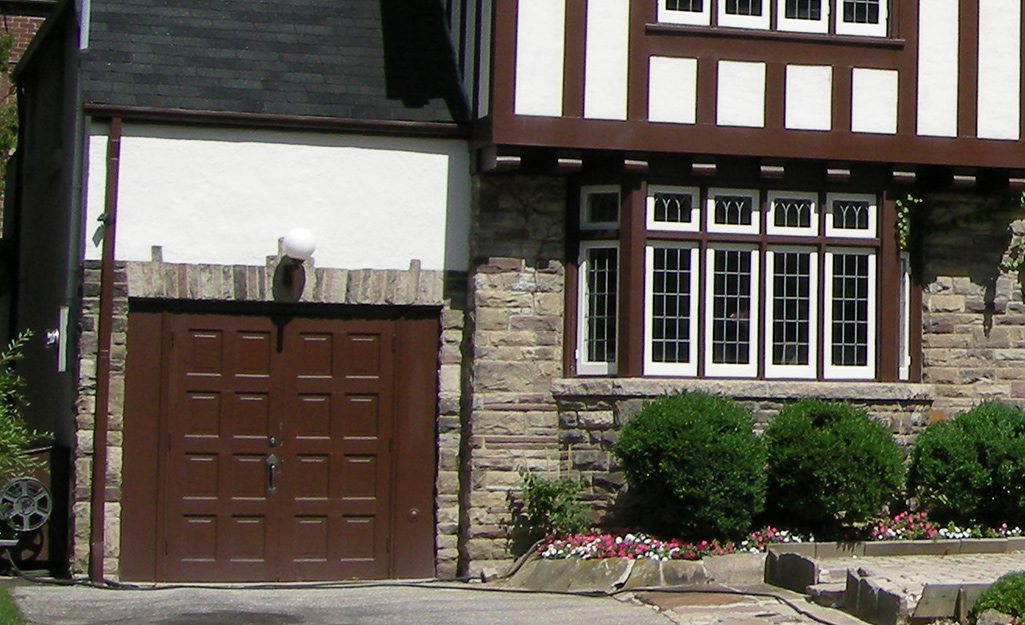 Tudor-style homes are inspired by English architecture from the late 15th and early 16th centuries. The garage doors echo Tudor home features. A textured wood frame overlay on the door mimics exposed beams. 
Colonial Style Doors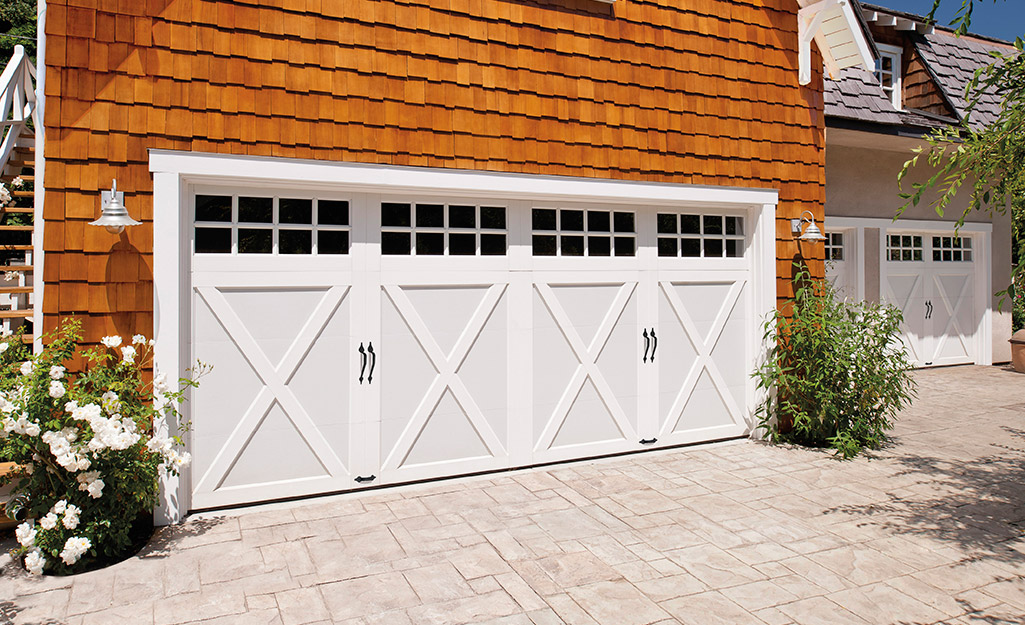 Colonial style garage doors have flush, short, long and raised panels. They can be customized with numerous window options. The garage door materials commonly used for these doors includes both metal and wood. Steel topped with a wood composite overlay gives an eye-catching and classic look.  
Craftsman Style Doors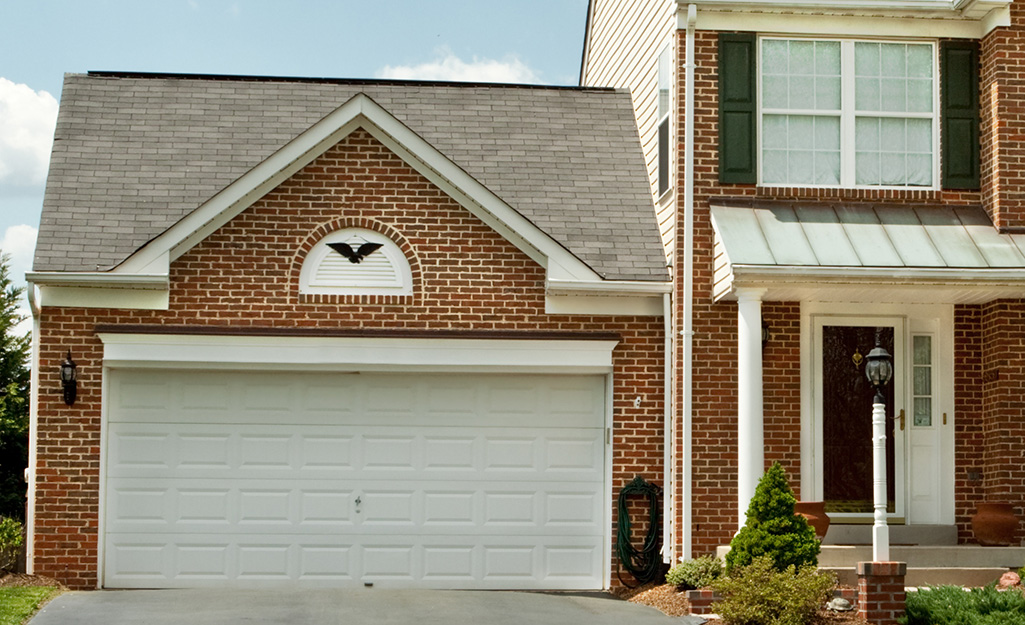 These garage door styles are built to complement the look of the Craftsman facade. These panel-style garage doors can be customized with windows. This adds architectural interest to the curb-facing side of the house. 
Mediterranean Style Doors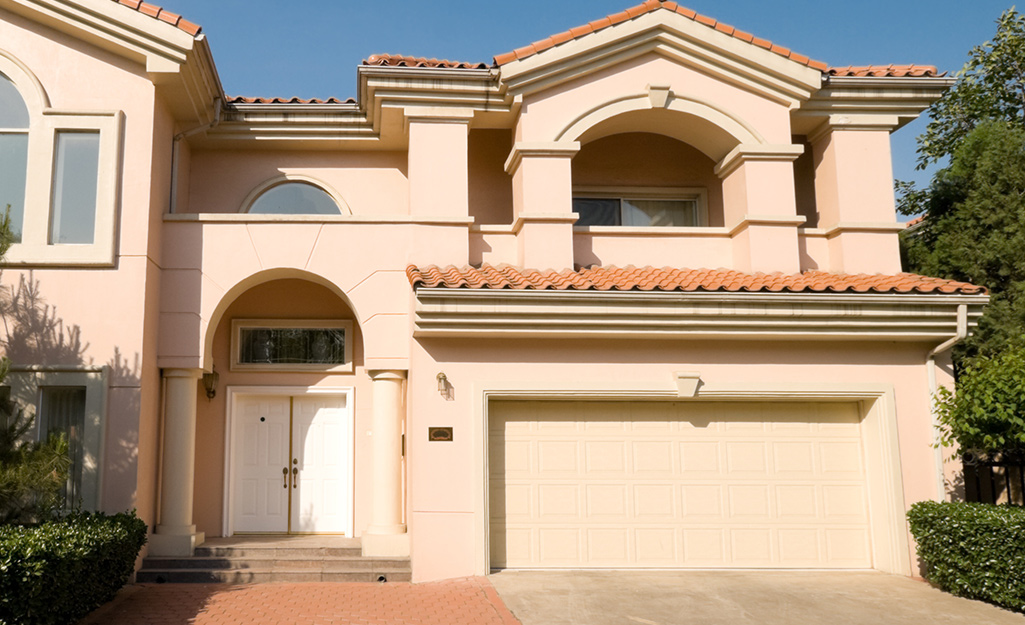 These garage door styles look like the Mediterranean coastal architecture seen at Italian villas or resorts. Quality stained wood and decorative forged hardware adds character to their design. The details set them apart from other garage doors.  
Garage Door Insulation: R-Values Explained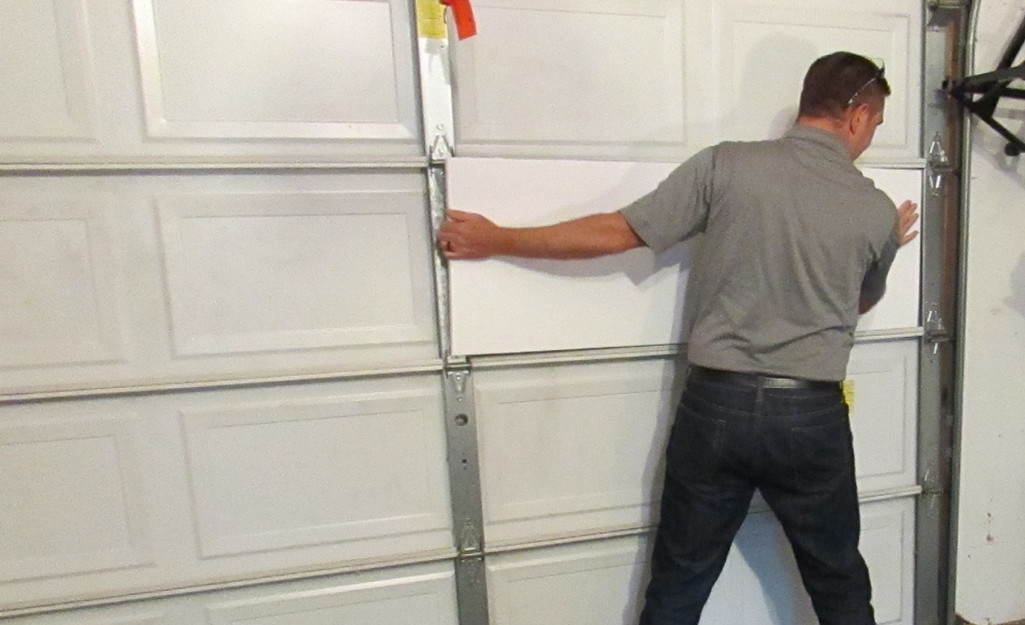 Insulated garage doors are an excellent way to reduce home energy bills. The insulation helps block the outside temperature from entering the garage. It also prevents any indoor heat or air conditioning from leaking outside. Insulated garage doors are also a must if the garage is used often. This includes a garage workspace or bonus room where people spend hours at a time. 
Insulation also helps reduce the operating sounds of the garage door when in use. 
Insulated garage doors feature a core of insulation material surrounded by a cover. While polystyrene insulation and steel covers are typical (as seen in this picture), there are other material options. 
Many models of garage doors now offer different levels of insulation, which are measured by R-Values. This scale specifically measures the insulation's ability to resist heat flow. The higher the R-Value, the better the insulation. 
If you are interested in insulating a garage door yourself, this video will walk you through everything you need to know. 
0 R-Value Garage Door: Uninsulated doors ideal for garages that don't need any temperature regulation at all. 
6.3 R-Value Garage Door: A type of light insulation, 6.3 R-Value garage doors offer minor protection to attached garages from the outdoor elements. 
6.5 R-Value Garage Door: Slight insulation, offering a minor protection to attached garages from the outdoor elements. 
12.9 R-Value Garage Door: Offers sufficient insulation to protect your garage and helps retain heat and air conditioning. 
18.4 R-Value Garage Door: Highest insulation value, will keep your garage temperature even with the rest of the house. 
Garage Door Materials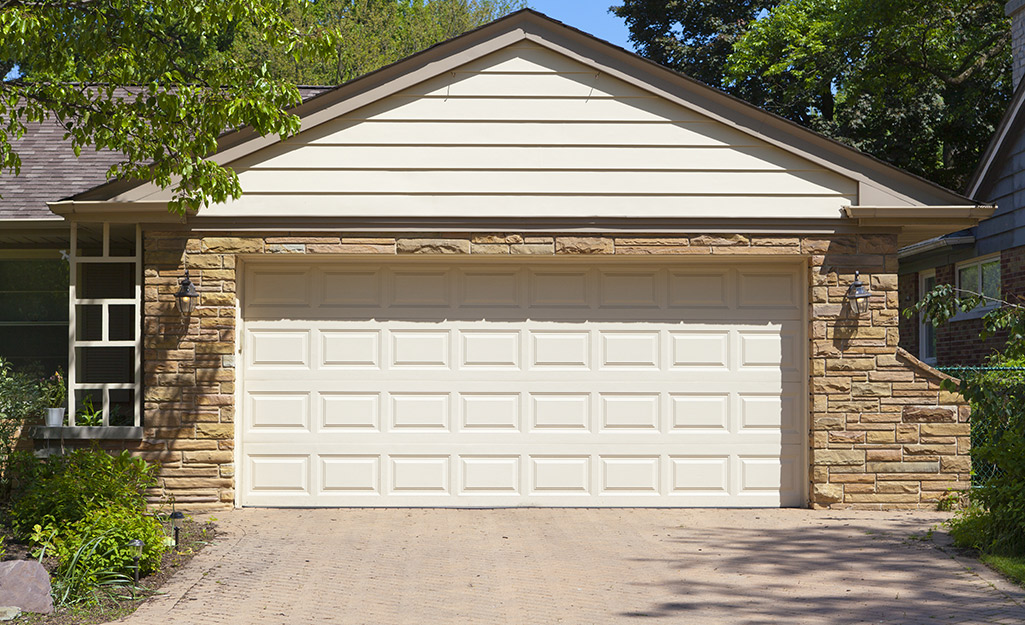 The correct choice of garage door materials is essential. Most garage doors are designed to last up to 30 years. After three decades, replace or update the door. The materials used in the best garage doors all have their advantages and drawbacks. Simply choose the materials that fit your purpose and budget. 
Wood
Pros: Attractive, easy to customize.
Cons: Heavy, costly material. Needs refinishing annually. Not as durable as other materials over time. Short warranty, typically one year.  
Steel  
Pros: Lower maintenance than wood. Longer warranty life, up to 20 years.
Cons: Heavy. Prone to rust and dents.
Aluminum
Pros: Lightweight, dent resistant. 
Cons: Expensive when sold with heavy frames. Inexpensive doors can dent.
Vinyl
Pros: Doors made from these garage door materials are hard to dent, but easy to clean and maintain. 
Cons: There are fewer color and design options.
Fiberglass
Pros: Mimics other materials easily. Affordable and easy to customize. 
Cons: Less durable in cold climates, weathers poorly over time. Can take on a yellow tinge as it ages.
Glass Panels
Pro: Tempered glass doors are as strong as wood or aluminum panels. Greatly elevates curb appeal of modern and contemporary homes. Doors don't require painting. 
Cons: Costly to install. Single-pane doors lack insulation. Tempered glass is heavy. It requires a more powerful garage door opener to operate.  
Garage Door Installation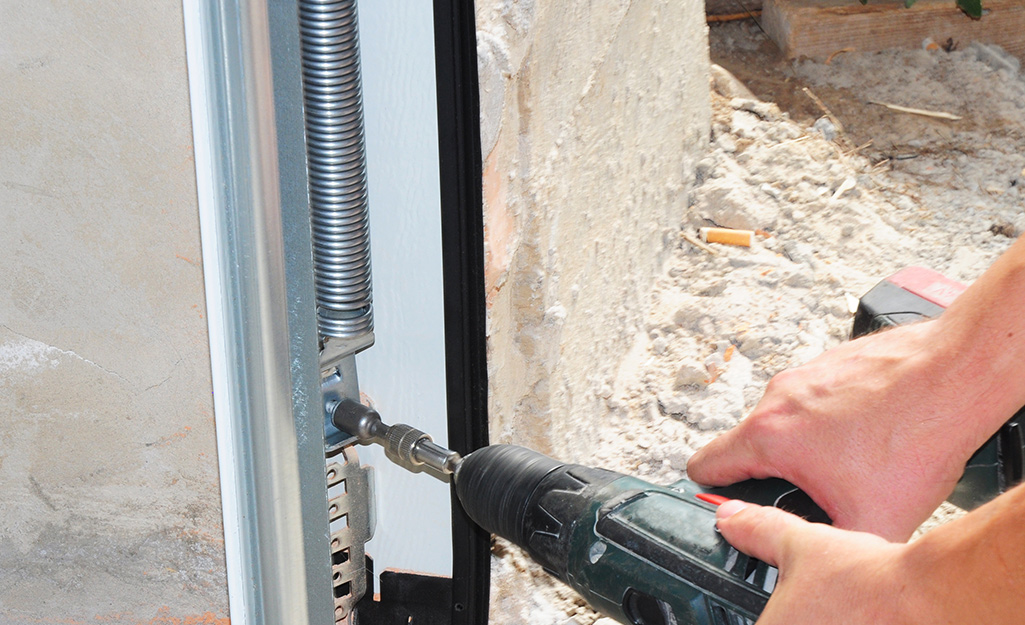 Garage door installation can be done as a DIY project by a skilled handyperson with a helper. Most garage door installation experts recommend leaving this job to the pros. Extension springs designed to be tightly wound can snap back. They may cause serious or fatal injury if installed improperly. The garage door can fail to work if torsion springs are not installed correctly. 

Extension springs are the garage door springs that provide the lifting power for the door. They're made of steel. Extension springs are mounted above the door's horizontal track. The springs attach to pulleys and safety cables that lift the door. 
Torsion springs are installed on a metal shaft above garage door types that use them. They're able to support more weight than extension springs. One or two torsion springs, depending on the door's weight, are installed on a metal shaft above the garage door. Look for easy-setting torsion springs. They're similar to standard torsion springs, but are easier to install without winding. 
How to Personalize Your Garage Door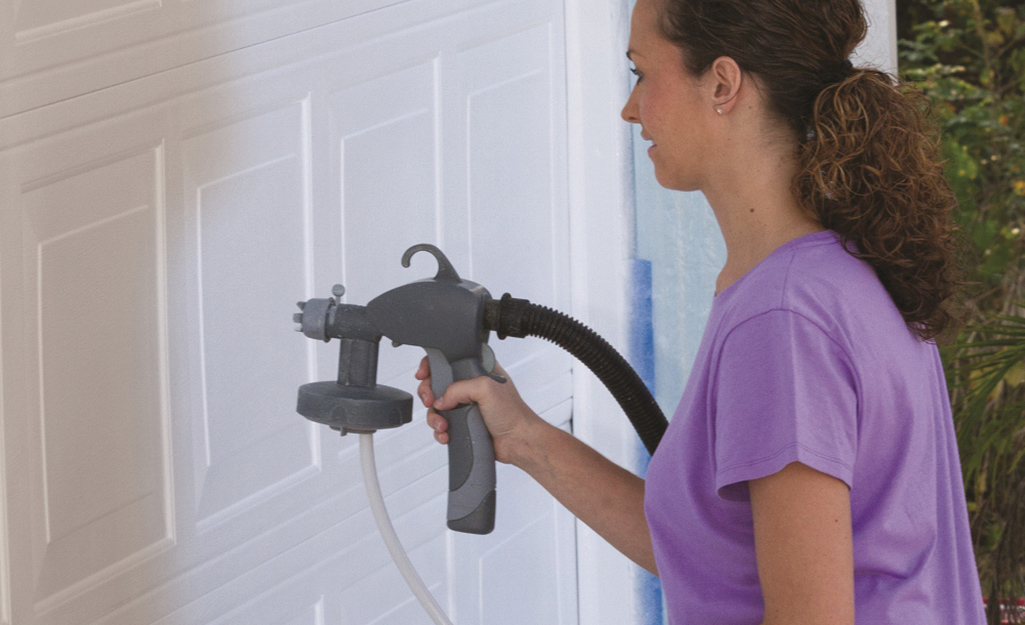 Different garage door styles offer advantages in security, noise control and other feature benefits. Personalize your garage door to fit your home. You might add a garage door screen, windows or paint. 

Choose the configuration for either a single- or double-door garage arrangement. For a standard two-car garage, you might install one double door. You could also install two single doors next to one another. 
Paintable garage doors are plain white doors commonly made of steel. You can paint them to match the rest of your home. 
Windows add an elegant look to your garage door. They also allow natural light to filter into the space. 
Garage door parts as handles, deadbolt locks and decorative touches allow you to improve the security and look of your garage door at a low cost. 
Add a garage door screen to turn your garage into a screened-in porch suitable for relaxation. 
An update to your home's garage door enhances the curb appeal and adds value to your most important investment. The housing market research and analytics firm Zonda Media recently listed garage door replacement as the top value-creating remodeling project. It was listed as having a 93.8 percent return on investment.  
Need help identifying choices of garage door styles? Use the Home Depot Mobile App to locate products and check inventory. We'll take you to the exact aisle and bay. For free design and installation help with windows and doors, call us any time between 9 a.m. - 8 p.m. EST at 1-833-HDAPRON (432-7766). 
Explore More on homedepot.com