Freshen up your concrete, basement or garage floor with a stain or a new layer of paint. Applying paint or stain to the floors outside your main living areas can keep them looking finished and clean for extended periods without extra care. This guide will explain the differences between epoxy and stain. It will also discuss the best floor paint for your needs, as well as which surfaces can handle each product.  
Types of Floor Coatings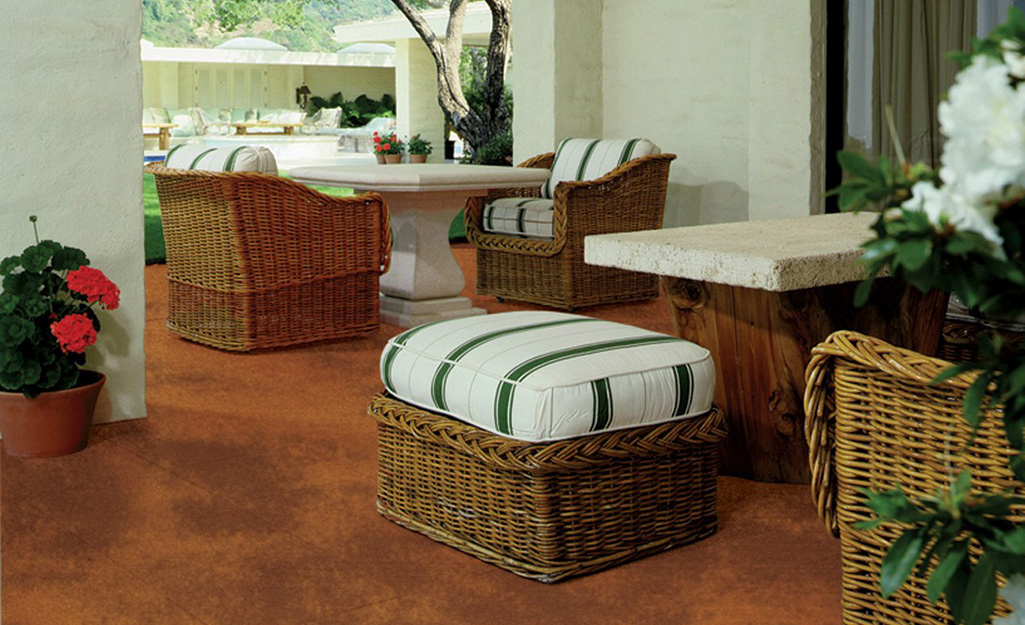 When applying a floor coating, it is important to find a paint or stain formulated for the area and type of surface. Products for outdoor application, like concrete paint, are made to withstand more extreme temperatures and harsher wear. A coating made for basement floors may not serve as the best garage floor coating. It may not offer the protection and have the resilience needed to coat a garage floor.  
There are three main types of floor coatings: paint, stain and epoxy. Each type of floor coating has its own benefits, best surface applications and best application techniques. 
Tip: When working with any type of floor coating, ensure you have plenty of ventilation. Keep children and pets away from the affected area until the coating has completely dried and any fumes have dissipated.
Floor Paints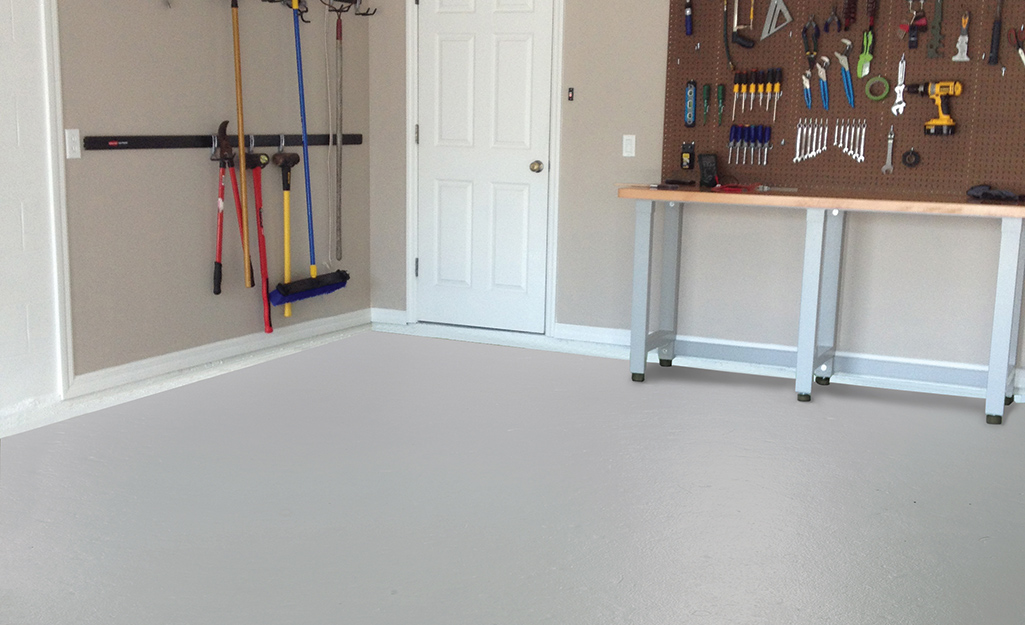 The paints formulated for floors, whether wood or concrete, are generally oil- or latex-based paints. 
Latex-based paint:
Latex-based paint is the most popular type of floor paint.
Many consider this the best floor paint for beginners since it adheres well to many different surfaces and is easy to apply.
Latex paints also allow water vapor to escape, which helps prevent delamination or the separation of paint layers.
Plus, water can easily clean up spilled latex paint. In areas where moisture and mildew are concerns, such as in a basement, choose acrylic latex paint.
Oil-based paint:
Oil-based paint provides a hard, shiny finish and is better than latex-based paint at seamlessly covering slight surface imperfections and damage. For this reason, choose oil-based when looking for the best concrete floor paint.
Instead of water, mineral spirits need to be used for cleanup of spilled oil paint.
While not as universally durable as latex-based paint, oil-based paint is especially resilient to low temperatures.
This makes it the best floor paint for cooler climates.
It can also stand up to intense scrubbing when cleaning.
Of the two types of floor paints, latex paint is the best garage floor coating option, and oil paint the is best for concrete porches and patios. 
Floor Stains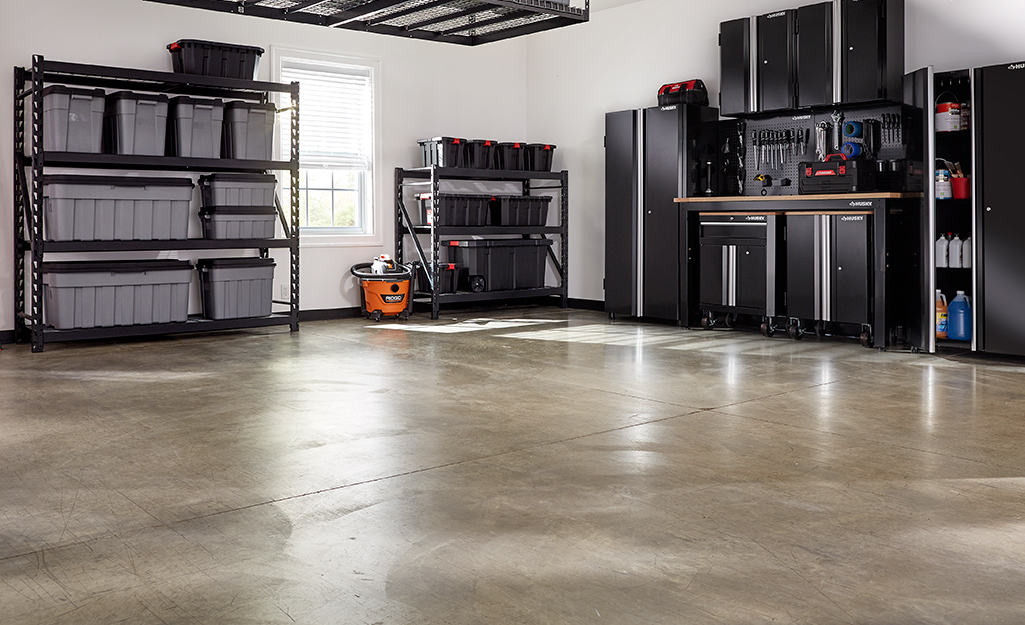 Floor and concrete stainsare usually easier to apply than paints, but they require more frequent reapplication to keep looking fresh. Rather than coating the floor in one entire color, concrete stains create a pigmented, marbled effect.  
As with floor paints, there are two primary types of floor stains from which to choose: acid-based and water-based stains.  
Water-based stains:
Water-based stains have a wide variety of color options.
Water-based stains also dry quickly and have fewer toxic chemicals in their formulations than other types of paints and stains. A concrete sealer should be applied to protect the stain.
Acid-based stains:
Acid-based stains create a chemical reaction that alters the look and color of concrete.
While water-based stains can fade and will need regular reapplication, acid-based stains are long-lasting and fade resistant, even without a sealer.
However, working with acids can be dangerous, so you will need to take proper safety precautions to protect your skin and eyes, as well as a ventilator mask and box fans to repel fumes.
The final appearance of your concrete floor is also harder to control when working with an acid stain.
Epoxy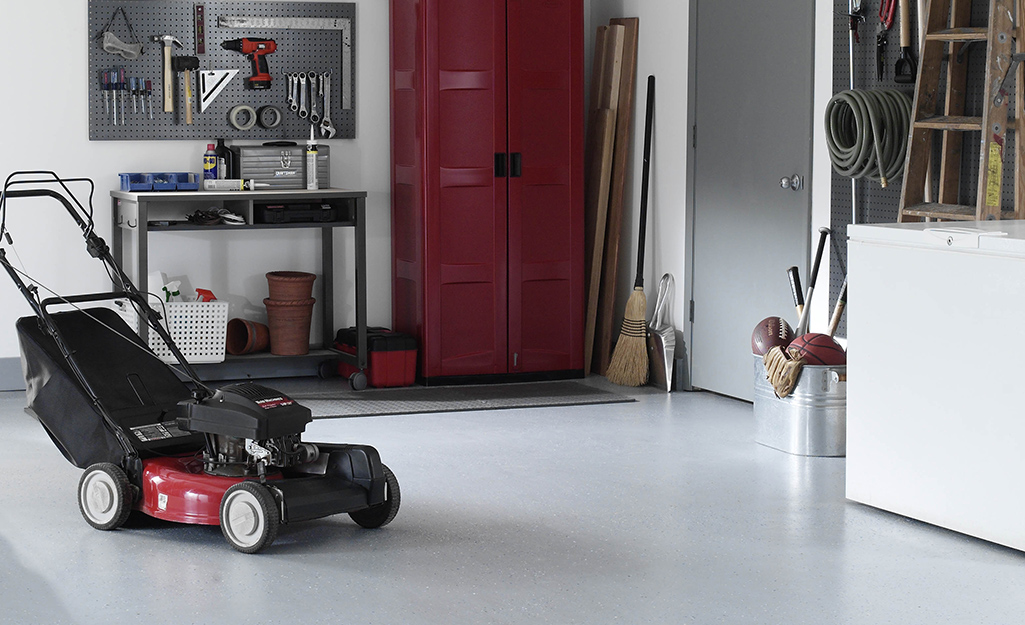 Epoxy is a durable, plastic-like paint that is most effective when used on garage floors. 
It is available as a one or two-part mixture and consists of a water-based coating that utilizes a chemical reaction to strengthen it.
It may be solvent-based, water-based or 100 percent solid. Water-based epoxy doesn't emit hazardous fumes and is easiest to apply.
Epoxy garage floor paint is tougher than other paints and stains and is designed to withstand what is known as hot-tire pickup. As cars drive on hot streets during the summer, much of that heat is absorbed by tires. When you return home and park in the garage, that intense heat sears your garage floor, ultimately causing paint to peel or stain to disintegrate.
While one-part epoxy is premixed, two-part epoxy must be combined with a stick or a drill mixer and must be applied within four to six hours of mixing to avoid drying out.
Note that epoxy cannot be applied to floors that consistently hold moisture, as water will interfere with the bonding process. For this reason, epoxy may not suit every floor you want to coat, such as your basement or concrete patio.
Tip: Add a coat of wax on top of epoxy to make floors easier to clean. 
Application Tips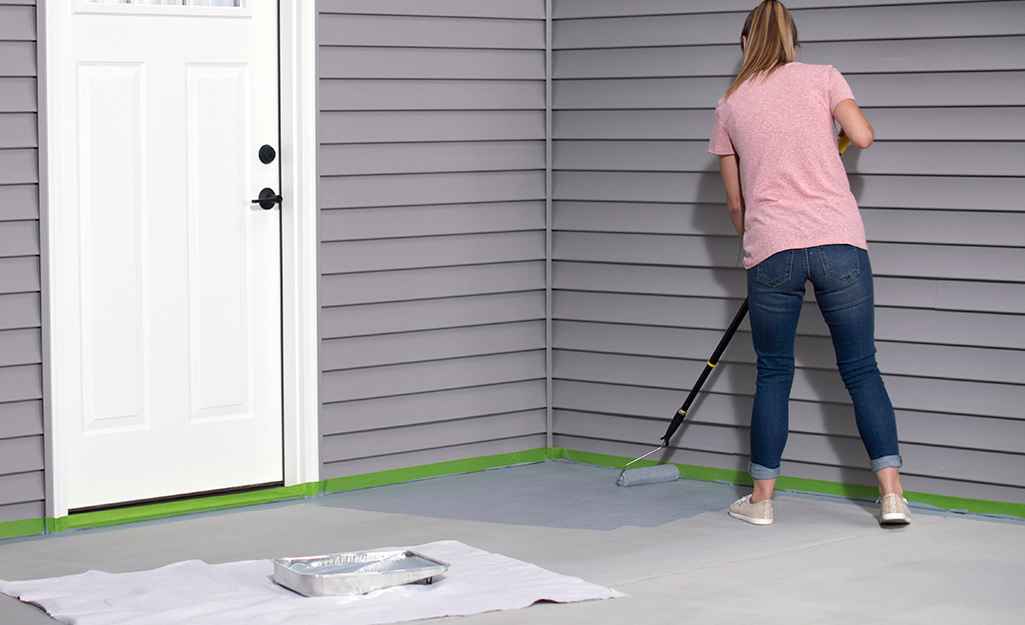 After being poured, it may take up to 90 days until concrete is ready to be painted or stained. Prior to applying paint or stain to any pre-existing surface, make sure it's completely clean by getting rid of as much oil, dirt and grease as possible. If you're applying a stain, remove previous coats of paint or sealer.
Use tape and tarps to protect walls, doors and other areas you want to keep clean while you paint.
After floor paint or stain has been applied, drying time will vary according to temperature and humidity. Cooler temperatures and higher humidity levels will require longer drying time. For the best results and quickest drying time, apply when temps are between 50-degrees Fahrenheit and 90-degrees Fahrenheit. Consult the floor coating's manufacturer's instructions for precise parameters.
Intermix multiple containers of the same paint to ensure uniformity. If a second coat is needed, apply it with strokes working in the opposite direction from the first.
Painted surfaces may be slippery, especially when they're wet. Applying a nonskid additive to your newly painted floor will help you avoid accidents when it's raining or snowing.
If you don't want to spend time cleaning and applying paint or stain to an outdoor floor, you may want to consider a modular garage flooring system. These interlocking tiles snap together with ease and can be used to cover large areas. They come in a range of colors and are both impact- and stain-resistant. Vinyl floor mats are another, more economical option.
When determining how much paint or stain you need, don't guesstimate, calculate. Know exactly how much you need with our project calculators. Once you've chosen the best concrete floor paint and garage floor paint for your needs, shop our selection of finishes. The Home Depot delivers online orders when and where you need them. 
Explore More on homedepot.com