The right lamp shade improves a room's functionality and enhances its ambience. Most spaces need overhead lighting, but for a cozier environment, lamps fit the bill. Topping a lamp base with the right size shade creates the perfect scale and expresses style. Read on for step-by-step guidelines on how to measure and pick the perfect size lamp shade.
Study the Room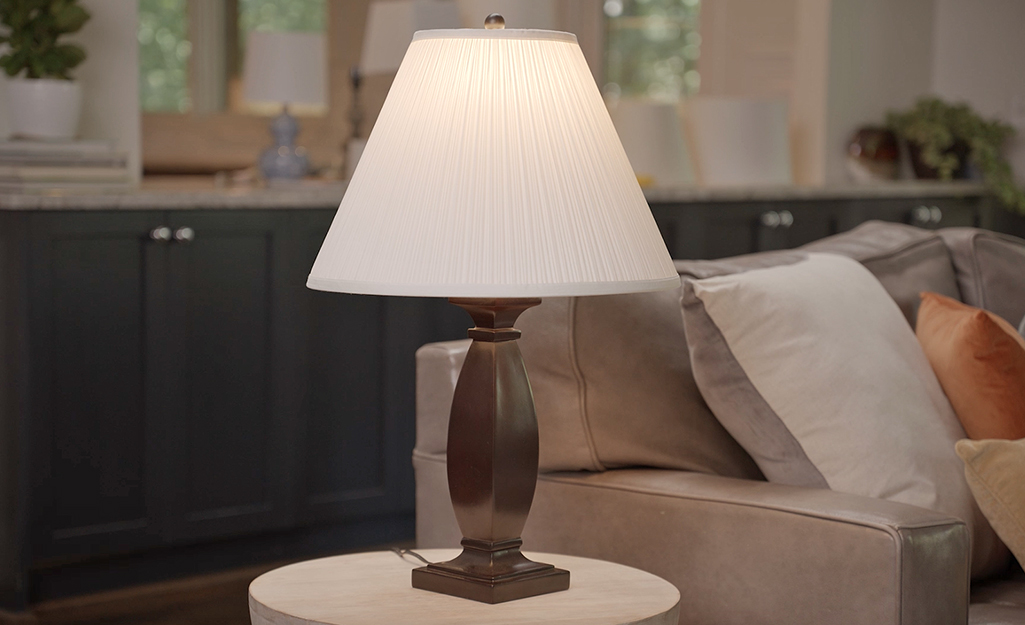 A lampshade has two primary purposes. It protects eyes from the glare of a bare bulb and it directs light into a room. Overhead lights are great for some purposes, but lamps create ambience and provide task lighting. It's also best for a room to have multiple light sources. 
Study your rooms to determine how natural light shifts throughout the day and identify areas that require illumination. In large areas, such as living or family rooms, use several lamps to softly light the space. In dining rooms, try a pair of lamps on a buffet. For bedrooms, a pair of lamps on bedside tables will please bedtime readers. In smaller spaces, such as entries or bathrooms, use a single lamp for a warm, homey glow.
Determine Lamp Base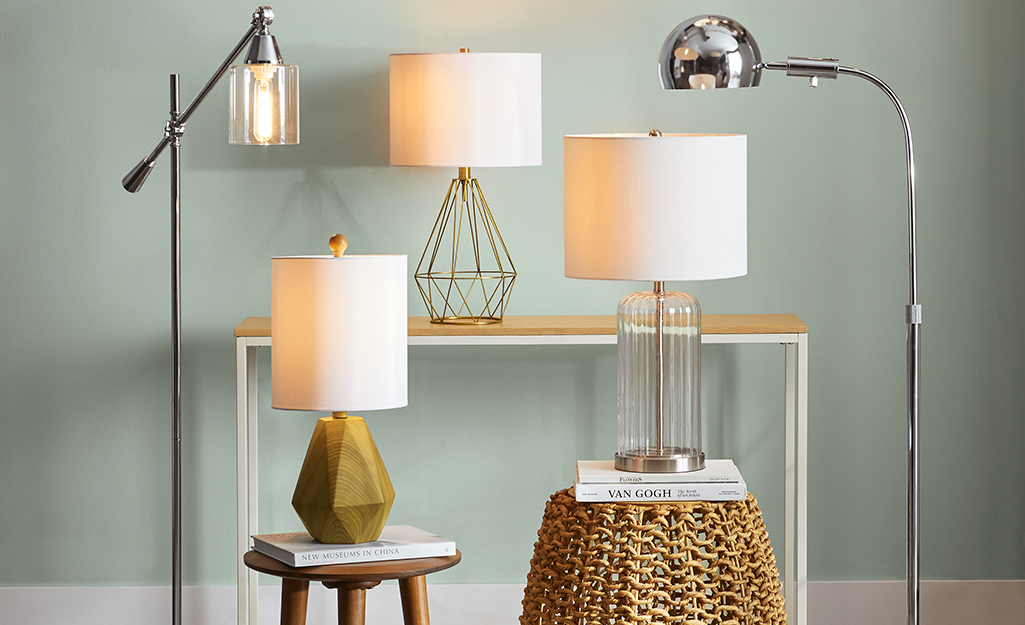 Before shopping for a lamp shade, identify what kind of a lamp you have or need. Choose a lamp base that complements or matches your room's decor. Perhaps you already have a base that would benefit from a new shade, or maybe you'd like a new lamp to light up a room. Either way, an appropriately fitted lamp shade offers a finished look. There are matched lamps and shades as well as a variety of mix-and-match bases and shades that are easily paired for a custom look. 
Select Lamp Shade Shape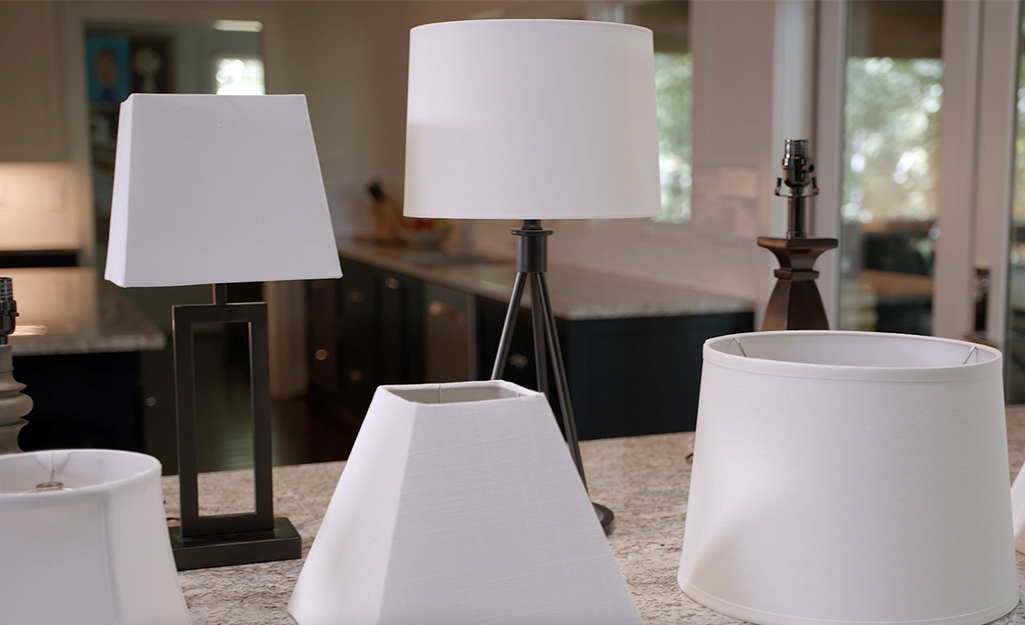 The size and shape of your lamp base will guide your selection when looking for a perfectly fitted lamp shade. Lamp shades come in several shapes: Empire, round, bell and square. Round bases pair best with round shades; square or angular bases look best with square or rectangular shades; and the linear shape of candlestick bases work well with both. Simple lamps let you experiment with the lamp shade's shape, color and material. Ornate lamps are best paired with a simple, understated lamp shade.
Measure Lamp Base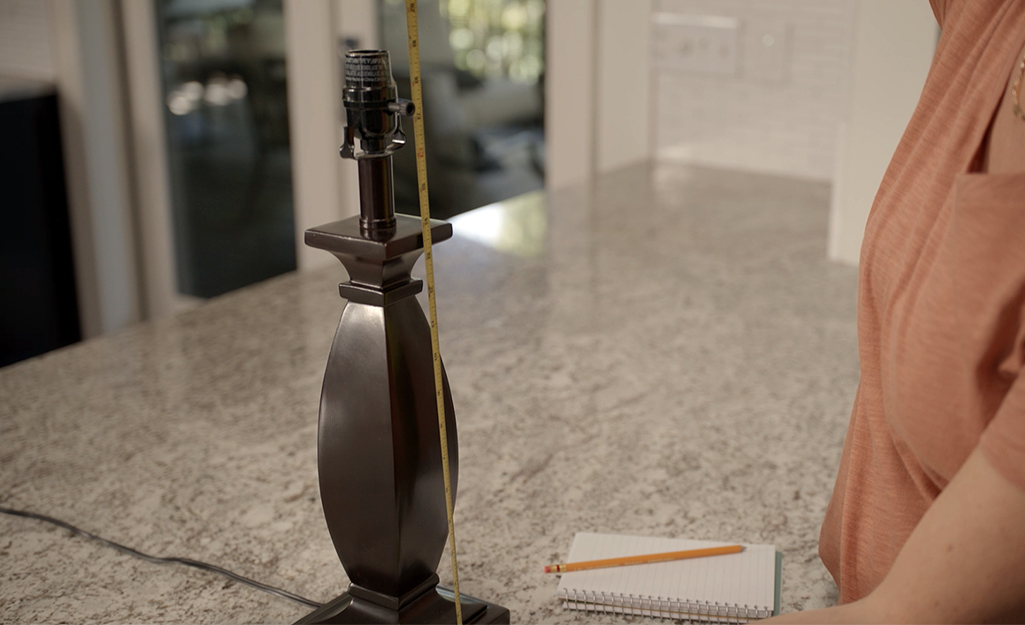 Use a tape measure to accurately measure the lamp base. Measure the height from the lamp base to the top of the lightbulb socket. Measure the width of the base. If the lamp is round, measure across the widest part of the circumference for the width. You'll need these measurements for Step 8, so write them down. Next, you'll take the lamp shade measurements in this order: top, bottom, height, slant.
Measure Lampshade Top and Bottom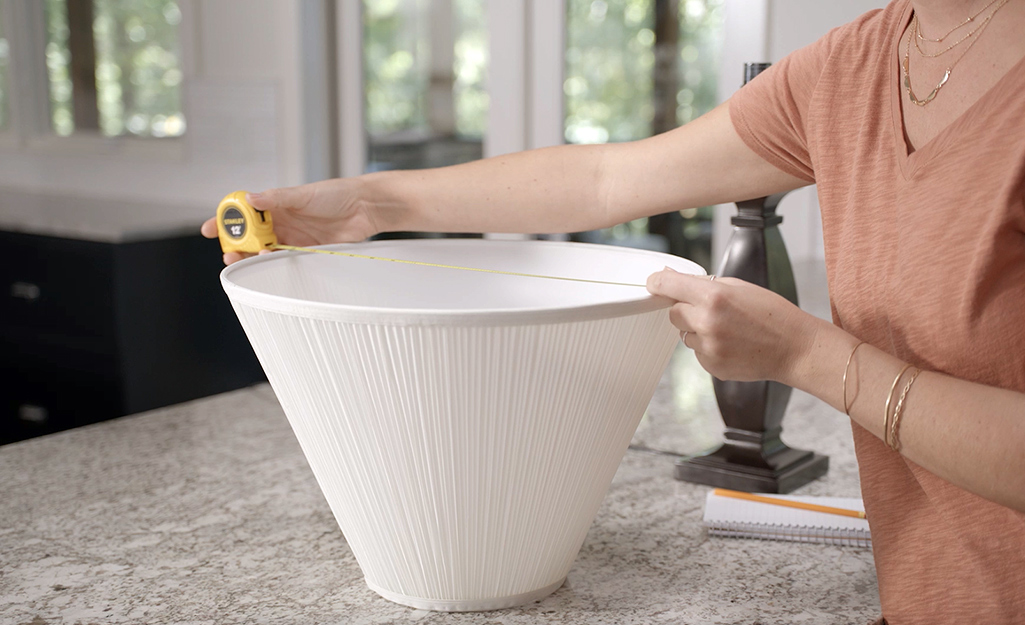 Using a yardstick or measuring tape, measure the width of the top of your lamp shade first, and the bottom width second. If it's a rectangular shade, measure both widths. For round shades, place the measuring tape across the top of the lamp shade. Measure from edge to edge, and as close to center as possible. This will give you the top diameter.
Measure Lampshade Height and Slant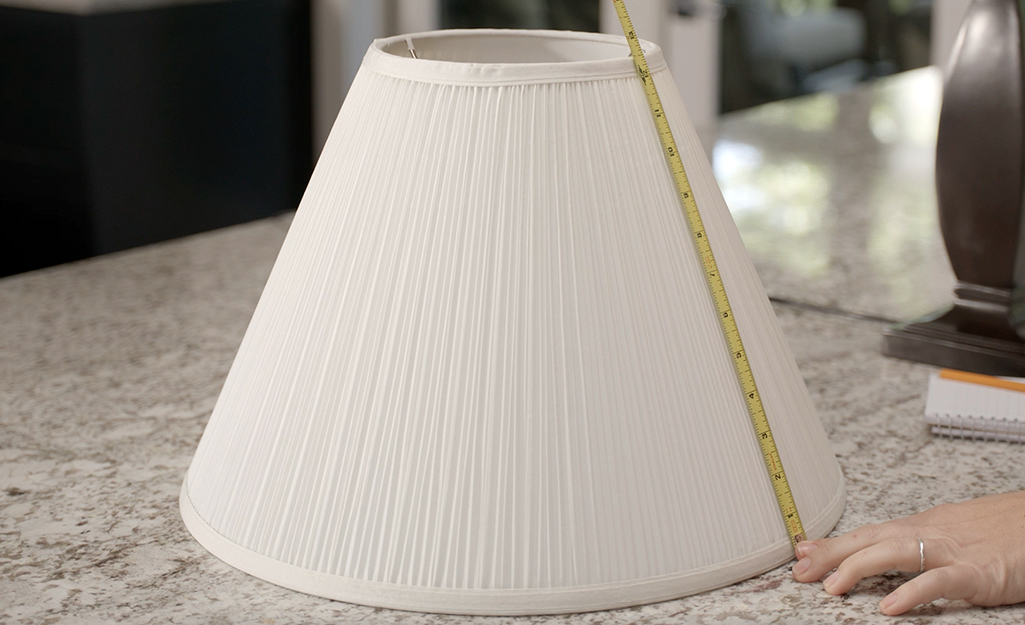 To measure the height of the lamp shade, measure inside the shade. Start at the bottom edge and measure straight up. The height will be the measurement that is level with the top edge.
The height is not the same as the slant unless the sides of the shade are perfectly vertical. 
If the sides are not vertical, find the length of the slant next. Measure from the top edge of the lamp shade to its bottom edge with measuring tape. Make sure the tape is lying flat against the shade's slope. If you are measuring a square lamp shade with no slant, measure its height from top edge to bottom edge. Use this measurement as your slant.
Balance Lamp Shade and Base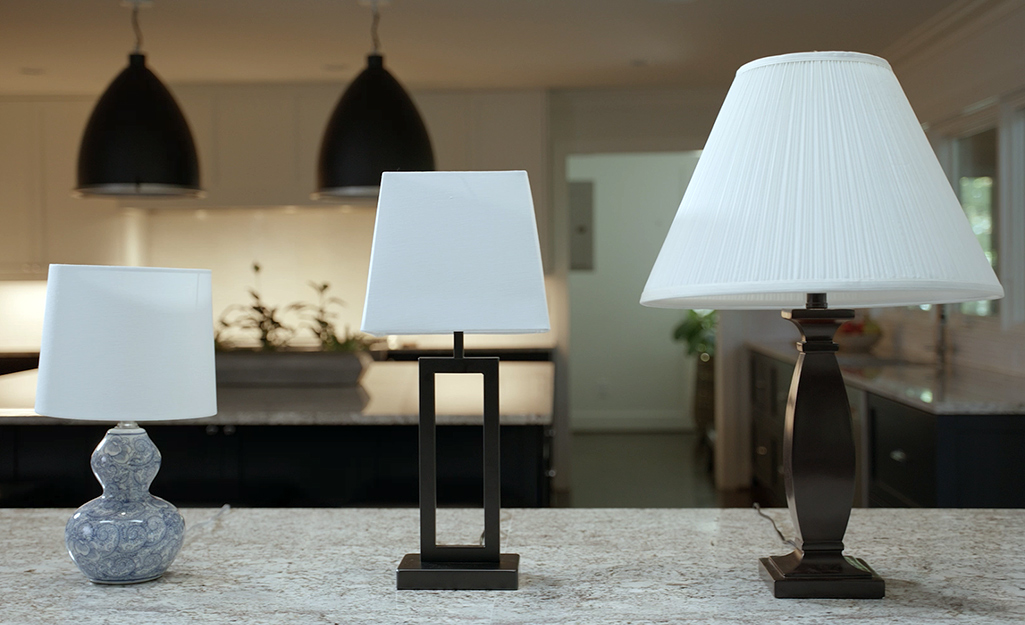 A lamp shade's top diameter should be at least as wide as the base, but it shouldn't exceed twice the width. The height of your lamp shade should be no more than two-thirds the height of the lamp. If you are shopping in person for a lamp shade, take your base to the store with you. With the lamp in hand, you can try on various options to get the look and fit you want. 
All lamp shades are categorized as mini, small, medium, large or extra-large. These sizes are determined by a lampshade's bottom diameter or width. 
Mini lamp shades: bottom diameter or width is 6 inches or less.
Small lamp shades: bottom diameter or width of 6 to 9 inches.
Medium lamp shades: bottom diameter or width of 10 to 11 inches.
Large lamp shades: bottom diameter or width of 13 to 15 inches.
Extra-large lamp shades: bottom diameter or width of 16 inches or greater.
Attach Lampshade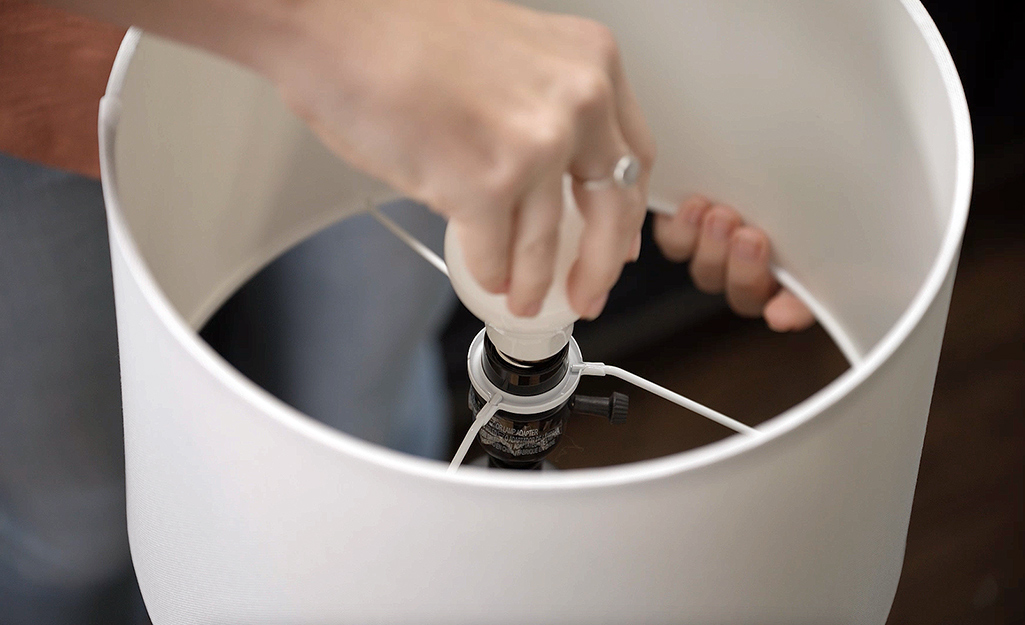 There are three types of fittings used to attach lamp shades to lamp bases. Screw-on lamp shades twist on to the lamp's base with a few easy turns. To attach this type of fitting, attach the lamp shade to the base before screwing in the bulb. Clip-on lamp shades have a clamp that expands to fit directly on the lightbulb. Spider lamp shades fit on top of a metal harp. A spider lamp shade is the best option for adding a decorative finial on top.
Light Bulb Tips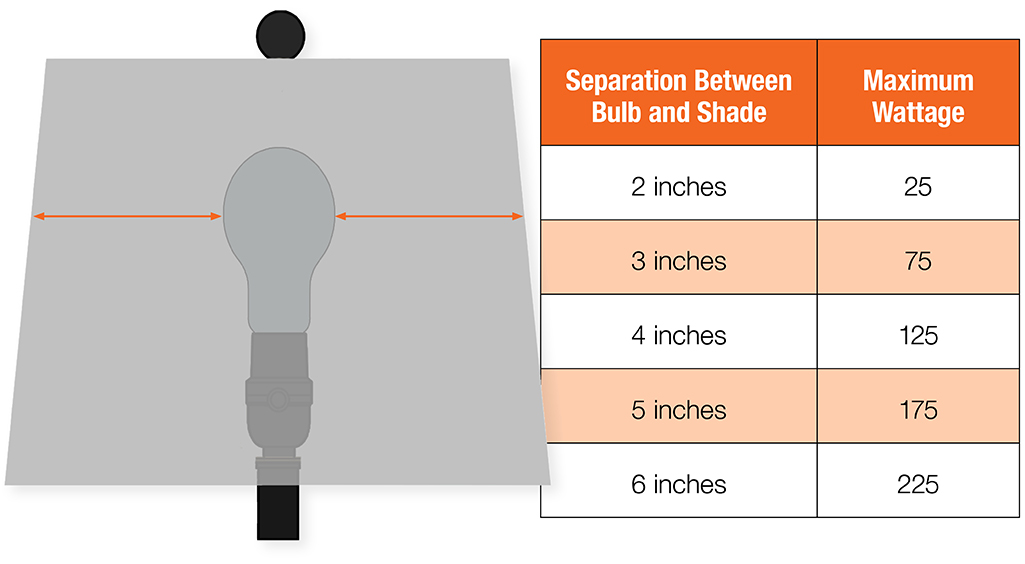 It is a common misconception that the maximum wattage of a light bulb is determined by the lamp. In fact, the size of the lamp shade determines the maximum wattage of the light bulb. The lamp shade should always be a certain distance away from the light bulb for safety reasons. Check the chart above to ensure you are using the correct wattage light bulb for your lamp shade.
New lamp shades are an easy, inexpensive way to change your home decor. Whether hanging out with family and friends or curling up with a favorite book, a lamp provides just the right amount of light. It's important to know how to select and properly measure a lamp shade for the right look and light. Ready to swap out your lamp shades? Find products fast with image search in The Home Depot Mobile App. Snap a picture of an item you like and we'll show you similar products. 
Explore More on homedepot.com