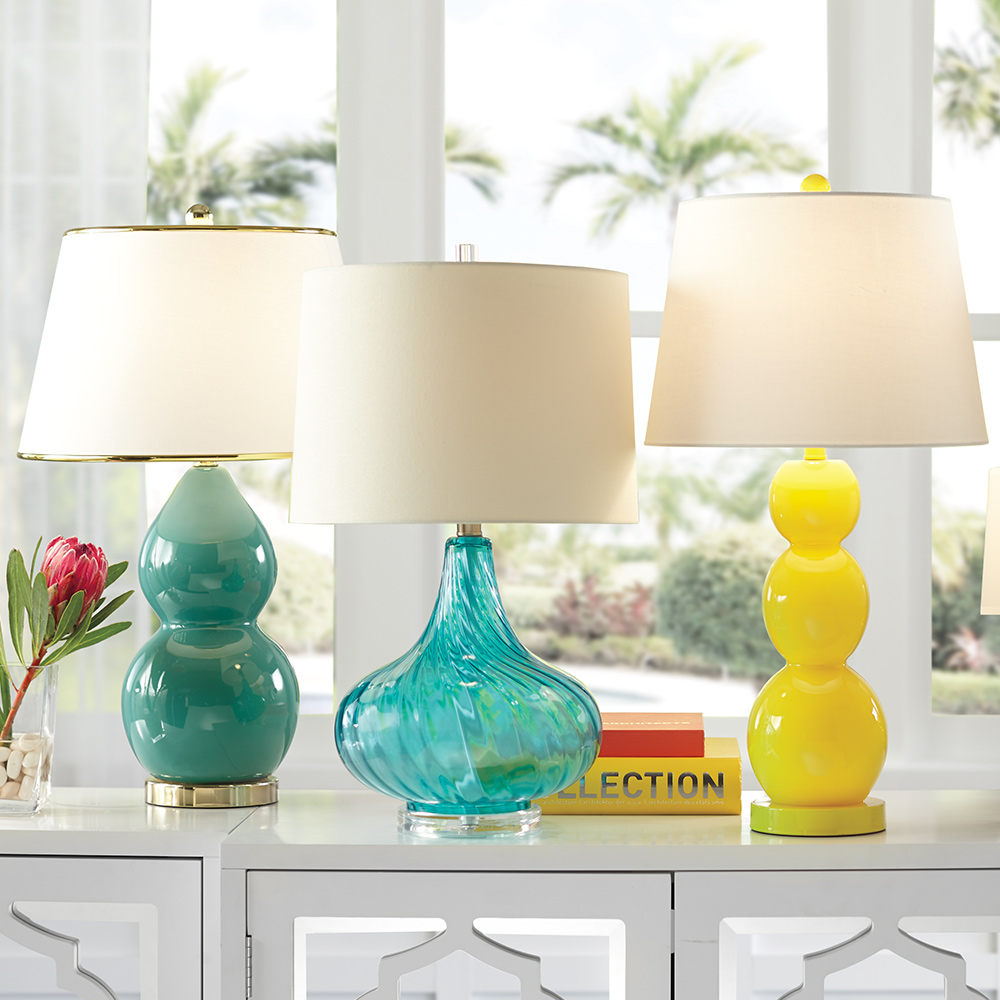 Lighting makes the room. Strategically placed, lamps can bring any room into a deeper perspective and showcase your compelling decor. This guide will introduce you to many types of lamp shades available from The Home Depot that will address your lighting needs while enhancing your decor.
How Lamp Shades Work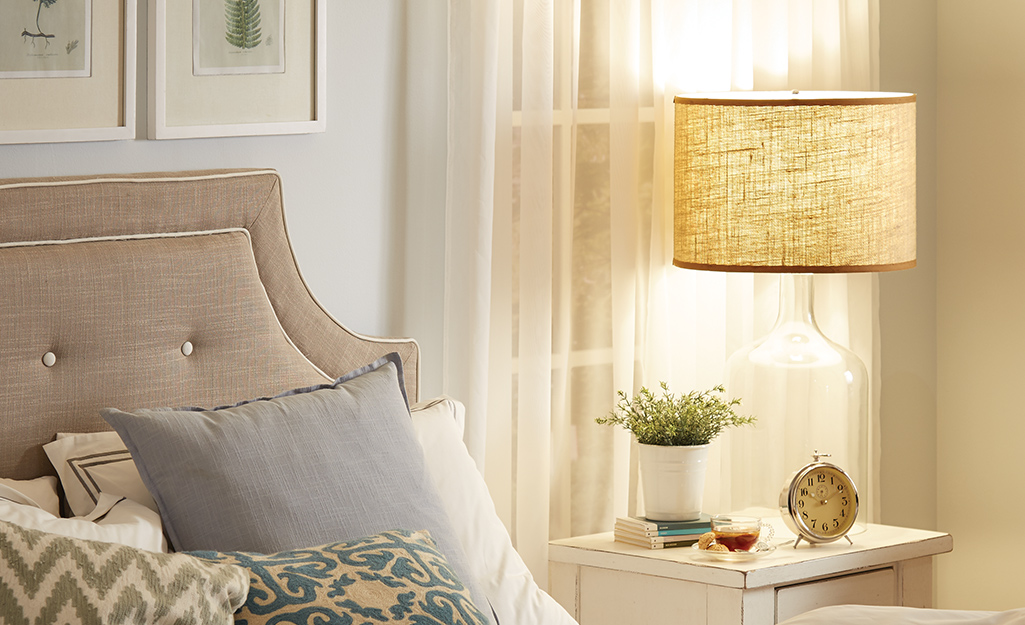 Lamp shades block, direct and filter light from a lamp. They have openings at the tops and bottoms that allow additional light and heat to escape. The shades attach to the lamp by means of a fitter that attaches to the lamp shade's frame.
Measuring a lamp shade will help you determine the right size shade for your lamp so that it will be in proportion to the lamp's base. The shade should be about two-thirds the height of your lamp base. For the right lamp shade width, measure your lamp base and multiply by two. The widest part of your shade should be at least a half-inch wider than the widest part of your base on each side.
Tip: For a round base, measure straight across; measure diagonally for a square base.
How to Pick the Right Shade Shape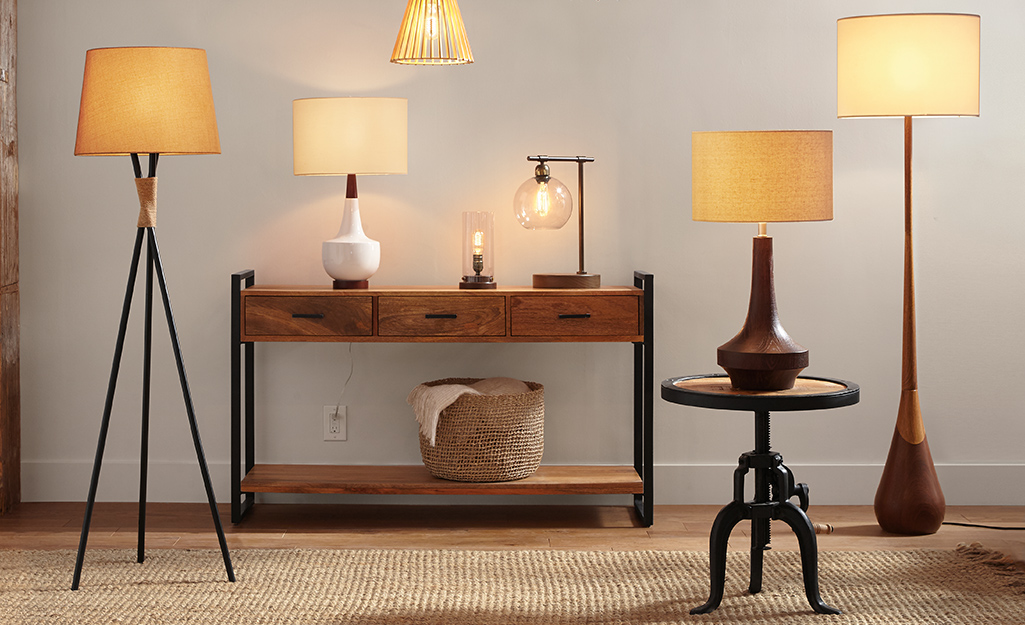 A lampshade should complement the base of the lamp. There are basic lamp base types: round, square or angular and candlestick. In general, follow these designer rules for pairing a lamp shade with a base:
Round bases: Pairs well with round or hexagonal shades. 
Square or angular bases: Pairs well with square or rectangular shades. 
Candlestick bases: Combines both round and angular elements, so it can take nearly any type of lampshade.
Lamp Shade Shapes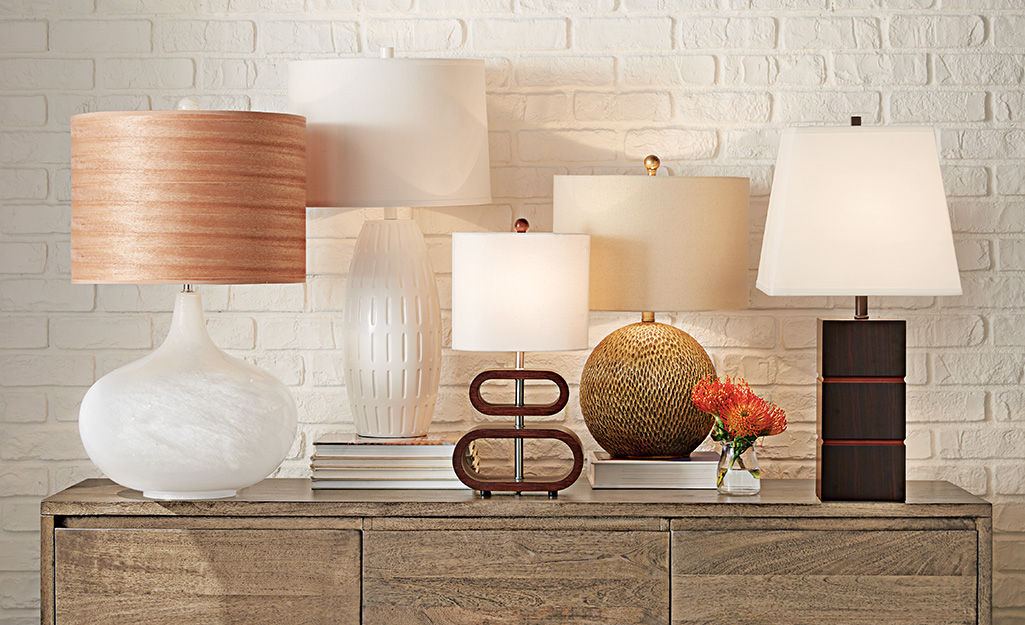 Lamp shades can be found in an array of interesting and unusual shapes and materials. There is no one-size-fits-all when it comes to lamp shades but knowing the standard shapes first helps you to get an idea of what you are seeking for your room decor.
Empire Lamp Shade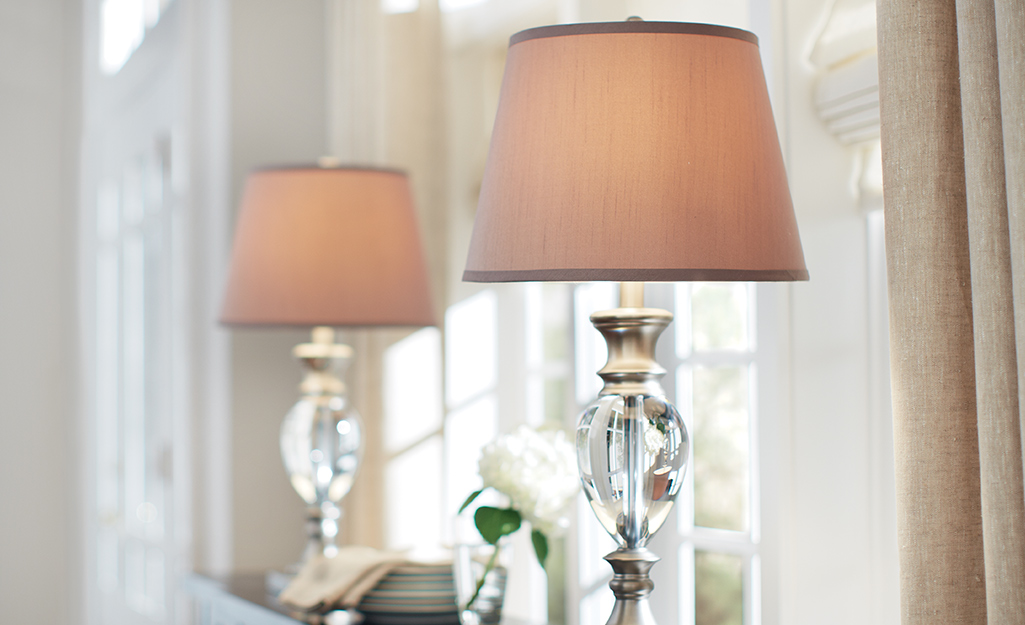 An empire lamp shade features a flared bottom that emits most of the lamp's light from the bottom of the shade. They are a classic style that will match virtually any base and style. Empires are ideal for accent lighting and are popular choices for table lamps.
Round Lamp Shades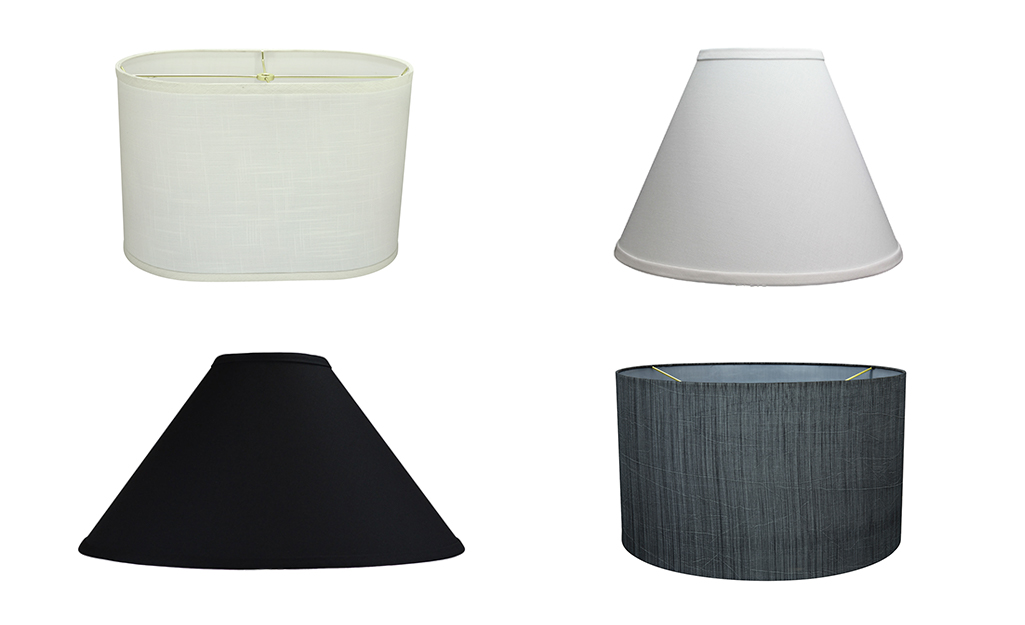 Round lamp shades direct most of the lamp's light out through the top and bottom of the shade providing focused and ambient light. Round shapes include oval lamp shades, cone lamp shades and drum lamp shades. These shade shapes are ideal for placement over a table or on a tall floor lamp. Oval and cone shades work well with most decor and are excellent choices for accent or task lighting. Drum lamp shades feature clean vertical sides that looks great with modern, contemporary and transitional designs. 
Bell Lamp Shade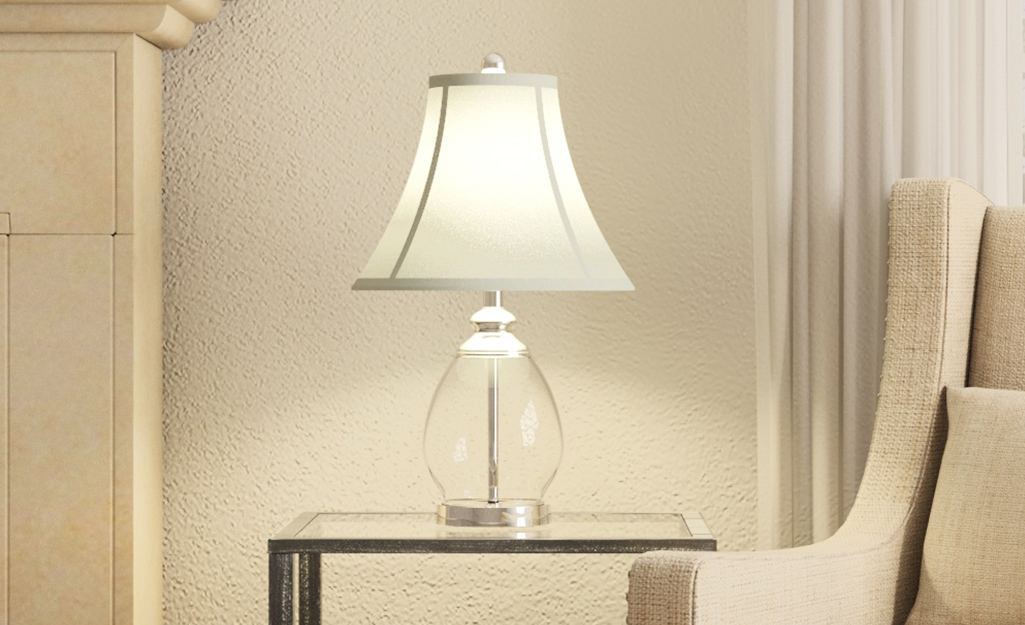 Bell shades feature curving sides that slope towards the bottom. The flare at the bottom helps to distribute light outwards for maximum coverage while the top of the shade provides soft ambient light. Bell shapes work well as an accent light with traditional decor.
Square Lamp Shade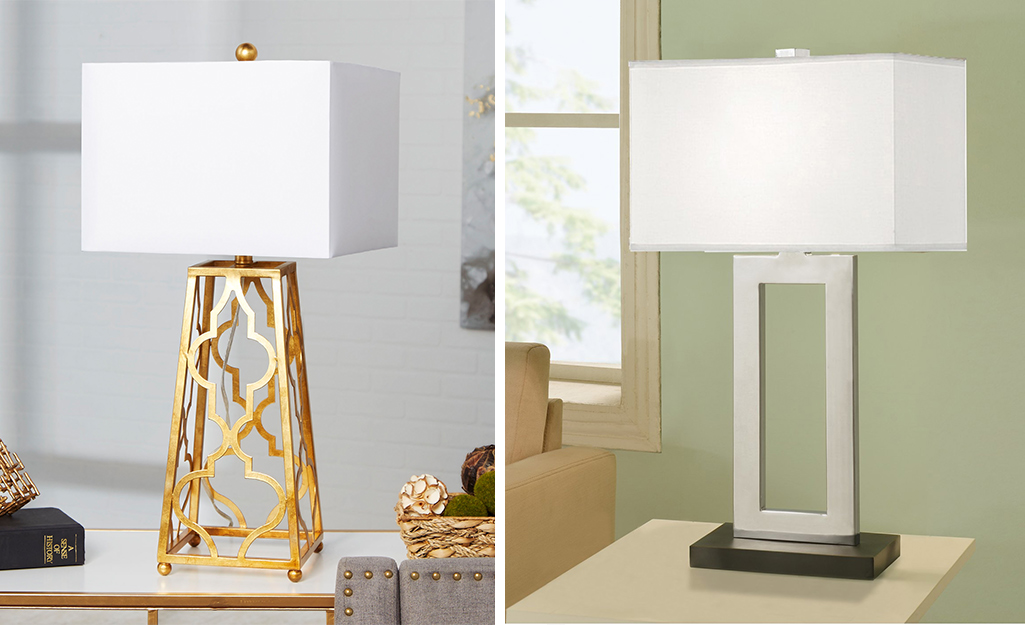 Square and rectangular lampshades work best with contemporary and modern decor and lamps with square bases. Rectangular and square lamp shades have flat edges rather than circular edges which gives them their modern look. These styles of shades emit plenty of light to use as task or general lighting.
Dome Lamp Shade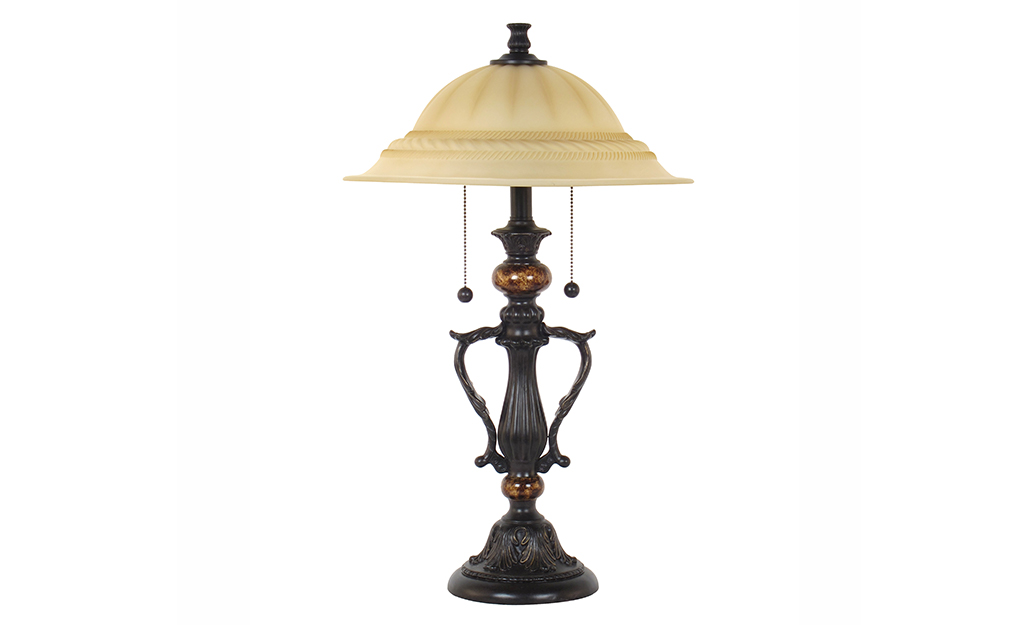 Dome lamp shades are typically used on overhead light fixtures or on large floor lamps for general lighting. They are a semi-sphere shape that emits most of their light downward. Dome shades look great with classic or traditional decor. 
Lamp Shade Fitters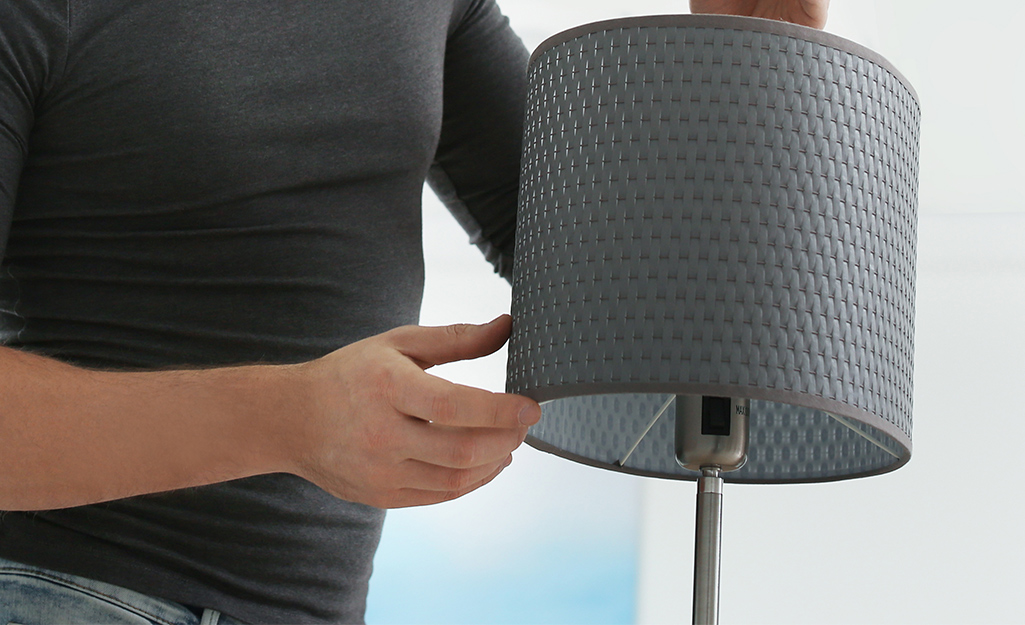 The portion of the inside of the lampshade that attaches the shade to the lighting and stand components is the fitter. There are four standard varieties of fitters:
Spider
Clip On 
Uno
Screw On
Spider Lamp Shade Fitter
This is the most common type of screw on lamp shade fitter. Spider lamp shade fitters sit atop the lamp's harp and are secured to the lamp by a finial.
Clip-on Lamp Shade Fitter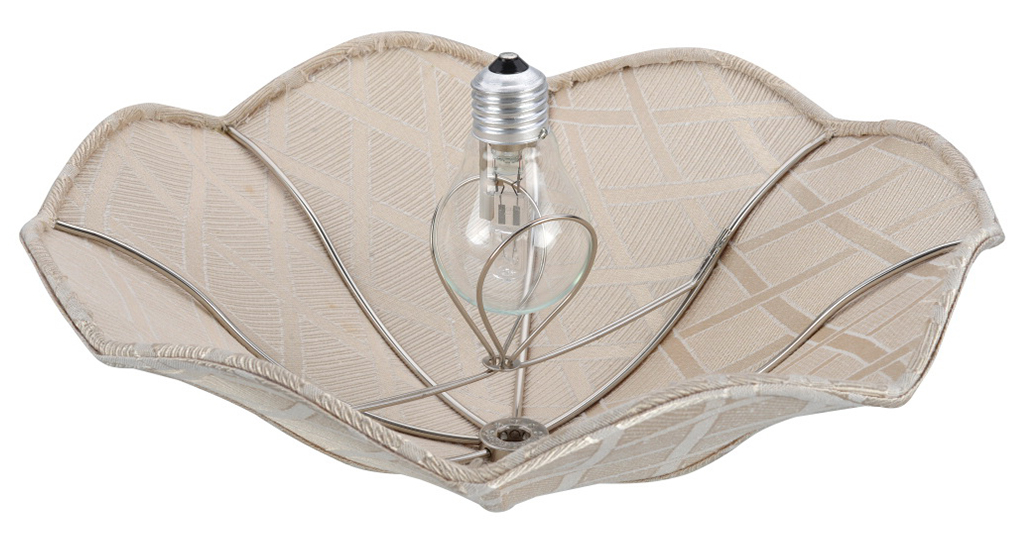 This fitter attaches directly onto the light bulb with no additional hardware. Clip-on lamp shade fitters come in two sizes to fit the following bulbs: candelabras and regular-sized light bulbs.
Uno Lamp Shade Fitter
Uno lamp shade fitters sit directly on a specialized light bulb socket and is secured by a threaded ring that's held in place by the light bulb. 
Screw-on Fitter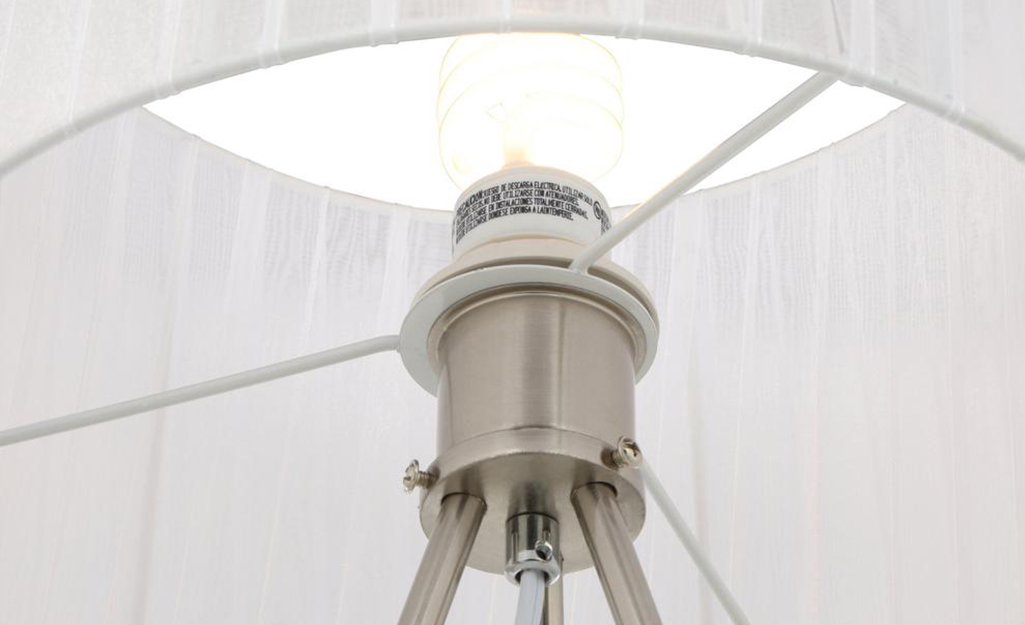 Similar to an uno fitter, these fitters are generally held in place by the bulb and sit on top of the socket.
Lamp Shade Material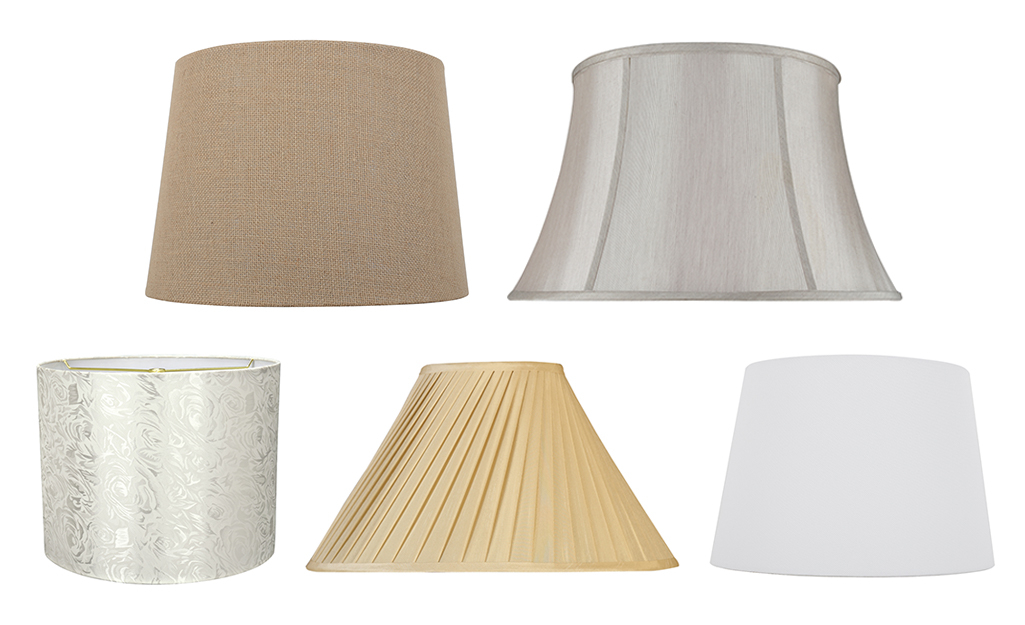 Lamp shades come in a variety of materials. The best one for your home depends on the purpose the lamp is serving in the room. Translucent shades are great for reading and adding ambient light to your room. Opaque shades will direct light in defined, up-and-down beams and are perfect for highlighting objects and setting a mood. 
Glass lamp shades: These shades can be clear or opaque glass, Tiffany glass and art-glass. They are easy to clean but can be fragile.
Metal lamp shade: Metal shades are round or dome-shaped and used for overhead pendant fixtures over tables or for task lighting. 
Crystal lamp shade: Crystal shades feature individual crystal prisms fastened together to form a shade. The crystals cast glimmering light that offers a dash of Hollywood glam to your space.
Paper lamp shade: These shades are affordable and come in a variety of colors and textures. They typically have a laminated back to provide rigidity. Paper shades can be more fragile than fabric shades.
Burlap lamp shade: Natural burlap material gives lamp shades a rustic charm. They are perfect for accent light and ambient light. 
Rattan lamp shade: Rattan gives the natural look of the tropical outdoors to your space. The vertical bands softly filter light for a warm, rustic glow. 
Mica lamp shade: Typically seen in Arts and Crafts decor, these shades are made from mineral mica flakes combined with organic shellac. These make each mica shade unique with its variations of mineral deposit patterns and color tones.
Fabric lamp shade: Fabric shades are available in an array of colors and textures. They are versatile and are reinforced by metal frames to give the lampshades their shape.
Wood lamp shade: Wood shades range in style form ultra-modern to rustic. Depending on the style, the shades can offer bright diffused light or subtle accent light. 
Bamboo lamp shade: Similar to rattan shades, bamboo gives a room a tropical look with a warm, rustic glow. 
Linen lamp shade: Linen is a sturdy fabric made from the fibers of the flax plant. Depending on the color of the linen shade, they usually offer a pleasant, soft light. 
Silk lamp shade: Silk fabric shades are available in a variety of texture and colors.  Silk shades provide a nice filtered light to a room, but they are difficult to clean. 
Finishes

The shade may be the crown of the lamp but adding fishing touches such as finials and trim will further accentuate the look of the lamp. 
Finials are decorative caps that fit over shades at the top of a lamp. They help secure the lampshade in place and complete the lamp aesthetics. Finials come in a variety of colors, materials and shapes and are most often used with spider fitters.
Lamp shade trims can transform a plain shade into something unique. Trims range from braids, beading, ribbon and fringe. They can be easily added to the top or base of a shade to give your shade a custom look.
Lamps will give you plenty of options for decorative lighting in your home. The Home Depot carries a large selection of lamp bases and shades to help enhance the lighting and look of your home. And if you need a lamp shade delivered, just say when, where and how.
Explore More on homedepot.com