A fresh lamp shade can give your lamp and room a much-needed style boost. A shade can be an eye-catching star in traditional, coastal or modern spaces, and more. Or it can be an understated player that lets other decor elements shine. Improve your home's lighting and enhance decor with our detailed guide to lamp shades. 
How Lamp Shades Work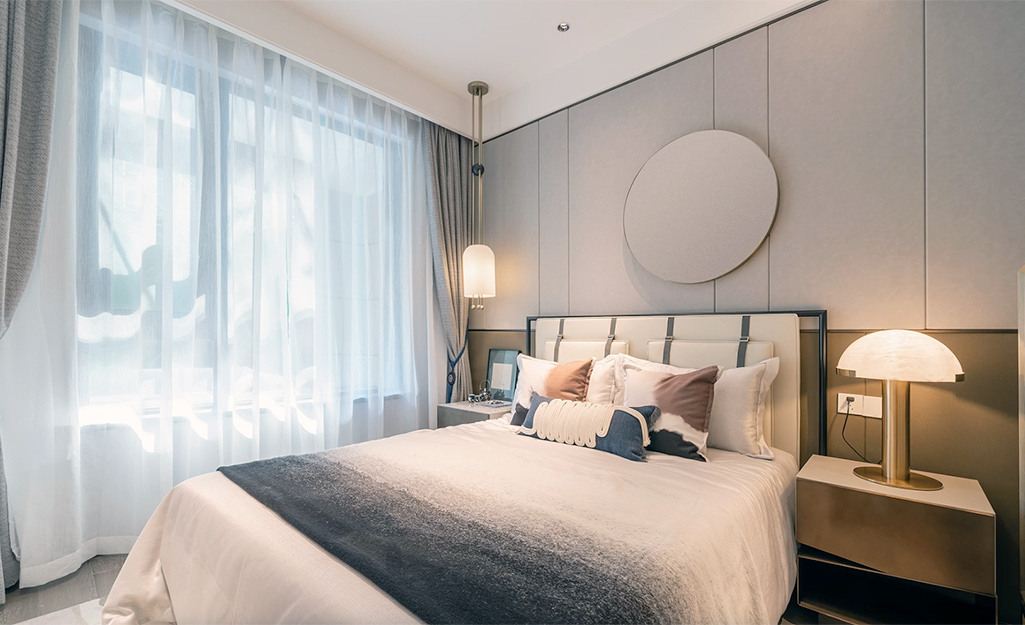 Lamp shades bring both polish and purpose to a space. Lamp shades direct the lamp's light, protect your eyes and set the tone of a room.
Diffuse light. A lamp's bare light bulb is right at eye level. Without a lamp shade, this unfiltered light would be unpleasant. A shade softens and filters harsh horizontal light so it's easier on the eyes.
Direct light. As a shade softens a bulb's glare, it also directs light to where you need it. A shade with an open top directs light upward to reflect off the ceiling. A shade with an open bottom directs light to a focused area, such as a reading chair or a work surface. 
Create ambience. Too much bright overhead light can feel clinical or commercial. Lamps placed around a room with proper shades produce a soft ambient glow. Lamps layer light, creating a warm, inviting feel.
Enhance decor style. Lamp shades are style stars. They come in different shapes, materials, designs and finials. Like furniture, lamp shades show off your personal taste and style. 
Lamp Shade Shapes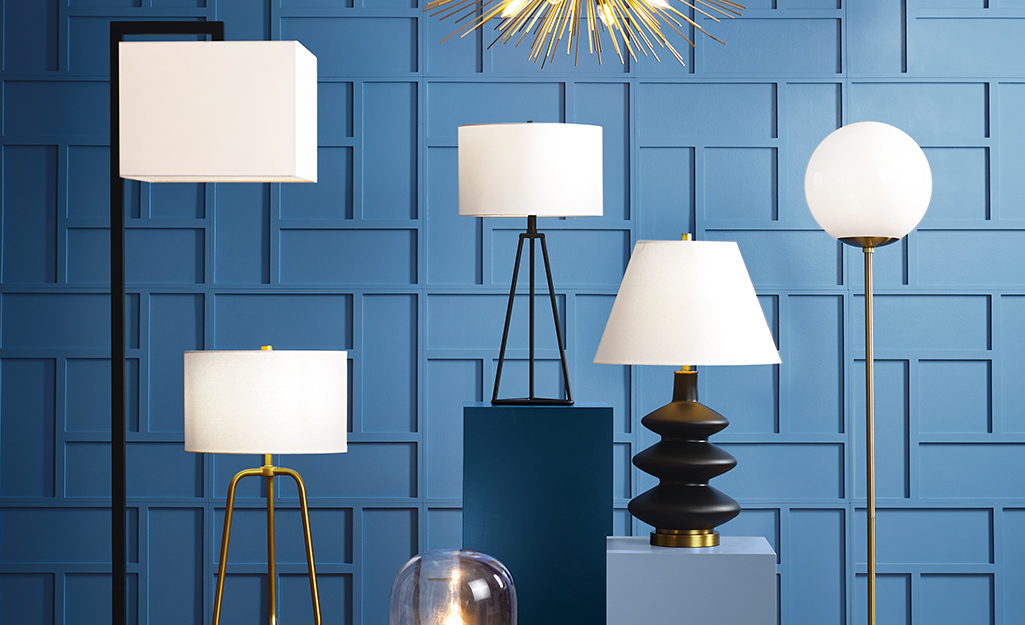 Lamp shades come in four classic shapes: round, bell, square and dome. These shapes bring an architectural element to a room's style. Certain shapes work with modern looks. Others work better with traditional decor. 
A lamp shade's shape should complement the base of the lamp. The basic base types are round, square or angular and candlestick. Here are a few tips on which shapes work with which bases:
Round bases: Pair well with round or hexagonal shades. 
Square or angular bases: Pair well with square or rectangular shades. 
Candlestick bases: The most versatile shade, this base works with any shape shade.
Round Lamp Shades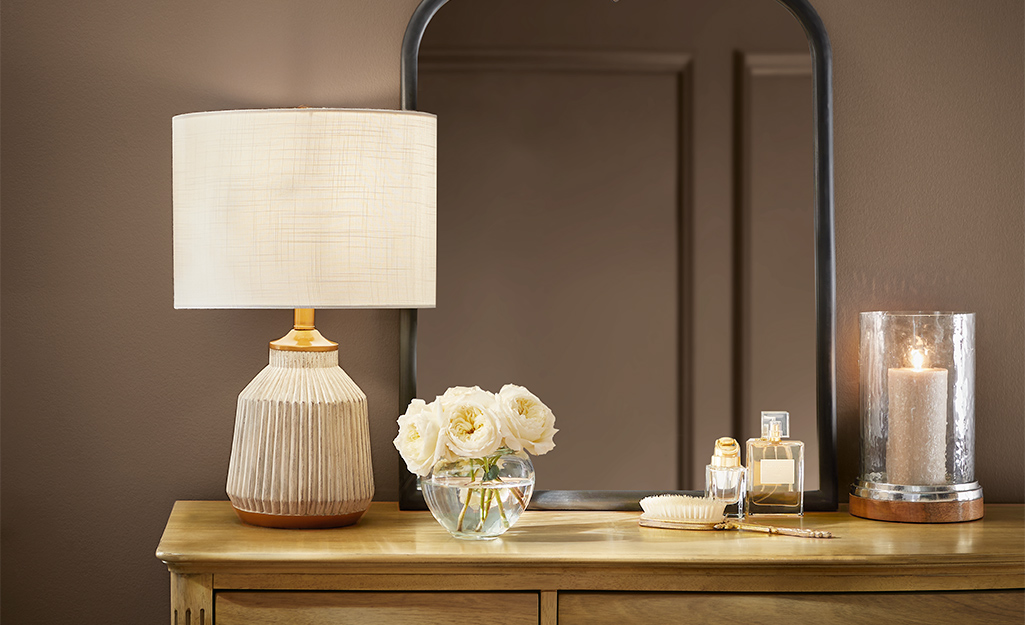 Drum, cylindrical and oval lamp shades are in the round shade family. 
Drum shades have clean vertical lines with equal or near equal circular tops and bottoms. Drum shades are more wide than tall. They cast an all-over glow. 
Cylindrical shades are tall and narrow. They're a hallmark of midcentury and modern design. Different material and design choices make them versatile enough to work well with coastal, glam, farmhouse or bohemian looks.
Oval shades have a cylindrical shape but with oblong tops and bottoms. They lean modern and are great for smaller spaces because of their narrow depth.
Bell Lamp Shades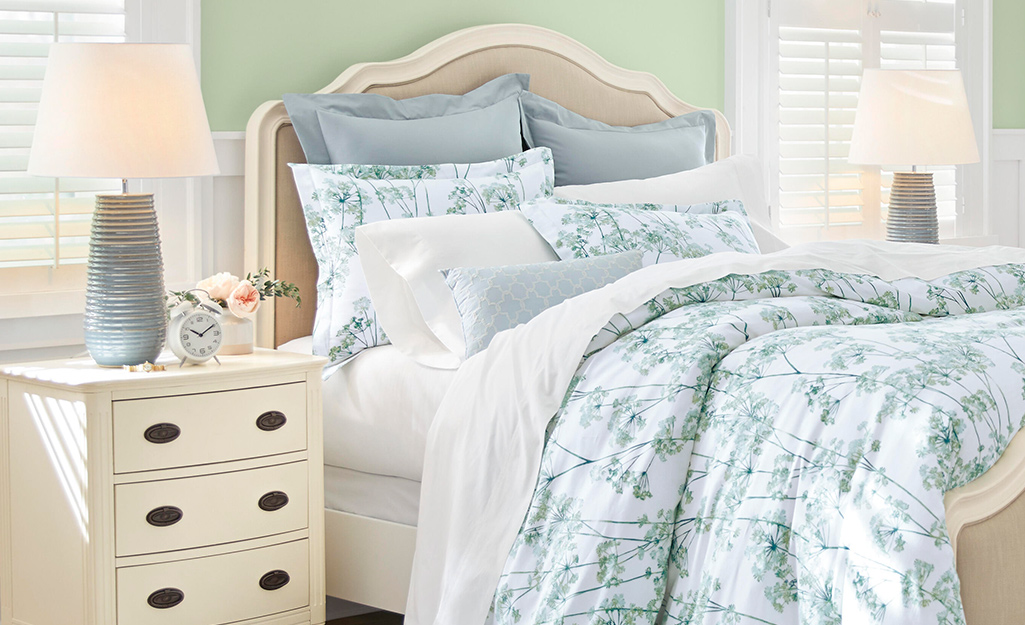 Empire, bell and pagoda are in the bell shade family. 
Empire shades are tapered and wider at the bottom than at the top. They direct light downward. Ideal for traditional decor settings. Exaggerated variations with a tiny top and supersized bottom skew more modern.
Bell shades have traditional flared sides but are more curved than angular. The top and bottom are usually circular. 
Pagoda shades are usually made from silk. They are square with a wider opening at the bottom than the top. This focuses light downward on a console, side table or nightstand. Design details can include scalloped or stylized bottom edges.
Square Lamp Shades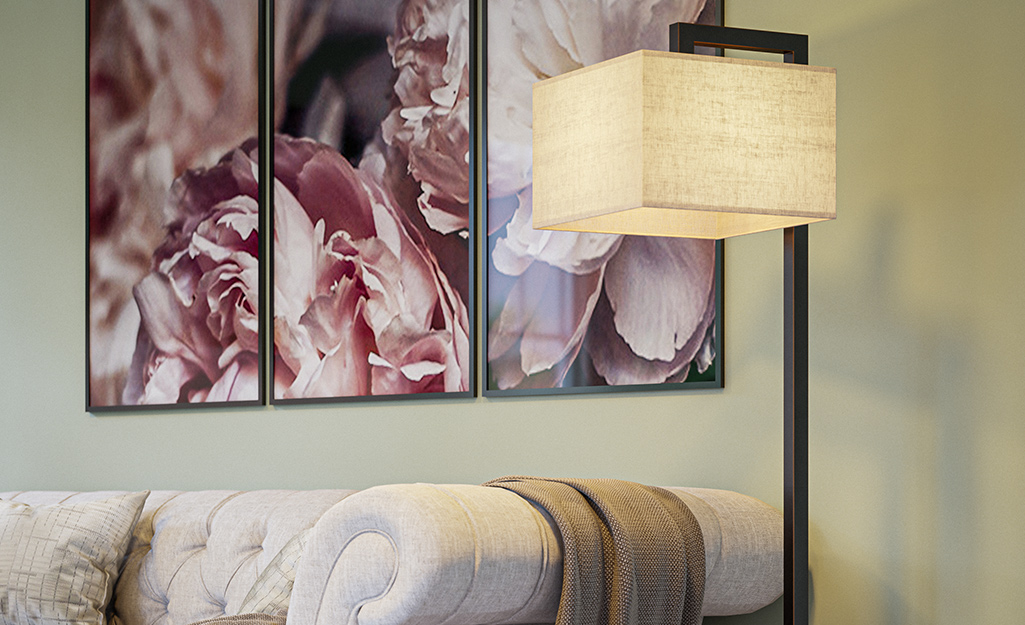 Square, rectangular and hexagon shades make up the square shade family.
Modern and boxy, square shades feature right angles at each corner. The bottom and top are equal in size for ambient illumination. They pair best with square-shape lamps. 
Rectangular shades are a contemporary choice with a narrow depth that concentrates light. Their minimal profile makes them ideal for small spaces. 
Hexagon shades feature six equal angular sides. Think of them as a modern take on the classic bell shape.
Dome & Novelty Lamp Shades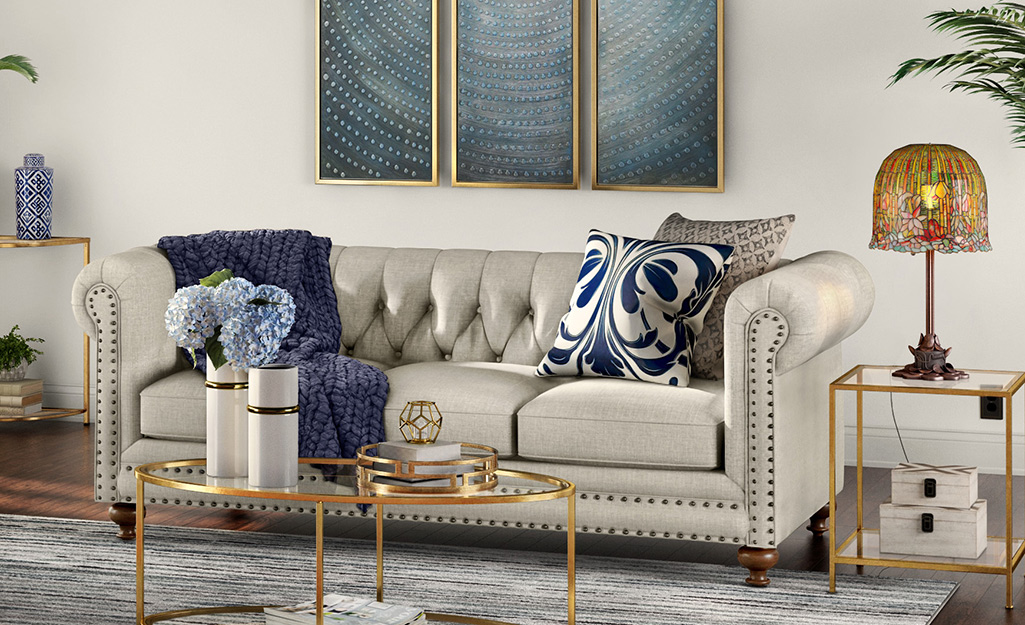 Both dome and novelty shades are known for giving a room a quirky and eclectic focal point. 
Dome or bowl lamp shades are usually made of metal, ceramic or glass. Dome shades are closed at the top. If opaque, they only direct light down toward a surface. If clear, they cast light around the room. Dome lamp shades are typically used on overhead light fixtures or on large floor lamps for general lighting. Bowl lamp shades are a semi-sphere shape that emits most of their light downward. 
Novelty lamp shades can be any shape and convey a theme for a room. For example, you can use a star-shaped lamp shade for a children's room. 
Fabric Lamp Shades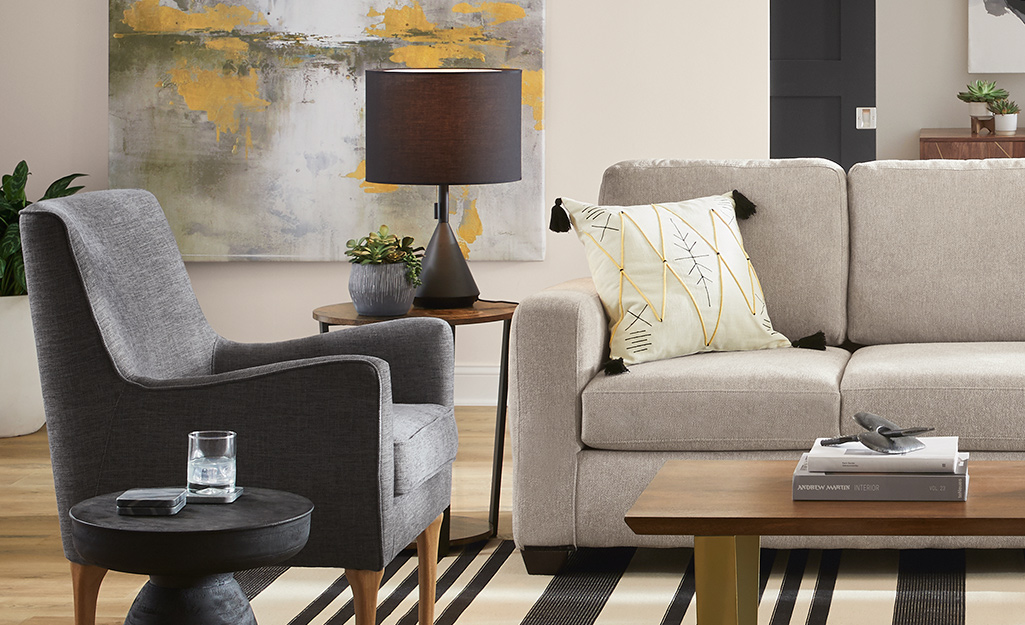 Cotton and linen shades can be a crisp white or stark gray and feel modern. Or soft neutrals can feel more traditional. Textured burlap channels the rustic or farmhouse look. Soft classic silk is elegant and refined. A bright sheen or metallic flecks offer a hint of glam. Be sure to consider how sheer or opaque a fabric is and if the shade has a plastic backing, as both will affect light quality. Different fabric lamp shade textures include:
Smooth. No matter the material, simple shades put the focus on form.
Pleated. Whether traditional folded fabric or modern molded plastic, pleats offer tons of texture.
Embroidered. Delicately stitched designs offer subtle or bold pattern.
Printed/patterned. Bold florals or geometric designs bring all eyes up. Some hardback shades offer tone-on-tone texture.
Embellished. Decorative trim, ribbon, fringe tassels or other accents add drama to a space.
Woven & Paper Lamp Shades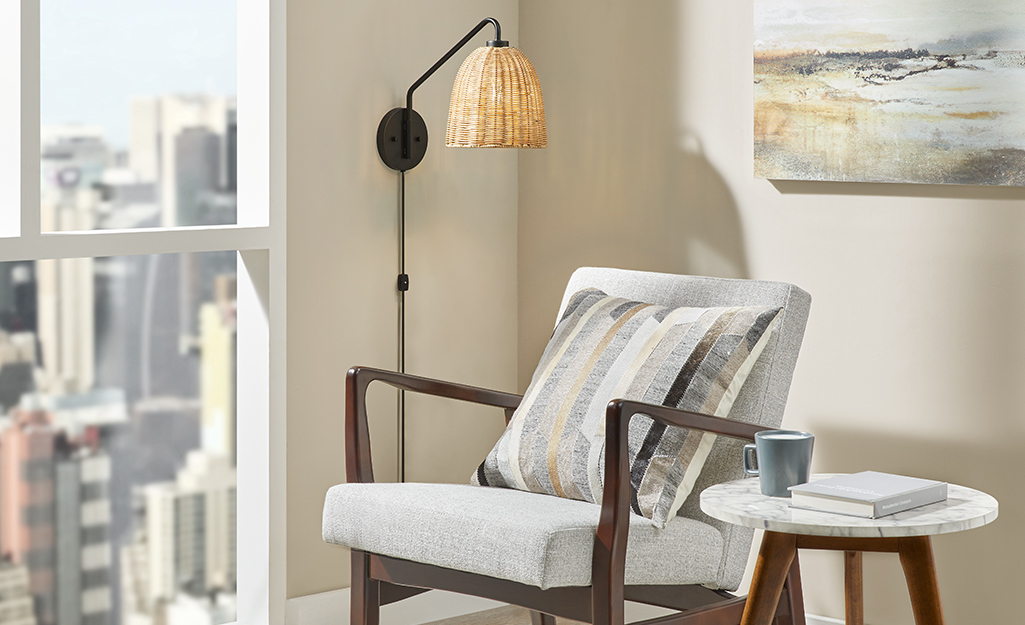 Woven or textured shades add a layer of interest and warmth. Solid or slatted wood has a midcentury aesthetic, while woven bamboo, rattan, seagrass or caning can go beachy, boho or retro. If you love cottage or farmhouse decor, consider classic wicker or grasscloth. Remember, a loose weave produces dappled light. If you prefer modern, clean lines, choose paper or parchment. It directs attention to a standout lamp base. 
Glass & Metal Lamp Shades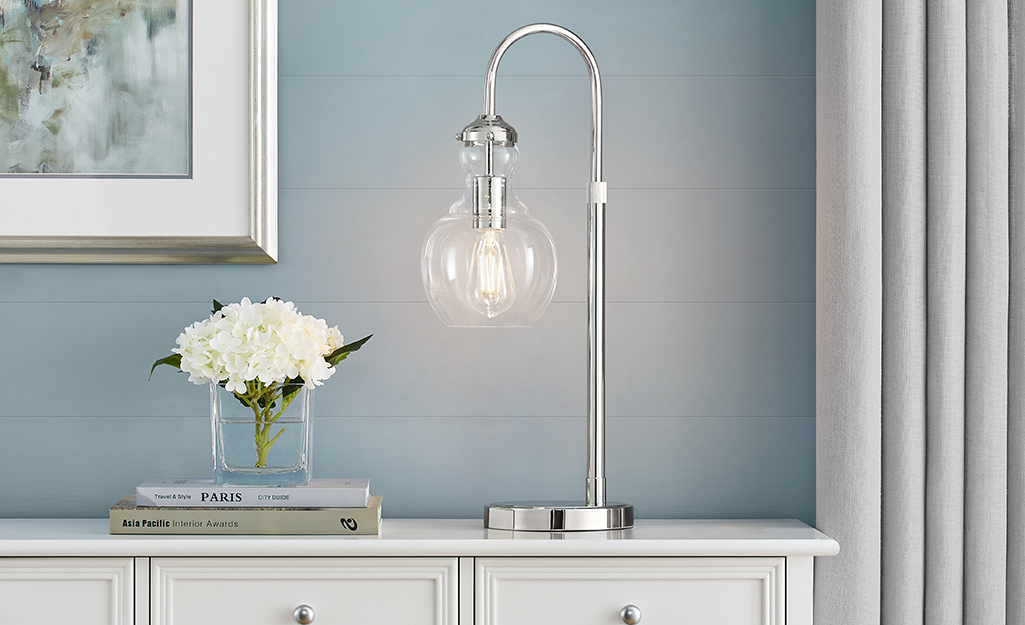 Glass or ceramic shades come with a cohesive base. Cut crystal lamp shades lend vintage vibes while those bedazzled with crystals bring the glam factor. Throwback Tiffany-style lamps resemble stained glass, while colorful art glass fits contemporary settings.
Brass, chrome and matte black metal shades add both sheen and shape. Intricate metal fretwork is a modern showstopper. Edison bulb lamp guards are industrial icons. Punched metal is a rustic favorite.
Finials & Fittings

The crowning moment for lamp shades with spider fittings, finials are available in a variety of materials, colors and finishes. These decorative caps secure the lamp shade in place. The portion of the inside of the lampshade that attaches the shade to the lighting and stand components is the fitter. There are four standard varieties of fitters:
Spider lamp shade fitters sit atop the lamp's harp and are secured to the lamp by a finial. This is the most common type of screw on lamp shade fitter. 
Clip-on fitters clamp onto the light bulb with no additional hardware. They fit candelabras and regular-sized light bulbs.
Uno lamp shade fitters sit directly on a specialized light bulb socket. They are secured by a threaded ring that's held in place by the light bulb. 
Screw-on fitters are generally held in place by the bulb and sit on top of the socket. 
A lamp shade does more than top a lamp. It provides the right light, and layers style and personality into a room. Lamp shades can be fabric, glass or metal. There are many shapes of shades and lamp bases. Choosing the right lamp shade can make all the difference in a room. Ready to find your perfect shade? Use The Home Depot Mobile App to locate products and check inventory. We'll take you to the exact aisle and bay.
Explore More on homedepot.com