Preparation is critical when it comes to hurricanes. This guide will help you learn how to prepare for a hurricane with advice on making an emergency plan, which supplies are necessary for surviving a hurricane and how to secure your home and belongings.
Plan Ahead Before the Storm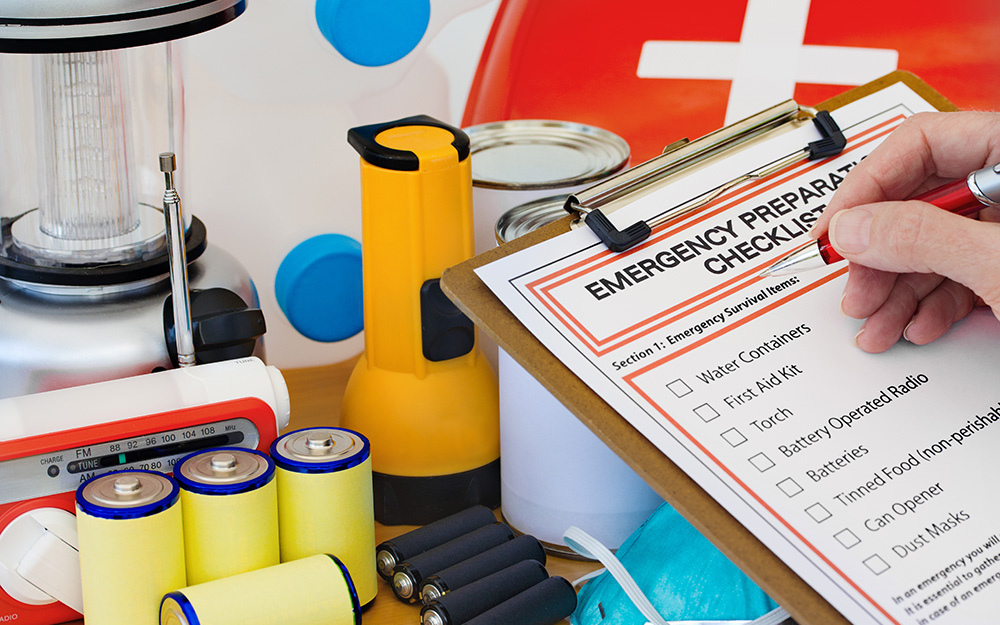 Hurricane season runs from June 1 to November 30. However, some steps can be taken well in advance of any tropical storm threat.
Designate a meeting place. In addition to your home, make each family member aware of a local school, church or other location that will be your meeting place in the event of separation.
Make a contact list. Choose an out-of-state friend as a check-in contact for everyone to call. Be sure every member of your family knows the contact's phone number. Create an emergency contact card of important phone numbers and give a copy to each family member.
Research flood insurance. Standard homeowner's insurance does not cover flooding. You can read more information about FEMA's flood insurance program.
Know evacuation routes. Be aware of the nearest shelter and evacuation routes, particularly if you live near a coastal area or on an island.
Protect your valuables. Place important records and other valuables in a waterproof container and store them in the safest part of your home.
Be prepared to evacuate quickly. Know your evacuation routes and destination. If local authorities have advised your area to be evacuated, follow their warnings as quickly as possible.
Hurricane Preparation Supplies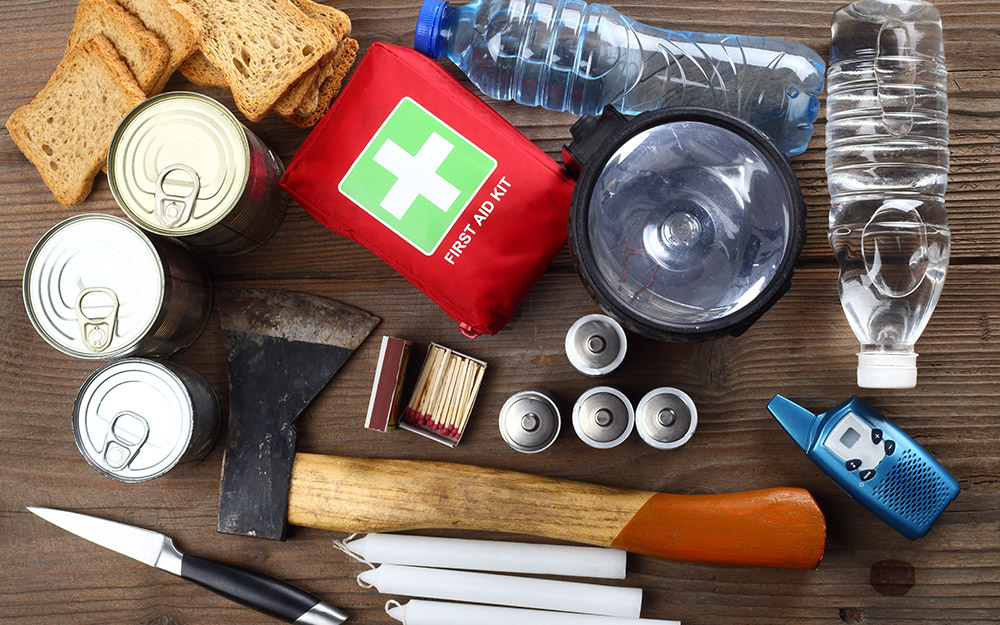 Make certain everything you need is readily available to be grabbed quickly in an emergency. A checklist of household items to include in your emergency response kit can be found below.
Don't just start preparing for a hurricane when you've gotten the first warning. Many items in your disaster supplies kit should be assembled well in advance of hurricane season when supplies and time are plentiful. Here are some supplies that might not already be found in your home. Use this as an off-season shopping list for how to stock your home for a hurricane.
Bottled water: Storms can wreak havoc on water supplies, and drinkable water can be scarce in the days that follow a hurricane. Stock a 10-day supply of one gallon per person per day.
First aid kit: Every home should have one with all the basics in one convenient carry-all.
Ratcheting tie-downs: Secure outdoor items so they don't become flying debris.
Weather radio: Get weather alerts and emergency bulletins from the National Weather Service 24-hours a day.
LED flashlights and lanterns: Make sure you have one for every member of the family. Remember to have plenty of extra batteries to operate the flashlights.
Generator: Have a portable generator or install a permanent generator for power outages. Follow safety instructions provided by the manufacturer. Make sure it's running outside with the exhaust directed away from openings to your home or nearby buildings – at least 20-feet from any occupied buildings. 
CO alarm: Protect your family against any possible exposure to carbon monoxide fumes when using a portable generator.
Tarp: Durable tarps with weather-resistant polyethylene coating in large sizes are great for covering roof damage.
Power inverters: In the event of electrical failure, you can power small items in your home from your car with this non-interruptible backup power source.
Extension cords: These are essential for helping provide power from generators to items you need to run.
Garbage cans and bags: Fill a new clean plastic trash can with drinking water before the storm. Use the can and heavy-duty bags to collect debris after the hurricane.
Gas cans: Don't run out of gas. Keep an emergency supply safely on hand for your generators and chain saws.

If you have a safe room or storm shelter, fill it with all the food and supplies you may need. Find more information about these protective structures on the FEMA website.
How to Prepare Your Home for a Hurricane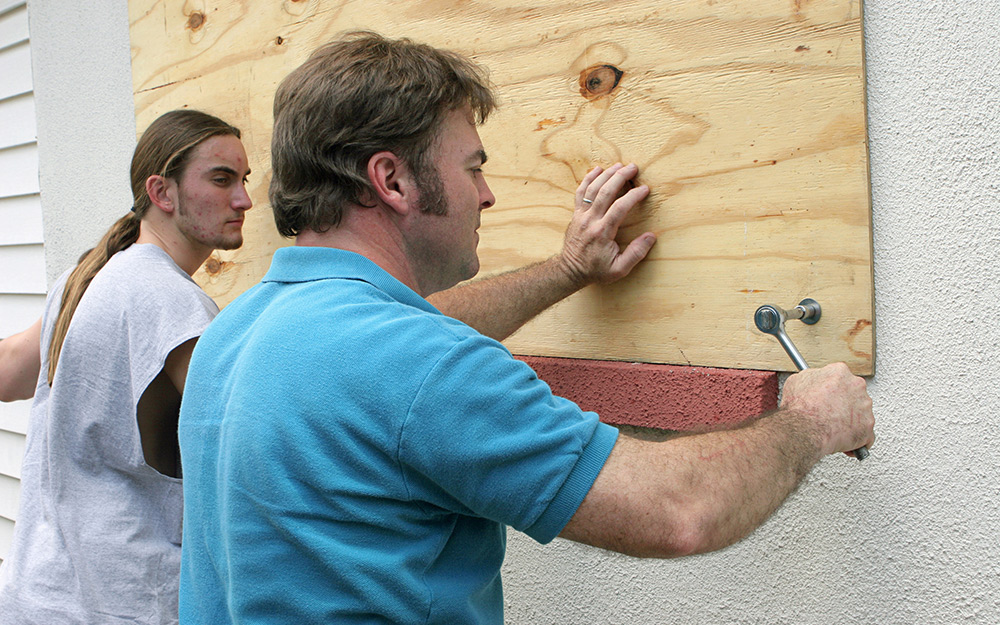 Secure all windows. See our guide on how to board up windows for hurricane preparedness. If you don't already have hurricane shutters or time to install them, cut 1/2-inch marine plywood to fit your doors and windows. Secure with nails over all windows and entrances. 
Collect and store loose outdoor decor and toys, including patio furniture, bicycles, bird feeders, gardening tools, trash cans, children's toys and playsets. Round up anything that can be moved and store it indoors away from high winds. 
Clear out any clogged rain gutters and downspouts and secure if loose. 
Collect extra water. In addition to collecting drinking water, fill bathtubs and sinks with tap water. You can use this water for flushing the toilet, bathing or washing clothes in the event that your water supply gets cut off. You can also fill your washing machine with ice to serve as a temporary refrigerator if necessary. 
Turn off propane tanks and unplug appliances. Unplug small appliances to reduce the potential for power surges and turn off your propane tank. If you lose power, refrain from opening the refrigerator or freezer doors as much as possible in order to keep the temperature inside cold. Turn off your utilities if instructed to do so by authorities. 
Move valuables to the top floor. Move all the furniture that you're able to carry to the top floor of your home, along with all valuables and sentimental mementos in waterproof containers in case your roof is damaged. 
Remove or trim damaged trees and limbs to reduce property damage. 
Relocate vehicles, including RVs and boats, to a secure location.
Learn how to prepare for a hurricane with our guide. You'll be able to shore up your resources and make certain you'll have everything you need in place and ready to go if the unthinkable happens. Get the restoration and remediation rentals you need. 
Note: This material follows Red Cross and FEMA recommendations to provide basic guidance on how to stay safe during a hurricane.
Explore More on homedepot.com