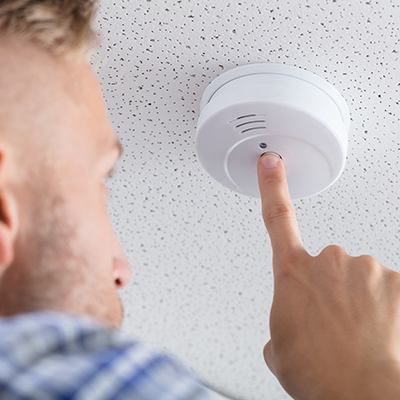 According to the National Fire Protection Association, home structure fires caused an annual average of $6.5 billion in property damage and 2,560 civilian fire deaths from 2012-2016. Learn how to prepare for a fire emergency to protect your home and know what to do in case of fire. In addition to making a plan and acquiring proper fire safety equipment, you should take steps to reduce the chances of fire emergencies breaking out in the first place. 
1
Make a Fire Emergency Plan
Make a plan for how your family can escape your house in case of a serious fire. 
Begin by making a diagram of the house or apartment building and identifying two escape routes from every room, such as by a door and by a window. 
Teach children what the smoke or carbon monoxide alarms sound like and how to react to them, especially if a fire breaks out in the middle of the night. 
During an evacuation, if you suspect a fire is on other side of a closed door, feel the top, edge and doorknob for heat. If hot to the touch, do not open, but use the secondary exit. Never open a hot door during a fire. 
If you have to go through a smoky room or hallway, cover your nose and mouth and keep low to the ground to prevent smoke inhalation. The best air is 1 to 2 feet above the floor. 
Remember to stop, drop and roll if your clothes catch on fire. 
Include house pets in your escape plan.
Make sure the escape plan includes a safe place for meeting outside the house, such as by the mailbox, and designate someone to call the emergency services. 
Once you've left a burning house, don't go back in, just wait for the local fire department.
Stage regular drills to ensure your family's emergency preparedness.
Post the plan in a clearly visible place, such as the kitchen.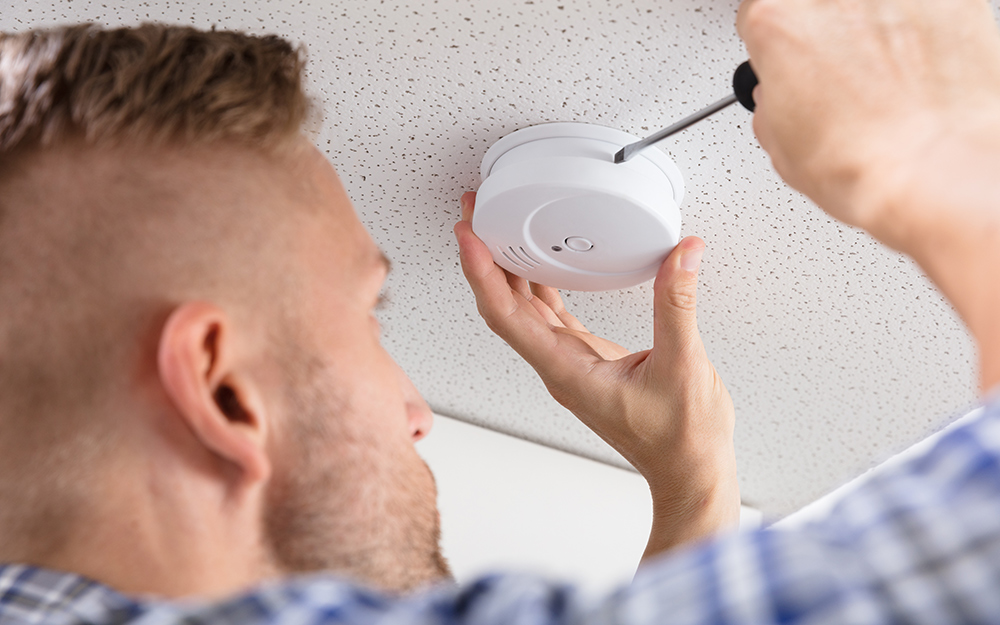 More than half of all residential fire fatalities occur in homes without smoke detectors, so make sure your home is properly equipped. 
Install smoke alarms on every floor of the house and in each bedroom. 
Smoke rises, so place smoke alarms high on walls or on ceilings. 
Change batteries every year or immediately when the low battery signal begins to chirp. Definitely do not disable a chirping alarm with the intention of replacing the new battery later: you might forget, placing your home in jeopardy. 
Choose a day every year for changing the smoke alarm batteries, such as the autumn day when Daylight Savings Time "falls back" and you reset your clocks.
Tip: Install carbon monoxide detectors in all of your home's major rooms, between knee and chest height.
3
Acquire Fire Extinguishers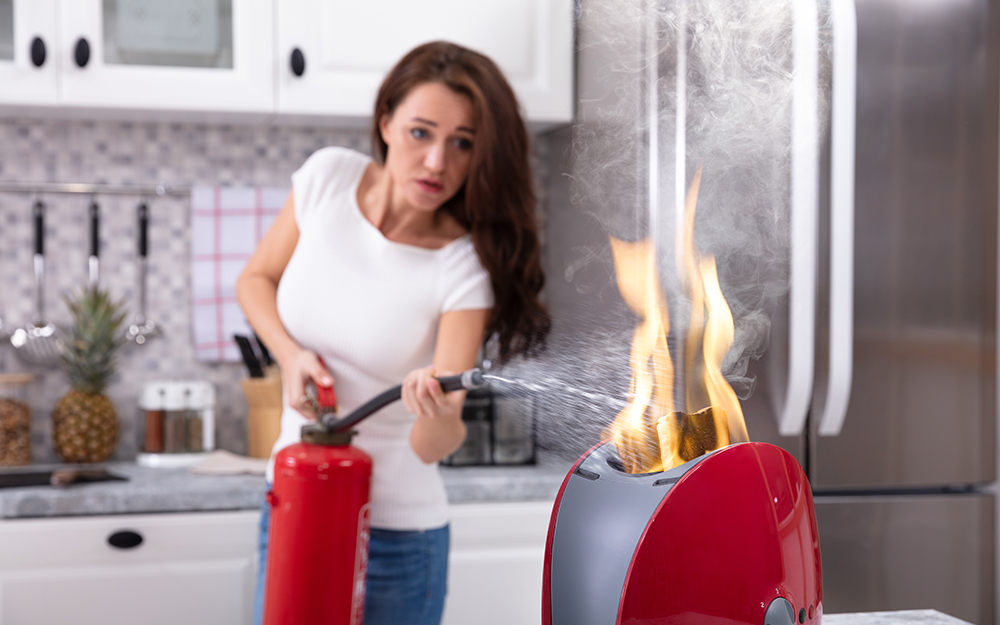 Keep a fire extinguisher in your kitchen and at least one for each floor of your home. Familiarize yourself with the rating system of home fire extinguishers before acquiring one: 
Fire extinguishers with a Class A rating are effective against paper, wood, textiles and plastics. 
Fire extinguishers with a Class B rating are effective against flammable liquid fires that may involve cooking oil, gasoline, paint or other substances. 
Fire extinguishers with a Class C rating are effective against "live" electrical equipment. 

To properly operate a fire extinguisher, remember the acronym "PASS," for: 
Pull the pin to release the lock, pointing the nozzle away from you; 
Aim the extinguisher low, at the base of the fire; 
Squeeze the lever slowly and carefully; 
Sweep the nozzle from side to side. 
Tip: Mount fire extinguishers 4 to 5 feet from the floor to be in easy reach. Do not store a fire extinguisher close to the stove. 
4
Acquire Fire Escape Ladders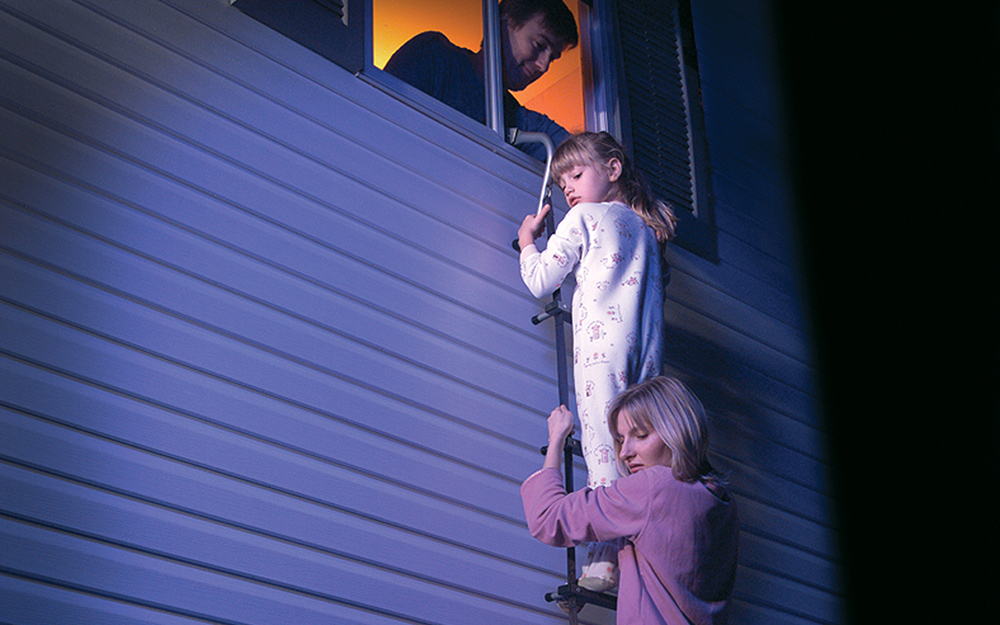 If your home has more than one story, you should have an escape ladder in each top-story room. 
Store the ladders next to windows for easy access and make sure young people, the elderly and people with disabilities can use them or have a contingency plan.
Make sure that windows and screens open easily and are not painted shut. 
5
Reduce Potential Fire Hazards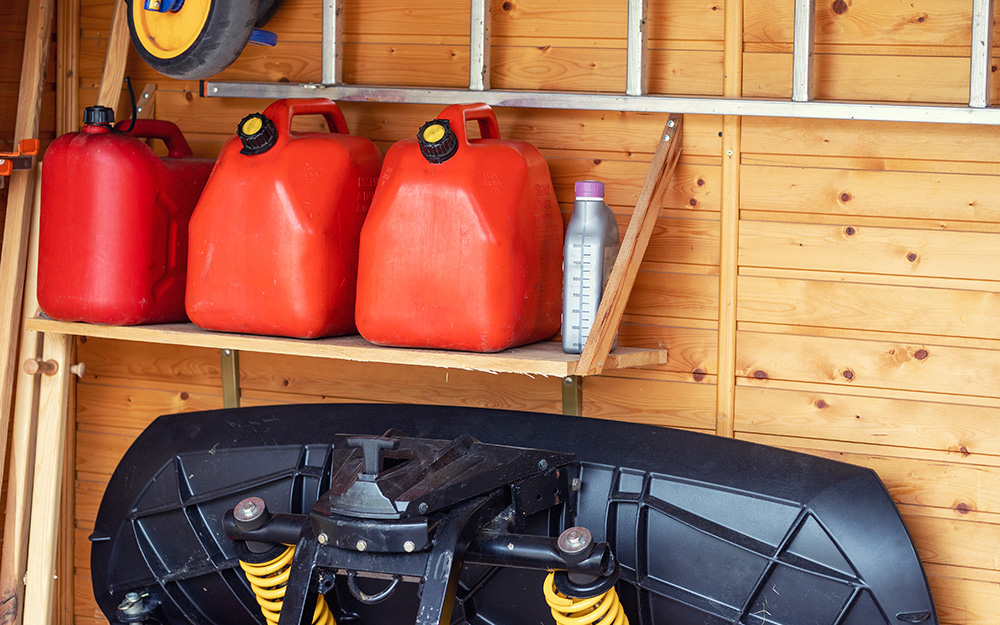 Inspect your house to eliminate or reduce potential fire hazards. 
Make sure electrical outlets are not overloaded or exceed the safe number of plugs in use (especially at Christmas or other holidays). 
Make sure power cords, extension cords and other wiring is not frayed, damaged or improperly placed. 
Dryer ducts should be cleaned annually to avoid the accumulation of flammable lint. 
Gasoline and other flammable liquids should be stored in containers such as gas cans and only in appropriate areas. 
Chimneys should be inspected annually and cleaned regularly to avoid buildup of flammable creosote. 
Make sure that space heaters are used according to instructions. 
Store matches, lighters cigarettes and other smoking accessories out of reach of children.
Learning how to prepare for a fire emergency is essential to make sure you can keep your loved ones – and yourself – as safe as possible. 
Explore More on homedepot.com