Buying Guide
Outdoor Holiday Decorating Ideas
Get ready for the holidays and share the joy of the season with outdoor Christmas decorations.
Whether you have experience with Christmas yard decorations or this is your first time decking things out, The Home Depot has all you need to create a true winter wonderland this year. Put on your Santa hat and make your outdoor holiday decorating ideas a reality.
Not sure where to get started? Christmas inflatables are a great first step. Once you've decided where to place them, installation is quick and simple.
Plug them into an outdoor extension cord and blow up some fun in the front yard.
Tether them to the ground with stakes and create a wonderland of familiar characters or customized scenes.
Sizes vary, so choose pre-lit inflatables to fit your yard and also be visible from the street.
Easily deflate your airblown decorations, then fold and store for next year.
We all know that one yard on the block that always has the best outdoor Christmas decorations. It may even be your yard. Decorate your lawn your way with the wide variety of themes, materials and light types.
Outdoor yard decorations are made from lightweight but durable materials to hold up to the elements season after season.
LED lights stay cool to the touch.
Three-dimensional figures have easy-to-assemble designs that also allow simple disassembly for storage.
Pop-up models expand for prominent display during the holidays and collapse to conserve storage space in the attic, garage or utility closet.
Yard Stakes & Pathway Lighting
Adding Christmas pathway lights along sidewalks and driveways is another bright decorating idea.
Use path and yard lights to illuminate your driveway and sidewalk.
Some smart holiday pathway lights let you control light show effects, colors and more from your smartphone.
These are easy to stake into the ground to highlight a pathway or landscape feature.
Consider battery-operated or solar-powered varieties for installations not near a power source.
Corded varieties can string together for longer stretches.
The right outdoor Christmas lights can really help your yard decorations shine season after season. Choose from rope lights, icicle lights, string lights, net lights and novelty lights in a huge variety of colors, light types and bulb shapes.
The color of the Christmas string lights is an important component of the overall aesthetics in your holiday display. Choose from clear white, cool white and warm white varieties. For even more ways to light up your holidays, consider strings with solid multiple colors and light sets with the function to change colors.
Set up a dazzling show on your home with Christmas light projectors and spotlights. For added convenience, take a look at light sets that are designed to work seamlessly with smart home hubs, smart phones and devices.
Make your entryway merrier with porch Christmas trees.
Tree height can range from about 3-feet to more than 6-feet tall.
Use as an accent piece indoors or in place of a full-size tree in smaller spaces.
Available in most common Christmas tree varieties.
Narrower profiles allow for easy placement near the front door.
Your can choose pre-lit or string your own lights. Adorn with decorations or keep a natural look.
Enhance the appearance with a flocked/frosted finish or decorative add-ins like pine cones or cranberries.
Create a festive atmosphere year after year with natural-looking, artificial Christmas wreaths, garland and Christmas swag.
Choose from pre-lit and unlit Christmas greenery in a wide range of sizes, lengths and styles – flocked or frosted, decorated with pinecones, holly, ribbon, burlap, glitter, ornaments and much more. Deck out your space with a silver, monogrammed or mesh wreath.
Unlit wreaths, garland and swag give you options: add battery-operated or plug-in string lights or leave them free of illumination.
Tip: Before you can put up your new Christmas greenery, make sure to have the correct wreath hangers to do the job. Many mantel garland hangers feature a hook to put up Christmas stockings, too. Don't forget wreath storage solutions to organize and protect your Christmas greenery throughout the rest of the year.
Share the meaning of the season with an outdoor Nativity scene and other religious themed decorations.
A classic, holiday addition brings holiday cheer to your decor.
Add a set of three kings to visit the Nativity scene for a striking presence to your yard.
An elegant and graceful illuminated angel can greet visitors with a message of peace all season long.
Themed Christmas Yard Decorations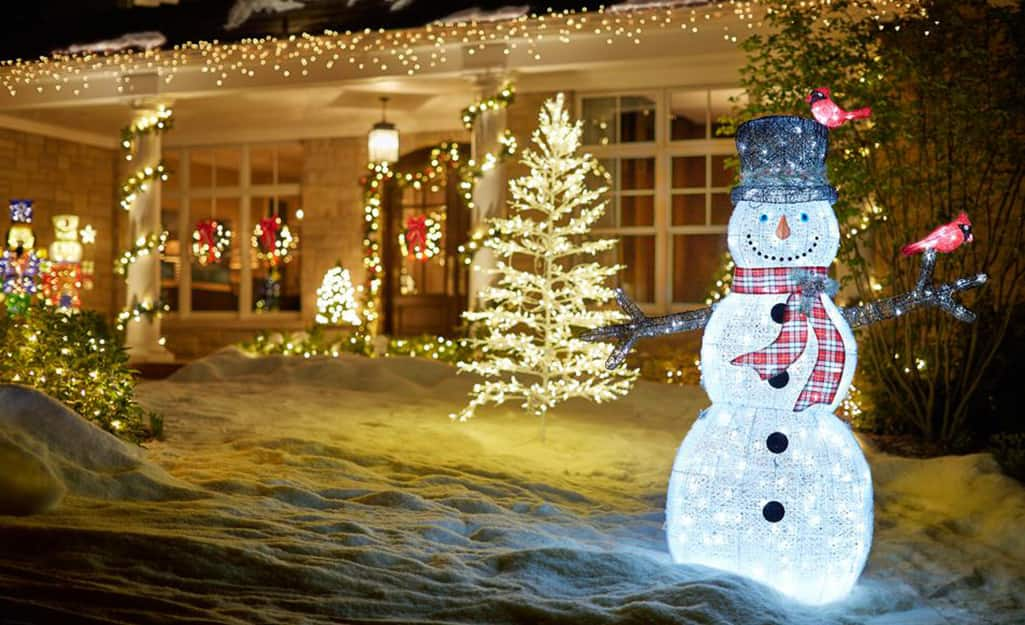 Make a major impression with your outdoor Christmas decorations. There are plenty of animated, lighted and/or solar-powered figures to make your yard special this holiday season.
Start with a festive foundation in the theme of your choice. Christmas yard decor comes in a variety of styles to suit your taste. Here are some familiar symbols of the season.
Twinkling Novelties and Favorite Characters
Choose holiday lawn decor that helps build the anticipation of Christmas. Recall fond memories with displays that are enjoyed by children and adults alike.
Animal Theme Holiday Yard Decorations
Whether it's a woodland creature or a favorite pet, animals are a wonderful part of the world. Include them when selecting Christmas lawn decorations.
Deer – Your four-legged friends have arrived.
Dogs – These puppies love to play outside.
Other animals – Meet all of Santa's cutest little helpers.