Recessed lights, also known as downlights or can lights, are a type of lighting fixture installed into the ceiling or wall. They are designed to sit flush with the surface for a sleek and polished finish. The housing and electrical wiring components are hidden, and the bulb appears to glow from within the opening. Recessed light bulbs are energy efficient and last longer than ordinary bulbs. 
This lighting is a great option for many rooms in your home, and there are many options to consider when choosing the best recessed lights for you, including size, trim and bulb temperature. This guide explains the types of recessed lighting.  
Where to Place Recessed Lighting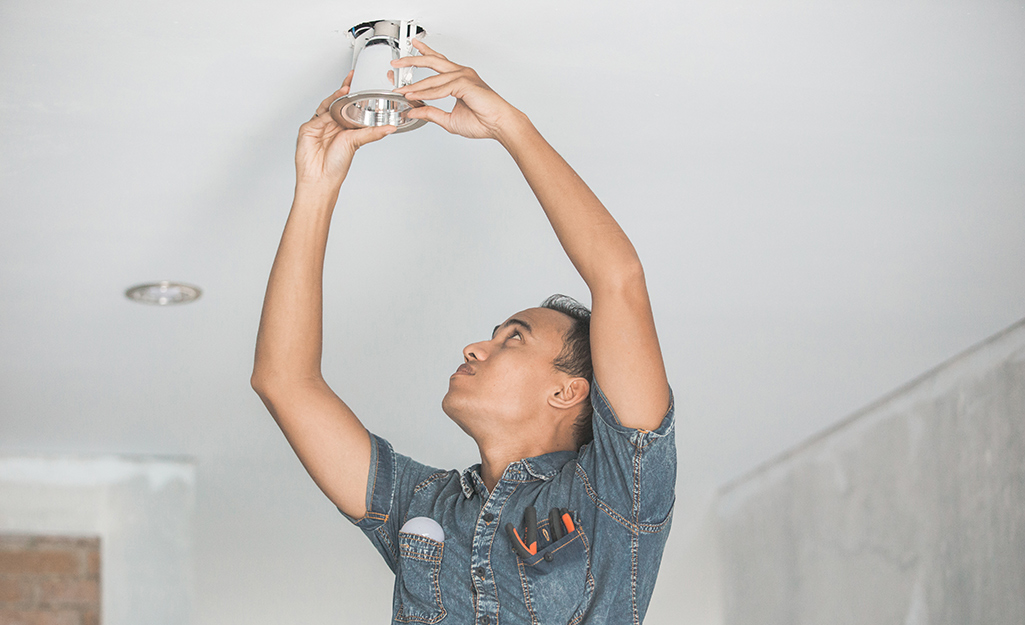 In new construction, recessed lighting is usually installed between ceiling joists, but you can retrofit recessed lighting almost anywhere in your home.
If your ceiling is insulated, the recessed light fixtures must be IC housing rated, meaning they are approved for use near insulation. Avoid recessed lighting in concrete ceilings or in ceilings with detailed plasterwork or moulding. Choose a chandelier instead. Place recessed lights about 3 feet away from the wall to avoid creating shadows that make your ceilings look lower. 
When spacing recessed lights, use this general rule of thumb: divide the height of the ceiling by two to get the distance the lights should be from one another. For example, an 8-foot tall ceiling should have recessed lights spaced 4 feet apart.  
Use recessed lights to illuminate focal points such as kitchen bars, bookshelves, paintings, statues and fireplaces.  
For task lighting, install recessed lighting directly overhead. Examples of task lighting include lighting for reading areas, stovetops and sinks. Install recessed lights under kitchen cabinets to have focused light on counters. 
Recessed Lighting Trims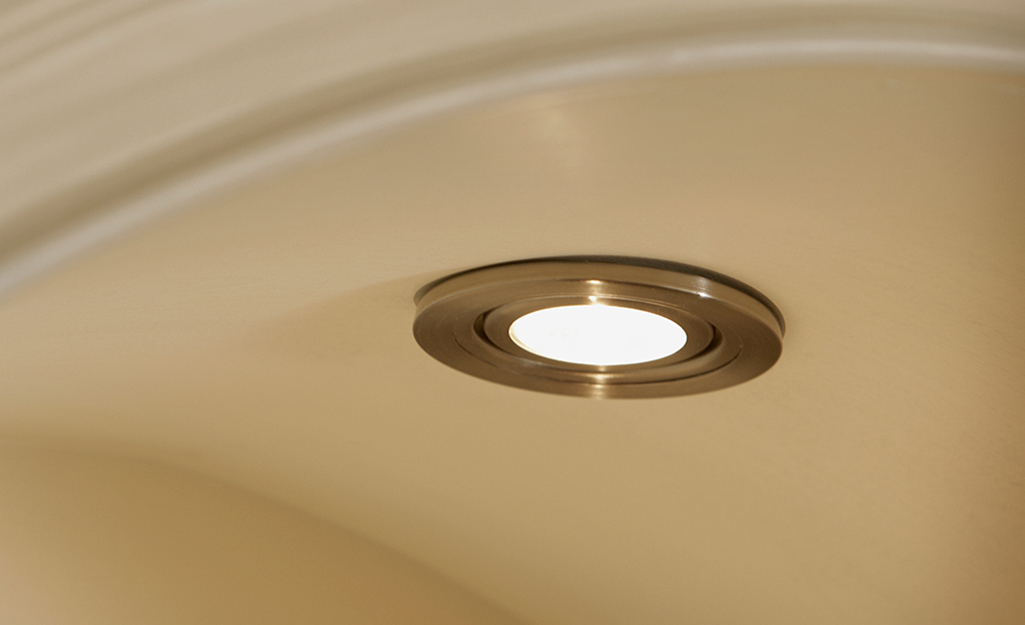 Recessed light trims refer to the part of the fixture that is visible from the outside. There are a variety of different trims available. 
Baffle trim: 
The polished finish on reflector trim recessed lights amplify the light beam.
These lights are brighter and more vibrant.
Trim is recommended for kitchens and rooms with higher ceilings.
Gimbal trim: 
Gimbal trim recessed lights are designed to pivot and turn to offer directional light.
They direct downlight exactly where you need it.
This trim is ideal for accent walls and on sloped ceilings.
Wall wash trim: 
Like gimbal trim, wall wash recessed lights tilt and rotate, but these offer a greater range of motion.
Offers directional light and are great for adding emphasis or highlighting a task.
This trim is great highlighting artwork on gallery and display walls.
Shower trim: 
Shower trim recessed lights, also known as a ceiling mount trim, are wet location rated and resistant to moisture and corrosion.
Features a clean and understated design to blend in with your bathroom.
This trim is specifically designed for installation above the bathtub and in shower stalls.
Open trim:
Low profile and economical.
Fits tight around the lamp.
Sits flush with the ceiling.
Eyeball trim:
Allows you to control the direction of the light.
Range of motion is typically 30 degree and 359 degree rotation.
Pinhole trims:
Provides a tight beam of light from a concealed source.
Aperture fits snug around the lamp, which is recessed above the surface.
Wafer Trim (Ultra thin):
Latest innovation in the LED recessed lighting.
Lowest profile option.
Note: There are also 10 to 12 inch fixture options, if you're looking for something larger.
Recessed Lighting Sizes

There is a range of recessed light sizes. To determine the size, measure the diameter of the cut-out opening in inches, not including the trim. 
Choose one that will accommodate the height of your ceiling or the size of your wall.
6-inch fixtures are most common for general lighting purposes.
7- to 9-inch fixtures will create a wider wash of light.
Recessed Lighting Color and Temperature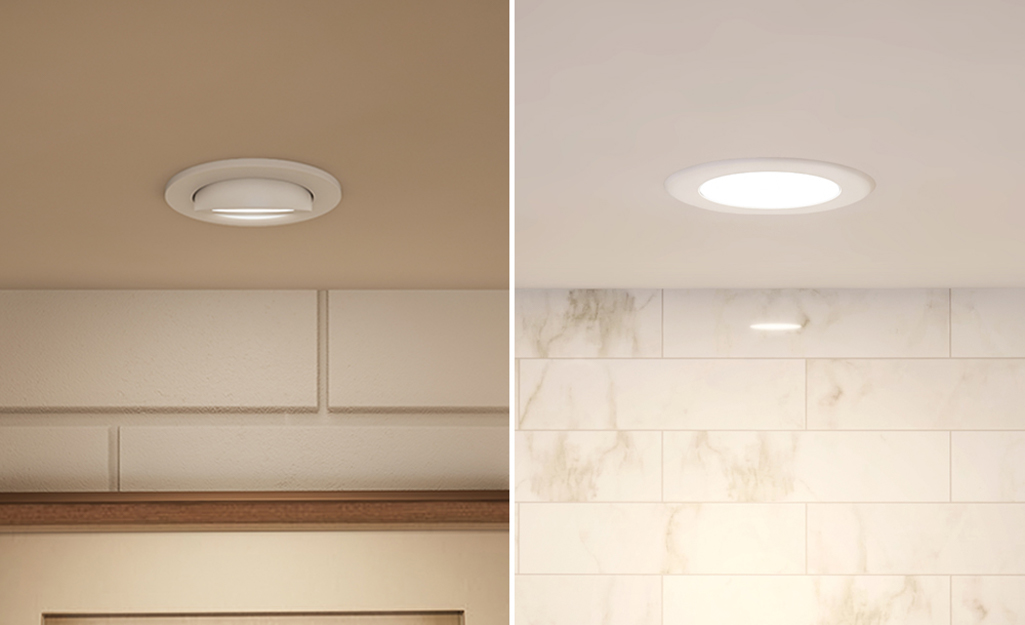 Most recessed lighting fixtures come in three different color temperatures:
Soft: comfortable light with a warm glow
Bright: refreshing light with a cool glow
Daylight: designed to mimic natural light
With custom installations, you can have tunable lighting that changes color or temperature as desired. Adjust the lights right from your smart phone or other device.  
Selectable lighting gives you the option to preset multiple temperatures before installation. 
Recessed Lighting by Room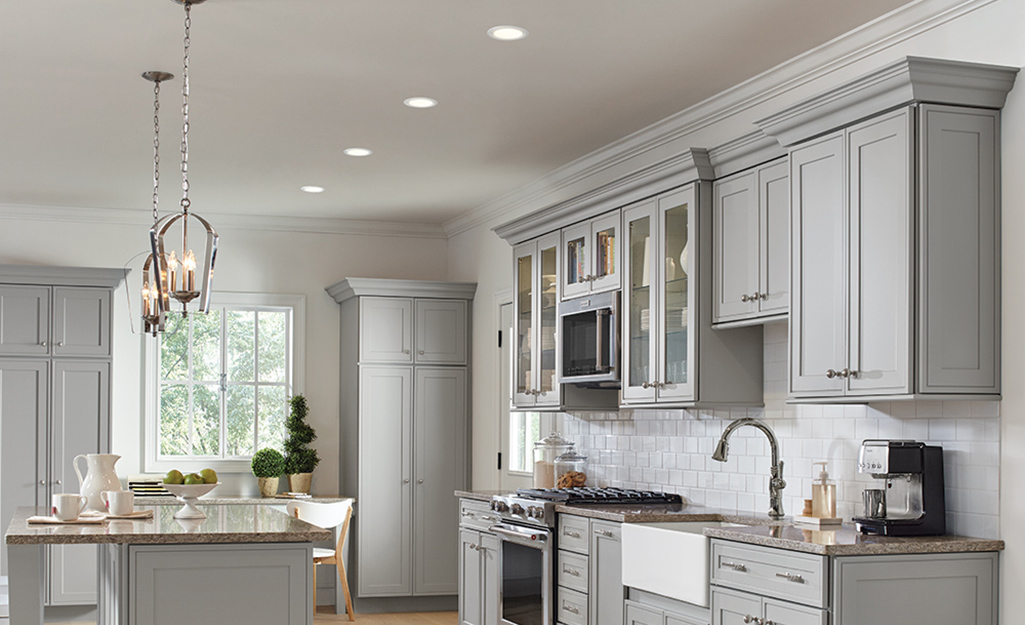 Recessed lighting can be a great addition to any room. The most popular rooms to install recessed lighting are the kitchen, bathroom and living room. This type of lighting is also commonly used in outdoor living spaces.
LED Recessed Lighting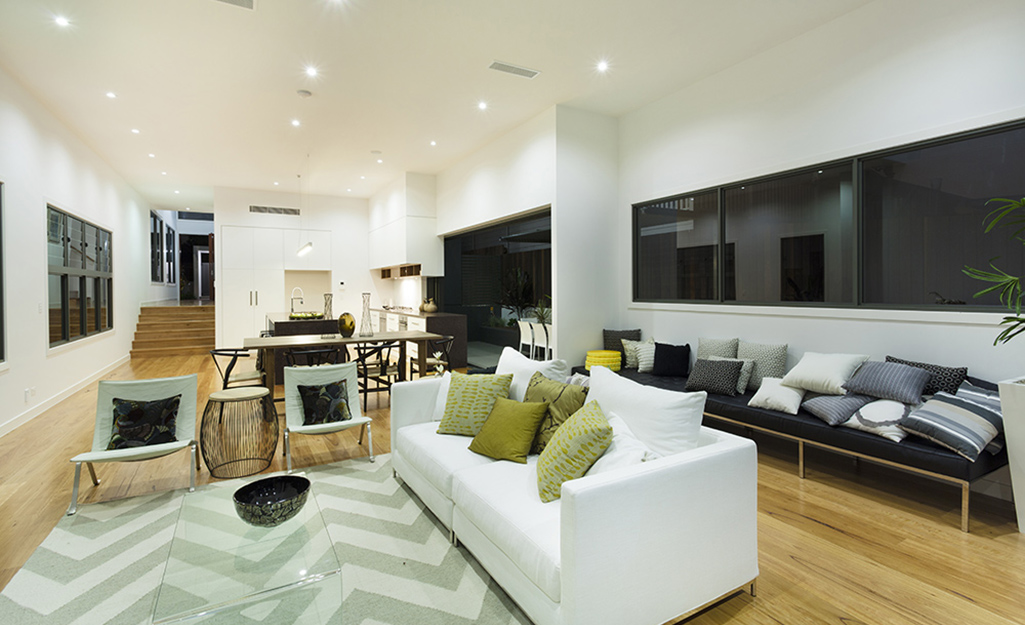 While standard recessed lights are extremely energy efficient, integrated LED recessed lighting can operate for years before a bulb change is required. 
Integrated LED:  
The LED bulbs in integrated LED lighting are built into the fixture.
This all-in-one unit connects directly with the main lines or tracks.
Professional installation is recommended for this kind of recessed lighting.
LED retrofit:  
An LED retrofit is used to add LED bulbs to your existing recessed lighting fixture.
These kits convert your light cans to ones that are compatible with modern LED lights.
DIY installation is simple, and instructions are easy to follow.
Tip: If you plan to add LED bulbs to fixtures on a dimmer, you will need to replace the dimmer switch, and make sure to select dimmable LEDs.   
Recessed lighting can offer subtle, functional lighting that blends seamlessly into your decor, or it can help create striking focal points in your home, depending on your needs. Ready to find the best recessed light fixtures for you? Find products fast with image search in The Home Depot app. Snap a picture of an item you like and we'll show you similar products. You can also use The Home Depot Mobile App and choose from our wide variety of recessed lighting. 
Explore More on homedepot.com