Before you hit the water, a fresh coat of marine or boat paint can give your boat a much-needed makeover. Painting a boat can give it protection from everything from damaging UV rays to marine life that might try to make a home on its hull. 
This guide will walk you through the types of boat paint, which include the best boat paint for the topside and bottom of your boat.
Topside Boat Paint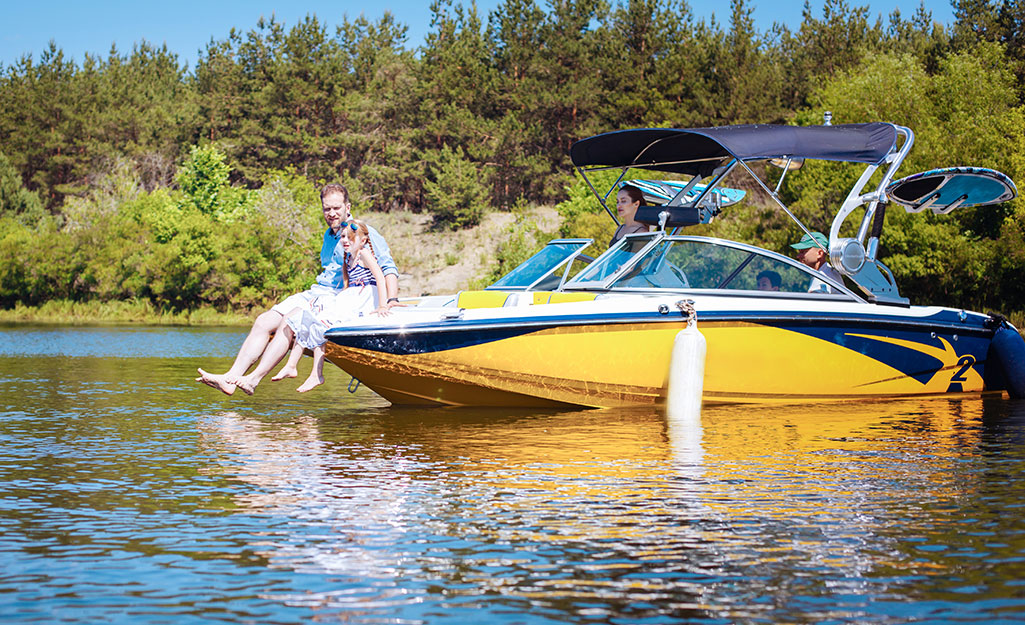 When painting a boat, you'll need different types of boat paint for above the waterline and below the waterline. These paints are specifically designed to withstand different elements over time. 
Topside boat paint protects your boat from the elements such as water, sunshine and sand. Depending on the level of exposure, UV rays can break down the materials a boat is made of, including wood and fiberglass. 
Typically, topside marine paint and fiberglass boat paint have a high-performance coating for UV resistance, color retention, flexibility and durability. These types of boat paint are also more resistant to cracking, chipping and peeling. Topside paints are great for touching up scratches or minor dents to improve the appearance of your watercraft.
Types of topside boat paint include:
One-Part Polyurethane Paint: Harder than enamel paint, this paint has a glossy finish and a reputation for being easy to apply. A roller, brush or spray will work to add this paint to your boat. This topside boat paint dries quickly, but will not dry as hard or last as long as two-part polyurethane.
Two-Part Polyurethane Paint: The hard and glossy finish of this paint is extremely sturdy. It's best suited for fiberglass and may crack if painted onto other materials. Multiple layers of its thin coats need to be applied by either rolling and tipping or spraying. This extremely durable spray paint can last up to 60 months. 
Enamel Paint: Though it's less durable than polyurethane, this paint's flexibility makes it a good choice for wooden boats. It can expand and contract along with the wood without cracking. For best results, at least one maintenance coat of enamel paint should be added to a boat every year. Enamel paints can be applied with a brush without much trouble. 
Bottom Boat Paint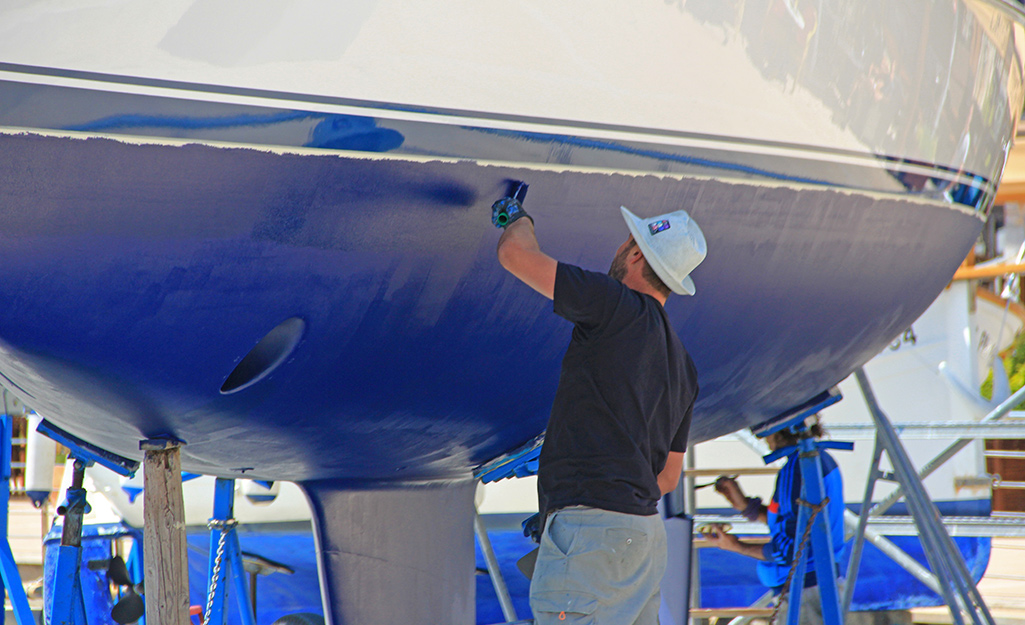 The bottom of a boat is constantly exposed to barnacles, algae, dirt and microorganisms. As you think about painting a boat below the waterline, it is best to choose an antifouling bottom paint. Antifouling paint helps prevent the build-up of micro-organisms.
Barnacles and other micro-organisms create hull drag, which increases the amount of fuel needed to power the boat through the water. Left unattended, these species can begin to destroy your boat to the degree that water enters the craft and the boat eventually sinks.
When your boat will be in the water for some of the year or all 12 months, keeping the hull clear should be your top priority. Painting a boat with the right types of bottom paint can help keep marine growth off your boat. Antifouling paint typically contains metal that is used as a biocide that stops microorganisms from growing on a boat's hull.
How much you use your boat and how long it stays in the water can affect how often new paint is needed.
Less marine growth is found in freshwater than in saltwater. When painting a boat for freshwater, you can choose a bottom paint with fewer active ingredients to fight growth. Some bottom paint is well-suited for both freshwater and saltwater, however. 
Types of bottom paint include:
Ablative Antifouling Paint: To better prevent marine growth on the hull, the biocides in this paint are present in its layers of paint and not just on its surface. This type of boat paint continues to be effective whether your boat is in the water or in dry storage. It's one of the best boat paint choices for boats that will be stored during the winter. Ablative paint offers multi-season protection, so boats with this kind of bottom paint do not need to be painted annually. Boats can just be scrubbed or lightly sanded before being put back in the water after storage season.
Modified Epoxy Antifouling Paint: This boat paint is harder than ablative paint, so it can help protect hulls from damage. Pesticides, such as copper, in the surface of the paint kill marine growth. This paint needs to be reapplied every year. Coats of it can build up over time and affect a boat's operation and speed, so a boat may need to be sanded down and repainted. It works well for cruising boats and other vessels that stay in the water continuously for a year or more. When exposed to air, it will become much less effective.
Hard Vinyl Antifouling Paint: This boat paint results in a hard surface without much friction. It's often used on racing powerboats and sailboats. Hard vinyl paints have a faster drying time than other types of boat paint. However, vinyl paint can only go over vinyl paint. It should never be added on top of ablative or modified epoxy paint. Other types of boat paint should be completely removed from a boat before vinyl paint is applied.
Thin Film Paint: This kind of boat paint has a slick surface that can keep freshwater algae from binding to the hull. Thin-film paint dries very quickly. It needs to be put on with an airless sprayer or a solvent-resistant foam paint roller. It's one of the best boat paints for vessels that will be used on lakes. It is especially well-suited for freshwater racing sailboats.
Bottom Paint for Aluminum Boats: When it comes to the best paint for aluminum boats, be aware that antifouling paints can be corrosive. Don't use paints containing cuprous oxide (an oxide of copper) on aluminum boats. If you're planning to paint an aluminum hull or overdrive, choose an antifouling paint made with a compound of zinc, a non-metallic agent or cuprous thiocyanate. 
Painting Your Boat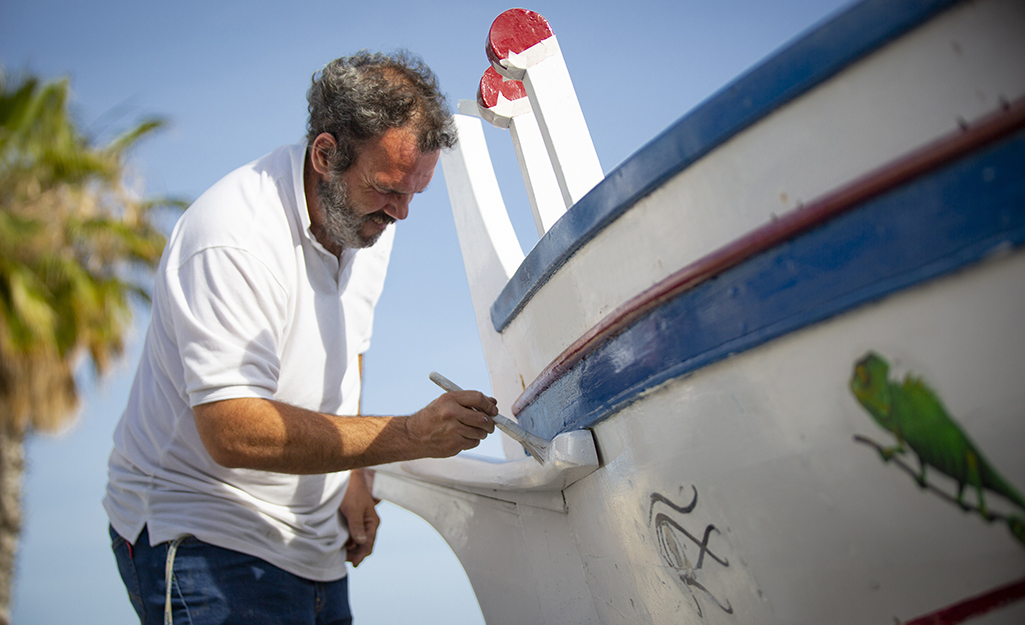 Whether you're painting a boat on the topside or the bottom of your boat, begin by cleaning the area that you'll be painting. Use a soft cleaning cloth and mineral spirits as needed. Then, allow the boat's surface to dry.
Refer to the product instructions for the best way to apply the paint you've selected. You might put the paint on with a brush, a roller or a sprayer, depending on the type of boat paint you're using. 
Boat paints have different drying times. Find the details about drying time for the product you are using in its instructions. Topside paints can dry in as little as two hours, so you won't have to wait all day to get your speedboat, sailboat or fishing boat back in the water. Bottom paints can take longer to dry.
Finally, if you are refinishing wood on the interior of your boat, use a marine grade paint to prevent the wood from being damaged by water and salt. There are several types of paint for plastic, including plastic spray paints, that work well for plastic surfaces. And for cushions, check out fabric spray paints. Just make sure they are waterproof. 
Painting a boat keeps it seaworthy. As you figure out how to paint a boat, you'll find out that the best boat paint depends on the boat type and how it's used and stored. Topside paint protects the boat above the waterline. Bottom paints keep boats from getting bogged down with barnacles and other marine life.
Time to embark on a boat-painting project? The Home Depot delivers online orders when and where you need them.
Explore More on homedepot.com