Secondhand and hand-me-down furniture such as chests, tables and chairs may come with a few dings or scratches, but a fresh coat of paint can give them a new lease on life in just a few simple steps. Painting furniture is a DIY project that wins big style points and brings transformative powers to any room in the house. The hardest (and most fun) part: choosing your color.
1
Choose Your Project & Color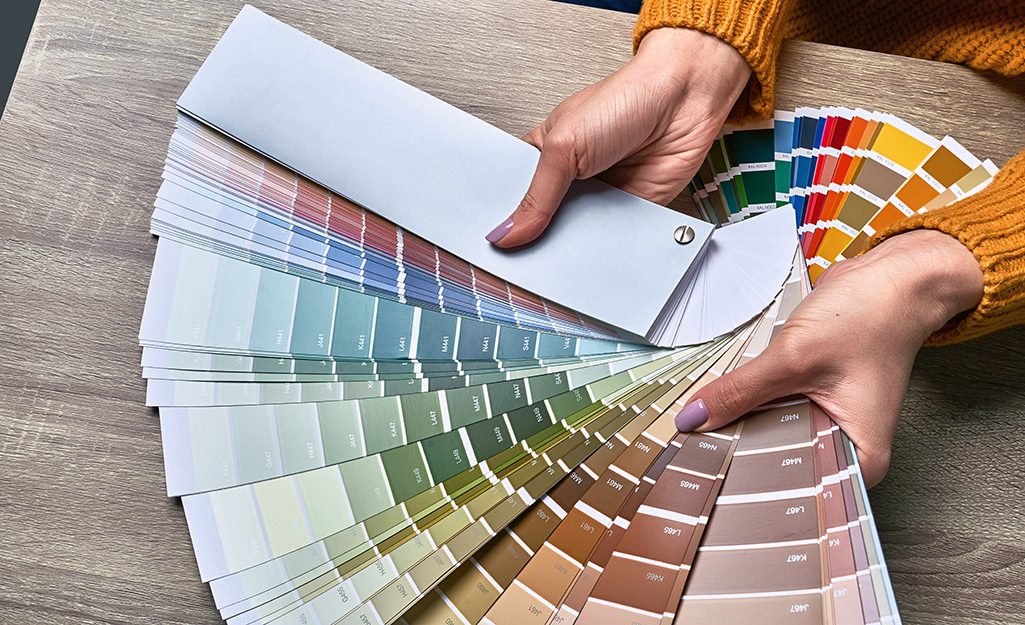 If you've never painted a piece of furniture before, start small. Wooden frames, boxes or trays are ideal DIY projects for first-timers. They're a good way to experiment with color, and you'll get to practice your skills. Plus, you'll have a great accent piece to coordinate with a larger project later. Once you've selected your accessory or furniture item, choose a paint color. 
Tip: Find color inspiration in art, nature or a favorite textile like a pillow cover, rug or shirt.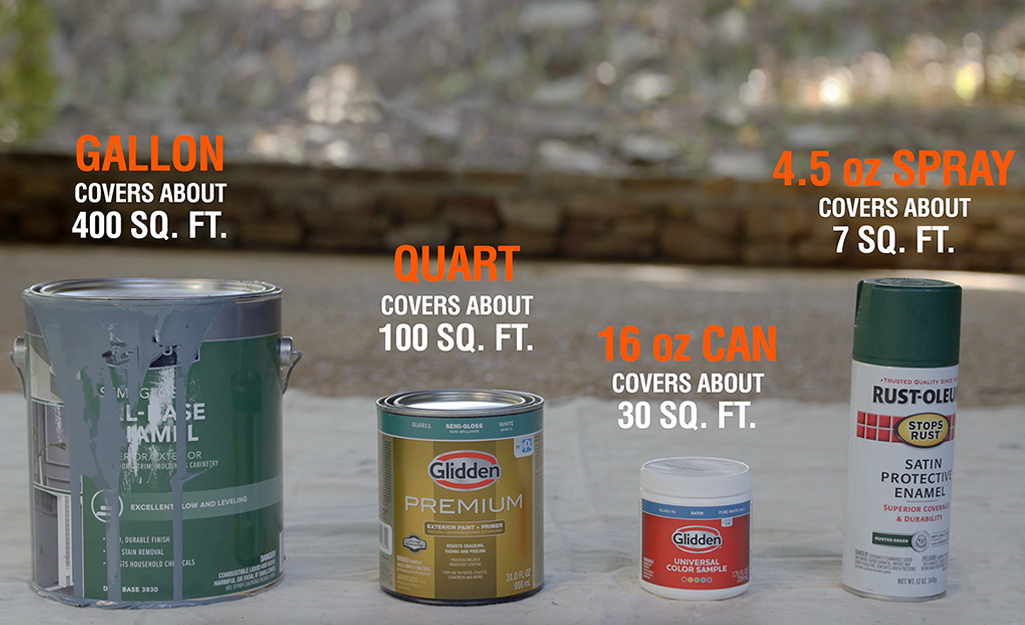 Once you've settled on a color, choose the paint and finish. Paints are available in finishes ranging from matte to satin to shiny high-gloss. Another option is milk paint or chalk paint. Artisans love these options for the chippy, distressed finishes they can create. 
For wood furniture, it's best to use a latex or an oil-based paint. Latex dries faster and cleans up easily with water. Oil-based finishes take longer to dry and require mineral spirits for cleanup. For metal furniture, oil-based paint offers more longevity than latex. 
Get enough paint for two coats and primer for one coat of primer, or enough of a paint and primer product for two coats. A gallon of paint covers about 400 square feet. A quart of paint typically covers about 100 square feet. A 4.5 ounce can of spray paint covers about 7 square feet. A 16 ounce can covers about 30 square feet. Make sure you buy enough of your color at one time. Color compounds can shift ever so slightly with each mix.
Most furniture will need a protective top coat. Choose a satin polyurethane or furniture wax. Most projects require two or more coats of polyurethane or wax to properly seal your paint. 
Tip: Think about getting your primer tinted to match your paint at The Home Depot paint desk.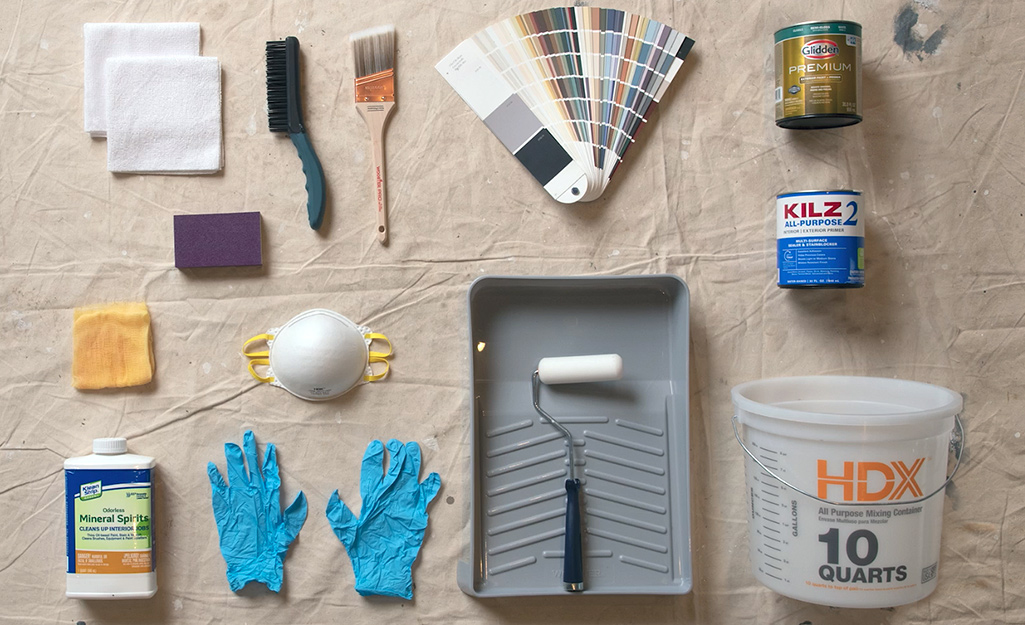 Brush, roll or spray? It depends on your furniture painting project.
Paint brushes are best for detail work and touch-ups later. For latex paint, choose a brush with synthetic fibers for a smoother finish. For an oil-based paint, opt for a brush with natural fibers. For help navigating angles and surfaces on the furniture, use a 2-inch sash brush, oval medium brush, smaller angled brush and small trim brush. A paint roller will allow you to work faster when covering a larger area such as a tabletop. Be sure to select a smooth, not textured, roller cover.
Spray paint works best on metal furniture. 
Don't forget painting essentials like medium grit sandpaper, a drop cloth or tarp, a dust mask for sanding and fumes, tack cloth and a wire brush if you're painting metal furniture. 
Safety Tip: Always paint in in a well-ventilated area. Consider wearing gloves and eye protection, especially if using spray paint.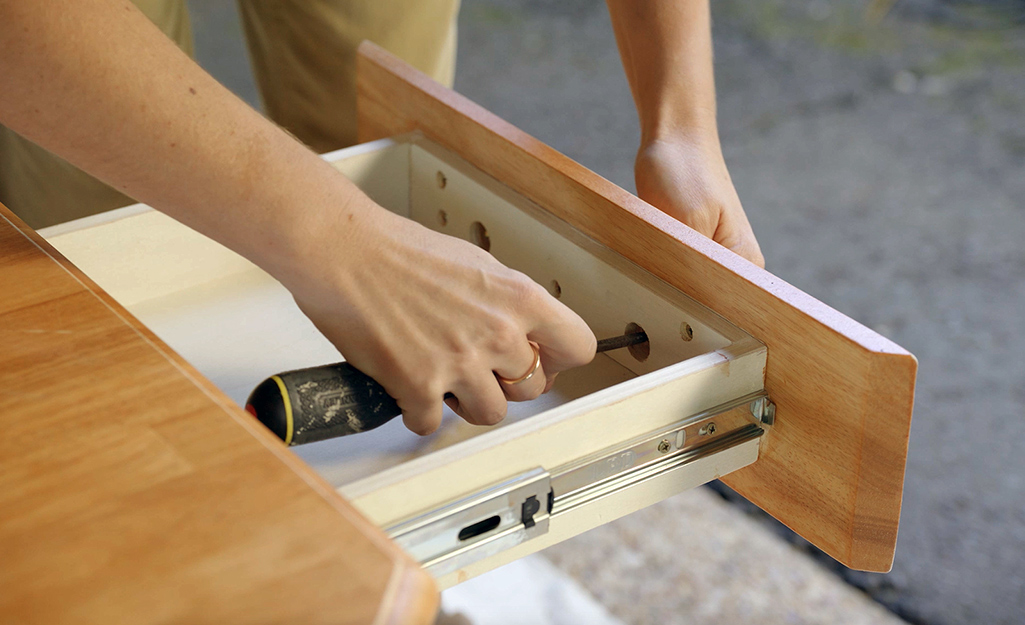 Prepping and cleaning the furniture for paint can be a messy process. Place the project piece on a drop cloth or tarp in a well-ventilated work area. Remove any hardware. If the furniture has removable parts like drawers, separate the pieces and deal with them individually.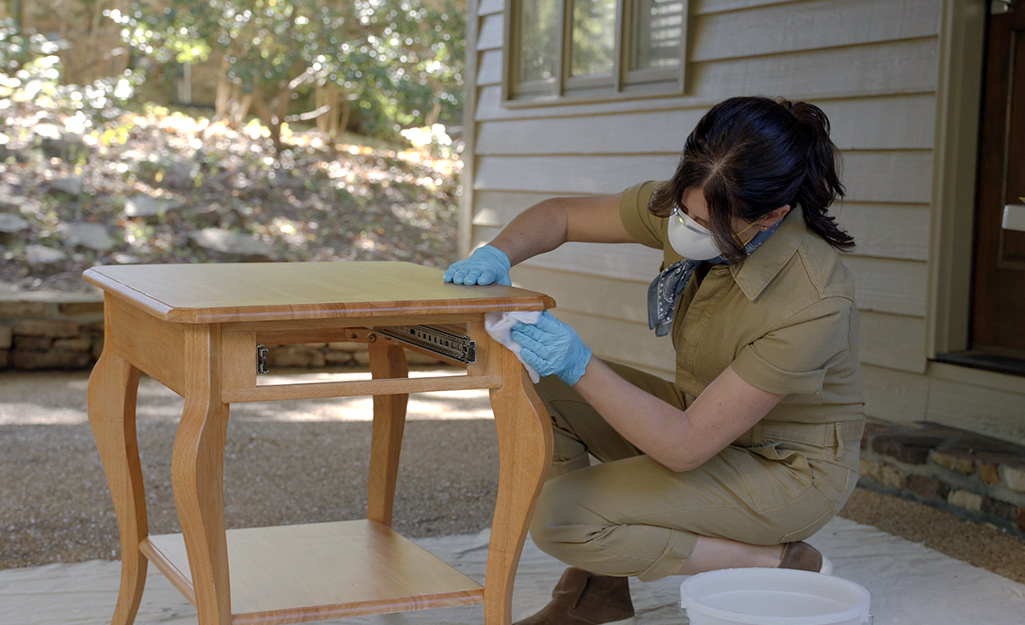 Before painting, it's important to break up old finishes and remove years of dirt and grime. For metal furniture, start by using a wire brush to remove any rust or peeling paint. Wipe clean with a tack cloth. If the metal is free of flakes, rust and corrosion, skip the cleaning and priming steps.
Clean all the pieces with TSP (Tri-Sodium Phosphate), mineral spirits or another pre-paint cleaner. Always follow the manufacturer's instructions. In general, wipe the cleaner on with a cloth, allow it to set and then wipe it off. 
Repeat as needed until you have a clean, bare wood or metal surface. 
Give the pieces a final bath with water and a thorough wipe-down with a clean cloth to remove any cleaner residue.
Let dry.
Use wood putty to fill in any unwanted holes or scratches. This is also a good time to fill in hardware holes if you are swapping in new drawer pulls, knobs or hinges. 
Allow wood putty to dry. 
Sand all surfaces lightly and wipe away the dust with tack cloth.
Tip: Mineral spirits is a flammable substance, so be cautious. Wear a mask to protect yourself from fumes and don't work near open flames. Wear Nitrile gloves to protect your skin.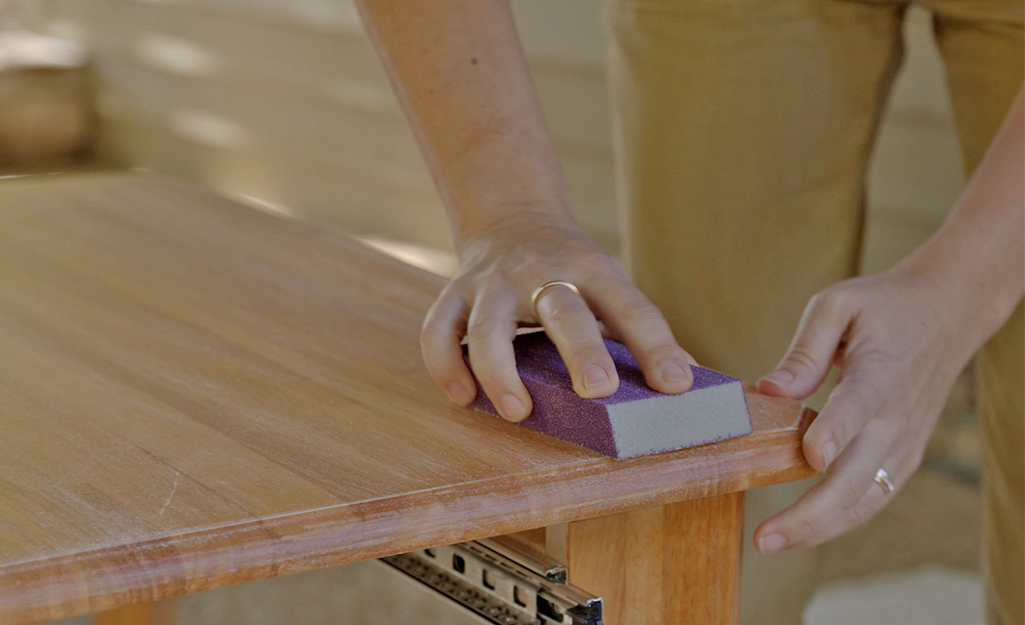 For wood furniture, apply one coat of primer. Let dry. 
Sand all surfaces again lightly and wipe away the dust with a tack cloth. 
If using a paint brush, paint in the direction of the wood grain. Apply two coats. Allow paint to fully dry between coats. 
With a roller, use long, even strokes. 
If you're using spray paint, shake the spray can according to instructions. Hold the can eight inches from furniture and spray a light coat using long strokes. Repeat until the piece is fully covered. Shake the spray can before painting according to instructions. Multiple light coats will look more even than one or two heavy coats. Be prepared to clean or switch out the nozzle as necessary.
Latex paint, oil paint and spray paint require different drying times. For best results, always allow ample drying time between coats. Read the label and follow manufacturer instructions. Remember, paint is darker when wet.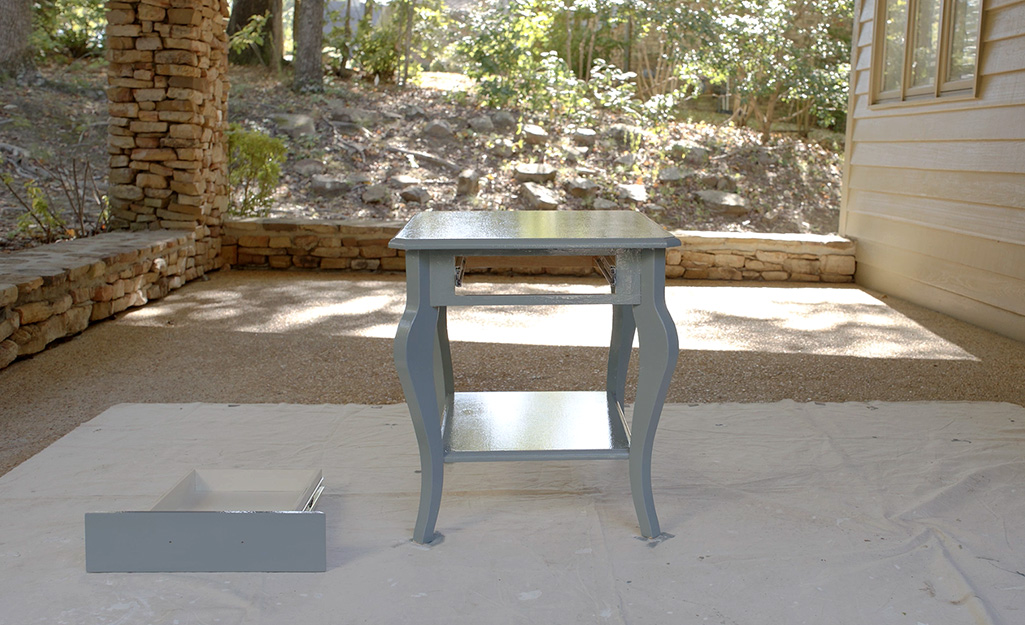 Be sure to leave a painted piece in a well-ventilated space until completely dry. Once dry, apply a protective topcoat and let dry. Reassemble the furniture and reinstall any hardware. Place your "new" piece of furniture in your room and enjoy your DIY upgrade.
Painting accessories or furniture is a DIY project you can do yourself. Paint allows you to quickly update or change a used or new piece with color. For best results, take the time to properly prep and clean your piece before painting. Whether in your living room, on your patio or elsewhere, learning how to paint furniture can add splashes of vibrant color to your space. Get the paint and tools you need. Use The Home Depot Mobile App to locate products and check inventory. We'll take you to the exact aisle and bay.
Explore More on homedepot.com