All forms of curtain hardware are functional in nature, but different curtain rod types can add a special, decorative touch to your home.
This buying guide highlights your curtain hardware options, including various curtain rod types and accessories that help complete your interior design theme.
Need help identifying a curtain rod? Find products fast with image search in The Home Depot app. Snap a picture of an item you like and we'll show you similar products.
Curtain Hardware Types
Some curtain hardware pieces are well suited for contemporary designs, while others match more traditional designs.
Hardware can be hidden from view, or out in the open to serve as an accent.
Curtain rods are the largest piece of hardware and will determine the types of end caps, brackets, tiebacks and more that you can consider.
Functional hardware is often concealed by fabrics or fixtures.
Functional pieces include metal curtain rods, curtain hooks, traverse rods and more.
Decorative pieces dress up and add style to basic window treatment elements.
Decorative hardware examples include tassels, sconces, finials, tiebacks and more.
Curtain Rods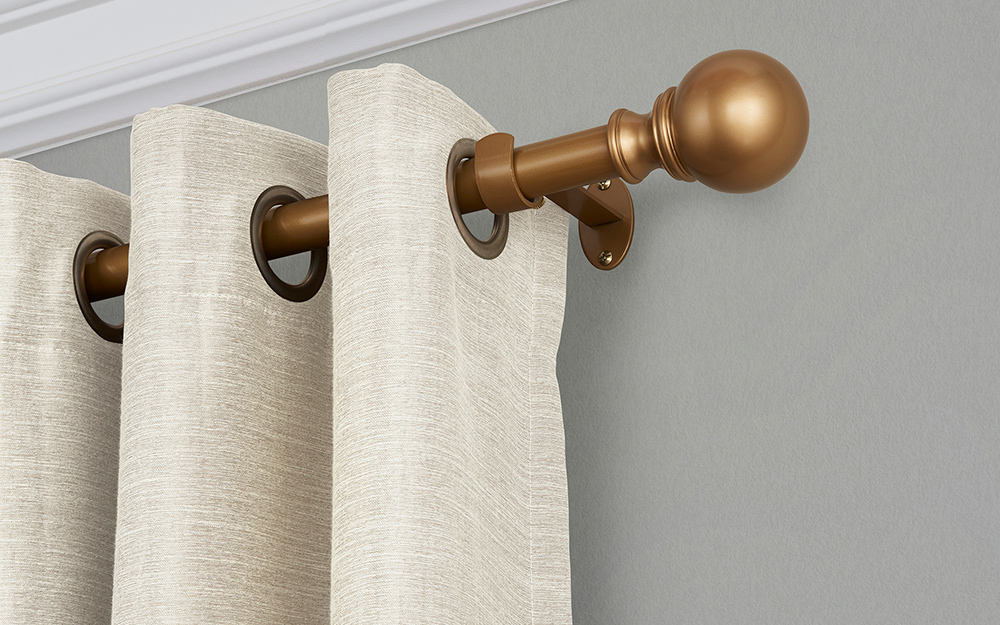 The curtain rod will serve as the main support for your drapes and as the central focus of your hardware.
You can consider using concealing rods, which hide the rod, or prominent decorative rods.
Thicker rods create a more dramatic visual effect, especially when hanging grommet curtains or pinch pleat curtains.
Rods that are wider than windows can be used to expand the appearance of the width of the window.
Types of Curtain Rods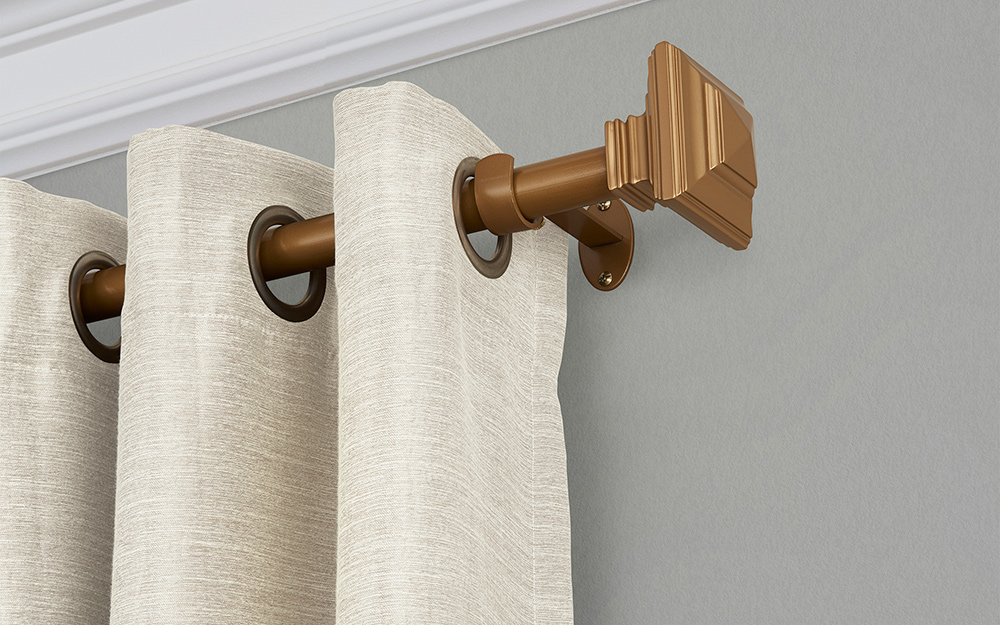 Decorative Curtain Rods
Description
Available in an array of designs and diameters
Highly visible, affects the appearance of a window treatment and room
Points to Consider
May be made from brass, wrought iron, verdigris, brushed nickel, pewter, wood and more
May be adjustable or fixed in length
Wood may be plain or fluted and stained, painted or unfinished
Tip: Try different colors and finishes, like gold curtain rods or black curtain rods, to accent your room.
Concealed Curtain Rods
Description
Often comes in the form of an adjustable, metal lock-seam rod
Designed to be covered by the curtains or drapes and remain unseen
Other types include sash, tension and wide-pocket rods
Points to Consider
Often white in color, with some metallic finishes available
Sash rods are used with sashes or hourglass curtains on French doors or casement windows
Wide-pocket rods are ideal for creating a shirred valance
Traverse Curtain Rods
Description
Used with draperies that are opened and closed with a wand or cord
Drapery hooks are inserted into sliding holders, or carriers
Rod is visible when drapes are open unless a top treatment is installed
Two-way rods are the most commonly used type
Points to Consider
Two-way traverse rods allow drapes to move away from the middle to each end
One-way rods allow panels to move in only one direction
One-way rods are often used on sliding patio doors or in corners
Decorative traverse rods are used with rings and can be seen even when drapes are closed
Cafe Curtain Rods
Description
Generally feature a narrow diameter and are round or fluted with subtle finials
Points to Consider
Often brass, but also available in a range of colored finishes
May or may not have rings
Ideal for use with tie-tab or hand-drawn curtains
Double Curtain Rods
Description
Used to create a layered decorative treatment
Points to Consider
Double curtain rods and triple curtain rods can be used for layered treatments
They're great for adding depth and dimension to a room
They typically use two poles and a single bracket
Tension Curtain Rods
Description
Tension rods use a spring mechanism to keep the ends in place
Points to Consider
These are best for use with lighter drapes and curtains
Installation is easy
Pair them with sheers and lightweight seasonal panels
Accessories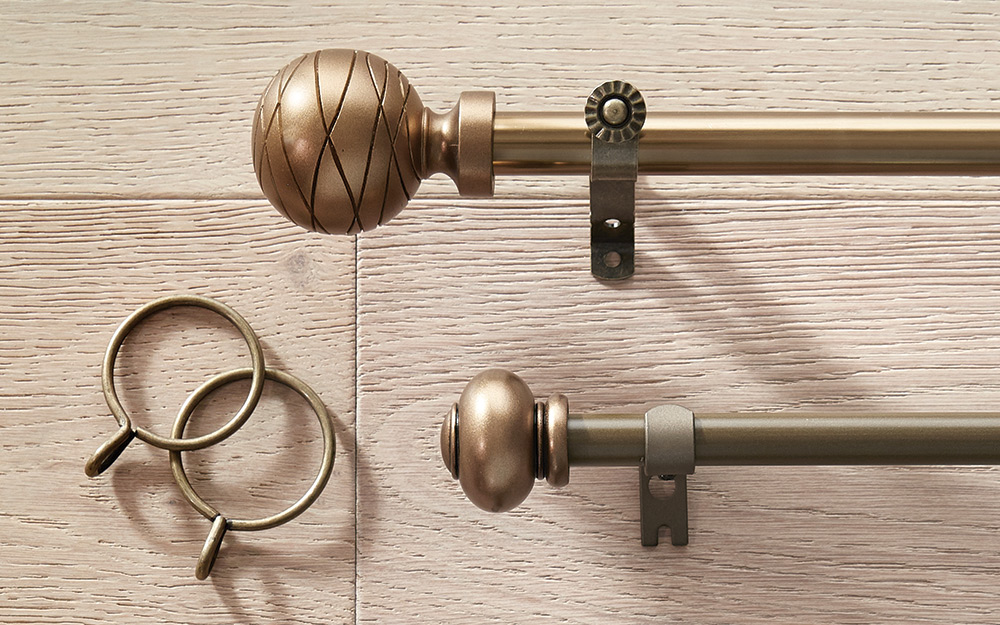 Common accessories include finials, end caps, brackets, sconces and rings
Finials and end caps cover the side openings or ends of the curtain rod and can be very elaborate.
Metal, wood, ceramic, glass, molded resin and rattan are materials used to make end caps and finials.
Common shapes include spears, arrows, balls, leaves, stars, flowers, scrolls and more.
Brackets made from the same materials as finials complement each other.
Sconce designs include animals, grape clusters, flowers, leaves and more.
Tiebacks hold the drapes off to the sides of the window to allow more light in.
Rings, clips hooks and pulls connect drapes and curtains to the rod and can be hidden or visible.
Ready to find the supplies you need in your local store? Use The Home Depot app to locate products and check inventory. We'll take you to the exact aisle and bay.
Explore More on homedepot.com