A room is never fully dressed without window treatments. Flanking your windows with a favorite fabric adds instant ambiance and can make a space feel cozy, breezy or private. Curtain rods are the unsung heroes of window treatments—and shopping for rods and accessories can be confusing. In this guide, you'll learn about the various styles of curtain hardware so you can choose what's best for dressing your windows in style.
Curtain Rod Styles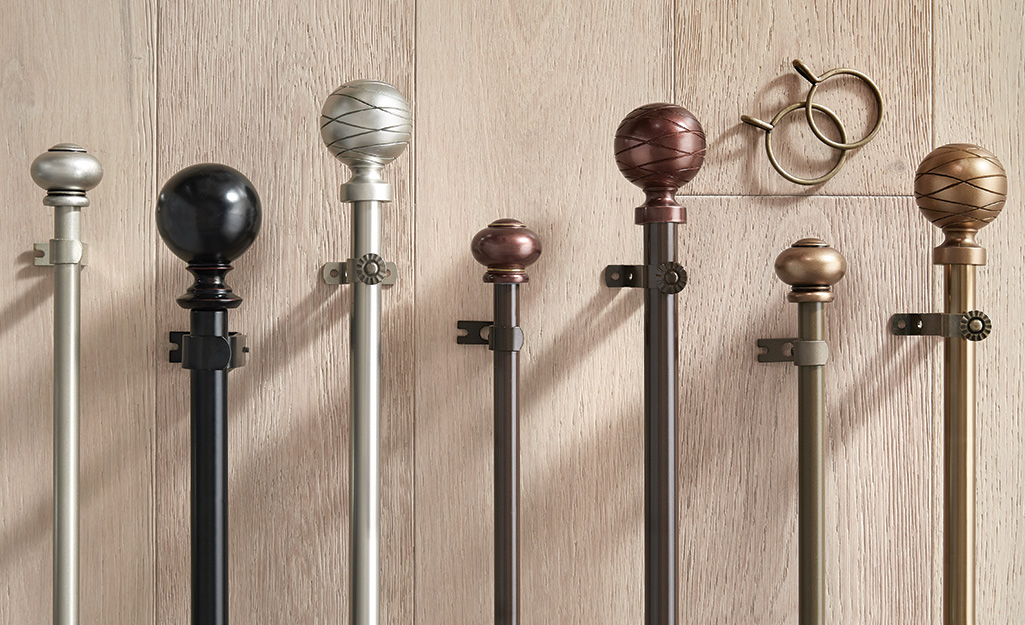 From bold stripes to barely-there textures in whisper-soft colors, curtains frame your views inside and out. Your curtain rod style will depend on your personal decor and the type of drapery you are using. 
Whether your look is traditional, farmhouse or contemporary, hardware can be hidden from view or used as an additional decorative accent in the room. There are several types of curtain rods: decorative, double rods, concealed rods, traverse rods, tension rods and cafe curtain rods.
Decorative Single Rods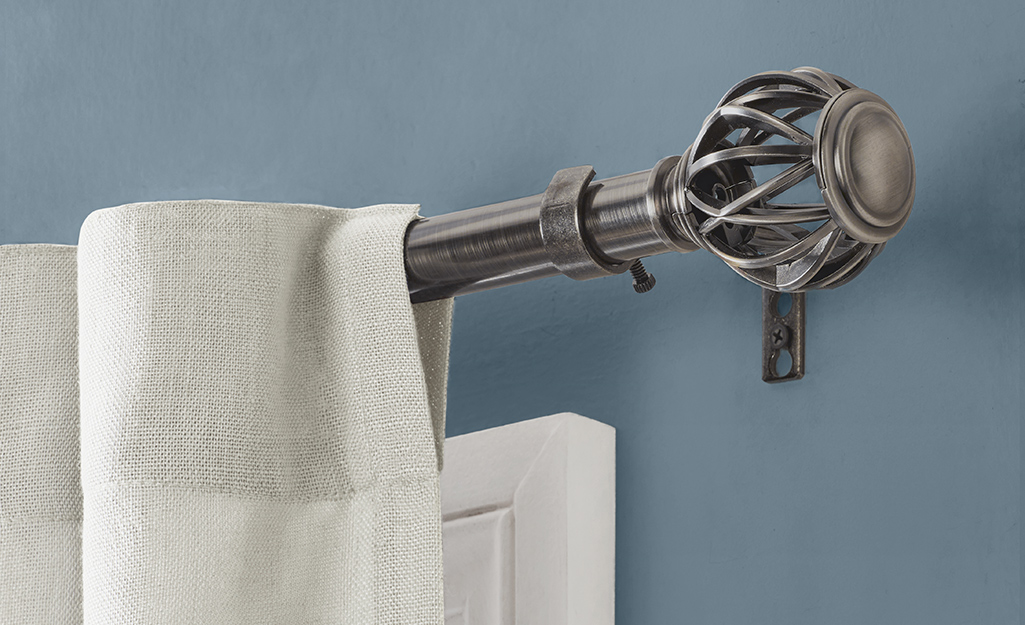 The most common curtain rod is the decorative, single rod. Available in a variety of designs and diameters, this rod comes in both fixed and adjustable lengths. Designed to be seen, decorative rods come in a wide range of finishes to complement your interiors. 
Metal selections include brass, wrought iron and brushed nickel. Lucite and acrylics accented with metals offer a more contemporary look. Prefer wood? Try for solid and fluted styles in a range of stains and paint colors. Once you've made a decision, add coordinating finials or endcaps for a stylish finishing touch.
Decorative Double Rods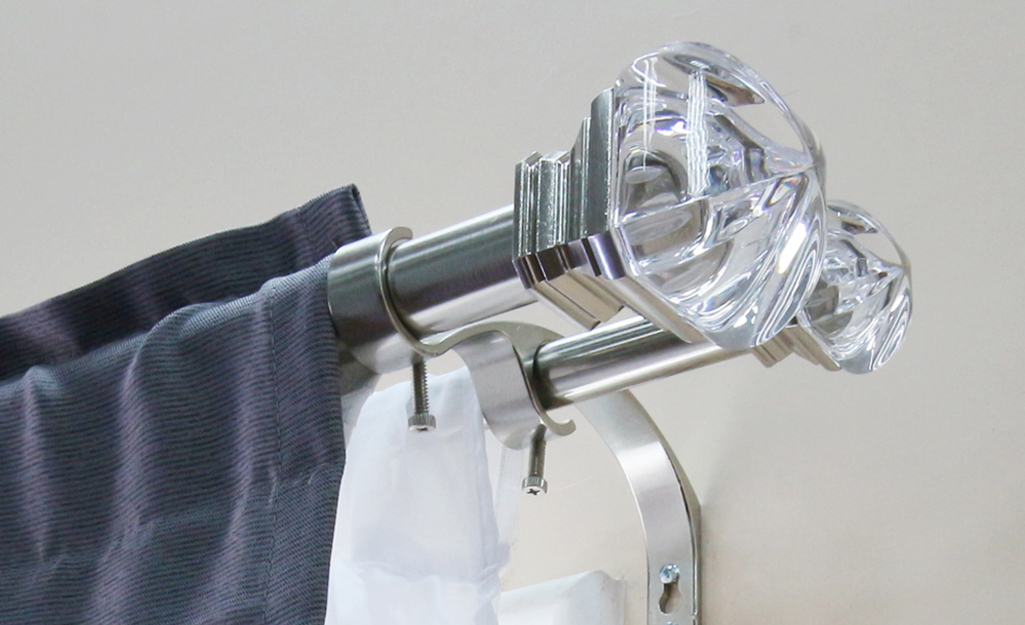 Double rods are equally decorative, but they offer a second rod, which is typically smaller in diameter and used for hanging an additional layer of fabric—such as a breezy light-filtering material or thicker light-blocking layer. The outside rod, usually larger in diameter, is the place to hang decorative drapery panels.
Concealed Rods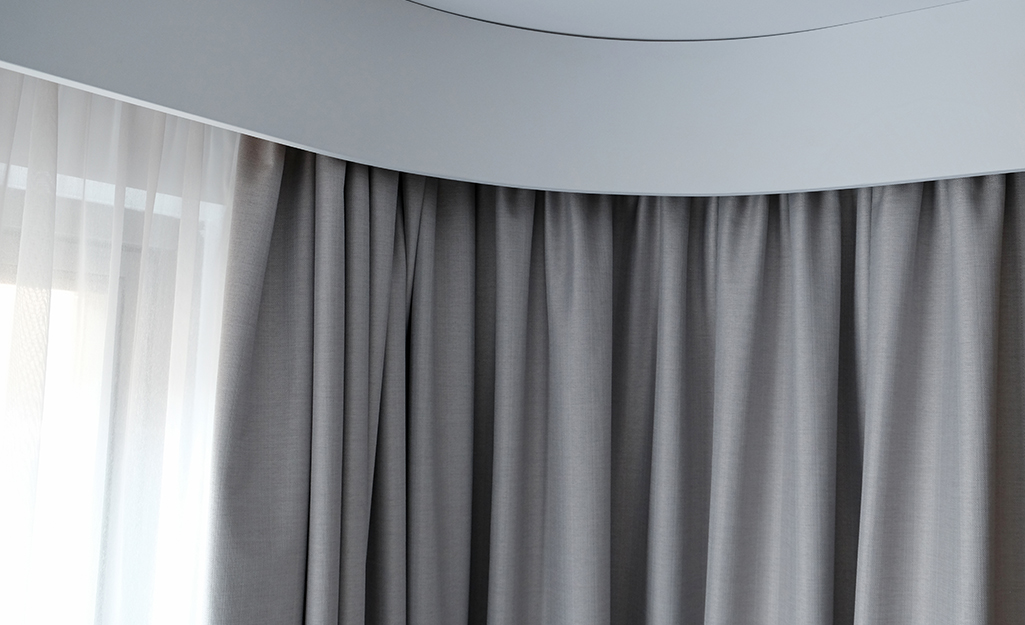 Concealed rods are the ultimate supporting players who give all the star power to the draperies. Concealed rods attach to walls or the ceiling. Other hidden rods include sash, tension, pocket and wrap around (or French) curtain rods. Wrap around rods are ideal for black-out draperies because they allow curtains to cover the gap between the wall and the rod. 
Traverse Rods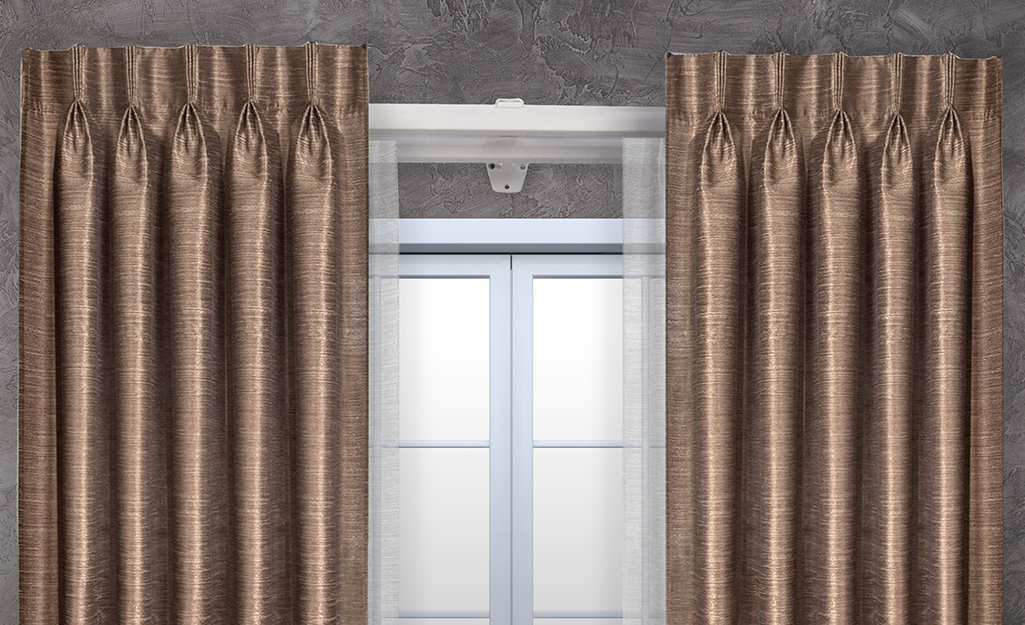 Traverse rods can be decorative or concealed. Either way, the hardware features clips that slide along a hidden track, which allows you to easily move curtains with a cord or pull. Traverse rods provide a smoother way to adjust draperies than with tabs, rings or hooks. The traverse mechanism is often seen in hotel rooms, but the convenience is equally nice to have at home.
Tension Rods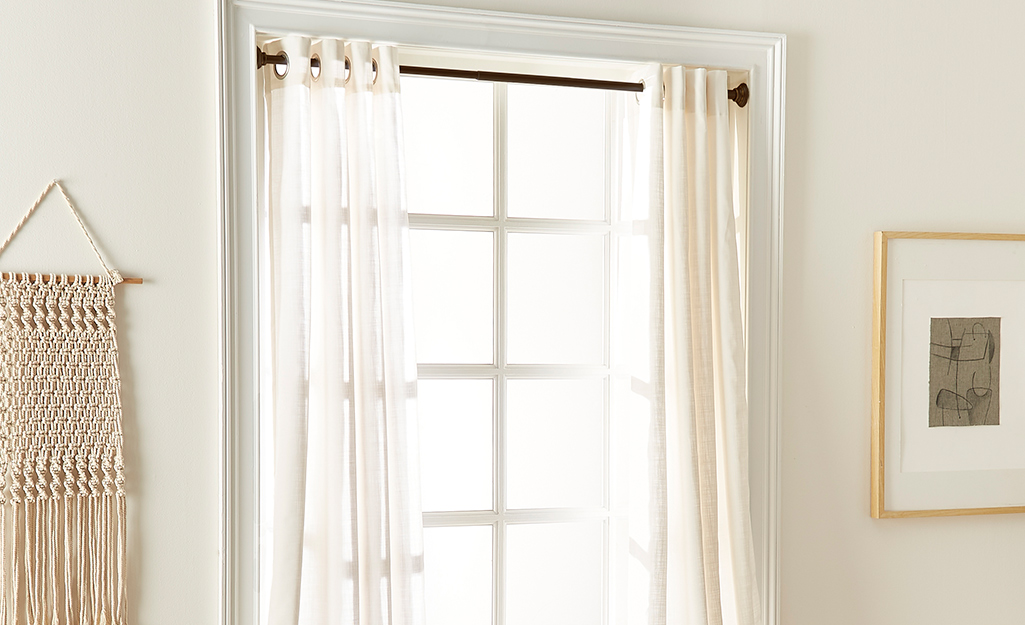 Tension rods don't require any tools or hardware for installation thanks to the spring mechanism and rubber-tipped ends that hold them in place. Adjustable to any size, these rods fit snuggly inside the window frame. Most tension rods can support up to 20 pounds, so lighter-weight drapes with rod pockets or tab tops for hanging are the best curtains for this type of rod. 
Tension rods are also ideal for hanging shower curtains—especially if you don't want to drill holes into your tile. A renter's best friend, tension rods give a room a finished look without putting holes in the walls.
Cafe Curtain Rods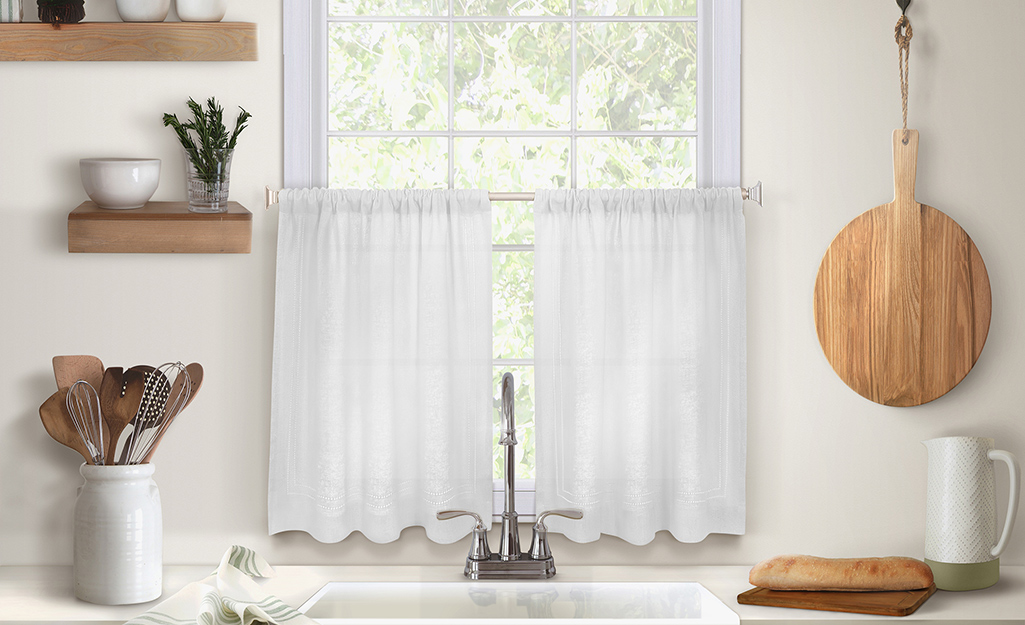 Cafe curtain rods are popular in French cafes and kitchens everywhere. They are ideal for any room where you want to let light in from upper window panes while covering the lower half of the window. Affixed horizontally in line with the sash, cafe rods can be slim decorative rods or tension rods. Either version supports two individual panels of fabrics. Curtains used with cafe curtain rods are usually a lighter-weight material. For added fashion, a second rod supporting a valance may be affixed above the window.
How to Measure For Curtain Rods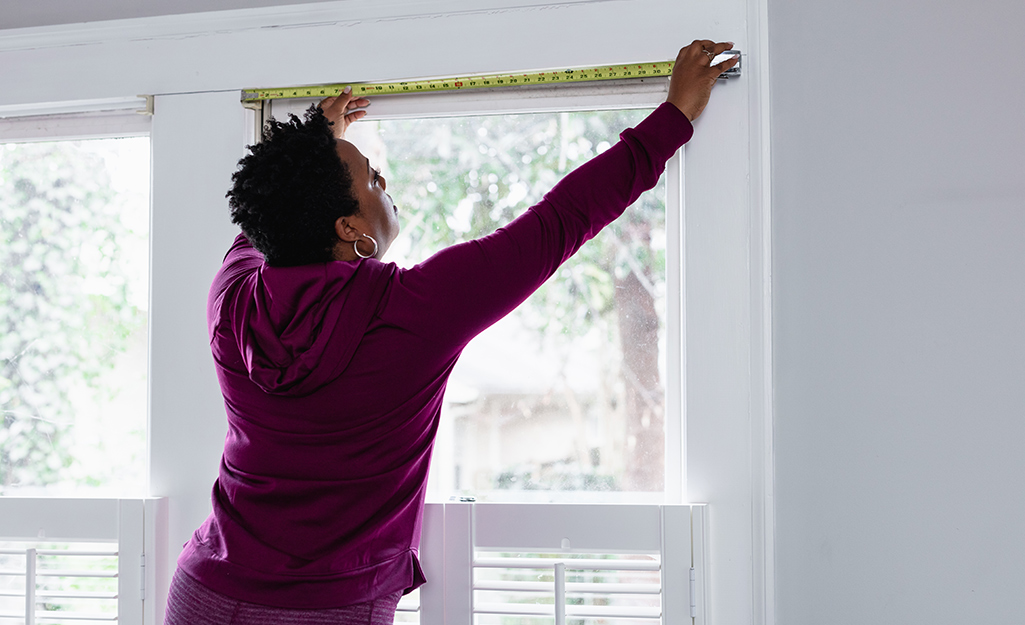 Determine the length and diameter of your rod. First, measure your window's width. As a general rule, your rod should stretch at least eight to ten inches wider than your window. This ensures that your drapery panels can pull back to expose all of the window (and let in all the light). When choosing rod diameter, consider the style of your drapes. If they are heavy, balance the weight with a thicker rod. If they are wispy, a thinner rod is the right choice.
Tip: The number one rule for measuring: Measure once, and measure again. 
Choose Curtain Fasteners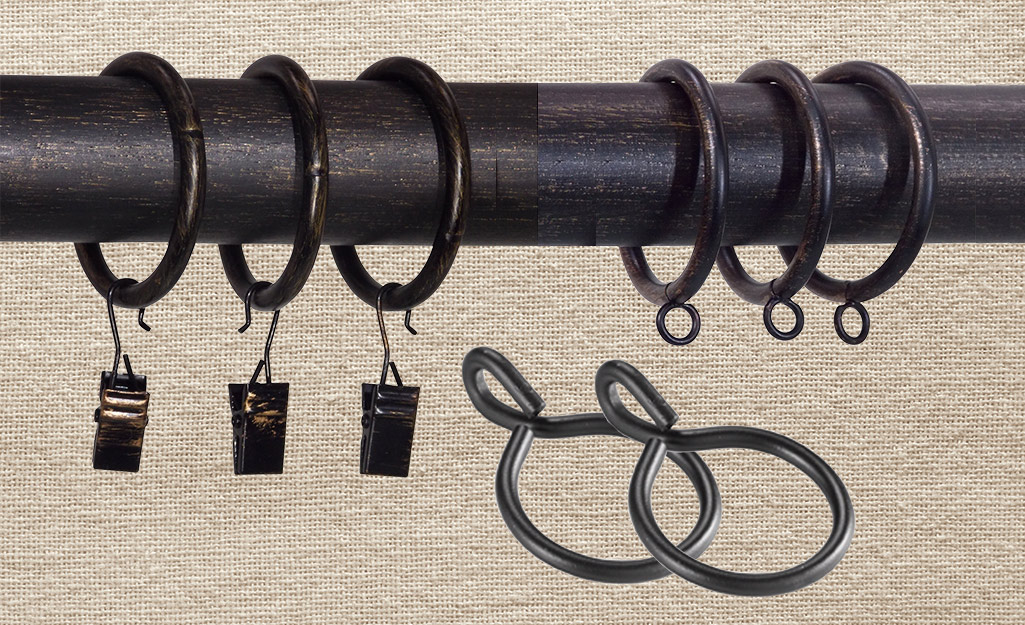 Rod pocket, tab and tie-top drapes don't require any special hanging devices, but for other styles, you'll need to select hooks, rings or clips. Hooks are best for concealed rods. For decorative rods, choose rings or clips. Rings and clips come in on-trend finishes that coordinate with decorative rods and finials. For traditional decor, look to warm metals like gold and brass. For farmhouse style, matte black and antiqued bronze are a good choice. Modern interiors lean toward cooler metal finishes such as chrome and nickel. 
Tips for Hanging Curtains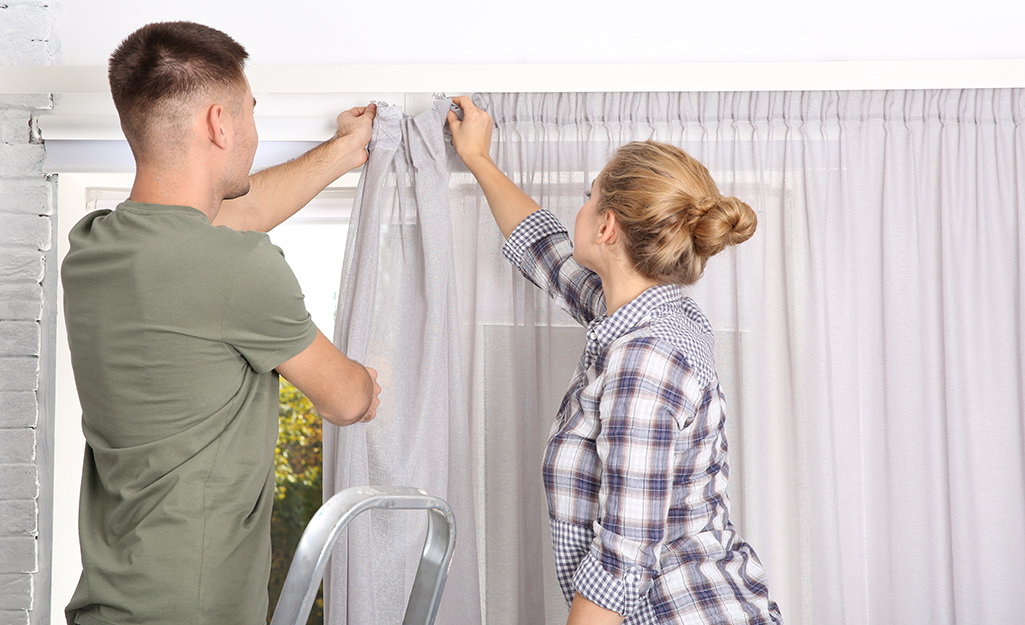 Plan accordingly. For most rods, you'll need hanging brackets and screws. Most brackets and screws usually come in the rod's packaging. You'll also need a tape measure, level, screwdriver or drill and a pencil. Consider getting a sturdy ladder and an extra set of hands.
Hang curtain rods close to the ceiling to make your room appear taller.
Extend curtains beyond the window's edges to make windows appear wider.
Consider how you want the fabric to meet at the floor. Determine if you want the curtains to break, puddle or skim the floor. And don't forget to account for the curtain clip or ring length when measuring.
Once you mark the wall with bracket placement for height, measure for width. Find the center of the rod and match it to the center of the window. If your rod is spanning a 36-inch or wider opening, install a central support bracket at the rod's center.
Double check your measurements before drilling for anchors and installing the brackets. Either screw rod brackets into a wall stud or use wall anchors to secure the screws.
Place the rod in the brackets and use a level to make sure the rod is parallel with the ceiling.
Choosing the right rod and other hardware can make a difference in how your curtains look and hang. Select a rod that complements your home and drapery style. A rod can provide a decorative accent to your curtains or remain hidden and simply provide support. Finishing touches like finials can set off the look. Ready to find the best curtain rod for your windows? Use The Home Depot app to locate products and check inventory. We'll take you to the exact aisle and bay.
Explore More on homedepot.com