The right curtains and draperies can complete the look and feel of your entire home. This project guide explains how to measure curtains for windows in your home. Read on for help choosing hardware location, measuring width, measuring length and for finding the perfect curtain rod.
1
Decide Where to Hang Hardware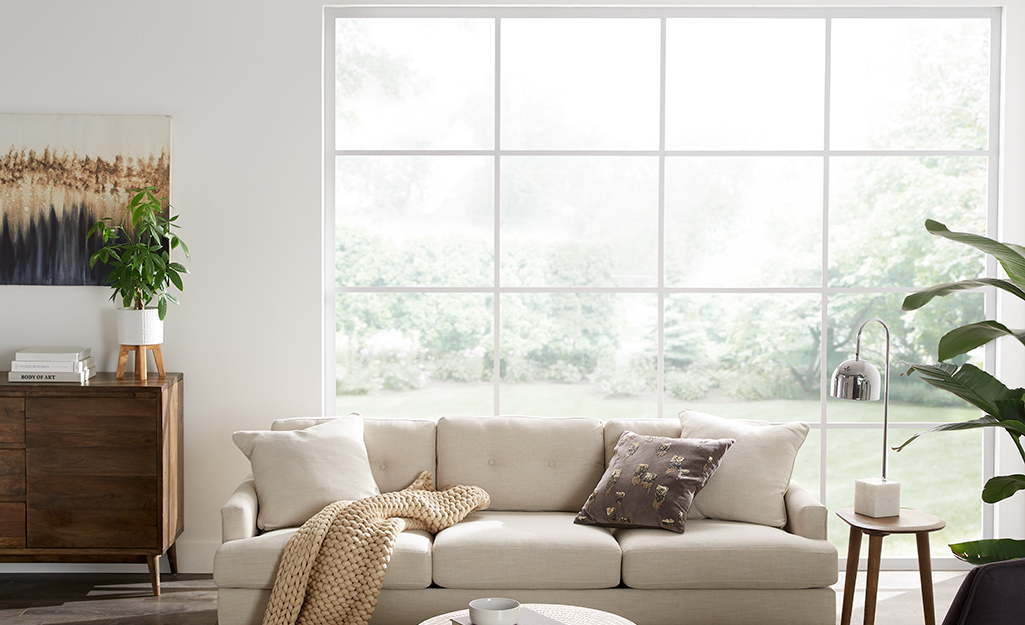 First, pick the spot where you'd like your drapery to hang. Your drapery length will depend on where you want the drapery rod to be placed. 
For an outside mount, the custom draperies hang over and around the windows. For a stylish look that displays more of the window when the curtains are open, and make the window seem larger when the drapes are closed, follow these tips: 
If you have space, place the rod 8 inches over the window. 
Have the rod extend 12 inches on each side of the window, 24 inches total. 
For an inside mount, the draperies are hung inside your window opening. In the case of an inside mount, keep the hardware as close to the window frame as possible. Follow these tips: 
Check your measurements to make sure the curtains fit inside the window opening, as they will not be able to extend past the window. 
Since the fabric starts at the top of your rod, start your measurement from the top of the rod and refer to rod instructions for accurate, full length draperies. 
Once you know where you want to place your drapery hardware, it's necessary to figure out your rod to floor height:   
Mark the spot where you would like to hang the drapery rod. 
Measure to the lowest place that you would like the fabric to hang (either the floor or the bottom of the window). This number is your Rod to Floor Height. 
You will need Rod to Floor Height measurements to order your draperies, but you still need to wait for your draperies to arrive before hanging your hardware.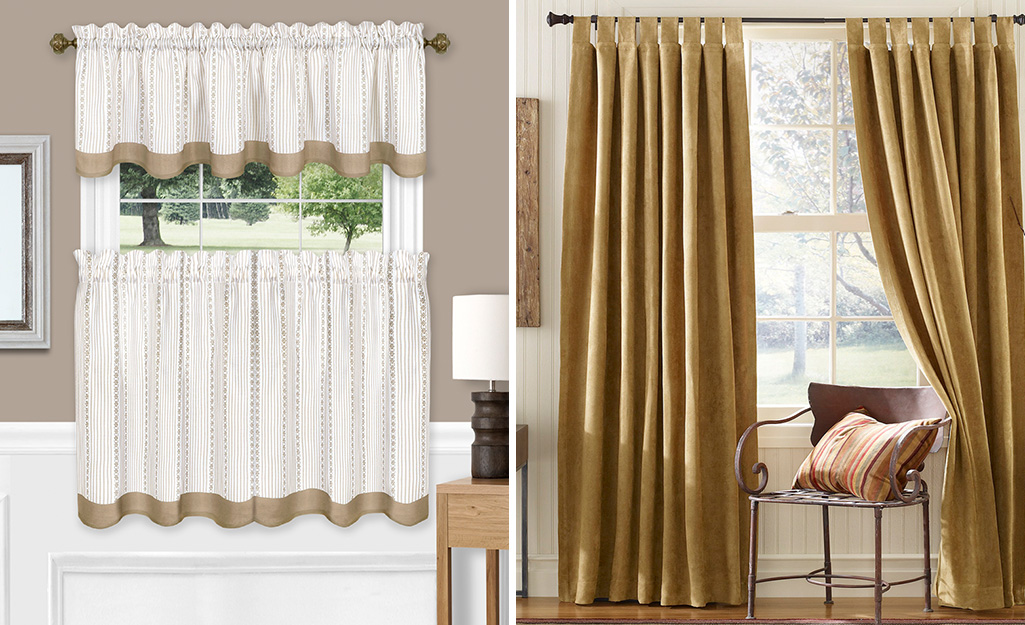 Before you learn how to measure your curtain's width, decide what kind of drapery look you want for your windows. You can hang decorative panels at the side of a window. Or choose curtains that completely cover your window when closed. What style you prefer will determine how many drapery panels you need. 
Tip: The fabric you choose for custom draperies will come with the appropriate fullness. Simply order the exact width that you want your draperies to cover.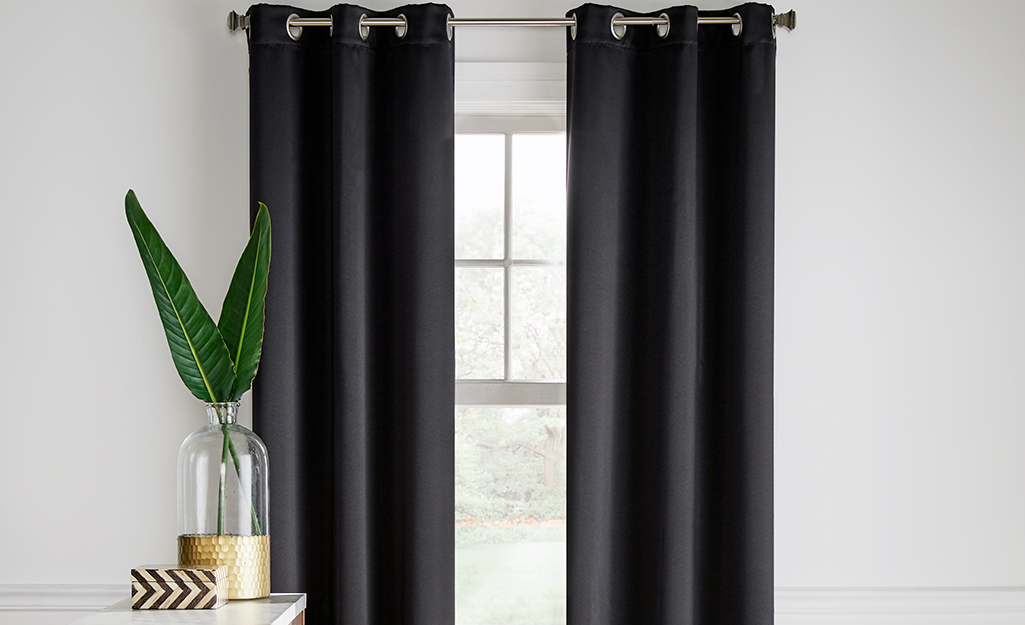 For curtains and drapery, you will need to measure the panel width. If you want your curtains to close and cover the entire window:
Measure the width of your window. 
Add 12 inches to each side, 24 inches total. 
Take the total number (width plus the number you added to each side) and divide that number by how many drapery panels you want in the window. 
Make sure the number of custom drapery panels you order can cover the entire area you want covered (total width divided by panels). For example, for a 60-inch window with two curtain panels, add 24 inches to 60 inches (window width) and divide by 2 (number of panels) to get 42 inches. The two panels ordered each need to be at least 42 inches wide.
Tip: Measuring the width of side panel window coverings is slightly different. Side panels are decorative and not meant to be closed. They can make a window look wider or just frame it. Choose the width you want the panel to cover on either side.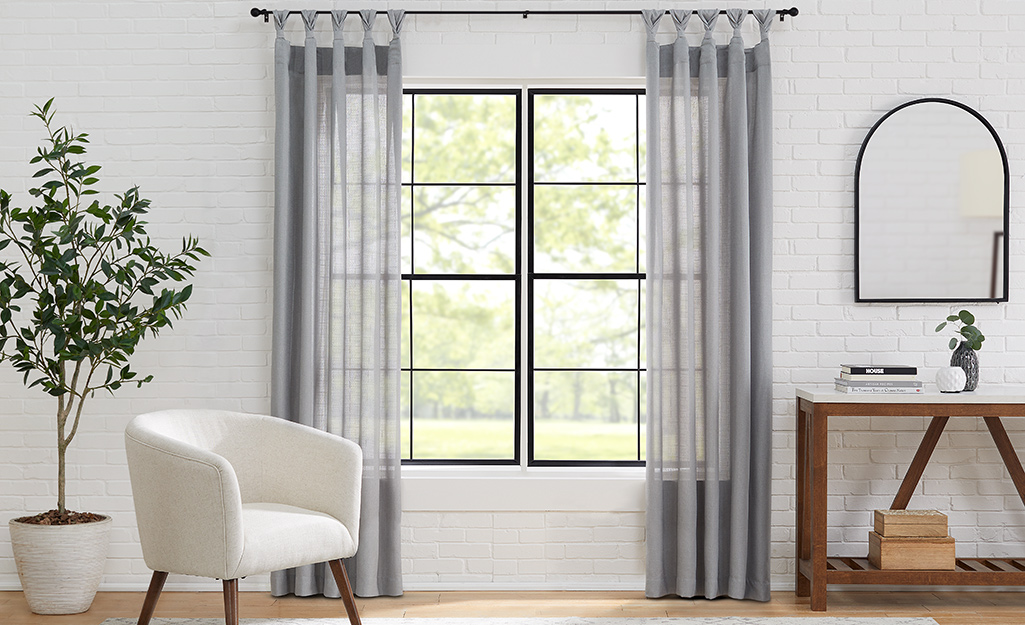 What length curtain or drapery you select will depend on the look you want.

Valance style draperies can make a window appear taller, and are recommended for outside mounts. Choose a length from 10 to 30 inches. 
For a sill style curtain, make sure the length will end 3/8 inches above the window sill. We recommend sill style draperies for outside mounts, or for windows that have sills that extend past the window opening. 
Cafe style draperies are recommended for both inside mount or outside mount, and are most often used in kitchens. For a cafe style, choose a length that will hang 6 inches below the bottom of the window, or 3/8 inches above the window sill. It is best to place the drapery hardware around the middle of the window for this style. 
Apron styles are recommended for outside mounted windows, and should drape about 4 to 6 inches below your window sill or the bottom of your window. 
For floor style drapery, the length should stop 3/8 inches above your floor. We recommend this style for any drapery that might be operated frequently, and is most commonly used with outside mount. 
The sweep, brushing or cuff length drapery style is most often used for outside mount windows, and is useful when your room requires exact mounting, such as a ceiling mount that drapes to the floor. For this, we recommend a length that is 1 to 3 inches longer than your Rod to Floor measurement. 
Pooling or puddling style draperies are used in outside mounts when you want to hide an uneven floor or add some extra style to your look. We recommend this style if you don't open or close them regularly. For this style, add a length of 6 to 12 inches to your Rod to Floor measurement (Step 1).
5
Find the Perfect Curtain Rod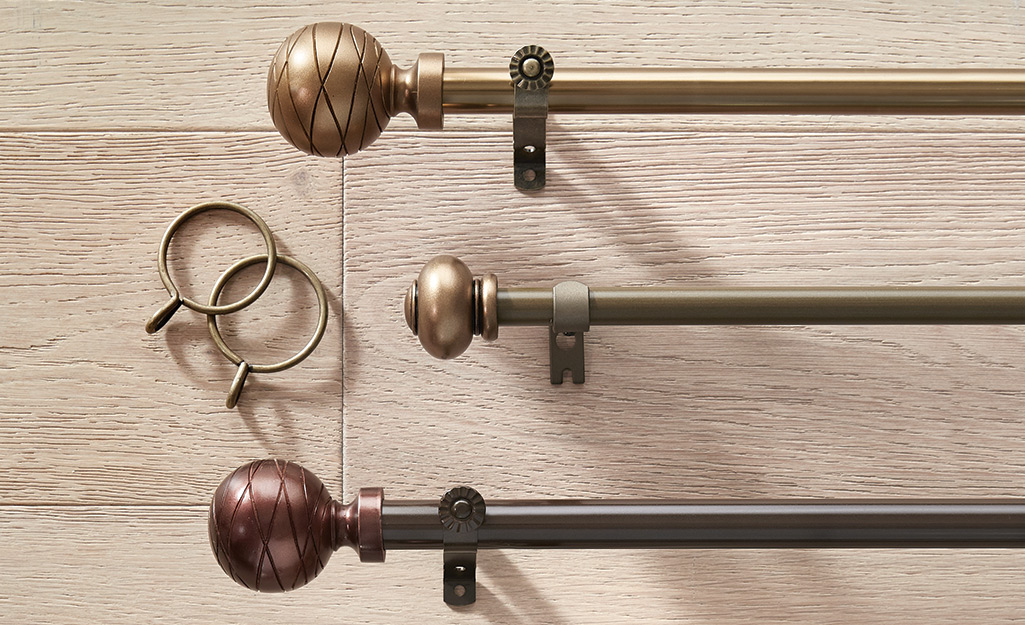 Selecting a rod is an important step in measuring the the final width of your curtains or drapes. It's important to note that your rod width will not include finials and brackets. Here's a few tips to keep in mind.
As much as 6 inches can be added to each side of your rod due to finials and brackets. View your finial options to find the exact measurement. 
Deductions will be made in order to ensure that your rod and finials are exactly the width you order. 
Your draperies will not extend past your brackets.
Complete the look of your home with the right curtains. Properly hung curtains provide an instant update to any room. Be sure to correctly measure the width, length and height of your window. Don't forget to choose a curtain rod that matches or accents your decor. Get everything you need, from curtains to hardware. The Home Depot delivers online orders when and where you need them.
Shop this Project
Explore More on homedepot.com