The perfect curtains add style, warmth and privacy to a room. When properly installed, curtains also highlight architecture. They complement furnishings with a layer of pattern, texture and color. The key to successful window treatments is making sure they fit your windows correctly. Read on to learn how to measure curtains the right way.
1
Curtain Widths and Lengths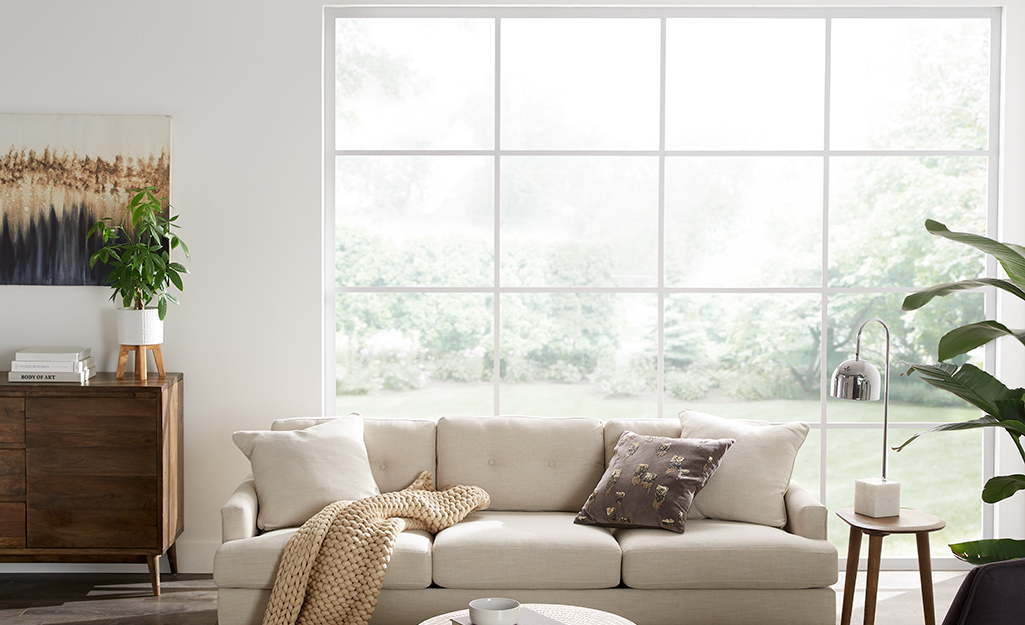 Curtain panels come in standard widths and lengths. On packaging, the measurements are written as width first, then length. 
Standard lengths include 63 inches, 84 inches, 96 inches, 108 inches and 120 inches. Café curtains, panels most often used in kitchen windows above the sink, come in even shorter lengths. 
Basic design rules suggest that curtain widths should be at least two to three times the length of the curtain rod. This is where multiplication skills (or a trusty calculator) come in handy. For example, for an 18-foot (or 216-inch) long rod, purchase four 54-inch-wide panels.
2
Choose Curtain Rod Mount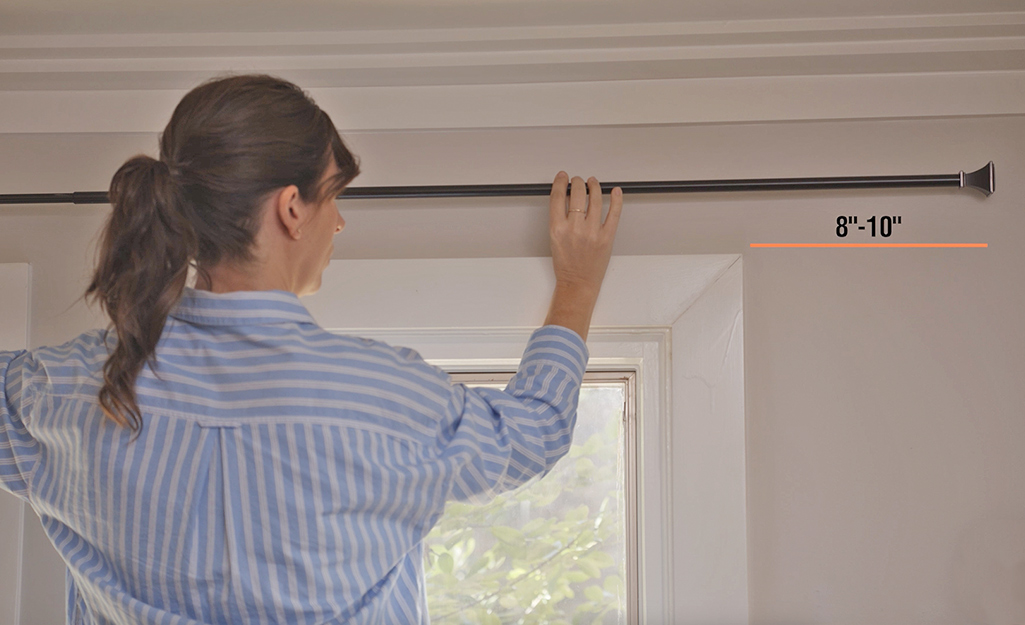 Curtain panels can be hung both inside and outside a window frame. 
An easy-to-install, inside mount option is a tension rod. An inside-mount rod works best with tie top or sleeve (also called rod pocket) panels. For any inside mount, be sure the window trim's recess is deep enough to accommodate the rod. Hanging your curtains inside a window frame works in any room. It is a great look for farmhouse-style kitchens and breakfast nooks, laundry rooms, bathrooms and other casual spaces. 
Decorative rods and other outside mount rods are designed to hang curtains outside the window frame. An outside mount can make a big style statement with layered panels on a double rod. Or keep it simple with a pair of panels on a single rod. Outside-mount rods work well for more formal rooms, modern designs or traditional styles.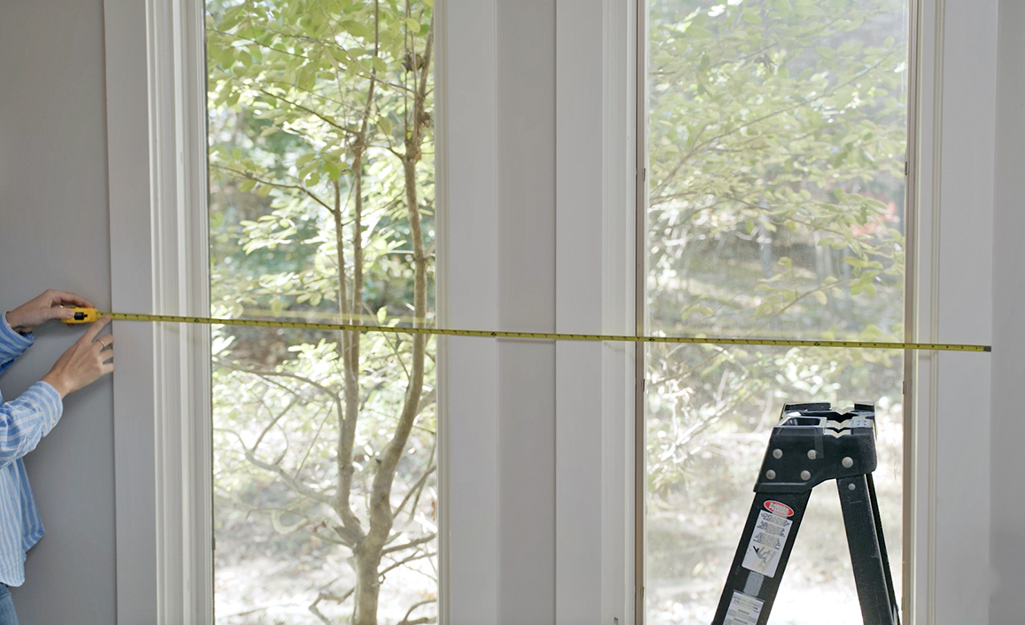 Measure the width of the window first. You'll need a tape measure, a step stool, pencil and paper. For the inside mount option, simply measure the width of the window or windows from inside trim to inside trim. 
For the outside mount option, have your phone handy to calculate a few things. First, measure the width of the window or bank of windows from the outside of the trim pieces. Write down the width measurement. Next, plan for the curtain rod to extend past the window frame by 8 to 10 inches on each side. Choose a rod length that is the window width plus 16 to 20 inches. For example, if the window width is 48 inches, the rod length will be 64 to 68 inches. 

Tip: Be sure to measure for curtain panels based on the full rod length, not just the window itself. This will give you a full and finished look.
4
Measure for Curtain Length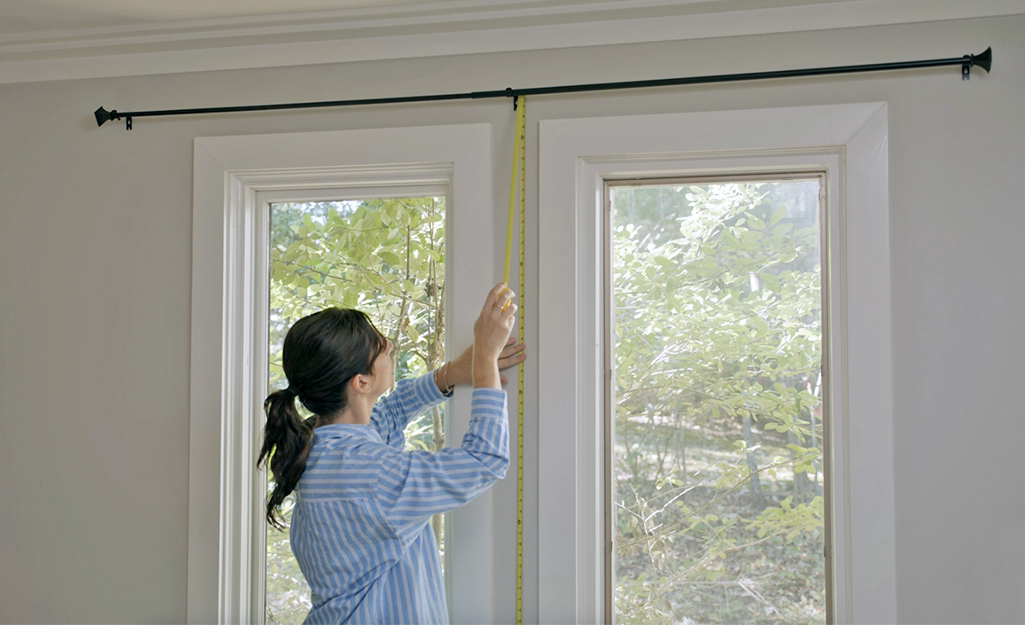 Next, measure for the length of your curtains. Inside mount rods are generally placed parallel to the window's sash with curtains ending at the windowsill. The measurement of sash to sill will be the curtain length. 
To find the length of your curtains for a decorative or outside-mount rod, measure from the floor to the top of the rod. A curtain rod should hang somewhere between a few inches above the window trim to a few inches below the ceiling. If you have tall ceilings, ask for a helping hand to make sure the tape measure stays straight. 
Use this measurement as a starting point to determine the length of each curtain panel. For a final length, decide on whether you want the panels to stop at the floor or break. 
Tip: If you're using curtain rings, measure from the floor to the rod, and measure from the floor to the bottom of the drapery rings, for the right curtain length.
5
Decide on a Curtain Break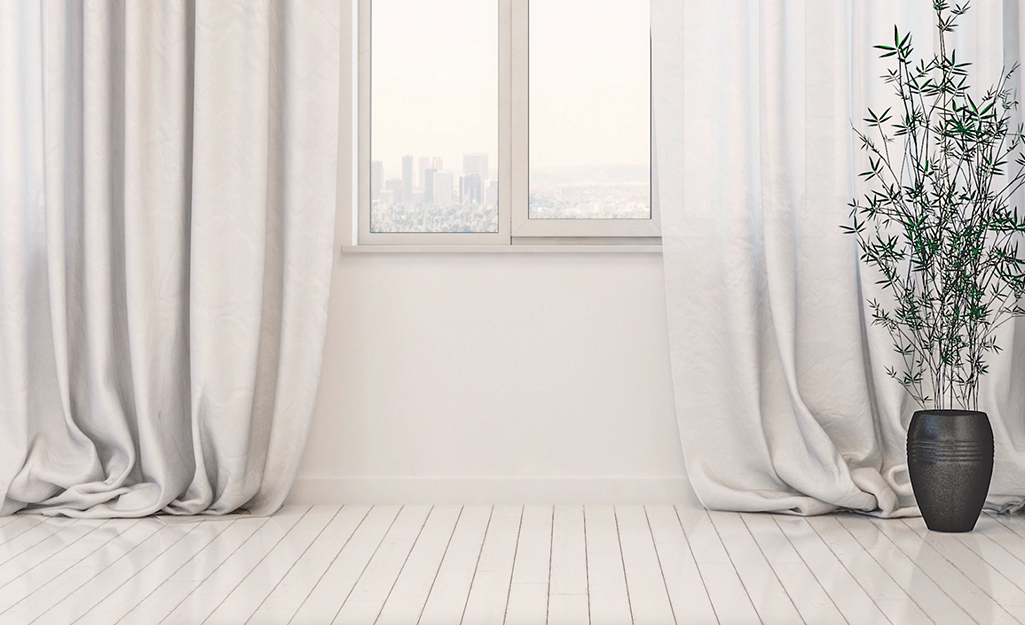 A curtain break is where the bottom hem of a curtain panel lands at the bottom of the floor. There are four types of curtain breaks.
An apron break hits right at the windowsill. The apron break is a casual, farmhouse look that is often seen with cafe curtains in kitchen windows above the sink, or in a casual dining area such as a breakfast nook. 
A hover or floor length break is when panels just skim the floor. A hover break fits well with any decor style and every room. 
Just like pants hemmed for a tailored fit, the trouser break offers a small bend in the fabric where the curtain hits the floor. To create this look, add one extra inch of fabric when measuring for length. The trouser break fits both traditional and contemporary styles.
A puddle break lets the bottom of the panels gather on the floor. The amount of puddling can be subtle or dramatic. To create a restrained puddle look, plan to add at least three inches to the length. For a more lavish look, add up to six inches. Unlike other lengths, puddled drapes can easily collect dust and dirt. They are best suited to low-traffic areas such as formal dining rooms and guest bedrooms.
There's no right or wrong choice for a curtain break. It's entirely up to your personal style and preference.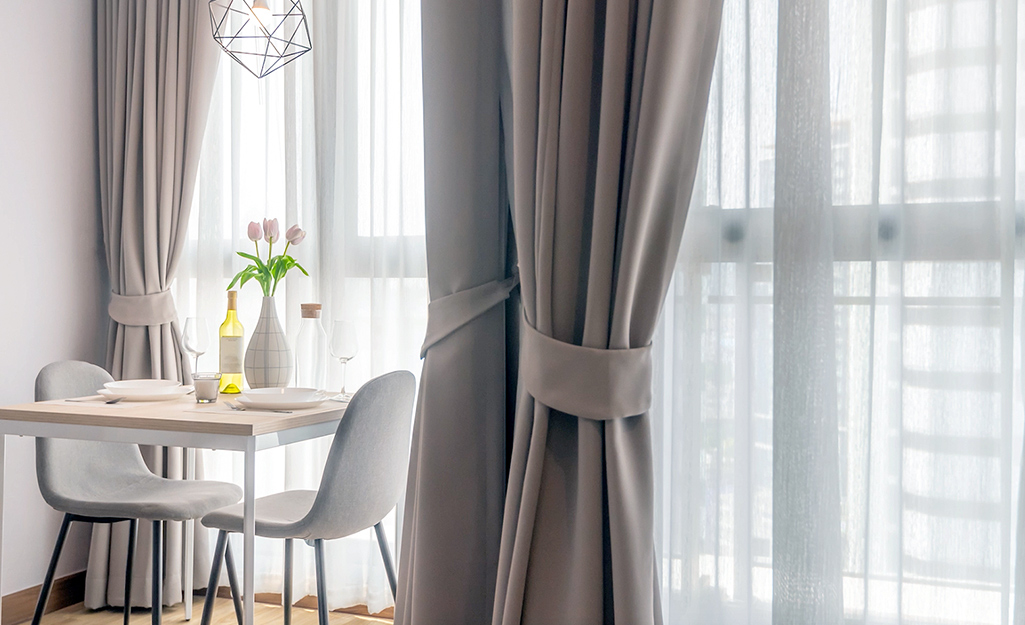 Now that you know the fundamentals of measuring for curtain panels, it's time to let your creativity shine. Do you want panels that just frame the window? If so, one set of panels will do. Prefer a drapery panel that will completely cover the window and still have some fullness when closed? Consider hanging two (or more) sets of curtain panels. 
If you are using a double decorative rod, shop for multiple sets of curtains. Choose one style of panels for the outside rod and select another type for the inside rod. The inside rod is typically used for sheers or blackout curtains that cover the entire window when closed. The outside rod is designed for decorative panels to frame the window.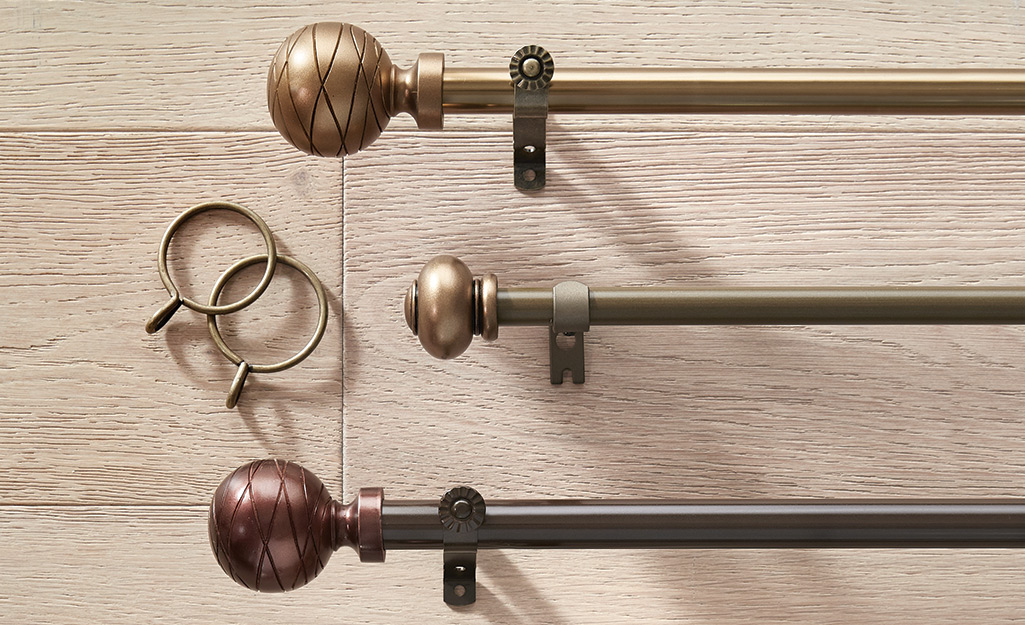 Like rods, finials come in a variety of shapes, looks and finishes. They are a great way to add interest and flair to a window's look. Some rods are sold with decorative finials, but some may not be. Keep in mind that as much as 6 inches can be added to each side of your rod due to its finials and brackets. 
Whether you prefer colorful, airy, dramatic or decorative, curtains give a home a well-styled look.  Thanks to standard-sized windows and curtains, choosing curtains for your home is a simple task. Just make sure you measure your window accurately. Now that you know the ins and outs of measuring for curtain panels, you can confidently shop for panels in a variety of fabrics, widths and lengths. Ready to find the perfect curtain panels and window treatment hardware? The Home Depot delivers online orders when and where you need them.
Explore More on homedepot.com