Curtains give every room in your home a sense of style, and can bring your decor and design vision to life. They also offer additional privacy and light control. When choosing curtains for your home, let your existing furnishings and personal tastes guide you toward a look you'll love. There are a few helpful tips that can make you determine how to choose curtains, including the difference in fabrics, styles and curtain sizes. Use this guide when trying to find the right types of curtains for your home.
Curtain Lengths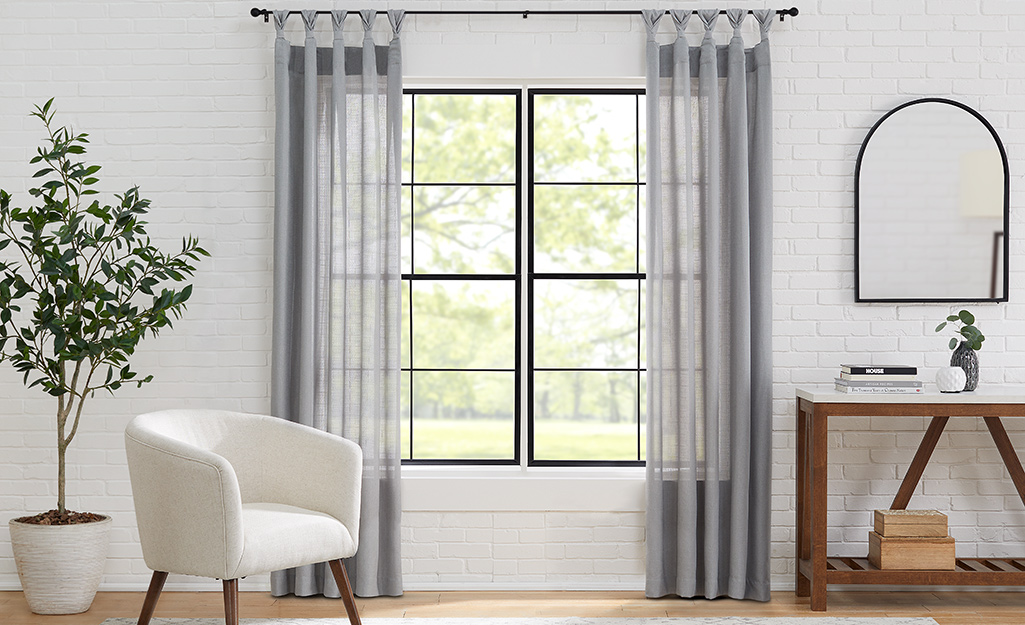 Choosing curtain lengths isn't just about what you like. Consider the particular room and windows in that space. To gauge the correct curtain length, you'll first need to decide on the desired look and feel. Here are the four common curtain lengths to consider: 
Apron length: Curtains that measure 84 inches and fall a few inches below the window sill. This length is ideal in kitchen areas, bedrooms or in rooms with radiators under the window. 
Floor length: Long curtains that go from above your window frame all the way to the floor to create a traditional, formal look. Typical curtain length for this style is 84 to 96 inches; these curtains will fall about 1/4-inch above the floor. They are ideal for living rooms, bedrooms and dining rooms. 
Café length: Designed to stop at your window sill, these short curtains provide a less formal look. They're typically used in kitchens and family spaces. Café curtains are also particularly helpful when your windows are above a countertop or other type of fixture and can't extend to the floor.
Puddle length: The longest and most formal type of curtains, puddle length typically means 108 inches or more. This look is often seen in living rooms, formal sitting areas or in homes with high ceilings. 
A wide variety of ready-to-hang options come in standard curtain lengths that fit many rooms. Options typically include 63-inch curtains, 84-inch curtains, 96-inch curtains and 108-inch curtains. You'll also be able to find a variety of curtain widths, including extra wide curtains, that can be used in panels to cover larger windows or French doors.
Curtain Fabrics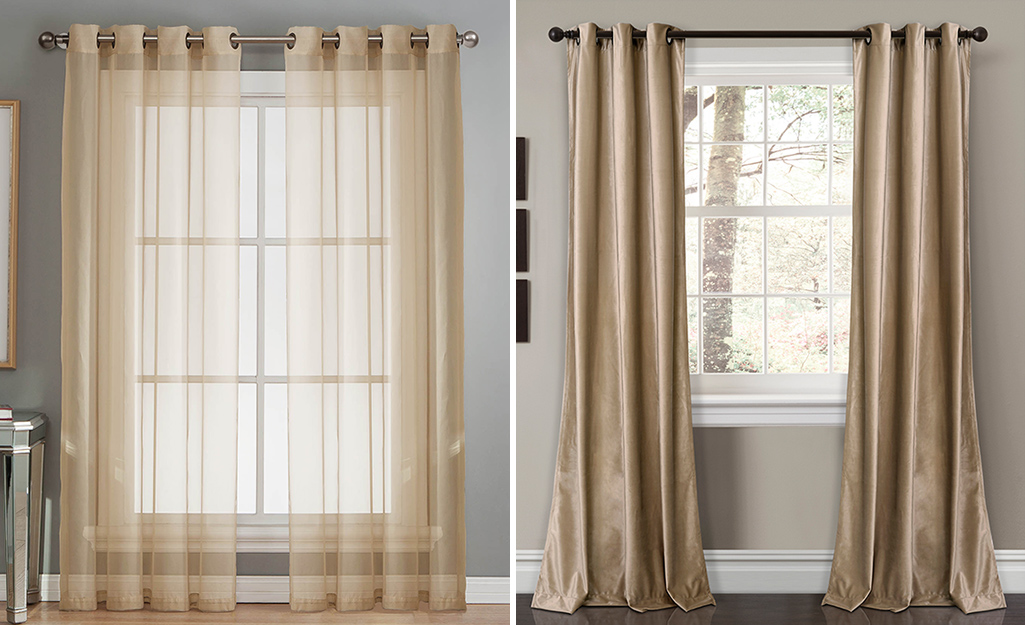 When it comes to choosing curtains, one of the main things to consider is fabric. While a sheer fabric will let light in and be ideal for a living room, a heavy fabric may work best in a bedroom. Here are fabrics to consider when determining how to choose curtains for your space: 
Sheer curtains: Used to make a room feel private yet bright. Designed to let a bit of light pass through, sheer curtains are typically white or off-white, though there are some textured and patterned options available. Sheer curtains are typically hung with a double curtain rod and a heavier weight drapery for maximum light control, though they can be used alone in spaces where natural light is desirable all day long.
Lace curtains: Offering an elegant, sophisticated style that's somewhat traditional, lace curtains look best in formal living rooms, though they can also be used in bedrooms, home offices and other utility spaces. Lace curtains allow a lot of light to enter your room, so they're best reserved for areas where you would prefer less light filtering.
Cotton curtains: One of the best options for kitchens, high-traffic areas and kid's spaces, cotton curtains are often washable and easy to hang. Cotton curtains give a room a casual look. 
Linen curtains: Casual yet polished in style, linen is an ideal choice for master bedrooms, formal living rooms and dining rooms. Linen is quite delicate, so it's best reserved for spaces that are less busy.
Velvet curtains: A wonderful choice for master bedrooms, living rooms and formal dining rooms, velvet adds a smooth texture and a luxe look to your room. Like linen, velvet can be easily damaged, so it shouldn't be used in high-traffic areas or wet spaces. This fabric can also block out heat, cold, noise and light.
Polyester curtains: Durable and cost-effective, polyester and mixed material curtains are an exceptional choice for high-traffic areas. They also function beautifully in the kitchen since many varieties can be quickly wiped down if they become dirty or come into contact with steam or food splatter.
Blackout curtains: Designed to block out light, this style of curtain can be made of many different fabrics, and will have a thick panel sewn on the back to block out light. Blackout curtains are perfect for bedrooms and nurseries.
Curtain Hardware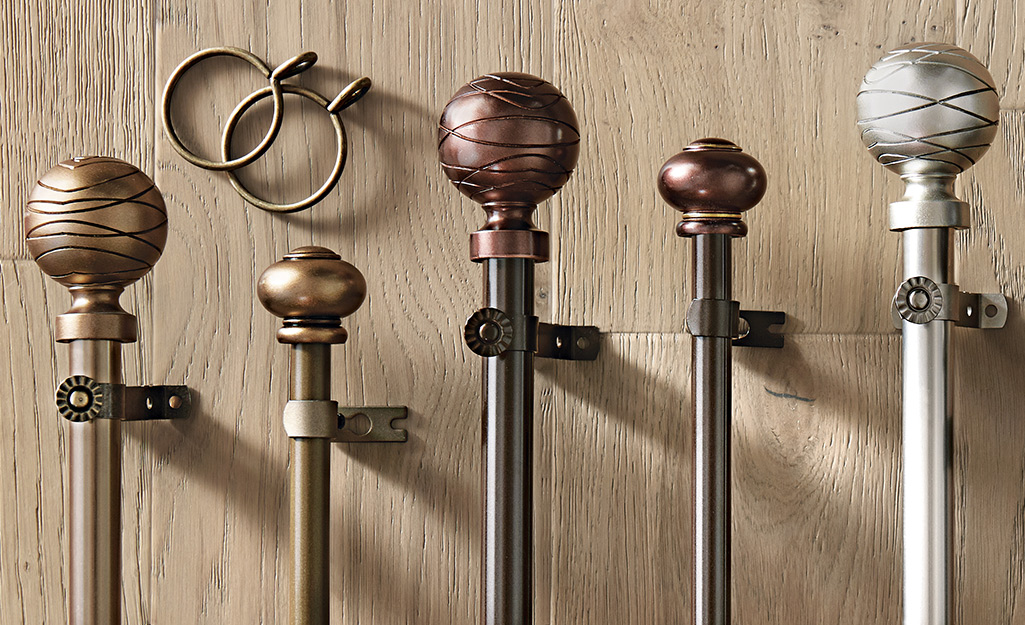 Choosing the right curtain rod for your room can help add an extra layer of style, so be sure to match the look of the hardware to the curtain style. Here are a few things to keep in mind when choosing the right types of curtain rods: 
Measure your window width, just as you would when buying a curtain, to determine the curtain rod size you'll need. Aim to buy a curtain rod 6 to 12 inches wider than your windows so curtains can open and close without trouble. 
Choose the right finish for your space. A chrome finish will shine bright in a modern bedroom while an oil-rubbed bronze may complement a traditional living room. 
Determine if you want a sleek looking rod or one with more traditional finials. 
Lastly, look for a curtain rod that matches the hanging style of the curtain of your choice. For instance, if your curtain has tabs, you'll want to choose a curtain that's slimmer (about 1 inch in diameter) to accommodate the tabs.  
Aside from curtain rods, you may also consider curtain tiebacks. These will help hold heavier or longer curtains during the day as well as add an element of style to formal rooms. 
Caring for Your Curtains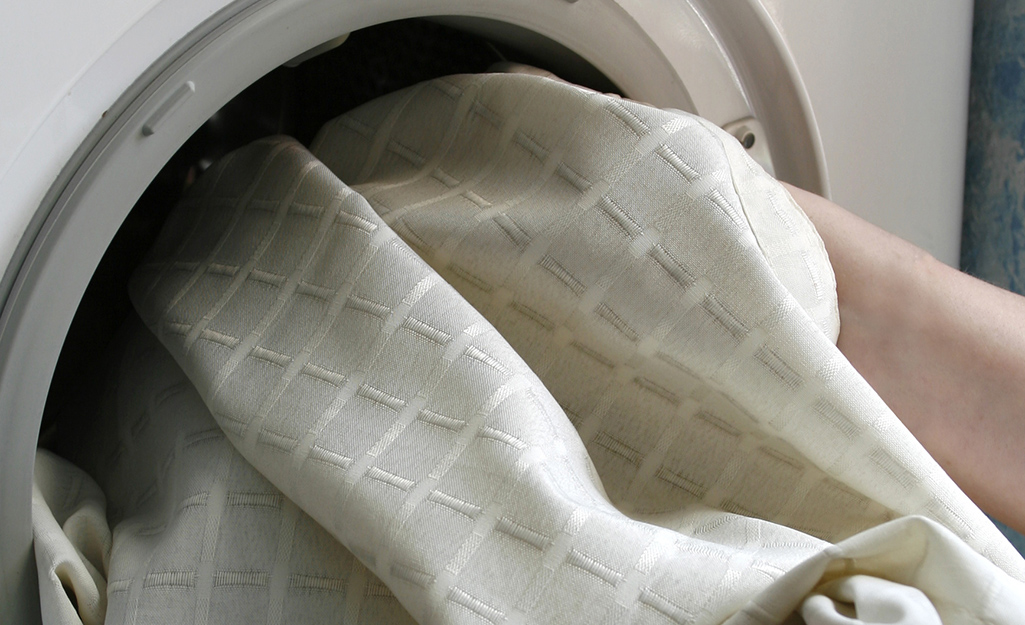 Making sure your curtains stay dust-free and in great shape involves a little care. Here are a few tips to keep in mind: 
To remove dust daily, give curtains a little shake as you open and close them. 
Once or twice a month, use a low vacuum setting and vacuum curtains to remove dust and buildup. 
Always read the care label on your curtains. While some fabrics, like polyester or cotton, can be placed on the gentle cycle in the washing machine, other fabrics cannot. Sheer curtains, for example should be handwashed to avoid damage. Additionally, velvet curtains should be dry cleaned. 
While some fabrics can be dried on a delicate cycle, it's recommended to hang/air dry your curtains and iron, if needed. 
Curtain Styles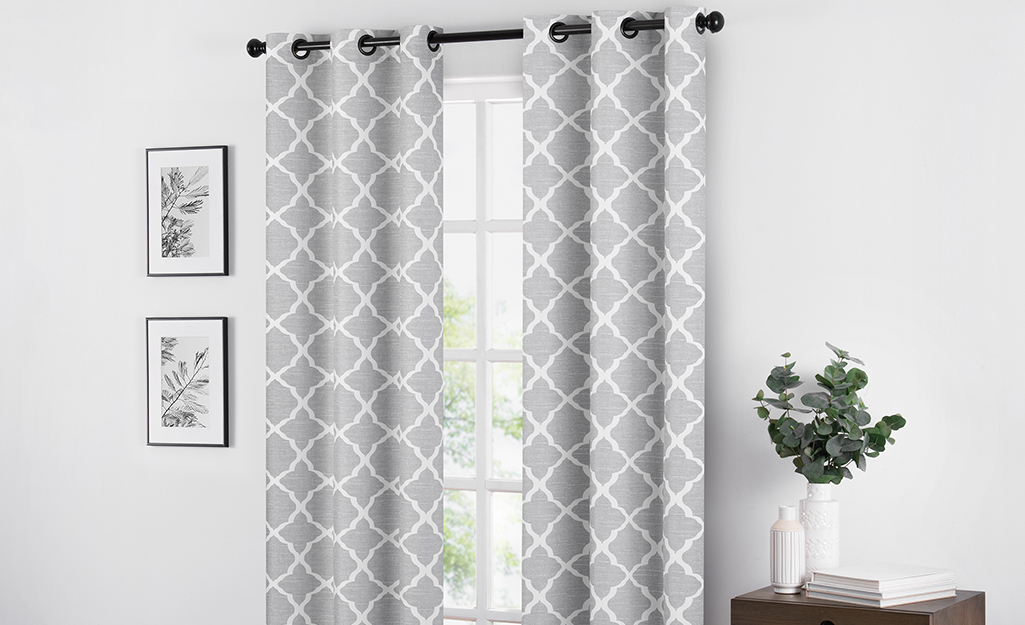 With so many options to choose from, it's easy to find a variety of curtain styles that work in every room in your house. Here are a few options you can use when looking for the right types of curtains, depending on your home's overall interior design scheme:

Solid-colored and neutral curtains: Easy to blend in with your existing decor, solid-colored and neutral curtains come in bold colors like red, yellow and orange, as well as dark tones like black and navy blue. Neutral curtains in white, off-white, cream, taupe and sand add a sophisticated touch that won't steal the show from your favorite furnishings, rugs and accessories. 
Textured: Add a little extra style to solid-colored and neutral curtains by looking for a textured option. One-color stripes, patterns and prints are subtle, but they can bring something special to your space.
Modern curtains: Stripes, geometric prints and even abstract prints give your space a contemporary look. Shop for monochromatic styles or choose vibrant, patterned curtains in an assortment of colors that fit your vision.
When looking for the right type of curtains for your home, it's important to keep in mind curtain length, curtain size and curtain style. The right choice can improve your home's style and gain control over lighting in any room. Ready to find the right look for your home? We have options to deliver online orders when and where you need them.
Explore More on homedepot.com