Fasteners are hardware devices that join objects together. This includes bolts, screws, nails and more. Knowing the correct types of fasteners will make your projects run more smoothly and be more secure. To choose between the types of fasteners, consider such factors as the materials you're securing, your project's desired finish and whether your project is indoors or out.
Types of Screws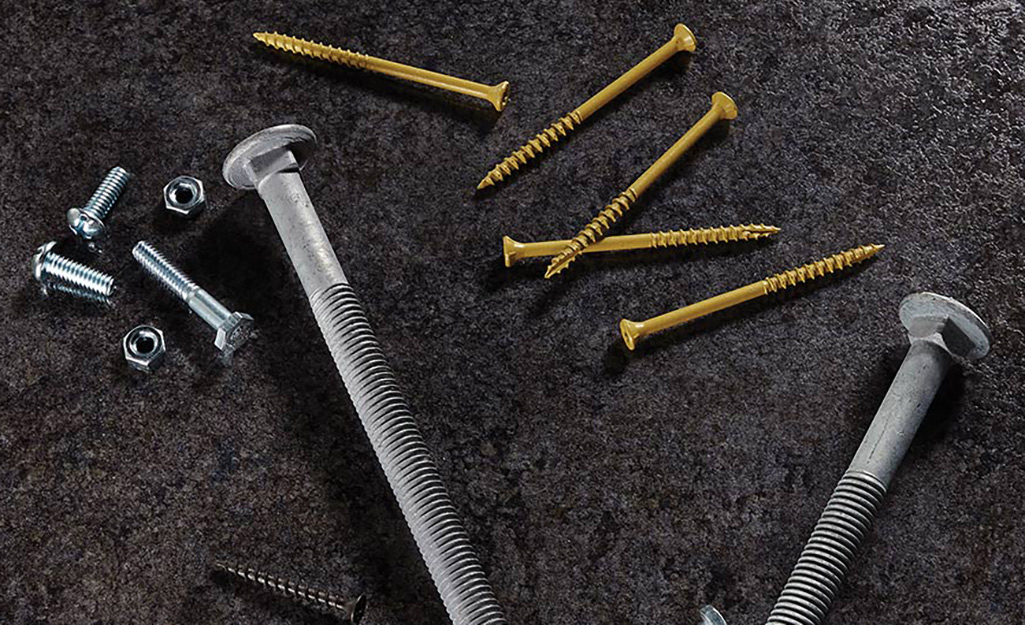 Screws are fasteners that use their threaded shafts to provide holding power and are designed to be affixed with screwdrivers. A few of the most common types of screws are below. 
Wood screws – These are the most common wood fastener types and are specifically designed to attach wooden boards and planks.
Sheet metal screws – These have sharper threads to more easily connect metal to wood, plastic or other pieces of metal.
Machine screws – These have a uniform thickness instead of tapering off at the bottom, making them the best option for fastening appliance pieces, outlet boxes and other machine components.
Machine screws usually require a matching nut and washer for proper installation. Machine screws usually require a matching nut and washer for proper installation. 
Other options include drywall screws, which are used exclusively for installing drywall; collated screws, which are great for decks, staircase frames and furniture pieces; and cabinet screws, which are specifically designed for cabinet installation and upgrades. 
Types of Nails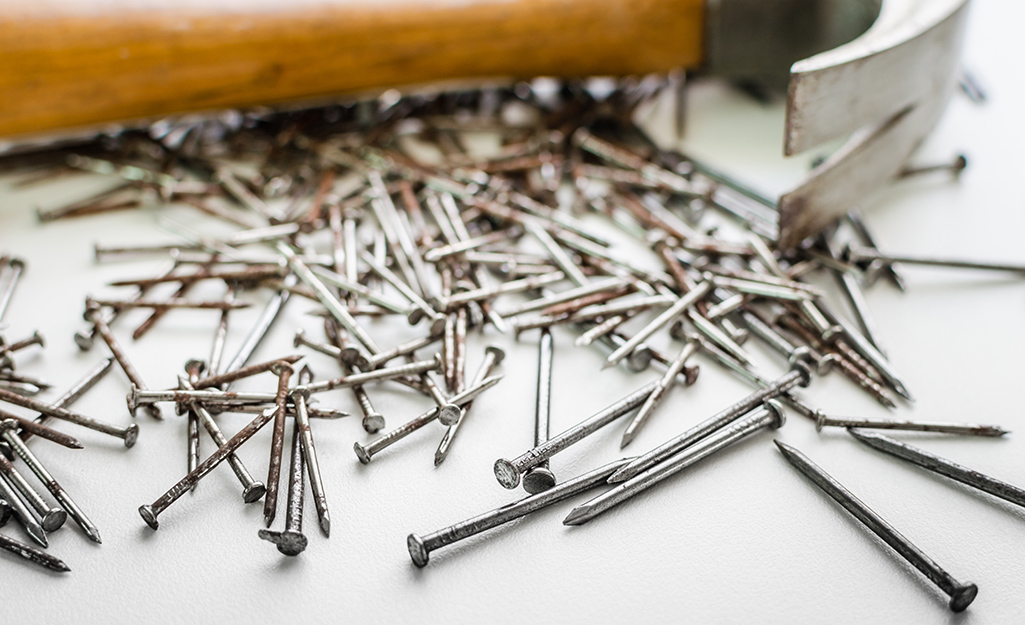 Nails, unlike screws, have smooth shafts and are designed to be fastened with hammers. These are some of the most popular types of nails. 
Other options include siding nails, which are used for plywood, siding and sheathing; flooring nails, which are specifically designed to install hardwood flooring; roofing nails, which are used to attach shingles to a roof; and joist hanger nails, which are used to attach joist hangers to wood.
Types of Anchors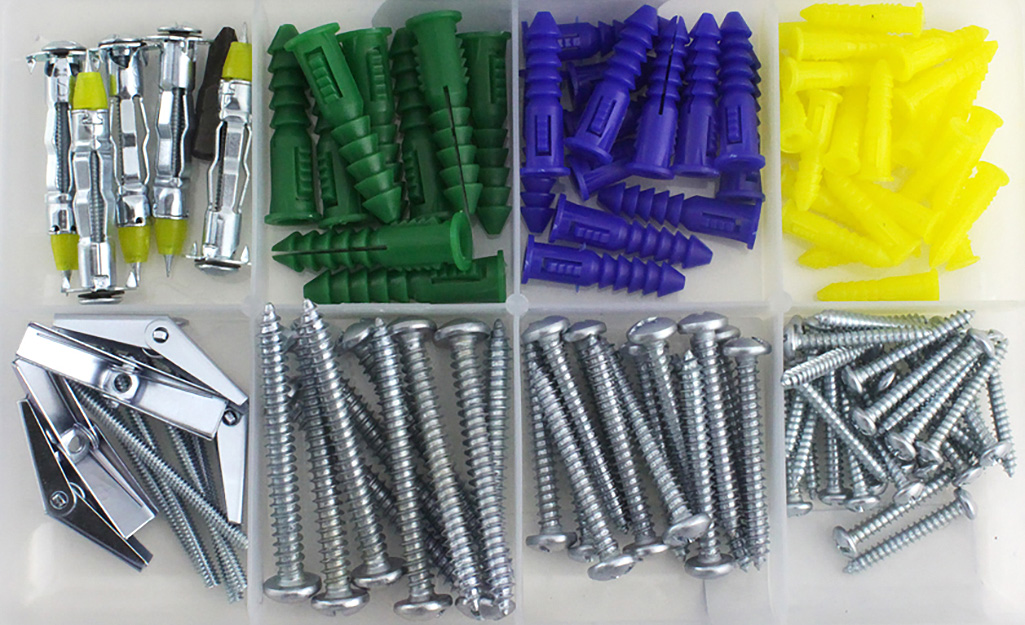 Anchors make it easier to insert screws directly into a thicker wall or surface and are designed to hold as much weight as the wall they're attached to can bear. Use a hammer drill when installing anchors into hard surfaces such as stone, concrete and brick. 
Masonry and concrete anchors – These are designed to anchor and secure concrete, block and brick. There are multiple types of concrete anchors available, including concrete screws, hammer-in anchors, lag shields, lead screw anchors, plastic wall plugs and more.
Drywall anchors – Also known as hollow wall anchors, these are best suited for hollow walls to provide a strong base for the hold. Types of drywall anchors include cement board screws, expansion anchors, threaded anchors and toggle bolts.
Nuts, Bolts and Washers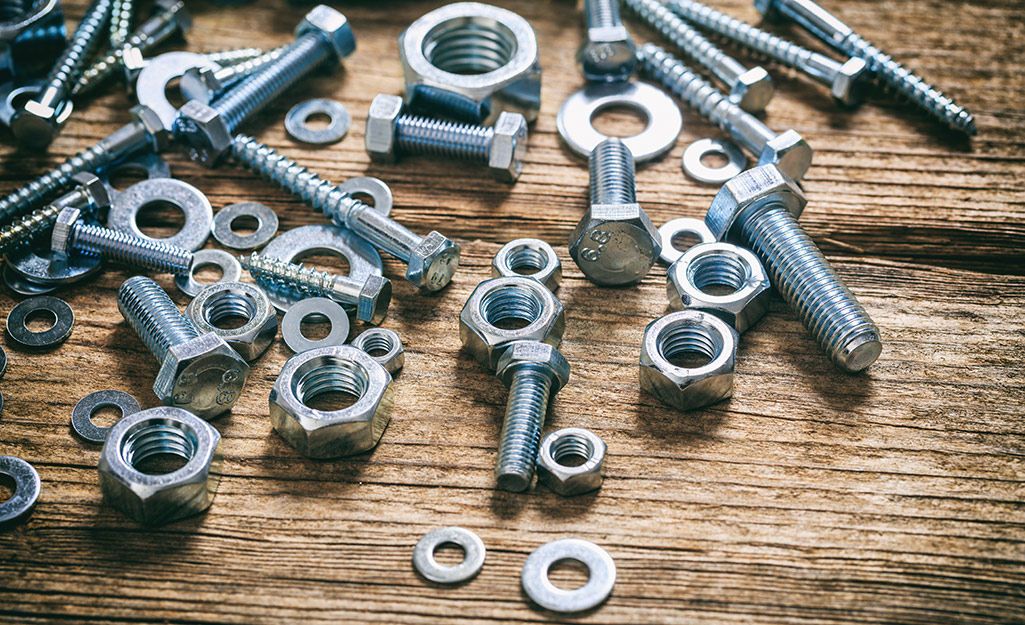 Nuts are threaded mating fasteners that must be affixed with a matching bolt. The threads can be coarse or fine depending on the intended use.
Bolts are threaded fasteners that require a nut or pre-tapped hole for installation. They come in many different styles, lengths and finishes.
Washers are thin plates with holes created to fit directly under the head of a nut or bolt to strengthen the hold. Lock washers are among the specialized types of washers that keep nuts and bolts from becoming loose.
Outdoor Fasteners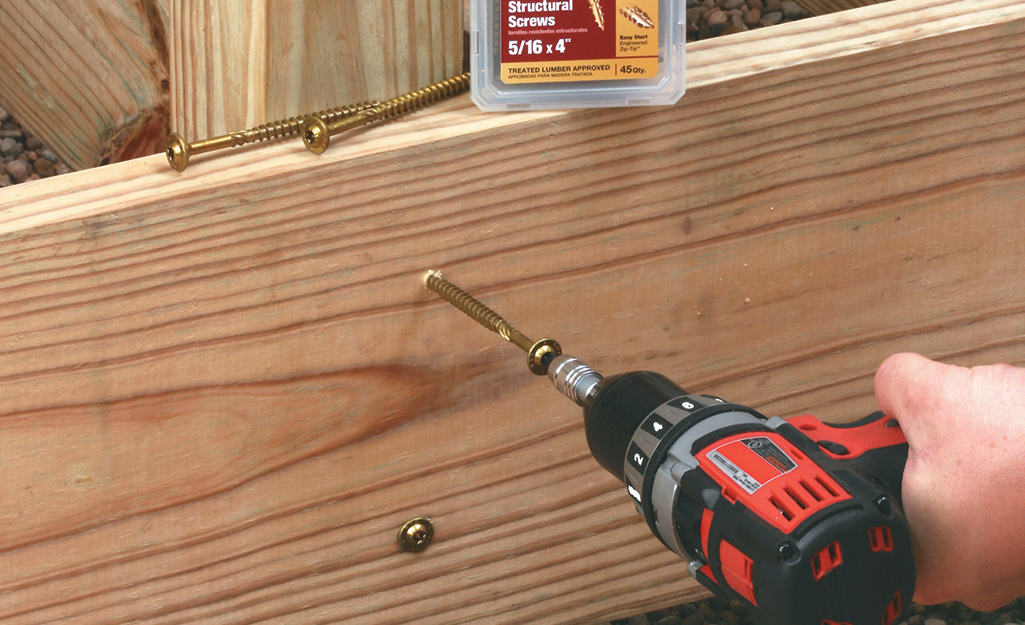 Nails and screws that are intended for use outdoors must be able to withstand rain, snow, heat and cold. Outdoor fasteners feature different head and shank constructions that can be used for varying applications. 
Exterior screws are available with square and Phillips heads and are less likely to strip.
Galvanized steel staples are good for attaching wire fencing to fence posts. This is a type of steel coated in zinc to resist corrosion.
Galvanized steel nails work effectively on the underside of a structure.
Other Fasteners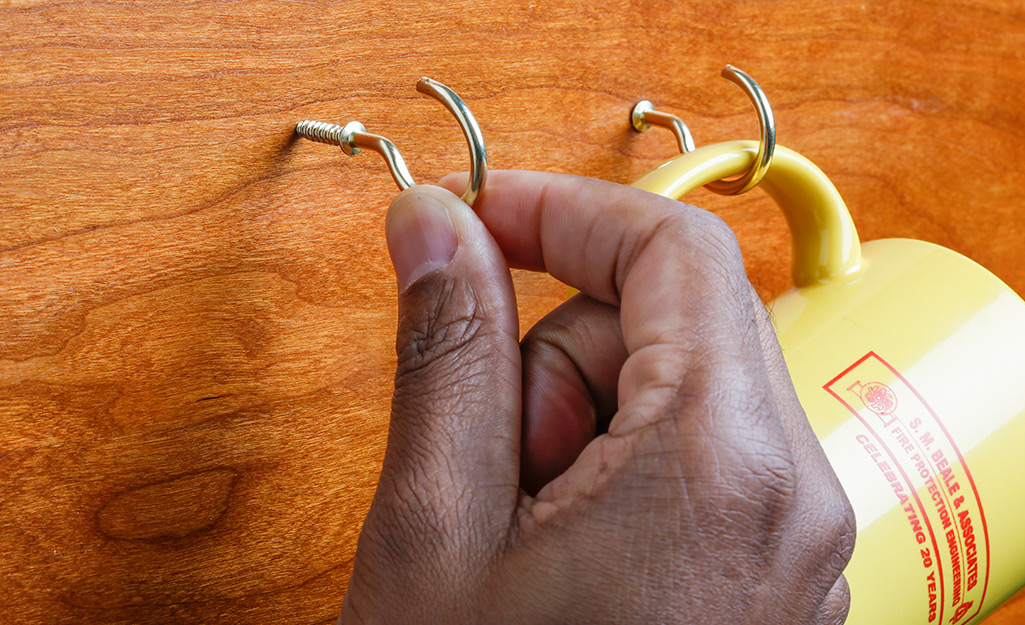 Staples – Designed for use in finishing applications, staples are a thinner fastener with a smooth shank and narrow crown.
Rivets – These permanent mechanical fasteners are used to fasten wood, metal, plastic and more. They are particularly well-suited for binding soft, thin materials and otherwise fragile connections.
Hooks and eyes – These are best suited for light-duty fastening like decorative hanging projects.
Inserts – These are threaded nuts hammered or screwed into a material, similar to a wall anchor, and often used in furniture applications.
Rods – These threaded rod fasteners resemble threaded bolts without the heads and are often used in drop ceiling applications.
Retaining rings – These fasteners are designed to hold components or assemblies onto a shaft or in a housing when installed.
Fastener Finishes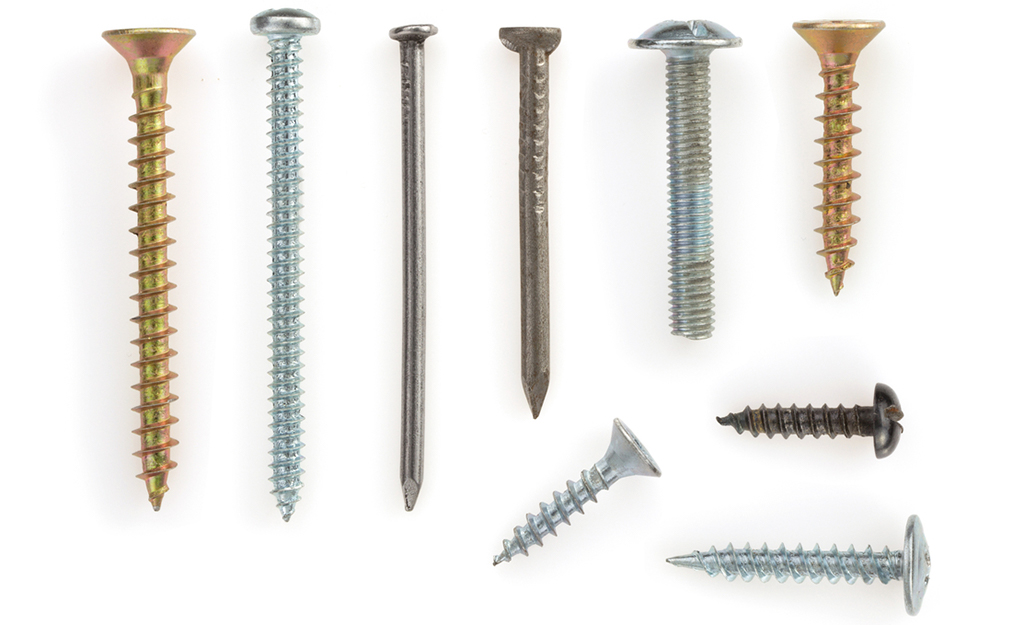 Fasteners come in numerous finishes to complement virtually any project. 
Zinc, brass and aluminum are common options.
Stainless steel works best for outdoor applications or areas that experience excess moisture, such as bathrooms.
Alloy steel fasteners consist of a strong, heat-treated steel alloy that are not plated, are very strong, but brittle.
For other indoor projects, match the nail's finish to the other components for a uniform appearance.
Mismatched metals can cause corrosion problems in the future, so pair your fasteners accordingly. 
Knowing the different types of fasteners, such as the types of nuts and bolts, can ensure that your projects have structural strength with components fitting in the proper shape. Need help identifying an item? Find products fast with image search in The Home Depot Mobile App. Snap a picture of an item you like, and we'll show you similar products.
Explore More on homedepot.com