Laminate flooring offers the beauty of traditional hardwood, stone and tile floors with the added benefits of high durability, easy installation and maintenance. This guide will walk you through the different types of laminate floors so you can find the one that's best for you. You'll also learn some basic installation and maintenance tips to help you with your new laminate flooring.
Types of Laminate Floors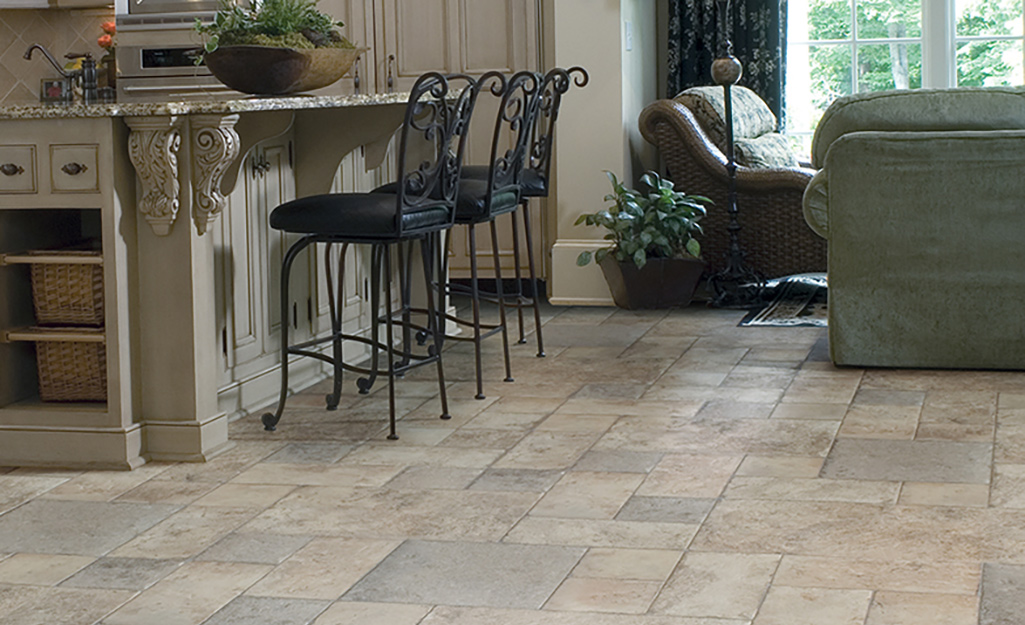 Laminate flooring is sold in thicknesses from 6 to 12mm and is measured from the base to the top of the board, not including the underlayment. The thickness of the laminate determines how much more impact-resistant and quieter the floor is when walked on. A greater thickness is also an advantage when dealing with a subfloor that may have imperfections, since thicker flooring will install more easily.
Many laminate floor types mimic the look and texture of real hardwood. Other styles that look stone and ceramic and porcelain tile are available in a variety of finishes.
Laminate wood flooring is pressed composite wood overlaid with an image of various types of wood based to create a unique, yet familiar visual effect. This makes it a very cost-effective alternative to real hardwood.
Laminate floor planks and laminate floor tiles give the look of stone or ceramic tiles. Laminate flooring that looks like tile is commonly used in residential spaces because it provides the same style at a reduced overall cost.
Install Options for Laminate Floors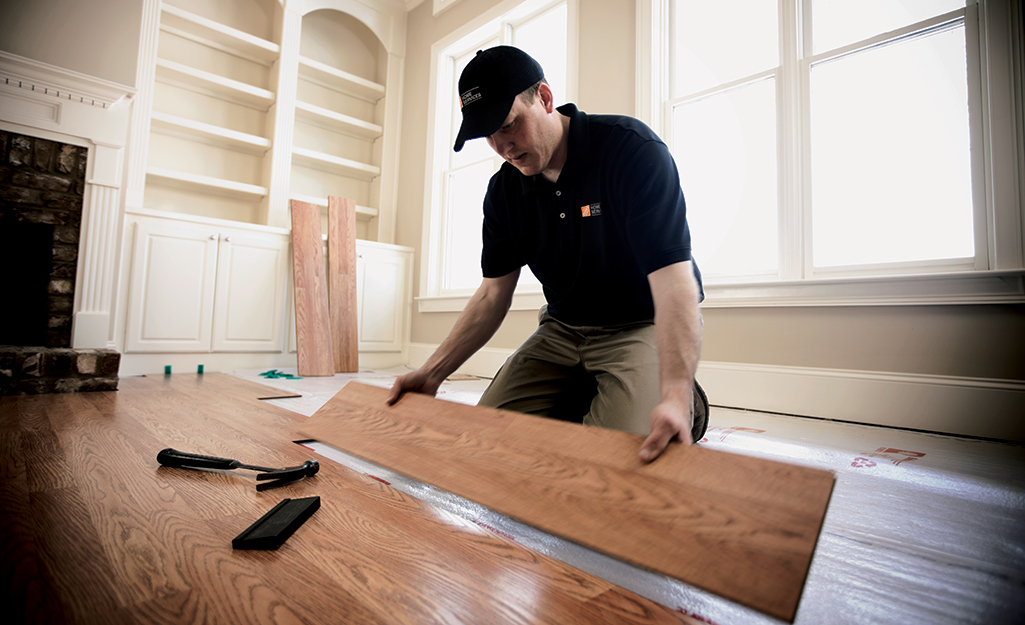 There are many style options for easy-install laminate flooring. Installing a click-lock laminate floor is a relatively easy project, especially for the DIY-er. Locking laminate flooring features tongue-and-groove construction which allows the planks to be snapped and locked into place. This type of laminate floor can be walked on immediately after installation.
Laminate floors require a thin underlayment, which feels softer underfoot and creates the realistic sound of walking on a hardwood floor. Some types of laminate flooring have a noise-resistant feature for those seeking quieter flooring.
Tip: Laminate is a floating floor, so it requires a small expansion space around the perimeter of the room to allow for movement with changes in humidity. This space can be covered with a coordinating wall base and quarter round to beautifully finish your room.
Types of Laminate Flooring Textures, Finishes and Patterns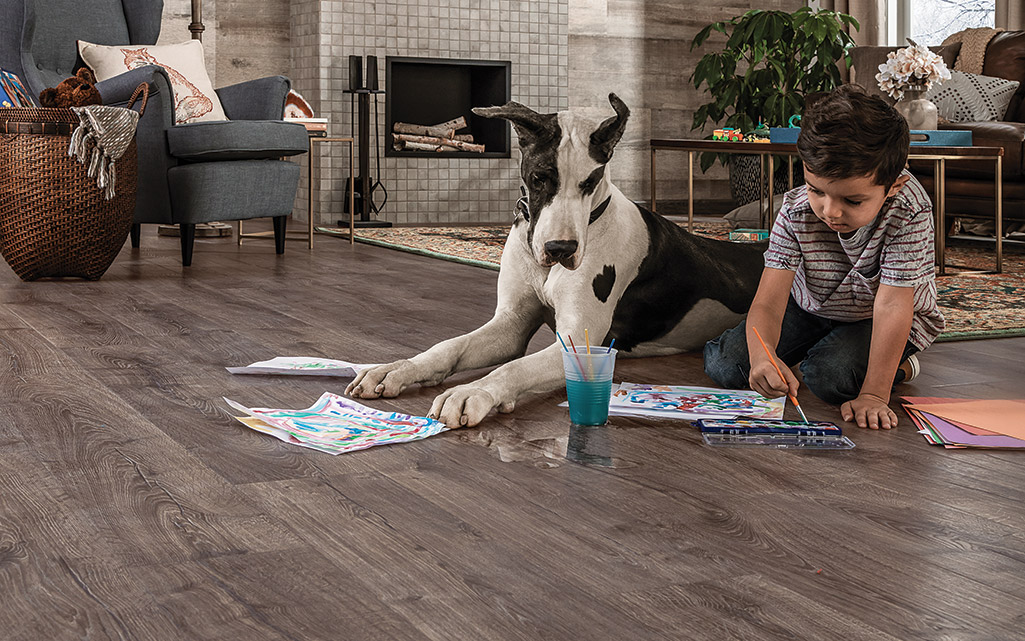 Smooth laminate flooring has no texture and is designed to resemble the look of polished woods, marble or ceramic-style flooring.
Embossed laminate flooring has a pressed pattern that lends a wood grain texture to the flooring.
Handscraped laminate flooring is patterned after antiqued wood looks and is sold in many colors. This is one of the most popular types of laminate floors for homes that utilize antiques or vintage, retro-inspired designs.
Gloss level varies in laminate floors. You can purchase high gloss for a shiny look or low gloss if you prefer a matte look. There is no difference in durability between the two finishes, but matte floors tend to do a better job of hiding small scratches.
Laminate Floor Features by Room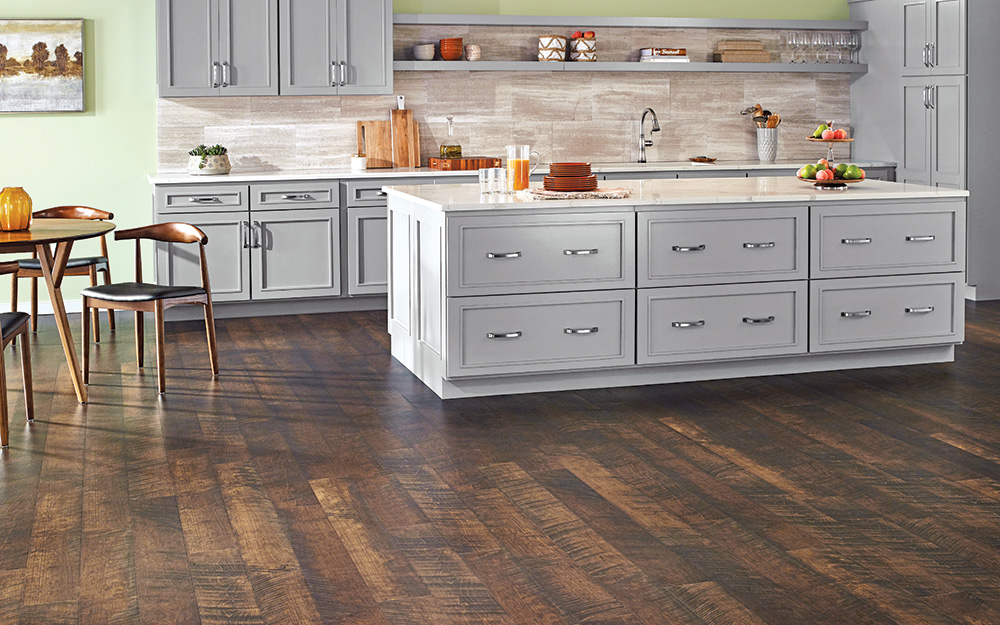 Properly installed, the seams of a laminate floor are very tight and prevent water from reaching the raw edges of the plank. Since the top and bottom of each plank are sealed, this creates a highly water-resistant material that's ideal for even wet spaces like kitchens and bathrooms.
Here are some of the most popular laminate floor features you can look for to design different rooms in your home:
Tip: Avoid letting water sit on the laminate flooring for too long. Mop up spills on kitchen laminate flooring quickly to avoid damage. 
How to Maintain and Care for Laminate Floors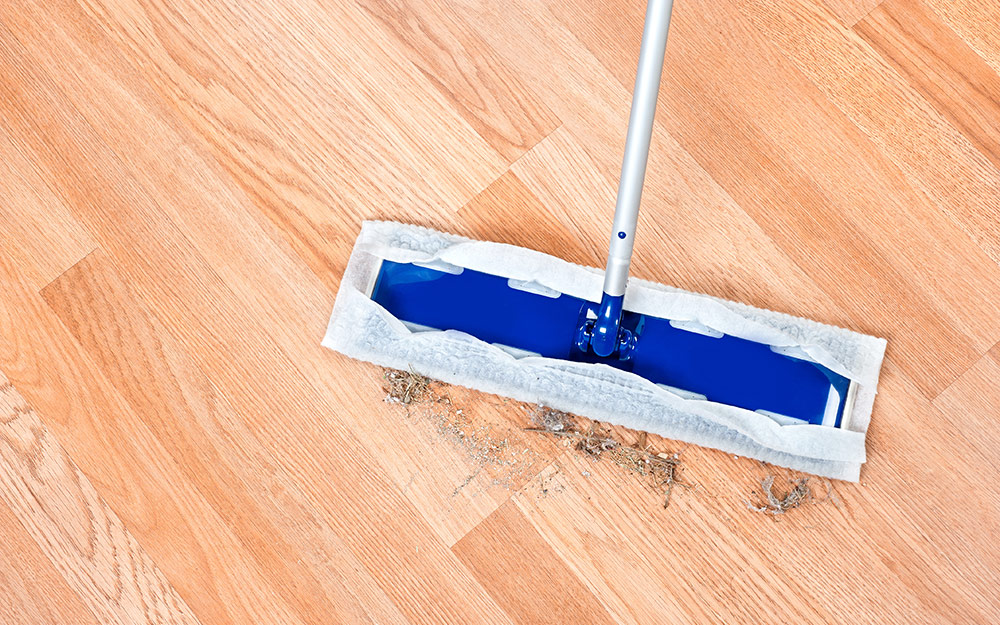 Laminate is easy to care for and clean, making it a smart pick for high-traffic spaces and family-friendly areas. Different types of laminate floors generally don't require unique maintenance either. That means lots of flexibility and long-term durability no matter what style you choose. 
Here are a few tips to help you maintain and care for many different laminate flooring finishes.
A damp mop or duster is all you'll need for everyday cleaning. Laminate floor cleaners are available for spot cleaning. No wet mopping or waxing is ever needed.
Use door mats at exterior doorways to reduce wear on the surface of the floor.
Always use floor protectors or casters on furniture legs to prevent scratching.
Do not allow liquid to stand on the floor; wipe up spills immediately.
Small nicks and scratches are easily covered with laminate finishing putty.
When determining how much laminate flooring you need, don't guesstimate, calculate. Know exactly how much you need with our project calculators.
Ready to start your building or renovation project? We can help you find the perfect laminate flooring option for kitchens, dining rooms, living rooms, family rooms and busy spaces like entry areas. Reach out today to learn more about laminate flooring installation through The Home Depot.
Explore More on homedepot.com