Each type of flooring material has its own unique benefits. To choose the best types of flooring for your home, first assess the needs of each room. From there, you can select between the wide range of flooring options by matching your style preferences to the size of your budget. This guide reviews several different types of flooring and their pros and cons, so you can find the best type of flooring for every room in your home. 
Types of Hardwood Flooring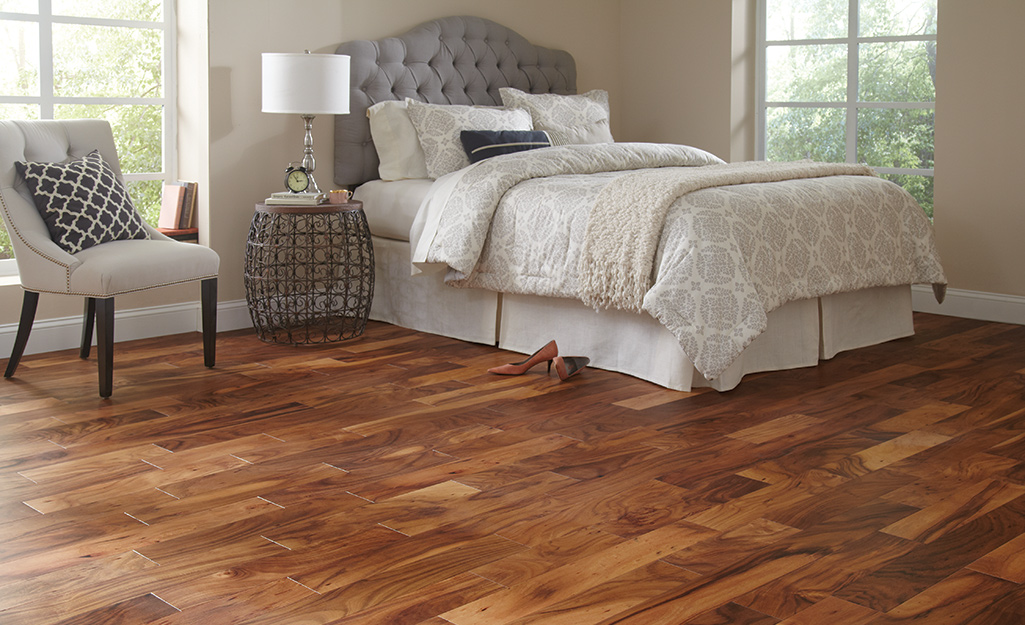 Hardwood flooring is durable and provides a timeless, elegant look. Certain types of hardwood floors can be refinished up to five times, and you can change the sheen to match a newly decorated room. Area rugs make easy, attractive additions to rooms with hardwood floors. While hardwood flooring is one of the most expensive options to install, many homeowners choose it for its longevity and return on investment. You can opt to install hardwood flooring on your own, but if saving time is your goal, you can hire professionals to install the flooring as well.
Solid hardwood flooring consists of boards milled from a single piece of wood.  
Engineered hardwood flooring consists of a multi-layer base (made of compressed wood, resin and polymers) with real hardwood on the surface. It can be significantly less expensive than solid hardwood.  
Hardwood is available in many different types of wood, such as red oak, white oak, cherry, walnut, hickory and maple.  
While hardwood options of the past required regular maintenance, many hardwoods now have waterproof, scratch and dent-resistant options. These choices are ideal for high-moisture areas like kitchens and bathrooms, as well as busy areas like hallways. Families with children and pets can also benefit from these hardwood flooring upgrades. 
Types of Laminate Flooring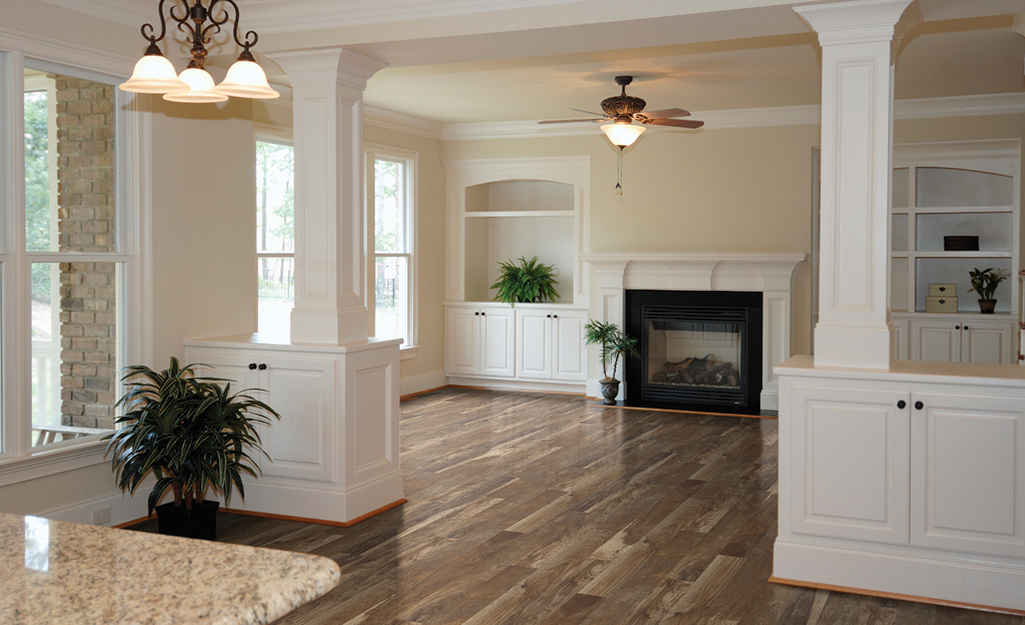 Laminate flooring delivers the look of real wood, tile or stone flooring at an affordable price. However, laminate usually requires less maintenance than these traditional types of flooring. Scratch-resistant, waterproof, noise-resistant and heated options are available in a variety of attractive, easy-to-install styles. For these reasons, laminate flooring has become a popular choice in many homes.
Laminate comes in planks, tiles or squares that feature an interlocking tongue-and-groove assembly, which simplifies installation.  
Grain styles of laminate wood flooring mimic the look of pine, maple, cherry, oak and other hardwoods.  
Other styles of laminate replicate the look of stone, marble, limestone, slate and travertine.  
Durable laminate flooring options can withstand wet bathroom floors, kitchen spills and wear and tear from pets. 
Types of Vinyl Flooring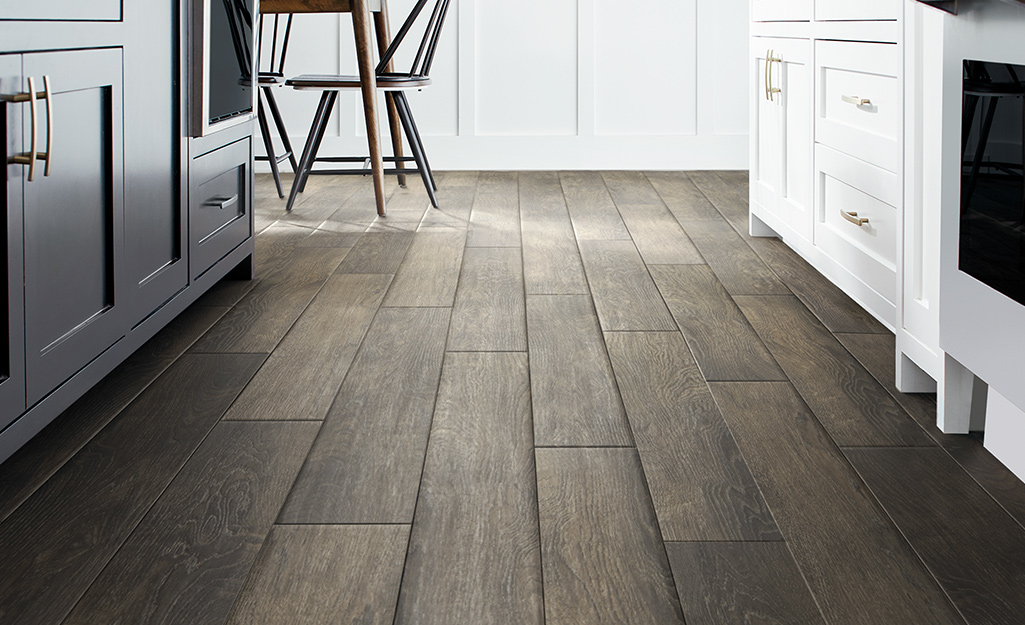 Vinyl flooring is extremely durable and cost-effective. It's made from plastic, usually consisting of acrylic, PVC and similar polymers. It's an economical option for homeowners looking for luxurious style and durability, without the high price point. Vinyl flooring is available in planks, sheets or tiles. Since it is waterproof, scratch- and stain-resistant and commercial grade in durability, vinyl flooring is both functional and stylish.
Vinyl flooring is inexpensive, ideal for heavy traffic areas like kitchens and hallways, and easy to install.  
All types of vinyl flooring are available in many different color options.  
Vinyl can be installed in rolls or in a variety of different shapes, sizes and install methods. These install methods include adhesive, peel-and-stick and click-lock. Vinyl can also be installed directly over most existing floors.  
Vinyl finishes include no-wax, urethane or enhanced urethane. Each offers stain-resistance and a nice shine that does not require polishing or buffing.  
When shopping for your vinyl flooring, keep the wear layer in mind. This is the top surface of your flooring, usually made of a clear, polyurethane coat. The wear layer makes the flooring waterproof, scratch- and/or stain-resistant. Thickness ranges between 4 to 40 millimeters, with a thicker wear layer making more sense for homes with pets, kids and high traffic.  
Luxury vinyl plank flooring is made to look like hardwood, and vinyl tile flooring is made to look like high-end stones such as marble. 
Types of Tile Flooring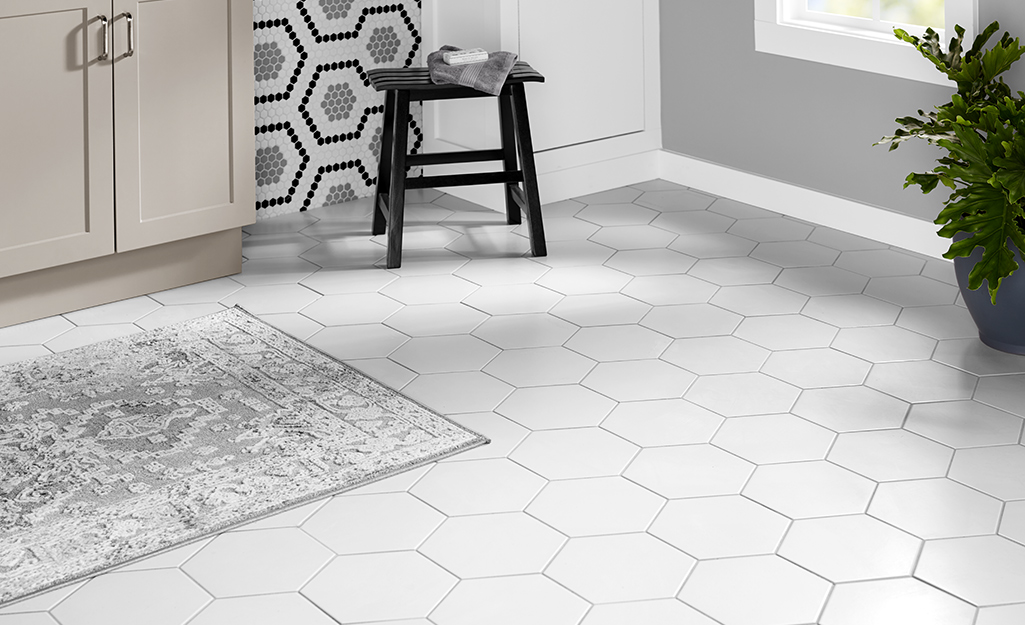 Tile flooring is perfect for high-moisture rooms that have the potential to get wet, like bathrooms, kitchens, laundry rooms and basements. Tiles are versatile and can last for many years with little maintenance required. Many tile textures are available that can mimic wood, stone or even fabric.
Ceramic tile is made from clay and is durable enough for most rooms of the house. It has a softer, more comfortable walking surface compared to other types of tile flooring.  
Porcelain tile is fired at a higher temperature than ceramic tile, making it more durable, less porous and even more water-resistant than ceramic. However, it's also more expensive per square foot than ceramic tile.  
Natural stone tile includes granite, marble, slate and other materials that have an elegant appearance. These tiles can be expensive and sometimes less durable than other types of tile. 
Other types of tiles include mosaic glass, metal, cement and engineered tile. Engineered tile is created with limestone, bits of marble and other materials like epoxy.  
Tile flooring can work perfectly in kitchens and bathrooms, but it is also more tedious to install. Certain stones, like marble and slate, require extra care and can stain, scuff or chip easily. 
Other Types of Flooring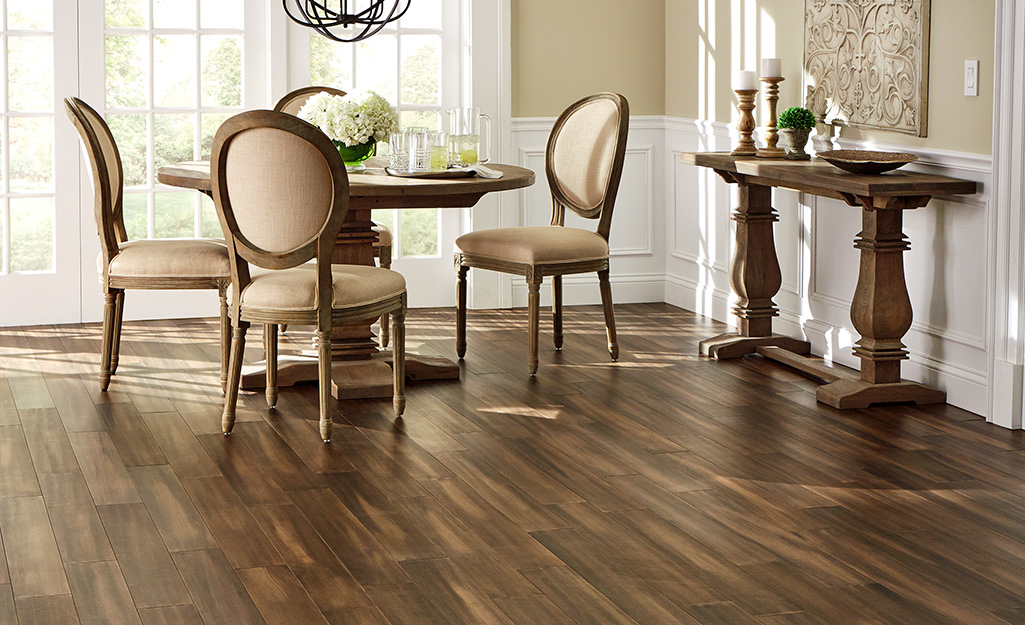 When it comes time to update your home, you're not just limited to the different types of flooring material mentioned above.
Here are some other types of floors that homeowners should consider when making upgrades:
Carpet is of course a great choice for rooms where you want extra warmth and comfort underfoot, such as bedrooms and family rooms. Choose your type of carpet based on the room's level of foot traffic, as some carpet textures and piles are more durable than others.
Although technically a grass, bamboo flooring is often included in hardwood flooring and is comparable to hardwood's warm, attractive appearance. It's also extremely hard and durable, making it naturally scuff-resistant. 
Cork flooring has a natural resilience that makes it a comfortable surface to walk on. Made of renewable materials, cork flooring offers warmth, cushion and added noise-resistance. It's available in planks, tiles and click-lock options.  
Rubber flooring is available in sheets and tiles that come in multiple colors. Rubber blocks sound and resists moisture.  
Gym flooring, typically made of rubber or foam, is available in interlocking tiles or rolls of sheeting. This type of flooring is created to withstand the wear and tear of gyms and high traffic. It withstands water, reduces noise and absorbs shock. 
Keep in mind that the best flooring materials for your home will depend on your lifestyle and budget. The wide variety in the different types of flooring materials we offer provides you with on-trend, water-resistant and easy-to-clean options. If you prefer to have flooring installed rather than tackling it yourself, our professionals can handle the flooring installation for you. 
When transportation of flooring is a challenge, The Home Depot truck rental can help. From pickups and vans to moving trucks, we've got you covered. 
Explore More on homedepot.com