Bolts are a type of fastener. Fasteners are used to secure or fasten materials together. There are many types of bolts and hardware nuts. Most, if not all, bolt types have machine threads. A threaded bolt screws into nuts to hold or fasten materials together. Bolt types include eye bolts, wheel bolts and machine bolts while types of nuts include cap nuts, expansion nuts and u-nuts. This guide will tell you the about the types of nuts and bolts and the different types of bolt heads.
Bolt Types
| | | | | |
| --- | --- | --- | --- | --- |
| carriage bolts | hex bolts | u-bolts | lag bolts | specialty bolts |
| Domed, enlarged head shape | Also called hex cap screws, have six-sided heads and machine threads | Shaped like the letter "U" with screw heads on either end | Also known as lag screws, not used with a nut | Various sizes, from less than a millimeter to over 20 inches long |
Hardware Nut Types
| | | | | | | | | | | |
| --- | --- | --- | --- | --- | --- | --- | --- | --- | --- | --- |
| axle hat nuts | hex nuts | jam nuts | lock nuts | push nuts | rod coupling nuts | speed nuts | square nuts | tee nuts | u-nuts | wing nuts |
| Also called an acorn nut or cap nut, has a domed top | Six-sided, used with hex bolts, attached with a wrench | Half as tall as standard hex nuts | Also known as prevailing torque nuts | Can be capped or uncapped, installed with a special nut driver | Hollow threaded fastener, also called extension nuts | Also called a sheet metal nut, has two metal pieces that function as one | Threaded nut with four sides, has various internal platings | Has a flange at the end of a long, threaded body | Made from one piece of rolled thread | Has two projected pieces of metal or "wings" |
Common Bolt and Nut Finishes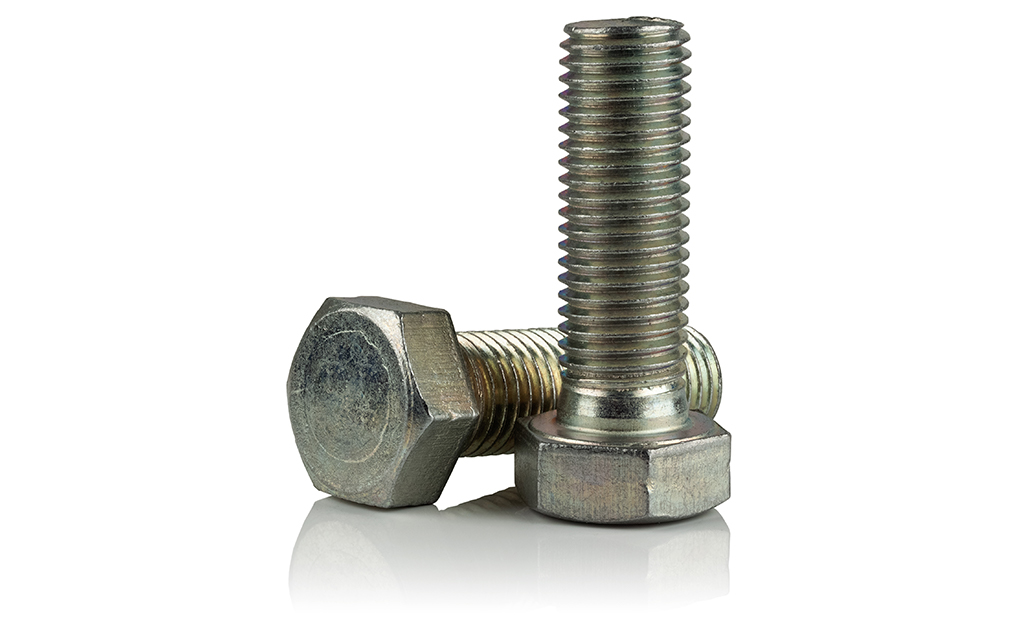 Bolts and nuts can be made of various materials such as steel, titanium or plastic. The finish or plating on a metal bolt or nut affects its look and durability. Below are some common finishes and benefits:
Zinc - Most common, low cost, resists corrosion and rust
Nickel -  Very hard finish, higher investment, good corrosion resistance
Chromium – Bright finish, good rust and corrosion resistance
Chromate – Adds color, shine, superior rust resistance
Anodizing -  Aluminum, hard oxide surface, excellent corrosion resistance
Understanding the various types of nuts and bolts and their differences in design and use can help you choose the best types for your project. Need help identifying a nail? Find products fast with image search in The Home Depot Mobile App. Snap a picture of an item you like, and we'll show you similar products.
Explore More on homedepot.com