When it's time to paint a room in your home, color isn't the only thing to consider. Choosing the right types of paint finishes will determine the final look of your room. 
With so many types of wall paint to choose from, it's important to understand the finish or sheen that works best in certain spaces. This guide will help you choose the best paint for walls around your home and decide between the five paint finishes:
Matte or flat
Eggshell
Satin
Semi-gloss
High-gloss
Paint Sheen Types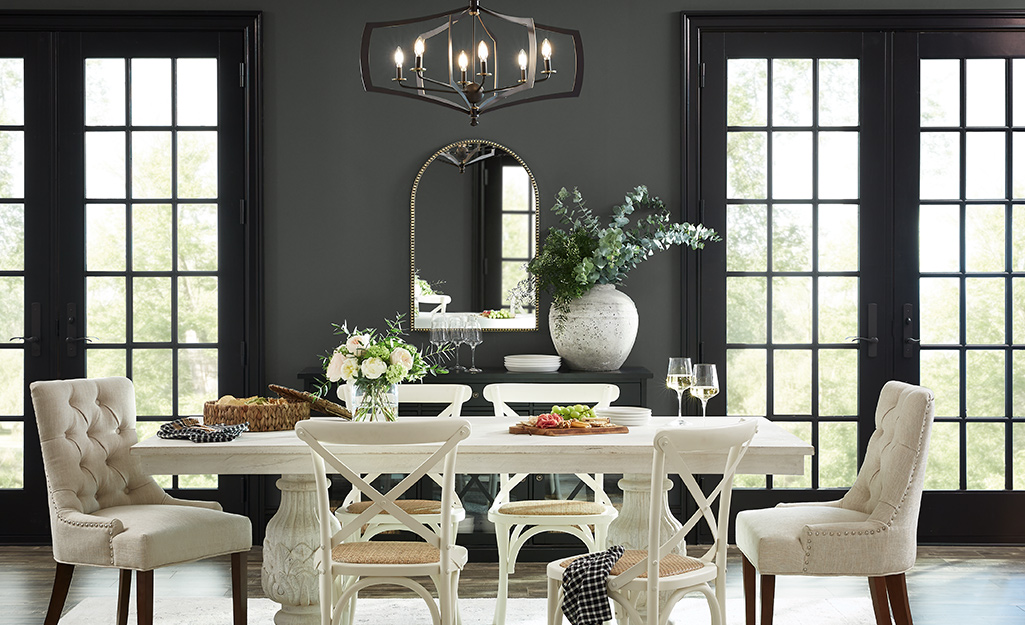 Paint sheen or finish refers to the amount of light that the paint reflects from its surface. Simply put, paints with a sheen reflect light and paints without a sheen absorb light. Paint sheen types are organized into two broad categories:
Flat or matte paints absorb more light than they reflect, so they have no sheen. 
Semi-gloss and gloss paints reflect light, giving them a bright, shiny finish. While semi-gloss and gloss paints require more prep work and sanding than their matter counterparts to ensure a smooth application, paints with a glossy finish can be scrubbed once dry and are easy to clean. 
How Paint Sheen Types are Determined 
Paints with glossier finishes, like satin paint, have higher levels of resin and lower levels of pigmentation, while paints with a flatter finish, such as eggshell paint, have higher levels of pigmentation and lower levels of resin. Choosing the sheen that best suits a room depends on what the space is primarily used for and how you want it to look.  
Oil and latex paints are available in many different sheens. Nearly all types of paint finishes can be used in any room of the house, but some are better suited for high-traffic areas. If the sheen you want falls somewhere in between two styles, you can mix them together to create your preferred finish. 
Tip: Prior to applying interior paint, you may need to use a primer or an undercoat to prepare the surface to more effectively receive a coat of paint.
Types of Interior Paint Finishes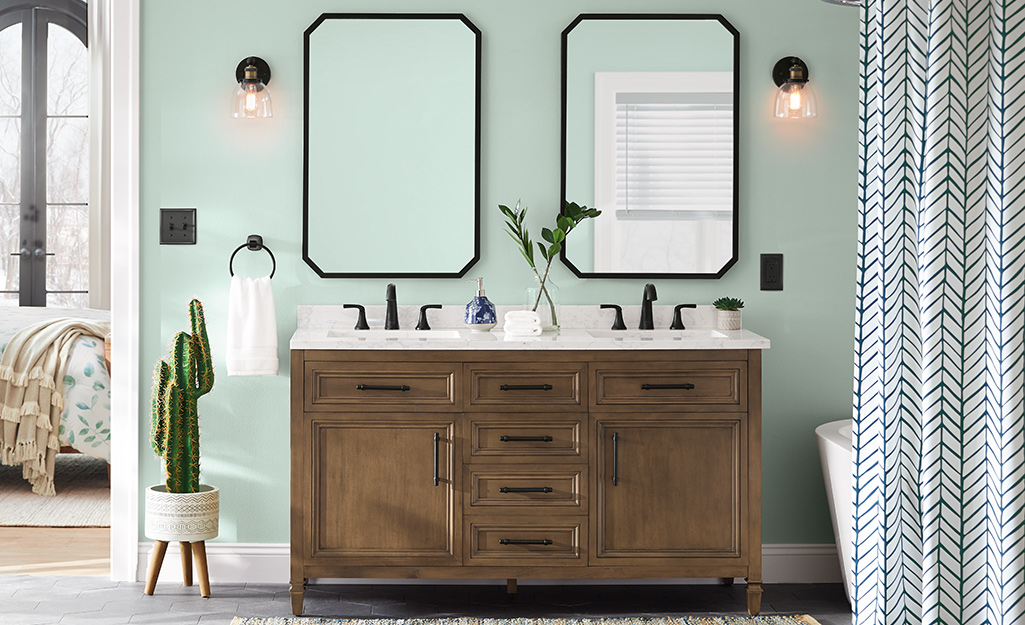 Different paint finishes (sometimes called paint textures) have their own advantages and best uses. How shiny or bright you want your room will help you determine the paint sheen types to choose for your rooms.  
Here is a look at the types of paint finishes available, in order of lowest to highest sheen, and how best to use them in your home: 
Matte or Flat Paint 
Provides a non-reflective, smooth appearance that hides surface blemishes like nail holes and patches.  
Matte paint requires fewer coats than higher gloss paints and is easier to touch up. It's also the least durable paint finish.
Perfect for new construction, drywall, ceilings and low-traffic areas like adult bedrooms and dining rooms.  
Cleans easily with a damp sponge but will be damaged if cleaned with cleanser.  
Eggshell Paint 
One of the most popular types of wall paint, eggshell finish provides a low sheen and a soft, smooth finish just like a true eggshell.  
Perfect for low- to mid-traffic areas like hallways, living rooms, entryways and family rooms.  
Eggshell paint is more washable than flat sheens, and it resists stains and scuffs. 
Eggshell paint is considered more difficult to touch up than satin paint. 
Satin Paint 
Widely considered the most versatile and durable paint for walls inside the home, satin finish paint provides an elegant, almost pearl-like finish and soft sheen.  
Ideal for indoor and outdoor use, it resists mildew and fading and is easier to clean than lower-gloss finishes. 
Works well in busy indoor areas such as playrooms, home offices and children's bedrooms, as well as areas that are exposed to moisture like kitchens, bathrooms, laundry rooms and on outdoor spots like trim, shutters and siding.
Even more reflective than satin with a smooth sheen, semi-gloss paint gives rooms a shiny, sleek appearance.  
Because it offers high resistance to moisture, it works well in areas with higher humidity, such as bathrooms, kitchens and laundry rooms, as well as high-traffic spaces like doors and utility rooms.  
While easier to clean and more durable than some other finishes, semi-gloss will show most blemishes on walls and ceilings.   
White and off-white paints in semi-gloss give rooms a brighter appearance than whites in other finishes.  
Offers the highest level of reflection, durability and stain resistance. 
Gives a high-shine, glass-like finish that is popular for doors, cabinets, moulding and trim.  
Provides curb appeal for outdoor spots like shutters and window casings.  
Semi- and high-gloss sheens of paint require more coats than less glossy finishes. Apply to smooth and clean surfaces for the fewest layers of paint and best results. 
Some paints are paint and primer in one. This helps to even out the painting surface.  
If primer is not applied prior to painting, the surface may soak up more paint in some areas than others, creating a blotchy pattern.  
Helps paint adhere to the wall or ceiling more easily.  
Stain-killing primer and sealer combos both prime and seal surfaces with water stains or knots in raw wood surfaces. They may be water-, oil- or shellac-based. 
Use latex primers on drywall, plaster and concrete surfaces. 
Use alkyd primers on raw wood surfaces.
Tip: Eggshell vs. satin finishes. Both are both popular for high-traffic areas and are considered the best for painting walls. Experts recommend choosing satin over eggshell when painting areas exposed to moisture, like bathrooms and kitchens.
Things to Consider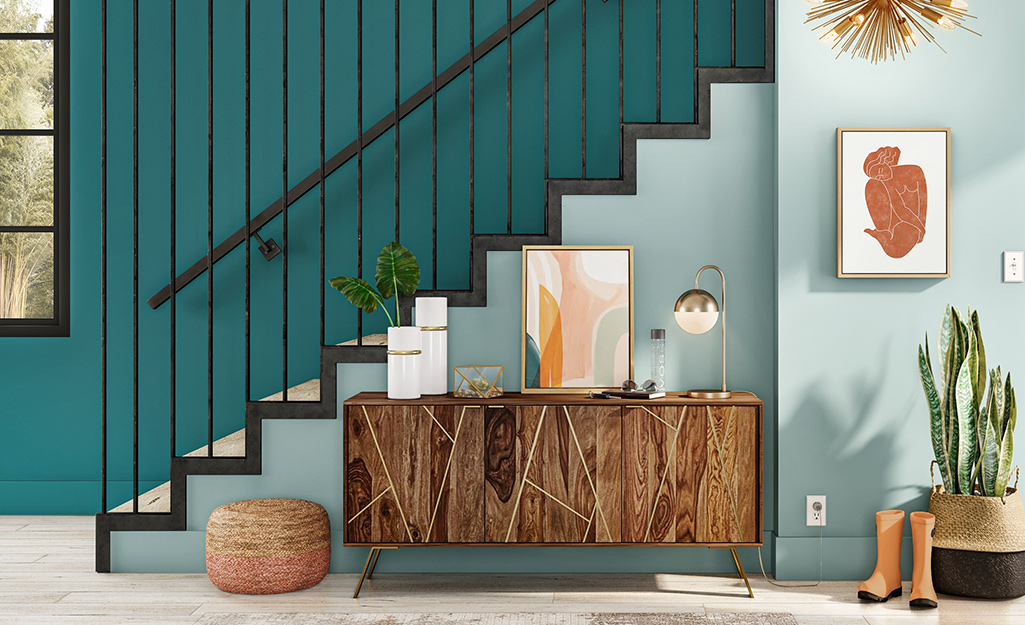 Before choosing between the types of paint finishes available, think about the type of room you are painting, the durability you need and other considerations.  
Quality: High-quality paints tend to have higher pigment levels, which allow them to cover a surface more thoroughly with fewer applications. They also possess more resins, which lend paint greater durability. 
Ease of cleaning: The shinier the paint, the easier it will be to clean.  
Family/kid-friendly: If you are struggling with satin vs. semi-gloss, remember that a finish with less sheen, like eggshell or satin, is best on walls, while higher-gloss paint is better for accents.  
Have fun with it: Choosing types of wall paint shouldn't be overwhelming. Experiment with color and sheen, choose a paint sample and test on a small patch of the wall to ensure you choose the right option for your home.  
Different types of paint finishes can accent and brighten your rooms in unique ways. You may need a variety of finishes when painting more than just the walls of a room, since baseboards, cabinets and doors look best with a sheen that contrasts the walls. To find all the paints you need to complete your project, save time with our The Home Depot mobile app and shop over one million products online.