Don't overlook your ceiling the next time you paint a room. With a little consideration, you can find the best ceiling paint for a room and change its look entirely. Certain ceiling paint types can enhance your decor and make rooms seem either larger or more intimate. Follow this guide to learn about the best paint for ceilings and what type of paint for ceilings best suits your home.
SHOP CEILING PAINT NOW
Note: Practice lead paint safety. If the house or surface you're painting was built before 1978, see EPA's renovation, repair and painting program for guidelines. 
Types of Ceiling Paint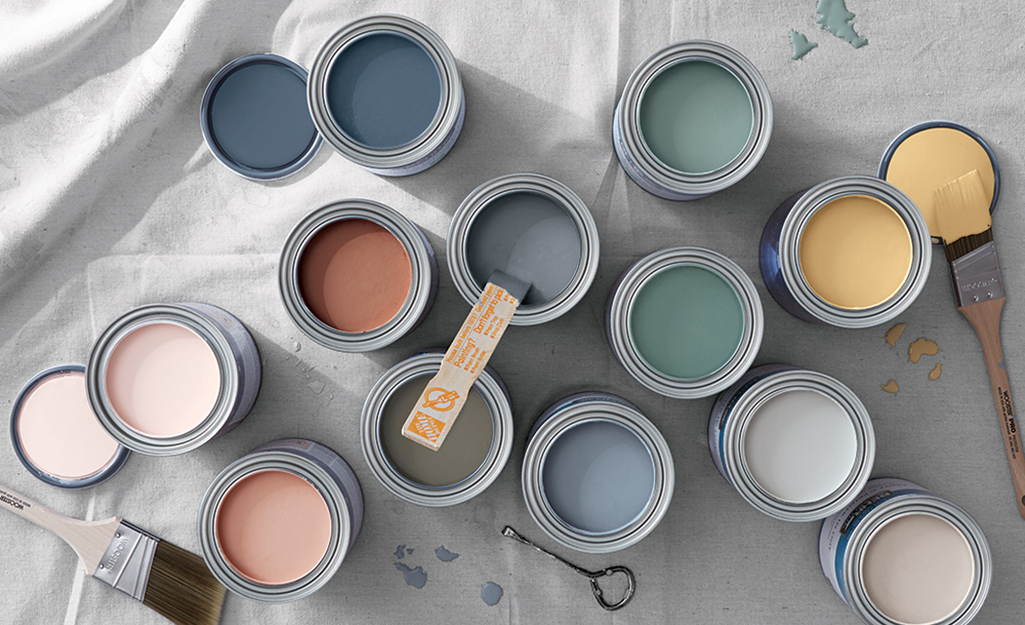 Ceiling paint isn't regular interior paint. Although you can paint your ceiling with the same paint that you used for your walls, regular wall paint is thin and has low viscosity, which means it will likely drip when you try to paint a ceiling. Ceiling paints, on the other hand, are thicker and designed to better grip the ceiling for fewer drips and unsightly runs that are difficult to fix after drying. Plus, certain ceiling paint types better hide stains, spots and small defects, providing your ceiling with a clean, uniform finish.  
When deciding what type of paint for ceilings you need, consider these paint options: 
Flat latex paint: Although not exclusively a ceiling paint, you can use a latex paint with a flat finish for your ceilings. This can be a practical option when you want a versatile paint that can be used elsewhere in your home. Keep in mind that a latex wall paint (also called water-based paint) can drip while being painted onto a ceiling and may not be as durable as paints formulated for ceilings. 
Textured paint: Add some sound-dampening texture to your ceiling using a pre-mixed textured paint. Only apply textured paint to a non-textured ceiling. Pre-existing texture, such as a popcorn ceiling, should either be removed or simply painted over with a flat latex paint.  
Ceiling paint: Naturally, paints specified as ceiling paints are the safest option for painting your ceiling. Ceiling paints are durable, low-sheen and require little to no maintenance. If you have a textured ceiling, however, a ceiling paint may be difficult to spread and so thick that it dulls the texture's appearance.  
Ceiling Paint Finishes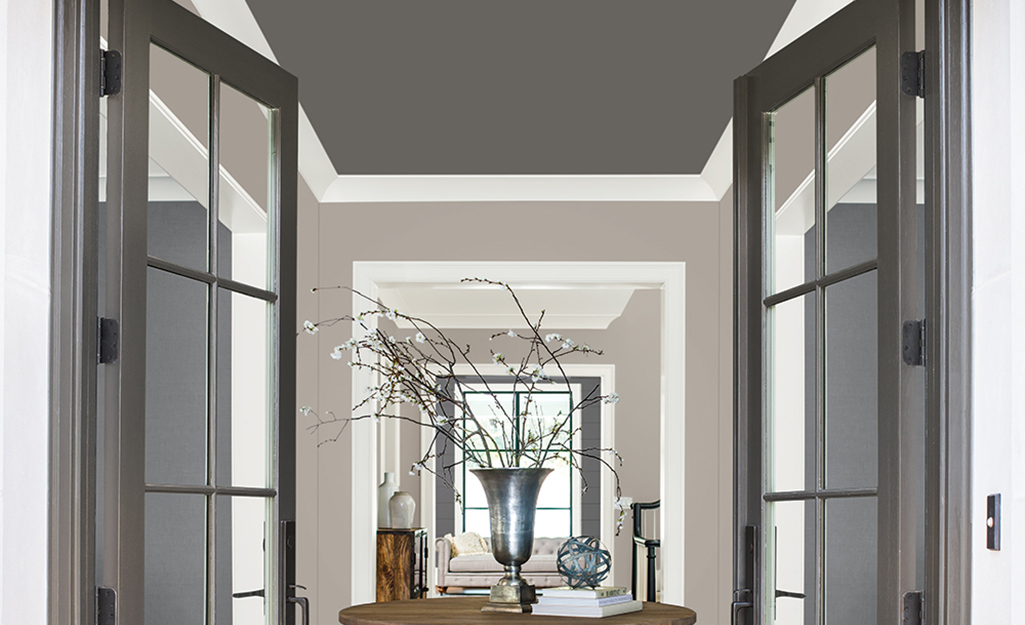 Most ceiling paints have a flat (or matte) finish, since a flat finish won't reflect lights and will hide any irregularities and defects in the ceiling. Overly reflective sheens draw the eye upward and can detract from the rest of the room. Additionally, a flat finish does not scuff easily, so you won't need to clean it often to keep it looking its best. 
Although a flat finish is most popular, more ceiling paint finishes are available:
Eggshell finish: After flat, eggshell finish is the next most popular ceiling paint finish. Eggshell paints offer a low sheen while still absorbing most light and hiding ceiling imperfections. 
Satin finish: Satin paints are slightly more reflective than eggshell paints but still have a low sheen overall. Paints with a higher sheen than satin finish paints tend to highlight nicks on the ceiling. However, higher sheen paints are easier to clean than flat paints. 
If you can't find the ceiling paint finishes you want, glazes can be used to coat paint and create a reflective sheen. 
Tip: Unless you have wood ceilings, do not use oil-based paints for ceilings, since they are more prone to dripping when wet and chipping when dry. 
Ceiling Materials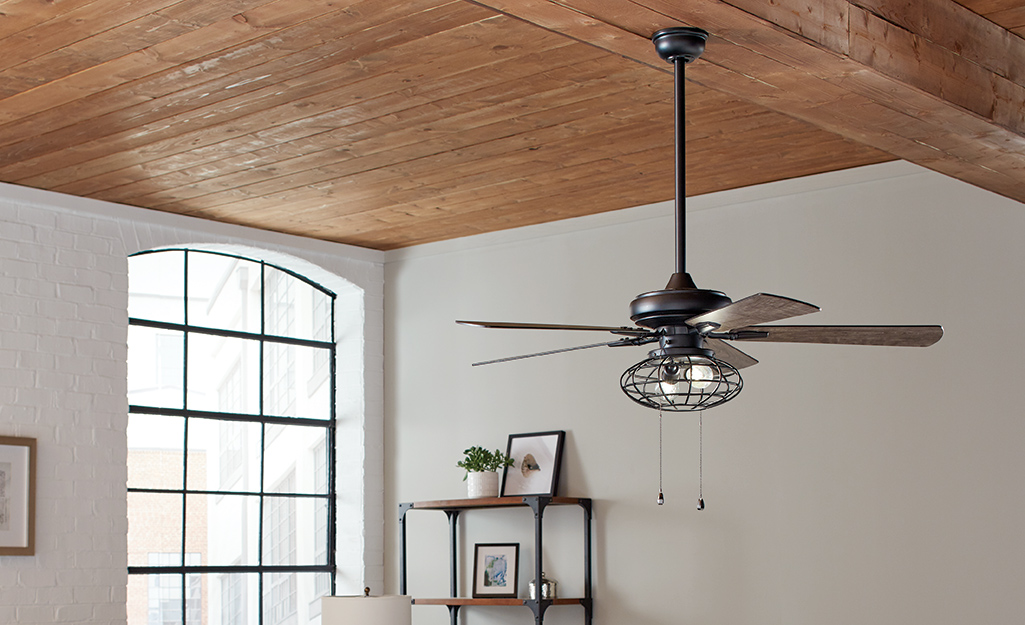 Depending on the material of your ceiling, the best ceiling paint for you may not be one of the typical choices.
Smooth drywall ceilings can handle most latex paints. A thicker paint with strong adhesion qualities is best for preventing drips and requires fewer coats. 
Textured drywall ceilings do best with a flat latex paint rather than a ceiling-specific paint, although your application methods may differ from your usual paint jobs. 
Plaster, masonry and stucco ceilings need paint that offer strong adhesion, so look for a material-specific paint in these cases. 
Acoustic tile (drop tile) ceilings should be painted with a latex paint that has sound-absorbing fillers, as regular ceiling paint can lessen their sound-dampening qualities. Acoustic tiles made of tin or faux-tin can be spray painted. 
Wood ceilings need to be sanded and painted with a primer first, since wood is porous and absorbing the wet paint can damage it and make achieving your desired look difficult. You may need two coats of primer. If the wood is stained, you will need to use oil-based paint. 
Ceiling Paint Colors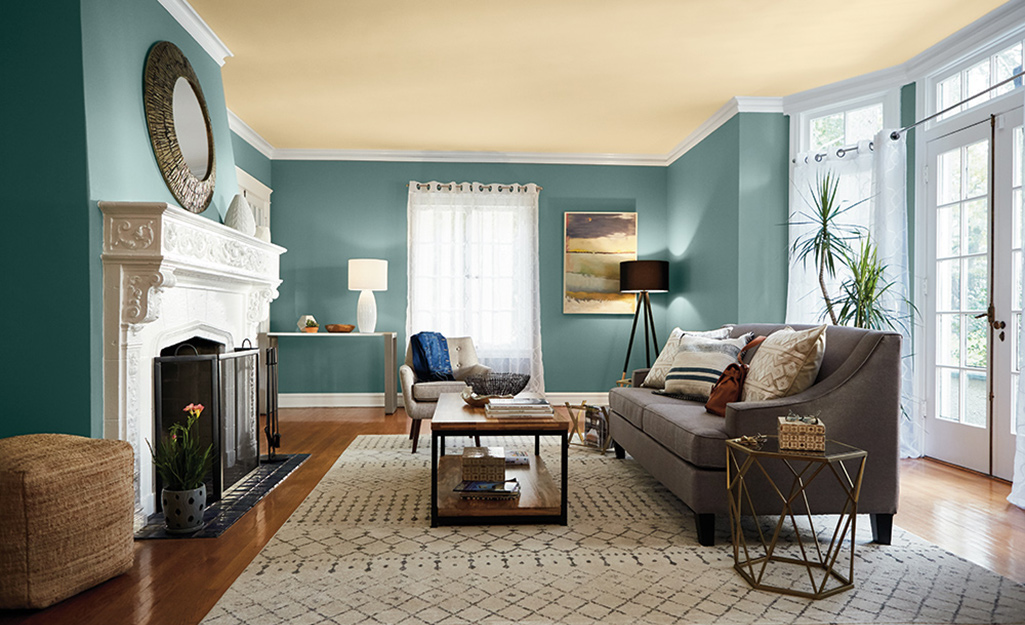 White ceiling paint is the most popular choice for homes, but no color is off-limits. Colored ceilings are a great way to change the shape and mood of a room.  
White ceiling paint:
Ceilings are most often painted white to reflect light and brighten up a room. 
White ceilings keep the focus on the color of the walls while making the walls appear brighter. 
White ceilings complement all styles of decor. 
Painting a ceiling white can make the room feel bigger and the walls taller. 
White ceiling paint can be mixed with colored paints to create a lighter, complementary shade. 
Dark-colored ceiling paint:
Darker colors can add warmth and make larger rooms feel cozy. 
Dark colors visually shorten tall ceilings. 
A dark ceiling is eye-catching and can dramatically alter the appearance of a room. 
Light-colored ceiling paint:
Like a white ceiling, a ceiling color lighter than the wall color makes a room feel larger and brighter. 
Light colors can be used on surrounding trim to offset white or dark colors. 
A light ceiling makes walls appear taller. 
Many neutral colors are available to complement a wide range of decor. 
Tip: If you choose a true color on your ceiling, do not use the same color on your walls.
Features to Look For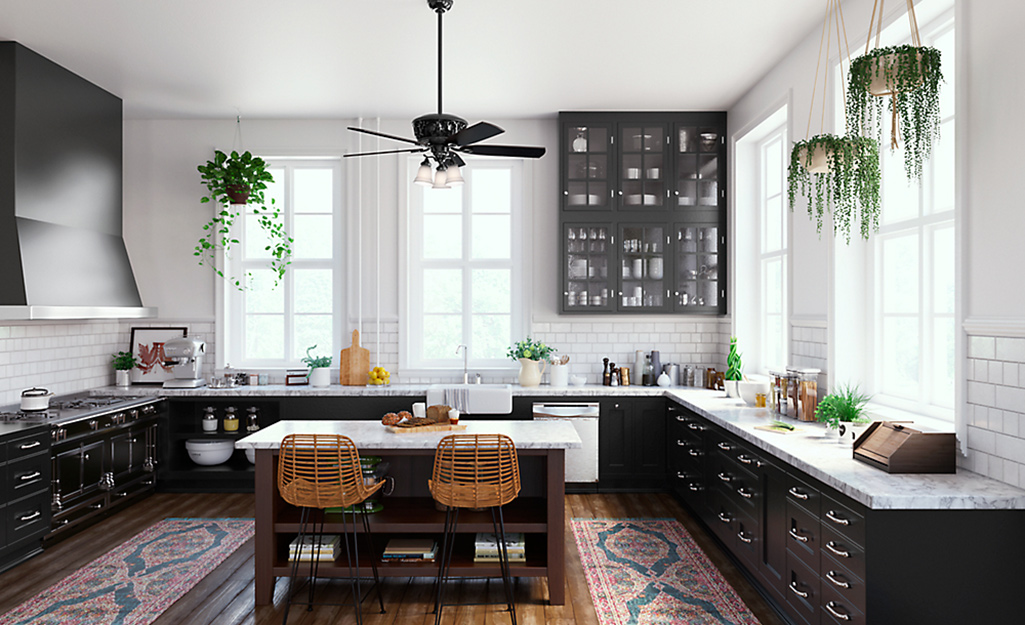 When searching for the best paint for ceilings, you should also keep these features in mind:
Ceiling paint should be durable enough to resist peeling and cracking. 
A combination ceiling paint with primer will make painting quicker and easier, plus it will hide stains better. 
Choose a paint that is no more than 45-percent solvent. Solvent keeps paint from hardening in the can, but too much solvent can make paint very runny and hard to work with. 
For kitchens and bathrooms, you may want a more washable paint finish. Choose an eggshell or satin paint over a flat paint. 
Ceiling Painting Tips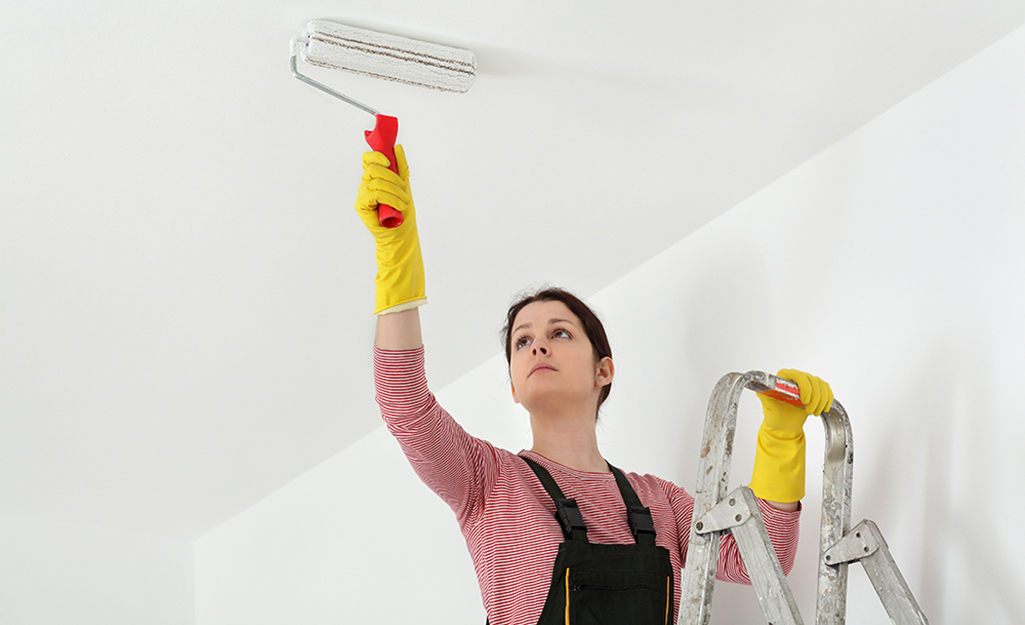 Once you've found the best ceiling paint for your room, achieve the best paint job with these tips:
Cover everything you don't want painted with drop cloths. 
Glossy, slick surfaces may need to be sanded before painting. 
Clean, dust and repair the ceiling as needed before painting. 
A coat of primer will help cover stains and smooth the surface of the ceiling. 
Using a paint sprayer is the fastest way to paint large ceilings and textured ceilings. 
If you are painting the entire room, paint the ceiling before you paint the walls. 
When using a roller, paint in W-shaped strokes to avoid streaks and roller marks. 
If you use a primer or a combination ceiling paint and primer, you typically will only need one coat of paint. 
To find the best ceiling paint for your home, look for a high-quality paint that works with the material of your ceiling. Flat white ceiling paint is a safe and common choice for many homes, but you can experiment with other colors and sheens to create a unique and striking room. The Home Depot delivers online orders when and where you need them.
Explore More on homedepot.com