Rope and cord have many applications, from sports like climbing and boating to everyday tasks like hanging laundry to dry. Each application requires particular types of rope, so it's important to know exactly what you're looking for. Important things to consider when choosing rope are the different ways rope can be constructed and what characteristics are important to you. This guide will help you choose the different types of rope or cord for your needs. 
Safety Tip: Never use rope that is worn or frayed. Avoid wearing out your rope by storing them in a dry place away from excess heat and keeping them clean and coiled without kinking. 
Rope vs. Cord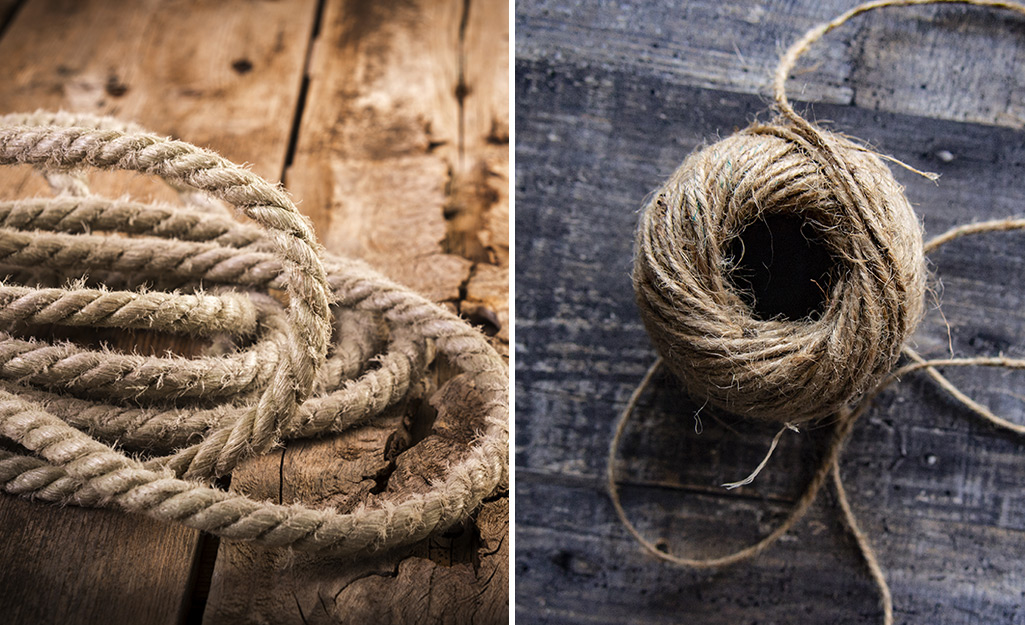 Rope and cord have similar construction, but they often have different purposes and capabilities. Typically, cord will have a much smaller diameter than rope. 
Rope: 
Usually thicker than 1/8-inch in diameter.  
Often made from twisted or braided cords. 
Usually stronger than cord. 
Used for both functional and decorative purposes. 
Types of rope range from light-duty to heavy-duty. 
Cord:  
Usually has a diameter smaller than 1/8-inch. 
Often used for lighter tasks, sports and survival. 
Made from lengths of fiber that are twisted or braided together.  
Common Types of Rope and Cord
| | | | | | | | |
| --- | --- | --- | --- | --- | --- | --- | --- |
| Wire Rope | Paracord | Twine & String | Polyester - Rope | Polypropylene - Rope | Nylon - Rope | Sisal - Rope | Manila - Rope |
| Metal wire twisted in a plait construction to create a rope. Typically made from steel and can be coated in nylon. | Also known as parachute cord. Lightweight nylon cord with an inner core protected by a woven outer sheath. | Twine is lightweight cord that consists of one-twist plies. Made from many different materials including cotton, sisal, manila and polypropylene. | A synthetic fiber rope that has little to no stretch. | A lightweight, waterproof synthetic fiber rope that can float in water. | A synthetic fiber rope that's very elastic and may be braided or twisted. | A natural fiber rope that holds knots well. | A heavy natural fiber rope made from hemp that's available in diameters ranging from 1/4-inch to 3/4-inch. Traditional rope material. |
Rope Strength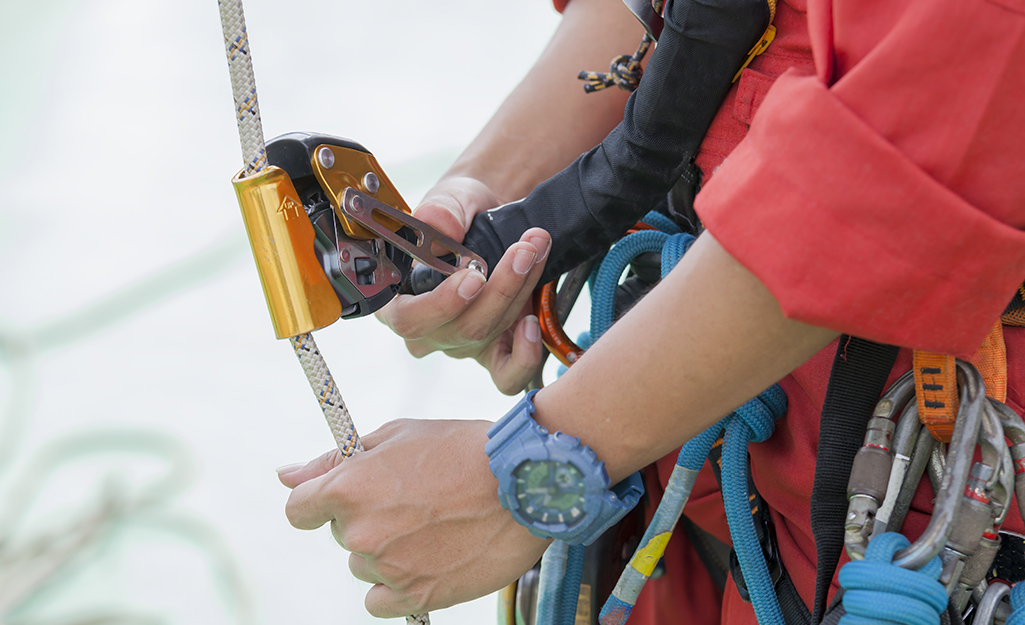 The strength of a rope is rated by its working load limit and tensile strength (also called breaking strength). The tensile strength is determined in a lab and measures the amount of tension a new rope can take before breaking. The working load limit is a guideline for practical use of the rope. The working load limit tells you the maximum amount of weight the rope should support at any time.  
Although the working load limit is only 15  to 25 percent of its tensile strength, always determine the strength you need by working load limit and not tensile strength. Never exceed a rope's or cord's working load limit. 
Keep these factors in mind when determining the working load limit you need.
The working load limit assumes that the load is static and not moving. 
Tying a knot in the rope can reduce its working load limit by up to 50 percent.  
Abrasion resistance is needed for ropes used with pulleys, winches or other devices that cause constant wear. 
Dynamic, or moving, loads greatly reduce the ability of a rope to hold the load. 
Creep is the amount synthetic fibers slowly stretch while handling a continuous load. Ropes never return to their original length once creep sets in. 
Safety Tip: Always consult the manufacturer's instructions for handling heavy loads. Do not attempt to use ropes in situations in which a life will depend on them without proper training.  
Rope Materials & Construction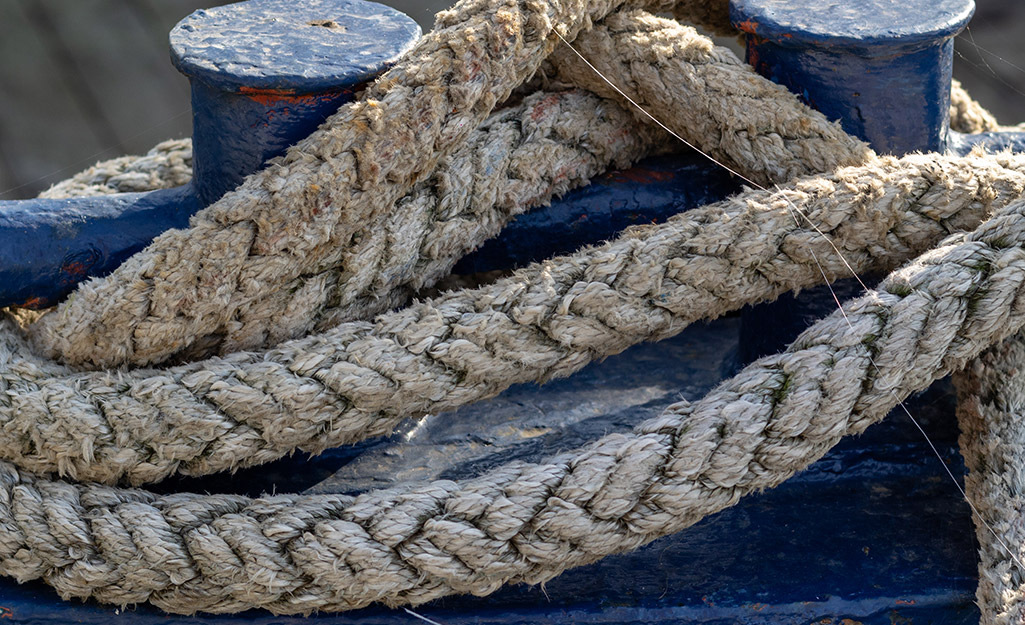 Some ask, what is rope made out of? 
Rope and cord can be made from many different natural and synthetic materials. These materials are either braided, twisted or plaited together. Each material has its own unique benefits.
Polyester: Synthetic material that is UV-resistant, abrasion-resistant and maintains its strength when wet. Usually pre-stretched. Good choice for general purpose rope. 
Polypropylene: Lightweight synthetic material that is resistant to mold, mildew and many chemicals. Floats in water. Has low resistance to UV rays and abrasion.  
Nylon: Synthetic material that is both flexible and strong. UV-resistant and abrasion-resistant. Weakens in water and does not float. 
Kevlar: Extremely strong synthetic material that is resistant to fire, extreme temperatures, stretch, water and chemicals. Has low UV resistance, so it is often covered with polyester. 
Sisal: A natural fiber used for making twine, paper, cloth, carpets and more. Sustainable and biodegradable. Low water resistance and abrasion resistance. Prone to mildew. 
Manila: A natural fiber that is very stretch-resistant and holds knots well. Sustainable and biodegradable. Like sisal, it has low water and abrasion resistance and can be prone to mildew. 
Coir: A natural fiber made from coconut husks. Sustainable and biodegradable. Used in many gardening applications. 
Rope Construction: 
Rope construction helps determine its strength and best use. Below are the common types of rope braids and constructions: 
Single braided: Also known as solid braid. Features lock-stitch construction and is well suited for use with blocks and pulleys. 
Double braided: Features braided rope wrapped around a braided core to provide extra strength. 
Hollow: Features an empty center and can be quickly and easily spliced. Ideal for water ski tows and anchor lines. 
Twisted: Also known as laid rope. Can be easily spliced. Most commonly used type for general applications such as tow ropes and dock lines. 
Diamond braided: Features an inner core that provides additional strength or allows for filler to increase the diameter. Can be easily spliced. 
Plaited: Features four sets of strands that are intertwined together around the core. 
Rope Features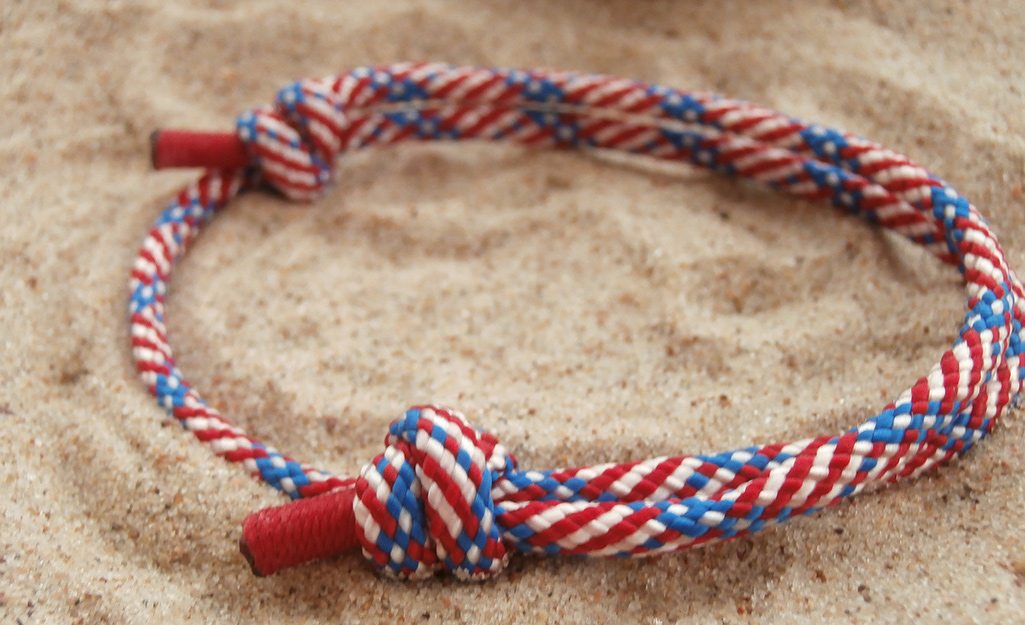 Color: Some ropes come in vivid fluorescent colors for use in situations where you need to know where it is at all times. These ropes are easier to locate in an emergency.  
Treatments: When using ropes near or in water, look for types of rope that are treated to repel water and protect against mold and mildew.  
Weather-resistant: Weather-resistant ropes are treated for UV resistance, mold and mildew resistance and extreme temperature resistance. Alternatively, they are made from materials that naturally have these resistances. 
Abrasion-resistant: Abrasion-resistant ropes will hold up with outdoor use, marine use and pulleys. 
Polyester/Polypropylene Combination: Ropes made from this combination of materials are best suited for marine applications, fishing and other water-related tasks. Look for this combination when you need rope that floats in water and maintains its strength when wet. 
Many applications require a specific type of rope or cord. Make sure you're using the best material, construction and duty of rope for the task at hand. Need help identifying a tool or material? Find products fast with image search in The Home Depot Mobile App. Snap a picture of an item you like, and we'll show you similar products. 
Explore More on homedepot.com