Window treatments are a stylish and practical addition to any room. They are a very popular and necessary part of any home's decor. Many different types of window coverings can block weather, filter light and provide privacy. Window treatments come in a variety of sizes, styles and price points. Use this guide to help you understand your choices and find the best window treatment for your space.
What are Window Treatments?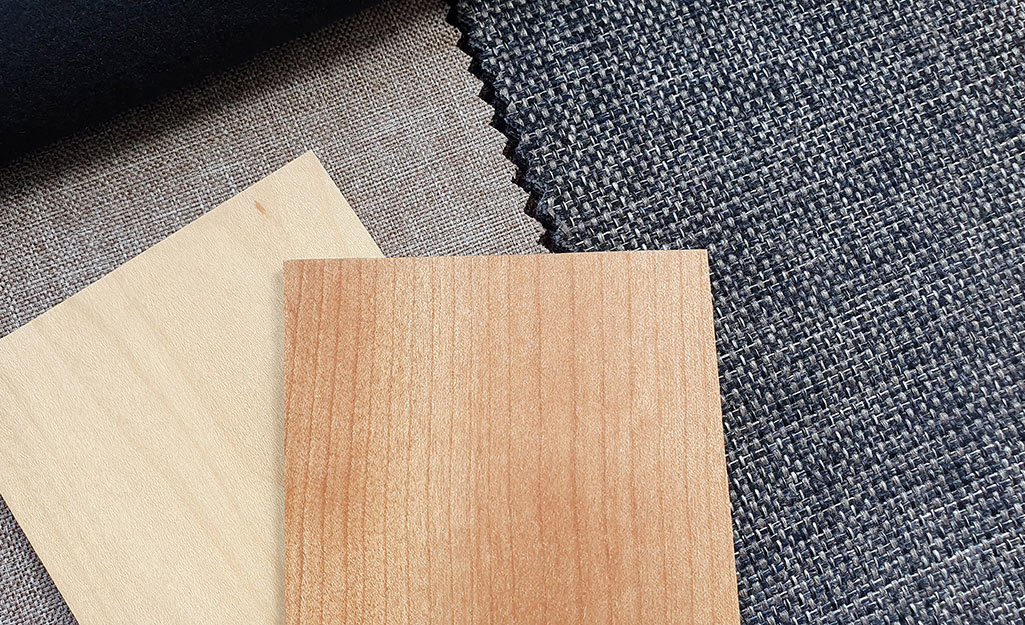 Window treatments are any type of material used to cover a window completely or partially. Different types of window covering options can serve different purposes. Some like shutters add a lot of privacy while sheers let in more light. Valances are primarily decorative and can be used with or without other treatments. There are four main benefits to using window coverings.
Add style. Perk up spaces with bright colors or choose neutral finishes for a cozy look.
Regulate temperature. Window treatments insulate a room. They stop cold air in winter and outside heat in summer. They can make your furnace or air conditioner run more efficiently.
Control light. You can choose window coverings that allow you to block light completely. Or pick ones that let you regulate light throughout the day. 
Provide privacy. Decide how much someone can see into your home by choosing sheers or blinds for different windows.
Window Covering Options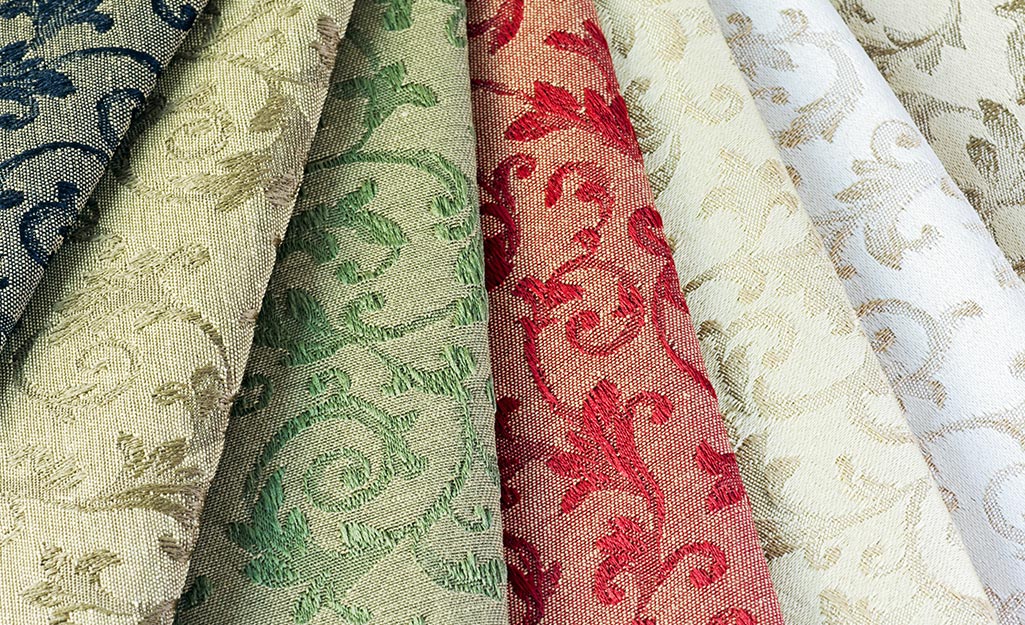 Window coverings provide beauty and filter light. By blocking UV light, they keep furnishings and rugs from fading. Types of window treatments include blinds, shades, shutters and drapery.
Blinds tilt open and closed using a cord or remote device. They have louvers or slats made of various materials. Blinds can be vertical or horizontal. Horizontal blinds close tighter than vertical ones. They also are usually quieter and last longer. 
Shades are a singular piece of fabric or synthetic material raised or lowered by a cord. They soften a window's appearance and provide various levels of light control. Shade styles include cellular shades, pleated shades, roller shades, Roman shades, woven wood and outdoor shades. 
Drapes or curtains can be made of everything from luxurious silk to budget-friendly synthetics. 
Shutters come in classic styles as well as modern versions. 
The vast majority of window coverings are available in different price points and sizes. They are versatile and can be customized in much the same ways.
Motorized lift options regulate the amount of light filtering with the touch of a button.
Many window treatments have light filtering, room darkening or blackout fabric options.
Blinds and shades can be installed in a top-down and bottom-up combination. This gives more control over light, privacy and view.  
Layer sheer shades into almost any window treatment for a more filtered light option. 
Customize blinds and shades with continuous cord loops. This will make it easier to lift wider shades. 
Give blinds and shades a seamless look with optional cordless lifts.
Wood & Faux Wood Blinds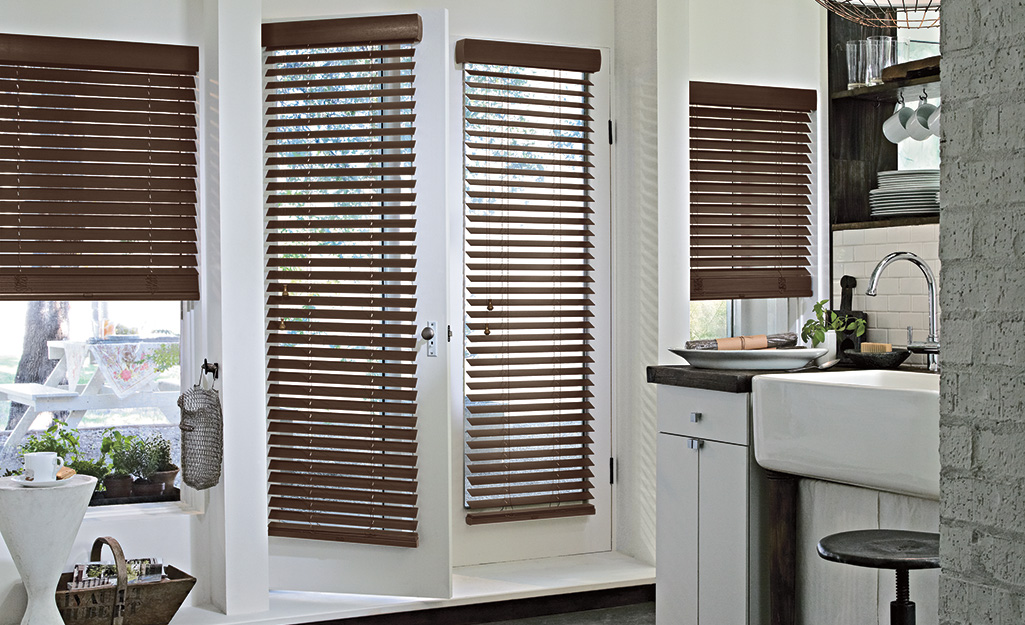 Wood blinds have the rich look of wood shutters without the cost or heavier weight. A timeless decor choice, wood blinds add a warm, welcoming feel to a room. They are made of eco-friendly hardwood and are built to last. Real wood blinds come in a variety of rich stains and finishes. They are available in different slat sizes and come in both readymade and custom options. Like all blinds, they work well for bedrooms, home offices, dens, theatres and more. Avoid installing wood blinds in rooms with high humidity such as bathrooms. 
Faux wood blinds have the benefit of wood blinds at a budget-friendly price. Faux blinds are scratch resistant, low maintenance and easy to clean. They're ideal for rooms with high humidity. They don't crack, peel or warp even in bathrooms. Faux wood blinds come in everything from bright white to dark wood looks. More flexible than wood blinds, they can bend without breaking. However, their heavier weight can make them harder to hang than genuine wood blinds.
Mini Blinds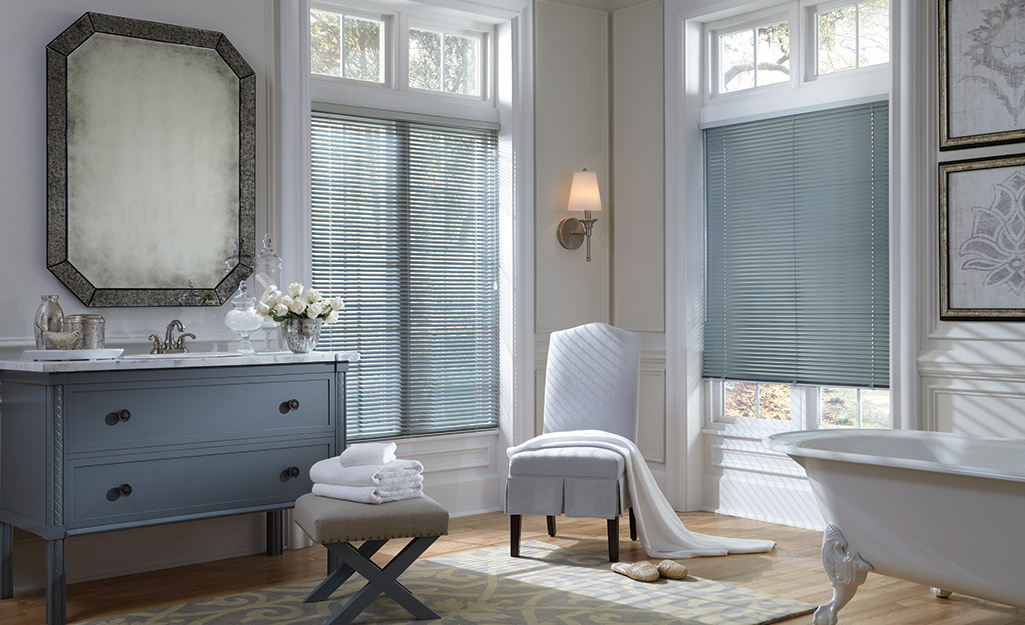 Aluminum blinds, or mini blinds, are very popular. Mini blinds are lightweight and come in almost every color. They are useful when you have a lot of windows to cover on a budget. The quality of aluminum is measured in gauges. The higher the gauge, the thicker and more durable the blind will be. High-quality mini blinds are less likely to have vanes or slats that will bend or snap with use.  
Aluminum blinds can come in the traditional 1/2-inch or the wider, more modern 1-inch and 2-inch vane sizes. Because aluminum blinds are metal, they can be noisy at the window. Options such as routeless mini blinds have a cloth tape construction that raises or lowers the blind. These types of blinds close tighter and create darker spaces.
Vertical Blinds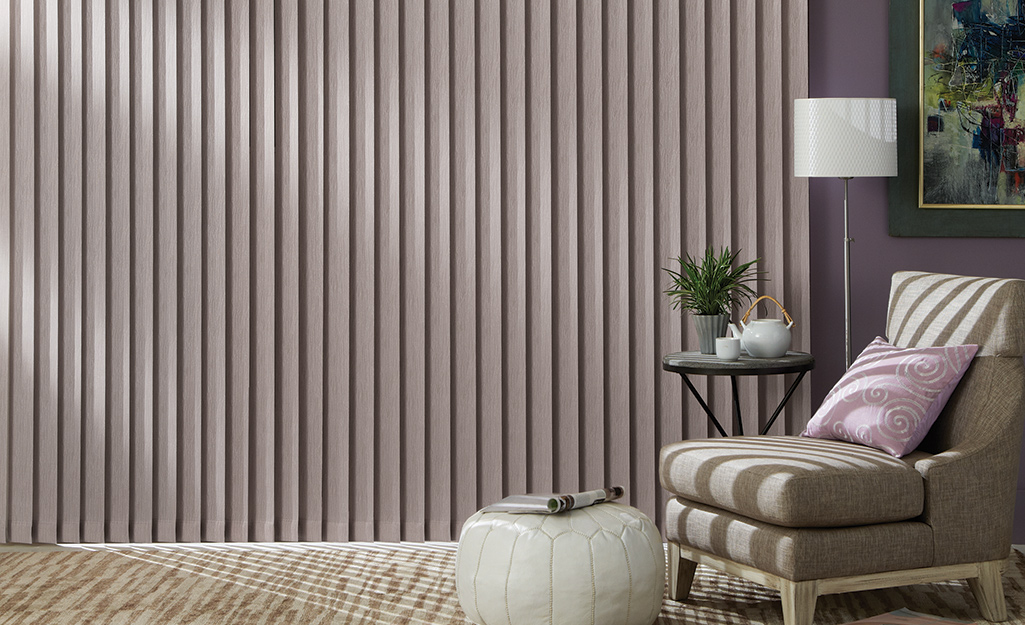 Wider windows, tall windows and sliding doors are the most common uses for vertical blinds. Usually made of vinyl, vertical blinds are budget-friendly and low-maintenance. Closed, vertical blinds provide great privacy. They operate on a sliding track system that pushes the blinds out of the way to one side. They may have vanes that tilt open. They're made of durable synthetic materials and faux wood. Vertical blinds can come with custom options including:    
S-shaped slats that mimic the curves of drapes. They add a soft touch and give more light control and better privacy. 
Vanes can open from the right, left or middle of your window. Choose the option that fits your existing space. 
A back stacker feature allows the vanes to be pulled from the back. This reduces vane sway. 
Vertical Blind Alternatives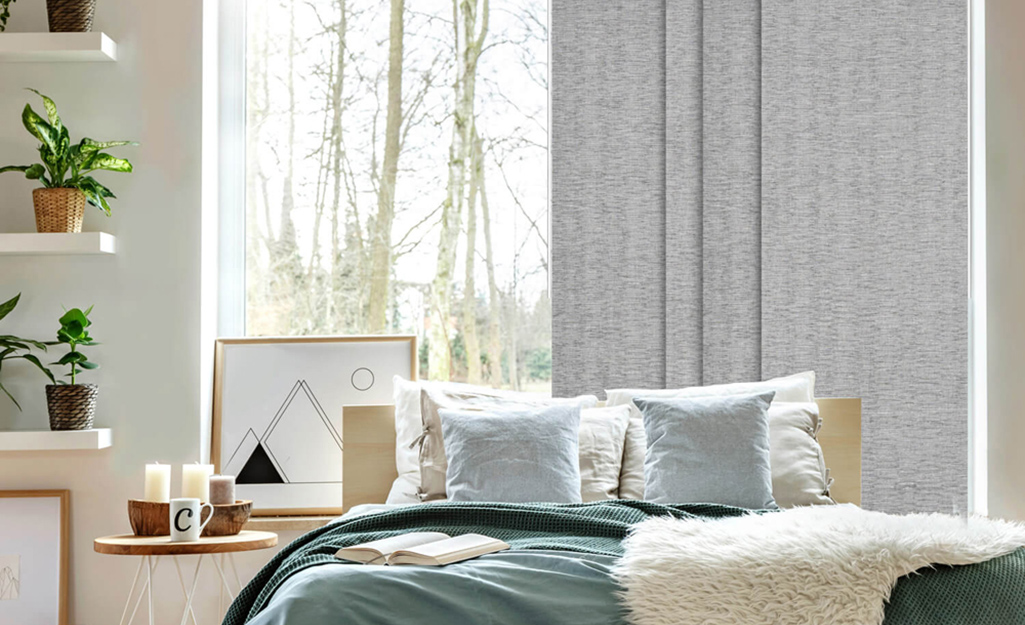 Vertical panels and other alternatives are great for larger windows. Comparable size horizontal blinds and shades can be too big and heavy to operate. Vertical panels are also an attractive choice for sliding glass doors or patio entrances. Here are some popular choices:
Sliding panels work equally well as patio sliders or room dividers. They are available in wood, vinyl, woven wood and fabric varieties. 
Sheer soft verticals have slats that hang vertically instead of horizontally. They are great light diffusers and provide unmatched control over large amounts of light.
Verticell-type shades are made from an energy-efficient honeycomb fabric. They are similar to cellular shades except they function on a sliding track. This makes them easier to adjust for better light control.  
Cellular Shades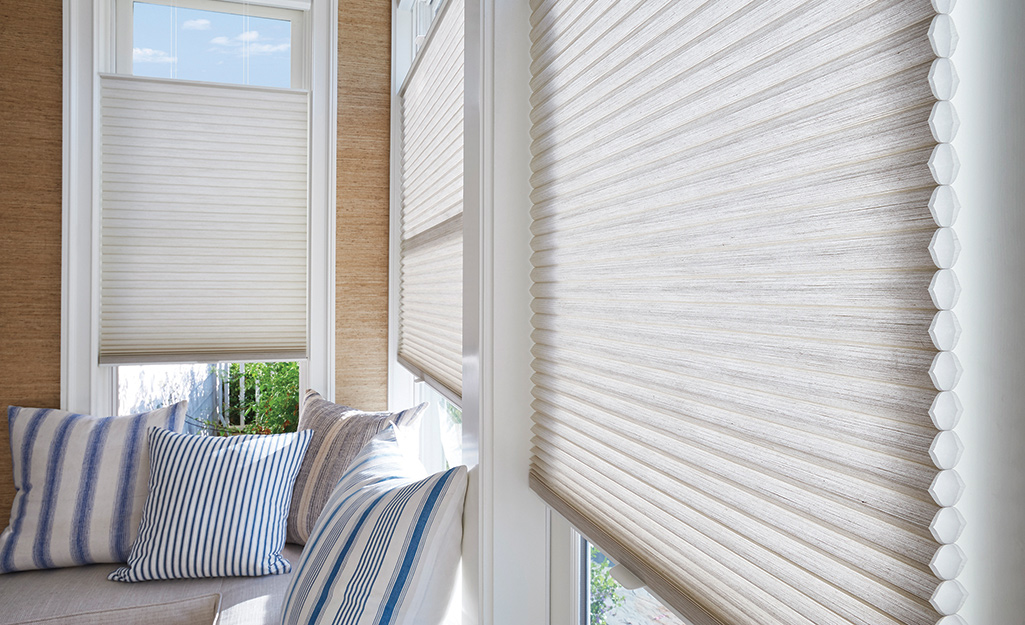 Cellular shades have fabric-like pleats that run up and down. Popular types of window shades often have a 3/8-inch double cell, honeycomb design. They insulate and regulate room temperature. These shades compact neatly when lifted, providing a clear exterior view. Cellular shades pair well with cordless controls, which are child and pet safe. You can also customize the energy-efficiency of these shades by choosing single, double or triple cell honeycomb construction. 
Pleated Shades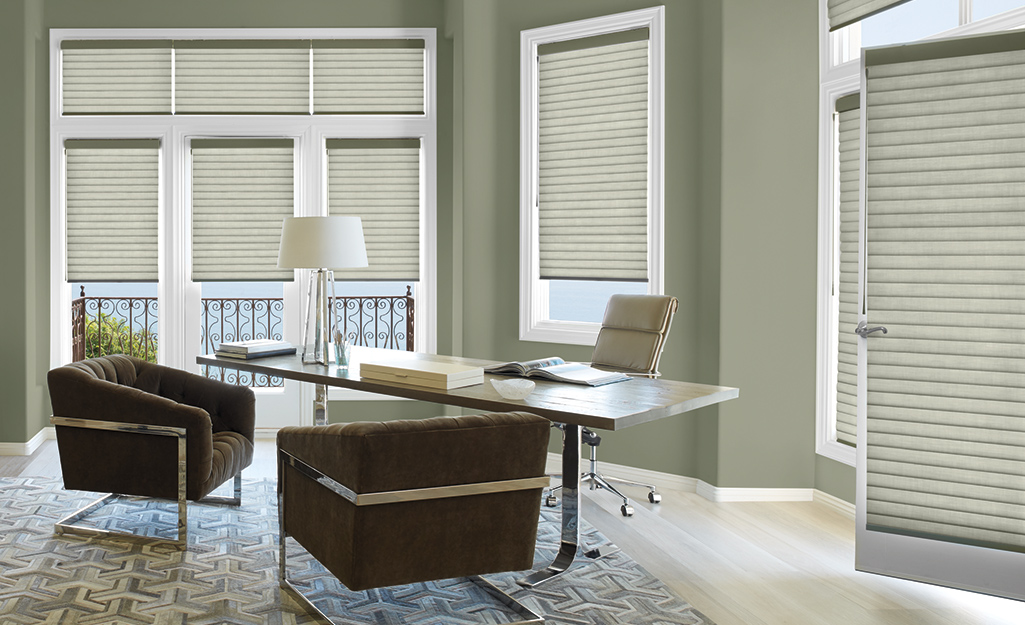 Pleated shades have the same look as cellular shades, but without the honeycomb design. They simply fold like an accordion when raised. Pleated shades are some of the easiest window treatments to install and operate. Pleated shades are a stylish and elegant choice. They come in a wide range of decorative fabrics and designer colors. Some brands offer custom pleat sizes to match your decor style.
Roman Shades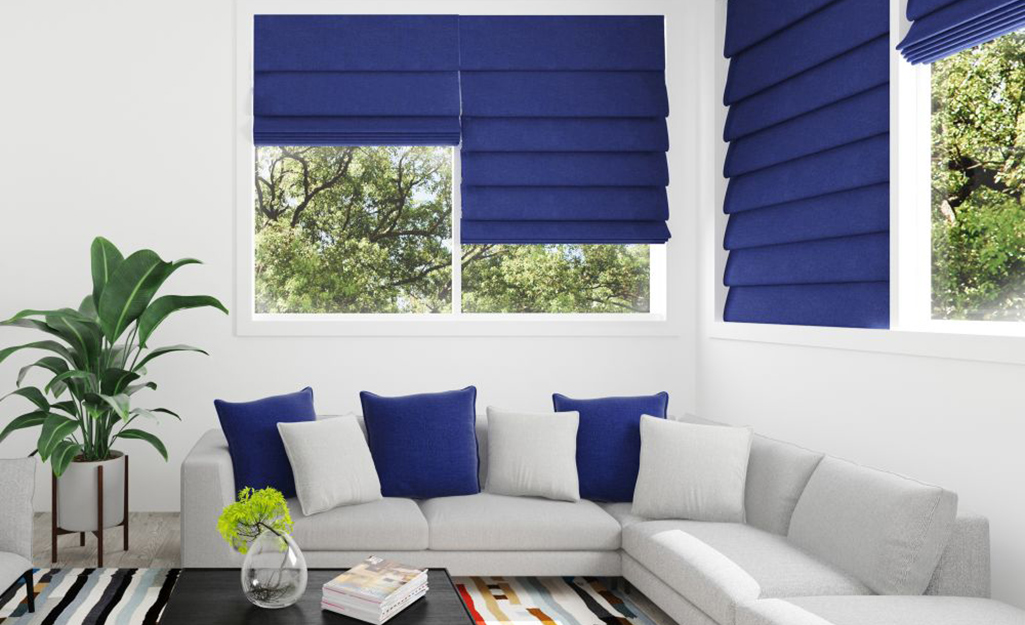 Roman shades are tailored fabric shades. They combine the flowing look of draperies with the ease of a lifting shade. A Roman shade creates soft, horizontal folds as it is lowered. They come in flat, hobbled, pleated or relaxed fold styles. Roman shades are a budget-friendly alternative to drapery. Like drapery, they are available in a large selection of rich colors and patterns. 
Outdoor Shades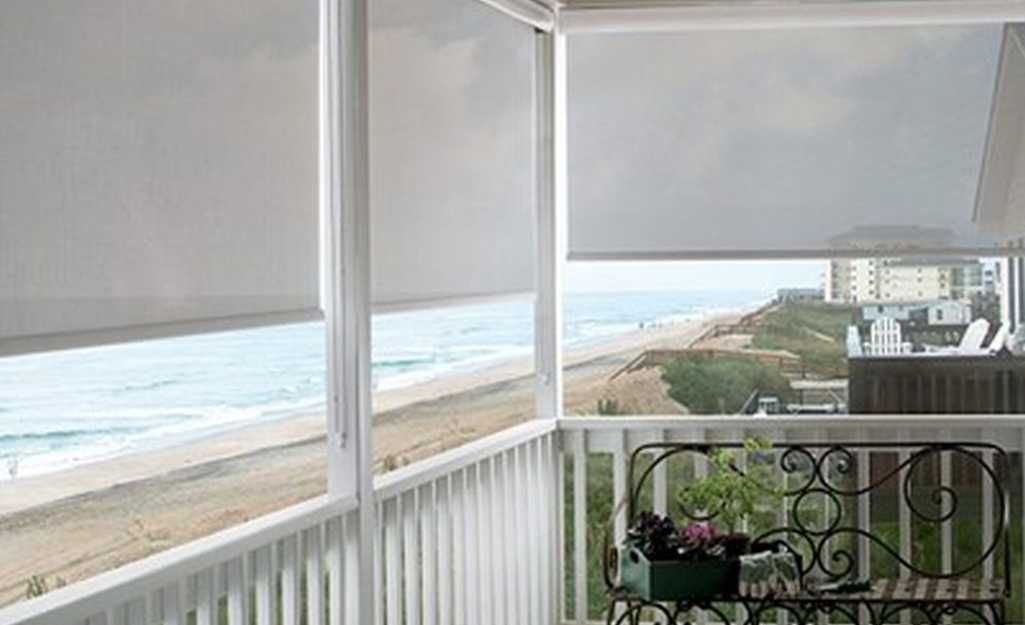 Outdoor or exterior shades cool and protect patios, porches, decks or sunrooms. They block harsh light, dust and wind. Outdoor shades come with reinforcing hardware to prevent them from billowing and flapping in windy conditions. They are made from high-quality, woven all-weather fabrics. They come in whites, greys and blacks and in various opacities. 
Outdoor shades are selected primarily on their "openness factor." A shade's openness factor refers to how much one can see through it. The higher a shade's openness factor, the more UV rays it can block. Openness factors can range from 5 percent to 20 percent or more.
Sheer Shades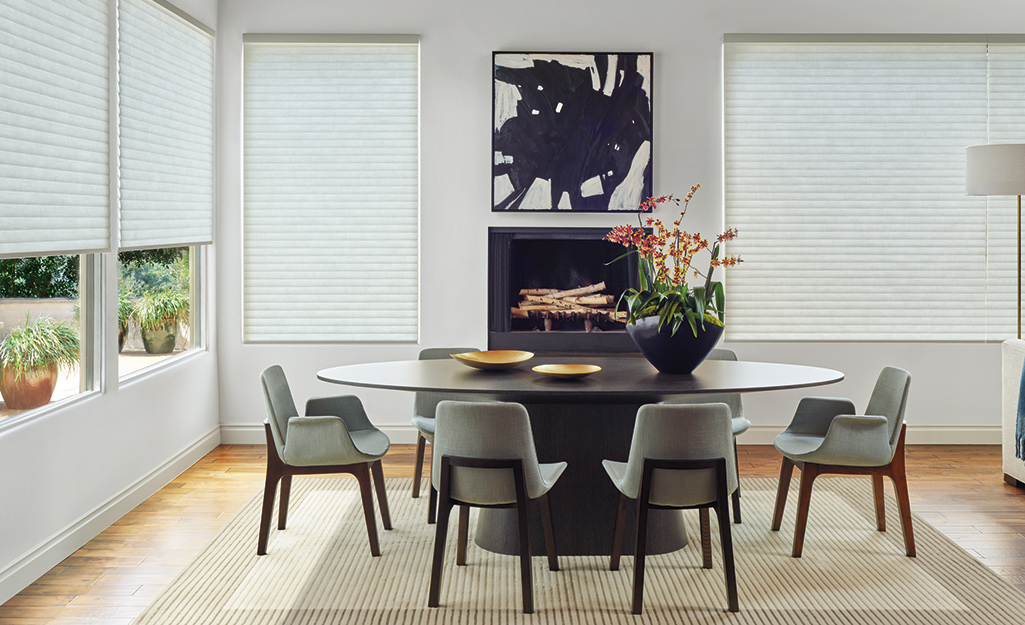 Sheer shades combine structure and softness. They feature horizontal fabric vanes that float between two layers of sheer fabric. Sheer shades give adequate privacy during the day. But at night, indoor lighting can make them transparent. Add a second layer of drapery to supplement. 
Sheer shades are the only shades with a built-in continuous cord loop that can be used to control and tilt the slats. When the slats are open, your room is filled with a warm diffused glow. When the vanes are closed, they act as either light-filtering or room darkening shades. 
Tip: Pair sheer shades with cellular or Roman shades. Instead of a completely clear gap when the top is down, there is a sheer shade that lowers to fill the space. This is called the Trilight feature. 
Woven Shades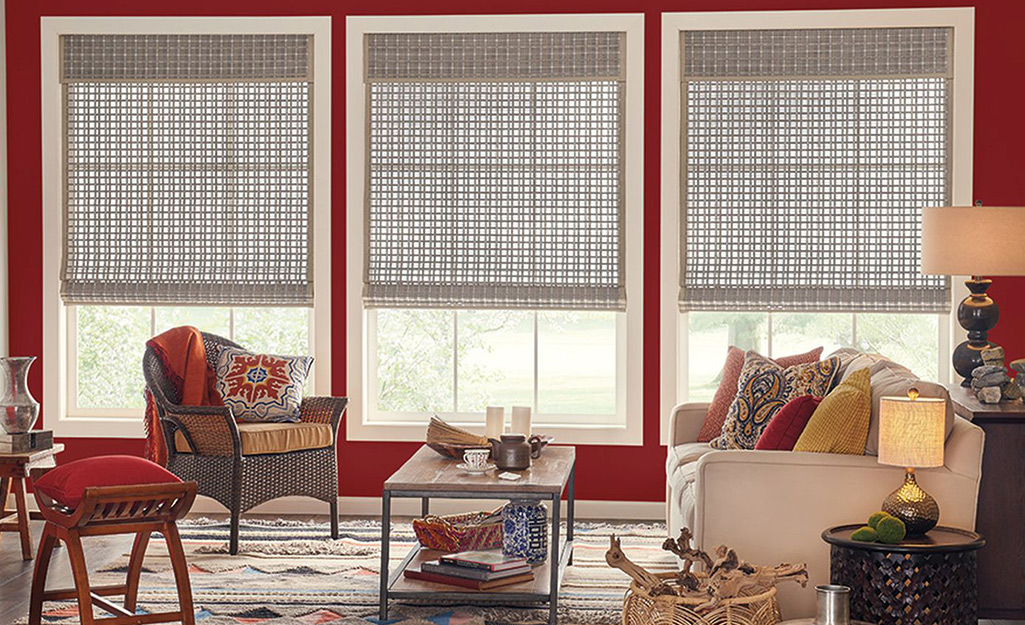 Woven wood shades bring a relaxed and inviting look. Woven wood shades are made of twines, hemp, rattan, ropes and reeds. They are all-natural and eco-friendly. Also called bamboo shades or matchstick blinds, woven wood adds texture and earthiness to a space.
A woven wood shade's privacy and light benefits depends on its weaving style. The thicker the weave, the less transparent it will be. The thinner the weave, the more light gets through. 
Tip: Choose between light-filtering, blackout, water-resistant and thermal liners. The street side of the liners are white to maximize curb appeal. 
Roller Shades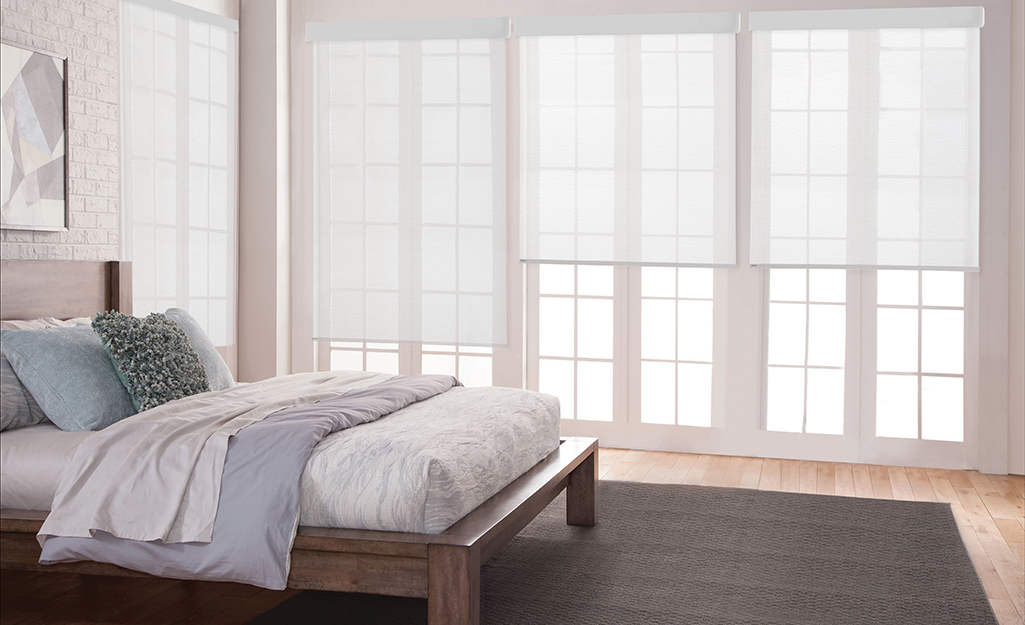 Roller shades roll down and up with a pull. They give a nostalgic yet chic look. Roller shades come in a variety of fabrics and opacities. They are available in patterns, colors and textures.
Some modern roller shades are made from solar screen fabrics. This special sheer fabric filters light and reduces glare. Solar shades control solar heat gain and blocks harmful UV radiation. They add extra protection that can keep furniture and other decor from fading. 
Roller shades and solar shades can be paired in tandem with some cellular or Roman shades. When a roller shade is mounted behind another shade, it provides extra light control.
Drapery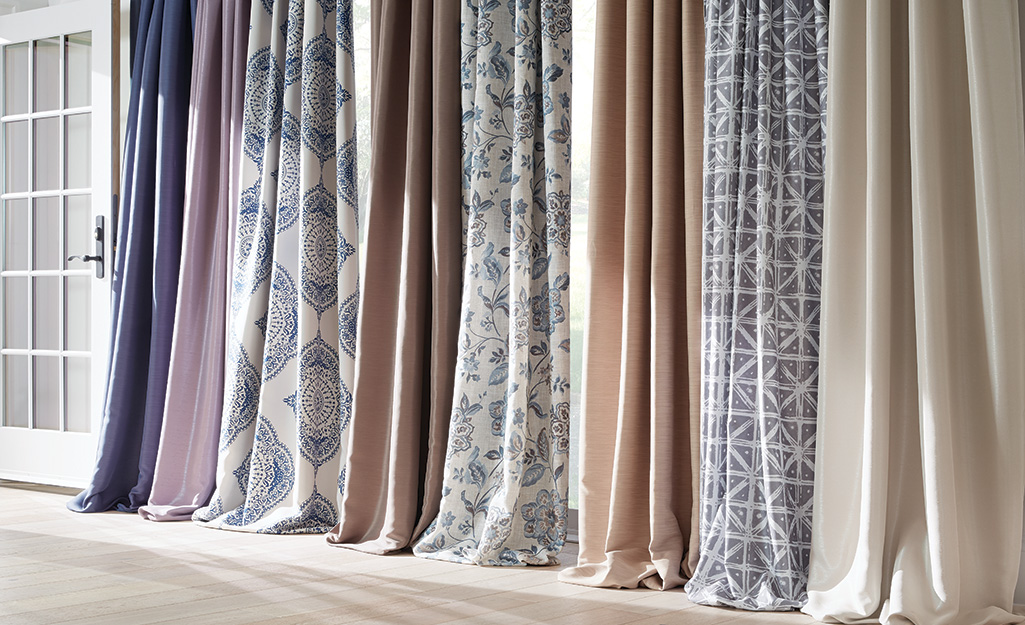 Drapery panels or curtains can be used in any room. They are often sold in pairs and hung on a single rod. Drapes are attached to the rod by clips, hooks, grommets or rod pockets. Drapes can be opened or closed from the right, left or middle. They are usually operated by hand or cord. 
Drapes are often paired with other types of window treatments such valances. A valance hangs a few inches from the top of the window. Usually decorative, valances, like drapes, come in everything from light linens to luxury velvet fabrics. The colors and textures are virtually endless. 
Shutters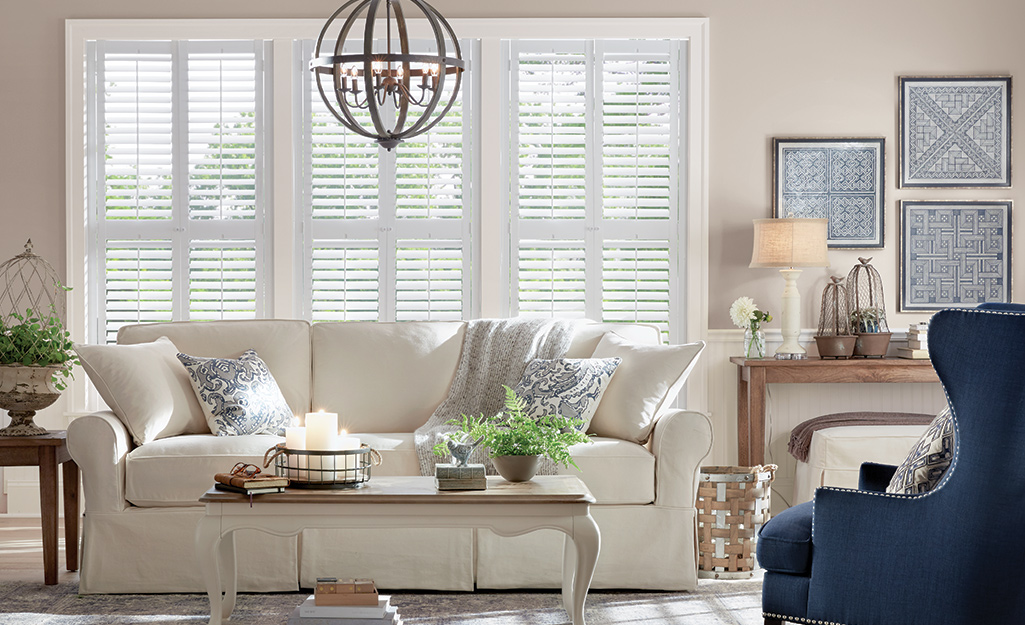 Shutters are one of the more classic types of window treatments. A shutter is made of horizontal louvers or slats in a frame. Choose between 1 1/4-inch, 2 1/2-inch, 3 1/2-inch or 4 1/2-inch louver sizes. The larger a louver, the more light and less privacy the shutter provides. 
Wood shutters are typically made of hardwoods, or you can opt for faux wood in various finishes. Some shutters can also be made with fabric, solid panels or glass. Some feature a tilt rod control, but many cannot be raised or lowered. Traditional plantation shutters have wide slats. Shutters can be customized to fit unusual window shapes and sizes. 
Now you know the answer to the question, "What are window treatments?" Shades, blinds and drapery come in a wide variety of colors, textures and styles. Selecting the right types of window treatments for your home is very satisfying. Think about how much light and privacy a window needs. Determine what style and colors are the most stylish for your space. Most window treatments are easy to install yourself. 
Custom blinds may require more expertise so consider our blinds installation services. Ready to find what you need for your project in your local store? Use The Home Depot Mobile App to locate products and check inventory. We'll take you to the exact aisle and bay.
Explore More on homedepot.com