Energy efficient window treatments can help keep your home cool during the summer and warm during the winter. Plus, as they keep your home more comfortable, they can also help you save on your energy bills. As your heated or cooled air dissipates, you lose energy and money. Up to 20 percent of this dissipation happens through your windows, which means having the right blinds or shades can really make a difference.  
If you want to improve the energy efficiency of your home easily and affordably, follow this guide to find the best energy efficient window treatments for you.  
Cellular Shades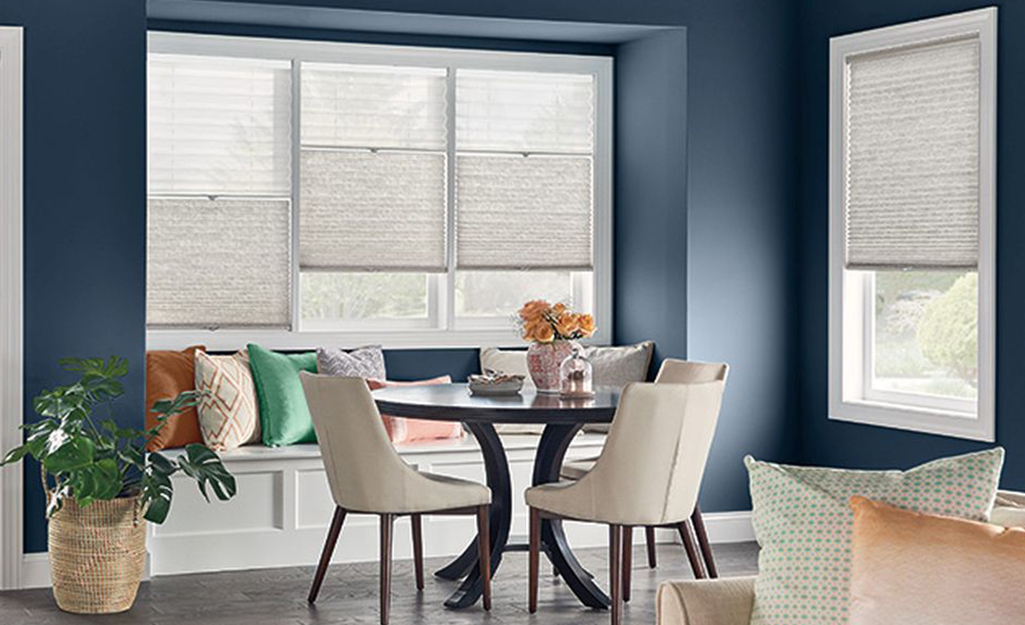 Cellular shades, or honeycomb shades, are one of the most energy efficient window coverings you can buy. They use a series of honeycomb-like cell pockets to trap air around your windows, keeping your rooms warm in the winter and cool in the summer. They're one of the best window coverings to keep heat out and to keep cold out.  
Cellular shades come in a wide range of colors and can be either corded or cordless. If you have children or pets, or just prefer the neater look, consider going cordless. Cords can be a safety hazard to kids and pets, and they can be unruly and quick to tangle if you have many shades close to each other. 
These shades can be inside mount or outside mount. An inside mount shade is installed within the window frame, creating a clean, custom look. An outside mount shade is installed outside of or onto the window trim, covering the entire window frame. Inside mount is the most popular option for cellular shades, but outside mount cellular shades are more energy efficient because they block more heat and light. The best window coverings to keep heat out are typically outside mount coverings. 
There are different types of cellular shades with varying levels of insulating capabilities. How much insulation you get depends on two things: pleat sizes and the number of cell layers.   
Pleat Sizes: 
The size of each honeycomb cell helps contribute to the amount of energy your window coverings save you. Larger pleat sizes tend to trap more air and thus, are more energy efficient for your home.  
Cellular shades are offered in 3/8-, 9/16-, 1/2- and 3/4-inch sizes.  
Pleat sizes also make a difference in design style. Small pleats look better in smaller windows, while the larger pleats best suit wider windows. 
Single Cell Shades: 
Shades with just one layer of honeycomb material are generally a more affordable choice over the multilayer options. These work best in moderate climates where energy efficiency is less of a concern.  
When choosing single vs. double cell shades, consider if you are looking to add other upgrades like top-down/bottom-up lifts, room darkening liners or cordless or motorized controls. Not only can room darkening liners or blackout options help compensate for energy efficiency, but also choosing the more affordable single cell shades can allow you more upgrade options, depending on your budget. 
Double Cell Shades:
The mid-range option is the double cell shade. With an additional layer of honeycomb fabric, they are extra efficient at trapping and keeping air insulated in your home. They are also available in many colors, fabric styles and with extra upgrades. 
Triple Cell Shades: 
If you live in a climate with more extreme insulating needs, consider triple cell shades. Adding these to your home can significantly reduce your utility bill and make your home more comfortable. 
Drapes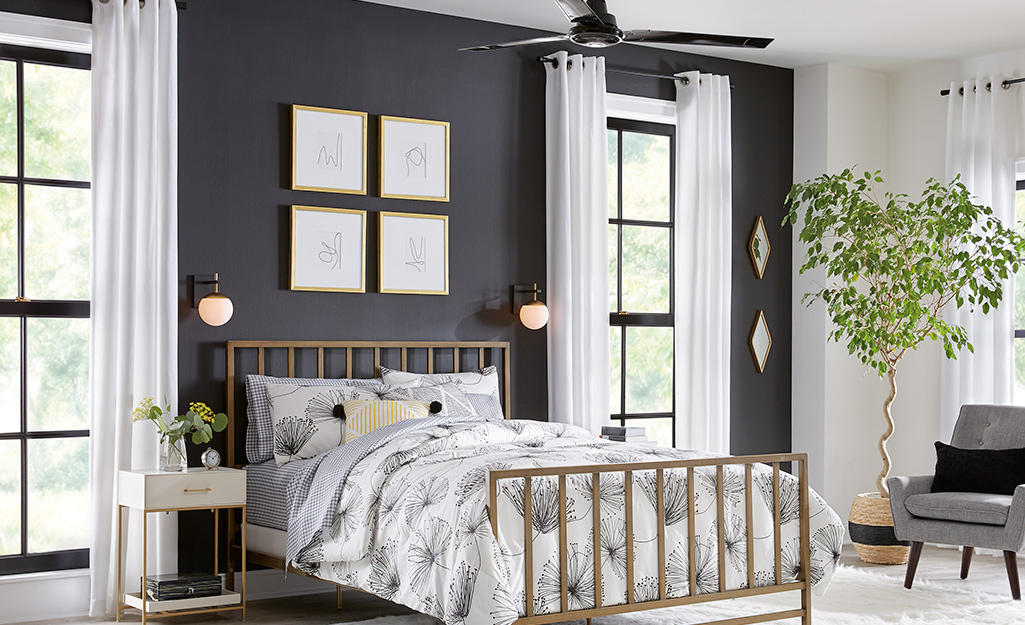 When you want energy efficient window treatments with an elegant design style, try window drapes or curtains. Drapes are a classic window feature available in thousands of colors, patterns and fabrics. Because drapes are outside mounted, they provide more complete window coverage, increasing efficiency. 
For extra energy savings, add a thermal lining to the back of your drapes. Linings are generally white on the backside, which gives your home a clean and smooth exterior curb appeal. 
Shutters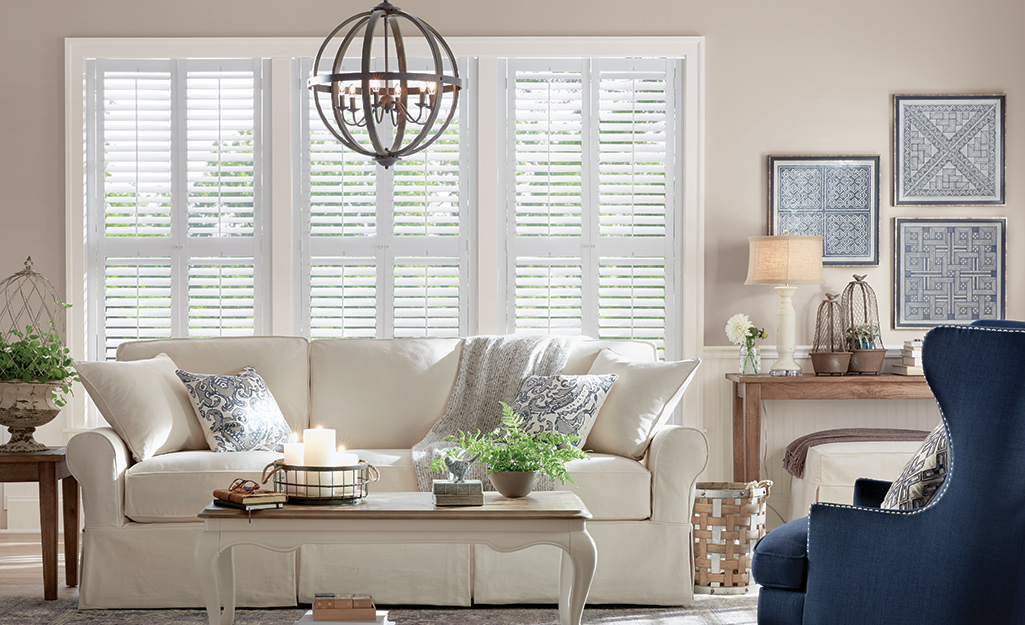 Shutters are a solid window covering made from real wood, vinyl or wood composite materials. The thick materials trap unwanted air between the glass and the covering, which helps insulate the room inside and reduce energy costs.  
You can choose between exterior or interior shutters. Many styles of exterior shutters are decorative and non-functional, but not all. Functional exterior shutters can be helpful for protecting your home from extreme temperatures and weather conditions such as hurricanes, blizzards and storms. Pair exterior shutters with another type of interior window treatment for the best light protection and energy efficiency. 
Interior shutters fit snugly to your windows and have slats called louvers. Depending on the type of interior shutter, the louvers can be adjusted so they are either open or closed completely or slanted to let in filtered light.  
Plantation shutters are a popular type of interior or exterior shutter that have slanted louvers and are fitted to the window frame. They can be opened like doors to let in more light as desired. These shutters get their name because they're popular in the American south, where many choose shutters as energy efficient window treatments to keep their homes cool in the summer. 
Exterior Shades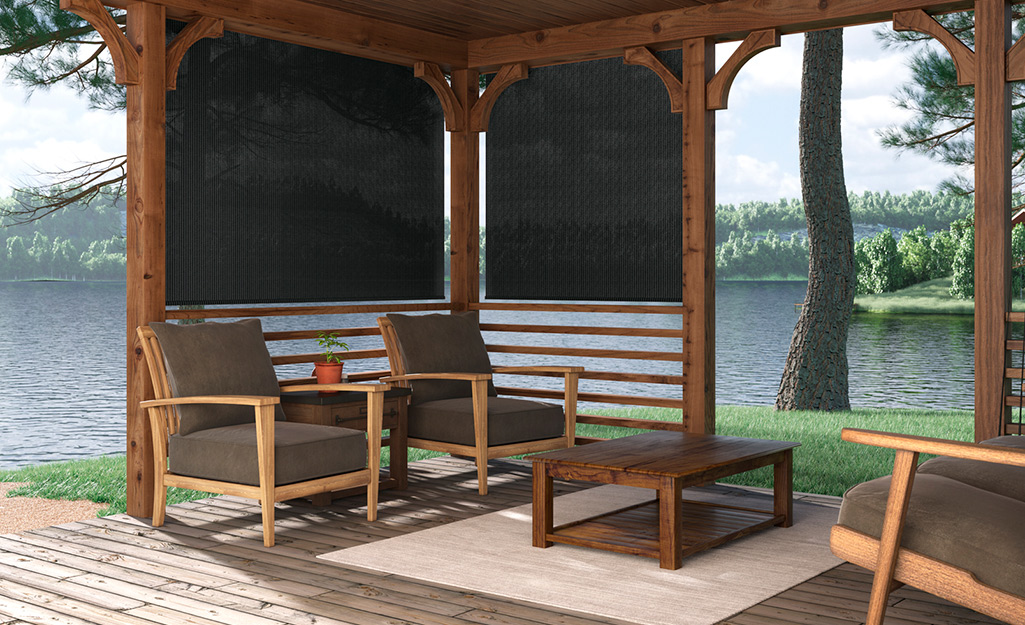 If unwanted heat is an issue for your home, consider adding exterior shades to your porches. Outdoor shades help cut down your air conditioning bills by preventing harsh sunlight from entering your home. They also filter out harmful UV rays and cut down on solar gain, dramatically reducing your home's interior temperature.
Combination Window Coverings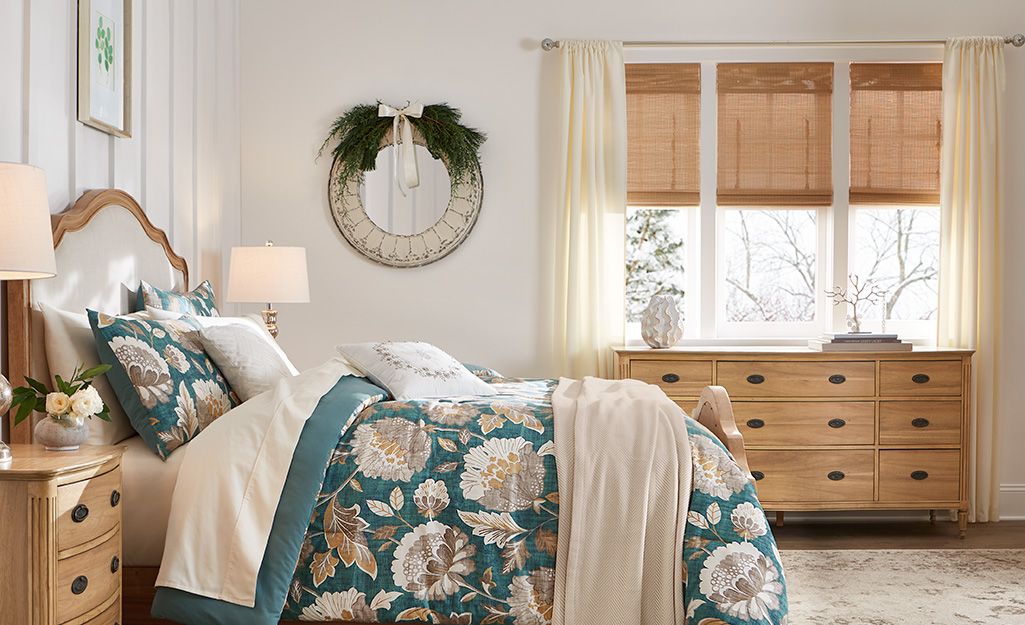 To maximize your energy efficiency, one window treatment may not be enough. If that is the case, you can layer window treatments on top of each other to increase insulation even more. The most popular way of doing this is adding drapes to inside mounted cellular shades or shutters. This tactic dramatically reduces the energy lost through your windows and looks great in your home. 
Whether you're choosing between single vs. double cell shades or between drapes or shutters, any of the window treatments listed above can improve your home's efficiency. Another option is to upgrade to insulated windows. When choosing energy efficient window treatments, first consider both your budget and your style. Once you've found the right window treatments for your home, get them installed quickly and professionally with our blinds installation services. 
Explore More on homedepot.com