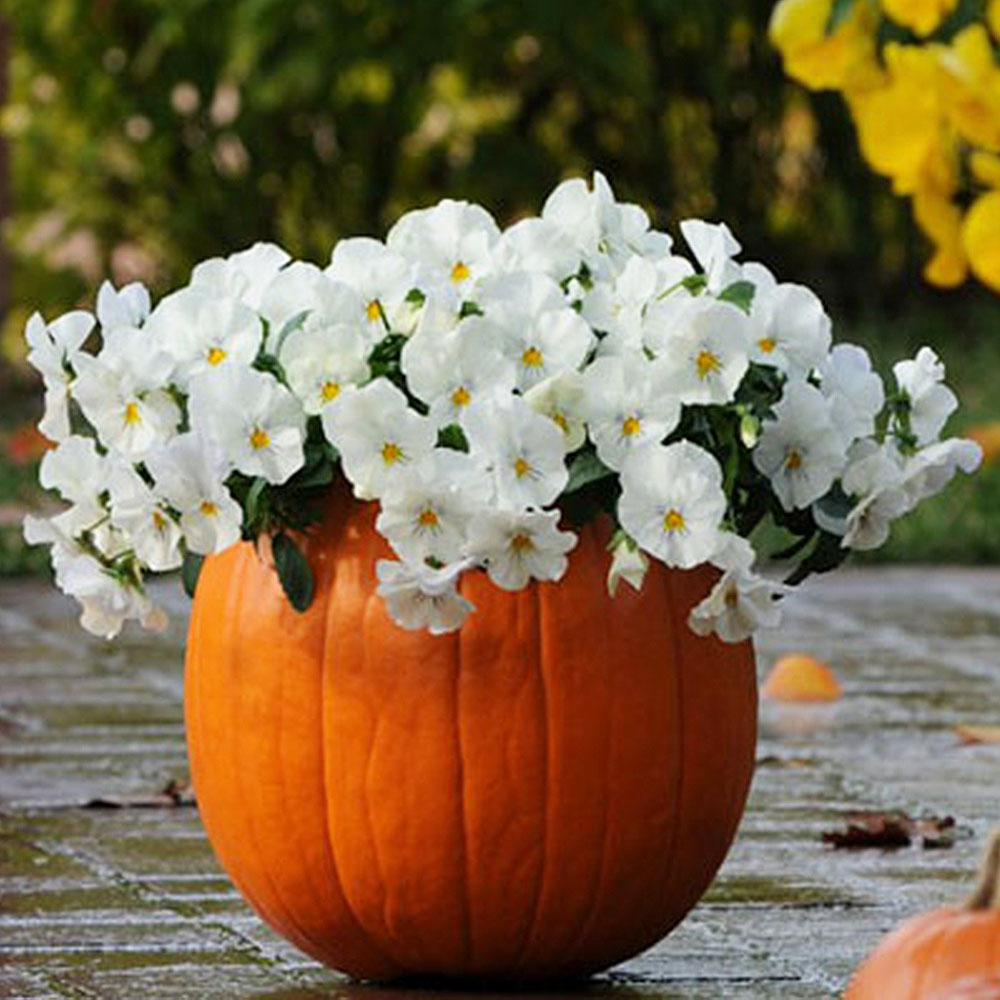 Perk up your porch this fall with a pumpkin packed with pansies. Instead of a candle in a jack-o'-lantern, fill the hollowed-out pumpkin with a bunch of cool-weather-loving pansies. Add floral picks for Halloween accents in electric green, purple, orange and black, or use interesting twigs from your yard.
1
Turn a Pumpkin Into a Container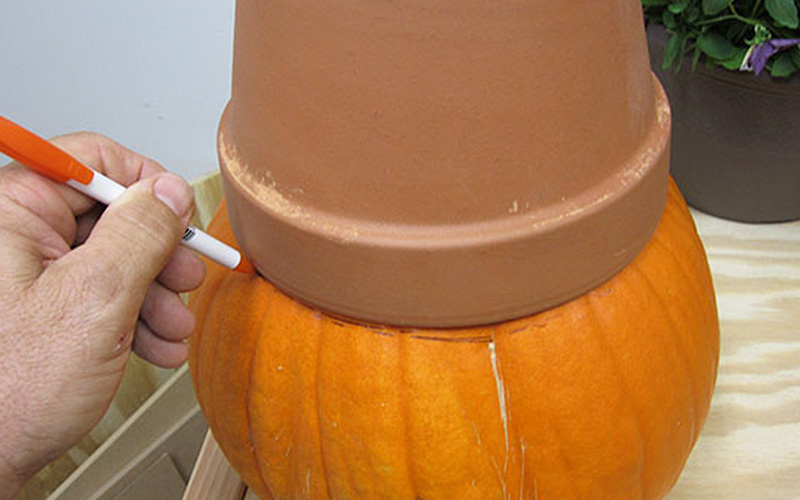 Turning a pumpkin into a planter is easy, but it's a little messy. Spread newspaper over your cutting surface for a quick cleanup. Start by placing a clay or plastic pot upside down over the stem end of the pumpkin. Use a marker or pen to trace around it.
2
Cut a Hole in the Pumpkin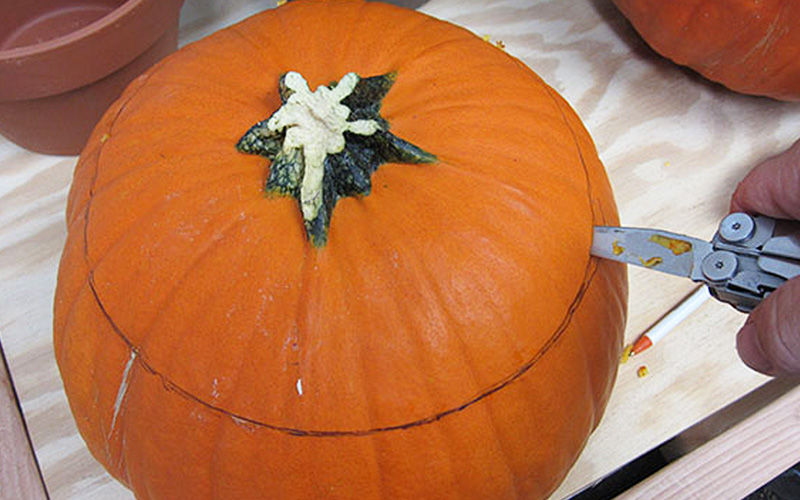 Carefully cut a hole in the top of the pumpkin that is slightly smaller than the diameter of the pot. Scoop out the pumpkin innards and save the seeds to roast and eat, or toss them out for hungry wildlife. Also cut one or two small holes in the bottom of the pumpkin, so water can drain when you water the flowers. Letting the water escape will help the pumpkin last longer, too. You may want to put a saucer under it to catch the excess.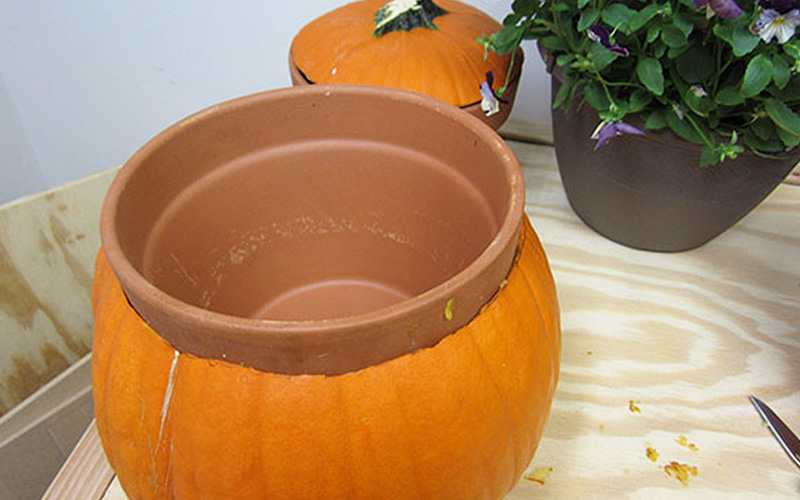 Put the pot into the pumpkin to make sure it fits snugly. If it's too big, trim the opening a little more. If the pot is too small and drops too far down inside the pumpkin, make it sit higher by placing crumpled newspaper or foil (or another planter turned upside down) in the bottom of the pumpkin, and put the pot on top.
4
Plant Pansies in the Pumpkin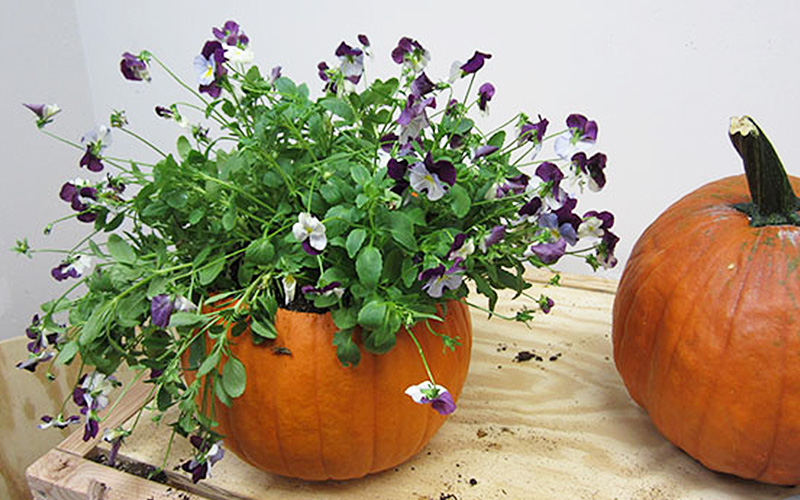 Take the pot back out of the pumpkin and plant the pansies in it. Gently firm the soil around the roots, and water thoroughly to eliminate any air pockets. Put the pot back in the pumpkin, and let the pansy stems trail over the sides. Add floral picks or other decorations, if desired.
Keep the pansies deadheaded to encourage more blooms, and water regularly. When the pumpkin is finished, transplant the flowers to your garden or another container.
Display the pumpkin as the focal point on a porch with more pumpkins and pansies in containers. 
5
More Ideas for Front Porch Fall Decor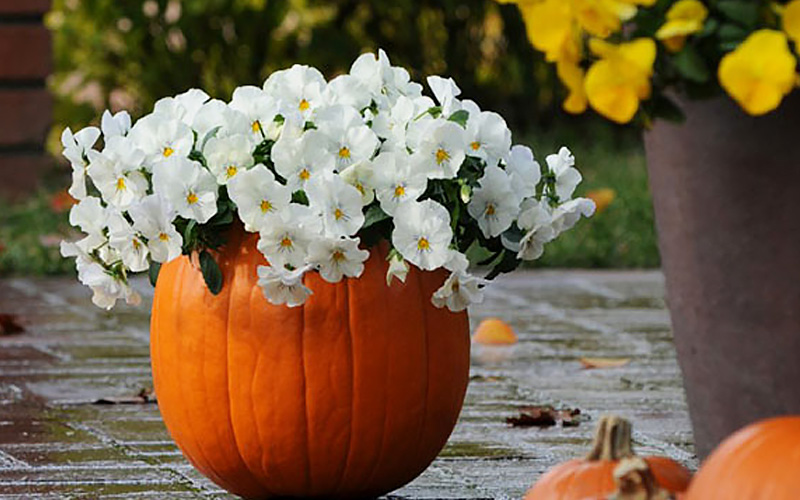 Pick up a can of chalkboard spray paint and blacken a pumpkin. Pull out white paint pens and decorate with creepy and clever creations or house numbers and seasonal sayings.
Paint a pumpkin with chalked finish paint, then finish with a stencil. 
After the holiday, remove the picks and enjoy your planter into Thanksgiving. When the pumpkin declines, toss it in the compost pile and transplant the flowers into a garden bed or container. 
Pumpkin Photographs by Ball Horticultural Co.
The Home Depot is your DIY headquarters. Looking for a product to complete your project? We have options to deliver online orders when and where you need them.
Shop this Project
Explore More on homedepot.com