Project Guide
How to Build a Backyard Pond
Time Required:

Over 1 day

Difficulty:

Intermediate
---
Building a customized backyard pond isn't as hard as you think. This guide will walk you through the process.
Tip: Make sure to choose an area that gets a minimum of six hours of sunlight per day, especially if you plan to include plants that require moderate to heavy sunlight. Double-check with your local pet store if you plan to add fish to your pond.
MARK LOCATION AND SHAPE OF POND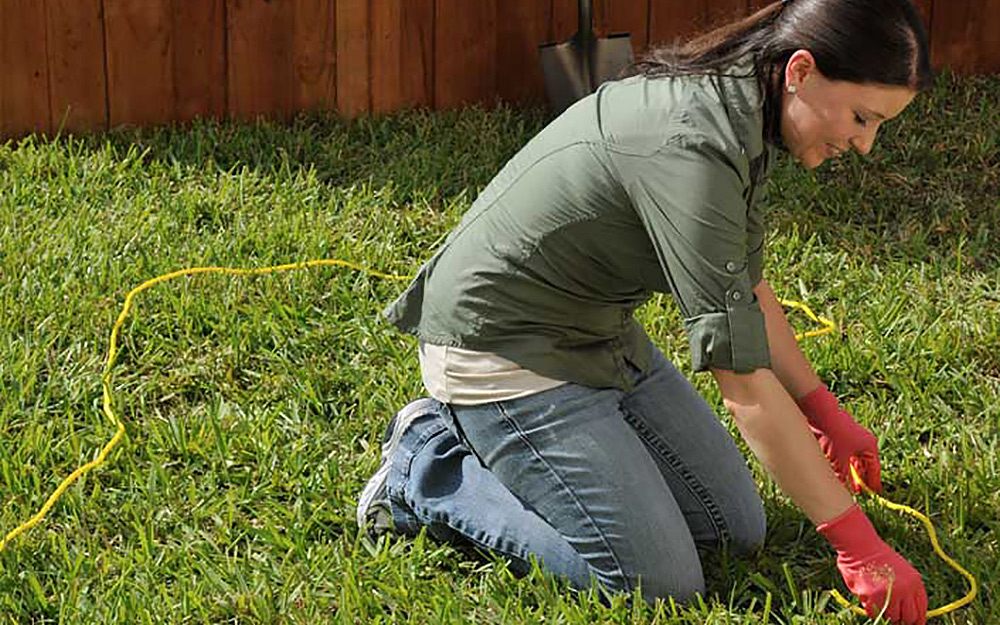 Mark your chosen location with rope and create the shape you want for your pond.
For a 200-gallon pond, the dimensions should be approximately 3 x 6-feet to a depth of 1 ½ feet.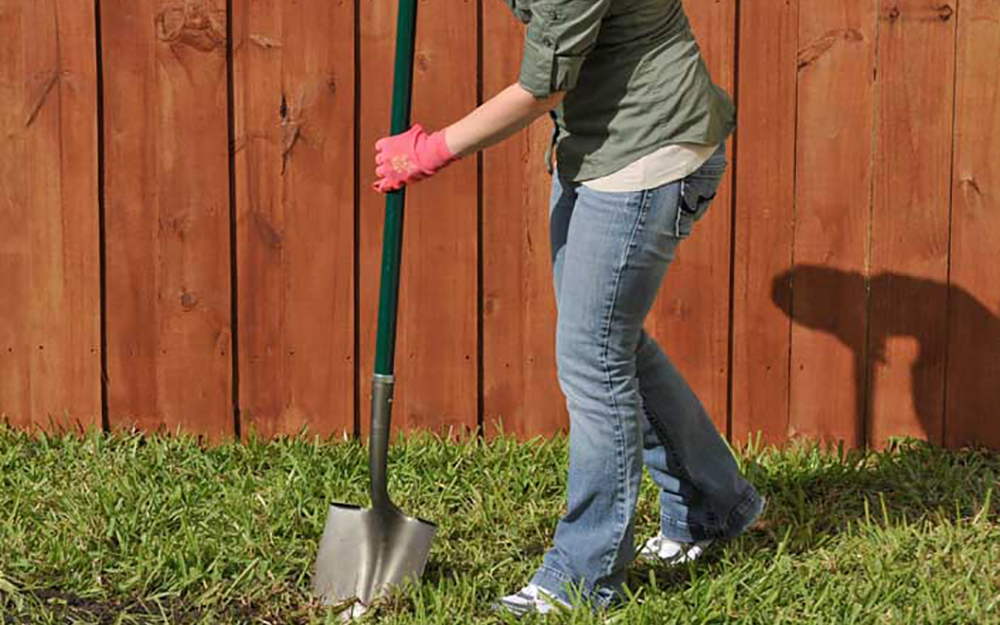 Start digging out the grass and dirt to a depth of 1 foot.
Haul away excess dirt in a wheelbarrow, but save some for leveling.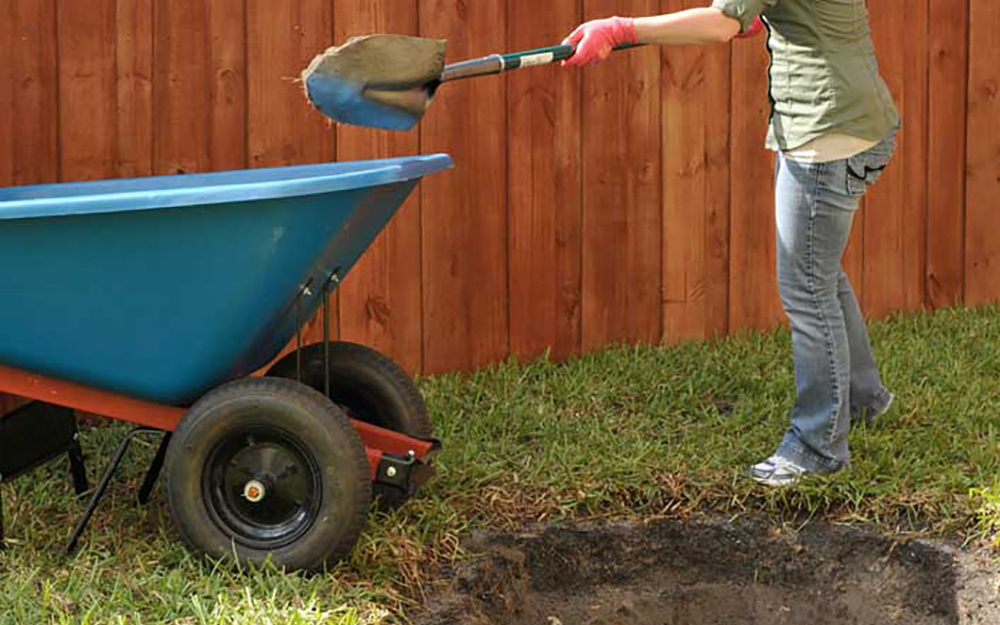 Dig out a deeper second tier of your pond with approximate dimensions of 2 x 4-feet to a depth of approximately 6 inches.
This second tier will create a deeper middle portion for fish and create a shelf for plants and accessories around the edges.
INSTALL THE POND LINER AND UNDERLAYMENT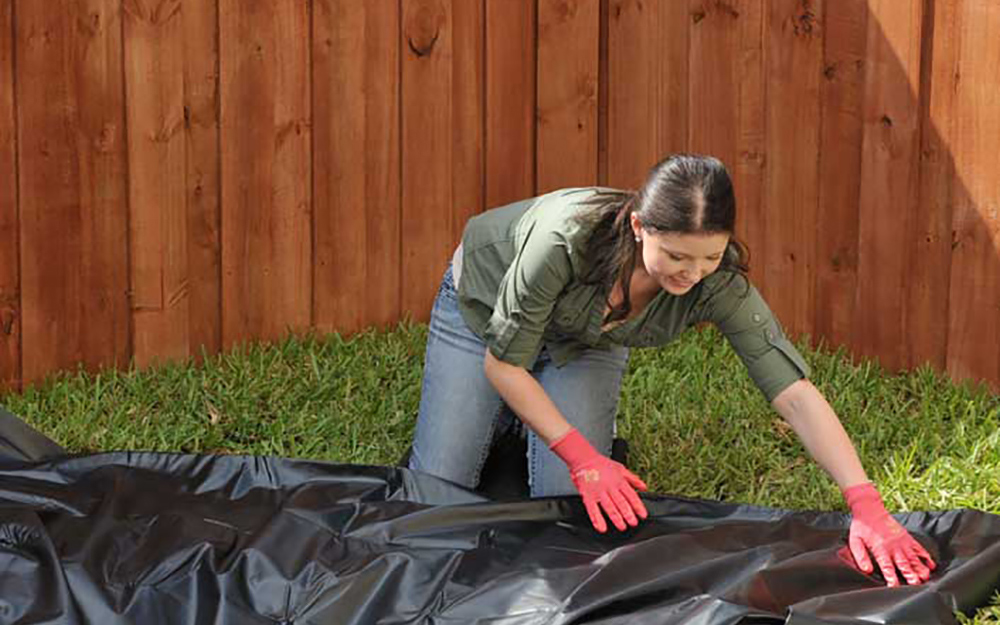 Clear any debris from the pond hole that could potentially puncture the liner.
Press the liner into all gaps to ensure a proper fit.
Leave at least a 10-inch overhang.
Remove the liner and create the underlayment to provide additional protection for the liner. Two layers of underlayment are recommended.
Once the underlayment is complete, reinstall the liner and construct a ledge using decorative rocks to sit inside and hide the liner overhang. The ledge should be a few inches deep.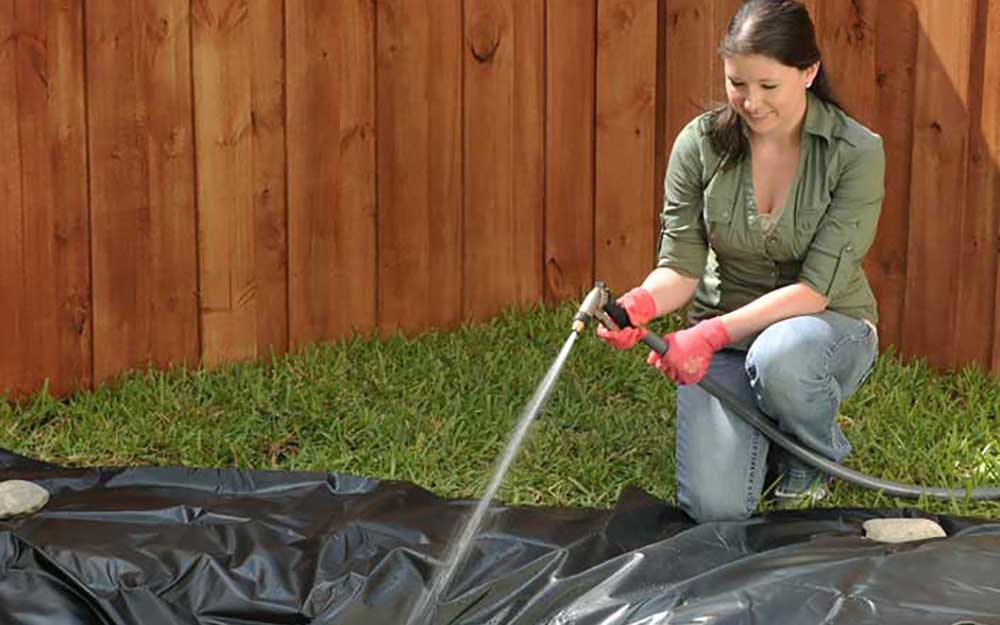 Begin filling the pond with clean water.
Adjust the liner edges as needed as the pond fills.
Stop filling at the halfway point.
ASSEMBLE THE POND KIT AND PUMP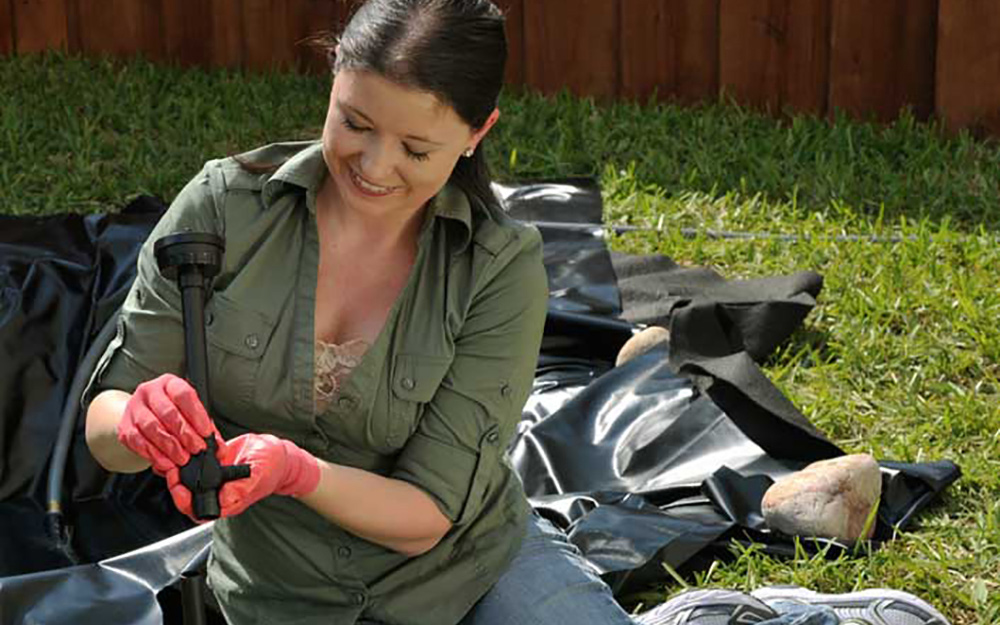 Follow the manufacturer's directions and begin assembling the pond kit and pump with the nozzle head of your choice.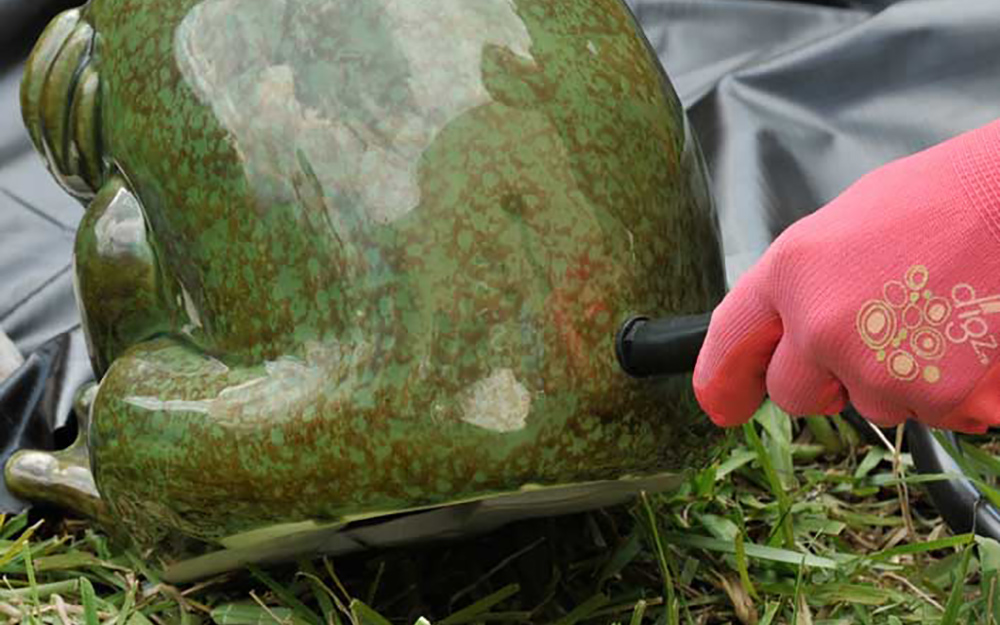 In this picture, we connected a ceramic frog splitter to the diverter valve on the filter kit and pump using ½-inch tubing (tubing and splitter not included in the kit).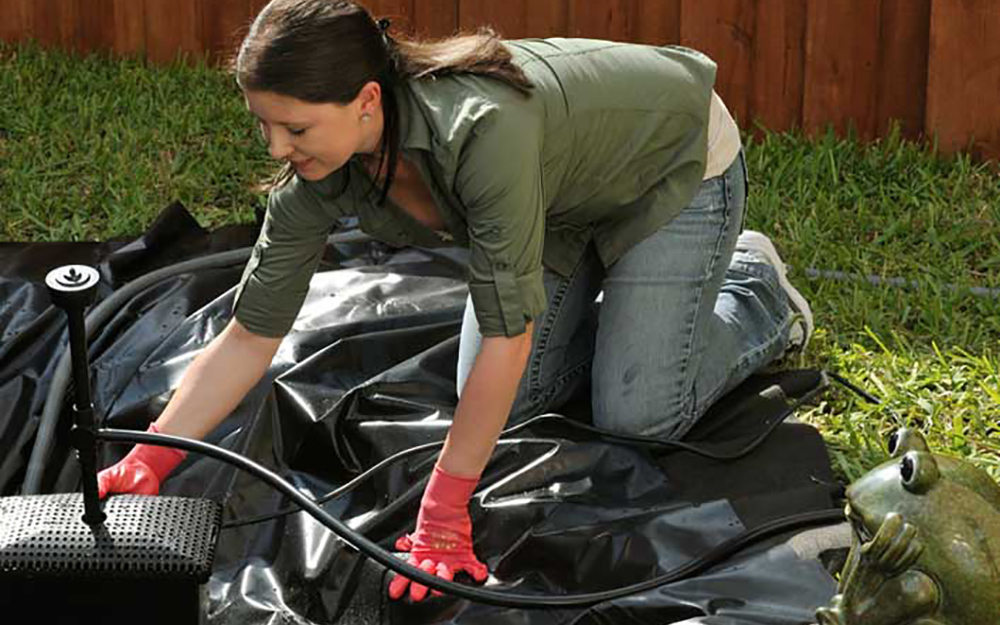 Place the pump assembly in the middle of the pond.
Continue filling in the pond with clean water.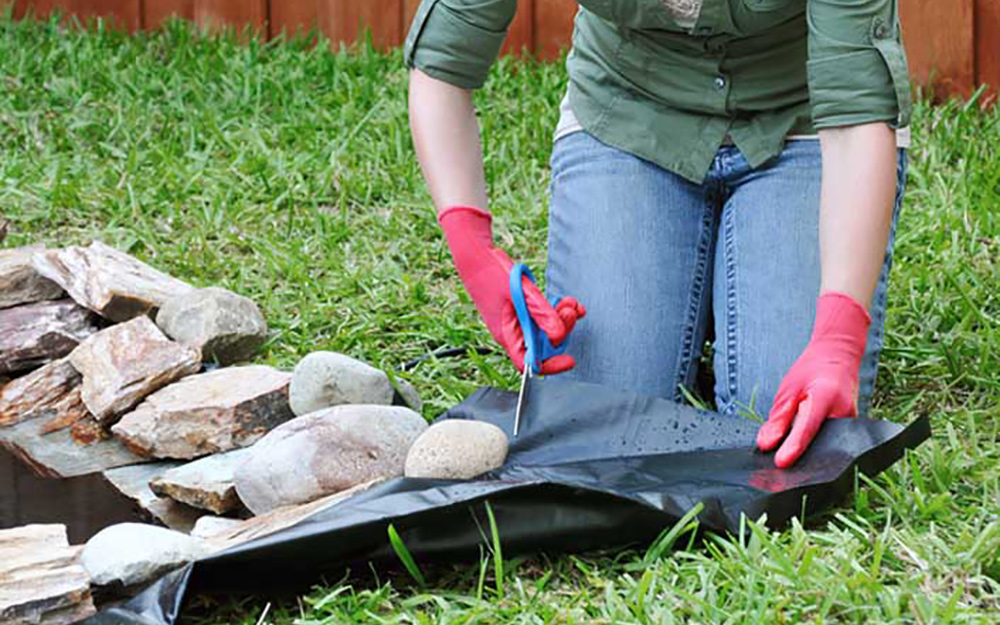 Trim down the liner edges or hide the liner by folding it under the decorative rocks.
Landscape the pond by adding plants and mulch to disguise the liner edges.
Add floating lily pads for a decorative final touch.