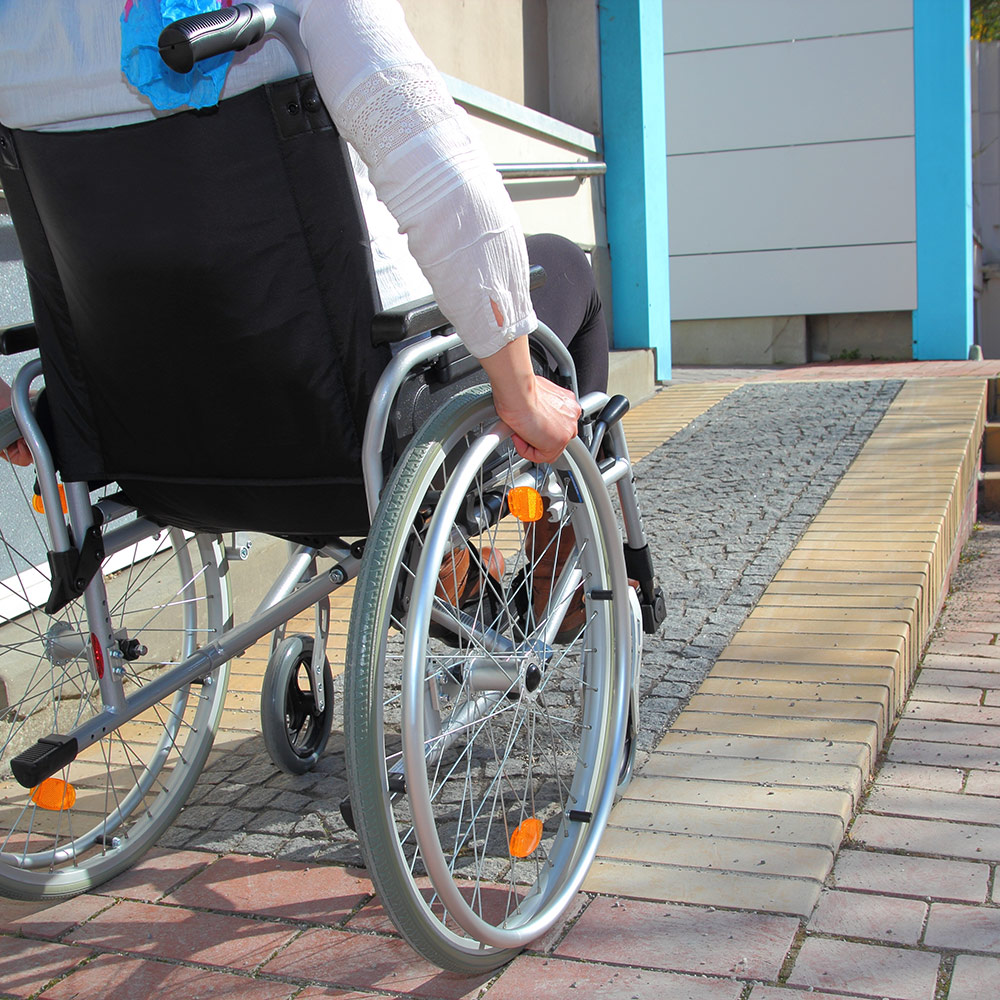 An efficient and safe wheelchair ramp may be necessary for home accessibility when family members or regular visitors are unable to use stairs. The Americans with Disabilities Act provides standards for how to build a ramp in public areas, but you can use those recommendations as guidance when building a ramp for your home.
This guide outlines how to build a wheelchair ramp, including design specifications regarding ramp slope and width, the materials and tools needed for construction and also how to build a ramp for a shed.
1
Measure for Ramp Length and Design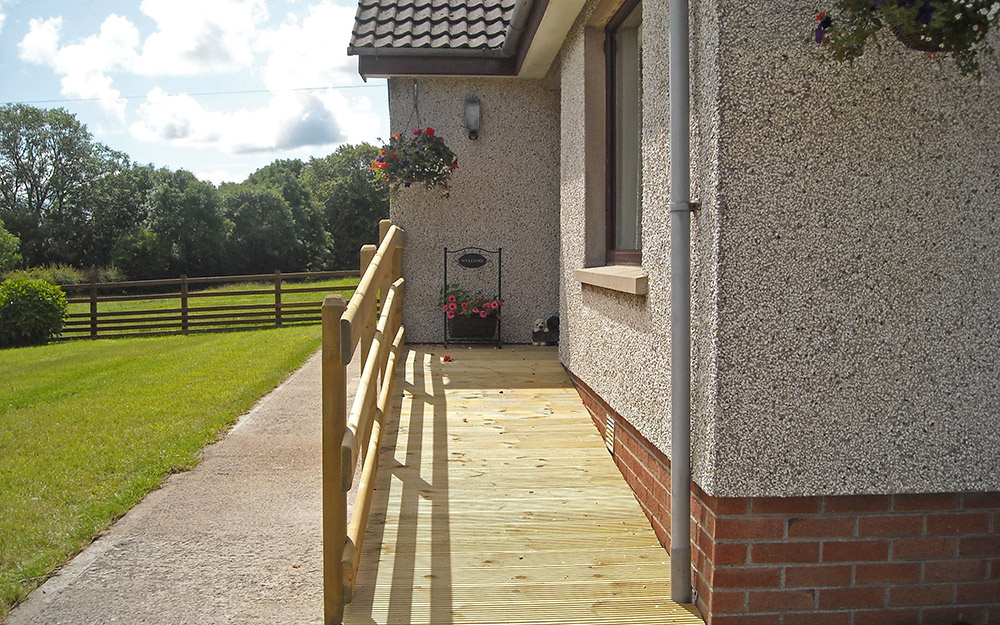 There are several requirements to follow for building a ramp that meets ADA guidelines. It's also important to carefully choose the ramp's location and design.
Measure the distance between the ground and the threshold to find the rise of the ramp. The rise of single ramp run must not exceed 30 inches. If the threshold is more than 30 inches from the ground, two or more ramp sections will be necessary and separated by level landings. 
Slope is the proportion of vertical rise to horizontal length. The steepest slope permitted by the ADA is ratio of 1:12, meaning that the ramp rises one inch for every 12 inches in length. A ratio of 1:16 is not as steep and therefore easier to navigate with a manual wheelchair; a 1:20 slope requires even less effort but is longer in length and requires more materials.
To determine how far the ramp will project horizontally from the threshold, multiply the rise by the desired slope and then divide that figure by 12 to convert the measurement to feet. For example, a 30-inch rise multiplied by 1:16 slope equals 480 inches. That length divided by 12 equals 40 feet, the horizontal distance the ramp will extend from the threshold.
If your yard is too small to accommodate that length in one straight run, use turns and landings between multiple sections of ramp.
2
Additional Ramp Specifications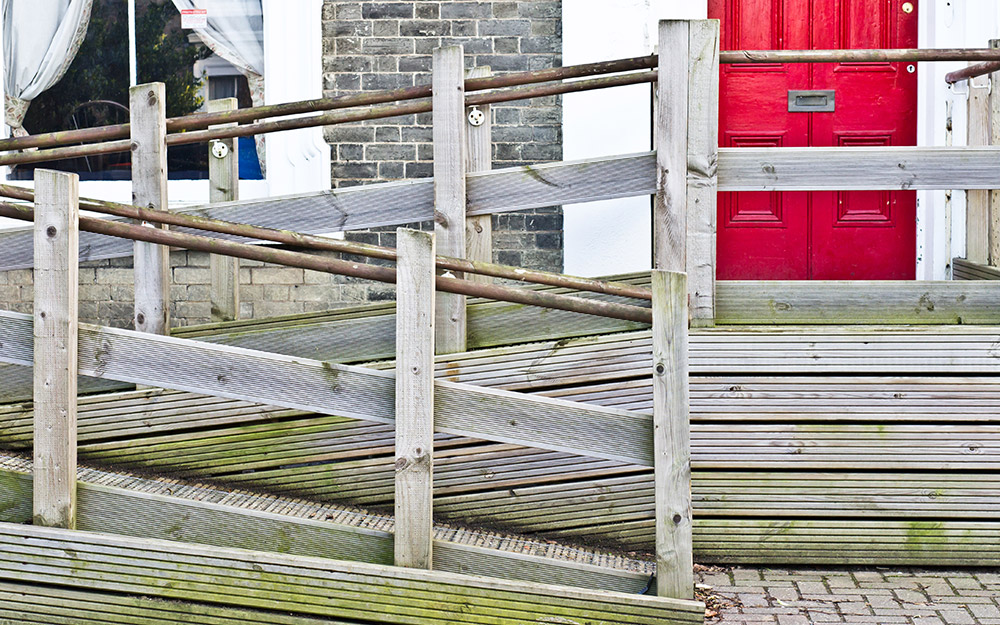 Keep these additional specifications in mind when building a ramp. 
The width of the ramp must have a minimum of 36 inches of clearance between handrails.
Handrails 36 inches high are required on both sides of the ramp if the rise is greater than 6 inches.
Resting landings between single runs must measure at least as wide as the run and be 60 inches long.
Landings on ramps that change direction between runs must measure at least 60 x 60 inches to allow for wheelchair turns and/or resting. An entrance landing should be similarly sized to allow for the door to open.
The cross-slope must be less than 1:48 and the ramp surface must be stable and slip-resistant.
The bottom and the top of the ramp should have a smooth transition to prevent wheels from becoming stuck when entering or exiting the ramp.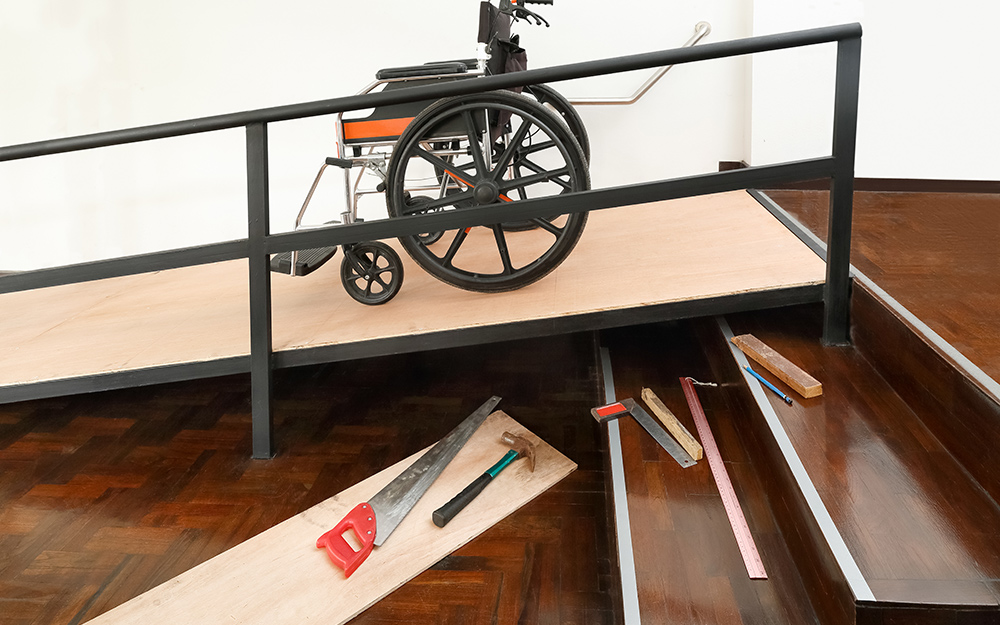 A concrete ramp is another type of ramp solution and requires little maintenance. Steel or aluminum can be used for construction, too, but using lumberfor ramps is the most common option. Like a deck, ramps made from pressure treated wood are sturdy and resilient when properly built and maintained.
Wood is more DIY-friendly than other options and can be made using common tools such as hand saws or circular saws for cutting the lumber, and drills for driving screws for the framework and surface decking.
To be sturdy enough for a heavy electric wheelchair, a ramp's 2- x 6-inch lumber framework can be fixed to 4- x 4-inch posts set in concrete footings below the frost line. Common 5/4- x 6-inch deck boards can be used for the surface and secured with exterior deck screws.
Check with your local building inspector regarding your handicap ramp plans to obtain any necessary building permits before beginning any construction.
Also, consider pre-built accessibility ramps to determine if these alternatives will suit your temporary needs.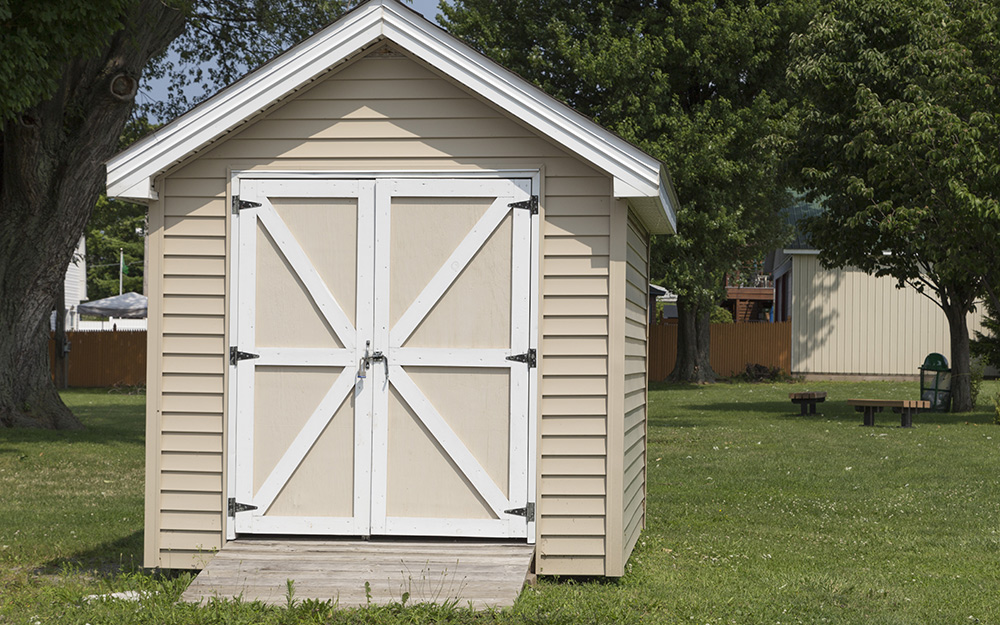 Learning how to build a ramp for a shed is not as complex as building a ramp for accessibility, but there are still plenty of variables.
Determine the rise needed and the desired slope. The rise for sheds is often only several inches, and riding mowers can easily handle a 1:8 slope.
Pressure-treated lumber rated for ground contact should be used to build a shed ramp. Use a circular saw to cut triangular stringers based on the rise and slope measurements.
The size of the boards depends on the ramp rise. For example, 2- x 6-inch lumber could be used as stringers if the rise is less than 5 1/2 inches; a rise greater than that would require a 2- x 8-inch board.
A ramp 4-feet wide uses four stringers; two at each outside edge and two evenly spaced inside.
Brace the high end of ramp with a 2-inch board that has been cut to length and rip-cut to the height of the rise. Use 3-inch exterior deck screws to attach it to each of the stringers.
For additional support, cut smaller lengths of lumber to fit snugly in between the stringers and fasten with the screws.
Use 2- x 6-inch boards for the ramp surface. Cut them to length and secure to each stringer with the deck screws.
Stain or paint as desired. Use slip-resistant tape if extra traction is needed.
The construction know-how needed to build a ramp is not complicated, but for your ramp to be successful, it must be built according to ADA specifications. When you're ready to tackle this project, use The Home Depot Mobile App to shop materials, or order online and have them delivered.
Explore More on homedepot.com