Presented by Charlotte Smith of At Charlotte's House
A cardboard playhouse is an enjoyable project for the whole family to work on together. Once you have learned to build a basic box playhouse, there are almost endless ways to add amenities to your playhouse. Start with this guide from Charlotte Smith of At Charlotte's House as she outlines how to create a very special cardboard playhouse that is just as much fun to build as it is to play in.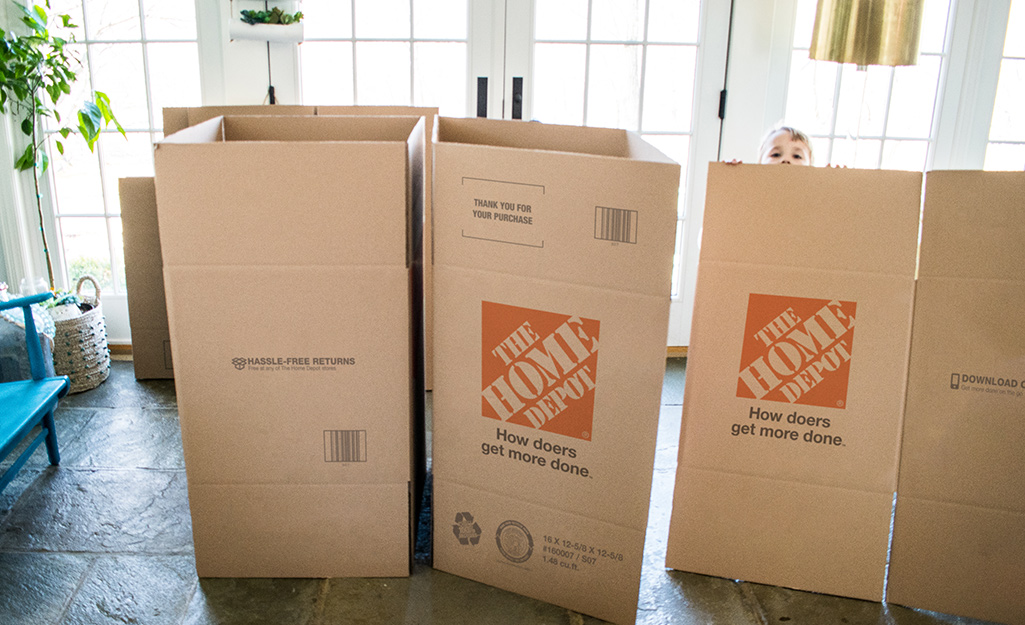 Decide the best location in your home for setting up your playhouse and determine the available space. Make sure you leave enough room to move around the outside of the playhouse and be sure your kids will be able to get in and out of the space. Then, determine the layout for your playhouse, making a quick sketch if necessary.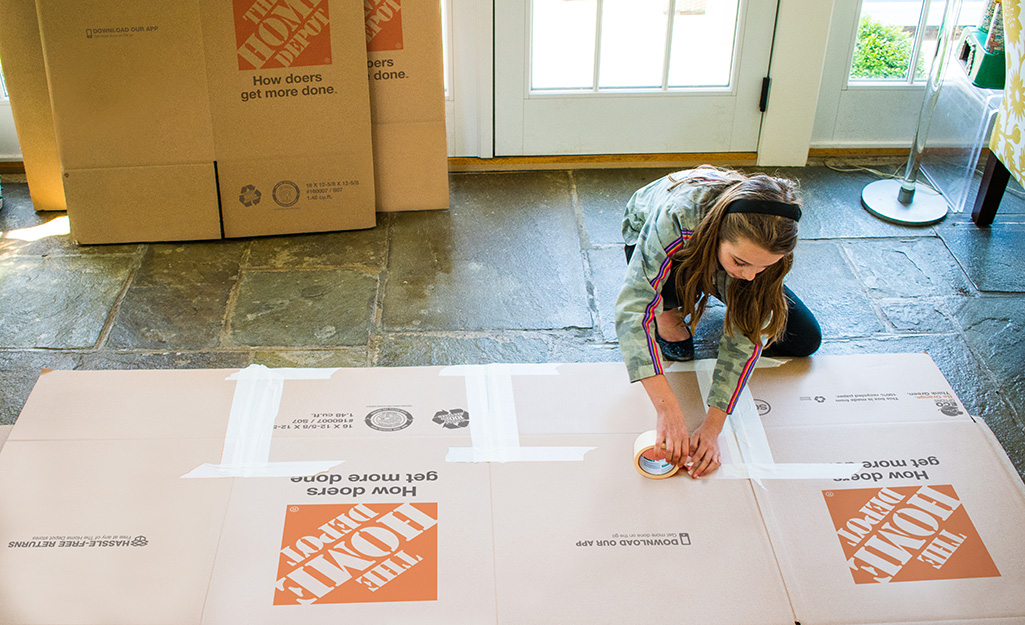 Open up the cardboard boxes at the natural seam. Then, with the boxes laid flat, reinforce all of the seams with masking tape to give the boxes more strength. Sketch out window and door openings on the sides of the boxes. Using a utility knife, cut out windows, reserving the scrap cardboard. For doors, cut along three sides and use a straight edge to guide a fold on the hinge edge of the door.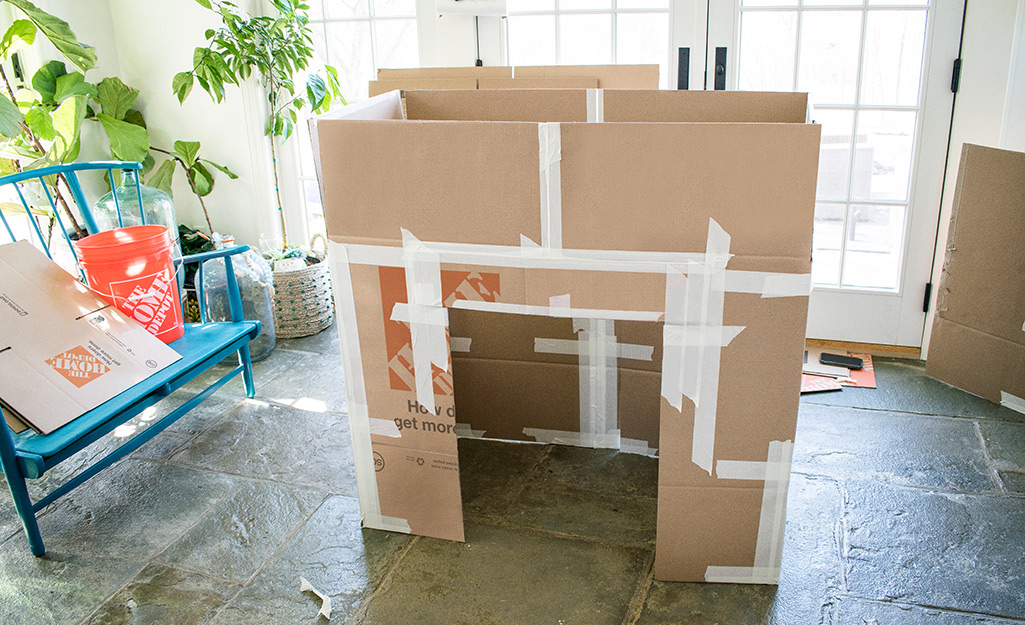 Join two extra-large boxes together, overlapping the ends and attaching with masking tape. Add a front section to the playhouse by attaching a large box as an addition. Reinforce folds with extra strips of cardboard as needed.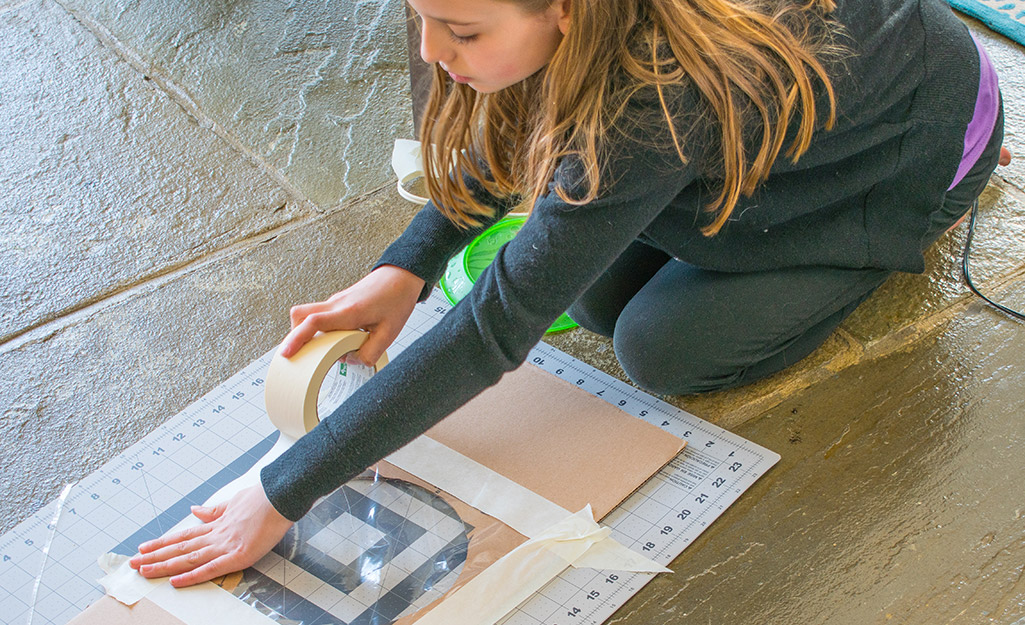 Cut out medium circles into two cardboard flaps. Tape white or clear plastic bags over the circles.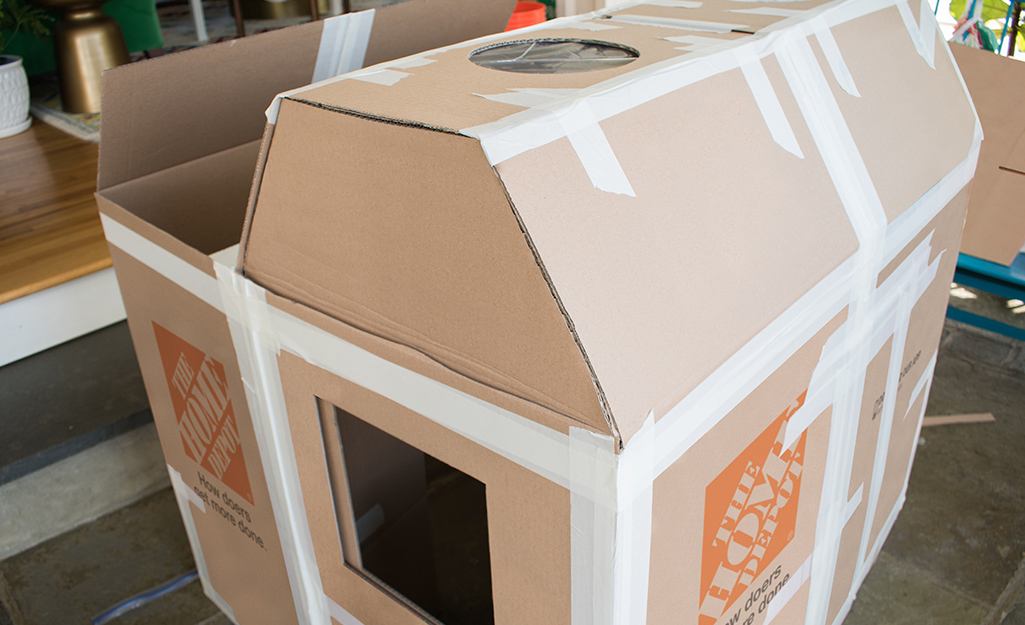 Tape the skylights between the roof flaps of the two extra-large boxes, then seal all seams with masking tape. Reinforce the angled roof for added support. Score the two end flaps, then fold and tuck the flaps into the roofline.
Using a piece from a medium shipping box to bridge the gap, tape the flaps of the large box onto the front of the extra-large boxes.
7
Make and Install Window Boxes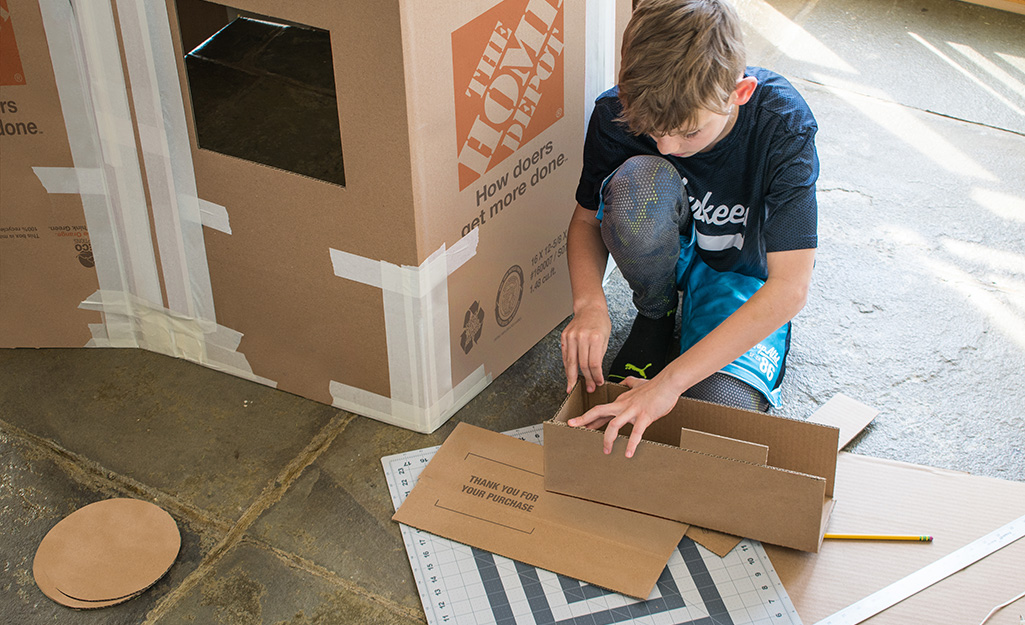 Using leftover shipping boxes, fold a strip of cardboard to make the front, bottom and back of a window box. Cut and tape two smaller pieces of cardboard in place to make either end of the window box. Fold strips of cardboard at a 90-degree to form brackets. Fit the brackets under the window boxes, then tape them in place under each window.
8
Create a Basketball Hoop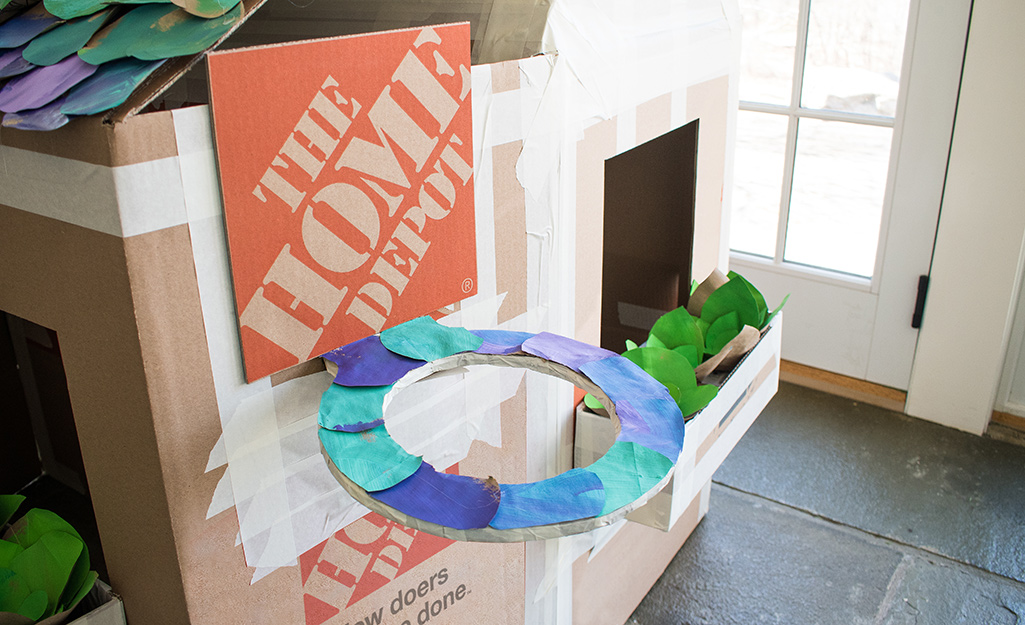 From another cardboard box, cut out two tennis-racket shapes and one donut shape, then tape them together. Score and fold the 'handle' of the basketball hoop and attach to the playhouse with masking tape. Make balls with crumbled newspaper wrapped in masking tape.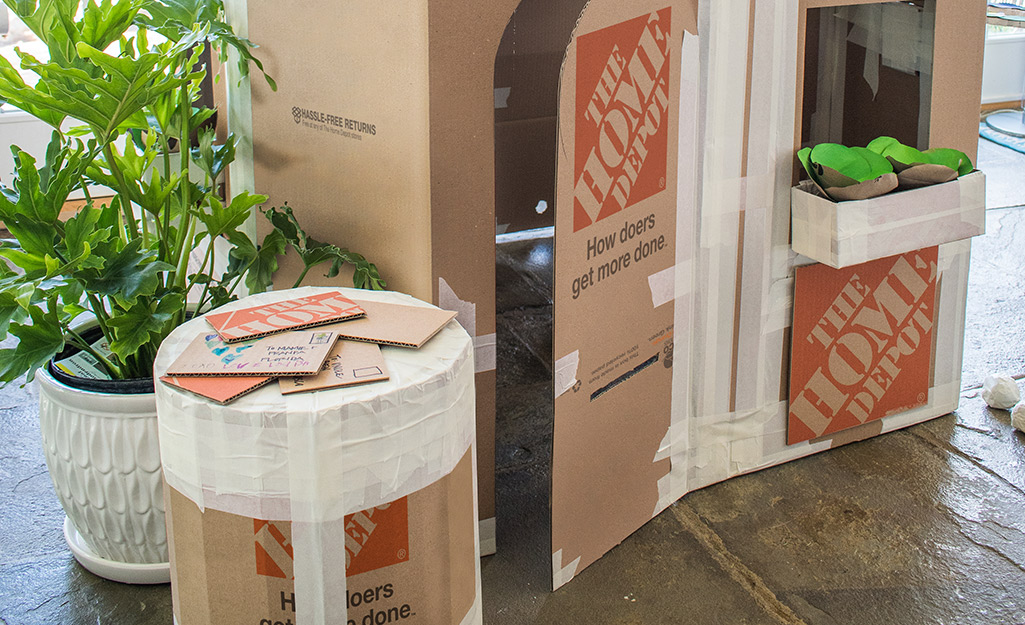 Wrap a piece of cardboard around a The Home Depot orange bucket. Cut small release cuts in one end so that the cardboard will fold over the top of the bucket. Cut out a cardboard circle for the seat and tape it to the top.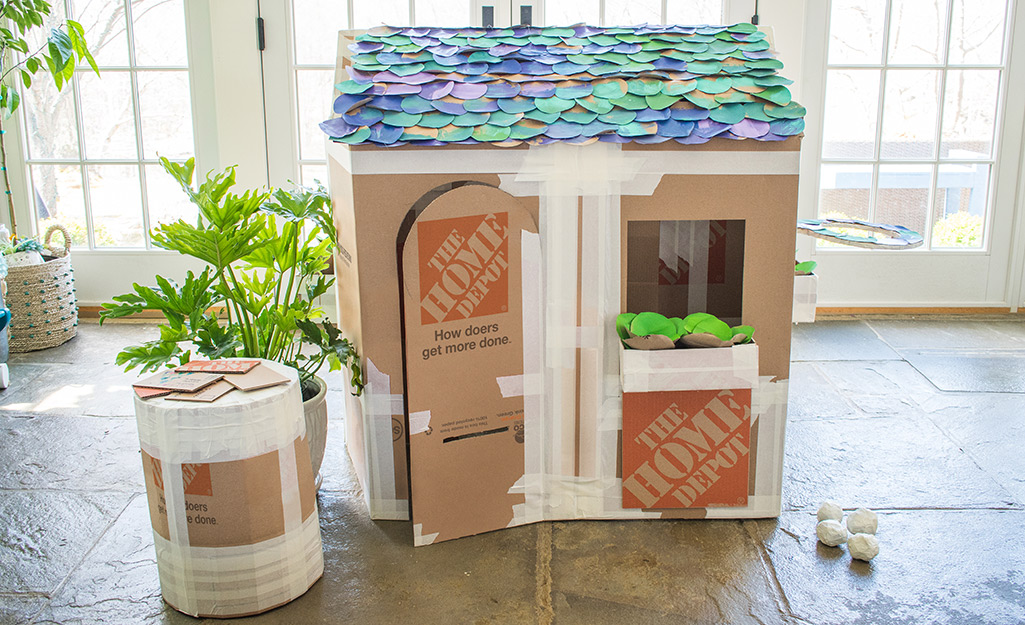 Open up several paper shopping bags at the seams and lay them flat.  Paint one side of each of the bags with leftover latex paint or craft paint. When the paint has dried, use a craft punch or scissors to cut out circles. Glue these to the roof to act as shingles.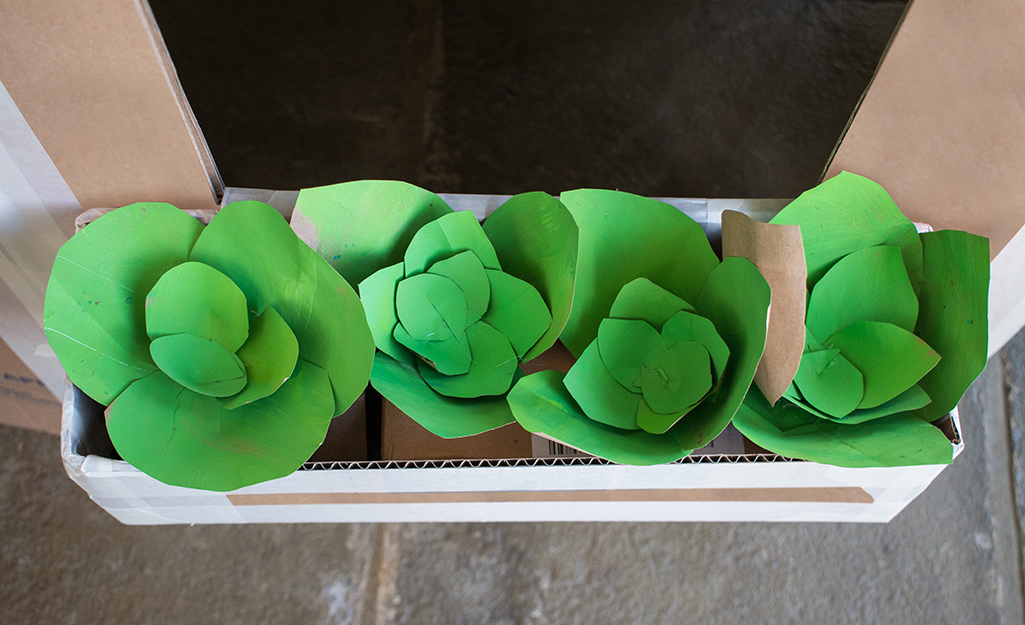 Cut petals from the painted paper bag. Make a small cut in one end of the petal and use a hot glue gun to overlap these flaps slightly. Glue together a number of petals to create a paper flower, then let dry. Repeat until you have enough flowers to fill your window boxes.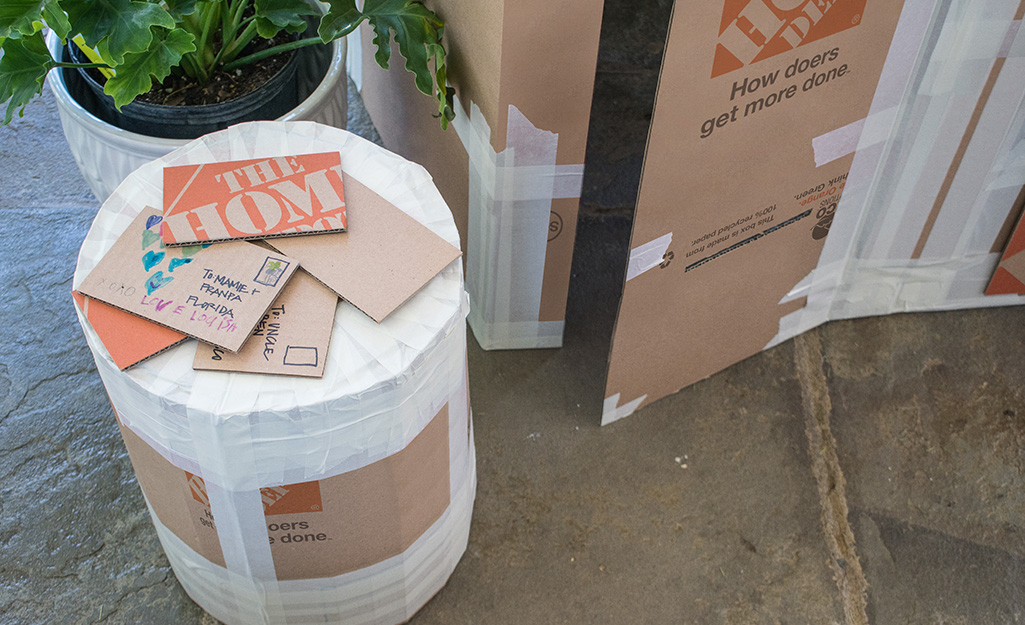 Use scraps of cardboard and markers, pens and paint to make pretend postcards. Use a utility knife to cut a mail slot in the front door so that the postcards can be delivered.
Take on this fun family project and build a box playhouse together, or shop The Home Depot for a ready-made playhouse your children can enjoy for years to come.
Charlotte Smith shares her chaotic and color-loving adventures in DIY and design on her blog, At Charlotte's House. Charlotte writes about fixing up her 1850's historic home, her five small children, and bringing flea market and vintage décor into a modern home. Her design style is fun, personal, and… sturdy! Charlotte has appeared in print and online in Better Homes and Gardens, Fairfield Magazine, Houzz, Good Housekeeping and more. Each month you can catch her on News 8's CT Style and on WWLPs Mass Appeal. Other on-camera appearances include Rachael Ray, Flea Market Flip and the Hallmark Channel's Home and Family show. 
Explore More on homedepot.com