Ideas & Inspiration
Closet Organization Ideas for Kids
Spending quality time with your child is the main priority when you're a parent. To make each moment more productive, get your child's room or nursery organized today, starting with the closet.
This guide will offer a variety of closet organization ideas for kids' rooms so you can maximize the space. Use these solutions to make the area as efficient as possible.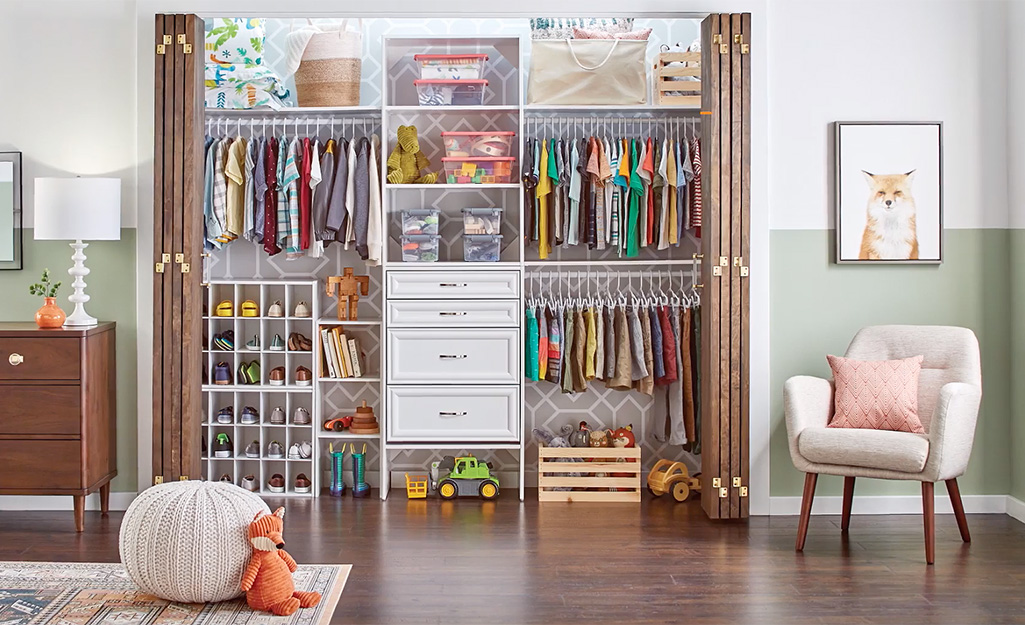 Whether you're working with a space that already has built-in storage or you're starting with an empty area, the closet organization ideas are endless. Here are a few options:
Large organizers that offer closet drawers, shelves and an area for hanging items. Available in a variety of sizes and finishes, from classic wood to durable white laminate and wire, large organizers can be an all-in-one solution for a nursery closet.
Small closet organizers. If you already have a few shelves, drawers or a hanging bar, look for small closet organizers to add to the existing setup.
Add closet drawer organizers. Clothes and accessories for babies can be extra small, so use in-drawer organizers to give everything a separate compartment.
Hanging pocket organizers are great for shoes, folded clothes and even toys. Hang yours on a closet bar or look for an over-the-door option to make the best use of a tight space.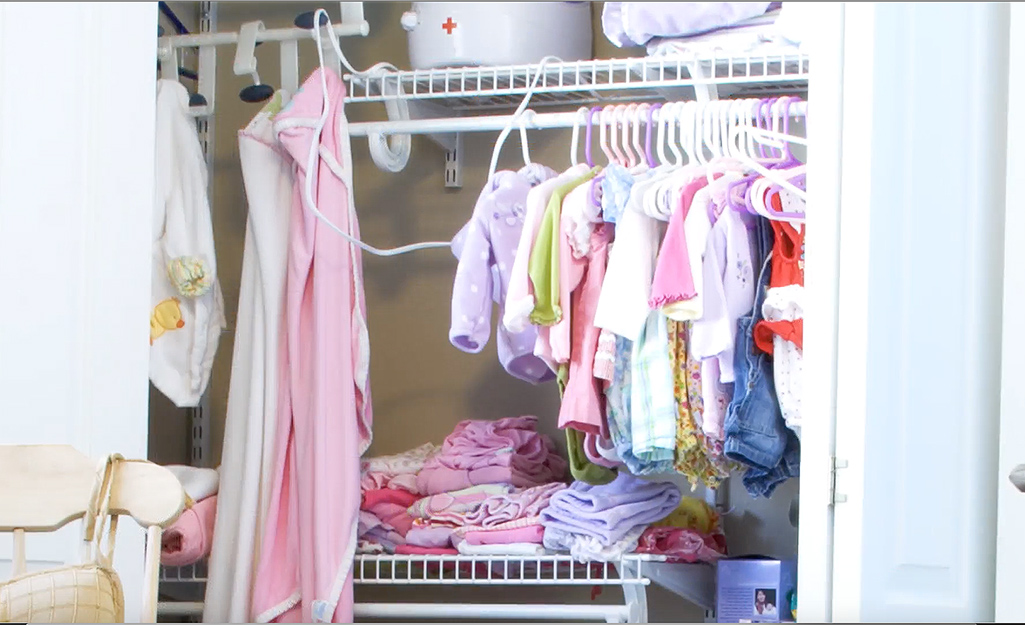 Toys, shoes, books, clothes and more all need a place to live. With shelving, you can quickly turn an empty closet or a partially finished one into a perfect organizational space for your child's room. Here are a few ways to utilize shelving in a nursery closet:
Hanging closet shelves are great for toys and items you want to be easy to access. Books, games and more can go within reach with simple shelving.
Add more vertical storage to your closet with a row of shelving. Ideal for folded clothes, shoes and toys, vertical shelving can transform the smallest closets into well-appointed ones in a hurry.
Add stackable shelves. Easy to put in place and use, stackable shelving is modular so it's easy to get the right amount of storage space for your kid's closet. It's also lightweight and easy to move as your child gets older and your closet configuration changes.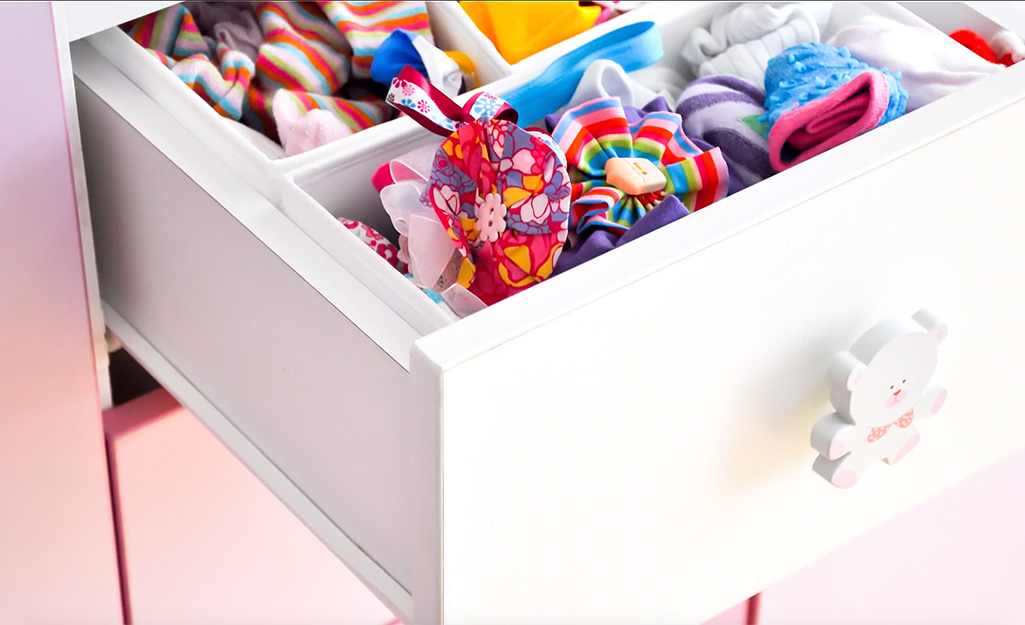 Whole closet systems, drawers and shelves can quickly get messy when you're dealing with small kid's clothes. Closet accessories like dividers can help you stay organized and neat even if you need a new set of clean clothes every few hours. Here are a few basic divider styles you can use in your child's closet:
Shelf dividers. Organize your shelves and make quick work of folded t-shirts, shorts and more. You can also use shelf dividers to make sections for toys, clothes, books and other essentials.
Drawer dividers. Drawer dividers make storing small items neat and simple. Look for dividers with multi-sized compartments to organize items like underwear, socks and accessories.
Room and closet dividers. If you're looking to make separate sections for clothes and playtime items, try plastic dividers and decorative dividers to help organize an oversized closet.

Tip: Use hanging closet dividers to separate baby's clothes by size/month. This will help you save time searching for items. You can also arrange by season and label them with hanging tags for a more streamlined space.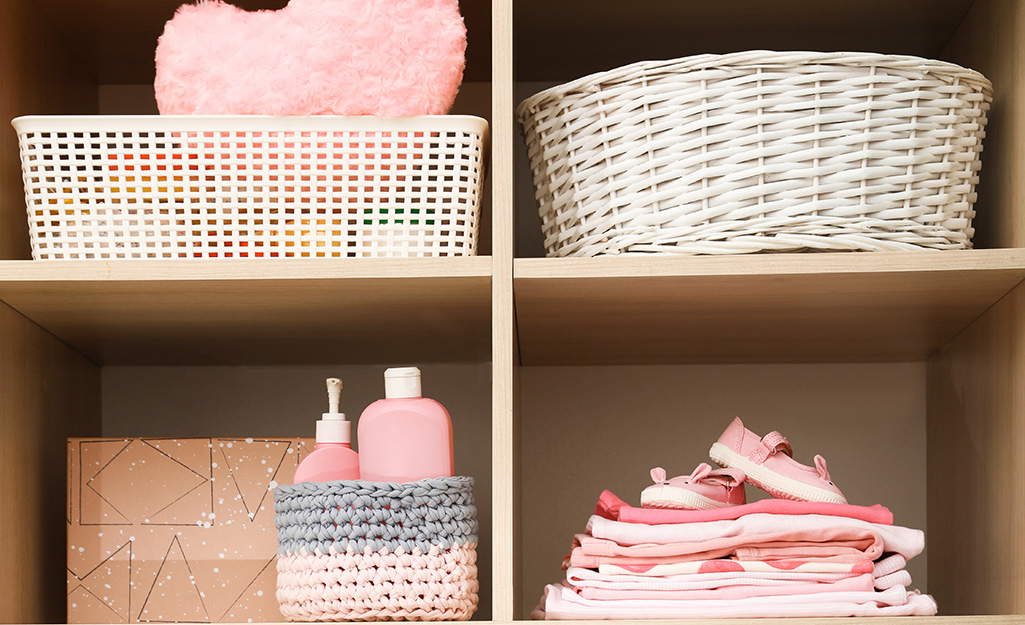 When brainstorming closet ideas for kids, consider clear and colorful storage bins. Here are a few ways to use storage bins in your child's closet:
Use them for out-of-season clothing like winter jackets and swimsuits.
Store excess or less commonly worn clothes in storage bins. They're easy to stack and keep out of the way until you need the items inside. Storage bins are also great for clothes you want to give away and items of clothing you know your kids will eventually grow into.
Go for stackable bins to house toys, games and books.
Store shoes in bins. Storage bins are especially useful for outside-only shoes that could make your closet dirty.
From neatly hung clothes to perfectly sorted socks, an organized closet means less time searching for items and more time playing with your kids. No matter the space you're working with, we have the right storage bins and organizers to help you get the closet in order and teach kids about tidying up as they grow.