Project Guide
How to Create a DIY Barn Wood Door
Time Required:

Over 1 day

Difficulty:

Beginner
---
Whether for the bathroom, bedroom or laundry room entry, deciding to build a barn wood door can ensure added privacy and style. Ready-to-install options can be costly and the idea of creating a DIY barnwood door may seem intimidating, but this guide will teach you how to choose your lumber, remove your current door and install a brand new custom barn wood door in just a few steps.
Choose Your Lumber and Hardware Kit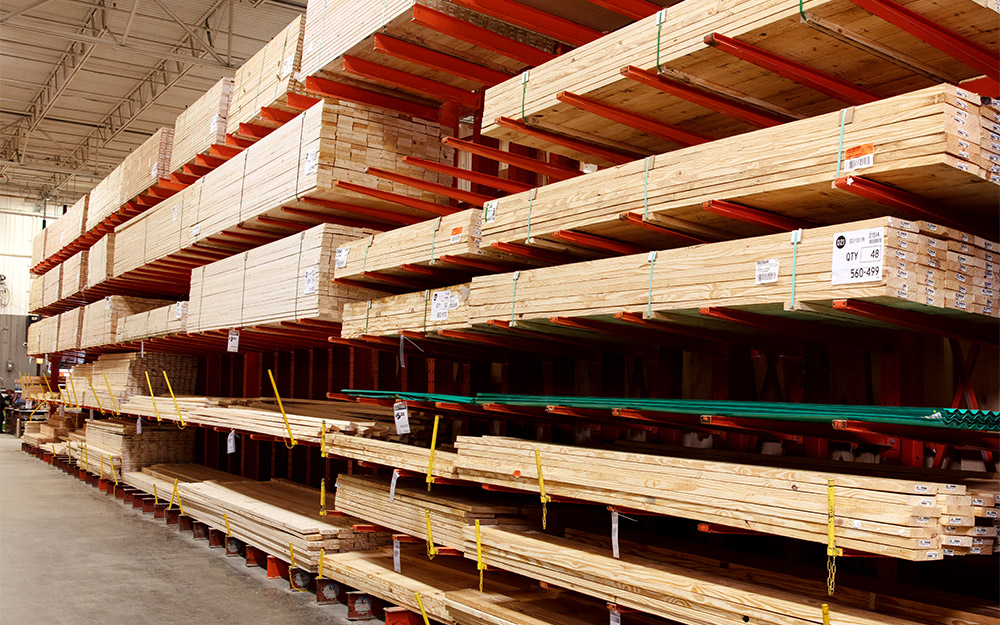 Lumber: When choosing the type of wood to use for your barn wood door, it's important to decide what type of look you want in your room. Appearance boards are a cost-effective and easy-to-work with material. If you want a more rustic look, barn wood or reclaimed wood such as pine or fir, will add more farmhouse appeal to your indoor barn doors.
When it comes to barn wood door design, there are so many options to choose from, so be sure to look for inspiration online to find a design that works for your home style.
Barn door hardware kit: Just as you choose your appearance board to match your home decor style, you want to choose a barn door rail, handles and a track that matches your aesthetic. Keep in mind, a single barn door will need a track that's at least twice as wide as your door.
Remove Door and Measure Opening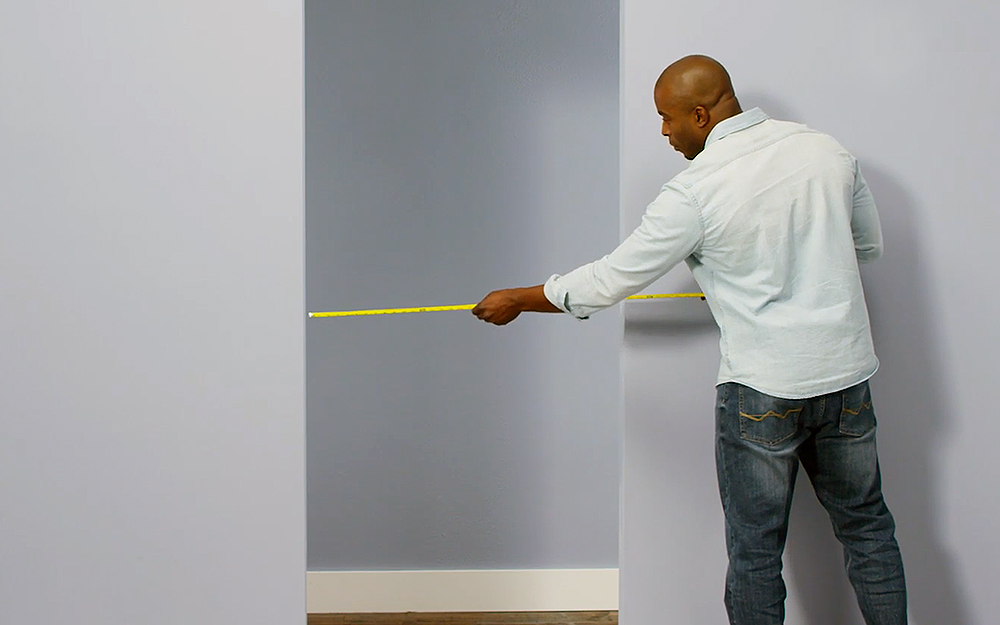 Select the room and door you want to swap out for the barn wood door.
Remove the door you are planning to replace and measure the door opening to determine your door size and how much appearance board you will need.
Once you have measured the opening, add at least 2 inches to the width to ensure you are covering sides that don't have trim.
Cut Your Boards to Size and Create Pattern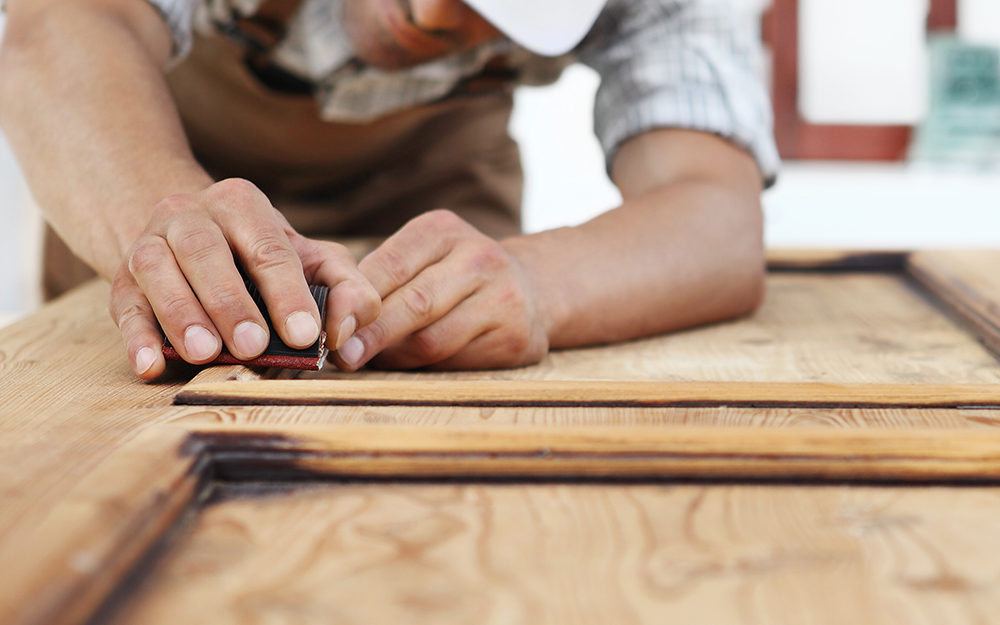 Now that you have measured the opening, it's time to cut your lumber to size.
Measure and mark the size of your door on your plywood. Remember to add 2 inches to your door opening so your new barn door will cover the opening.
Use your saw to cut the wood to size.
Once you have cut the boards to size, measure the appearance board you just cut width-wise so you can cut your top and bottom trim boards.
Measure and mark where the holes will go for your hardware installation.
Predill the holes.
Use your wood glue to attach trim board.
Use a clamp to reinforce the glue and hold the appearance board in place.
Now, you're ready to create your pattern.
Begin by laying your vertical boards on your sawhorse or a flat surface.
Now that your top and bottom trim are in place, measure and cut the vertical trim you will use for the sides.
Using your glue and screws, attach the trim pieces to the appearance board.
To determine the length of your middle horizontal trim, measure the distance between the vertical trim pieces.
Attach using your glue, clamp and screws method just like above.
If you want to add diagonal trim boards to the door to form a pattern:
Find the longest distance of each diagonal board.
Use that measurement to cut the trim board.
Find the center of each end and line them up to the corners where they will go.
Use a large square to determine the exact angles you need.
Mark the board to cut for each corner and use a miter saw to match the angles.
Use your glue and screws to attach the trim pieces.
Tip: You can add fillers for privacy (especially if this is going to replace your bathroom or bedroom door).
Now that your doors are built, use your wood filler or putty to fill in any gaps before you begin the process of staining or painting.

Apply the stain or paint of your choice and allow the door to dry.
If you are using paint, start by using a paint brush so you can fill in any edges or holes.
Then roll on the rest of the paint.
Allow the paint to dry on both sides. This may require waiting overnight.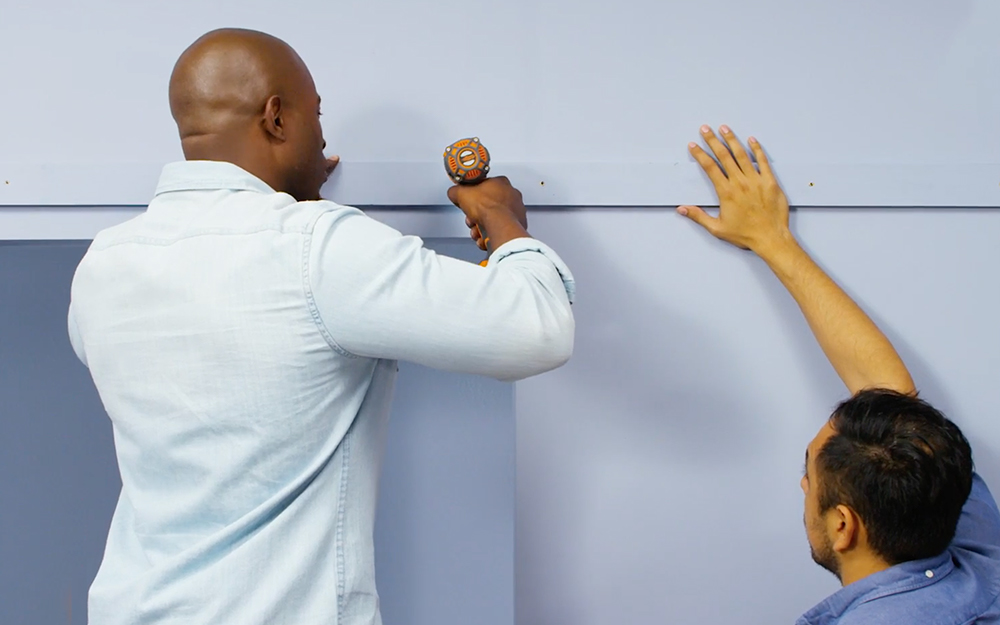 Use your saw to cut a 1 x 4 to match the length of the door track.
Locate the studs and mark the areas you will be drilling.
Ensure that your mounting board is level with the door casing and drill holes through it as well as the studs.
Tip: If you can, always use a helper to install moulding. It makes the job easier and helps ensure the support is level.
Attach Roller and Hardware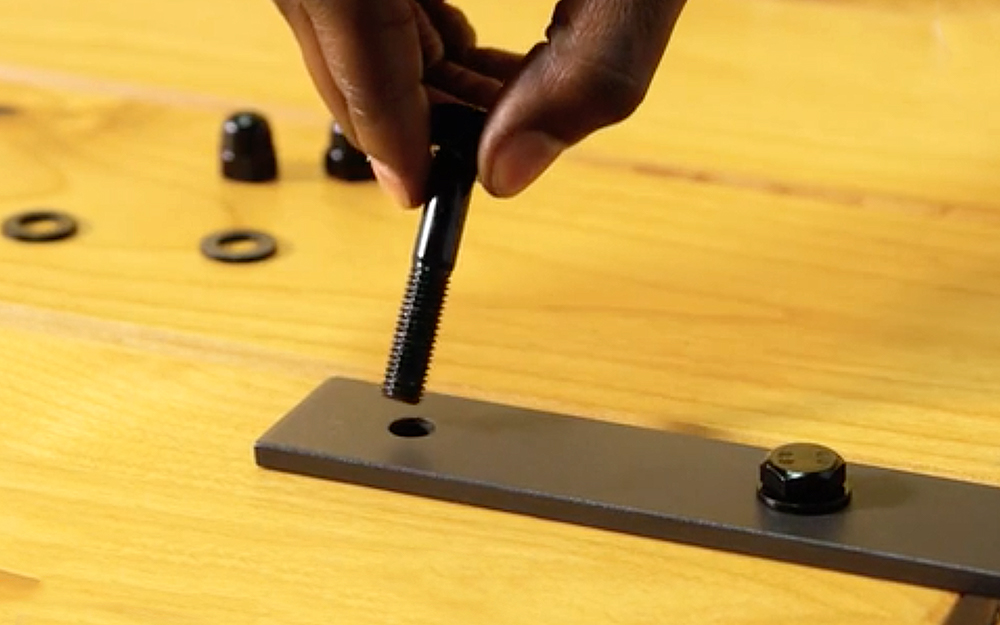 It's time to attach the rollers onto your door.
Mark the screw locations.
Drill holes and screw the hardware into place.
Attach the handle to the door, following packaging instructions.
Tip: When selecting hardware, be sure that the handles are sturdy enough to support your barn wood door.
Install Track and Hang the Door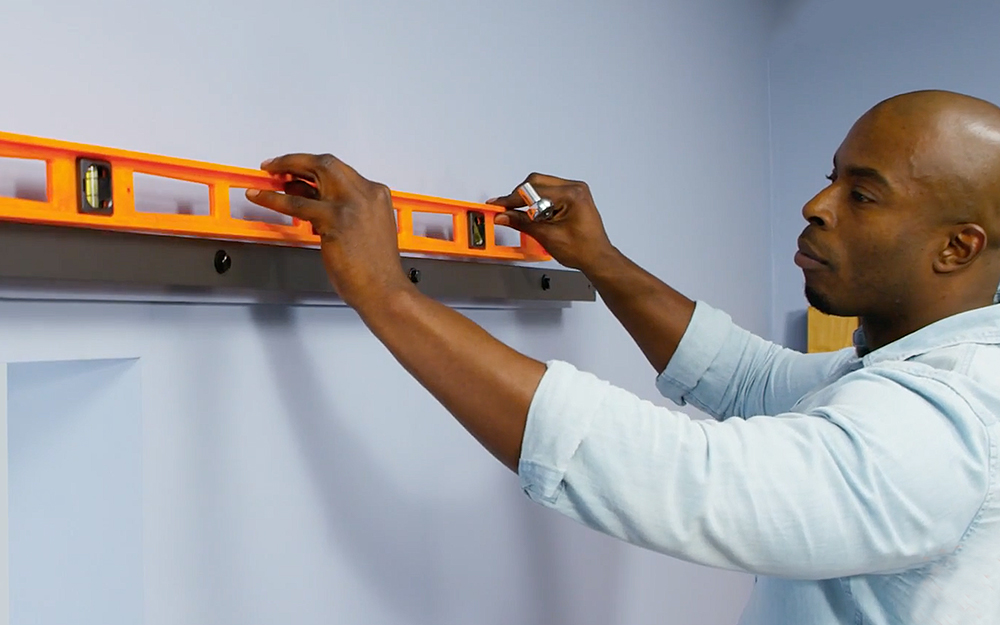 Using your level, check that the track and your mounting board are level and mark where each hole will be drilled.
Drill your holes to attach track to the wall.
With help, lift the barn wood door and roll it onto the track.
If you hardware kit didn't come with stoppers, we recommend adding one stop to each end so the door doesn't slide into the wall or come off track as easily.
Remember that safety is an important part of taking on a DIY barn wood door project.
Always wear your safety glasses and gloves when using tools like saws.