Don't let a concrete wall or floor stop you from completing your project. Working with concrete walls or flooring is a specialized skill. When you're equipped with the right tools and know-how, drilling into concrete will be a quick, efficient task.
Experts recommend using a hammer drill with masonry drill bits or concrete diamond point screws for drilling into concrete. Hammer drills are designed to hammer while rotating to effectively drill into concrete. 
When drilling into concrete, be sure to wear the appropriate personal protection equipment. You'll need eye and hearing protection, work gloves, and a dust mask. If you are drilling many holes, it would be best to use vacuum dust extraction as well. The silica dust produced by drilling concrete is hazardous to your health, if inhaled.
 This guide reviews how to drill into concrete safely and effectively. Follow these steps to tackle your next project like a pro.
1
Gather Tools and Materials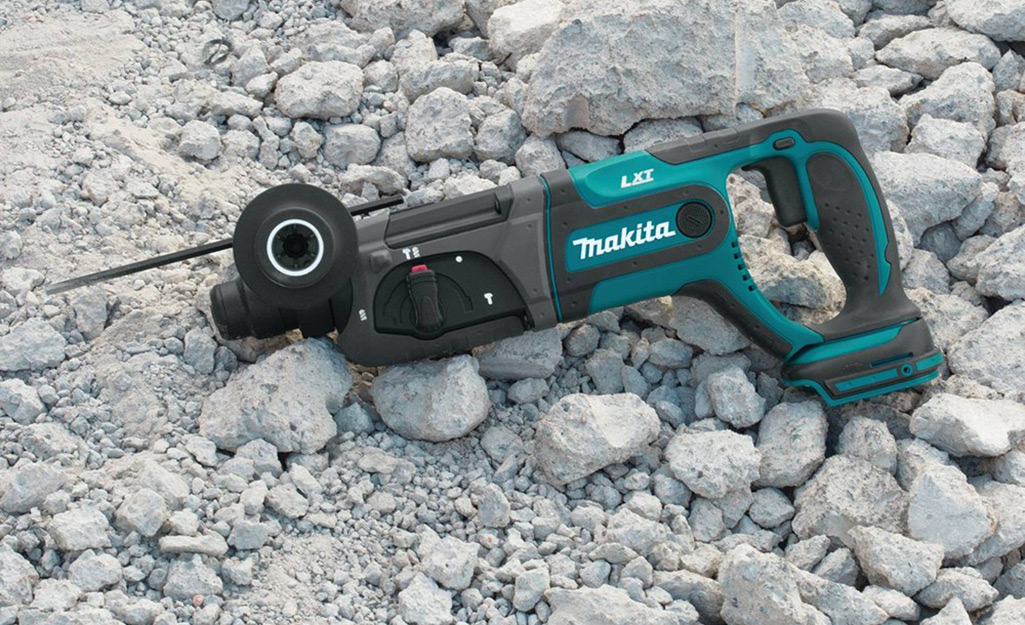 Before you begin drilling into concrete, gather all of the supplies and materials you'll need in one place. Making sure you have everything you need ahead of time helps you avoid delays mid-project. It also helps you stay safe while working. Make a list of the tools, supplies and materials you'll need for your project and bring them to the work area. For this project, you'll need:
Tape measure: A reliable tape measure lets you measure the space you're working on and determine which tools and bits you'll need to accomplish the task
Hammer drill and bits: A hammer drill is designed to drill into hard materials like concrete using a combination of rotary drilling and a hammering motion
Safety equipment: Concrete creates a lot of dust, debris and jagged edges. Keep yourself safe using well-fitting safety equipment.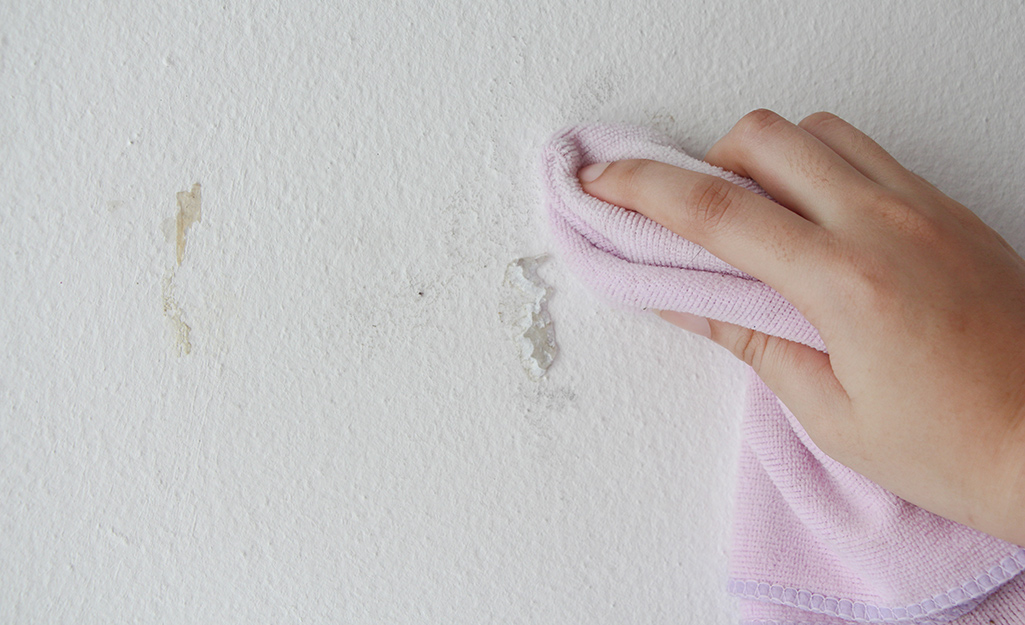 Whether you're drilling into a concrete wall or floor, you'll want to prep the surface and the surrounding area. Clear the space where you'll be drilling of any furniture or household items. Sweep or vacuum the area. Remove any cobwebs or dust. Wash the surface to remove any dust, debris or dirt. Starting with a clean canvas helps you avoid problems later on.
Avoid drilling into concrete that has infrastructure behind it. Drilling where there are water pipes, electrical wiring or ductwork can be dangerous and cause damage.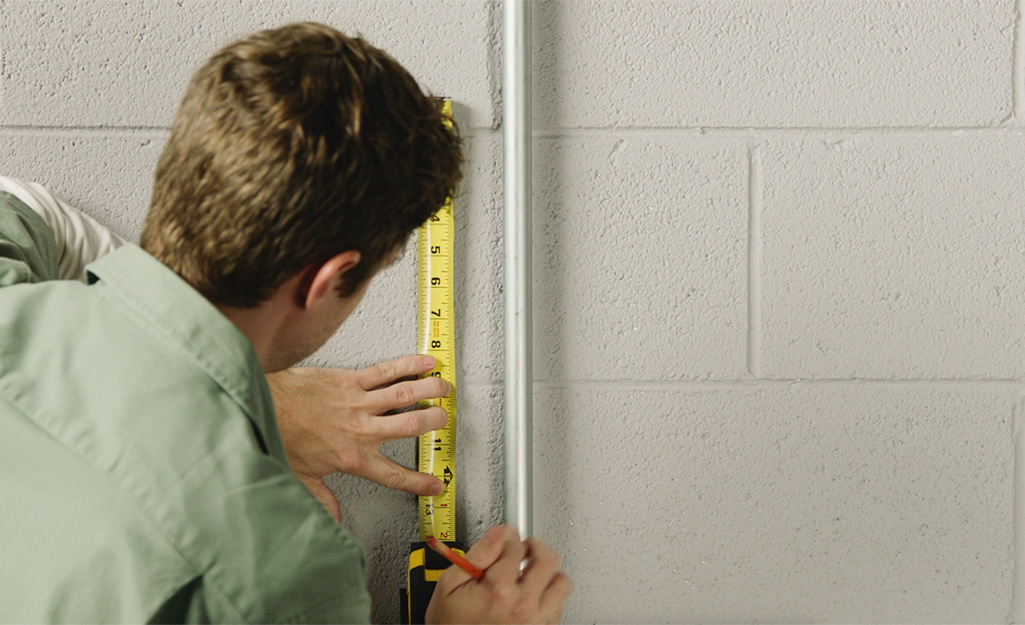 The first step is measuring where you'll be drilling. To do this, use a tape measure to find the right location and set the diameter of the hole. Use a carpenter's pencil  to mark the spot on the concrete. Double-check the placement of the holes. If you're drilling the holes to hang or install something, hold the item up and ensure the holes are lined up. Verify the holes are set so the piece you're installing will sit level against the concrete surface.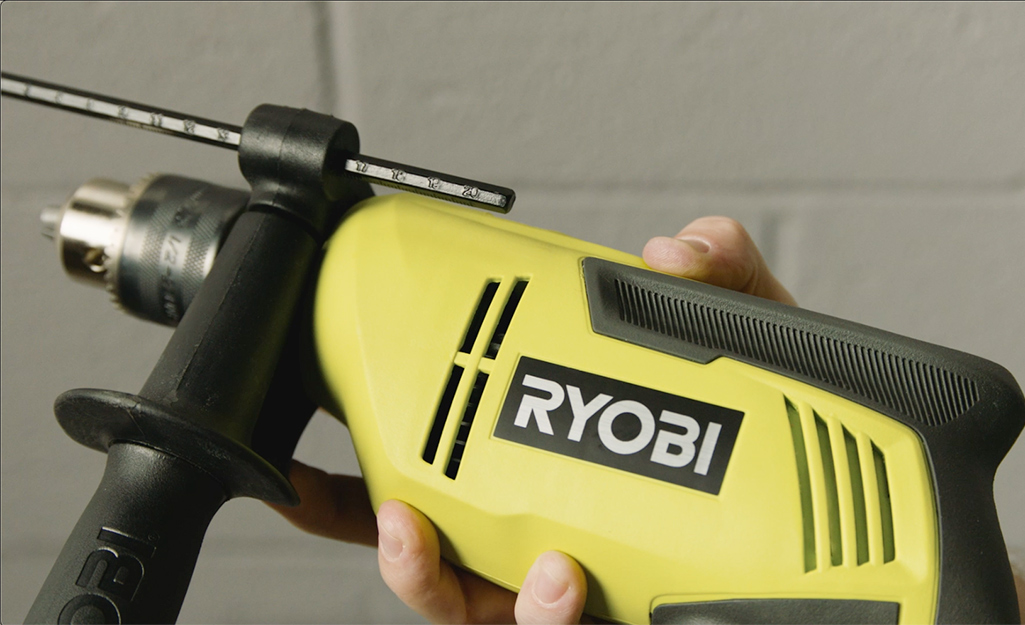 For this project, you'll use a hammer drill. A hammer drill combines the rotary motion of a standard drill with a mechanized hammering motion. This combination makes it possible for a hammer drill to pass through hard materials like concrete. 
Hammer drills usually have stop bars. You use a stop bar to set an exact depth where you want the drill bit to stop. To set the stop bar, follow the drill manufacturer's recommendations. Next, fit the hammer drill with a carbide masonry bit in your desired size. Whenever you are actively drilling, wear safety goggles, gloves and ear protection.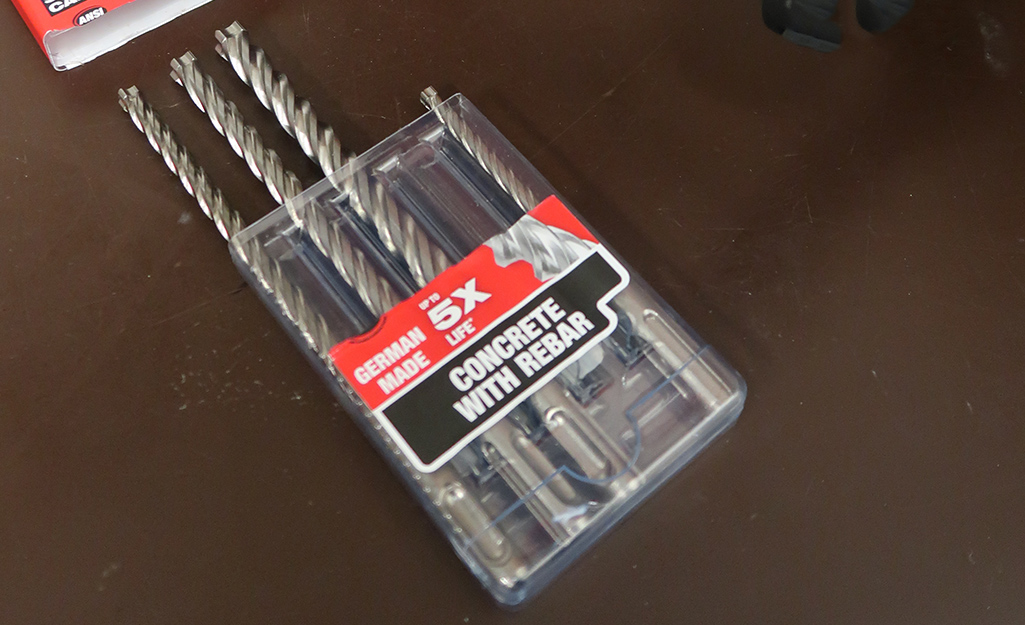 Before drilling, determine the drill bits you'll need for the project. If you're using concrete screws, the correct size drill bit is often included on the packaging. Otherwise, use a 5/32-inch bit for concrete screws that are 3/16-inch in diameter. Use a 3/16-inch bit for 1/4-inch screws. Keep spare bits in the correct size on hand. Working with masonry can wear out a bit faster and result in badly drilled holes.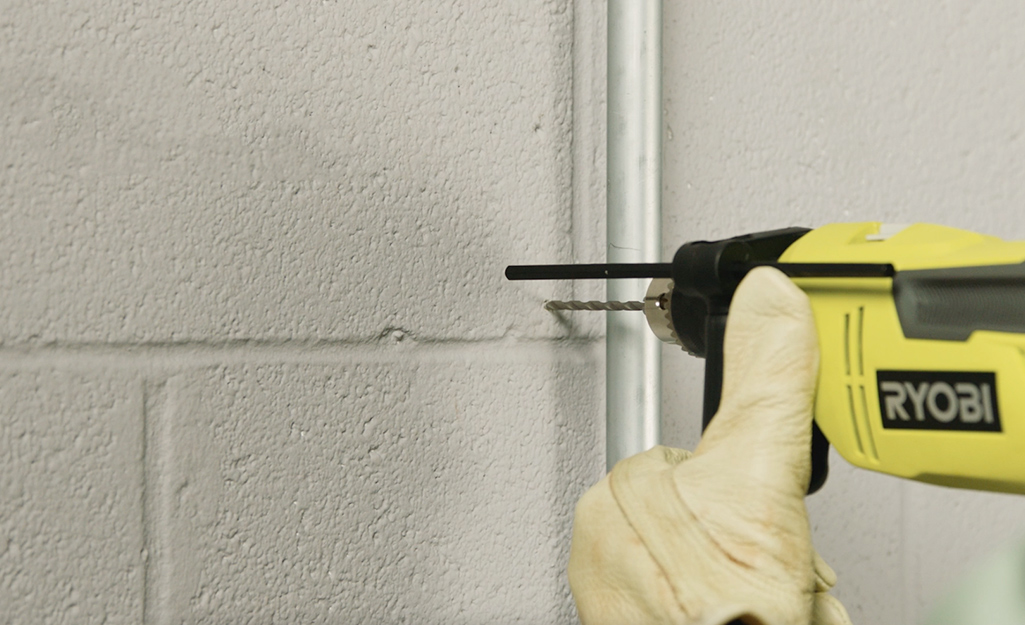 If you are drilling a hole to attach a bracket or similar object to concrete by use of concrete screws, you will often find the correct size drill bit is often included in the pack. Otherwise, get a 5/32-inch bit for concrete screws that are 3/16-inch in diameter and a 3/16-inch bit for ¼-inch screws. Be sure to keep spare bits in the correct size on hand as working in masonry can wear out a bit quicker and result in improperly drilled holes. If using concrete anchors or shields, follow the manufacturer's recommendations. In some cases, epoxies or other adhesives are used and a specific bit diameters may be noted based on these variables.

Assume a stable stance, feet shoulder-width apart. 
Grip the drill in one hand; if the drill doesn't have an auxiliary handle, brace the back of the drill with your non-grip hand. 
Be mindful of the position of the drill in relation to your body. If the bit binds in the hole, it can cause the drill to spin faster than you can stop it. For overhead work, stand on a platform or scaffold to get your body in the correct position to hold the drill safely. If working from a ladder, be careful to follow recommended ladder safety protocols. If the drill binds and spins, you could be thrown. Position the tip of the drill on the mark you made on the concrete and keep the drill perpendicular as you drill. 
Start the drill at its lowest speed for better control, speeding up as the hole becomes established.
Drill forward with steady, light pressure; do not force the drill.
Stop the drill when you reach the desired depth
Sweep, blow, or vacuum away the accumulated concrete dust
7
Attach Anchor (if Needed)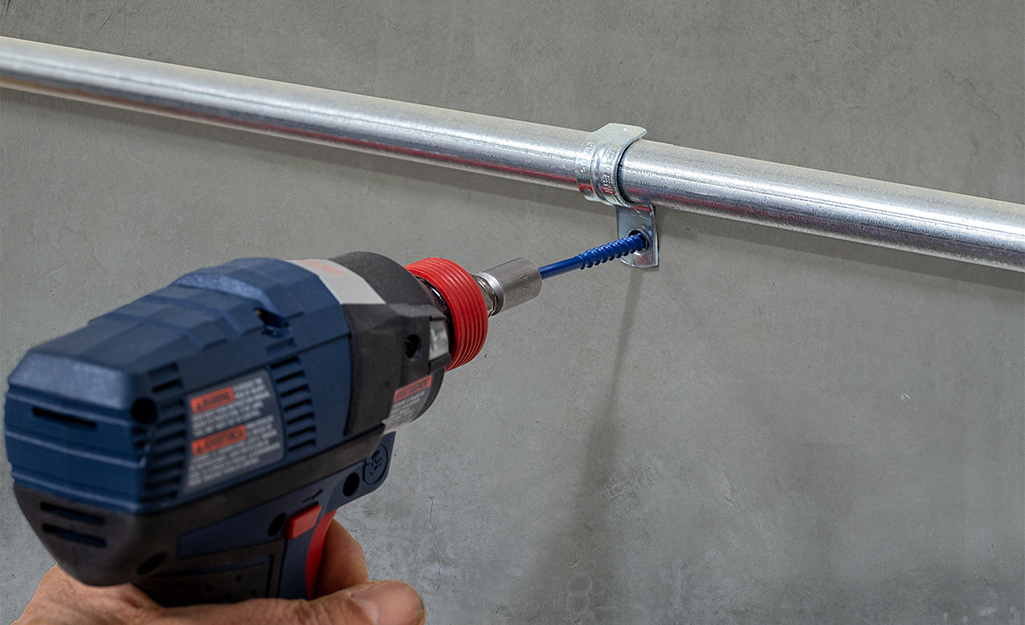 If the threads of a screw won't grip, you can try to drill a new hole and relocate the screw. If this is not possible, use an anchor. 
Match the correct anchor size to that of the concrete screw. 
Expand the drill hole to accommodate the anchor. The hole should be slightly smaller than the maximum width of the anchor. 
Remove any concrete dust, then press the anchor into the hole until it is flush with the surface. If necessary, tap in lightly with a hammer. 
Insert the concrete screw into the anchor and drive into the wall until secure.
Once you've drilled all the holes you need, a shop vacuum makes cleanup a breeze. Now concrete walls won't stand in the way of your next home project. Follow the steps and tips in the guide to drill into the concrete like a pro. Don't worry if you don't own all of the tools needed to complete this DIY project. Rent tools and trucks for any project at The Home Depot.
Explore More on homedepot.com