Crabgrass is an unattractive, clumpy weed that will quickly take over your lawn. Its unsightly appearance is not the only reason to remove it – it's bad for your lawn's health. Crabgrass will take over your turf, preventing your lawn from receiving nutrients it needs to in order to grow healthy grass. This guide will teach you how to get rid of crabgrass and prevent it from returning to your lawn.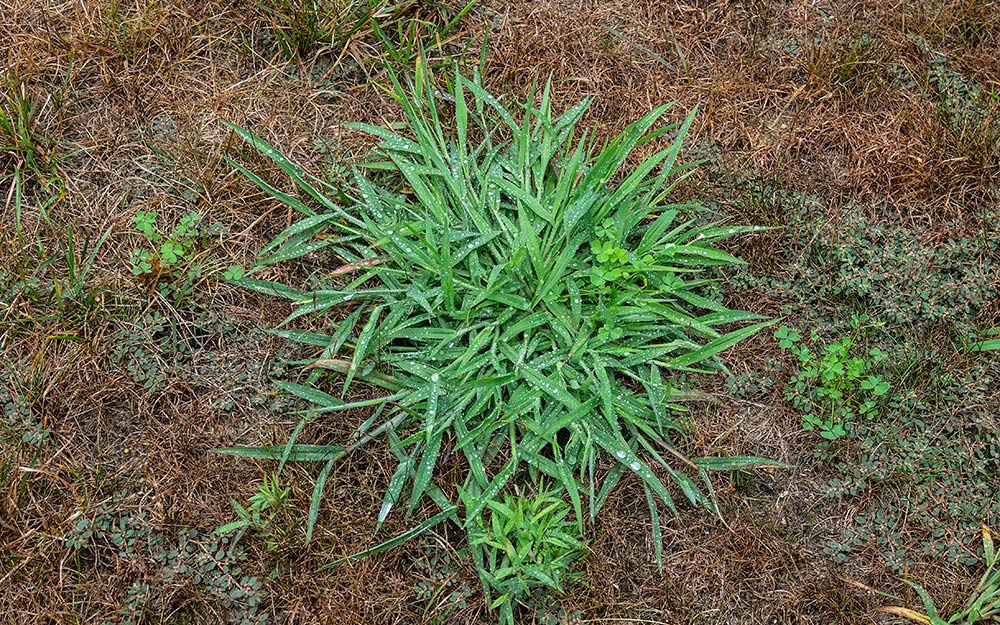 Crabgrass is an annual weed that will grow in the thin and bare spots in your lawn. As it dies in the fall, one plant will produce thousands of seeds that can germinate the following spring. Crabgrass thrives in hot, dry conditions. It grows low to the ground with stems that radiate out from the center of the grass clump, resembling crab legs.
2
How to Remove Crabgrass from Your Lawn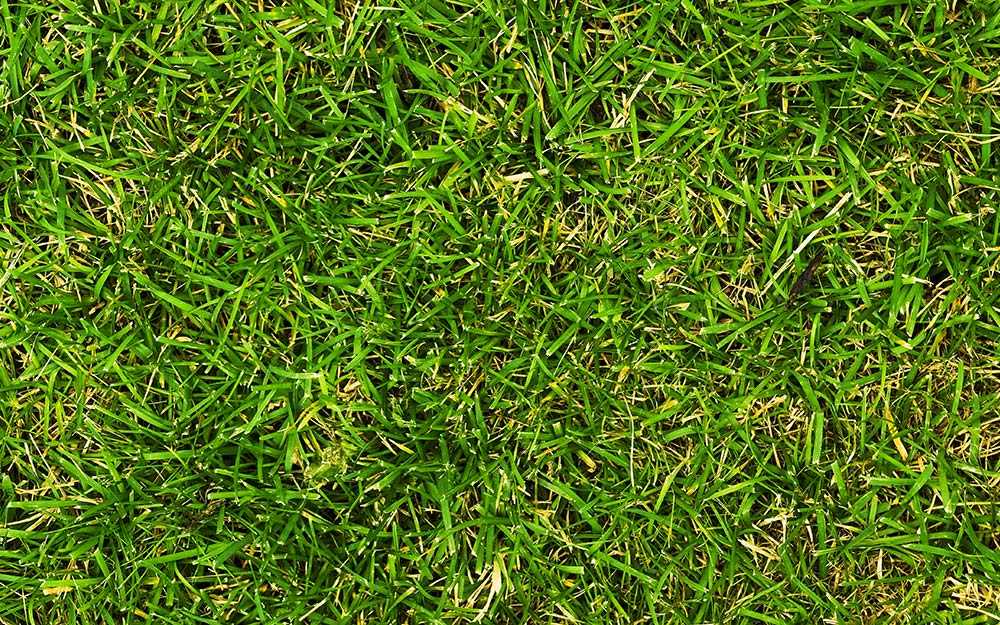 There are a few effective ways to get rid of crabgrass. Crabgrass will die on its own in the fall, usually after first frost. However, if you don't remove it before it disperses its seeds, you will have to deal with the pesky weed again the following year. The best way to get rid of crabgrass is to remove the weedy clumps as you see them.
3
How to Get Rid of Crabgrass by Hand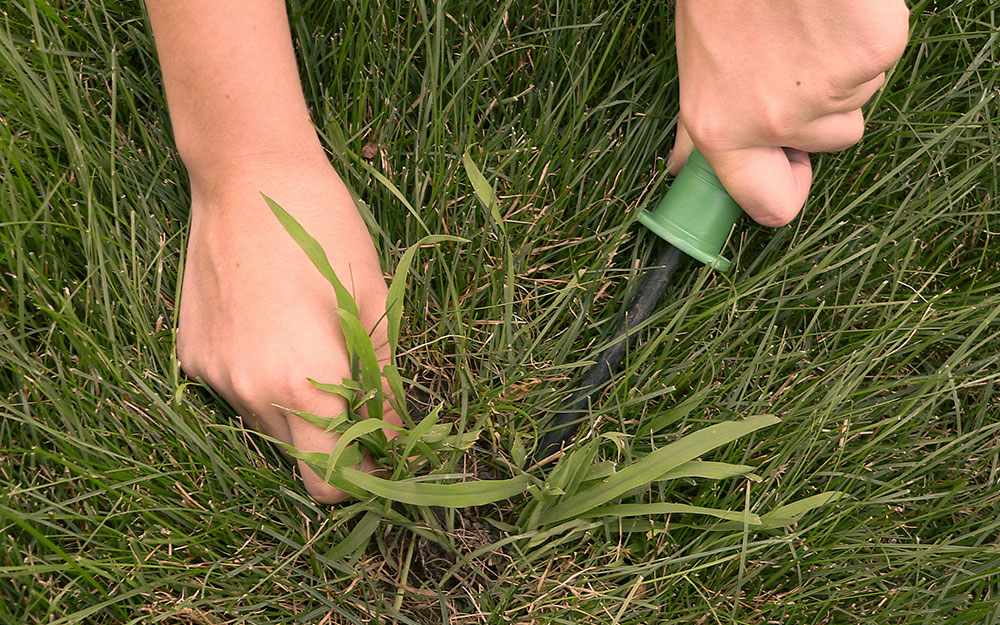 Pull the clumps out, roots and all. Use a garden weeder tool made to remove the roots of crabgrass. Typically, these tools feature a claw or plunger you can drive deep into the ground, under the roots, to remove the plant. This process is time consuming, but effective in controlling crabgrass. Place the clumps in a trash bag and seal tight. This will contain any crabgrass seeds that may still sprout and spread.
4
Use a Chemical Treatment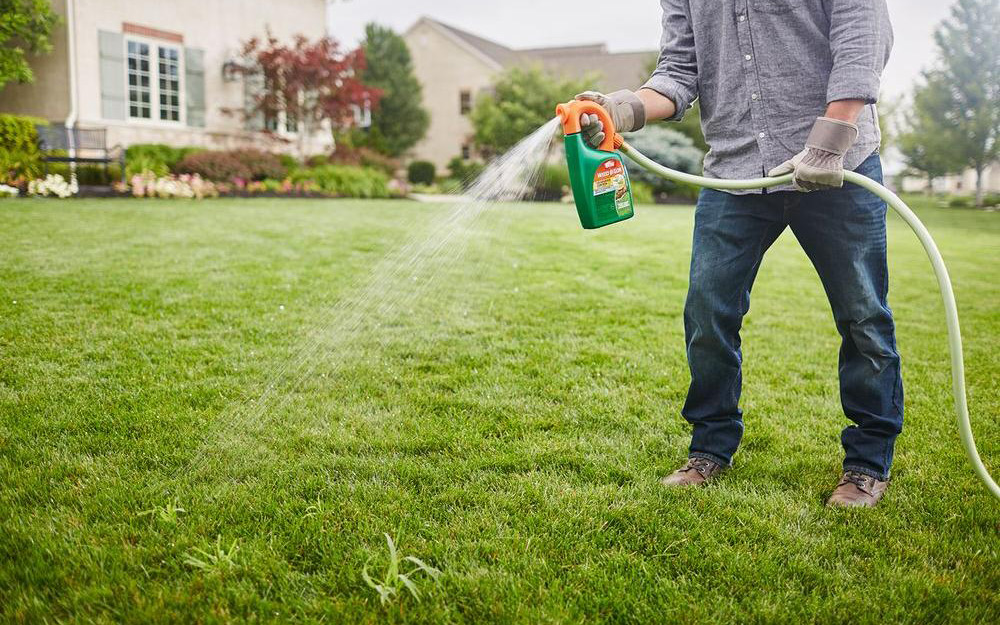 Use a post-emergent herbicide labeled for crabgrass. If you already have a crabgrass infestation, then a chemical treatment may be necessary to tackle the problem. All lawn weed herbicides are not made the same. Some will kill your regular grass and other common weeds. Make sure you read the label. Herbicides made to target crabgrass will be in a liquid form. It is meant for spot treatment and not for a broadcast application. Follow the directions on the label of the product for proper safety protocol.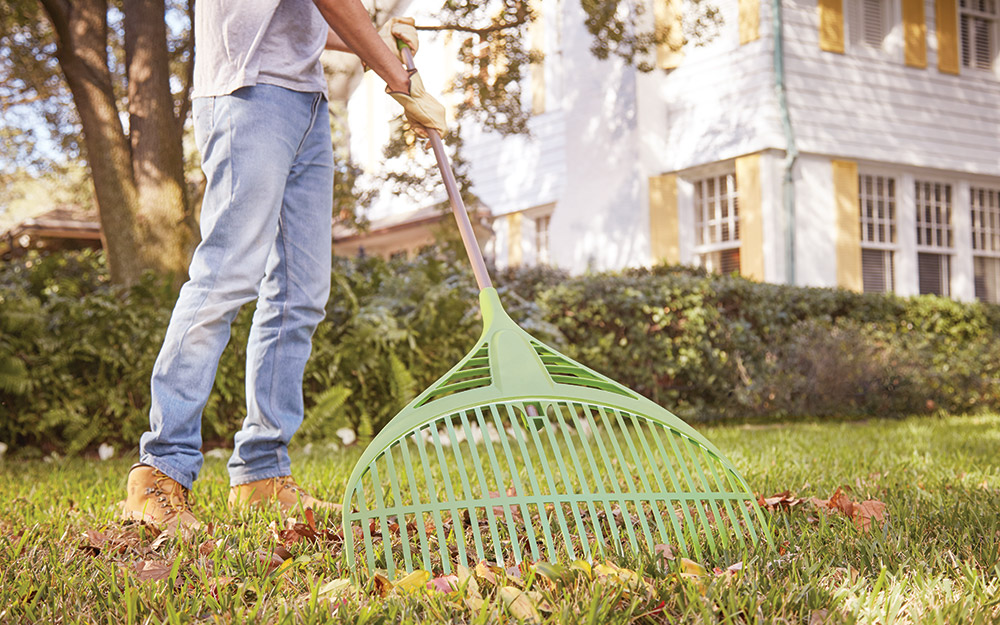 Once your grass wakes up in the spring, follow healthy lawn maintenance practices. A healthy lawn will keep crabgrass and weeds at bay. This is a good time to inspect your lawn for bare spots that need to be addressed.
6
Adjust the Mowing Height
Leave your grass on the tall side, about three inches long. Taller grass blades help shade the soil. Leave grass clippings behind to add natural nutrients and shade for the soil. This helps prevent the germination of crabgrass seeds.
7
Feed Your Lawn Regularly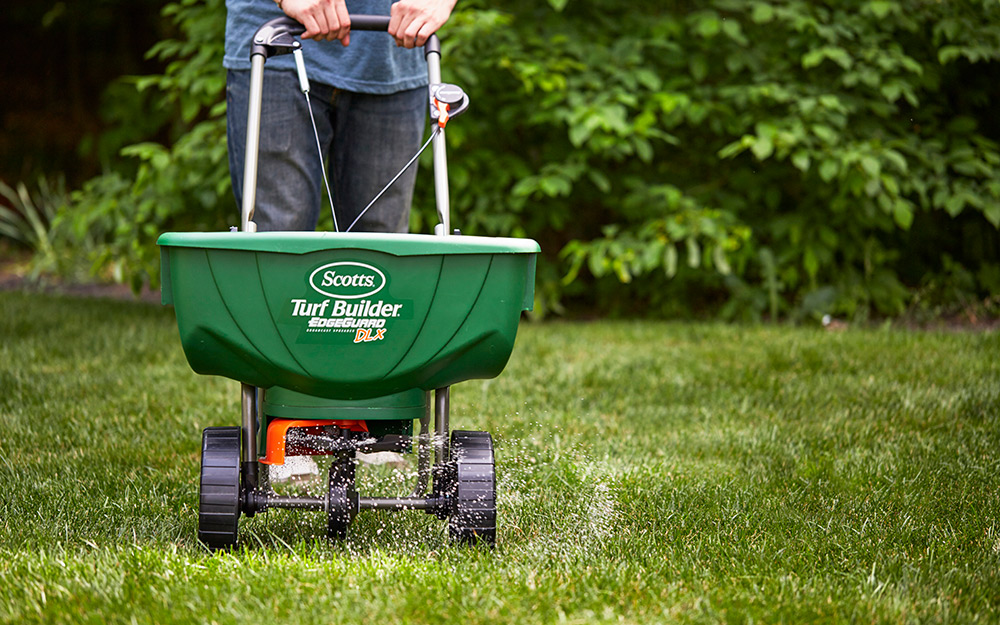 A thick and lush lawn will leave little space for weeds to grow. When your lawn is underfed, it gets stressed and has a greater chance of being taken over by weeds. Fertilize your lawn every six to eight weeks during the growing season.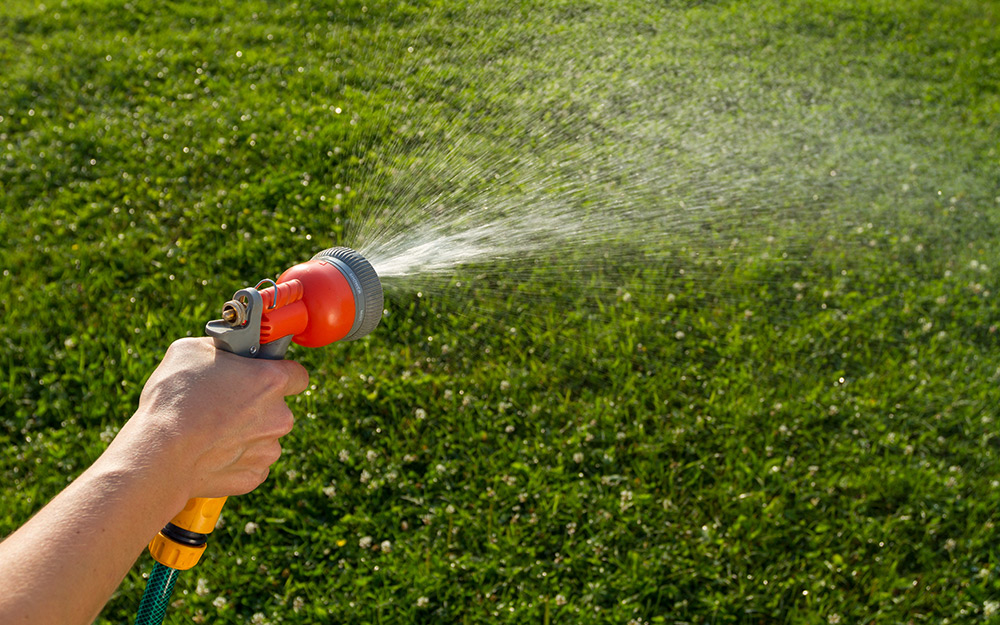 Weeds thrive in stressed lawns. Most grass species benefit from deep watering. Make sure your lawn receives one inch of water per week, either from rain or watering. The water needs to soak the soil six to eight inches deep. Deep watering encourages your lawn to develop deeper roots, so it can grow thicker to help crowd out weeds.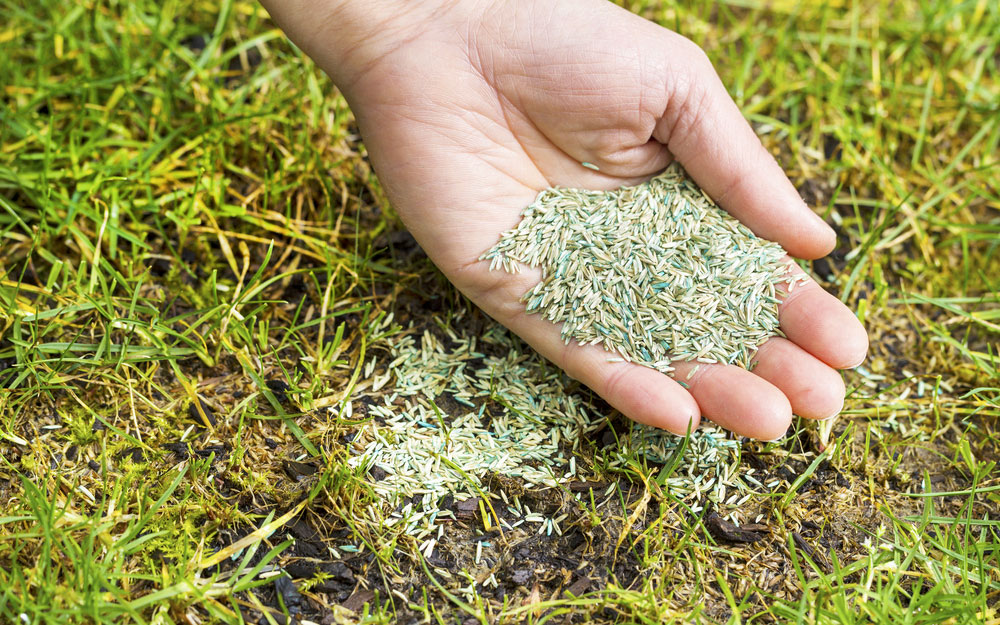 Seed any bare spots in your lawn. You don't want to leave any space for crabgrass seeds to germinate. Repairing the bare spots will help keep new weeds out. Plant grass seeds in bare spots and water regularly with a garden hose or sprinkler for deep watering.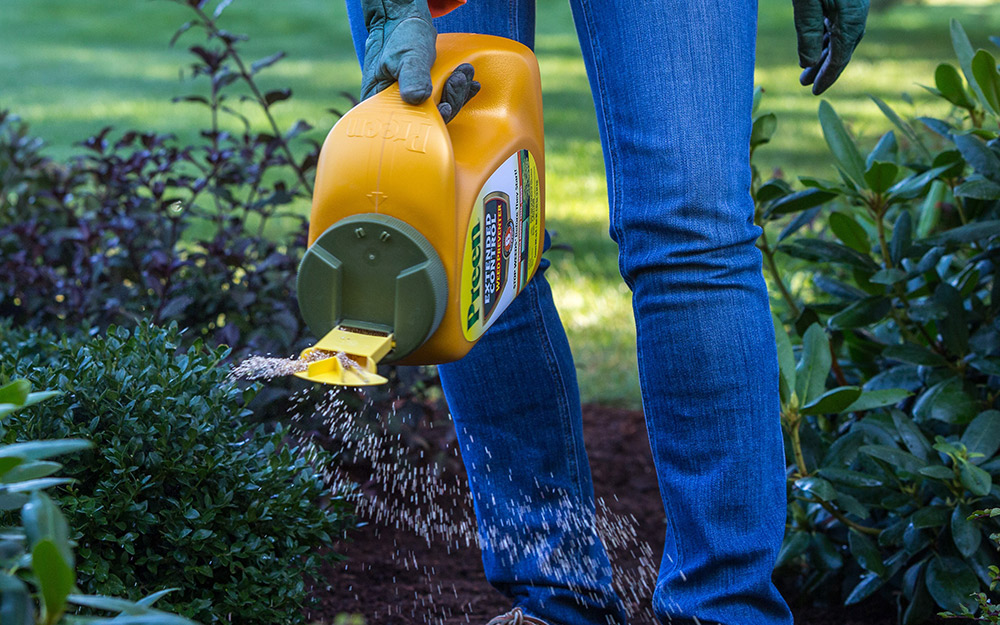 Apply a crabgrass preventer in the spring. The only way to prevent crabgrass from returning is to make sure every clump is removed and prevent crabgrass germination the following spring. In order for a pre-emergent to be effective, timing is everything. Apply it when soil temperatures are above 50 degrees Fahrenheit for a few, consecutive days and spring flowers and trees blooming. 
Pre-emergent herbicides are effective weed control for most weed seeds. Applying a pre-emergent herbicide during early spring will kill off any seeds that are dormant and prevent seed germination. Alternatively, corn meal gluten is a natural pre- emergent you can use on your lawn. However, it isn't as effective as an herbicide.
11
How to Treat Poa Annua Weeds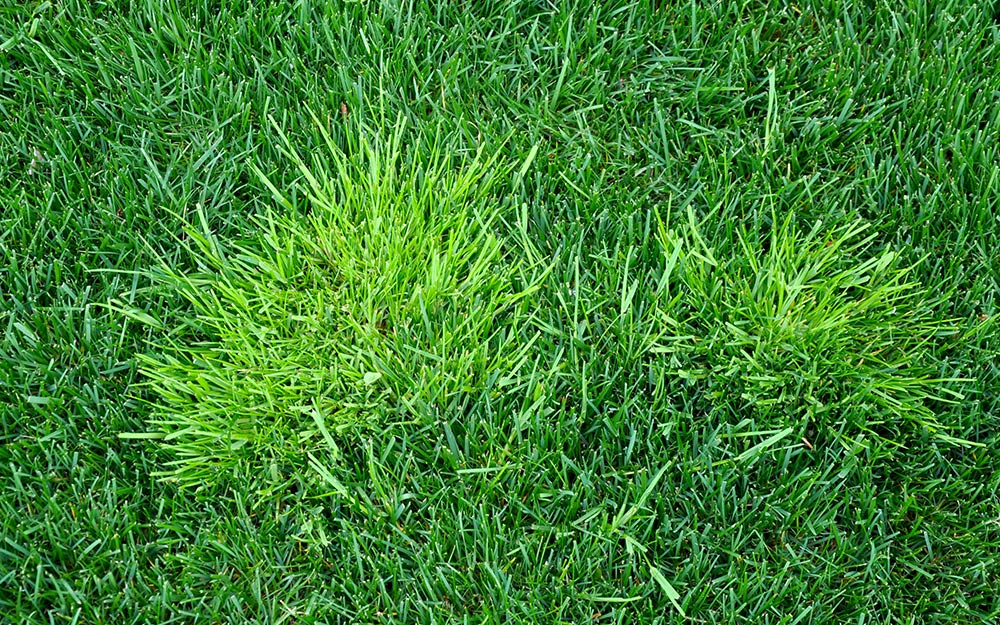 Poa annua weed becomes visible in winter and early spring in dormant lawns, such as Bermuda grass, which turn a straw color in the winter. In fescue and other cool-season lawn grasses that stay green all year-round, poa annua can leave bare spots in your lawn when it dies off in summer heat. 
One poa annua weed clump can produce hundreds of seeds in a season. Seeds also can lay dormant for several years before sprouting again, making this weed difficult to control. 

Poa annua thrives in compacted soil, wet soil from over-irrigated lawns and lawns with high applications of nitrogen or fertilizer. Also, if you mow too low, you're creating an environment where the weed seeds will get sun and germinate, creating more weeds. 
Solution: treat it like crabgrass, although it's a cold-weather weed.
1. Get control before germination begins. In the South,  apply pre-emergent to your grass using a garden hose for applying liquid or a spreader for granular application. The best times to apply pre-emergent are January or early February, as soon as weather permits in winter on southern lawns. Then, apply it again in October. In April and July, use pre-emergent with fertilizer. 
2. Be cautious. For cool-season grasses needing over-seeding in the fall, do not apply pre-emergent at that time. Poa annua is green in the winter, so it coexists well with fescue and rye. 
The Home Depot carries all the tools and supplies you need to get rid of crabgrass, as well as supplies to prevent crabgrass in your turf grass. Shop your local Home Depot for a wide selection of pre-emergent herbicide, postemergence herbicide, grass seed, fertilizer and the right lawn mower for your needs.
Explore More on homedepot.com