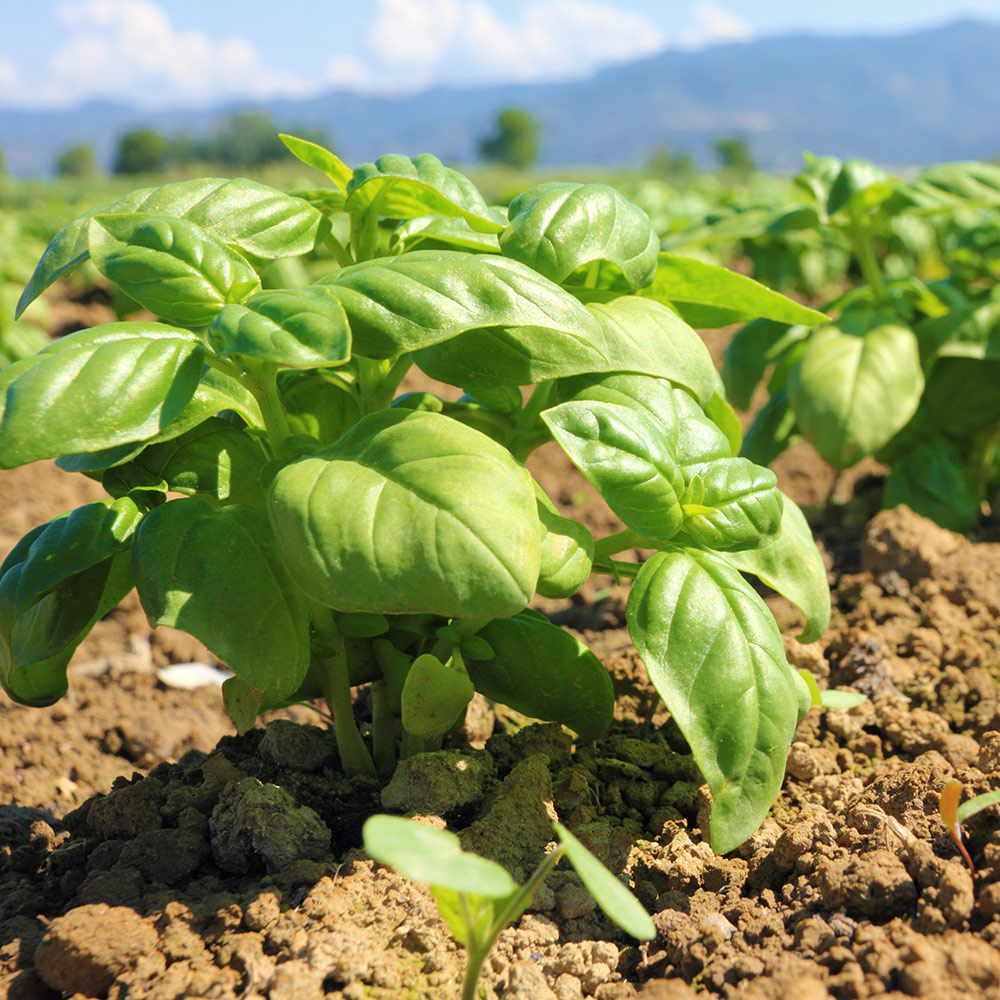 Plant basil for delicious herbs to use when cooking and grilling or to turn into fresh pesto. Basil grows easily in the ground or in containers, making it a great choice for gardening. For a family of four, you'll need two or three plants for enough fresh leaves to add to soups, sandwiches, pasta and other dishes. A dozen plants will produce enough foliage for pesto to freeze for the winter. 
1
How to Grow Basil Outdoors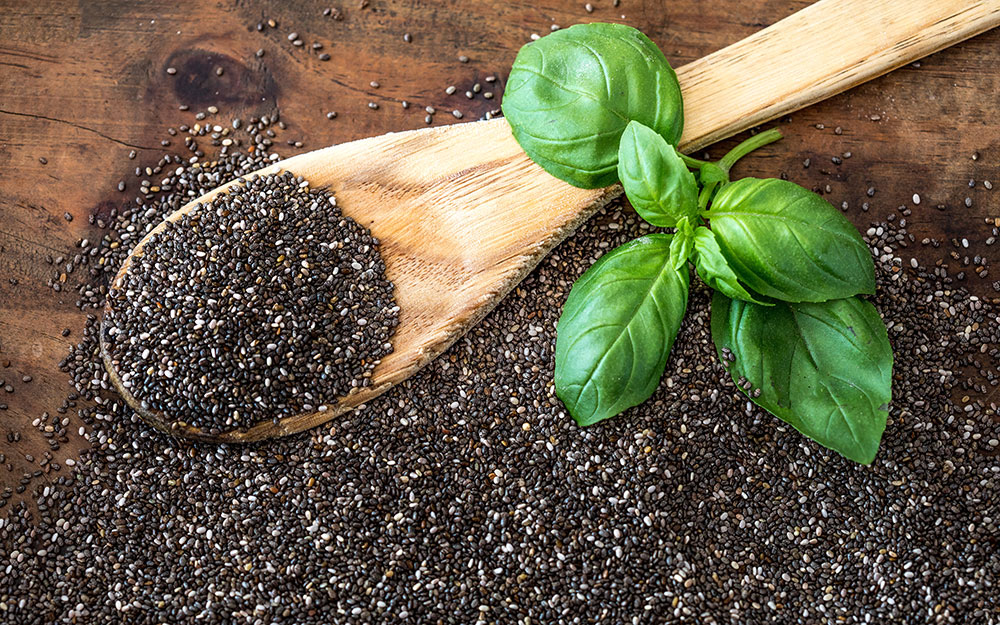 Basil is an annual herb that thrives in warm weather. Its leaves and stems grow quickly, so you can harvest them until frost. 
Give basil a moist, well-drained garden spot that gets six to eight hours of sun each day. Choose a site that will give the plants a little shade in the afternoons if you live in a hot climate where the summer sun is intense.
These plants thrive in rich soil with lots of organic matter, such as compost, and need a pH of 6.0 to 7.0. If you're not sure about the pH in your garden, use a soil tester to measure it. 
If your results indicate that you need amendments, work them into the soil before planting. Your local Cooperative Extension Service agent may be able to do the soil test for you. Be sure to tell him what you're growing, so he'll know which amendments, if any, to suggest.
If you're planting basil seeds outdoors, wait until all danger of frost has passed and the soil temperature is about 65 to 70 degrees Fahrenheit. Sow seeds in loosened soil that's been raked free of rocks, roots and other debris.
There are many varieties to choose from, so sow the seeds as far apart as directed on your seed package. Plant extras, in case some don't come up. Water in the seeds and keep them moist. They should sprout in a few days.
Once you see a few pairs of leaves on each plant, thin the plants to 6 to 12 inches apart. You can gently pull them up with your fingers or snip them out with small scissors. 
If you'd rather start with purchased plants, again, wait until all danger of frost has passed and the soil temperature in your garden is around 65 to 70 degrees Fahrenheit. 
Space the plants 12 to 16 inches apart. Depending on the variety, they'll grow 12 to 24 inches tall. Water them in thoroughly. 
2
How to Care for Basil Outdoors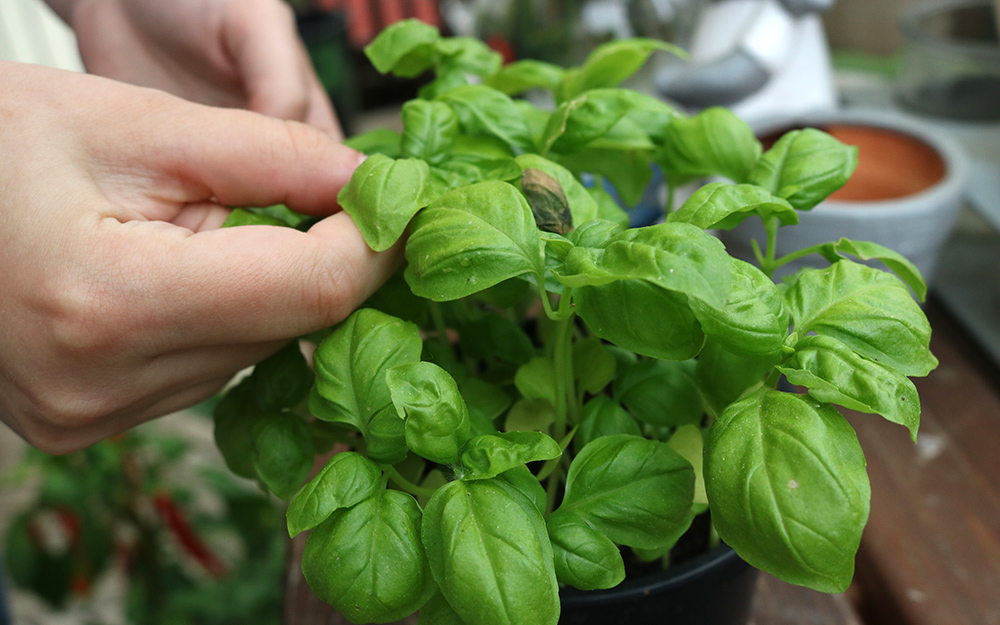 When grown outdoors, basil isn't a heavy feeder, so you don't need to fertilize it. If rainfall is scarce, give your plants about an inch of water once a week. They like to stay moist, but not wet, which can cause rotting.
Mulch around the plants to help keep moisture in the soil and prevent weeds from popping up. 
To make your plants nice and bushy, pinch out the growing tips when the plants get about 6 inches tall. Keep pinching them as they grow and remove any flower heads that start to form. Once the plants produce flowers and set seeds, they'll stop producing new leaves.
Keep the leaves picked regularly until frost. 
3
How to Grow Basil Indoors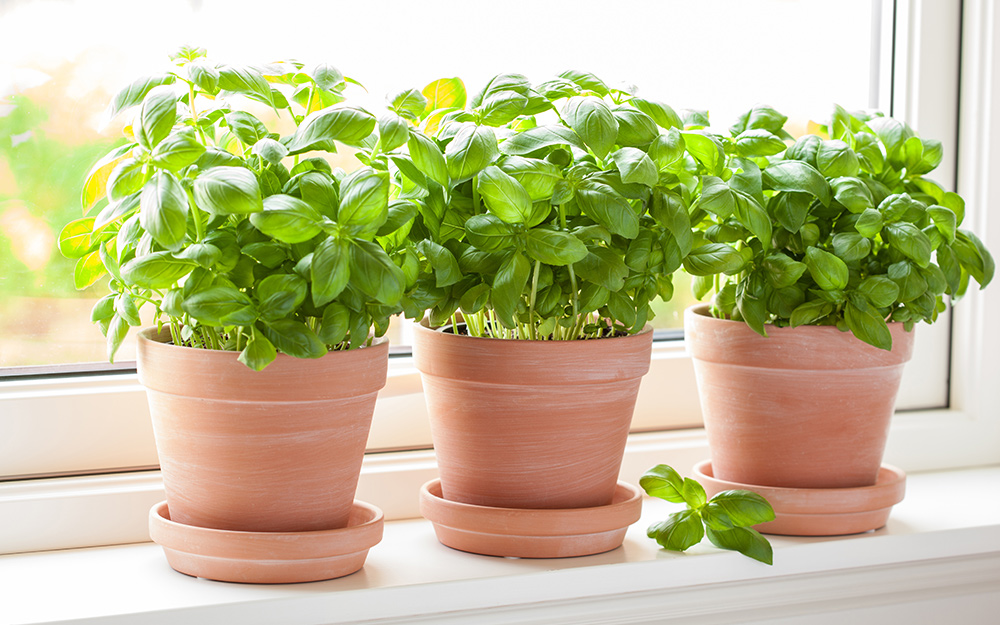 Growing basil indoors in containers is basically the same as growing it outdoors. You can root basil stems from your garden in water, then plant indoors. No matter where you plant it, basil needs rich, well-drained soil. 
Basil does best in six to eight hours of sunlight a day, but if you don't have a sunny or south-facing window, use grow lights for about 10 hours a day. It's fine to give the plants a combination of sunlight and artificial light. 
If you're starting basil indoors from seeds, use a quality seed starting mix. Pre-moisten it by putting it into a plastic bag with a little water and kneading the bag gently.  
Put the mix into shallow containers and plant the seeds 1/4-inch deep. You can buy a seed starting kit, if you prefer. Some kits come with seed starting mix, containers, covers and heat mats to encourage the seeds to sprout, and other accessories. 
Sow extra seeds in case some don't come up. 
Lightly mist the seeds with water from a spray bottle or your faucet. If any are displaced, tuck them back into the mix. Keep them moist and in a warm location and they should sprout in a few days. 
Move the seedlings into larger containers after they're 6 inches tall.
You can also buy basil plants to grow indoors. 
When they need to be re-potted, use containers with drainage holes or make holes in them. Fill the containers with quality potting soil and gently tamp it around the plants. Don't bury them any deeper than they were in the pots they came in.
Water the plants thoroughly and water again when the soil is dry to the touch. 
4
How to Care for Basil Indoors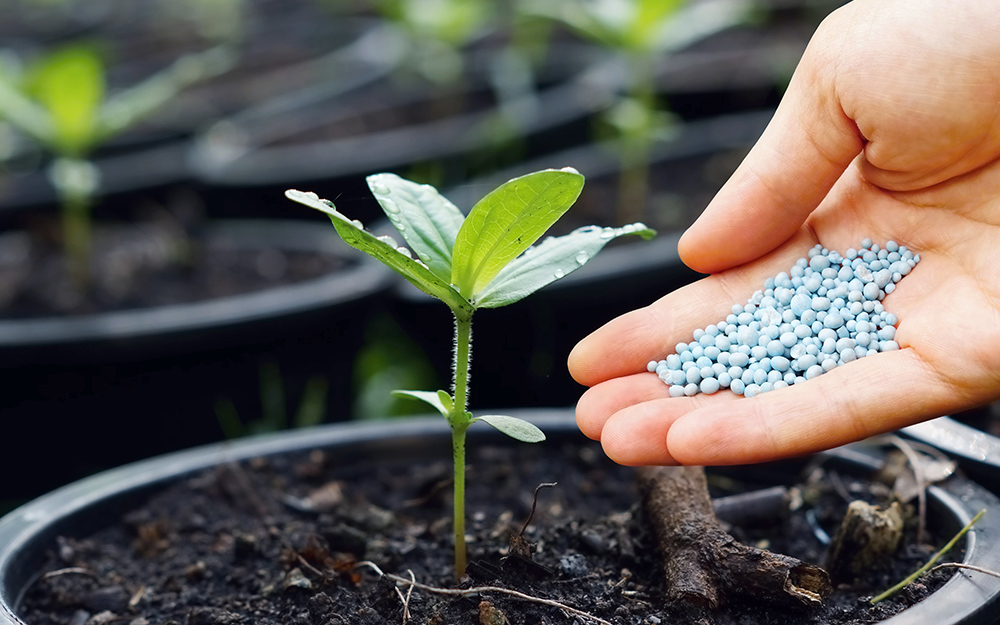 A container of basil makes an attractive houseplant. 
Unlike outdoor basil, indoor basil needs a general houseplant fertilizer. Be safe and, if you're growing basil indoors to eat or flavor foods, use only a natural or organic fertilizer.
Follow the directions on your product label for how much and how often to feed. Some gardeners prefer to apply the fertilizer at half-strength to be on the safe side. You can always apply more.
Repot your plant when it begins to outgrow its container and keep the leaves picked or trimmed regularly.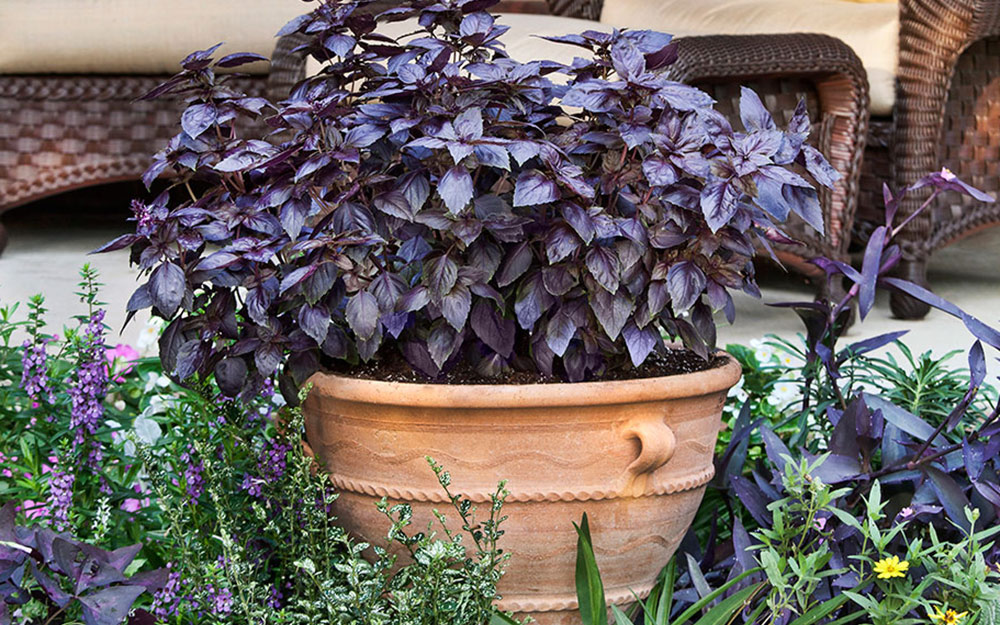 Different basil varieties have different colors and flavors. 
Most cooks use sweet basil, sometimes called Italian basil, in Italian foods and pesto. This plant has bright green leaves and stems. Since the leaves lose some of their flavor during cooking, they're recommended for using fresh. 
Bush basils have small leaves and grow into rounded, bushy plants. You'll find 'Spicy Globe,' 'Green Globe' and other varieties within this group. Try planting 'Spicy Globe' in containers, where it will grow 8 to 10 inches high and wide. 
Purple basils are useful and pretty. Their foliage ranges from dark purple to purple-bronze. Even if you don't use them in the kitchen, you can plant them to add color and fragrance to beds and borders. 
Specialty basils include: 
Cinnamon basil smells like cinnamon when you gently crush its leaves. This plant is popular for use in Indian and Asian dishes and in teas. 
Lemon and lime basils have the usual basil flavor, but with a hint of citrus. Lime basil is good in fish and chicken dishes.
Sweet Thai basil adds a spicy flavor to Asian cuisine. Its purple stems and bright green leaves are pretty when grown alongside ornamentals, vegetables or other herbs. 
'Dark Opal' and 'Purple Ruffles' are basils with purple foliage. Snip some stems to add to summer flower arrangements, toss the leaves into salads, make them into pesto or use them as garnishes.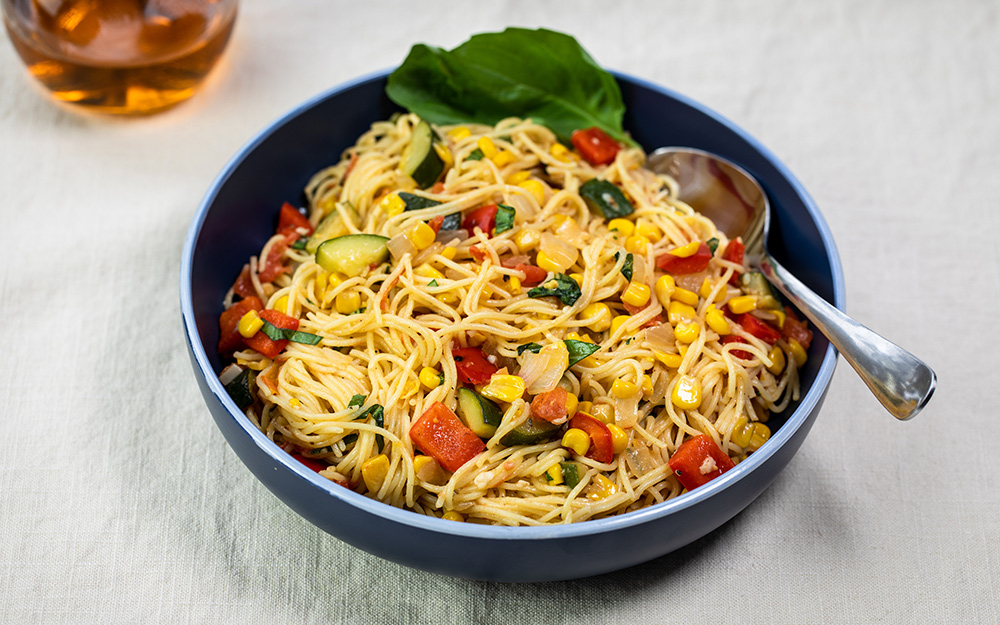 Along with tomatoes and peppers, basil embodies the smell and taste of summer. This quick pasta dish features the summertime veggie favorites quickly cooked together in a grill wok, so each one retains its individual character. Enjoy this light and fresh meal on a warm evening.
Angel Hair Pasta with Summer Vegetables and Basil Recipe, provided by Weber Grills.
Serves: 4 to 6
Prep time: 30 minutes
Grilling time: 7 to 8 minutes
Special equipment: Weber Gourmet BBQ System Cooking Grate, Weber Gourmet BBQ System Wok

Ingredients:
Kosher salt
1 zucchini, about 5 ounces, cut into 1/2-inch dice
1 red bell pepper, about 5 ounces, cut into 1/2-inch dice
Extra virgin olive oil
1 yellow onion, about 6 ounces, chopped 
2 garlic cloves, roughly chopped 
4 plum tomatoes, about 1 pound total, cored, seeded, and chopped
2 cups corn kernels (from 2 ears fresh corn) 
1/4 teaspoon crushed red pepper flakes
12 ounces dried angel hair pasta
1/2 cup freshly grated Parmigiano-Reggiano cheese, plus more for serving
2 tablespoons white balsamic vinegar
1/2 cup packed roughly chopped fresh basil leaves, plus more for garnish 
Freshly ground black pepper

Instructions:
1. Prepare the grill for direct cooking over high heat (450 to 550 degrees Fahrenheit) using the Weber Gourmet BBQ System Cooking Grate. Set the Weber Gourmet BBQ System Wok in the grate opening and preheat for 10 minutes.
2. Bring a large pot of salted water to a boil over high heat on the stove for the pasta.
3. In a bowl, mix the zucchini, bell pepper and 1 tablespoon oil. In another bowl, mix the onion, garlic and 1 tablespoon oil. In a third bowl, combine the tomatoes, corn and red pepper flakes.
4. Bring the three bowls with the vegetables to the grill and keep close by. Add the zucchini mixture to the wok and cook over direct high heat with the lid closed, until the vegetables begin to soften, about 1 minute. Stir in the onion mixture and cook until the onion begins to soften, about 3 minutes. Add the tomato mixture and cook until softened, 3 to 4 minutes, stirring occasionally. Season with salt and pepper. Wearing insulated barbecue mitts, remove the wok from the grill and transfer the vegetable mixture to a large serving bowl.
5. Cook the pasta according to package directions until al dente. Drain and reserve 1/2 cup of the pasta water.
6. To the bowl with the vegetables, add the pasta, Parmesan cheese, vinegar and 1/2 cup basil. Toss well, adding enough of the reserved cooking water to melt the cheese into a thin sauce. Top with a drizzle of olive oil and garnish with basil. Serve hot with freshly grated Parmesan cheese.
Whether you need the right planters, seeds or potting soil, The Home Depot delivers online orders when and where you need them.
Explore More on homedepot.com