Time Required:

Under 2 hours

Difficulty:

Beginner
---
Most people are familiar with the bright, yellow glow sunflowers can bring to any yard or garden. They are simple to plant and will bloom large and tall, creating a beautiful display in your yard. They also make for perfect cut flowers inside your home. This guide will teach you how to grow sunflowers and where to grow sunflowers in your own flower garden.
Tip: If you are choosing sunflower seeds or plants that grow on tall stalks, sunflower varieties like 'Mammoth,' 'Autumn Beauty,' and 'Teddy Bear' are great options. Make sure to gather the proper sunflower-planting supplies.
Before You Start: Prepare Planting Area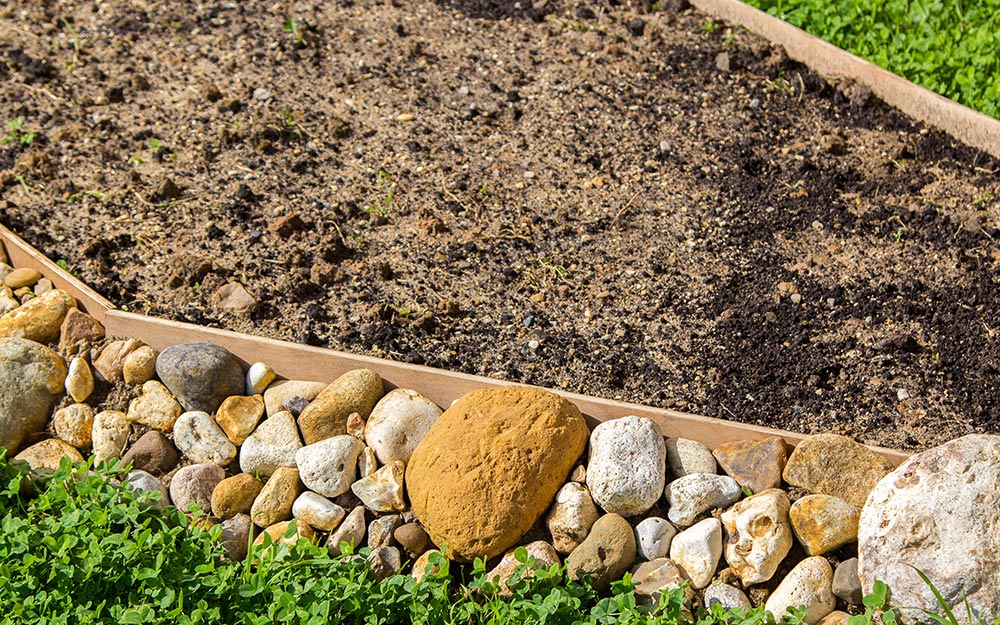 Sunflowers thrive in warm weather and on sunny days. In late-spring or early-summer, choose a location with direct sunlight and good drainage. This is the ideal spot in your garden bed or yard to grow sunflowers over the next few months.
Be sure to choose a planting area for your sunflowers that has a lot of space – their roots are long and stretch out far.
As with any plant, shelter your sunflowers from strong winds or harsh weather conditions that may slow down or stop the growing process.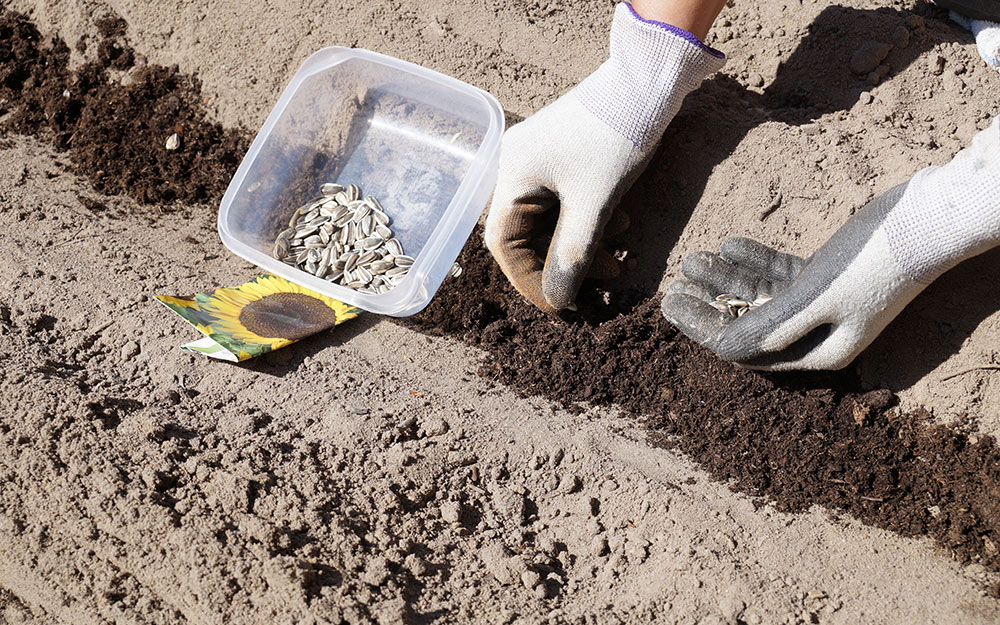 After Spring frost has lifted in your region and you've selected a planting area, create plenty of space for the rows where you will grow the sunflowers. Alternatively, you can plant the seeds closer for a smaller bloom overall.
Plant sunflower seeds at least 6-inches apart.
Press the sunflower seeds up to 2-inches into the soil.
Add fertilizer to encourage and protect root growth.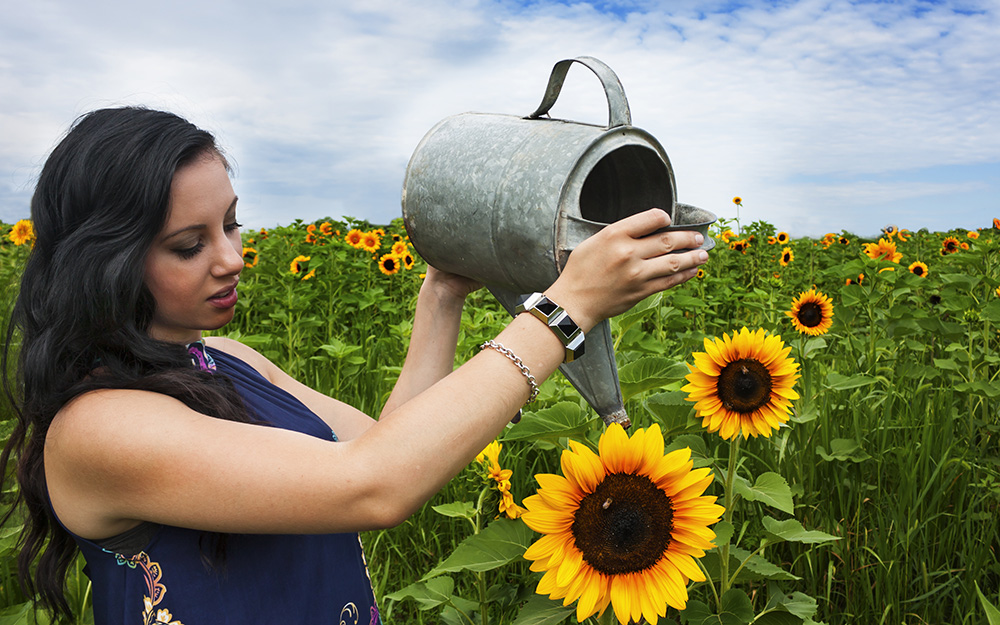 Your sunflower will bloom big when it has enough water and the right nutrients in its soil.
Water your sunflower seeds as soon as you plant them and follow a regular watering schedule every week. It's important will give the seeds 3-4 gallons of water.
Feed your sunflowers only as needed, too much plant food or fertilizer can cause growing stems to break.
Tip: If this is a new garden or in-ground planting area, add plant food to the native soil before planting to ensure your sunflowers have the nutrients to grow tall and strong.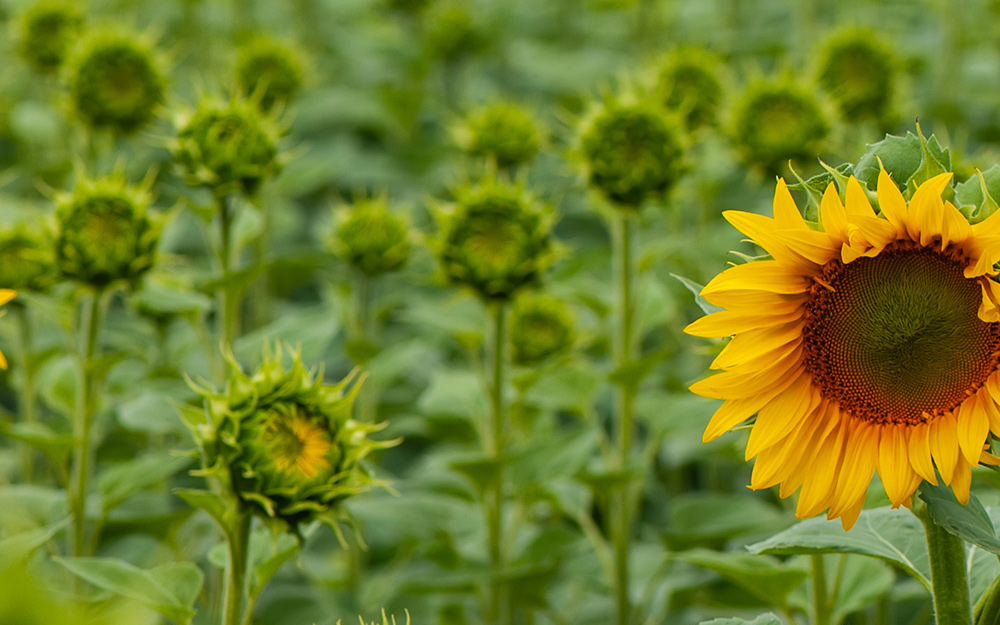 Sunflowers attract pests like birds, squirrels and deer. Keep them at bay with tall netting and wire barriers or garden fleece.
Keep fungicide handy in case rust or mildew begin to threaten the plant.
Sunflowers are a fuzz free plant, mulching the area after significant growth will help with moisture and prevent weed issues.
Sunflowers look great in a bouquet of fresh-cut flowers. They last at least 7 days in water at room temperature.
Try these tips for long-lasting cut sunflowers:
Cut flowers early in the morning.
Select blooms when the petals just start to open.
Plunge freshly cut blooms into warm water.
Inside, trim leaves below the water line and arrange blooms in a vase with fresh water.
Check water daily and refresh often.
Whether you need the right planters, seeds or potting soil, The Home Depot delivers online orders when and where you need them.
Thanks to:
UGA Extension in Cobb County
Cobb County Master Gardener Extension Volunteers
Green Meadows Preserve Community Garden
Cobb County P.A.R.K.S.