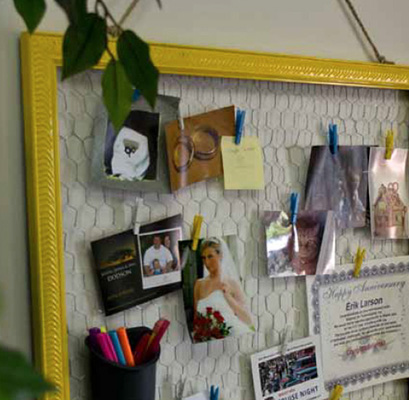 Chicken wire is commonly used in outdoor landscaping projects, but its usefulness extends well beyond basic fencing needs. A single small piece of chicken wire can be used to create a frame for displaying photos, documents, jewelry, and other household odds and ends. 
It'll only take you about an hour to make your own chicken wire frame if you follow the simple steps provided in this project guide.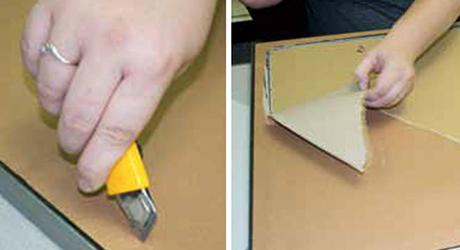 Remove the glass, photo and any cardboard or paper backing from the frame. Use a box cutter or knife if needed.
Make sure there are no remnants of the paper sticking out the sides of the frame.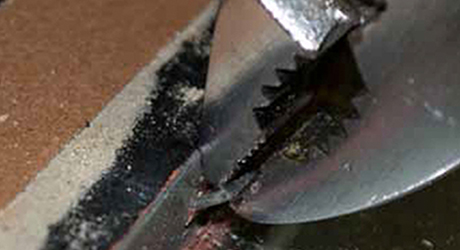 Remove any hardware, especially the tabs that hold the picture and glass in place, with steel nosed pliers.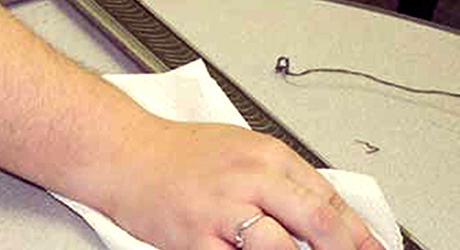 Use a cleaning agent and paper towel to wipe off any dust and dirt from the frame before painting. Allow it to it dry completely before applying paint.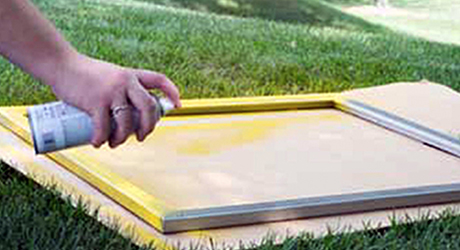 Choose a well-ventilated area such as a garage or a backyard for painting.
Lay the frame on a piece of cardboard large to give you ample space to paint around your frame.
Hold your can of spray paint at least 6 inches away when spraying and always move in a steady, constant motion.
5
MEASURE THE LENGTH AND HEIGHT OF THE FRAME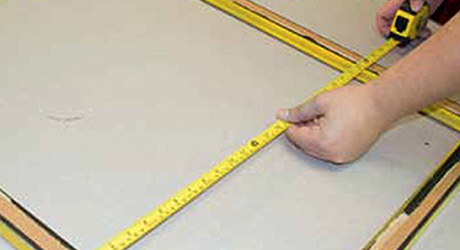 Allow your frame to dry, flip it over, and measure the length and height of the frame determine how much chicken wire you'll need to cover the frame.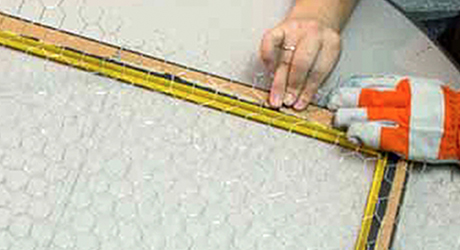 Cut your chicken wire to the length and width you determined in Step 5, making sure to add an inch or two of excess wire all around to ensure chicken wire stretches easily across the entire frame.
7
STAPLE CHICKEN WIRE TO THE FRAME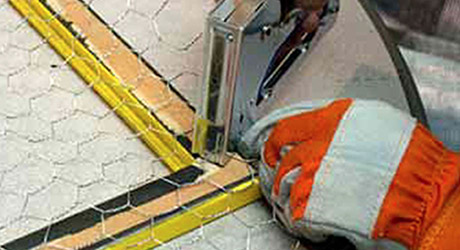 Flatten your sheet of chicken wire as best you can so there are no waves or bumps.
Use a hand stapler or upholstery stapler to secure the chicken wire to the back of the frame.
Apply as many staples as needed, making sure to get a staple in each corner and two on each side at minimum.
8
TRIM AND HAMMER CHICKEN WIRE UNTIL FLAT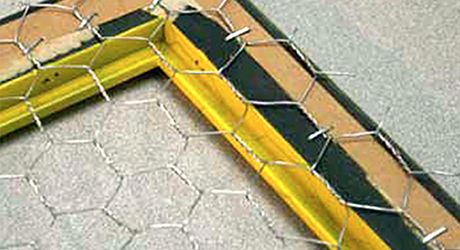 After your sheet of chicken wire is stapled to the back of the frame, use wire cutters to trim the excess chicken wire into the inside of the frame. Hammer the staples and existing wire until flattened. Leave as few sharp edges as possible.
9
CUT FOAM OR FELT MATERIAL FOR BACKING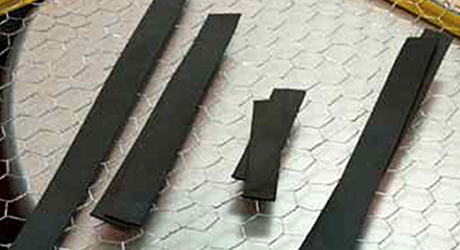 Measure the width and height of the backside of your frame again and use those measurements to cut out strips from the foam or felt material for protective backing to cover any leftover sharp edges.
10
GLUE FOAM OR FELT TO BACKSIDE OF FRAME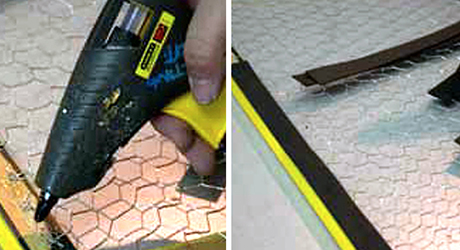 Glue the strips of foam or felt to the backside of the frame with a hot glue gun. The foam or felt material strips will help protect your walls when you hang your frame.
11
DRILL HOLES FOR EYELETS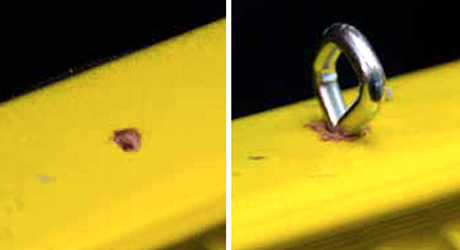 When the glue has dried, flip your frame upright and drill a hole big enough to fit an eyelet into, and then screw the eyelet in. Do the same for the other side. Try to place your holes at least 2 inches deep at minimum.
12
TIE STRING AROUND EYELETS, HANG AND DECORATE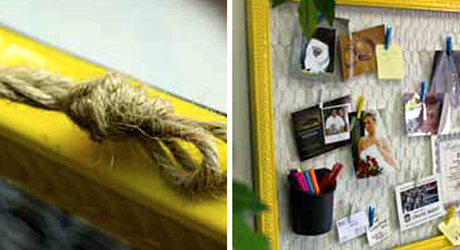 Tie your jute string in a knot around the first eyelet. Your string can be however long you want, depending on how long or short you want it to hang.
Tie the other end of the jute string around the eyelet on the other side, then hang and decorate as desired.
Explore More on homedepot.com