Wall art ideas are all around you. Browse Pinterest using keywords. Use The Home Depot's Decor department for inspiration. Flip through decorating magazines to influence your taste. Depending on your style, your options for updating the walls are endless. This guide will help you discover creative wall art ideas. From bohemian to rustic and trendy to traditional, these ideas work with every interior style.
Gallery Walls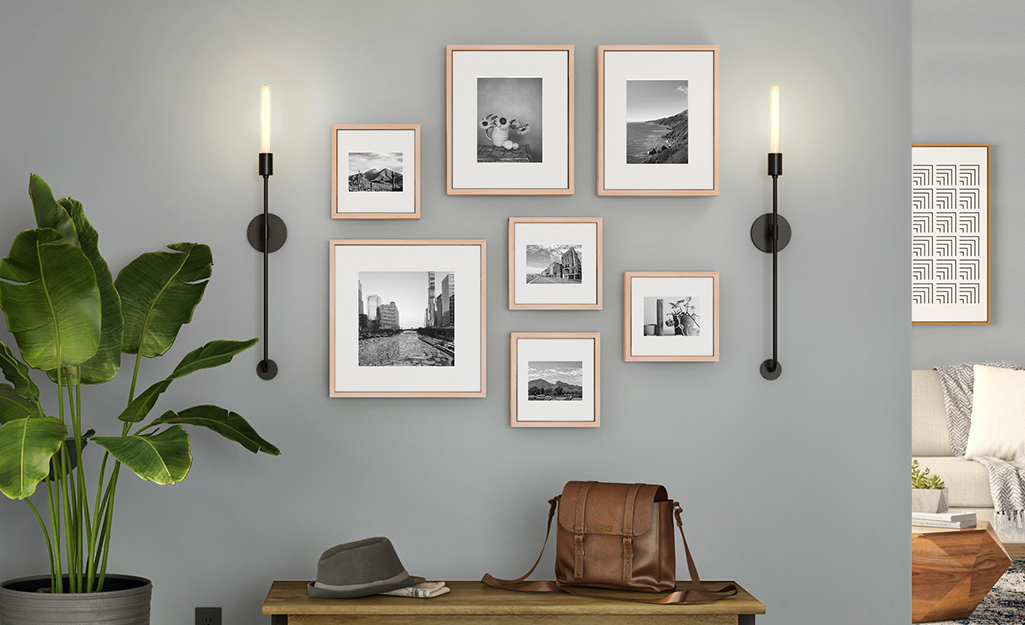 It's easy to create a gallery wall. Hang your children's artwork or vacation photos for a personal touch. Add in abstract art or framed needlework to elevate it. A plain wall is like a blank canvas. Personalize it to reflect your family, talents, pets or hobbies. Wall design ideas can have theme, a special style or color palette. A gallery wall can also be as eclectic as you want
Mirrors as Wall Art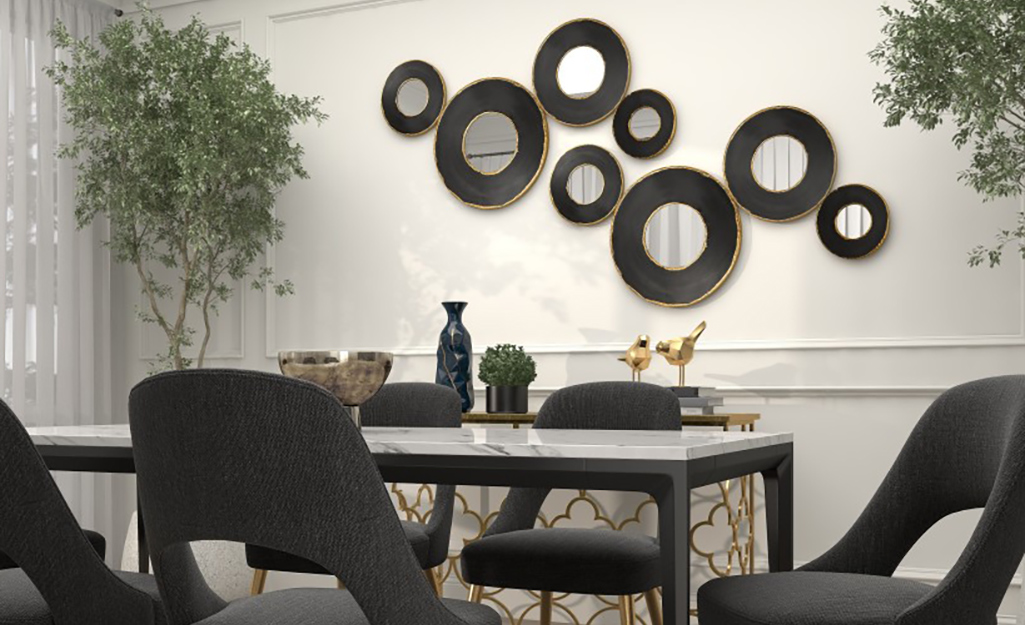 Consider mirrors when you're looking for wall art ideas. You can layer mirrors against a wall for dramatic effect. For flair, prop a large, sculptural mirror on a wall. Or hang mirrors of different shapes and sizes gallery-style. Mirrors do a great job of making a room appear bigger. They can also help bounce light around a dim room.
Wall Decals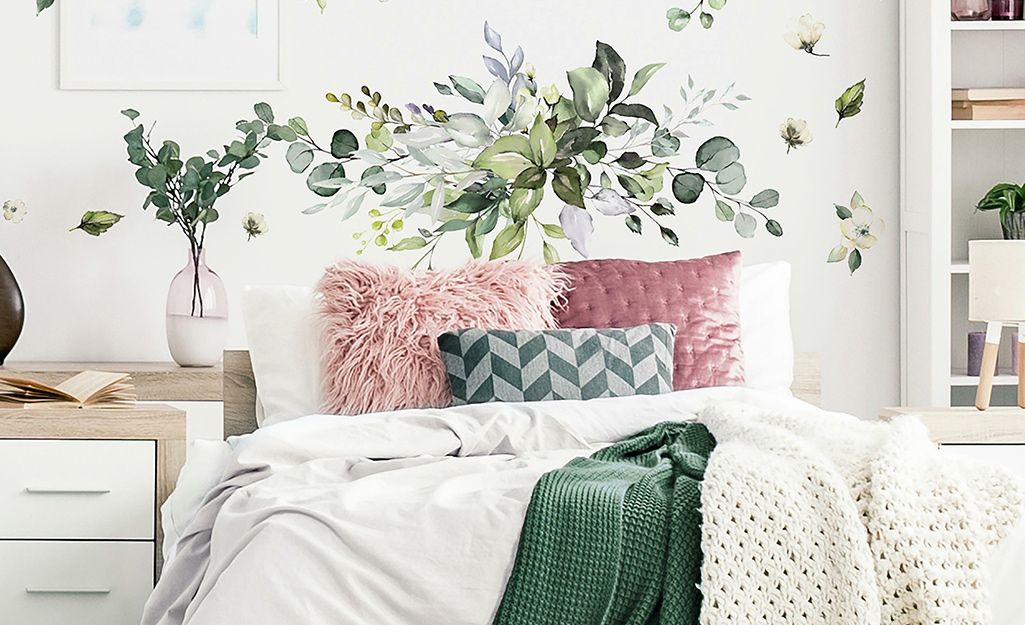 For budget-friendly wall art inspiration, use wall decals. Wall decals are easy-to-install and easy-to-remove. They're available in a variety of styles, fonts and designs. Most peel-and-stick decals are reusable and moveable. You'll find decals that feature flowers, faux wood or nature scenes. Or you can go for geometrics or word-heavy options. For kids, there are fun superhero and animal decals.
Wall Shelves for Art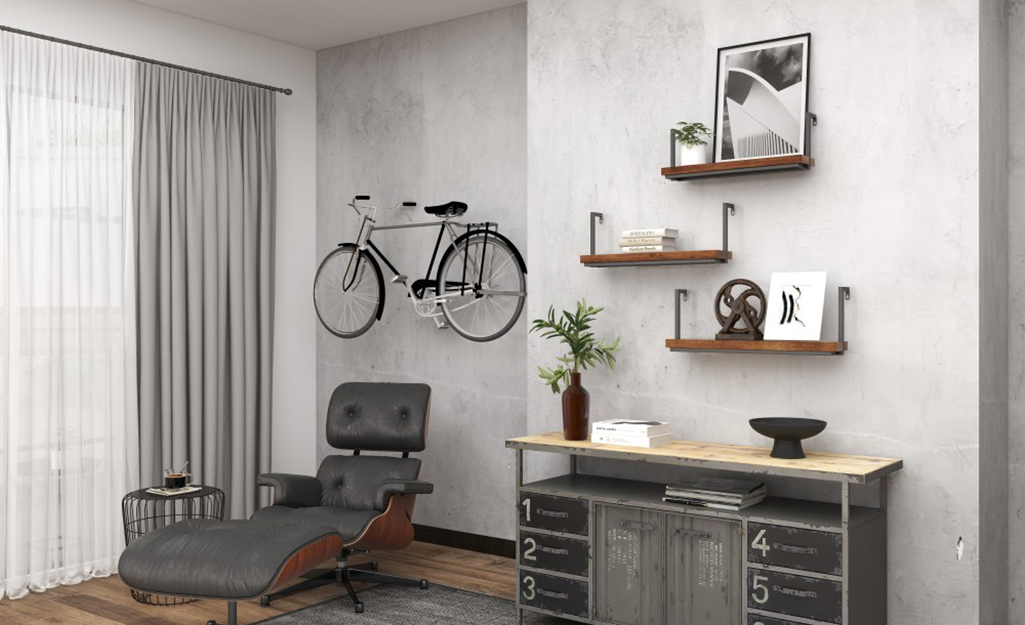 Wall shelves are cute, functional and space-saving. Look through upscale bookstores for wall art inspiration with their wall-mounted shelves. Bookstores have beautifully designed shelves featuring the latest titles. Other retail stores showcase shelved candles, flowers and knickknacks that work as wall art. Decorative wall shelves with minimal decor can be striking. They create a restful focal point and give a room a stylish, sleek look.
Tapestries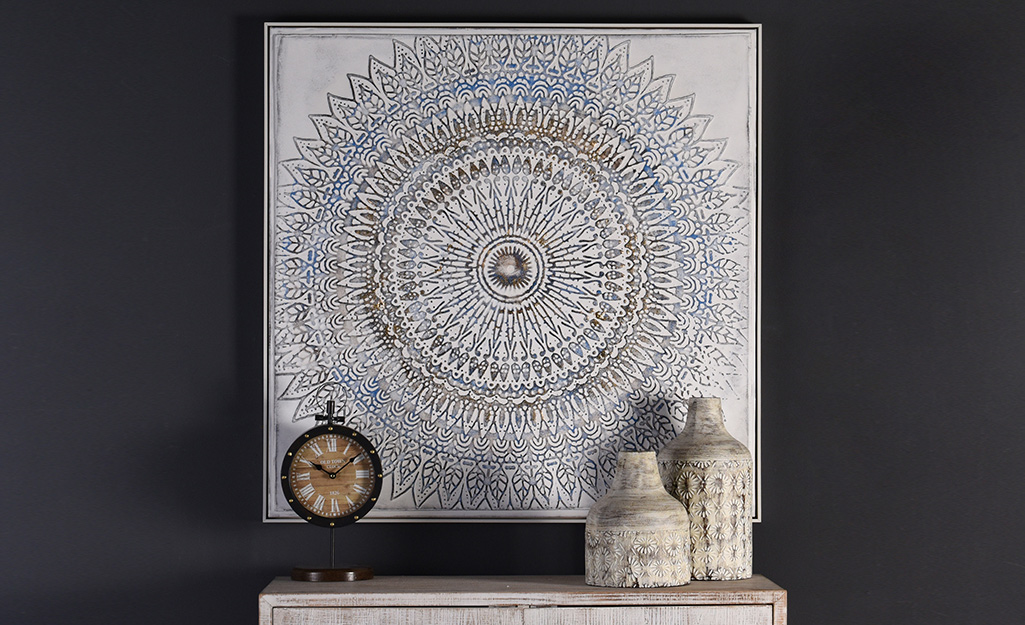 Need bedroom wall decor ideas for a large space? Hang a tapestry to add a pattern, texture and color. Use a rod or frame to hang the tapestry. Push pins will work for lightweight, thin fabrics. Poster hangers, self-adhesive Velcro and small nails also work. Keep in mind possible tapestry damage but do what works best for your home.
Wall Art Murals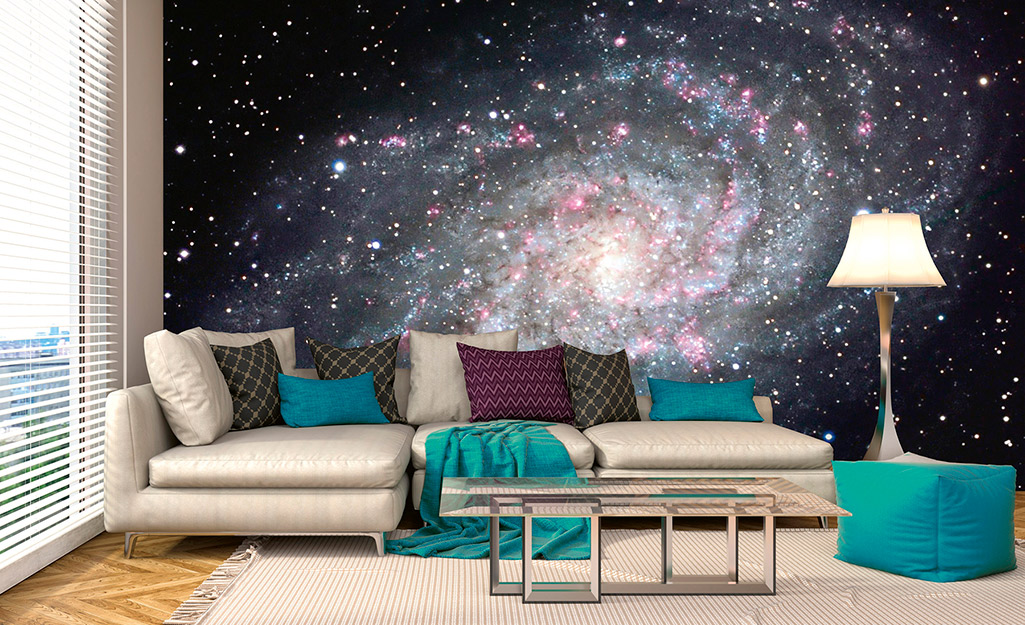 You can find large murals that cover an entire wall from the floor to the ceiling. Go natural with a mural featuring a sunset, forest or waterfall. Go glam with a faux marble mural. Or opt for rustic style or a farmhouse look with a mural of reclaimed wood planks.
Signs and Signage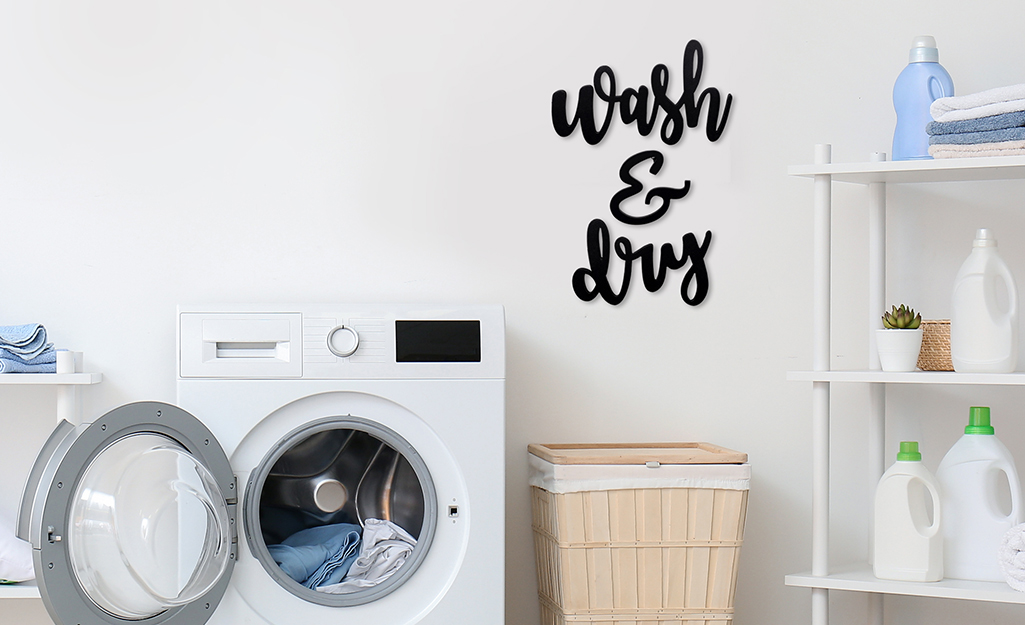 Wooden plaques with unique quotes are a quick and easy way to decorate. A favorite saying can update and elevate a wall. Create a neon sign with a short, succinct phrase. Don't see a quote you like? Make your own wooden sign. You can paint it, stain it and use a burning tool to add a message or design. The opportunities are endless with wall signs.
Stencils as Wall Art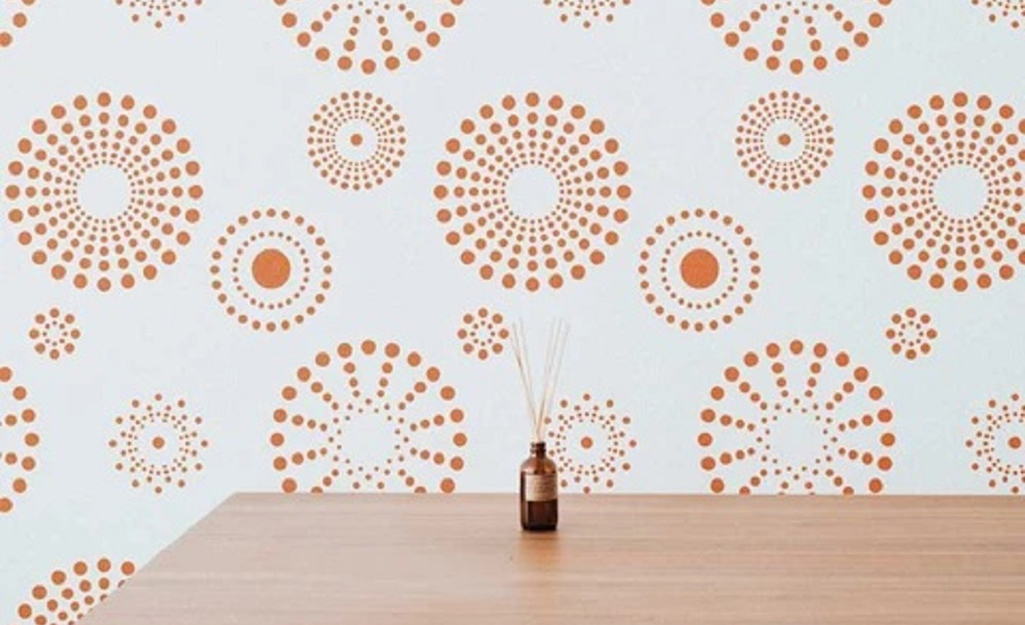 Stencils are another easy way to create an artful design or message. You can put a border of sunflowers around a door. Or you can add a row of stenciled seashells just below the ceiling. Repeat a stencil design to cover a wall with your favorite pattern. 
Add layers of stencils, allowing paint to dry between layers, to build a scene. Attach a pre-cut wood stencil to a background and hang it in a frame. 
Artful Wall Canvases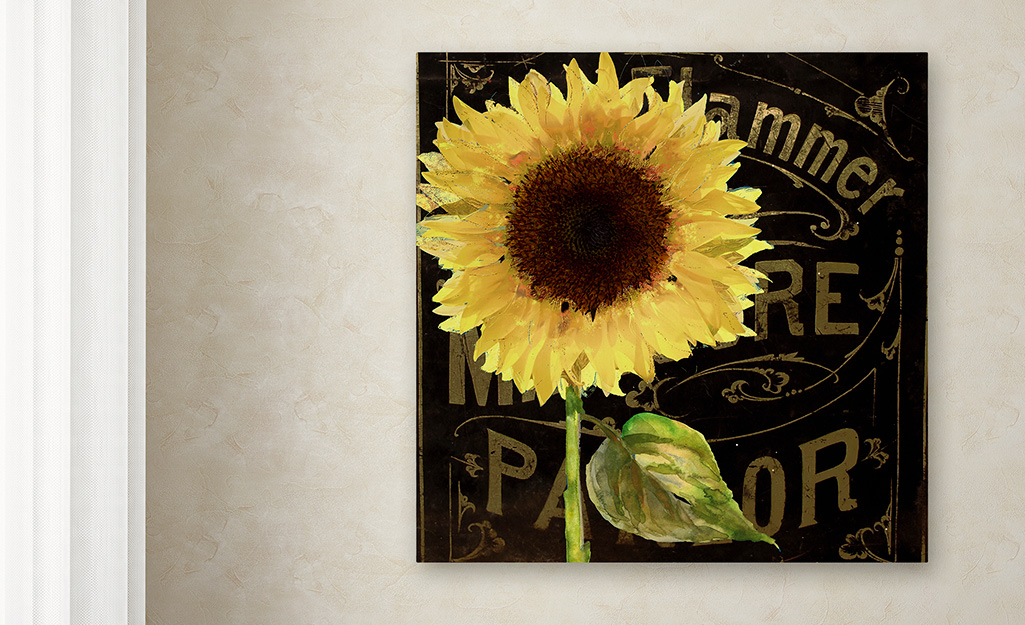 When it comes to canvases, your options are only as limited as your imagination. Because they're so versatile, canvas prints can be hung in nearly every room. Put a spin on canvas wall art idea by thinking outside the box. Prop the pictures on bookshelves and console tables for an artful touch. 
Look for abstract, modern, vintage or fine art wall canvases. There is a wide range of styles and colors to choose from.
Wall Sculptures as Art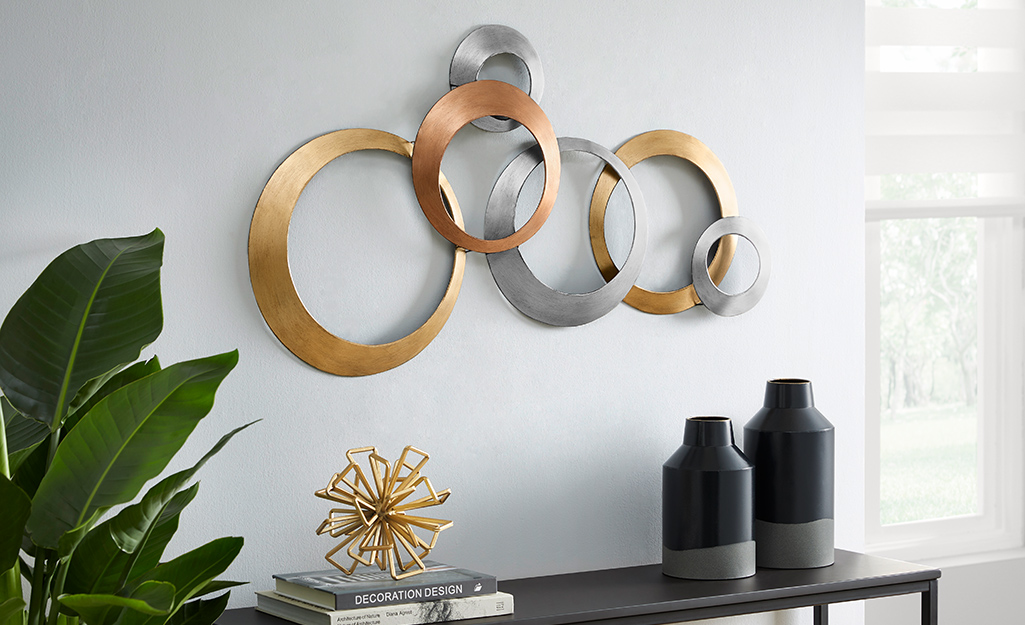 When you're looking for living room wall art ideas, consider wall sculptures. These 3-D pieces come in metal, wood and many other materials. Available in vertical or horizontal styles, you have many options. Textured ceiling tiles can substitute for wall sculptures. For extra range, look at outdoor or garden sculptures to bring inside. 
Photography for Wall Art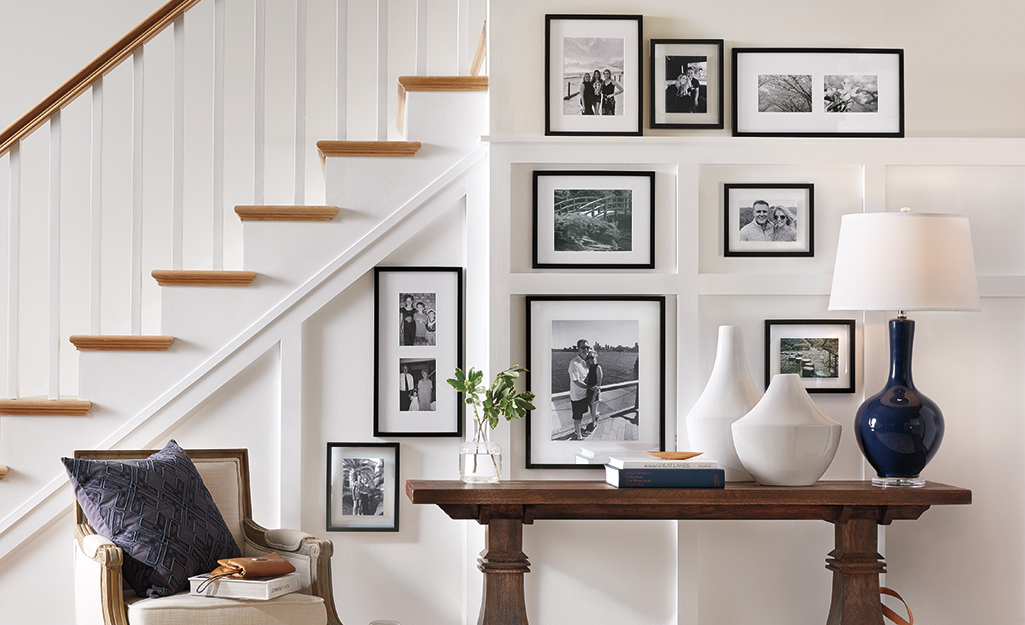 Big into family photos? You can cover a wall with one large, photographic print. Or split it into three separately framed sections and hang them close together. Create a gallery wall using photos of your child from each school year. Highlight old family members with fun memories. Try black and white, color or vintage photography prints. 
Artful Wallpaper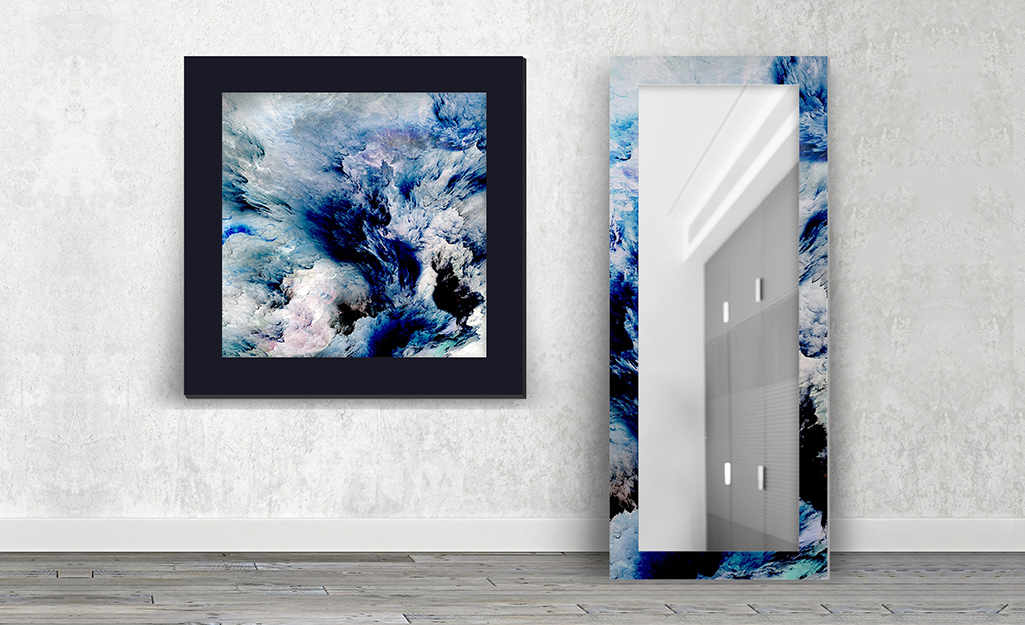 Wallpaper comes in peel-and-stick backings, pre-pasted, unpasted and non-pasted styles. Wallpaper is one of the most popular bedroom wall decor ideas. it also works beautifully in kitchens, living rooms, nurseries and more. Use it on one full wall or cut out and frame a section to hang as art.
Shadow Boxes as Art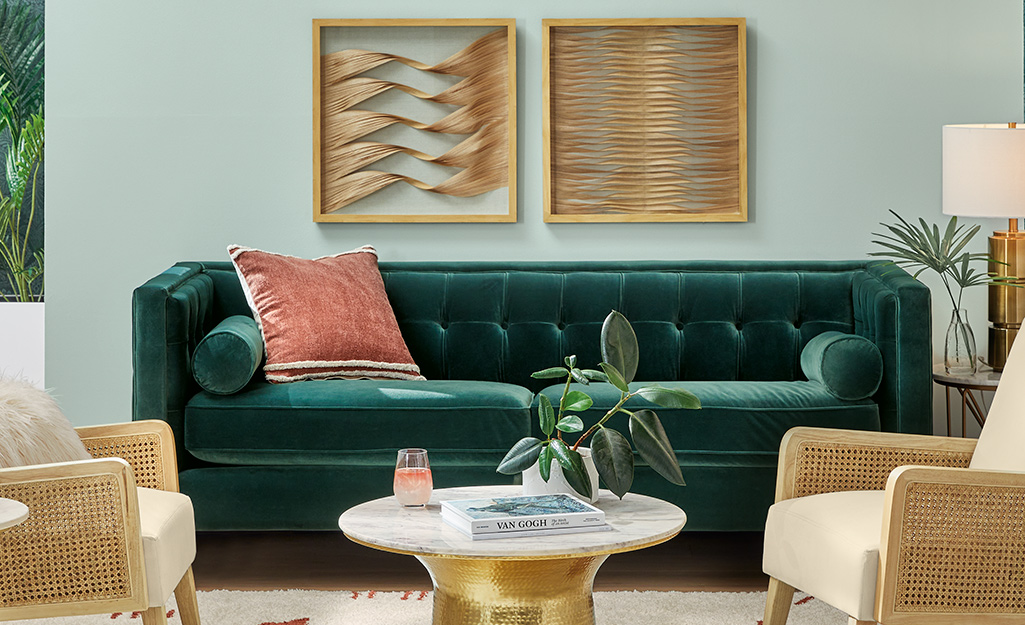 Unique wall decor ideas include shadow boxes. Think of them as miniature museums. Hang a few deep frames filled with a collection of trinkets. These can include antique pocket watches, vintage door keys, dried flowers or more.
Plates for Wall Art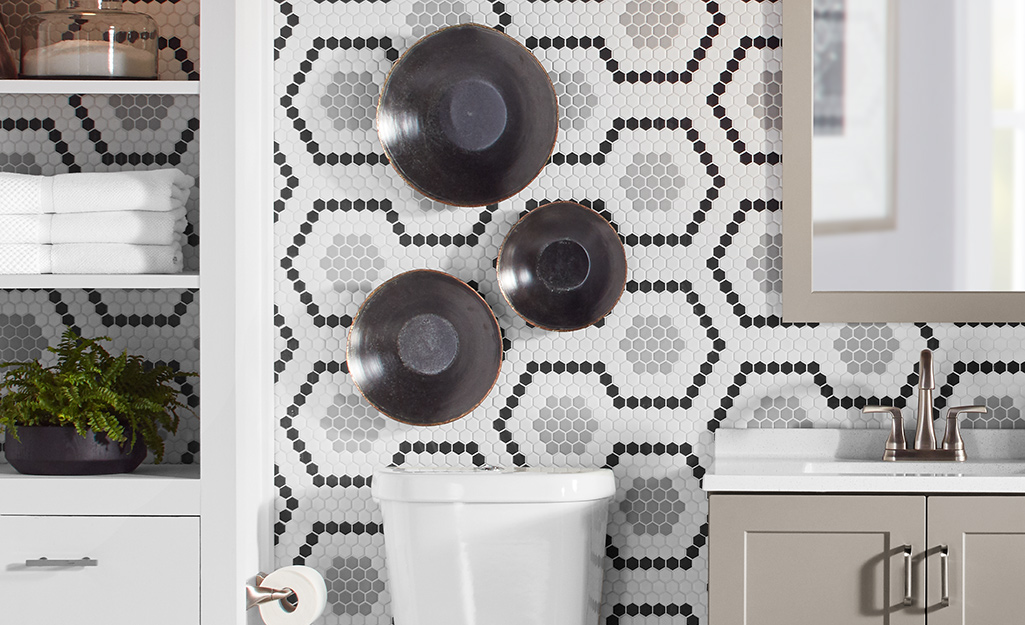 Looking for an easy kitchen wall decor idea? A fancy set of matching plates or vintage dishes works great. You can mix-and-match styles, colors and sizes. Plates can also be grouped to make gallery walls in living rooms and dining rooms.
Sconces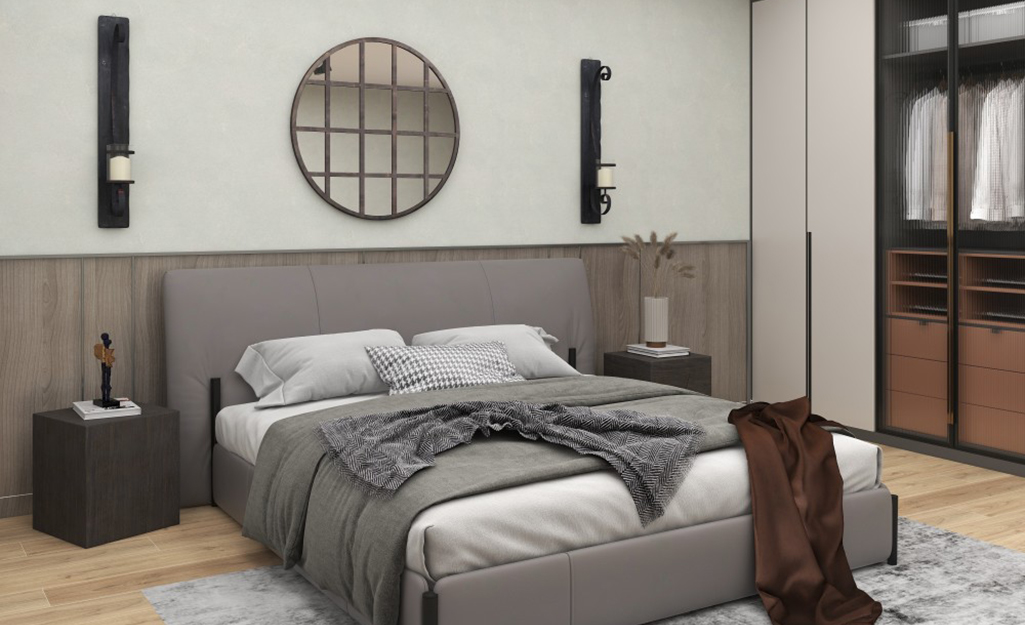 Functional and stylish, sconces can light up a space and work as wall art. Install a pair of sconces on each side of an item for a balanced look. Symmetry works great next to a bed, fireplace, bookcase and more.
Plants on Walls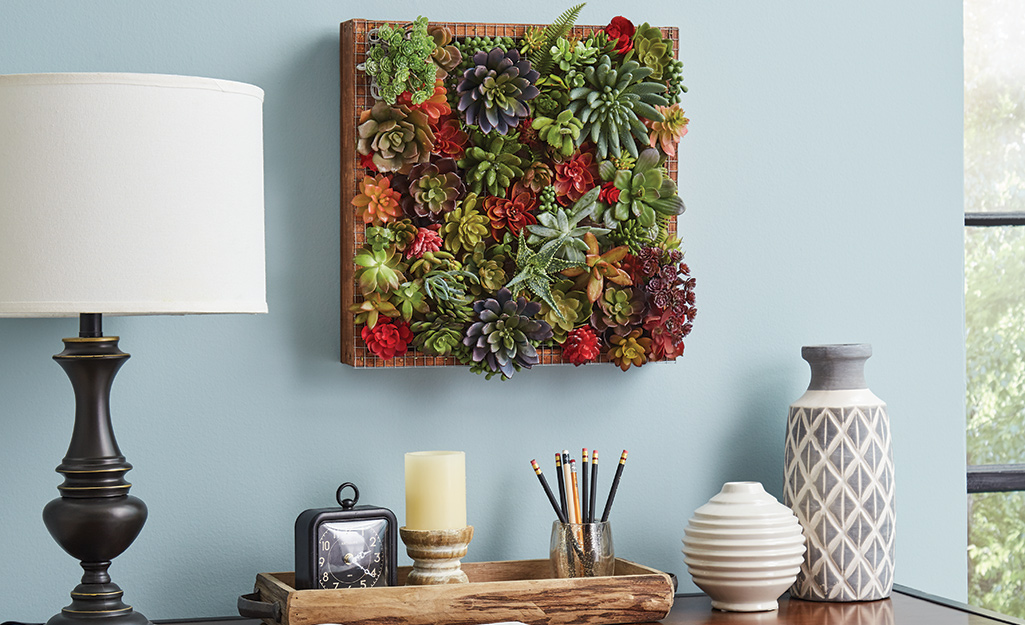 Bring a garden feel to a room with wall-mounted planters. Add easy-to-grow houseplants like pothos, succulents or ivy. A staghorn fern mounted on a board is a striking focal point for a wall. Make a rack to hold fragrant herbs in Mason jars for a full-sun kitchen wall.
Fabrics and Textiles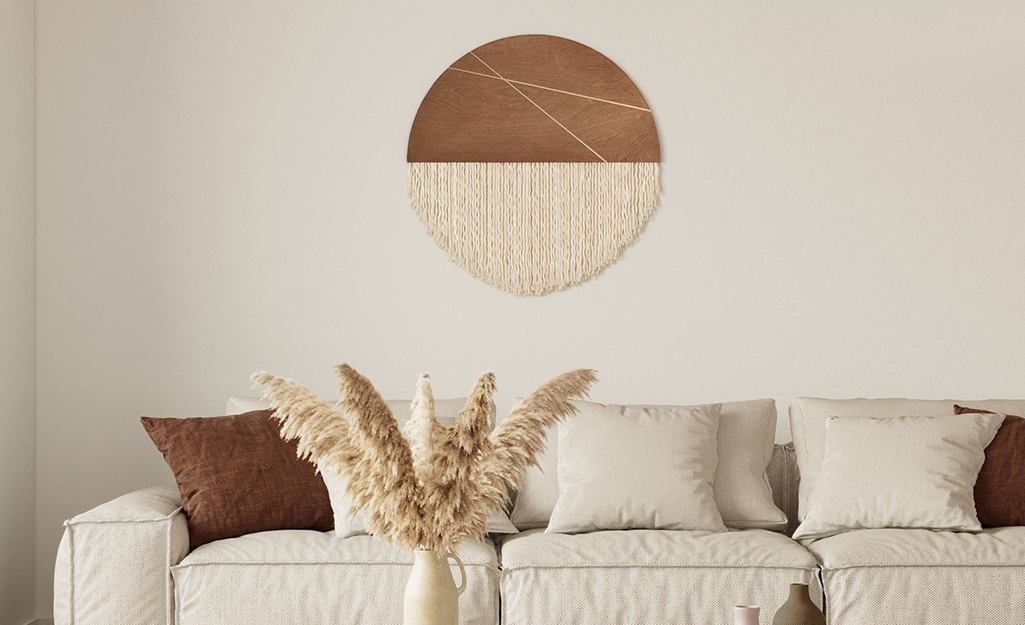 Fabrics and textiles create a unique wall design. Frame a gorgeous section of fabric. This can include a hand painted scarf, a 3-D textile or vintage doilies. For more impact, cut a striking fabric into three or four long rectangles. Put them in matching frames and hang them vertically as a triptych. A triptych is three side-by-side panels that work as an altarpiece.
Artful Quilts
Consider quilts when you're searching for wall decor ideas. Vintage or new quilts can serve as a headboard behind a bed. Hang a quilt as art on a living room, family room or nursery wall. Quilts add patterns, color and texture, along with a sense of warmth and charm. Keep them small for small spaces.
Weavings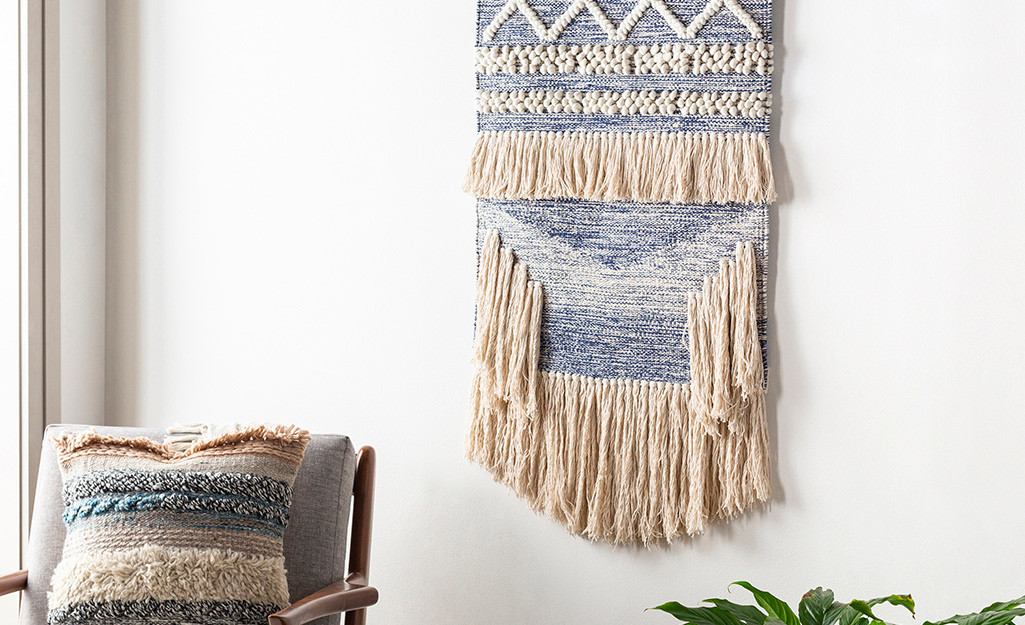 Interior decorators turn to weavings when they need wall design ideas. Macrame weavings are popular again. You can find other weavings made of wheat, raffia, bulky yarn and more. Try using a rag rug woven from colorful fabric scraps on a plain wall.
Maps as Wall Art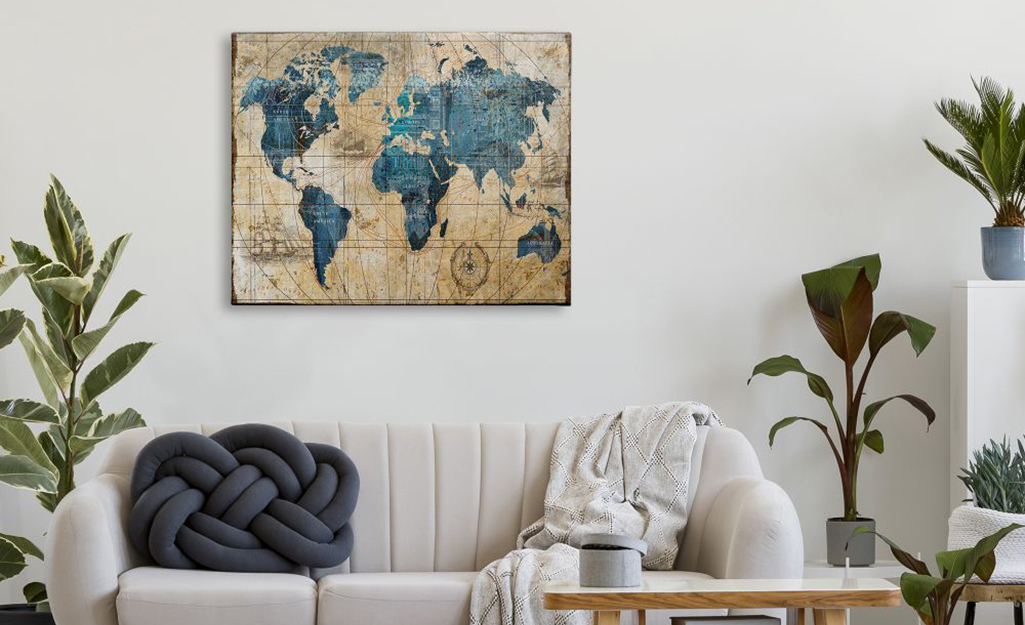 Frame an interesting map you've collected from one of your journeys. Or try a world map mural or wallpaper. Nautical maps of harbors, islands and coastal waterways are popular. So are geographic maps with textured elements, such as mountains. Milky Way maps and other heavenly bodies add a touch of otherworldly adventure.
Picture Ledges for Wall Art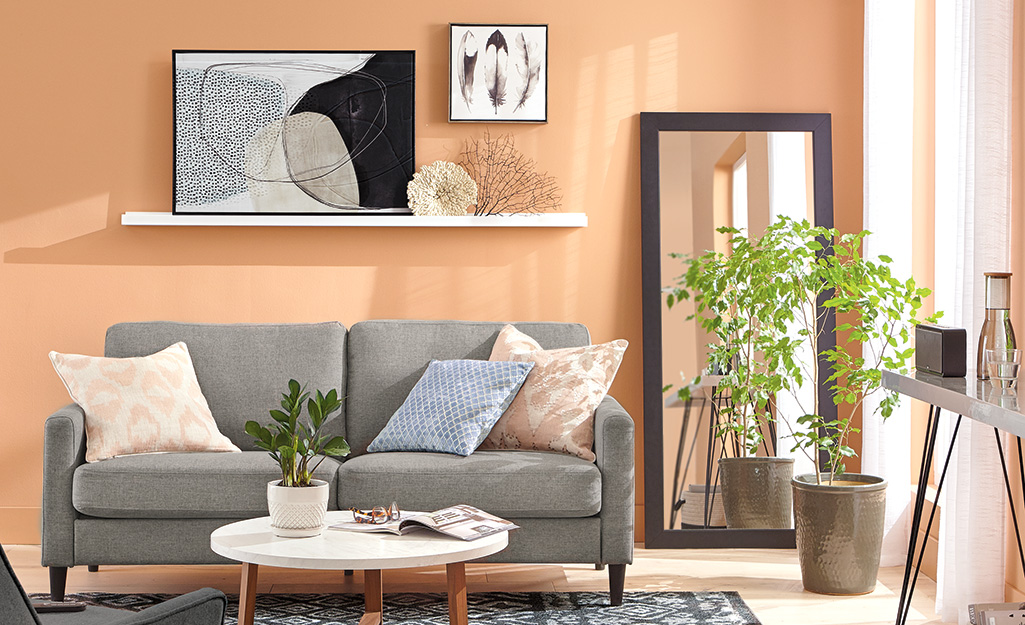 Artwork doesn't always have to hang on a wall. Install a shelf or ledge and lean artwork with matching frames on it. Place a flower vase, figurines or other small items on the picture ledge. Use complementary items to dress up the wall.
Wall Art with Ribbon Hangers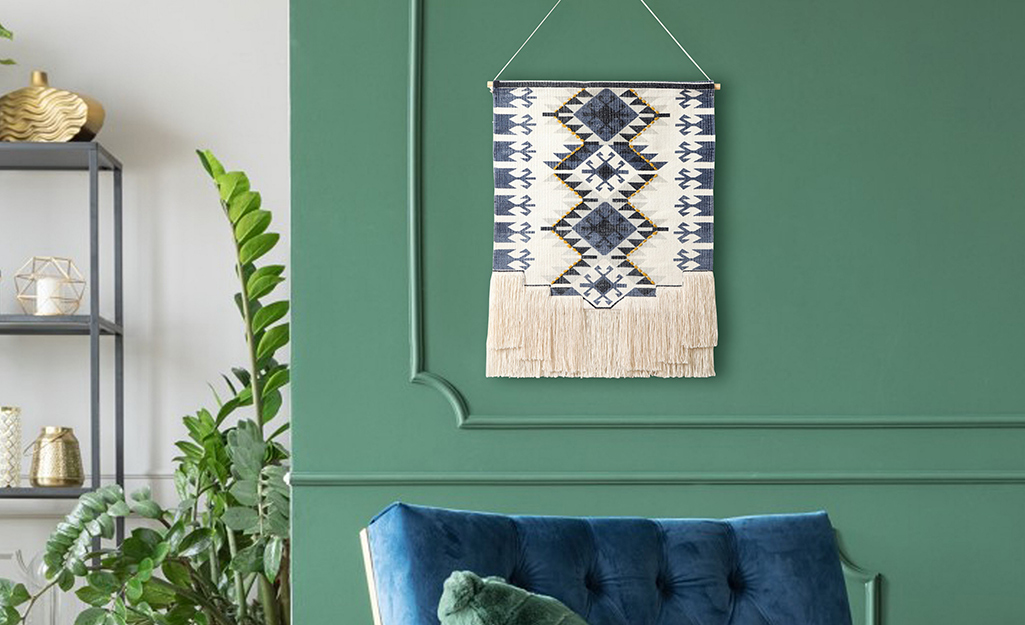 Make a picture frame more attractive by hanging it from a ribbon with a bow. Use one ribbon and bow per frame. Or hang three framed pictures from a single length of ribbon topped by a bow. Strips of burlap make a simple, rustic substitute for ribbon.
Ladders to Hold Wall Art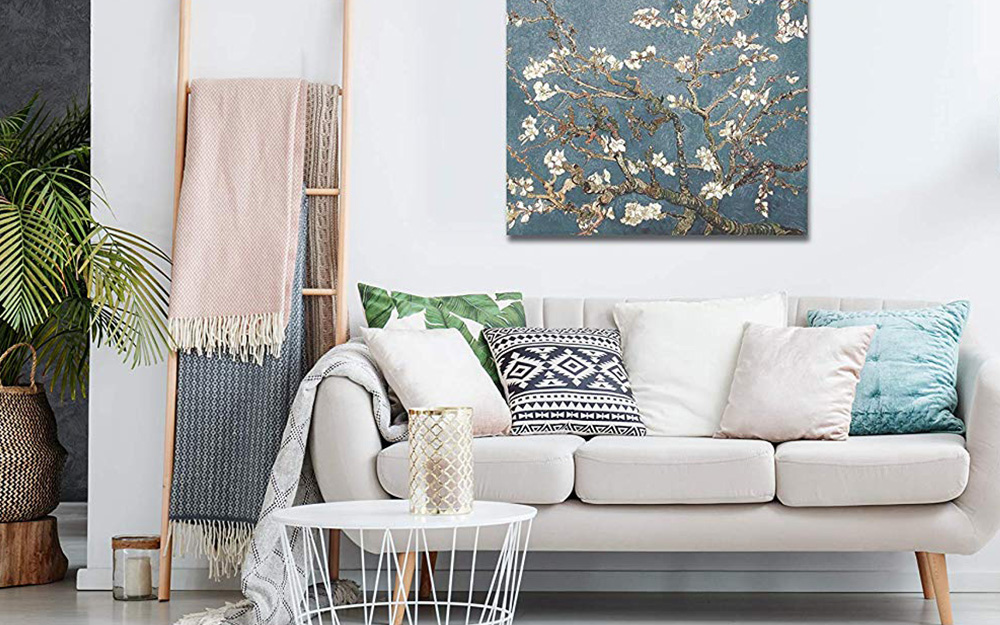 Prop a distressed wood ladder against one wall and hang whatever you like from the rungs. You can include colorful blankets, lengths of fabric, shawls or small quilts. If the rungs are wide enough, put small potted plants on them. Or switch to holiday decorations when the seasons change. Place artwork on the rungs, treating them like narrow shelves.
Art for Wall Niches
Niches are interesting structural elements for walls. A niche is a decorative box nestled into a wall. If you have one, use it to display a sculptural tree branch, vase, statue or more. Install a spotlight to turn the niche into a focal point. 
Room Dividers as Wall Art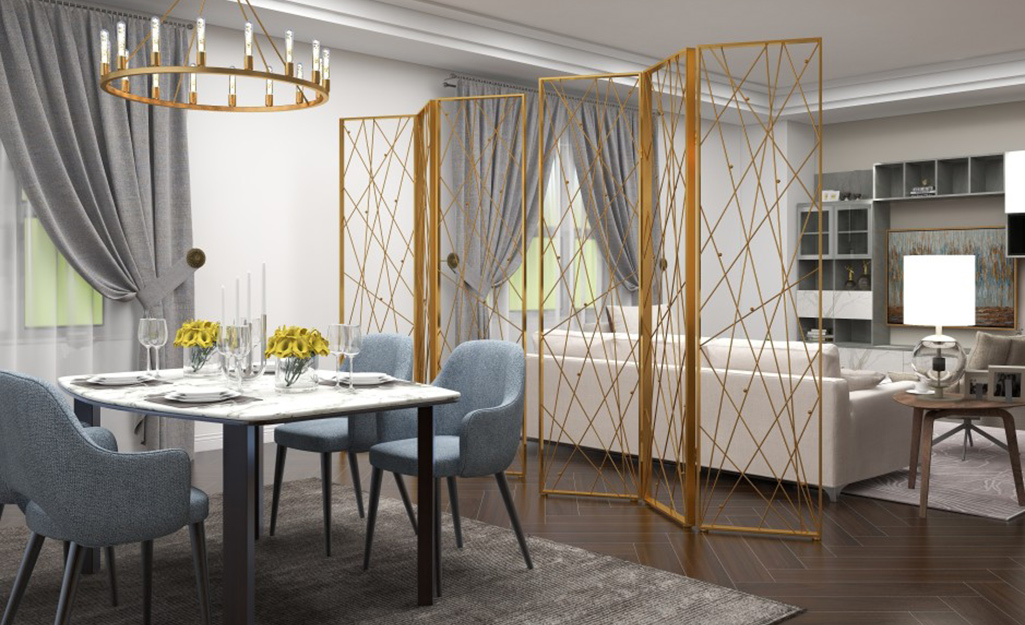 Room dividers make useful privacy screens, but they can also serve as wall art. Room dividers that fold for storage are great for renters. They work well as temporary design pieces. The designs of room dividers range from minimalist to elegant. And dividers can be made of fabric, paper and more.
Curtains for Wall Art
Even if the wall you want to accent lacks a window, you can still hang curtains. Let them serve as a headboard for your bed. Or use them as a backdrop for other decor ideas like paintings or prints.
More Wall Art Ideas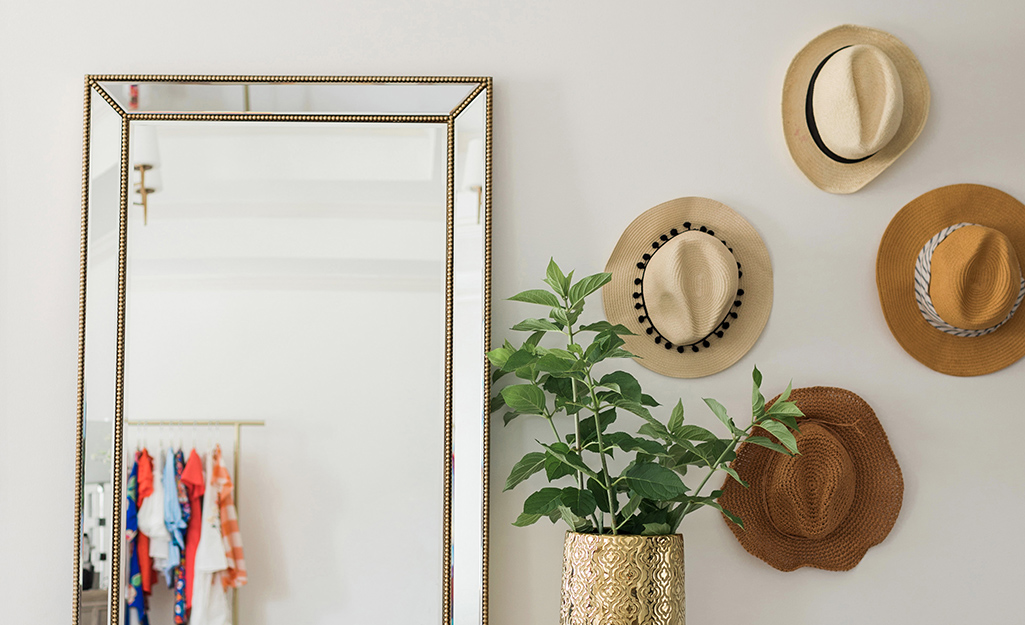 Wall decor ideas are limited only by your imagination. Try a collection of small, elegant evening bags, cowboy hats or decorative baskets in different sizes, colors and shapes. Frame and hang a child's baby clothes or take the glass off the front of a picture frame and display earrings or necklaces in it.
Breathe new life into bare walls with these wall art ideas. From ladders to mirrors, these creative ideas can help you create a signature look. Wall art can reflect your style and there's always an option that fits your budget. See something you like? The Home Depot delivers online orders when and where you need them.
Explore More on homedepot.com