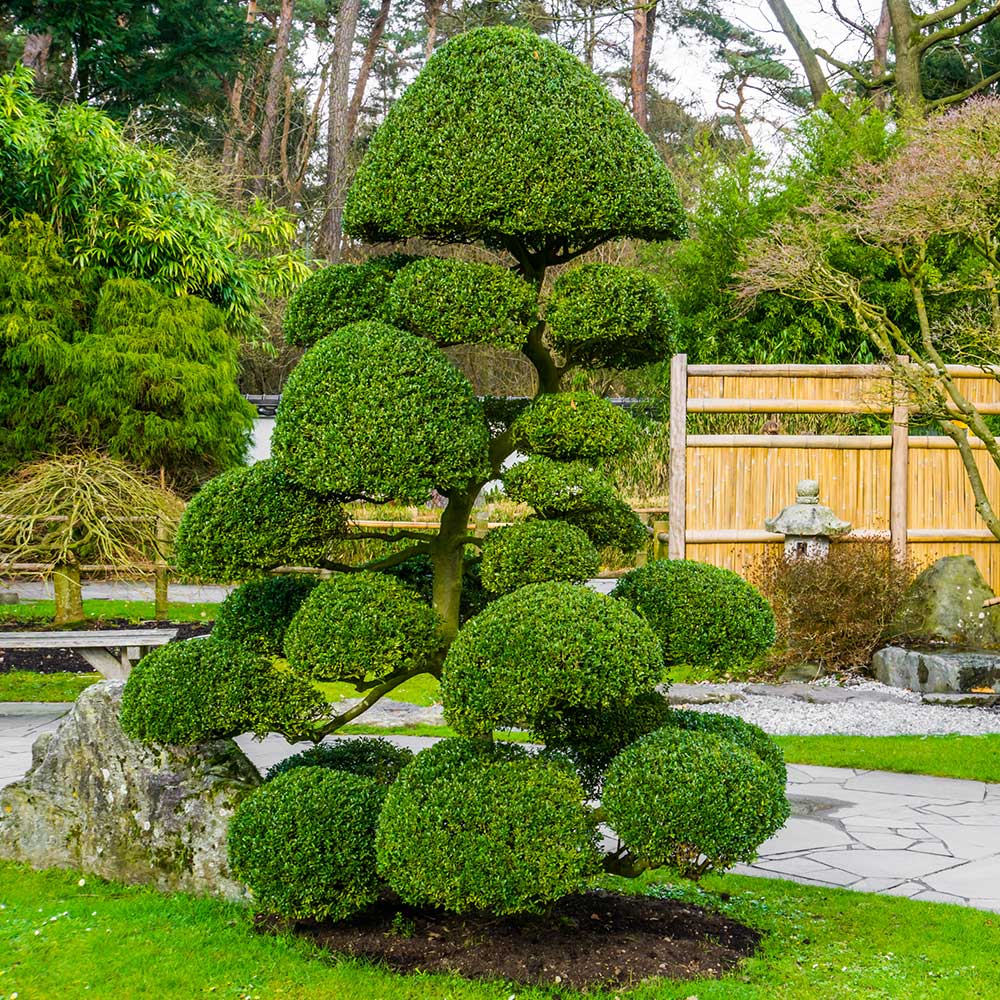 Topiaries are bushes and small trees clipped into an ornamental shape. Whether you love the clean and sophisticated look of a classic cone topiary or the whimsical artistry of an animal-inspired topiary, you'll learn how to make a topiary in your own yard by choosing the right plants and starting with a topiary form. Topiaries don't have to be especially high maintenance if you choose the right plants. Read on to learn how to make a topiary.
Tip: Keep a good pair of shears on hand for topiary maintenance.
1
Choose the Best Plants for Your Topiary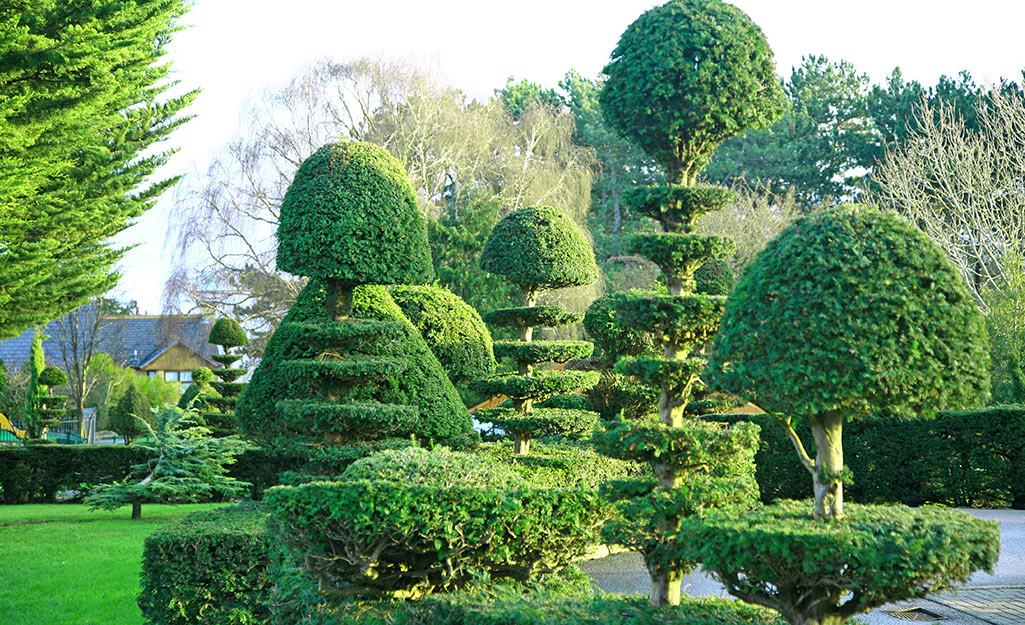 When it comes to creating a topiary, choosing the right plant to start with is essential. You'll want something that is evergreen, full and easy to shape. Boxwoods are one of the most popular choices for topiaries because they offer a multitude of small green leaves and provide plenty of coverage. Ivy is also a great choice if you are using a topiary frame because they are easy to weave in and out of the mount to create the shape you desire.
Topiary Shapes
Cone
Spiral
Single Ball
Double Ball
Triple Ball
Animal Shapes
2
How to Make a Topiary Without a Frame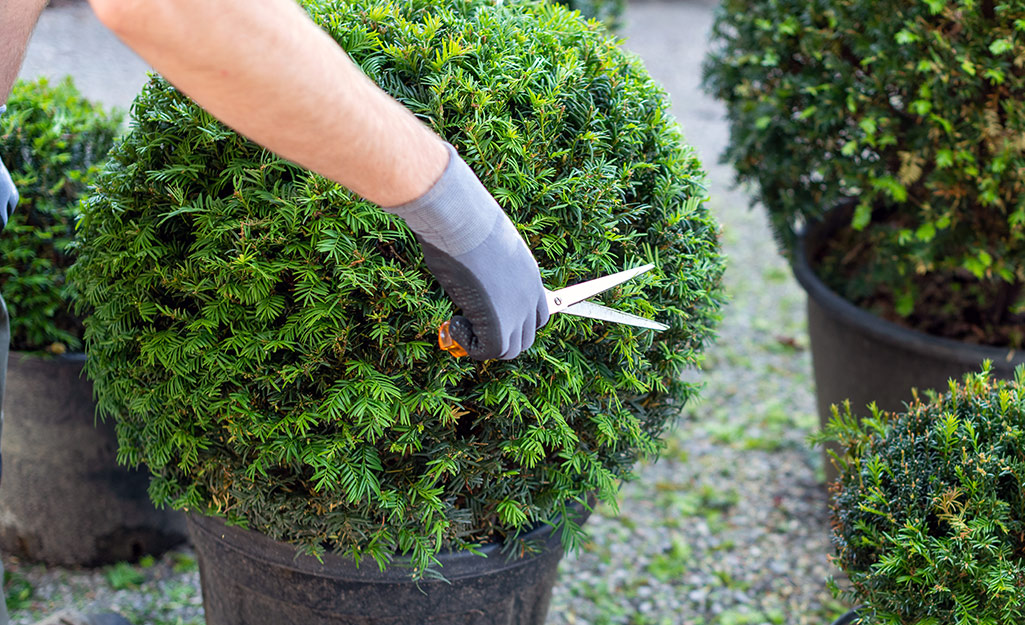 Most topiaries use the structure of the plant itself and don't rely on an additional topiary frame. 
Begin by choosing a boxwood that is the desired height of your finished topiary.
Decide which shape you'd like to have. If you are creating a topiary for the first time, start with something basic, such as a cone or a ball.
Using a pair of sharp shears, slowly work at pruning the bush until you receive the desired shape.
3
How to Make a Topiary with a Frame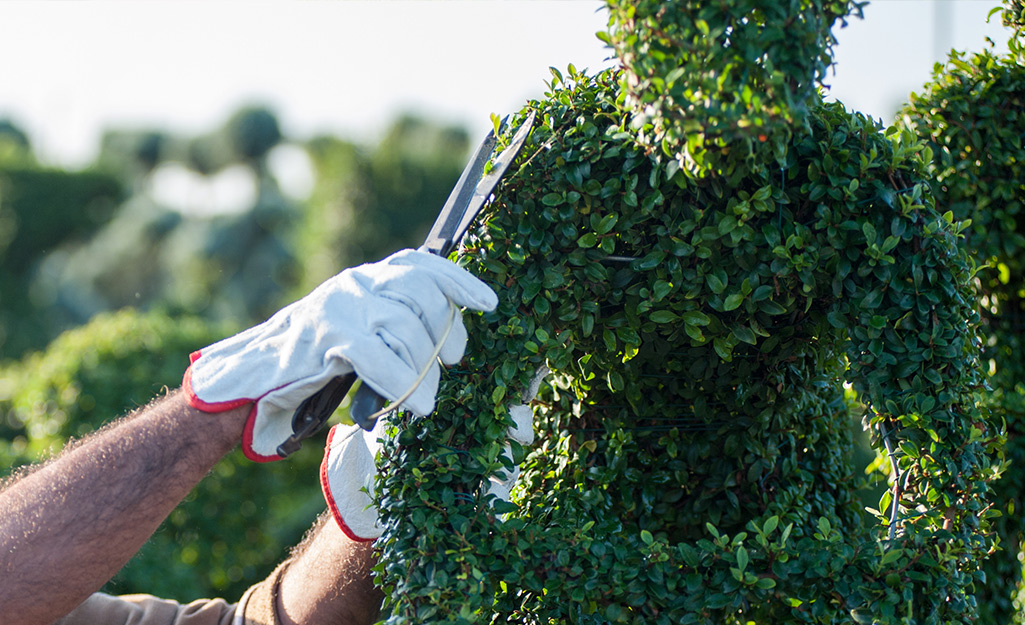 If free handing your topiary shape seems overwhelming, try using topiary frames. Using a frame to shape your topiary will help you get a consistent result, especially if you are trying to create a pair of matching topiaries to flank a garage or entryway to your home. 
If you are creating a ball topiary, use wire and ties to create a large, round, open circle.
With one hand, place the circle around your topiary, and with the other, snip away any branches that extend past that circle.
Move the circle around as you move, and you'll end up with a perfect ball topiary every time.
Cone or pyramid frames can be used in the same way.
4
How to Shape an Ivy Topiary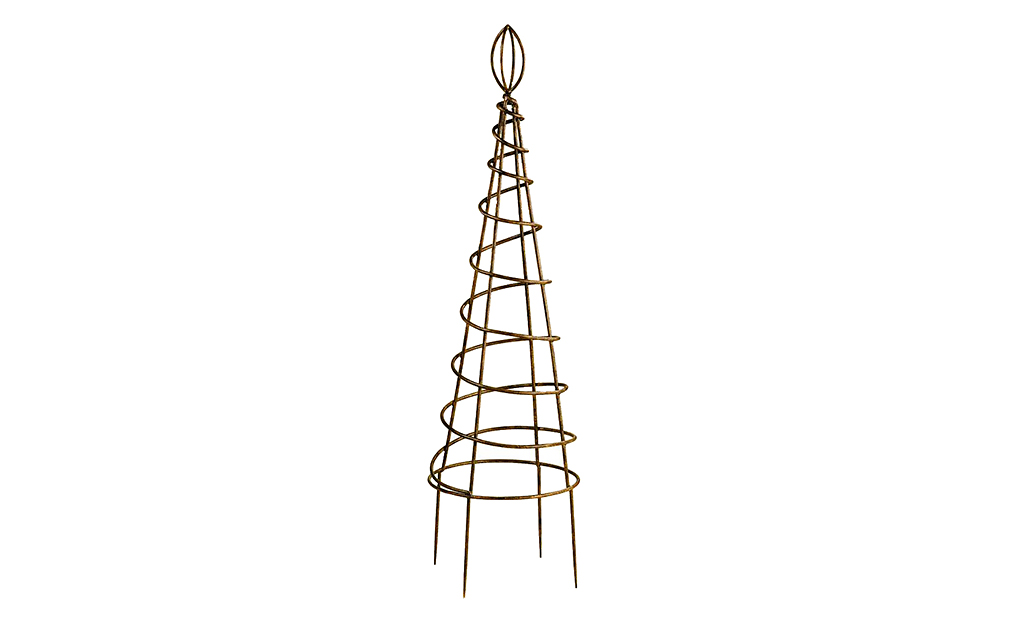 Unlike boxwood, ivy needs a support structure to grow. It is easy to create a wall of greenery by allowing ivy to climb up a straight trellis or fence, but that's not the only way to feature ivy in your garden. Show off your artistic side by creating a sculptural framework with chicken wire, wire ties and strong dowels. 
Shape the wire to create any form you like. Choose a simple ball or make something as elaborate as a flamingo or elephant.
Once the form is to your liking, plant ivy at the base of the topiary. This helps the individual vines work their way through the form. If it's a young plant, it may take some time to take shape fully.
Tip: You don't have to be a sculptor to enjoy a fantastic topiary at home. There are a wide variety of topiary forms available for purchase that are already sculpted for you.
5
Maintain Your Topiary Plant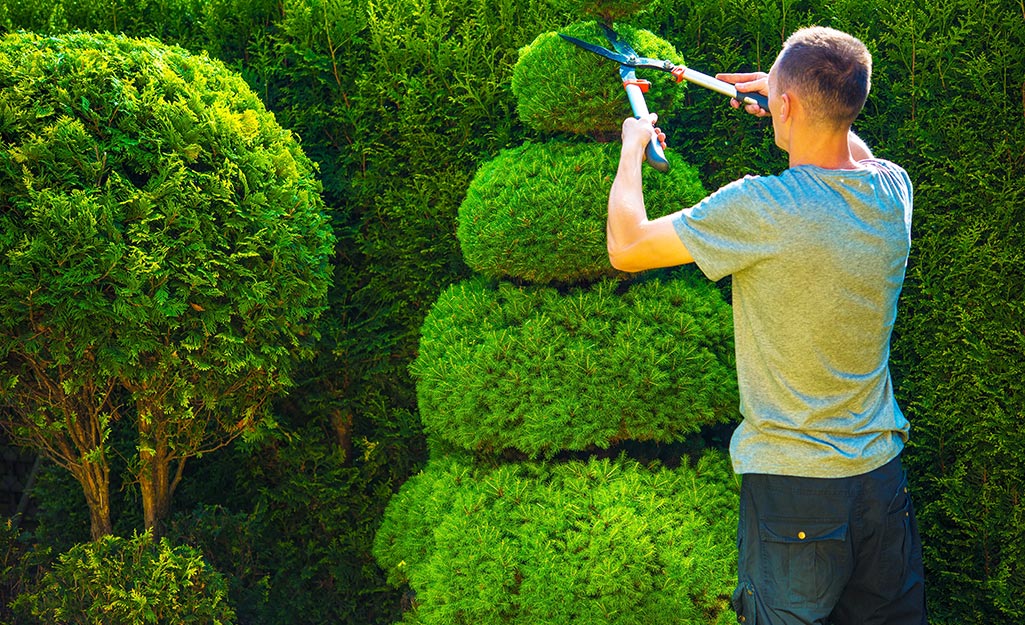 Make sure your topiary is receiving the proper amount of light and water. When you are doing weekly yard maintenance, take note of your topiary and give it a quick look-over for any pests or signs of disease. If you notice any, treat the issue immediately to preserve the health of the plant.
The type of plant you're using will help determine how often you need to trim. Topiaries won't need to be trimmed every time you mow. Some varieties can even go months between trimmings. It is much easier to trim the topiary when branches start to grow out of the form rather than once it gets completely out of control. Keep a pair of sharp pruning shears close at hand and clip away any stray branches to help it maintain its shape. The more complex the design, the more frequently it will need to be trimmed to maintain the shape.
Tip: Stop trimming your topiary two months before the first frost is expected. The plants are normally entering their dormant season anyway, and this will help to protect the plants from the cold throughout the winter.
Enhance the curb appeal of your home by using traditional topiaries to provide an extra layer of visual appeal to your garden. Keep them small and low with round boxwood topiaries and an elegant hedge, or elevate the space with tall double-ball topiaries. These artistic interpretations of evergreen plants are easy to maintain. Now that you've learned how to make a topiary frame and shape your boxwood, you'll want to feature them all around the property. The Home Depot delivers online orders when and where you need them.
Explore More on homedepot.com