Whether your journey is across town or just across the hallway, moving heavy furniture, like bed frames, dressers and desks, can be tough on your back, home and the furniture itself. With the right moving supplies and safety measures, the job can be done easily and carefully. This guide will teach you how to move heavy furniture through step-by-step instructions, moving tips and techniques, so you can avoid damage to your furniture, home and body. 
When it comes to planning out the best way to move heavy furniture, the first step is to prep ahead of time. From the path you'll take to the help you'll need, here are the top things to get ready when moving heavy furniture.
Plan your route: Map out the path you'll take when you're leaving your current location and entering the new home or room. This will help you plan for any obstacles such as narrow doorways, stairs or long hallways. You should also take this time to plan where the furniture will go when it arrives in the new location so you can create clear pathways and make sure all items end up in their intended rooms. Doing this ahead of time will make the move easier on you and anyone else who will be taking on the task.
Measure: Be sure to measure your furniture as well as any doorways, stairways or other areas you have to pass through. Doing this can help you decide if you need to disassemble any pieces or if you need to use a larger window, padded on each side, to move the furniture rather than a doorway.
Protect doors and walls: If your route involves moving large furniture around tight corners, you should try to remove any doors or pad any moulding that may come in contact with the furniture to avoid damage.
Ask for help: Whether you hire professional movers to get the job done, or recruit friends and family, you will need help moving heavy furniture. If your plan is to move the heavy furniture on your own, enlist the help of at least two friends. Moving heavy furniture on your own can be made easier with tools, but it's not recommended.
Gather moving supplies: There are a few important items that will help make the move easier. We recommend moving blankets, stretch wrap, dollies, lifting straps, hand trucks, tie down straps, furniture sliders and packing tape. If you plan to move the furniture on your own, you will also need a truck for transporting. Our moving truck rentals come in various sizes and can help you make the move.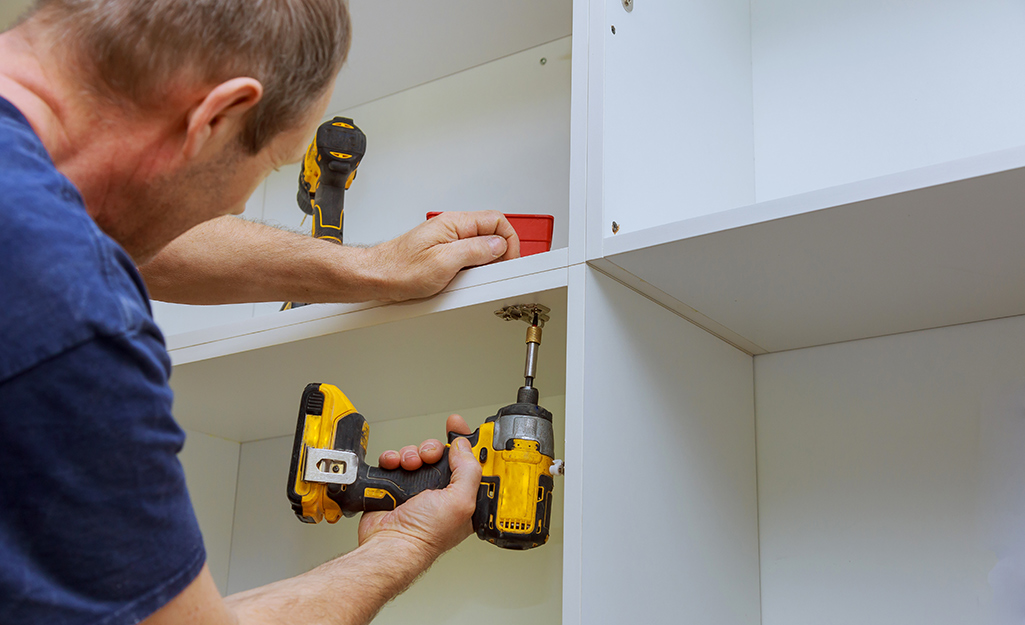 Certain larger items, such as dressers, desks, bookshelves and media consoles are easier to move if they are taken apart, especially if they are an awkward shape, delicate or priceless, extremely heavy or simply won't fit through your moving path. Oftentimes, professional movers will take care of this service for you, but when moving yourself, keep in mind how long it will take to disassemble and reassemble the pieces. 
Items like dresser mirrors, which can wobble and be damaged during a move, should always be removed prior to moving.
Dining tables, couches and larger desks or dressers may have detachable legs, which will make navigating doorways easier.
Remove any drawers from dressers to lighten the load. Similarly, remove any books off of bookshelves prior to making the move.
Tip: Keep in mind that loveseats and larger chairs can be moved easier by being turned on their side or "hooked" through small doorways, backed through the doorway and rotated so the other end can be brought through.
3
Wrap and Lift the Furniture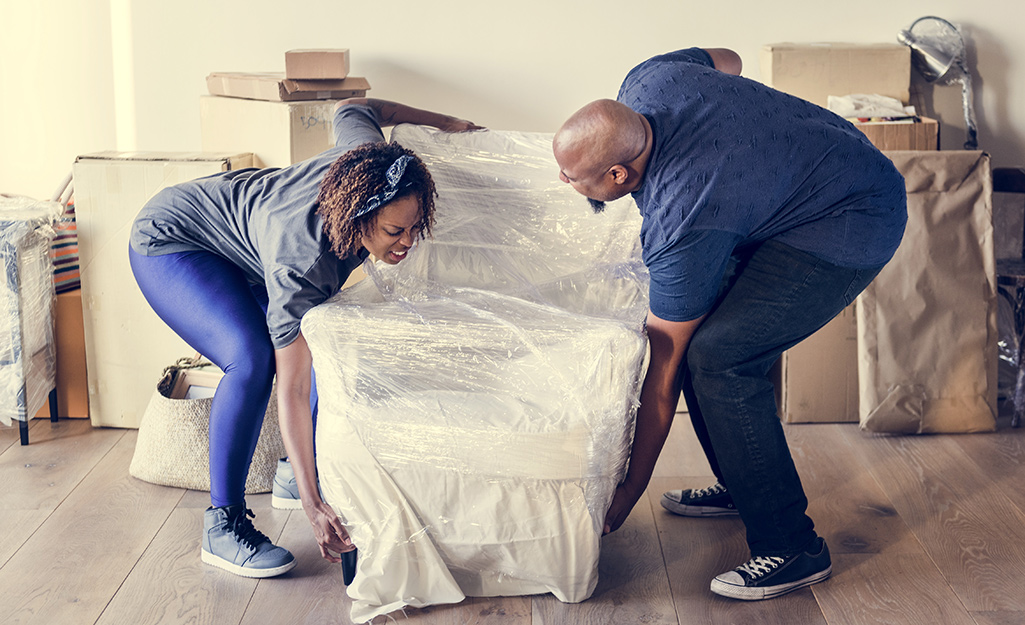 Once you have your plan in place and have taken care to disassemble any key pieces, it's time to wrap the furniture. If you are moving heavy furniture to a room across your house, this step is not necessary. However, for any moves that involve lifting and loading large furniture out of a house and into a moving truck, you want to be sure to wrap it. 
To get a better grip, we recommend wrapping the furniture in a moving blanket and/or stretch wrap secured with packing tape to ensure the blanket won't move as you lift or slip during the move. 
Once you've wrapped the furniture, communicate with your moving partner as you begin to lift and navigate your way out the door to the moving truck. Always be sure to lift with your knees and carry the furniture close to your body to avoid injury.
If the furniture requires, use a dolly to make the job easier on you and your back. You can use a hand truck, 4-wheel dolly or appliance dolly. If you're moving heavy furniture upstairs or down, a hand truck will be your best bet. No matter which you use, you want to make sure the item is balanced on the dolly and strapped in using any lifting straps or tie down straps.
4
Moving Furniture with Sliders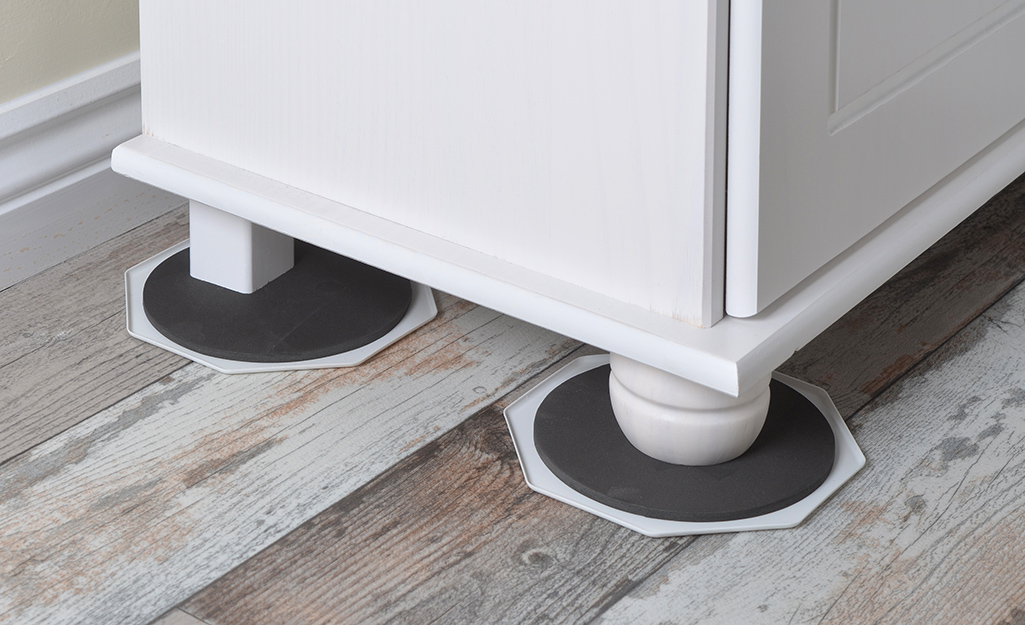 The task of figuring out how to move heavy furniture on a wood floor can be easily solved with furniture sliders. Typically a good method when you are moving heavy furniture from one room to another in the same house, sliders will help ease the workload, especially if you are trying to move heavy furniture on your own. Specially made with felt on one side and smooth rubber or plastic on the other, sliders also prevent wood floors and other vulnerable surfaces from being scratched while moving furniture. 
Start by lifting one side of the dresser, or other piece of large furniture, and placing a slider under the leg. Be sure that the smooth side is down on the ground and the padded side is facing the legs.
Now that you have placed sliders under each leg or side, you can push the furniture. Always push from the lower section instead of the top. This will prevent the furniture from tipping.
When determining how to move heavy furniture on carpet, you can use furniture sliders, but you may need to buy specialized sliders.
5
Moving Heavy Furniture Up or Down Stairs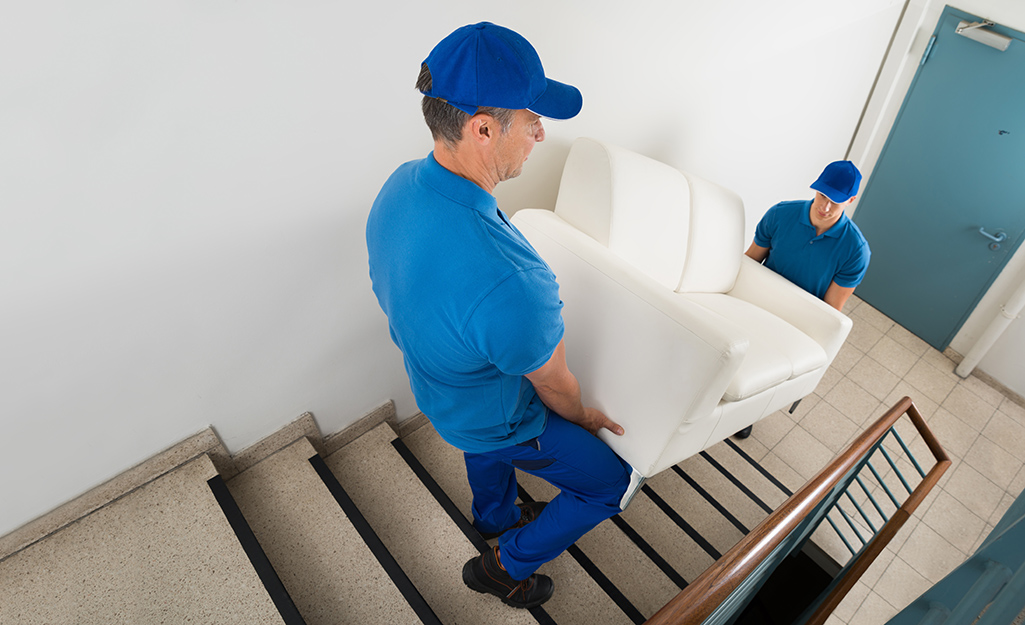 If stairs are involved in your move, you need to have a helper handy or two. Have one person on each end of the piece of furniture as you slowly lift and navigate the stairs. 
Cover banisters and corners with blankets or padding to prevent damage to the furniture and the stairs. 
Take breaks as often as needed by setting the furniture down on the stairs, but always be sure to communicate with your helpers when doing so. 
If using a hand truck, lift the item onto the hand truck, making sure to center it for balance. Using your tie down straps, tie it in place. If you are moving downstairs, stand behind the hand truck with the handles facing you and a helper a few steps ahead of you, tilting the hand truck toward your body. Now take the steps one at a time.
If moving upstairs, you should roll the loaded hand truck backward toward the stairs. Then, standing on the first step, with the dolly leaning toward you, begin pulling the item up. Your helper should be following you from the front at all times in case the item rolls forward.
If the piece is simply too heavy or you won't have time to move the piece on your own, many professional movers will come in just to move one piece for you. 
Moving a piece of heavy furniture can be done safely and easily with the right moving supplies and the right amount of help. Get all the tools you need to move heavy furniture and everything else without the upfront investment. The Home Depot offers moving and lifting equipment rentals.
Explore More on homedepot.com