Moving a couch can be a tough job, whether you're moving to a new home, replacing an old sofa or simply rearranging your living room. Using the right equipment and the safest techniques can help save time and help you avoid damage to your home, couch and back. This guide will teach you how to move a couch with helpful tips and informative instructions, so you can relax and enjoy yourself in no time.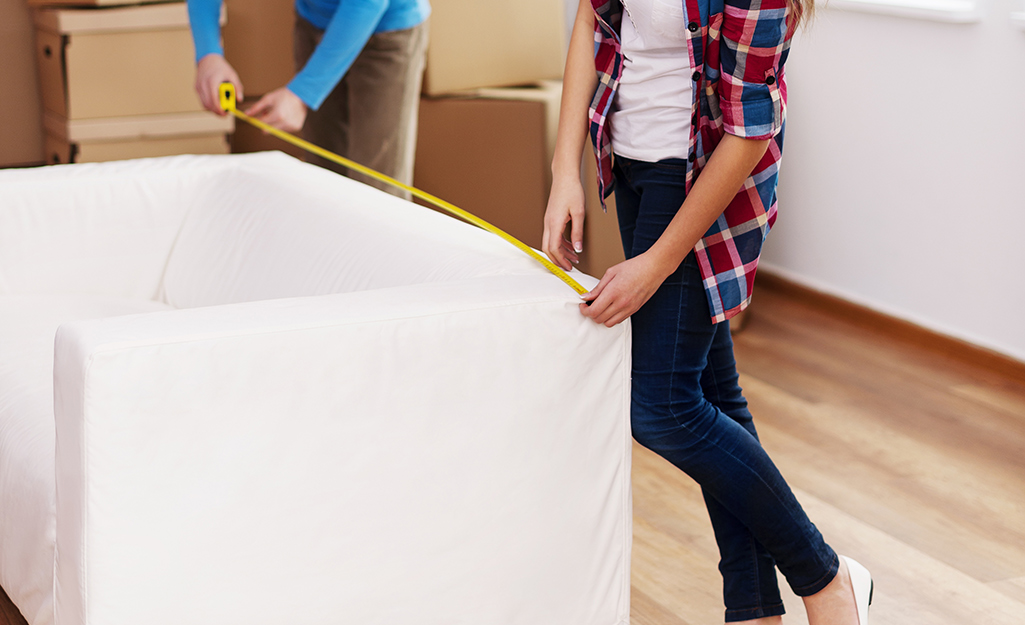 Before moving a couch, you'll want to take a few things into consideration. From measuring your couch to gathering moving supplies and determining if your couch is worth moving, here are our tips for prepping and planning:
Decide if you're taking it with you: How far you're moving can be a factor in your decision of whether to move a couch or not. For a cross-country move, the cost of moving an older sofa may be less affordable than selling or donating the sofa before moving and buying a new one at your new location. If you are moving it across the country, you will need to plan on wrapping it carefully, renting a moving truck or using a larger SUV or pickup truck to get the job done. 
Measure: Are you moving a sofa, love seat or sectional? The size of your couch will affect the cost of your move. Oftentimes a couch can be one of the largest pieces of furniture to fit into a moving truck. Measure the length, width and depth of your couch. These dimensions will help you figure out the best way to move the couch.  
Map out your path: Couches often need to be turned on their side or moved out of the house from a larger backdoor. You may need to remove doors or pad narrow hallways. Figure out your moving path, taking time to measure doorways, windows or any other obstacles in the way, to help plan ahead. 
Recruit help: Lighter sofas and loveseats may only require two people; however, larger sectionals may need four people to lift each side. If you're not hiring professional movers, this is a good time to recruit help from family and friends. 
Gather supplies: The good news is that when it comes down to how to move a couch, there's not much needed in terms of moving supplies. Be sure you have these items on hand when moving a couch:
Hand truck
Packing tape
Tie down straps
Stretch wrap
Furniture sliders
Additionally, our truck rental is a great option for short or long distance moves.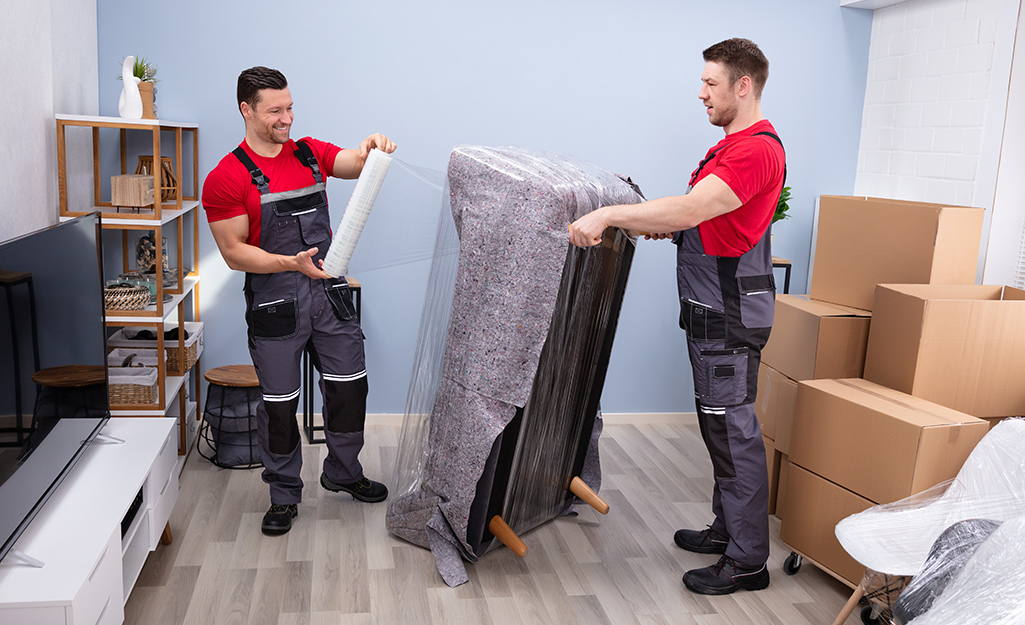 You'll want to protect your couch from any damage by wrapping it with moving blankets and/or stretch wrap, depending on the fabric of your couch.
Begin by removing any blankets and throw pillows and packing them separately in a bag or small box. 
Remove legs and detach any arms, if necessary. This will ensure no damage when moving through doorways. For large sectionals, disassemble according to your owner's manual. Place any screws, legs and other couch parts in the same box as your pillows and label the box accordingly. 
For a sleeper sofa, always remove the mattress to minimize the weight of the couch during transport. 
Now, starting at the base of the couch, use your stretch wrap and/or moving blankets to wrap the entire sofa. Secure each loose end with packing tape. 
Tip: When figuring out how to wrap a couch for moving, keep this in mind: We recommend using moving blankets on more delicate materials, like leather, as the stretch wrap can ruin the finish. You can then use the stretch wrap and packing tape to secure the blankets in place.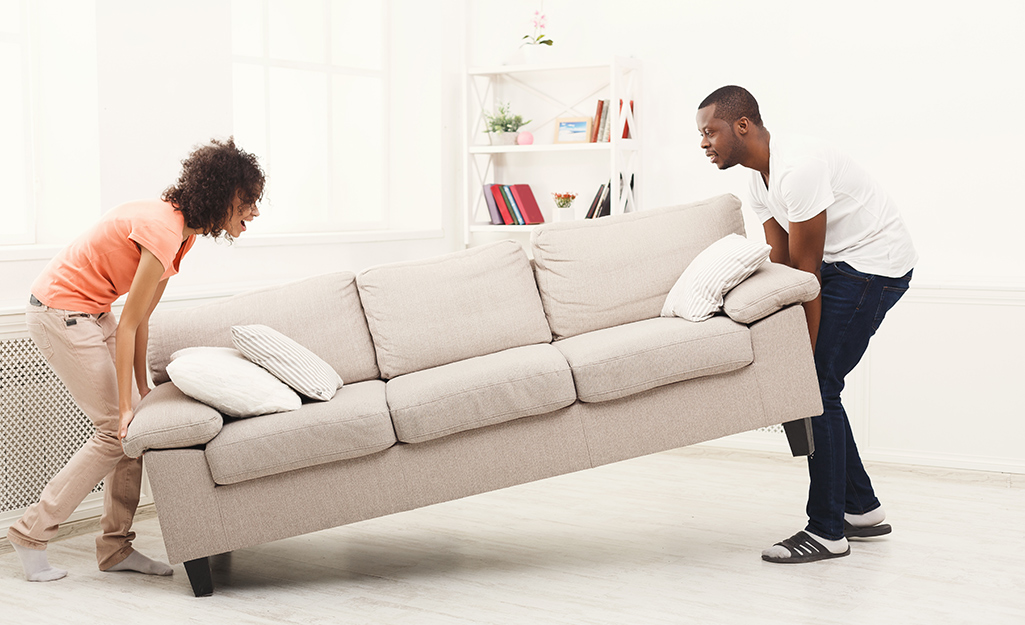 Depending on the size of your sofa, have your helper lift their end or ends. Communicate as you lift and be sure to lift with your knees to avoid injury to your back. Do not lift the couch high but keep it low and close to your body. 
Figuring out how to move a sofa with a dolly is pretty straightforward. If the couch is larger or the walk is long, you will want to use a wider, flat furniture dolly or a hand truck. With a helper on each side, tip the couch vertically onto one end and slide it slowly onto the dolly. Secure it onto the dolly with your tie-down straps and wheel it to your moving truck.  
Moving a couch around a narrow space like a corner takes some planning as well. Check to see if the legs can be removed, which will make it easier. Turn the sofa on its end, with one person lifting each side. Rotate, twist and tilt the couch around the corner. 
When moving a couch through a small or narrow door, you can tilt and pivot the couch to get it out of the space. For smaller sofas or loveseats, you can tilt and slide it through the doorway in an upright position. With larger couches, have your helper guide the couch from inside the room as you angle the couch through the door by tilting and rotating it.
If you need to move a couch up or downstairs, you will definitely need help. In terms of how to move a couch upstairs by yourself, it's important to note that you won't be able to use dollies or sliders in this situation, so take into account the weight and size of your sofa and recruit the right amount of help. Each person will need to lift their end and communicate as you take steps very slowly. 
Some instances may call for having to move a couch over a balcony or through a window. This is tricky but can be done with the right supplies and a fair amount of help. Once your sofa is properly wrapped, you'll need to secure it with lifting straps on either side so that you hoist it. Make sure the straps wrap completely around the couch. Now, two people on the balcony and two on the ground, rest the couch on its arm so its standing vertically. Have the helpers on the balcony pull the lifting straps so the couch begins to rise. Once the couch is in mid-air, the other two helpers can head to the balcony to lift it up and over any railing. If you are moving it down from a balcony, complete the last portion in reverse. 
If you're moving a couch through a window, keep one or two people on either side of the frame to ease the move. 
Tip: When planning how to move a couch by yourself – perhaps into a different room in your house – consider using furniture sliders to get the job done. Simply place a furniture slider under each leg of the sofa and carefully glide it to the next room. 
4
Load and Unload the Couch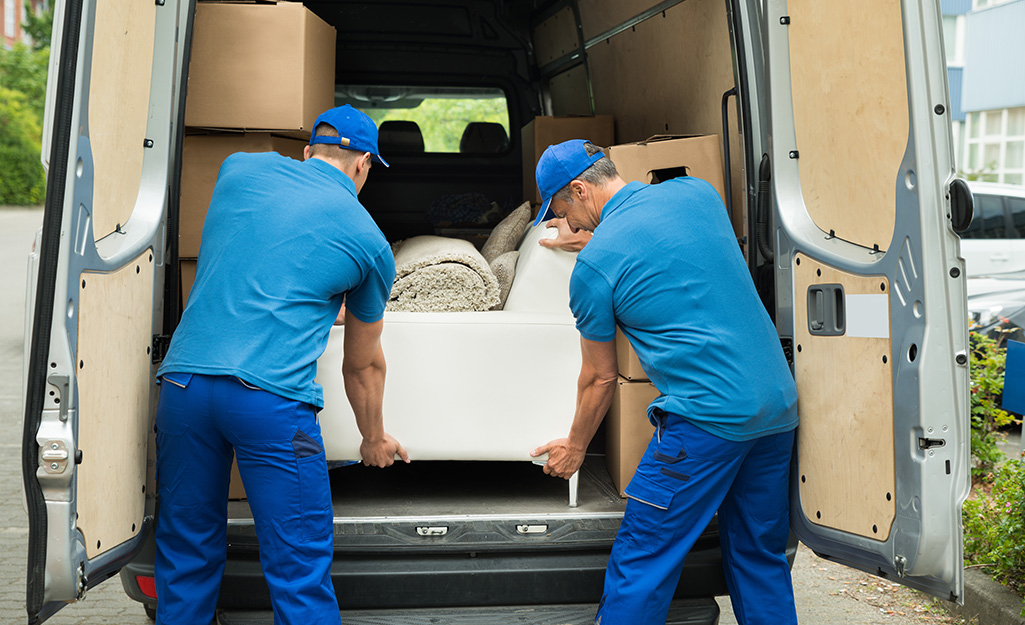 Once your couch is out of the house, it's time to load it onto the truck. Your truck rental will typically come with a moving ramp to make the job easier. 
Using your dolly or hand truck, keep a person on each side and guide the sofa onto the truck. Move it to the back of the moving truck and secure it with tie down straps. 
If are you moving a couch into an SUV, van or pickup, use the same lifting method you used earlier, with a helper on each side to lift and load the couch. Keep the couch in the back of the truck bed, secured with straps, to keep it from moving around during transport. 
When unloading the couch, take it off the moving truck the same way you wheeled it on and use the same methods to transport it into the new location.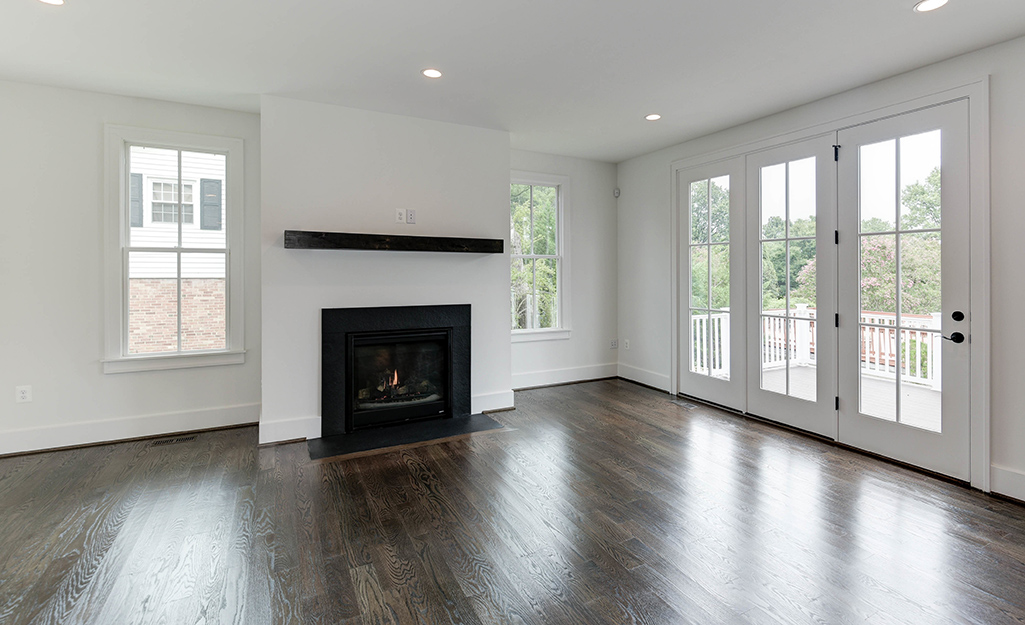 When figuring out how to move a couch, take into account the couch's weight and sizes. Decide if you truly have the time or strength to move it on your own or if you prefer to have professionals do it for you. 
Always lift with your legs, never your back, and be sure to squat when lifting. Bending at the waist can cause injury. 
When moving a couch, always wear the right clothing and shoes. Closed-toed shoes are always recommended to prevent any injuries. 
Make sure the house is empty, no pets or children, when moving heavy furniture like sofas. The less obstacles, the less chance of any issues throughout the move. 
Moving a couch in and out of small spaces, like tight corners and elevators, will usually require removing legs to make it fit. Always be sure to measure all spaces prior to moving.
Figuring out what to do with an old couch is relatively easy. If you want to donate it, set up a pickup time with a local charity or drop it off at a nearby organization. If it's in fairly good condition, you can also sell it to a friend or family member. 
Move your couch from one room to another or across the country with the right techniques. Now that you know how to move a couch properly you'll save time and any unncecessary injuries or issues. With the proper moving supplies and help, you'll be relaxing in your new space in no time. Plus, get the equipment your move your couch and everything else without the upfront investment. The Home Depot offers moving and lifting equipment rentals.
Explore More on homedepot.com